ExxonMobil refinery in Baton Rouge, Louisiana.
WClarke / CC BY-SA 4.0
The NYSCRF is the third largest public pension fund in the U.S., with assets of $207.4 billion as of March 31, and the Church of England's investment fund manages investable assets of some £8.3 billion ($10.5 billion), according to the comptroller's office.
Their move—made a day after the critical COP24 climate summit in Poland wrapped up—is similar to the direct shareholder pressure applied to Royal Dutch Shell. After some hard resistance, Shell became the first energy giant earlier this month to set short-term greenhouse gas reduction targets, linking them to executive pay.
In a press release on Sunday, NYSCRF and CCE called on Exxon to disclose short, medium and long-term targets for greenhouse gases. The goals align with the Paris agreement to limit global temperature rise to below 2°C and to pursue efforts to limit increases to 1.5°C.
"ExxonMobil's lack of greenhouse gas emissions reduction targets puts it at odds with its industry peers that have taken such steps," said New York State Comptroller Thomas DiNapoli, who heads the state's retirement fund, in the press release. "The world is transitioning to a lower carbon future and Exxon needs to demonstrate its ability to adapt or risk its bottom line along with investors' confidence."
The California Public Employees' Retirement System, HSBC Global Asset Management, Presbyterian Church USA and SHARE on behalf of Fonds de Solidarité des Travailleurs du Québec (FTQ) also joined the call led by NYSCRF and CCE.
The resolution is expected to be considered at ExxonMobil's annual shareholder meeting in the spring of 2019.
"We want to see ExxonMobil develop a clear strategy for long-term sustainability," the CCE's head of responsible investment, Edward Mason, also said in the press release. "Our request would bring Exxon in line with its biggest European peer, Shell, and we believe the board can and should support it."
The resolution was developed in line with the global Climate Action 100+ investor initiative that calls on companies to take climate action and curb emissions. The Exxon resolution comes just weeks after Shell and Climate Action 100+ signatories agreed to new climate goals, the press release noted.
"Global investors are increasingly calling on the companies that they own to demonstrate that they are prepared for a carbon-constrained future," said Andrew Logan of the nonprofit Ceres, one of Climate Action 100+'s founding partners, in the press release. "Setting ambitious goals consistent with the Paris agreement to reduce heat-trapping greenhouse gas emissions—and taking concrete steps to actualize those goals—would be a sign to investors that Exxon is taking this issue seriously."
In October, New York Attorney General Barbara Underwood filed a lawsuit against Exxon alleging the company defrauded shareholders and downplayed the risk of climate change to its business.

In response to the NYSCRF and CCE resolution, the climate action group 350.org—one of the leaders of the ongoing fossil fuel divestment movement—urged DiNapoli to stop negotiating with Exxon and to formally cut ties with the company.
"As long as he invests New Yorker's money into rogue oil corporations like ExxonMobil, Comptroller Tom DiNapoli dangerously remains inertia's avatar on climate," said Betámia Coronel, New Yorker and organizer with 350.org in a statement provided to EcoWatch. "UN reports warn that we must rapidly transform our economy to 100 percent renewable energy and keep fossil fuels in the ground, yet DiNapoli touts 'talking to Exxon' while failing to reduce the state pension fund's climate footprint. Tom DiNapoli is failing New Yorkers and his fiduciary duty until he divests from all fossil fuels."
A recent report by 350.org co-founder Bill McKibben revealed that more than 1,000 institutions around the world representing nearly $8 trillion in assets have committed to divest from carbon-intensive companies.

From Your Site Articles
Related Articles Around the Web
EcoWatch Daily Newsletter
iStock
By Letha Tawney, Celina Bonugli and Daniel Melling
Utilities are breaking away from traditional electricity products to offer customers access to large-scale renewable energy. Until very recently, utilities did not differentiate the sort of power they offered customers. With very few exceptions, everyone shared in the cost and used electricity from the same fleet of power generating stations.
But over the past four years, even regulated U.S. utilities have begun to offer new, large-scale renewable energy options to customers. World Resources Institute data shows that across ten U.S. states, utilities now offer 13 green tariffs—programs that let customers purchase large-scale renewable energy over the grid.
We take a closer look at the trends and motivations that have made utilities important players in the rapid scale up of renewable energy to serve corporate buyers in the U.S.
1. Why are utilities stepping up?
In markets where wind and solar power have become cost competitive, utilities have more economic incentives to add renewable energy. Renewable resources just offer a great low price for the next 20 years—without the risks of fossil fuel price spikes.
Utility leaders overwhelmingly anticipate substantial solar and wind power growth in the next ten years, according to Utility Dive's 2017 survey of the sector. Among utility executives, 71 percent say utility scale wind will increase moderately or significantly over the next ten years and 82 percent predict the same for utility scale solar.

Recently, Pat Vincent-Collawn, CEO of PNM Resources announced a plan to eliminate coal by 2031 and move toward renewables and natural gas, calling it "the best, most economical path to a strong energy future for New Mexico." WEC Energy Group CEO Allen Leverett told shareholders in May 2017 that the company is exploring solar, "probably the biggest change we've seen in last five years is solar and the cost of solar. The technology curve really has fallen fast in terms of improvement in cost."
Mid-American, a Berkshire Hathaway Energy subsidiary, has talked about their extensive investments in wind in the same way—as an effective way to keep prices low for customers. The company also used their wind investments to serve the renewable energy requirements of major data centers, such as Facebook and Google, in their service territory.
2. How big is the demand for renewable energy on the grid?
Through RE100, 90 companies have committed to 100 percent renewable power. Clean energy and greenhouse gas reduction targets are now the norm for Fortune 500 and Fortune 100 companies. World Wildlife Fund and Ceres' Power Forward 3.0 report shows that almost half of the Fortune 500 and a majority of the Fortune 100 now have climate and energy targets.
Companies with renewable energy commitments can only go so far with on-site solar and efficiency. To meet the most ambitious targets, like a 100 percent renewable energy goal, companies have to tap into the grid and are turning to their utility to provide solutions.

Big businesses have communicated their needs to U.S. utilities. Sixty-five companies have signed on to the Renewable Energy Buyers' Principles, which tell utilities and other suppliers what industry-leading, multinational companies are looking for when buying renewable energy from the grid.
And utilities are listening. Utilities without green tariffs or state mandates are still considering new renewable energy options to attract businesses. Describing a new wind project, Appalachian Power's new president Chris Beam told the Charleston Gazette Mail, "at the end of the day, West Virginia may not require us to be clean, but our customers are […] we have to be mindful of what our customers want."

3. How are utilities stepping up?
To meet customer demand for renewable energy, traditional utilities have now created 13 green tariff options across 10 states. In the six months since the last update to World Resources Institute's issue brief, Emerging Green Tariffs in U.S. Regulated Electricity Markets, utilities have added three more green tariffs options—including the first offered by a public power company, Nebraska's Omaha Public Power District.
States with renewable energy options are more competitive when attracting high-growth corporate business. When Omaha Public Power District announced a new green tariff to supply a Facebook data center, Tim Burke, Omaha Public Power District's president and CEO, told the Omaha World-Herald, "we have several customers right now that are putting together potential expansion projects and will utilize that (new) rate to grow."
4. What is the impact of green tariffs on the grid?

Who is using these tariffs? To date, customers have contracted for approximately 900 MW of new renewable energy under five of the tariffs. This is approximately enough electricity to power 160,000 average American homes a year. This spring, utilities and customers are negotiating hundreds more megawatts of additional purchases.
In April 2017 alone, major announcements from Puget Sound Energy and Omaha Public Power District, confirm that buyers are ready and willing to act in partnership with their utility.
5. How can customers keep up with these new options?
World Resources Institute's interactive U.S. Renewable Energy Map: A Guide For Corporate Buyers shows all the green tariffs that utilities offer across the nation. The map also details one-on-one special contracts that customers have signed with utilities. These special contracts show a utility is willing to explore options, even if they haven't gone as far as creating a new tariff.
6. What's next?
Today green tariffs are a small part of the overall U.S. renewable energy market—reflecting their pilot status. But the programs create a runway for renewables at a time when demand is only increasing, not just from businesses, but also cities, universities, hospitals and smaller companies.
Innovative partnerships will continue to emerge between utilities and their customers as both grapple with the rapidly changing electricity sector. Green tariffs are only three years old, but with increasing demand, interest in renewables by utilities and the continued fall in renewable energy prices, green tariffs look like they're here to stay.
waterlust.com / @tulasendlesssummer_sierra .
Each product featured here has been independently selected by the writer. If you make a purchase using the links included, we may earn commission.
The bright patterns and recognizable designs of Waterlust's activewear aren't just for show. In fact, they're meant to promote the conversation around sustainability and give back to the ocean science and conservation community.
Each design is paired with a research lab, nonprofit, or education organization that has high intellectual merit and the potential to move the needle in its respective field. For each product sold, Waterlust donates 10% of profits to these conservation partners.
Eye-Catching Designs Made from Recycled Plastic Bottles
waterlust.com / @abamabam
The company sells a range of eco-friendly items like leggings, rash guards, and board shorts that are made using recycled post-consumer plastic bottles. There are currently 16 causes represented by distinct marine-life patterns, from whale shark research and invasive lionfish removal to sockeye salmon monitoring and abalone restoration.

One such organization is Get Inspired, a nonprofit that specializes in ocean restoration and environmental education. Get Inspired founder, marine biologist Nancy Caruso, says supporting on-the-ground efforts is one thing that sets Waterlust apart, like their apparel line that supports Get Inspired abalone restoration programs.
"All of us [conservation partners] are doing something," Caruso said. "We're not putting up exhibits and talking about it — although that is important — we're in the field."
Waterlust not only helps its conservation partners financially so they can continue their important work. It also helps them get the word out about what they're doing, whether that's through social media spotlights, photo and video projects, or the informative note card that comes with each piece of apparel.
"They're doing their part for sure, pushing the information out across all of their channels, and I think that's what makes them so interesting," Caruso said.
And then there are the clothes, which speak for themselves.
Advocate Apparel to Start Conversations About Conservation
waterlust.com / @oceanraysphotography
Waterlust's concept of "advocate apparel" encourages people to see getting dressed every day as an opportunity to not only express their individuality and style, but also to advance the conversation around marine science. By infusing science into clothing, people can visually represent species and ecosystems in need of advocacy — something that, more often than not, leads to a teaching moment.

"When people wear Waterlust gear, it's just a matter of time before somebody asks them about the bright, funky designs," said Waterlust's CEO, Patrick Rynne. "That moment is incredibly special, because it creates an intimate opportunity for the wearer to share what they've learned with another."
The idea for the company came to Rynne when he was a Ph.D. student in marine science.
"I was surrounded by incredible people that were discovering fascinating things but noticed that often their work wasn't reaching the general public in creative and engaging ways," he said. "That seemed like a missed opportunity with big implications."
Waterlust initially focused on conventional media, like film and photography, to promote ocean science, but the team quickly realized engagement on social media didn't translate to action or even knowledge sharing offscreen.
Rynne also saw the "in one ear, out the other" issue in the classroom — if students didn't repeatedly engage with the topics they learned, they'd quickly forget them.
"We decided that if we truly wanted to achieve our goal of bringing science into people's lives and have it stick, it would need to be through a process that is frequently repeated, fun, and functional," Rynne said. "That's when we thought about clothing."
Support Marine Research and Sustainability in Style
To date, Waterlust has sold tens of thousands of pieces of apparel in over 100 countries, and the interactions its products have sparked have had clear implications for furthering science communication.
For Caruso alone, it's led to opportunities to share her abalone restoration methods with communities far and wide.
"It moves my small little world of what I'm doing here in Orange County, California, across the entire globe," she said. "That's one of the beautiful things about our partnership."
Check out all of the different eco-conscious apparel options available from Waterlust to help promote ocean conservation.
Melissa Smith is an avid writer, scuba diver, backpacker, and all-around outdoor enthusiast. She graduated from the University of Florida with degrees in journalism and sustainable studies. Before joining EcoWatch, Melissa worked as the managing editor of Scuba Diving magazine and the communications manager of The Ocean Agency, a non-profit that's featured in the Emmy award-winning documentary Chasing Coral.
Sixty-three percent of Fortune 100 companies have set one or more clean energy targets. Nearly half of Fortune 500 companies—48 percent—have at least one climate or clean energy target, up five percent from an earlier 2014 report. Accompanying this growth is rising ambition, with significant numbers of companies setting 100 percent renewable energy goals and science-based GHG reduction targets that align with the global goal of limiting global temperature rise to below two degrees Celsius.
Findings from the report, Power Forward 3.0: How the largest U.S. companies are capturing business value while addressing climate change, are based on 2016 company disclosures to CDP, which holds the world's largest collection of self-reported corporate environmental data and other public sources.
CDP / Twitter
"American businesses are leading the transition to a clean economy because it's smart business and it's what their customers want," said Marty Spitzer, World Wildlife Fund's senior director of climate and renewable energy.
"Clean energy is fueling economic opportunity from coast to coast without regard for party line. Washington policies may slow this boom, but these companies are making it very clear that a transition to a low-carbon economy is inevitable."
The report highlights the financial benefits companies receive from their clean energy investments: Nearly 80,000 emission-reducing projects by 190 Fortune 500 companies reporting data showed nearly $3.7 billion in savings in 2016 alone. The emission reductions from these efforts are equivalent to taking 45 coal-fired power plants offline every year. Praxair, IBM and Microsoft are among the companies saving tens of millions of dollars annually through their energy efficiency efforts.
The 240 companies with targets have set one or more of the following goals: GHG reductions, energy efficiency improvements or renewable energy sourcing. Two hundred and eleven companies have set a GHG reduction goal, making it the most common target.
"We are encouraged to see significant improvement in both the number of Fortune 500 companies setting climate and clean energy goals and the ambition of those goals—in particular commitments to setting science-based and 100 percent renewable energy targets," said Anne Kelly, senior director of policy and the BICEP network at Ceres.
"But in order to meet our national and global emissions goals, more companies will need to join the champions highlighted in this report, both in setting goals and in becoming vocal advocates for continued federal and state policies in support of climate and clean energy progress."
Ten percent (53) of companies have set renewable energy targets and almost half of those (23) have committed to power 100 percent of their operations with renewable energy—among those, Wal-Mart, General Motors, Bank of America, Google, Apple and Facebook. The growth in the number and ambition of renewable energy commitments is mainly the result of recent sharp declines in renewable energy costs, which saves companies money and of price certainty that comes with renewable energy.
"Corporate commitment to energy efficiency and renewable energy is an accelerating trend that illustrates broader recognition within the business community of the importance of clean energy and the financial benefits it can yield," said Stu Dalheim, vice president of corporate shareholder engagement for Calvert.
"Many of the largest companies in the U.S. are achieving significant cost savings through clean energy programs and mitigating longer-term risks associated with energy price volatility."
Some of the strongest efforts are also among Fortune 100 companies, with nearly two-thirds (63 percent) adopting or retaining goals. The report also shows strong improvement among the smallest 100 companies in the Fortune 500, with 44 percent setting goals in one or more categories, up 19 percentage points from the 2014 report.
The report shows a significant spread in target setting among different sectors, with consumer staples (72 percent), materials (66 percent) and utilities (65 percent) sectors leading in setting clean energy goals and the energy sector (11 percent), including oil & gas companies, significantly lagging.
"CDP and the investors we work with, representing over US$100 trillion in assets, engage thousands of the world's largest companies to measure and manage climate-related risks" said Lance Pierce, president of CDP North America.
"Voluntary corporate disclosure highlights the compelling business case for corporate clean energy procurement and clearly demonstrates the transition underway in the energy markets. Companies in turn have benefited, identifying billions of dollars in savings and new opportunities through their disclosures to CDP."
The report includes key recommendations for companies, policymakers and investors to continue to scale clean energy efforts, such as:
• Companies should continue to set, implement and communicate clean energy targets, while supporting local, state and national policies that make it easier to achieve their climate and energy commitments.
• Federal and state policymakers should establish clear, long-term low-carbon polices that will help companies meet their clean energy targets while also helping the U.S. meet its carbon-reducing commitments under the Paris climate agreement.
• Investors should consider allocating their investments to companies well-positioned for the low-carbon economy. Investors should continue to file shareholder resolutions and engage in dialogues with companies to encourage them to set climate and energy efficiency targets and position themselves for a low-carbon future.
By Brooke Barton
A majority of Americans value strong federal protections for clean air and water, which provide both environmental and economic benefits.
But they should be very worried that the basic human expectations of healthy air and safe water will quickly turn cloudy if the new U.S. Environmental Protection Agency (EPA) administrator's pledge to regulate through "cooperative federalism" becomes a reality.
Cooperative federalism, at its most benign, is about allowing each state to tailor its own approach to enforcing environmental rules. At its worst, it's about the federal government turning a blind eye to states that shirk the nation's environmental laws or that simply don't have the coffers to pay for monitoring and enforcement.
"Process, rule of law and cooperative federalism, that is going to be the heart of how we do business at the EPA," said EPA Administrator Scott Pruitt, who has promised to follow the Trump administration's will to slash EPA's budget and soften its rules.

To see how cooperative federalism erodes environmental protection, look no further than the 2015 Waters of the United States rule. President Trump issued an executive order last week announcing plans to undo the rule, which clarifies the federal government's authority to limit pollution in bodies of water not explicitly covered by the Clean Water Act.
Interactive Map Shows if Your Drinking Water Is at Risk From Trump's Executive Order https://t.co/tnV4CwKmaq (via @EcoWatch @ewg)

— Sierra Club (@Sierra Club)1488724203.0
Those smaller bodies of water—typically streams, wetlands and rivers, which account for more than half of the nation's freshwater resources—feed into larger water bodies that provide key drinking water and recreational opportunities for the public, as well as water supplies for business. Keeping them clean is vital for the nation's health and economic prosperity.

The executive order, coupled with the administration's penchant for cooperative federalism, send a strong message that if states choose not to protect smaller streams and wetlands, they won't get pushback from the federal government.
And as state environmental budgets shrink, many simply don't have the resources to ensure healthy streams and clean drinking water on their own, even if they wanted to. Forty state environmental agencies have reduced staff in recent years, with the biggest cuts being in North Carolina, Florida, Michigan, New York, Illinois and Arizona, according to a fall 2016 report by the Center for Public Integrity.
Center for Public Integrity
Pruitt's home state, Oklahoma, for example, spends a paltry $13 million on environmental protection. Compare that to Connecticut, which has an environmental budget twice the size of Oklahoma's but less than one-tenth the land mass or with neighboring Arkansas, with a budget nearly triple the size of Oklahoma's.

Water pollution from industrial-sized poultry farms operating in the northeast corner of Oklahoma and in neighboring Arkansas, has been a source of huge controversy, health concerns and lawsuits for more than 25 years. Phosphorus, the primary pollutant in poultry manure, can trigger toxic algae blooms, threatening rivers, lakes and other waterways that feed into the Illinois River.
Algae bloom in Florida.
Cooperative federalism gives Oklahoma and Arkansas more opportunity to turn a blind eye to manure runoff and other untreated pollution in waterways covered by the Waters of the United States rule.

Similarly, though the U.S. Geological Survey has linked oil and gas hydraulic fracturing drilling to groundwater and surface water pollution, Oklahoma has yet to identify whether its surface waters face pollution threats from fracking activity. J.D. Strong, executive director of the Oklahoma Water Resources Board said that Oklahoma does not have the budget for widespread testing in the state.
These same challenges can be found in states across the country.
North Carolina has a long history of water pollution from coal ash spills and manure lagoons—a legacy that gained national prominence last fall when Hurricane Matthew triggered massive flooding and pollution overflows from thousands of hog farms. At the same time, contentious political battles in that state have contributed to a dramatic decrease in its environmental budget, from $126 million in 2011 to just $81 million in 2015.
Aerial Photos Document Massive Flooding of 36 Factory Farms https://t.co/jL4v1dvixx @TheCCoalition @OccupySandy

— EcoWatch (@EcoWatch)1478308507.0
Even states with larger environmental budgets may struggle to protect smaller waterways under cooperative federalism because of political fights that play out at the state level.

In Kentucky, regulators and utilities are pushing to loosen regulations on the state's coal ash ponds and landfills. Yet over the past six years, arsenic and selenium have been found to be leaching from a coal ash pond at a major power station into groundwater and directly into Herrington Lake. Despite remedial measures taken by Louisville Gas & Electric and Kentucky Utilities, the pollution persists and is poisoning fish in the lake.
In Florida, Gov. Rick Scott has gutted the state environmental agency—earning him a scathing "environmental disaster" editorial in the Tampa Bay Tribune. In addition to cutting support for clean water and conservation programs, state-driven enforcement has disappeared nearly altogether—enforcement cases fell by 81 percent from 2010 to 2015.
Pruitt's cooperative federalism mantra, where states should see us as "partners, not adversaries," sends us down a perilous path of continued diminishment of precious natural resources across the country.
Leaving states on their own to protect the nation's vital water resources, without holding them to minimum standards or supporting them financially, is a slippery slope indeed towards a dirtier America—an America that the vast majority does not want.
Brooke Barton is the senior program director of Ceres' water and food programs.
Sure, many of my friends in the climate change movement can't wait to forget 2016, the year when an incoming Trump presidency brought new meaning to climate uncertainty. But there is a movement taking hold that is far bigger than the U.S.—I've seen it in the last year in Africa, in Europe and the U.S.

Here are 10 shining lights for the irresistibility and inevitability of the low-carbon future. It's here—and there is no turning back.
1. Solar Symphony
Solar costs keep plummeting, the latest record low being a 120-megawatt solar project in Chile whose power will be sold for $29.10 a megawatt-hour, less than half the coal plant bid. Solar photovoltaic costs are dropping the fastest compared to other renewables, which helps explain the record 4,300 megawatts of new solar PV capacity installed in the U.S. in third quarter '16. (That's 60 percent of new generating electric capacity installed in the US last quarter). We also saw the opening of the world's first one-kilometer road paved with solar panels, dubbed the "Wattway," this month in France.
It's Official: #Solar Energy Cheaper Than Fossil Fuels https://t.co/UDrEnWwREP @elonmusk @solarcity @SEIA @wef @IEA @NRDC @ClimateReality

— EcoWatch (@EcoWatch)1482866602.0
2. A Big Dash of Disclosure
Companies bottom line is money and they need to provide better information about the financial risks they face from changing climate trends and government responses. This month, a task force convened by the G20 Financial Stability Board issued final recommendations on the types of disclosure companies should be providing to investors about climate risks and opportunities. Among the highlights: all companies, especially oil & gas firms, should say how their business strategies align with the global goal of limiting global temperature rise to 2 degrees Celsius, the benchmark goal of the Paris climate agreement.

3. Prevailing Winds
Wind power is often cheaper than solar, the result of more efficient and less costly turbines. In some states, including Iowa, Illinois, Kansas, Nebraska and parts of Texas, new wind turbines can generate electricity at a lower cost, without subsidies, than any other technology, according to a new University of Texas report. Texas is the king of wind, with 18,000 megawatts of capacity that on some windy days supply nearly half of the state's power.
4. Pay It Forward
Pay-as-you-go solar companies, made possible by mobile phones, are the rage in Africa. M-Kopa Solar has leveraged the mobile money phenomena to sell more than 425,000 household solar systems in East Africa. With a $30 deposit and daily 50-cent payments, all by cell phone, customers get a solar panel, a couple of lights, a cell phone charger and a solar powered radio. After the first year of payments, customers own the system outright. Similar off-grid solar companies are now sprouting up across Africa and they've attracted hundreds of millions of dollars in financing.
5. Emerging No More
Clean energy expenditures in emerging nations in South America, Africa, the Middle East and Africa eclipsed those in wealthier OECD countries for the first time. Some of the biggest jumps, especially for big utility-scale solar projects, were in countries like Chile, Mexico and South Africa. We also saw notable improvement in the investment environment for clean energy in many developing countries, with the top five scorers in a new Climatescope report being China, Chile, Brazil, Uruguay and South Africa.

More than 365 businesses and investors, from more than a dozen Fortune 500 firms to small, family-owned businesses across more than 35 states, sent a strong message today to President Barack Obama, President-elect Donald Trump and other elected U.S. and global leaders, reaffirming their support for the historic Paris climate agreement and the need to accelerate the transition to a low-carbon economy at home and around the world.
"Implementing the Paris climate agreement will enable and encourage businesses and investors to turn the billions of dollars in existing low-carbon investments into the trillions of dollars the world needs to bring clean energy prosperity to all," wrote the powerful business group, in a statement of support at a press conference at the COP22 climate negotiations in Marrakech, Morocco. "Failure to build a low-carbon economy puts American prosperity at risk."

Among the diverse and iconic large and small U.S. businesses signing the statement are DuPont, Gap Inc., General Mills, Hewlett Packard Enterprise, Hilton, HP Inc., Kellogg Company, Levi Strauss & Co., L'Oreal USA, NIKE, Mars Incorporated, Schneider Electric, Starbucks, VF Corporation and Unilever.
"Now more than ever, Levi Strauss & Co. believes it is important to reaffirm our commitment to address climate change by supporting the Paris climate agreement," Michael Kobori, vice president of sustainability at Levi Strauss & Co., said. "Building an energy-efficient economy in the U.S., powered by low-carbon energy will ensure our nation's competitiveness and position U.S. companies as leaders in the global market—all while doing the right thing for our planet."
The U.S., China, India, Brazil, European Union and more than 100 other nations representing more than three-fourths of global emissions formally ratified or joined the agreement, and it entered into legal force on Nov. 4. The agreement is the first-ever global, legally binding framework to tackle climate change.
It's Official: Paris Agreement Becomes International Law https://t.co/0JubgSBBM0 @zerocarbonworld @Climate_Rescue

— EcoWatch (@EcoWatch)1478337908.0
In the statement, the large and small businesses pledged to do their part, in their own operations and beyond, to realize the Paris climate agreement's commitment of a global economy that limits global temperature rise to well below two-degrees Celsius.

They are calling on elected U.S. leaders to strongly support:
Continuation of low-carbon policies in order to allow the U.S. to meet or exceed its promised national commitments.
Investment in the low-carbon economy at home and abroad in order to give financial decision-makers clarity and boost investor confidence.
Continued U.S. participation in the Paris climate agreement in order to provide the long-term direction needed to limit global warming.
"The enormous momentum generated by the business and investment community to address climate change cannot be reversed and cannot be ignored by the Trump administration. That train has left the station and to stand in its way is folly," Matt Patsky, CEO of Trillium Asset Management, said.
Amy Goodman: What Would It Take for #Trump to Pull Out of Paris #Climate Deal? https://t.co/sk9D34sfi3 @democracynow @ClimateNexus @NRDC

— EcoWatch (@EcoWatch)1479240652.0
"Nevertheless, we know that now is the time to remind the incoming administration that virtually every company in the Fortune 500 and over $100 trillion in investor assets has acknowledged the reality of climate change and the need to address it head on," Patsky concluded.
By Meg Wilcox
Just north of Denver lies Colorado's most productive agricultural region, Weld County. Its rolling hills, grasslands and South Platte River system provide fertile ground for dairy cows, beef cattle, corn, sugar beets and forage crops.
But Weld County also sits on top of the Niobrara (DJ Basin) shale formation and that makes it the number one hotspot in the U.S. for new hydraulic fracturing activity. Over the past five years, close to 7,000 wells were drilled within its 3,996 square-mile area.
Among the myriad impacts of fracking on county residents is stress on their water supply. To recover the natural gas unevenly distributed throughout the shale formation, the hydraulic fracturing process blasts large volumes of water, fine sand and chemicals into the ground to crack open the formations.
Weld County's nearly 7,000 fracking wells, in fact, used 16 billion gallons of water over the past five years, more than any other county in the U.S., according to new research by Ceres. And that's a concern because Weld County is a region with extremely high water stress, according to the World Resources Institute Aqueduct Map. Extremely high water stress means that more than 80 percent of the county's available water resources are already allocated for municipal, industrial and agricultural uses.

Ceres
Weld County is not alone. Fracking activity throughout the arid south and west is placing increasing pressure on ever-tighter water supplies, with Colorado and Texas being ground zero.
Ceres researchers mapped water use in hydraulic fracturing across the U.S., using data from FracFocus.org and the World Resources Institute, and found that 57 percent of hydraulically fractured oil and gas wells between Jan. 1, 2011 and Jan. 1, 2016 were in regions of high water competition.
Our newly released interactive map shows water use by shale play and operator. Check it out:
Click on the interactive map to explore. Ceres
Among our key findings:

The top three shale plays by water use were the Eagle Ford in Texas, Marcellus in Pennsylvania and Midland Plays in Texas, with the Eagle Ford and Midland Plays being of particular concern given both their high water use and exposure to high water stress, drought and declining groundwater supplies.
Chesapeake, EOG Resources and Anadarko Petroleum were the biggest water users overall, while Pioneer Natural Resources and Encana were especially active in regions with extremely high water stress.
A total of 358 billion gallons of water was used for hydraulic fracturing over the 5-year timeframe, equivalent to the annual water needs of 200 mid-sized cities.
While overall fracking-related water use peaked in 2014 along with the slowdown in oil and gas production and plummeting prices, average water use per well doubled since 2013, from 2.6 million gallons per well to 5.3 million gallons per well at the end of Jan. 2016. This is likely due to modifications in drill site activity.
Even though oil and gas production have slowed, local communities at the epicenter of fracking—many in the country's most water-stressed regions—still face significant long-term water sourcing risks.
Our research found that, in seven of the top 10 counties for fracking activity, annual water use for hydraulic fracturing reached more than 100 percent of each county's domestic water use.
That high level of demand for water from shale production companies can potentially drive up the price of water for everyone else, or make supplies harder to come by.
Several years ago, for example, Kent Peppler, a fourth-generation Weld County farmer, told The Associated Press that he was fallowing some of his corn fields that year because he couldn't afford to irrigate the land for the full growing season, in part because energy companies were driving up the price of water.
"There is a new player for water, which is oil and gas," Peppler said. "And certainly they are in a position to pay a whole lot more than we are."
Local communities also face the issue of wastewater disposal, with its potential impacts on drinking water supplies and earthquake activity. The enormous volumes of wastewater produced by hydraulic fracturing are disposed of in underground deep well injection sites, which has been linked to both surface and groundwater contamination and to earthquakes.
It's Official: Injection of Fracking Wastewater Caused Kansas' Biggest Earthquake https://t.co/nvk4stRwC0 @Frack_Off @Peter_Seeger

— EcoWatch (@EcoWatch)1476566116.0
But the companies themselves face long-term water sourcing risks in these regions with high water stress, as well as an emerging regulatory risk related to wastewater disposal. Oklahoma, for example recently ordered the shut down of 37 wastewater disposal wells after a 5.6-magnitude earthquake struck the state.
Investors with oil and gas companies in their portfolios are taking note. As Steven Heim, managing director for Boston Common Asset Management, recently put it, "Hydraulic fracturing for oil and gas extraction, which used to be 'unconventional,' is now a part of most conventional energy company portfolios in the U.S. and Canada. This has made water management a critical liability or competitive advantage for companies and their investors."

There are certain operational practices and other steps that oil and gas companies can take to lessen their water impacts and lower their risks. For example, shale operators can consult with local communities on water needs and wastewater plans before starting operations, collaborate with industry peers and other industries on local water sourcing challenges and develop local source water protection plans. You can find a full list of our recommendations here.
[EcoWatch will be interviewing many of the speakers today at this event. Click here to watch our Facebook Live videos.]
A landmark climate change conference starts today in Oberlin, Ohio. The conference will bringing together many of the world's leading thinkers, political figures, economists, investors, philanthropists, business leaders, educators and public intellectuals to discuss the changes needed to "spur a successful transition to a sustainable, resilient, prosperous and equitable economy driven by safe, renewable energy." Oberlin College and The Oberlin Project are hosting After Fossil Fuels: The Next Economy from Oct. 6 - 8.
"After Fossil Fuels: The Next Economy" live stream tomorrow #AfterFossilFuels https://t.co/SpRIGRI1b2 @dotearth… https://t.co/VbB3H5dBP8

— Oberlin Project (@Oberlin Project)1475684823.0
The three-day event will focus on the economic and political realities we face in light of a warming planet. With just one month away from the presidential election, conversation on these issues couldn't be more relevant as we have two candidates with very different plans on how to address climate change.
"The most critical issue we face is climate change," said David W. Orr, the Paul Sears Distinguished Professor of Environmental Studies and Politics Emeritus at Oberlin College and the founder and visionary behind The Oberlin Project. "Climate and energy issues are flip sides of the same coin. We are now in the transition to a very different economy and we don't have a lot of time to get this right.
"October is just one month before a critical presidential election and we need to be heard in that cacophony. The governors are important speakers [at this event] because most of the action on climate change has been at state levels and it is the states who have been the real drivers in climate policy."

Arnold Schwarzenegger, 38th Governor of California: Governor Schwarzenegger made California a world leader in renewable energy and combating climate change with the Global Warming Solutions Act of 2006. He is the founder of The USC Schwarzenegger Institute for State and Global Policy, which is committed to advancing post-partisanship to find the best ideas and solutions to benefit the people they serve.
Bill McKibben, Founder, 350.org: Author and environmentalist McKibben was awarded the Right Livelihood Prize, sometimes called the "alternative Nobel," in 2014. His 1989 book, The End of Nature, is regarded as the first book for a general audience about climate change and has appeared in 24 languages. He is a founder of 350.org, the first planet-wide, grassroots climate change movement. The Schumann Distinguished Scholar in Environmental Studies at Middlebury College and a fellow of the American Academy of Arts and Sciences, he was the 2013 winner of the Gandhi Prize and the Thomas Merton Prize and holds honorary degrees from 18 colleges and universities. The Boston Globe has said that he is "probably America's most important environmentalist."
Hunter Lovins, Natural Capitalism Solutions: Lovins is president and founder of the nonprofit Natural Capitalism Solutions. A renowned author and champion of sustainable development for over 35 years, Lovins has consulted on sustainable agriculture, energy, water, security, and climate policies for scores of governments, communities, and companies worldwide. She is currently a professor of sustainable management at Bard MBA.
Bill Ritter, 41st Governor of Colorado: Governor Ritter was elected Colorado's 41st governor in 2006. During his four-year term, Ritter established Colorado as a national and international leader in clean energy by building a new energy economy. After leaving the governor's office, Ritter founded the Center for the New Energy Economy at Colorado State University, which works with state and federal policymakers to create clean energy policy throughout the country. Governor Ritter's book Powering Forward – What Everyone Should Know about America's Energy Revolution was published earlier this year.
Michael Brune, President of the Sierra Club: The Sierra Club's executive director since 2010, Brune is one of today's most inspiring and effective environmental leaders. Prior to joining the Sierra Club, Brune led Rainforest Action Network for seven years. Under Brune's leadership, the Sierra Club has grown to more than two million supporters and is at the forefront of the drive to move beyond fossil fuels to clean energy while also protecting America's remaining wild places.
Mindy S. Lubber, Ceres: Lubber is president and a founding board member of Ceres, a nonprofit organization that is mobilizing many of the world's largest investors and companies to take stronger action on climate change, water scarcity, and other global sustainability challenges. She directs Ceres' Investor Network on Climate Risk (INCR), a group of 120 institutional investors managing over $14 trillion in assets focused on the business risks and opportunities of climate change. Lubber also oversees engagements with more than 100 companies, many of them Fortune 500 firms, committed to sustainable business practices and the urgency for strong climate and clean energy policies.
Tom Steyer, NextGen Climate: Steyer is a business leader and philanthropist who believes that we have a moral responsibility to give back and help ensure that every family shares the benefits of economic opportunity, education, and a healthy climate. After founding and running a successful California business, he left to work full time on nonprofit and advocacy efforts. He now serves as president of NextGen Climate, an organization he founded in 2013 to prevent climate disaster and promote prosperity for all Americans.
Mark Campanale, Carbon Tracker Initiative: Campanale is founder of the Carbon Tracker Initiative, where he is responsible for management strategy, board matters, and developing the capital markets framework analysis. Originator of the "unburnable carbon" capital markets thesis, he commissioned and edited the report "Unburnable Carbon, Are markets Carrying a Carbon Bubble?"
The conference will be the first major event held in the new Peter B. Lewis Gateway Center, a state-of-the-art conference center located within The Hotel at Oberlin. The center is on target to become one of the rare LEED Platinum hotels and conference centers, and is the cornerstone of Oberlin's Green Arts District.
Watch the entire conference via this live feed:
A new analysis released today by Ceres shows that many of the nation's largest electric utilities and their local subsidiaries are moving toward lower carbon fuel sources and that ambitious state policies and strong corporate demand for renewable energy are key drivers of this trend.
The 2016 Benchmarking Utility Clean Energy analysis ranks the 30 largest electric utility holding companies and their 119 subsidiary companies, which collectively account for about 60 percent of U.S. retail electricity sales. The results show overall advances on renewable energy and energy efficiency in 2014, the latest year for which data is available, with some utilities producing 25 to 35 percent of their electricity from wind, solar and other renewables.
Wide disparities in the utilities' clean energy performance remain, however, underscoring the need for swift implementation of the U.S. Environmental Protection Agency's Clean Power Plan. The plan reduces carbon emissions from electric power plants by 32 percent by 2030.

"Renewable energy and energy efficiency, key building blocks of the Clean Power Plan, are increasingly cost-effective options for electric utilities looking to lower their carbon emissions," said Dan Bakal, director of electric power programs at Ceres, a nonprofit sustainability advocacy organization.
"Our analysis shows that the U.S. electric sector is in the midst of an unprecedented shift toward clean energy resources and that state policies are critical for continued progress in achieving national and international climate goals."
Utilities with the strongest results were typically in states with strong clean energy policies, such as Colorado, Minnesota, Massachusetts and California. The lowest-ranked utilities were mostly in southeast states, such as Alabama and Mississippi, which have weak state policies.
Top and Bottom Ranked U.S. Investor-Owned Electric Utilities on Clean Energy Deployment
Among the 30 holding companies, Sempra, PG&E, Edison International and Xcel ranked the highest for renewable energy sales, accounting for more than half of the total sales. Renewable resources made up more than 20 percent and in Sempra's case, nearly 36 percent, of the companies' sales in 2014. FPL, American Electric Power, ConEdison and PPL Corp ranked at the bottom, with renewable energy sales accounting for less than two percent of their total retail electricity sales.

Sempra Energy's renewable energy sales grew by more than 55 percent between 2013 and 2014 alone and Pinnacle West's grew by nearly 50 percent, while Eversource and DTE Energy demonstrated growth of more than 25 percent.
"Xcel Energy's positive ranking results from more than a decade of working with our states on clean energy policies," said Frank Prager, vice president, policy and federal affairs for Xcel Energy. "We continue to focus on our customers' growing desire for clean, renewable energy while demonstrating that we can successfully integrate these resources reliably and at a reasonable cost. It's an approach that is significantly reducing emissions and ensuring a more sustainable energy future for our communities."
"Californians care a lot about clean energy and we want to be an active partner in making the transition to a low-carbon economy as quickly as possible," said Melissa Lavinson, chief sustainability officer and vice president of federal affairs for PG&E. "Our showing in the Ceres rankings reflects our commitment to addressing the urgent challenge of climate change, while also helping our customers to use less energy and save money."
Energy efficiency top performers among the holding companies include Eversource Energy, PG&E, Portland General Electric, National Grid and Pinnacle West. Each achieved annual savings of at least 1.5 percent of their total retail electric sales, while also helping their customers save on their energy bills. Dominion Resources, FPL, Entergy and Southern Co and OGE Energywere among the weakest performers.
"Continued investment in energy efficiency and zero-carbon energy is central to Exelon's effort to build the next generation energy grid and drive the transition to clean energy," said Chris Gould, Exelon's senior vice president, corporate strategy and chief innovation and sustainability officer. "Exelon continuously works to identify new innovations and smart technologies to give customers greater access to clean energy and tools to help them use energy more efficiently."
Among the report's other key findings:
The Clean Power Plan's key approaches to compliance, energy efficiency and renewable energy, are increasingly economically feasible options for electric utilities. Energy efficiency is the lowest-cost energy resource and renewable energy costs continues to decline dramatically.
State policies are no longer the only driver of utility clean energy deployment. Companies with ambitious renewable energy sourcing goals are using their voice as major energy users to encourage utilities to offer more renewable energy. A consortium of major companies pledged not only to promote 60 gigawatts of new renewables development, but also to help overcome the barriers that complicate clean energy procurement. Companies are sourcing ever-greater amounts of clean energy directly from utilities.
Performance is not the only measure of clean energy leadership, which should include utility support for clean energy policies. For example, National Grid and PG&E have been outspoken supporters of energy efficiency, while FirstEnergy has been a vocal critic of Ohio's energy efficiency policy and supported efforts to freeze the state's goals.
"Seeing the leaps the renewable energy leaders have made in just two years has been amazing," said Ron Pernick, managing director of Clean Edge, a clean-tech research and advisory firm, which co-authored the report with Ceres. "Governments, corporations and individual customers continue to demand clean, efficient energy and some utilities are answering that call."
YOU MIGHT ALSO LIKE
'Three Amigos' Vow to Get Half Their Electricity From Clean Power by 2025
DNC Platform Calls for Fossil Fuel Investigations, 100% Renewable Energy
TransCanada Files NAFTA Suit Demanding More Than $15 Billion for Keystone XL Rejection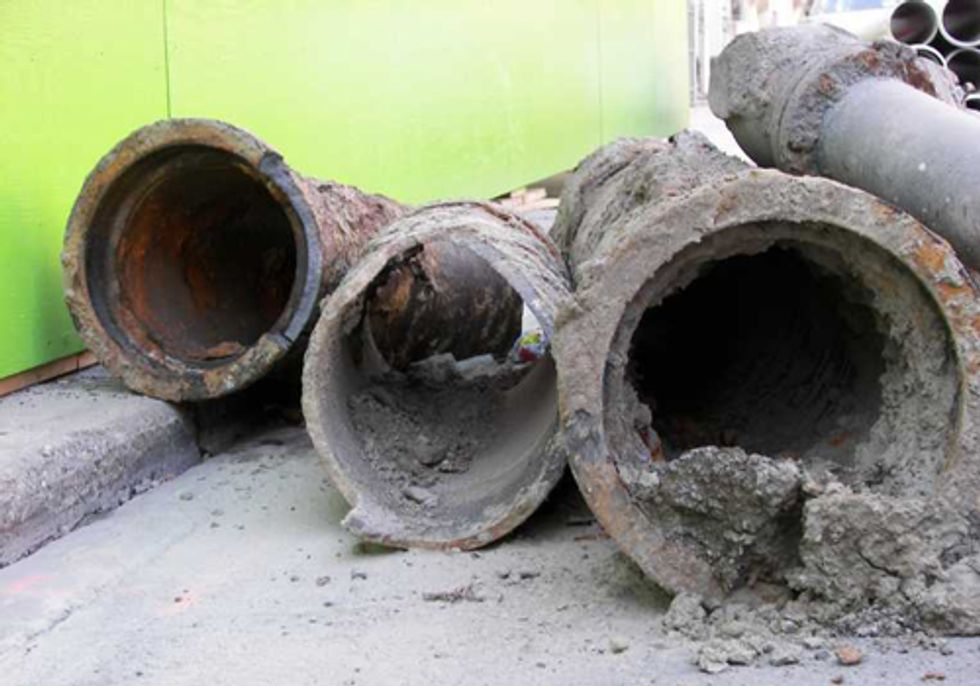 Innovative financing and pricing flexibility are key to preparing the nation's aging freshwater systems to handle growing demand and environmental challenges, according to a Charting New Waters report released Jan. 26 by The Johnson Foundation at Wingspread, American Rivers and Ceres.
The Financing Sustainable Water Infrastructure report, is the product of a meeting convened by The Johnson Foundation, in collaboration with American Rivers and Ceres, which brought together a group of experts to discuss ways to drive funding toward the infrastructure needed for the 21st century.
Largely built on systems developed during the 19th and early 20th centuries, U.S. water infrastructure faces profound problems of aging components, outdated technology and inflexible governance systems ill-equipped to handle current consumption, environmental and economic problems.
Presently, about 6 billion gallons of expensive, treated water is being lost in the U.S. each day due to leaky and aging pipes—some 14 percent of the nation's daily water use. This pervasive water waste is underscored by the fact the American Society of Civil Engineers gives the nation's water systems a D-, the lowest grade of any infrastructure including roads and bridges.
The report concludes that rebuilding and operating our water systems as they are presently built would be enormously inefficient. One major problem is the very nature of the systems themselves—where drinking water, stormwater and wastewater are built, financed and operated as entirely distinct units rather than as more efficient, interconnected systems. Another major problem is myopic, inflexible water-pricing systems that fail to distinguish between various water uses and generally undervalue water.
In order to achieve more sustainable, resilient and cost-effective freshwater systems, the report recommends bold new approaches for financing and operating public water systems, including:
• Local water solutions that can improve efficiencies, including green infrastructure, closed-loop systems and water recycling
• Flexible water pricing and revenue structures that distinguish between drinking water and various other types of water, such as lawn water and toilet water
• System-wide, full-cost accounting of water services and financing mechanisms
• Less reliance on state and federal funding and more reliance on private, market-based financing mechanisms that can support local, customer-supported solutions.
"While the deteriorating state of the nation's water infrastructure is not a secret, we have lacked workable strategies and policies to finance the changes needed," said Lynn Broaddus, director, Environment Programs at The Johnson Foundation. "This report addresses the critical linkage between financing and sustainability that was initially raised by the Charting New Waters consensus report in 2010. It's not enough to pay for new water infrastructure—we need the financing to actually drive a new, sustainable water infrastructure that will take care of generations to come."
 
Jeffrey Odefey, director of Stormwater Programs at American Rivers, said, "Clean water and resilient ecosystems are absolutely vital to our health, our communities, and economy. This timely report lays out clear directions to ensure that our communities grow into the future with safe, reliable water supplies and healthy rivers and streams."
Sharlene Leurig, senior manager of Water and Insurance Programs at Ceres, said, "This report makes clear that our nation's water infrastructure system is broken and dramatic changes are needed. Rethinking how we finance and operate our vast water systems is not a choice, it's a must. We have the engineering and land use tools we need to ensure our water systems can stand up to 21st century challenges. The key will be partnerships and cooperation between business, government and public interest groups to finance these new tools."
The Johnson Foundation is releasing this report as part of its work with Charting New Waters, an effort it formally launched in 2010 dedicated to catalyzing new solutions to U.S. freshwater challenges. Charting New Waters is composed of a diverse group of leaders from business, agriculture, academia and environmental organizations that have publicly committed to improving U.S. freshwater resources by advancing the principles and recommendations of the group. 
The initial phase of work led to the release of Charting New Waters: A Call to Action to Address U.S. Freshwater Challenges, a consensus report issued on Sept. 15, 2010. Download the report here.
As part of its ongoing Charting New Waters effort, The Johnson Foundation is also hosting a series of Regional Freshwater Forums that convene experts to examine freshwater challenges, successes, innovations and potential solutions that can bridge geographies and inform national policy. The first Forum took place in Denver, Colo., in October 2011.
For more information, click here.
—————
The Johnson Foundation at Wingspread is dedicated to serving as a catalyst for change by bringing together leading thinkers and inspiring new solutions on major environmental and regional issues. For additional information about Charting New Waters, or to learn more about The Johnson Foundation at Wingspread, visit www.johnsonfdn.org.
Ceres is an advocate for sustainability leadership. It leads a national coalition of investors and public interest groups working with companies to address sustainability challenges such as global climate change and water scarcity. Ceres also directs the Investor Network on Climate Risk (INCR), a network of 100 institutional investors with collective assets totaling about $10 trillion. For more information, visit www.ceres.org.