By Andrew Gunther
Forgive me if you don't see me jumping for joy at the U.S. Food and Drug Administration's (FDA) recent announcement that it intends to limit the use of a specific group of antibiotics in livestock production.
While the FDA's decision to curb the use of cephalosporins in food animal production beginning April 2012 has been hailed as positive step in the right direction, I'd say it's more a shuffle forwards—and a very reluctant one at that.
"We believe this is an imperative step in preserving the effectiveness of this class of important antimicrobials that takes into account the need to protect the health of both humans and animals," said Michael R. Taylor, the FDA's deputy commissioner for foods, in the FDA press release. Now, as regular readers of my post will already know, I am passionate about the urgent need to curb the misuse of antibiotics in intensive farming systems. So what's my problem with the FDA's recent actions? After all, surely this is good news?
As various commentators—including Tom Philpott and Mary McKenna—have already pointed out, I am afraid that cephalosporins are nothing but small fry when it comes to overall antibiotic use in intensive farming. During 2009 alone, the FDA revealed that 80 percent of all antibiotics produced in the U.S. were used for animals—that's an incredible 28,820,000 pounds out of the 36,080,000 pounds produced. Yet cephalosporins amounted to just over 91,000 pounds of this total—less than half of one percent of all antibiotics used in the U.S. The FDA's latest figures also reveal that cephalosporin use has decreased even further during 2010 to just over 51,000 pounds. To make matters even worse, the FDA's announcement is actually a (less strict) rehash of proposals that were first announced in 2008, and which were immediately recalled after the usual uproar from the intensive farming industry lobby.
So what's the real outcome of the FDA's recent action? Well, certainly some positive media fluff for the FDA for appearing to take a stand by banning a minor antibiotic that was clearly already losing favor within the industry, yet a minimal impact on the day-to-day workings of the intensive farming industry. A cozy coincidence? I wish it was.
This rather insignificant move forward comes after a preemptive, giant leap backwards made Dec. 22, 2011, just as most of us were focusing on the upcoming holiday period. Notably without any accompanying press release or media fanfare in this instance, the FDA quietly announced in the Federal Register that it was withdrawing its long-standing intention to compel intensive farms to limit certain uses of the key antibiotics penicillin and tetracyclines for food-producing animals—an objective originally set in motion more than 30 years ago when government FDA scientists first began to fully appreciate the risks to human health from the laissez-faire non-therapeutic use of antibiotics in industrial farming.
We all know the story since then—over the years, the FDA has time and again cowed down to powerful political and legal pressure from the multi-billion dollar intensive farming industry lobby and its paid-up politicians, as antibiotic use in farming continued to spiral out of control in the pursuit of ever-cheaper protein and ever-increasing profit—not to mention the impact of intensification on animal welfare, our health and the environment. In its recent announcement the FDA warns that while it has not "ruled out" future regulatory action, it will instead "focus its efforts for now on the potential for voluntary reform and the promotion of the judicious use of antimicrobials in the interest of public health." I bet Big Ag's CEOs are quaking in their boots.
Voluntary reform? Call me a cynic, but the FDA has got to be kidding. Despite decades of mounting evidence and the emergence of a global scientific consensus that the routine non-therapeutic use of medicinally important antibiotics on industrial farms across the world is leading to the development of life-threatening multiple antibiotic-resistant bacteria, the powerful U.S. intensive farming lobby continues to aggressively dismiss the science and deny any possible risks to human health—just as the tobacco industry did in the 1970s.
While the FDA's announcement of limitations for the use of cephalosporins in food animal production might well be a small step in the right direction, the FDA continues to show that it has no teeth when it comes to ensuring that the intensive farming industry puts human health before profit, so that these vital medicines can remain effective for as long as possible. Even the Government Accountability Office recently concluded that key government agencies—including the FDA—are simply not doing enough to combat the growing threat of antibiotic resistant bacteria to public health, and that "antibiotic use in food animals contributes to the emergence of resistant bacteria that may affect humans." Far from being the proud industry watchdog working on behalf of U.S. citizens, the sad reality is that the FDA is happy to play the role of Big Ag's lapdog.
For more information, click here.
EcoWatch Daily Newsletter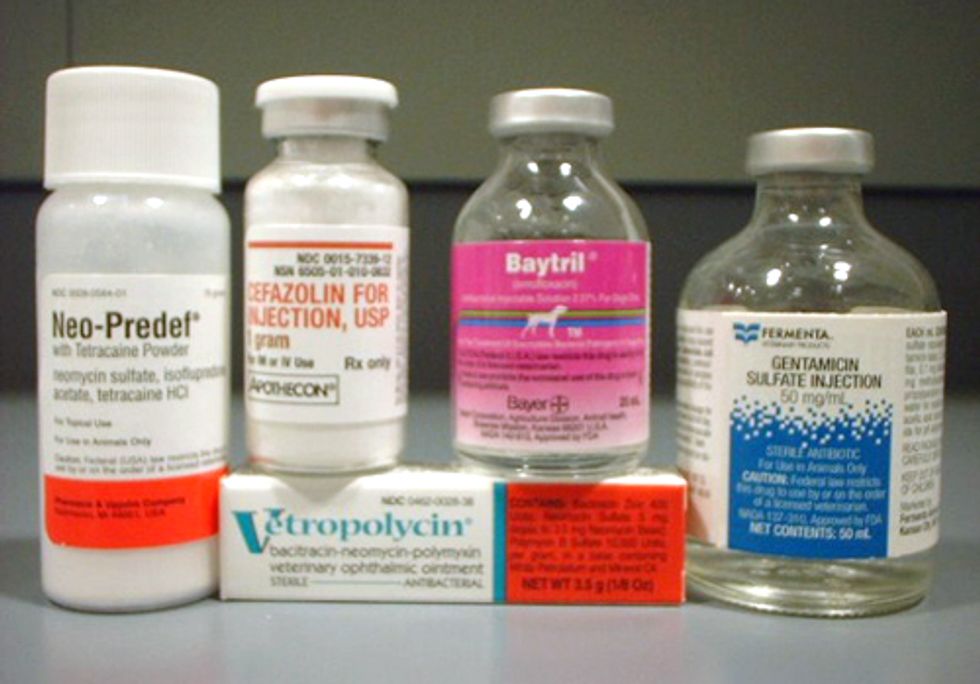 The Pew Campaign on Human Health and Industrial Farming praised the U.S. Food and Drug Administration (FDA) Jan. 4 for limiting the use of cephalosporins in food animal production.
Cephalosporins are vital treatments for children suffering from infection. Unlike other antibiotics, such as fluoroquinolones and tetracyclines, they carry no warnings or precautions for pediatric use. They also are important medicines for treating people suffering from bacterial meningitis and infections of the bone, urinary tract, and upper respiratory system, as well as those associated with cancer.
 
"We applaud FDA's move," said Laura Rogers, project director of the Pew Campaign on Human Health and Industrial Farming. "This restriction is a victory for human health, as it will help ensure we can still rely on cephalosporins to treat life-threatening infections today and in the future."
 
Although FDA has approved cephalosporins to treat some infections in food animals, the drugs often are administered in ways not specifically approved by the agency. Its rule will apply to such extralabel use of cephalosporins in meat and poultry production, which multiple studies have linked to the emergence of cephalosporin-resistant bacteria that can infect people.
 
If cephalosporins continue to be overused on industrial farms, these drugs will lose their effectiveness. As a result, many human infections will become more difficult to treat, leading to more deaths and higher health care costs.
"Today's action is a good first step," added Ms. Rogers, "and we encourage FDA to issue guidelines expeditiously that restrict the overuse and misuse of other critical antibiotics on industrial farms."
In 2010, officials from FDA, the U.S. Department of Agriculture, and the Centers for Disease Control and Prevention testified before Congress that there was a definitive link between the uses of antibiotics in food animal production and the crisis of antibiotic resistance in humans. In addition, many medical organizations including the American Medical Association, the American Academy of Pediatrics and the World Health Organization warn that this practice is putting human health at risk.
 
To ensure additional human antibiotics work when we need them, the Pew Campaign on Human Health and Industrial Farming also urges Congress to pass the Preservation of Antibiotics for Medical Treatment Act (H.R. 965, S. 1211).
A 60-day public comment will follow FDA's announcement, during which Pew will submit a formal response to the agency.
For more information, click here.
Westend61 / Getty Images
For many people, the holidays are rich with time-honored traditions like decorating the Christmas tree, lighting the menorah, caroling, cookie baking, and sipping from the unity cup. But there's another unofficial, official holiday tradition that spans all ages and beliefs and gives people across the world hope for a better tomorrow: the New Year's resolution.
<p>It's believed that ancient Babylonians were the <a href="https://www.cnet.com/health/the-history-of-new-years-resolutions-and-celebrations/#:~:text=4%2C000%20years%20ago%20in%20Babylon%20(around%202000%20B.C.)&text=Most%20historians%20believe%20Babylonians%20were,accordance%20with%20an%20agricultural%20year." target="_blank">first people to make New Year's resolutions</a> some 4,000 years ago. Over time, the popular practice shifted in scope from making promises to the gods about repaying debt to making promises to ourselves about self-improvement. Anyone who has ever made a New Year's resolution probably included something like get more sleep or be less stressed. And though it might not immediately come to mind when you brainstorm strategies for reaching your New Year's goals, it turns out that chamomile tea could be the answer for many of them. </p><p>If you've ever asked yourself why everyone is drinking chamomile tea, we've got the answer here. Read on to learn some of the reasons why this herbal beverage is all the rage.</p>
Benefits of Chamomile Tea
<p><strong>Sleep More Soundly</strong></p><p>Pick your grandmother's brain about the best way to fall asleep, and she might tell you to down a nice glass of warm milk. But if you consult with science, research shows that chamomile might be a better option. That's because it contains an antioxidant called apigenin, which can <a href="https://www.ncbi.nlm.nih.gov/pmc/articles/PMC2995283/" target="_blank" rel="noopener noreferrer">promote sleepiness and reduce insomnia and other sleep problems</a>.</p><p>Two research studies even confirmed the power of chamomile throughout the day and before bed. In one of those studies, postpartum women who drank chamomile for two weeks <a href="https://www.ncbi.nlm.nih.gov/pubmed/26483209" target="_blank" rel="noopener noreferrer">experienced better sleep quality than the control group who didn't</a>. Another research effort measured how fast people could fall asleep. Those results illustrated that participants who consumed 270 milligrams of chamomile extract twice daily for 28 days <a href="https://www.ncbi.nlm.nih.gov/pmc/articles/PMC3198755/" target="_blank" rel="noopener noreferrer">fell asleep 15 minutes faster than the control</a>. The chamomile group also had considerably fewer sleep disruptions. </p><p><strong>May Be Able to Keep Your Gut Healthy</strong></p><p>Though the following studies used rats as the subjects, research shows that chamomile can potentially play a beneficial role in digestive health. According to that research, the anti-inflammatory properties in <a href="https://www.ncbi.nlm.nih.gov/pubmed/24463157" target="_blank" rel="noopener noreferrer">chamomile extract may be able to protect against diarrhea</a>. Additionally, chamomile may be an effective way to <a href="https://www.ncbi.nlm.nih.gov/pmc/articles/PMC4177631/" target="_blank" rel="noopener noreferrer">stop the growth of bacteria in our stomachs that contribute to ulcers</a>.</p><p><strong>Reduces Stress and Anxiety</strong></p><p>Few things are more relaxing than curling up with a good cup of tea, so it's logical that chamomile tea can serve a stress reducer. While it lacks the potency of a pharmaceutical drug, long-term use of chamomile has been shown to <a href="https://www.ncbi.nlm.nih.gov/pubmed/27912875" target="_blank" rel="noopener noreferrer">"significantly" reduce general anxiety disorders</a>. In general, chamomile can act almost like a sedative, and many people enjoy the tea because it puts them in a calm and relaxed state almost immediately. </p><p><strong>Boosts Immune Health</strong></p><p>Vitamin C and zinc are common over-the-counter supplements that people often turn to when they're hoping to avoid becoming sick. While scientists admit that more research must take place to prove chamomile's impact on preventing ailments like the common cold, the existing studies do show promise in this area. </p><p>One study had 14 participants drink five cups of the tea every day for two consecutive weeks. Throughout the study, researchers collected daily urine samples and tested the contents before and after the consumption of the tea. Drinking chamomile resulted in a significant increase in the levels of hippurate and glycine, <a href="https://www.ncbi.nlm.nih.gov/pmc/articles/PMC2995283/" target="_blank" rel="noopener noreferrer">both of which are known to increase antibacterial activity</a>. Inhaling steam from a pot of freshly brewed chamomile tea may also ease the symptoms of nasal congestion.</p><p><strong>Minimizes Menstrual Cramps</strong></p><p>This one may come as a surprise, particularly to readers who have tried every possible over-the-counter treatment to reduce period pain. Several research studies have proven that chamomile tea may be able to minimize the pain and cramps that occur during menstruation. Women in that same study also dealt with lower levels of anxiety that they typically felt because of menstrual cramps.</p><p><strong>Help Diabetes and Lower Blood Sugar</strong></p><p>For people with diabetes, regulating blood sugar levels can be a matter of life or death. And while chamomile will never replace prescription-strength drugs, it's believed that it can prevent an increase in blood sugar. A 2008 study on rats showed that chamomile could have a <a href="https://pubs.acs.org/doi/abs/10.1021/jf8014365" target="_blank" rel="noopener noreferrer">moderate impact on the long-term risk of diabetes</a>.</p><p><strong>Might Improve Your Skin</strong></p><p>Ever wondered why there's been an influx of chamomile-infused cosmetic products? The reason why so many manufacturers now include chamomile in their lotions, soaps, and creams is because it <a href="https://www.ncbi.nlm.nih.gov/pmc/articles/PMC5074766/" target="_blank" rel="noopener noreferrer">acts as an anti-inflammatory on our skin</a>. That means it may be able to soothe the puffiness that plagues us as we age. Those same anti-inflammatory properties can be vital in restoring skin health after we've received a sunburn. </p><p>Before discarding your used chamomile tea bags, try chilling them and placing them over your eyes. Not only will this help with the puffiness, but it can drastically light the skin color around the eye.</p><p><strong>Help With Heart Health</strong></p><p>Some of the most beneficial antioxidants we put into our bodies are what are known as flavones, and chamomile tea is chock full of them. Flavones have the potential to lower both blood pressure and cholesterol levels, which, when elevated, <a href="https://www.ncbi.nlm.nih.gov/pmc/articles/PMC4814348/" target="_blank" rel="noopener noreferrer">can lead to heart disease</a>.</p>
Why Everyone Is Drinking Chamomile Tea
<p>Now that you know so much about the wonders of chamomile, it shouldn't come as a surprise why the tea is so popular with people of all ages. In addition to tasting great, chamomile offers up benefits that boost the health of body parts both inside and out. As you ponder your own New Year's resolutions, think about how healthy and natural vitamins, supplements, plants, and oils can help guide you on your own personal path to improvement. Happy New Year!</p>

<div class="rm-shortcode amazon-assets-widget" data-rm-shortcode-id="0da9d8545ec44ebf1a31d6044181ed9e" contenteditable="false"> <a href="https://www.amazon.com/dp/B07N2F8718?tag=ecowatch-20&amp;linkCode=ogi&amp;th=1&amp;psc=1" target="_blank"> <img type="lazy-image" data-runner-src="https://m.media-amazon.com/images/I/41B2ANHhsdL.jpg" class="amazon-assets-widget__image widget__image"> </a> </div> <p>FGO tea bags are made of hemp fiber paper, free of dyes, adhesive, glue, and chlorine bleach. The tea is also certified USDA Organic by California Certified Organic Farmers (CCOF).</p>

<p><em>Josh Hall has been a professional writer and storyteller for more than 15 years. His work on natural health and cannabis has appeared in Health, Shape, and Remedy Review.</em></p>

From Your Site Articles

Related Articles Around the Web