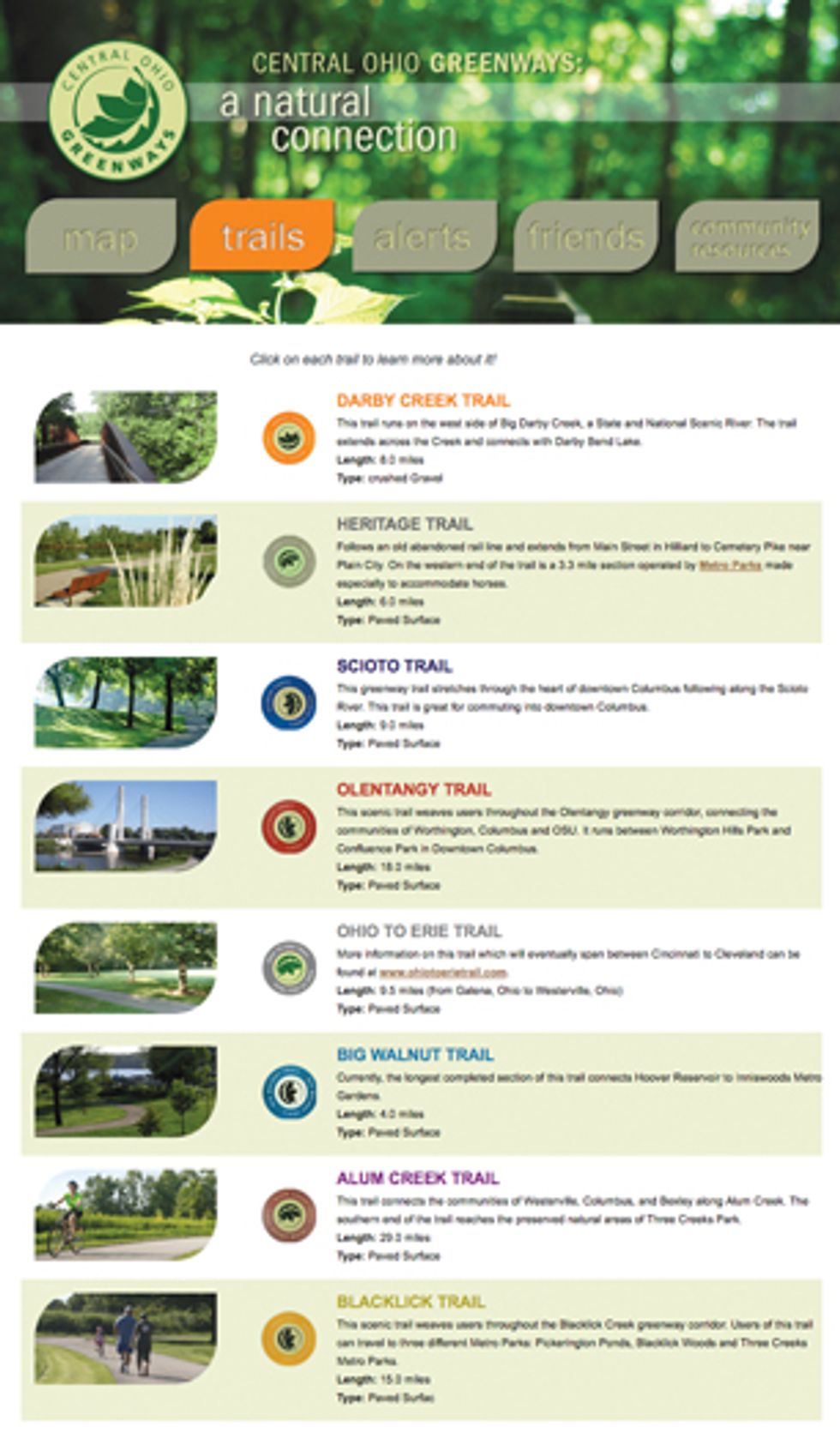 by Bernice Cage
The Mid-Ohio Regional Planning Commission (MORPC) reintroduces their Greenways website—www.centralohiogreenways.com—with a whole new look. Interactive and user-friendly, the website serves as a source of information and updates on central Ohio's trails for everyone to use.
Central Ohio Greenways is an extensive network of trails that wind throughout central Ohio. The trails create an irreplaceable experience by blending the natural beauty of our scenic rivers with the diverse neighborhoods and attractions of the city.
The redesigned website now features an interactive map for all of the Greenway Trails and where further development of these trails will take place. Additionally, it offers information on each of the trails, alerts about current happenings affecting the trails, an opportunity to get involved with your local watershed protection group and community resources.
"We are very excited about this website," said Amanda McEldowney, MORPC Associate Planner. "Trail users have been asking for an interactive map. The ultimate goal is that the new website will be a one-stop resource for trail users."
For more information, visit www.centralohiogreenways.com.
--------
MORPC is a voluntary association of 47 local governments in central Ohio serving the region through planning, direct service, public policy information and innovative programming and intergovernmental coordinating services in the areas of transportation, land use, energy conservation, the environment and housing.
EcoWatch Daily Newsletter
Bringing your own reusable grocery bags when you go shopping is one of the easiest ways to cut down on your plastic consumption — according to the UN Environment Program, up to 5 trillion single-use plastic bags are used globally each year.
The most sustainable option is to use a bag you already have, whether it's an old tote or a laundry basket (
thank TikTok for that idea
). You can also
make your own
reusable grocery bags out of T-shirts. But if you'd rather purchase designated reusable grocery bags, here are our recommendations.
<div class="redactor-editor" dir="ltr" placeholder="Start writing..." spellcheck="false"><p><em>Each product featured here has been independently selected by the writer. If you make a purchase using the links included, we may earn commission.</em></p></div>