This website uses cookies to ensure you get the best experience while browsing it. By clicking 'Got It' you're accepting these terms.


The best of EcoWatch, right in your inbox. Sign up for our email newsletter!
Kraig Scarbinsky / DigitalVision / Getty Images
By Caroline Cox
Many parents cheered about 10 years ago when Michelle Obama took on the important task of improving school meals. Of course, every child should have a healthy lunch and breakfast. Most of us have school cafeteria stories; I still remember the feeling of failure I had decades ago when I realized my daughters never had time to eat more than their dessert before joining the stampede for recess.
Ms. Obama's work—and the work of many other concerned parents, teachers and staff—sparked significant improvements in school menus, some of which are now being undone by the current administration (allowing children to eat food with more salt and less whole grain). Schools must once again take another step forward.
Astrakan Images / Cultura / Getty Images
EcoWatch Daily Newsletter
Pexels
By Kathryn Alcantar and Jose Bravo / Independent Media Institute
No one should be exposed to toxic chemicals in their food, particularly children. But that's exactly what the Center for Environmental Health (CEH) found in tests of microwave popcorn bags sold in Dollar Stores. These stores are frequented by communities of color and millions of poor Americans.
Natural gas flaring near a school. Kellly Finan
A federal court has ruled that the U.S. Environmental Protection Agency (EPA) systematically violated the Endangered Species Act—a key wildlife protection law—when it approved bee-killing insecticides known as neonicotinoids.
People in California's Central Valley could be drinking water tainted by cancer-causing chemicals used in oilfields, and current water-testing procedures would not detect these substances, according to a scientific report released Tuesday by researchers at PSE Healthy Energy, Lawrence Berkeley National Laboratory, the University of California and the University of the Pacific.
More than 100 farms in the Central Valley use oil wastewater for irrigation.
The report identified dozens of hazardous chemicals used in oilfields that supply waste fluid used to irrigate food crops and recharge underground water supplies in California. Researchers note that produced fluid from these oilfields is recharging regional aquifers used for agriculture that "can also be used for domestic water supply (including drinking water)."
"Many of the chemicals used on oil fields do not have standard analytical protocols for their detection in water, so current water quality monitoring programs are mainly focused on naturally occurring contaminants," the report noted.
"Given these shocking findings, California regulators should immediately halt the use of oil-waste fluid in any procedure that could contaminate the water we drink or the food we eat," said John Fleming, a staff scientist with the Center for Biological Diversity and member of the Protect California Food coalition and Californians Against Fracking. "It's absolutely unacceptable that people in the Central Valley could be drinking dangerous oil-industry chemicals right now without even knowing it."
Oilfield wastewater has been used to irrigate food crops in the Cawelo Water District since the mid-1990s, the report noted. The practice recently spread to the North Kern Water Storage District, and state officials have said they hope to further expand it. But there has been little evaluation of risks posed by the threat of chemicals in such fluid.
Researchers noted that many chemicals used in these oilfields cannot be evaluated for hazards because oil companies have withheld key information. But more than 40 percent of those substances that can be identified can be classified as potential threats to human health or the environment.
"This report shines an important light on a troubling reality—the state of California is allowing the oil industry to experiment on consumers of our food products and the agricultural workers that grow them," said Madeline Stano, a staff attorney with the Center on Race, Poverty & the Environment. "The report demonstrates that the use of oil wastewater adds serious risks to both consumers and agricultural workers' health and safety. The state should stop this practice immediately."

Ten of the oilfield chemicals evaluated by this research team have been classified by the International Agency for Research on Cancer as either carcinogenic or possibly carcinogenic in humans.
More than 100 farms in the Central Valley use oil wastewater for irrigation. Some of the U.S. most popular brands grow food in the Cawelo and North Kern water districts, including Trinchero Family Estates (makers of Sutter Home wines) and Halos Mandarins (formerly known as Cuties).
In light of recent action in Europe to suspend the use of certain neonicotinoid pesticides, Beyond Pesticides joined 12 other environmental and advocacy organizations in urging the Obama Administration to direct the U.S. Environmental Protection Agency (EPA) to follow the European Union's lead in recognizing that risks posed by these pesticides are unacceptably high, and to suspend the use of these chemicals in the U.S. to protect pollinators and the nation's agricultural economy.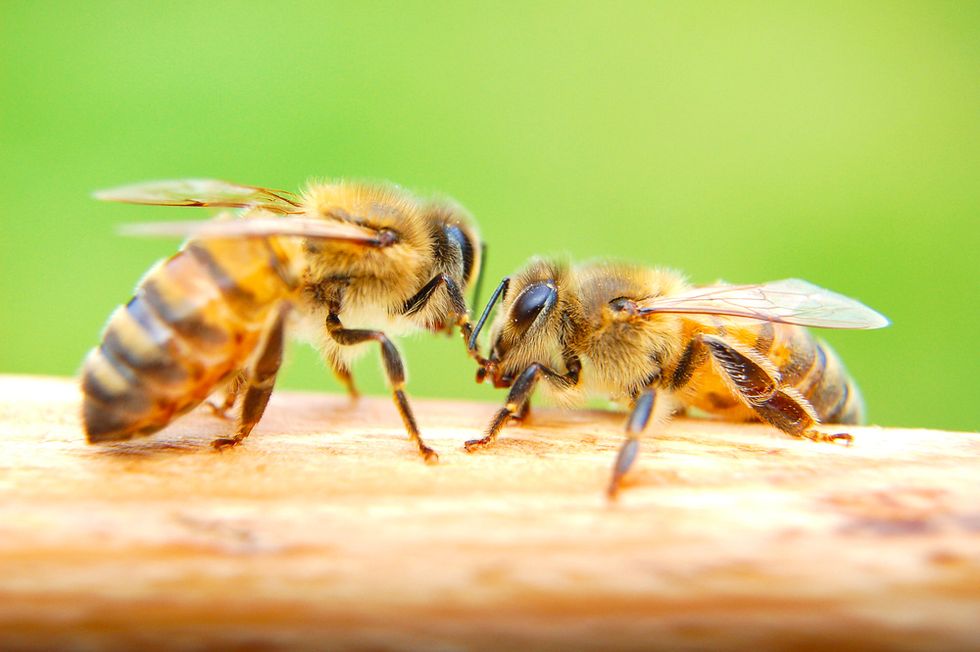 Photo courtesy of Shutterstock
The letter urges the Obama Administration to not only direct EPA to follow Europe's lead in suspending certain neonicotinoid pesticides uses, but requests even more protective measures, including a minimum two-year suspension for all outdoor uses of neonicotinoid insecticides pending resolution of their hazards to bees and beneficial organisms. Highlighting the negative environmental and economic impacts of outdoor uses of the EPA-approved neonicotinoid insecticides—imidacloprid, clothianidin, thiamethoxam, dinetofuran and acetamiprid—as well as a recognition that the initial risk assessments for these chemicals fail to adequately consider key risks to bee health, the letter to President Obama notes that it, "would not be responsible to continue to allow these threatening compounds to be used so broadly."
On average, U.S. beekeepers lost 45.1 percent of the colonies in their operation during the winter of 2012-2013, with many reporting over 70 percent losses of their bee colonies. Recently, over 50,000 bumble bees, representing approximately 300 colonies, were killed after the application of a neonicotinoid pesticide to trees in Oregon. Given that bee pollination is a $20-$30 billion per year contributor to U.S. agriculture and vital to the majority of fruit and vegetable produce, current impacts on bees are rapidly evolving into devastating—perhaps irreversible—losses to farmers, consumers and the economy as a whole, which relies on domestically-produced bee-pollinated food and fiber crops.
The neonicotinoid class of insecticides has been identified as a leading factor in bee declines. Neonicotinoids are systemic insecticides used primarily as seed treatment for corn and soybeans, as well as in home and garden products. The Center for Food Safety has a comprehensive list of neonicotinoid products to avoid. These chemicals contaminate nectar and pollen, as well as soil and surface water. Foraging and navigational disruptions, immune suppression as well as learning and memory disorders have been documented in bees exposed to even low levels of these chemicals. An extensive overview of the major studies showing the effects of neonicotinoids on pollinator health can be found on Beyond Pesticides' What the Science Shows webpage.
In March 2013, commercial beekeepers and environmental organizations filed an emergency legal petition with EPA to suspend use of the pesticides linked to honey bee deaths, urging the agency to adopt safeguards. Meanwhile in Europe, the European Commission passed a continent-wide suspension on the neonicotinoids imidacloprid, clothianidin and thiamethoxam, citing unacceptable hazards to bees, which is supported by a European Food Safety Authority (EFSA) report that finds the neonicotinoid class of insecticides of "critical concern" to bee health. Unfortunately, in the U.S., response from federal regulatory agencies is stymied. Despite the groundbreaking decision in Europe, EPA released a report which failed to address the overwhelming scientific evidence of neonicotinoid-related bee deaths or present any sustainable solution to address the bee crisis.
The letter also brings several key acknowledgments by federal officials made in public statements at recent meetings, in media statements, in EPA documents and other venues to the Administration, including:
EPA's enforcement guidance for neonicotinoid use is inadequate.
EPA's bee kill incident reporting system is inadequate.
Labels on neonicotinoid products are inadequate to mitigate adverse environmental effects, specifically to avoid seed dust-mediated mortality to honey bees and other beneficial insects in or near corn fields.
Current corn planting machinery poses significant dust-off risks and needs changing, while also recognizing that such changes will likely take many years and stating that EPA lacks authority to mandate machinery changes.
Bee health and populations, and crop pollination, are in a near-crisis state based on several synergistic factors including insecticide use.
EPA has not consulted with the U.S. Fish and Wildlife Service on potential effects on threatened or endangered species under Sec. 7 of the Endangered Species Act for the neonicotinoid insecticides.
According to the concerned groups, EPA has refused to exercise its regulatory power to address the major contribution of these insecticides to bee declines. Instead, the agency has pointed to land use decisions, crop planting choices by farmers, pathogens, bee nutrition and other factors outside the agency's authority, while failing to adopt measures that could offer long-term sustainable protection of bee populations. The letter also cites emerging science which documents extensive surface water contamination and impacts on non-target organisms such as aquatic invertebrates, birds and other pollinators.
"We could face a second Silent Spring above and beyond the threats to managed and wild pollinators," the letter states. Additionally, it states that EPA's planned 2018 deadline to complete its registration reviews for the major neonicotinoids "is far too slow in view of their potentially calamitous risks."
The signatories to this letter include: Beyond Pesticides, The Center for Food Safety, Pesticides Action Network North America, Friends of the Earth, The Xerces Society, Sierra Club, Defenders of Wildlife, Californians for Alternatives to Toxics, Food & Water Watch, Center for Environmental Health, American Bird Conservancy and the Northwest Coalition for Alternatives to Pesticides.
Beyond Pesticides' BEE Protective campaign also has educational tools to help the pollinators in your yard, park or garden and information to help transform your community and raise awareness about pollinator health.
Visit EcoWatch's BIODIVERSITY page for more related news on this topic.
——–

WHAT STEPS COULD BE TAKEN TO PRESERVE BIODIVERSITY IN URBAN AREAS?
The Center for Environmental Health (CEH) today released a new report outlining the health risks to pregnant women and young children from harmful chemicals used in fracking. The report, Toxic and Dirty Secrets: The Truth About Fracking and Your Family's Health, shows how chemicals related to the oil and gas industry when conducting fracking operations can pollute the air and water in communities around fracking sites and pose health risks especially to pregnant women and children, who are most vulnerable to chemical exposures.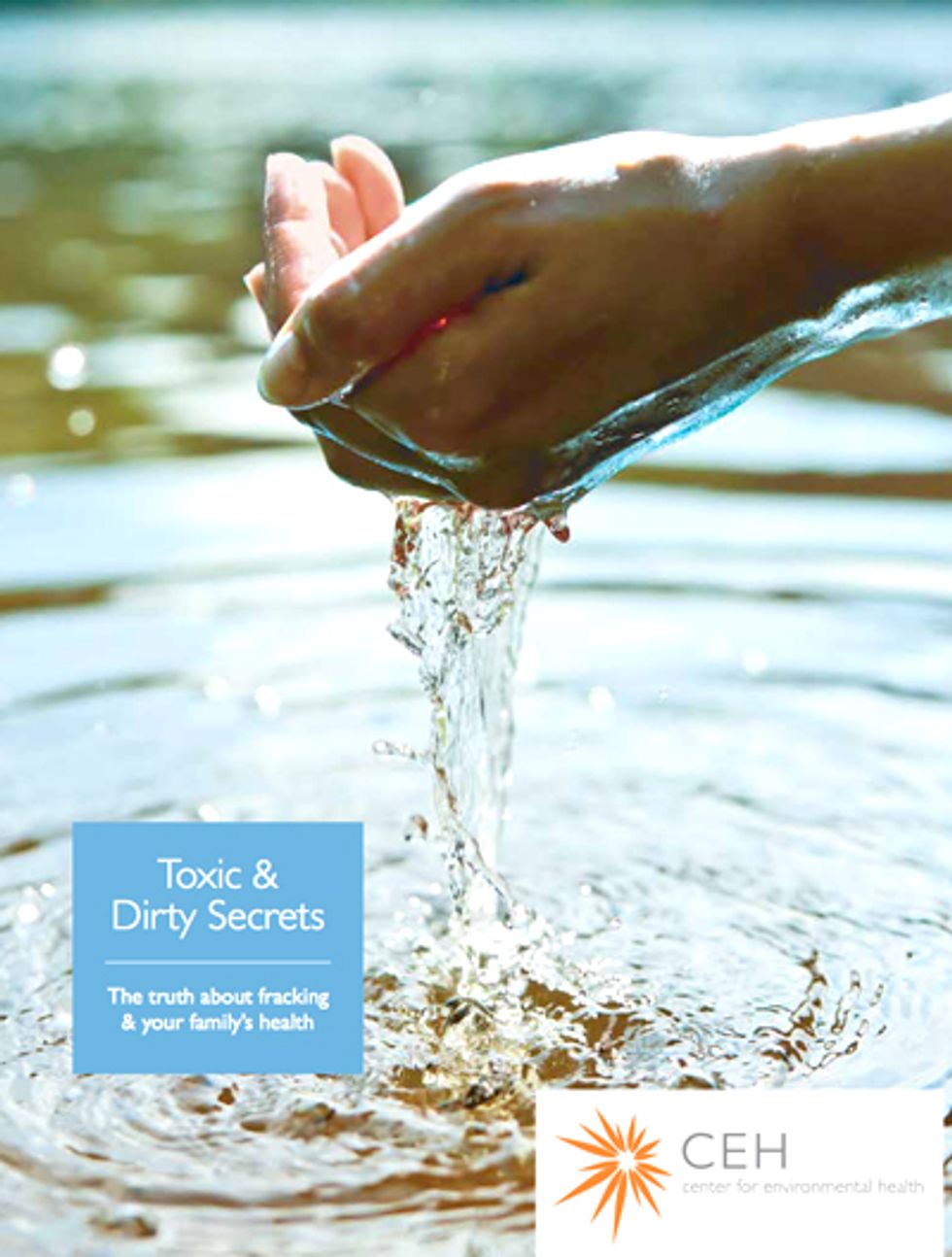 Toxic and Dirty Secrets: The Truth About Fracking and Your Family's Health
by Center for Environmental Health.
"Many harmful chemicals that we have been working so hard to eliminate from consumer products are now being used in mass quantity by fracking operations. In many instances, residents near fracking sites have already suffered from chemical pollution in their air and water," said Ansje Miller of CEH, a co-author of the report. "Current regulations allow companies to hide the fact that they are poisoning us with these chemicals under a claim of 'trade secret.' This is unacceptable, and leads to serious health risks, especially to pregnant women and children."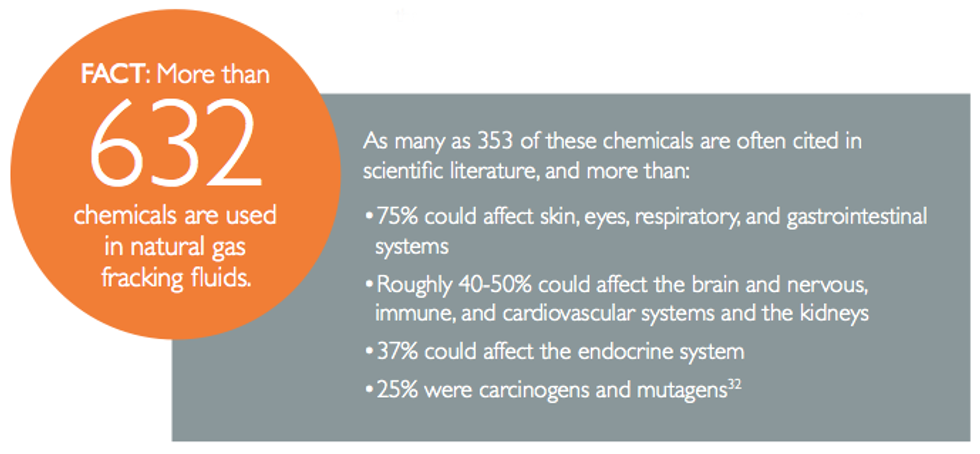 The chemicals used in fracking operations, from extraction to processing, distribution, transport and waste disposal, can pollute surrounding air and water. These harmful chemicals pose serious health risks to surrounding communities, and in particular to pregnant women and children. Just some of the harmful substances commonly used in fracking include methane, BTEX (benzene, toluene, ethylbenzene and xylenes), arsenic, radium, ozone, formaldehyde, radium, radon, nitrogen oxides, methylene chloride and silica sand. These substances are associated with low birth weight, birth defects, respiratory problems, cancer and fertility problems.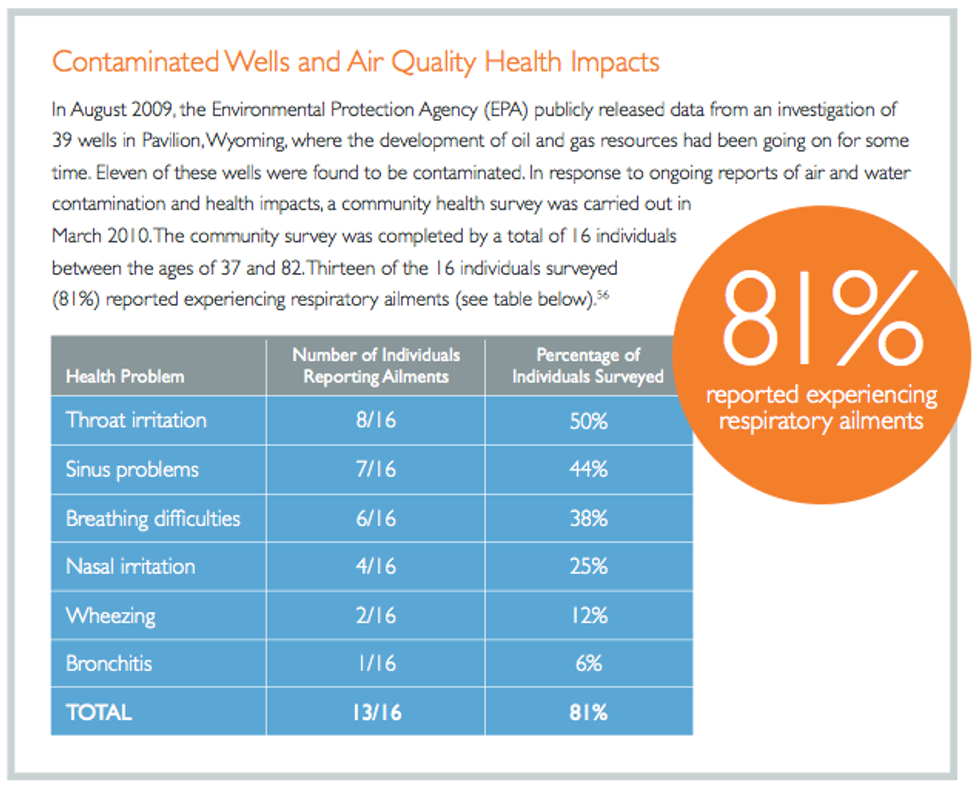 According to New York State Sen. Tony Avella, "More and more individuals are starting to realize that hydrofracking is an extremely dangerous drilling practice and its effects, both known and unknown, are too dangerous to not have a comprehensive and transparent health impact analysis. There have been a variety of illnesses associated with residents living near hydrofracking sites, such as loss of smell, memory problems, headaches, respiratory illness and stillbirths. This is why an impact study remains paramount in determining the effects of hydrofracking prior to even considering allowing fracking in our State. I commend the Center for Environmental Health for releasing this important report which further focuses on health effects on mothers and children as a direct result of hydrofracking. The evidence is simply overwhelming against this dangerous practice. I will therefore continue to advocate for the State of New York to heed these warnings."
Fracking has also been found to alter the social fabric of the communities where it occurs. The process increases road traffic, which increases stress, injuries and fatalities. Fracking also causes industrial noise, which is correlated with hypertension, sleep disturbance, cardiovascular disease, stroke, increased aggression, depression and cognitive impairment. Fracking has also caused social disruption, and has been correlated with increases in sexually transmitted diseases, substance abuse and violent crime.
"Nurses are deeply concerned about the irreparable harm fracking inflicts upon the people and communities in their care," said Kathy Curtis, LPN, Board Member of the Alliance of Nurses for Healthy Environments. "Environmental damage, diseases and disorders and negative social impacts are just part of the problem. What we don't hear much about is another chemical industry dirty little secret: much of the fracked gas will supply cheap energy and feedstock to make yet more toxic chemicals. Further, our communities will be irrevocably contaminated, not to provide inexpensive home heating as has been advertised, but to ship the gas to China."
"Fetuses and children are disproportionately vulnerable to the deleterious effects of exposure to environmental toxicants," said Dr. Sheila Bushkin, MD, MPH. "Although health impacts from industrial chemicals already exist in our population, the magnitude of risk would be greatly increased if High-volume Hydraulic Fracturing (HVHF) is permitted within the state of New York. Exposure to industrial chemicals and to ionizing radiation cause greater injury during development and early life. This may result in greater likelihood of birth defects, cognitive and behavioral development and lifelong disabilities. Likewise, environmental exposures to these substances, place pregnant women at greater risk from complications of gestation, resulting in increased maternal illnesses and mortality. From an ethical point of view, it is the responsibility of the medical community and legislative leaders to protect the health of the people of New York State and future generations. The first step would be to conduct a comprehensive Health Impact Assessment, prior to permitting the onset of HVHF activities within this beautiful state."
Visit EcoWatch's FRACKING page for more related news on this topic.
——–
Sign the petition today, telling President Obama to enact an immediate fracking moratorium: