This website uses cookies to ensure you get the best experience while browsing it. By clicking 'Got It' you're accepting these terms.
Drought damage on the Fresno Harlen Ranch in Fresno, CA in 2014. USDA photo by Cynthia Mendoza
By John Russell
Sometimes climate change can feel like someone else's problem—we read about stronger hurricanes hitting our coasts or wildfires raging across California and think 'well, it's a good thing that I live here and not there.' The truth is, climate change is everyone's problem, and it's already impacting Ohio. But we have a way to fight it.
Dena Cooper / Ikon Images / Getty Images
EcoWatch Daily Newsletter
The pristine Arctic National Wildlife Refuge (ANWR) faces a looming threat from oil and gas drilling. The little known provision, proposed by Sen. Lisa Murkowski of Alaska, was quietly included in the House and Senate Republicans' compromise tax bill.
The bill "contains the single most important step I believe we can take to strengthen our energy security and create new wealth," Murkowski, who chairs the Energy and Natural Resources Committee, said Wednesday at the tax bill conference committee meeting.
The U.S. Senate is beginning the confirmation process today to consider Judge Neil Gorsuch to the U.S. Supreme Court. Gorsuch, nominated by President Trump on Jan. 31, is now a jurist on the 10th U.S. Circuit Court of Appeals in Denver.
Senators will be making their opening statements, with Republicans expected to say that he will be fair-minded on all issues, including those pertaining to the environment by pointing to what they consider an even-handed record. Democrats, though, will be asking targeted questions of the would-be Supreme Court jurist, especially about his thinking on the carbon-cutting Clean Power Plan that now awaits a decision at the appeals court level.
What could happen? "I'm willing … to say, that he's going to come at these things neutral and if he doesn't think an agency's interpretation is credible he's going to say so," Pat Parenteau, a professor at Vermont Law School, told the Associate Press. "Sometimes that's going to cut in favor of the environment and sometimes it's going to cut against the environment and I don't know how much of that concern actually weighs into his decision making."
What cases might environmentalists look at to get a keener insight into Judge Gorsuch's legal mindset? One of the most recent and hotly contested consisted of a Colorado state mandate requiring investor-owned utilities get 30 percent of electricity they sell from renewable sources by 2020—a law that Gorsuch voted to uphold.
According to Heavy:
In 2015, on a three-judge panel, Gorsuch affirmed that Colorado's renewable energy law would remain in place and did not violate the Constitution. The plaintiff had advocated for a free market approach to environmentalism and argued that the law violated the Commerce Clause and unfairly hurt out-of-state businesses, such as coal producers.
Conversely, according to the AP, Gorsuch sided with business interest in a 2010 case in which the U.S. Environmental Protection Agency (EPA) had classified land in New Mexico as Indian territory when a company had wanted to explore there. Gorsuch said that the land in question was not actually on an Indian reservation and thus ruled in favor of the mining company.
By way of background, Neil Gorsuch is the son of Ann Burford Gorsuch, who led the EPA from 1981 to 1983 when President Reagan was in office. Environmentalists had been critical of her back in the day, saying that she had failed to tackle cases important to their cause and that she had tried to loosen existing regulations that had been meant to reduce pollution.
To that end, Democratic senators have expressed concern that Judge Gorsuch naturally favors the interest of big business. Senators worry that this would come at the expense of the environment as well as the most vulnerable Americans.
"The highest court in the land should be reserved only for those who believe that a democracy works for the people—not corporations," Michael Brune, executive director of the Sierra Club, said in a statement. "Unfortunately but not unsurprisingly, Donald Trump's nominee, Neil Gorsuch, does not subscribe to this belief as evidenced by his long record of anti-environment, anti-women and anti-worker decisions."
Progress Now in Colorado believes that the nominee would set back environmental policy. Meantime, NextGen Climate President Tom Steyer said that, when Gorsuch was nominated, the U.S. Senate had owed "no deference" to Trump, who lost the popular vote. "The Supreme Court is one of the last lines of defense at this perilous time for our country," Steyer added.
Environmentalists, for example, point to the Chevron Doctrine, which is encompassed in the case of Chevron U.S.A., Inc v. NRDC. Simply, courts will defer to the federal agencies that have thoroughly analyzed a policy. But green groups, pointing to an earlier immigration case, are fearful that the Supreme Court nominee would give short shrift to the doctrine. That's because it is often associated with EPA regulations.
"It gives them broad authority to regulate certain pollution and it leaves it up to the experts to determine exactly what threshold of pollution is acceptable and what threshold is dangerous," Billy Corriher of the Center for American Progress said, according to the AP. "Judge Gorsuch would want to get rid of that standard and basically allow judges to substitute their own judgment for the judgment of the agency experts."
While some of the high court's current judges have criticized the doctrine—notably Justice Clarence Thomas—it has, in effect, served as a check on judicial activism, Kenneth Reich, an environmental and energy lawyer in Boston, said in an earlier interview. That's particularly relevant with regard to statutes that require a precise expertise—knowledge that the judges cannot possibly have.
The Clean Power Plan is a case-in-point. In 2007, the Supreme Court ruled that carbon dioxide is a pollutant that could be regulated under the Clean Air Act—something that EPA made official in 2009, saying it was a danger to public health and welfare. And in 2014, the high court upheld that so-called endangerment finding. That ruling is the foundation behind President Obama's Clean Power Plan.
But in February 2016, the Supreme Court issued a "stay" to address some concerns of several states before sending the case back to the DC Court of Appeals, where a decision is expected soon. No matter how it rules, it will head back to the high court, which is now evenly split on the Clean Power Plan. The question many are asking is just how would Gorsuch decide and would he respect the Chevron Doctrine?
By Erin Auel and Alison Cassady

One of the most visible and immediate ways climate change has affected—and will continue to affect—Americans is through extreme weather exacerbated by rising global temperatures.
Aerial image of flooding in New Orleans following Hurricane Katrina in 2005.
Between 2005 and 2015, the annual average temperature in the U.S. exceeded the 20th-century average every year, with increases ranging from 0.15 degrees Celsius to 1.81 degrees Celsius above normal. Moreover, the federal government's most recent National Climate Assessment concludes that as temperatures continue to rise, extreme weather events and wildfires will increase in frequency and intensity.
Climate change will worsen heat waves, winter storms, and hurricanes. It will exacerbate extremes in precipitation, leading to more severe droughts and wildfires in some areas and heavier rainfall and flooding in others. And when the damage is done, taxpayers will be left to pick up the bill.

When extreme weather strikes and state and local governments are overwhelmed, the federal government must often intervene. In the worst cases, the president can declare an emergency or a major disaster, which releases federal funds for the damaged areas. The Federal Emergency Management Agency (FEMA) provides financial assistance to local, tribal and state governments, as well as individual households, after the president declares an emergency or major disaster.

The Center for American Progress (CAP) examined FEMA data on weather- and wildfire-related disaster declarations between 2005 and 2015 to identify trends in FEMA disaster spending, which is funded by U.S. taxpayers. CAP found that:
Between 2005 and 2015, FEMA issued more than $67 billion in grants to assist communities and individuals devastated by extreme weather and wildfires. Overall, FEMA spent about $200 per U.S. resident for disaster assistance during that time period.
FEMA provided the most disaster assistance to Louisiana and New York, which, combined, received more than half of the agency's total assistance over the 10-year period due to damage caused by Hurricane Katrina and Hurricane Sandy, respectively. Texas, Mississippi, and New Jersey rank third through fifth for FEMA disaster spending between 2005 and 2015.
The states that received the most FEMA disaster assistance spending per capita were Louisiana ($4,345), Mississippi ($1,607), North Dakota ($843), and New York ($807). In North Dakota, unprecedented flooding events in 2009 and storms in 2011 caused substantial damage, driving up per-person costs among a smaller state population.
These findings likely underestimate the true federal cost—and thus the cost to taxpayers—of extreme weather. FEMA provides assistance in response to the worst natural disasters—those that triggered emergency and major disaster declarations. As a result, the findings do not include the costs of smaller but still destructive storms, costs borne by private insurers, and other government spending, such as the U.S. Department of Agriculture's disaster assistance program.
As the climate warms, these types of extreme weather and wildfire events could impose an even greater burden on American communities and taxpayers. In order to prepare for this reality, communities must invest in climate-resilient infrastructure and integrate climate considerations into their development plans.
Findings: FEMA Is Spending Billions on Natural Disasters
Between 2005 and 2015, the president issued 832 separate emergency or disaster declarations for which FEMA provided either public assistance—defined as funding for state, tribal, and local governments—or individual assistance in the form of grants typically made to homeowners and renters whose home damage was not covered by homeowners insurance.
Between 2005 and 2015, FEMA spent $67.7 billion on household and public assistance in response to presidentially declared emergencies and major disasters. Of this amount, $14.36 billion was spent on individual and household assistance, and public assistance outlays to state, tribal and local governments made up the rest—$53.31 billion.
During this 10-year period, there were extreme weather and wildfire events in all 50 states, the District of Columbia, and several U.S. territories and throughout all seasons. Severe storms were the most frequent cause of disaster declarations, with 470 distinct declarations across the examined time period.
Although less common than severe storms, hurricanes caused the most damage. Between 2005 and 2015, FEMA spent $49.5 billion on public and individual assistance to help communities recover from hurricanes. FEMA spent $12.7 billion for assistance related to severe storms over the same 10-year period.
Center for American Progress
Hurricanes accounted for eight of the top-10 costliest disaster declarations between 2005 and 2010, including hurricanes Katrina, Sandy, Ike, Wilma, Rita, Gustav, Irene and Isaac.
Center for American Progress
Accordingly, although the total assistance by state varied widely, FEMA directed significant disaster spending to states that experienced historic hurricane damage during the period examined. These states include Louisiana and Mississippi, where Hurricane Katrina hit hardest in 2005, and New York and New Jersey, where Hurricane Sandy landed in 2012.
Nationwide, FEMA spent more than $22 billion in assistance responding to Hurricane Katrina, including allocations for states that provided assistance related to evacuations. The agency provided nearly $16 billion in household and public assistance grants in response to Hurricane Sandy.

Non-hurricane events can cause significant and costly damage as well. In August 2016, Baton Rouge, Louisiana, experienced historic flooding from torrential rainfall. As of Aug. 23, the floods had killed 13 people, and more than 100,000 people had applied for federal assistance. Preliminary analysis from Climate Central and the National Oceanic and Atmospheric Administration found that increased temperatures due to climate change increased the likelihood of intense downpours in Louisiana by 40 percent.
Floods are among the most costly extreme weather events that can hit an area, as they can destroy large areas of property and can take a long time to recede. Between 2005 and 2015, flooding caused eight of the 10 costliest non-hurricane disaster declarations and occurred across several different regions.

Looking at the per-capita costs of extreme weather reveals that these disasters have a profound impact on individuals and communities. Louisiana received $4,345 per person in FEMA disaster spending between 2005 and 2015, the most of any state. Mississippi received the second-highest amount per capita—more than $1,600. Overall, FEMA spent about $200 per U.S. resident for disaster assistance between 2005 and 2015.
Damage is not just limited to coastal areas. States in the central U.S. with relatively small populations have been hit hard by extreme weather and subsequently received significant assistance from FEMA. North Dakota, for example, ranks third for per-capita FEMA assistance over the analyzed decade due largely to eight distinct flooding events. Iowa ranks fifth for per-capita FEMA spending and seventh for total spending because of severe storms that caused major statewide flooding in 2008. Of the 10 states with the highest per-capita spending, half are located in the central U.S.

Conclusion
Extreme weather is already costing taxpayers and the federal government valuable public dollars and resources. Americans have recognized these costs; in a 2015 New York Times survey, 83 percent of respondents said that unmitigated climate change poses "a very or somewhat serious problem in the future."
Because of the damage already caused to the climate, communities in the U.S. and around the globe will experience more frequent and intense extreme weather events, even if world leaders take immediate action to cut greenhouse gas emissions.
Faced with this reality, FEMA has proposed a rule that would establish a deductible for disaster assistance in order to encourage states to make investments in resilience measures before disasters occur. This rule could incentivize states to invest in climate-smart infrastructure to minimize the financial and human toll of extreme weather.

The FEMA proposal is one among many efforts to push communities to better prepare for storms, floods, and other natural disasters—an effort made even more urgent because of climate change—rather than focusing only on responding to a disaster's aftermath. Resilience, however, is only one prong in a coordinated response to climate change. The world must also focus on mitigating the worst impacts of climate change by reducing greenhouse gas emissions and transitioning the global economy to cleaner, low-carbon forms of energy.
Methodology
CAP examined FEMA data on presidential declarations of major disasters and emergencies between 2005 and 2015. The data reflect the two primary disaster declaration types: major disaster and emergency. CAP analyzed FEMA data on public and individual/household assistance spending in response to these declarations. The data were last updated on July 12.
For the per-capita analysis in Table 3, CAP used population data obtained from the U.S. Census Bureau. To calculate the per-capita costs by state, CAP averaged the state population totals from 2005, 2010 and 2015. The national per-capita figure in Table 3 reflects FEMA disaster assistance to all 50 states, the District of Columbia, and the U.S. territories.
CAP developed a methodology for excluding and including disasters to ensure the analysis only includes declarations that reflect the types of events that could become more common with unmitigated climate change.
We included public and individual assistance payments made in response to major disaster declarations and emergency declarations for the following types of incidents: coastal storms, drought, flooding, freezing, hurricanes, mudslides from flooding, severe ice storms, severe storms, snow, tornadoes, typhoons and wildfires. We excluded public and individual assistance payments made for the following types of incidents that occurred between 2005 and 2015: water main breaks, terrorism, explosions, earthquakes, chemical spills, tsunamis, the 2009 presidential inauguration, bridge collapses and volcanoes.
Two years ago this month, the Deepwater Horizon drilling rig began drilling on the Macondo Prospect, an operation that would result in one of the worst environmental disasters in U.S. history. Now, as we contemplate exploratory drilling in the Arctic, the Center for American Progress released Putting a Freeze on Arctic Ocean Drilling: America's Inability to Respond to an Oil Spill in the Arctic, detailing the lack of resources and existing infrastructure to respond to an environmental disaster off Alaska's North Slope.
Even the well-developed infrastructure and abundance of trained personnel in the Gulf of Mexico didn't prevent the Deepwater Horizon tragedy. Our Arctic response capabilities pale by comparison. Some in the U.S. are eager to keep pace with other Arctic nations by tapping into the "great opportunity" for economic gain they believe lies beneath the pristine Arctic waters, despite the dangerous dearth of response resources illustrated in the map below.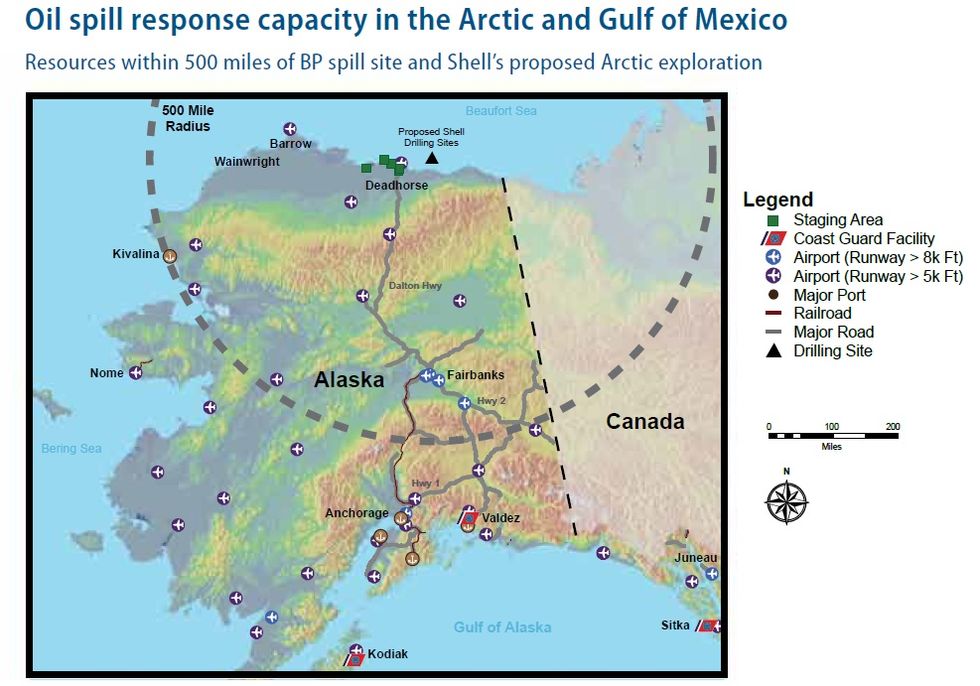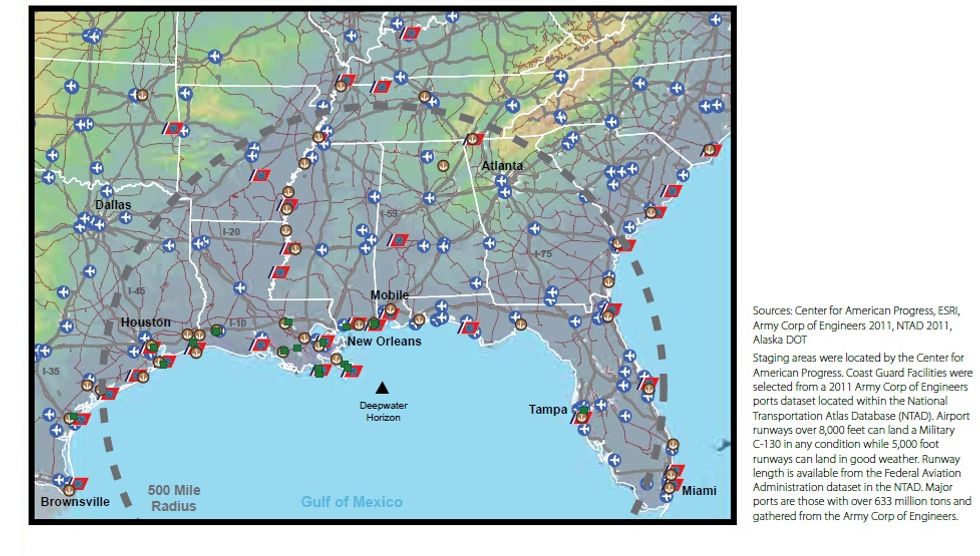 Drilling for oil in this fragile region, however, should not be pursued without adequate safeguards in place. If we've learned anything from the Deepwater Horizon tragedy, it's that the importance of preparedness cannot be overstated. That is why we strongly recommend specific actions be taken by the federal government, by Congress, and by Shell and other companies before beginning exploratory drilling in the Arctic. Recommendations include:
Ensure adequate response capabilities are in place before drilling operations commence
Require and oversee oil spill response drills in the Arctic that prove the assertions made in company drilling plans prior to plan approval
Engage other Arctic nations in developing an international oil spill response agreement that includes an Arctic Ocean drilling management plan
Appropriate adequate funds for the Coast Guard to carry out its mission in the Arctic, including increasing our icebreaking capability
Significantly increase the liability cap (currently $75 million) for oil companies in violation of drilling safety rules
Certainly, meeting our nation's energy needs in the near term means maintaining access to domestic offshore oil and gas resources, but it is imperative that we do so in the most prudent, responsible, and environmentally safe manner. And while we applaud the critical reforms implemented by the Obama administration in the aftermath of the Deepwater Horizon tragedy, more must be done. Until the oil and gas industry and its federal partners meet the recommendations we lay out in this report and demonstrate the ability to identify and immediately respond to a blowout or oil spill, the Arctic region of the U.S. should remain off-limits to exploration and drilling.
For more information, click here.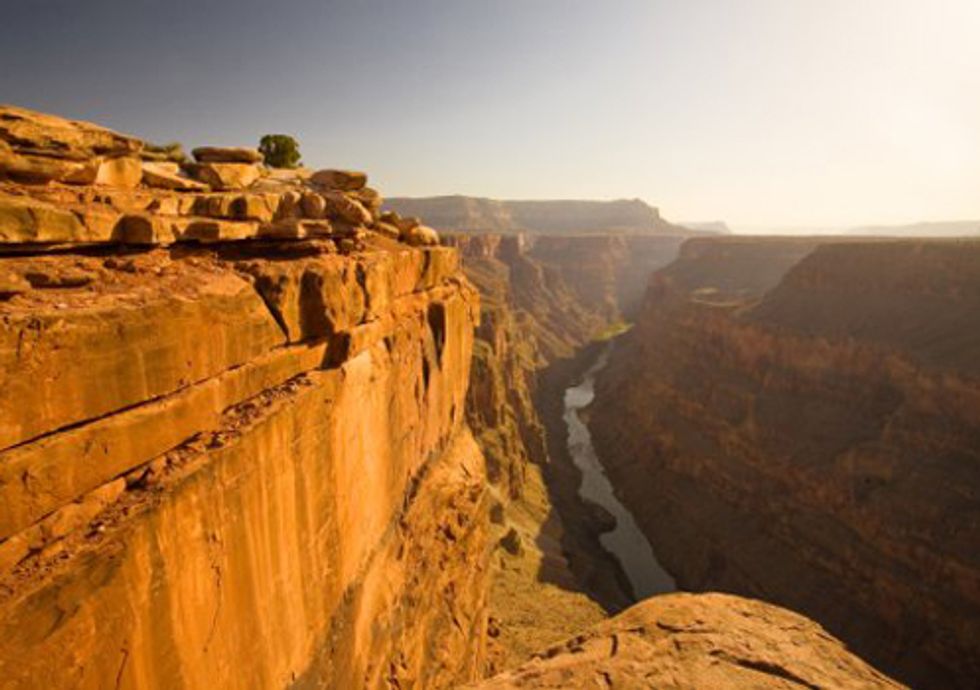 U.S. Secretary of the Interior Ken Salazar is scheduled to release a final determination Jan. 9 to withdraw 1 million acres around the Grand Canyon from new mining claims for 20 years, and Center for American Progress' (CAP) Public Lands Project released its Top Five Winners and Losers of Secretary Salazar's Decision to Protect 1 Million Acres Around the Grand Canyon.
In praising the announcement, Christy Goldfuss, director of the Public Lands Project, noted, "This is the best call to protect a national treasure. After taking a time-out to study the impacts of excessive uranium mining on the Grand Canyon, the administration came to a fact-based conclusion. The real winners of this decision are American families that will continue to enjoy one of our country's most beautiful locations, the outdoor recreation industry that supports the conservation economy, and the millions of people that drink the water that flows through the region."
To respond to the inevitable attacks from enemies of conservation in Congress, the Public Lands Project outlines the top five winners and losers of the decision. The winners include:
The losers include:
Related links:
For more information, click here.
—————
The Center for American Progress Action Fund is the sister advocacy organization of the Center for American Progress. The Action Fund transforms progressive ideas into policy through rapid response communications, legislative action, grassroots organizing and advocacy, and partnerships with other progressive leaders throughout the country and the world. The Action Fund is also the home of the Progress Report.