This website uses cookies to ensure you get the best experience while browsing it. By clicking 'Got It' you're accepting these terms.
These days, mobile phone chargers and cables can be picked up at just about any drug store or gas station. But these products can be cheaply made, come in unnecessary plastic packaging, and certainly add to world's toxic and growing electronic waste, or e-waste, problem
With that in mind, Nimble has launched a line of sustainably made mobile accessories that include wireless charging pads, stands and travel kits.
Maskot / Getty Images
By Patrick Byrne and Karen Hudson-Edwards
Nearly five billion people worldwide will use a smartphone by 2020. Each device is made up of numerous precious metals and many of the key technological features wouldn't be possible without them. Some, like gold, will be familiar. Others, such as terbium, are less well-known.
EcoWatch Daily Newsletter
Astrakan Images / Getty Images
By Olga Naidenko
As the school year begins, the movement to exercise caution in students' use of cell phones and other wireless devices is gaining international momentum.
Pixabay
By Marlene Cimons
How often do you swap out your old smartphone for a new one? Every two or three years? Every year? Today, phone companies make it easy with deals to trade in your old phone for the newest version. But those discarded phones are becoming a huge source of waste, with many components ending up in landfills or incinerators.
When a cell phone gets tossed, only a few materials get recycled, mostly useful metals like gold, silver, copper and palladium, which can be used in manufacturing other products. But other materials—especially fiberglass and resins—which make up the bulk of cell phones' circuit boards, often end up at sites where they can leak dangerous chemicals into our groundwater, soil and air.
iStock
By Lotfi Belkhir
When we think about climate change, the main sources of carbon emissions that come to mind for most of us are heavy industries like petroleum, mining and transportation.
Rarely do we point the finger at computer technologies.
Pexels
By Olga Naidenko
This week, California officially issued groundbreaking guidelines advising cell phone users to keep phones away from their bodies and limit use when reception is weak. State officials caution that studies link radiation from long-term cell phone use to an increased risk of brain cancer, lower sperm counts and other health problems, and note that children's developing brains could be at greater risk.
For those concerned about exposure to radiation from cell phones, the choice of a wireless carrier may be a more important decision than which device you use, says a new analysis by researchers at the Environmental Working Group (EWG).
The studies indicate that users of similar mobile devices can be exposed to starkly different intensities of radiofrequency emissions, depending on which network technology their carriers use to transmit signals.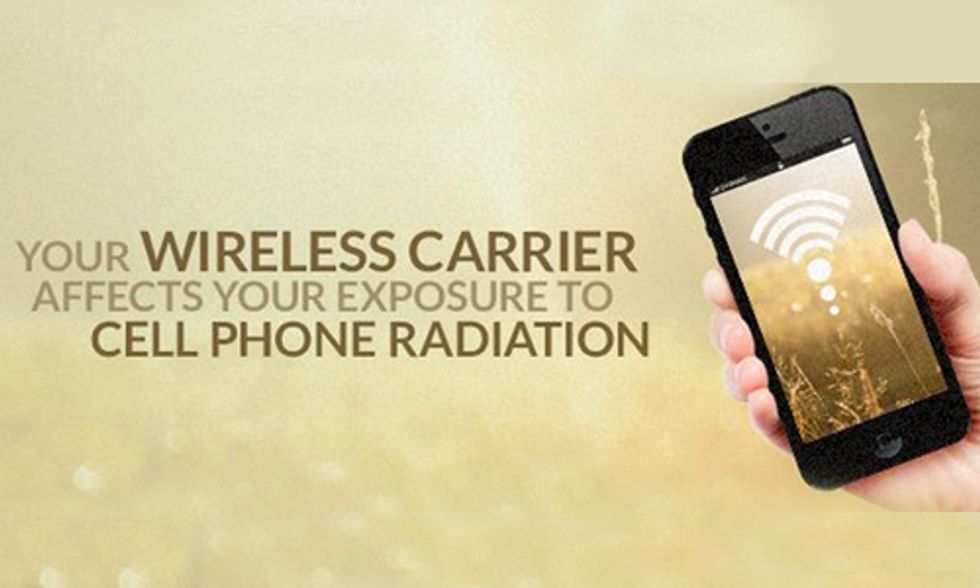 In recent years, cell phone carriers have been moving away from 3G and toward what they called LTE, which stands for long-term evolution, technologies. Some experts in mobile device engineering have produced evidence that indicates that LTE systems can expose users to more cell phone radiation than the 3G (third-generation) systems.
For example, a team from the Beijing University School of Electronic Engineering reported that fourth-generation LTE antenna designs produced average emission rates two to 60 times greater than 2G and 3G designs.
Other studies have shown that when carriers switched from 2G to 3G network transmission technologies, phones operating on 3G networks used less power much of the time, and their users experienced lower radiation exposures.
The EWG report says that "a growing body of scientific research suggests that network technology plays a major role in determining the level of radiation to which a mobile device user may be exposed. Yet people cannot find out how much radiation will emanate from particular cell phones on particular networks. That information is known only to the cell phone industry."
The FCC is reviewing its cell phone radiation standards at the urging of the General Accounting Office. The standards were set in 1996, when cell phones were heavy, expensive and rarely entrusted to kids.
"Today, many of the most frequent cell phone users are teenagers and children," said Renee Sharp, EWG director of research. "They are more vulnerable to cell phone radiation than adults because their skulls are thinner. Moreover, they will be exposed to these emissions over many more decades than their parents. Nobody knows the long-term consequences of daily exposure to these emissions."
EWG is pressing the FCC for relevant real-world data on how much radiation wireless devices emit under various circumstances, and from various networks.
Visit EcoWatch's HEALTH page for more related news on this topic.