After the mass poisoning of more than 50,000 bumblebees last week in Wilsonville, OR, and other incidents now being reported in neighboring Washington County, scientists are calling on local officials to ban the cosmetic use of insecticides on city- and county-owned lands. The mass poisoning is the largest event of its kind ever documented, with an estimated impact on more than 300 wild bumblebee colonies.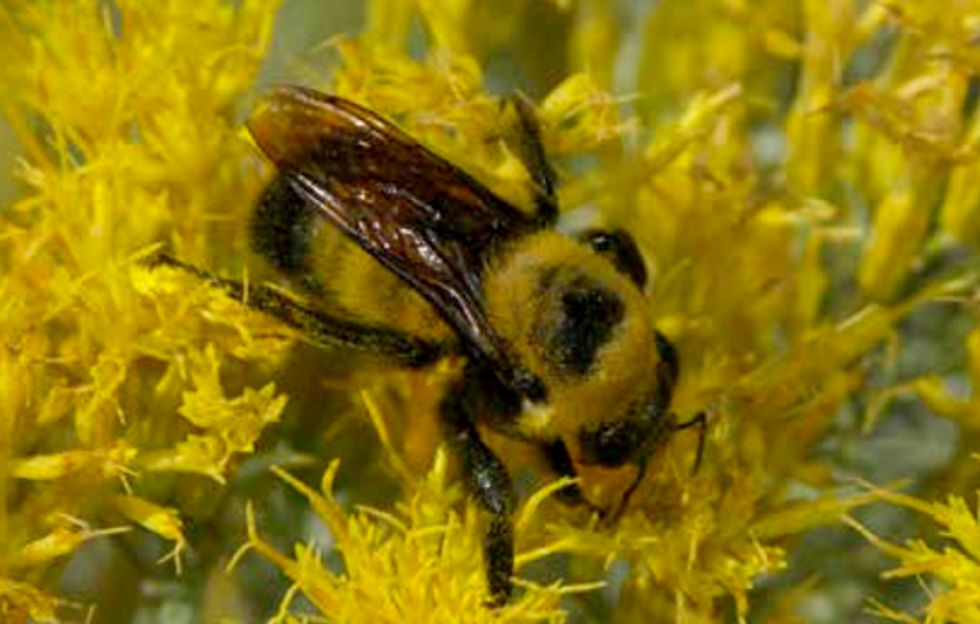 According to Oregon Department of Agriculture, the poisoning occurred after an insecticide was sprayed on linden trees to control aphids, which secrete a sticky residue while feeding, making them a nuisance to parked cars. The pesticide, dinotefuran (also known as Safari), belongs to a relatively new and controversial group of chemicals called neonicotinoids. Because neonicotinoids are long-lasting in plant tissues and can be found in flower nectar and pollen, and because they have been implicated in the global decline of honey bees, there have been growing concerns about their safety for pollinators.
"The cost of losing pollinators far outweighs any value of controlling aphids on ornamental plants," said Mace Vaughan, pollinator conservation director at the Xerces Society. "After the events of last week, and based on the overwhelming science demonstrating the harm that these products can cause, we are calling on city and county governments to immediately stop the damage."
The University of Minnesota's Dr. Marla Spivak, a leading global authority on bee health, echoed Vaughan's sentiment. "The Oregon bee poisoning is a clear warning. We have to stop pesticide use in cases where human health or food security is not at risk."
Spivak points out that neonicotinoids are now the most widely used insecticides in urban and agricultural areas. "They are long-lasting in soil and they readily move into water. If the Oregon event is an indication of what is happening more widely, we will begin to see catastrophic threats to food security and the pollination of wild plants."
In response to these concerns, several local governments are taking action to prevent further bee deaths. One of the most startling of these efforts was the City of Wilsonville's leadership in wrapping the insecticide-laden trees with netting last week to keep any more bees from dying. The City of Eugene had previously publicly stated that they are no longer using neonicotinoids on city properties. In May, Commissioners from Thurston County, Washington unsuccessfully petitioned their state department of agriculture (WDA) to restrict some uses of these chemicals in their county. It is unclear whether WDA is now reconsidering their earlier rejection of the Thurston County petition, which was initiated out of concerns for pollinators such as honey bees and bumble bees.
The Xerces Society applauds the actions on the part of Wilsonville and Eugene to protect bees, but says more needs to be done.
"It is time to take a stronger stance on pollinator protection. The European Union has put restrictions in place on several neonicotinoids, and Ontario, Canada has gone further and banned all pesticides for cosmetic use," said Scott Hoffman Black, executive director of the Xerces Society. "We need a similar response here."
Neonicotinoid insecticides, with active ingredients like imidacloprid, dinotefuran, thiamethoxam and clothianidin, can be purchased in most hardware stores and nurseries under various trade names. As scientists like Vaughan and Spivak point out, most have no warning labels to alert consumers about the potential hazard to bees, butterflies and other beneficial insects.
To help prevent future bee poisonings, the Xerces Society is calling for changes to both regulations and consumer behavior.
"In terms of what we would like to see, legislators, regulators and municipal leaders across the country should ban the use of neonicotinoids and other insecticides for cosmetic purposes," said Black. "At a broader level, it is time for the Environmental Protection Agency to re-assess the ecological safety of neonicotinoids and immediately suspend any product registrations that were made with incomplete data."
Jennifer Hopwood, the lead author of the Xerces Society's report on the risks of neonicotinoids to bees says that there are also steps that individuals can take to avoid harming pollinators, like checking to see if they have neonicotinoid products in their garage or garden shed.
"Consumers should know that they can return pesticides to the store where they purchased them for safe disposal. Beyond that, when buying garden plants, people should ask the store if insecticides have been used on them," she says. "If staff can't tell you, I would shop somewhere else."
The Xerces Society will be following up with mayors, city councils and county commissions across the U.S. with formal letters asking them to take action.
The Xerces Society recommendations include:
For Municipalities
Municipalities should stop using all neonicotinoid insecticides on city- and county-owned property, including schools, parks and gardens.
City and county governments should require that warnings be posted alongside displays of these chemicals at hardware stores and nurseries.
Legislators, regulators and municipal leaders across the country should ban the use of neonicotinoids and other insecticides for cosmetic purposes on ornamental and landscape plants, like the ban now in force in Ontario, Canada.
For Homeowners
Do not buy products that contain neonicotinoids.
Check to see if you have these products in your garage or garden shed. If so, do not use them. Make sure you dispose of them properly or take them back to the store where you bought them.
When buying plants for your yard, ask if neonicotinoids have been used on them. If staff cannot tell you, shop somewhere else.
For Nursery and Hardware Stores
Stores should proactively take action by pulling these toxic and poorly labeled products from their shelves.
At a minimum, display materials should be placed at point of sale so that consumers know that these products kill bees and other beneficial insects, and that they can cause plants to produce toxic nectar and pollen months after treatment.
Nurseries should list plants that have been treated with these chemicals.
For the Federal Government
The U.S. Environmental Protection Agency should work with pesticide companies to add clear warnings to homeowners that ornamental neonicotinoid insecticides are toxic to bees and other pollinators.
For Insecticide Companies
Companies that make homeowner pesticide products that contain neonicotinoids should add clear language to product labels highlighting that these products are highly toxic to bees and other pollinators, and that treatment to plants may result in nectar and pollen that are contaminated with the insecticide and may kill bees and other pollinators.
Visit EcoWatch's BIODIVERSITY page for more related news on this topic.

EcoWatch Daily Newsletter
Just as Pollinator Week began last week, an estimated 50,000 bumblebees, likely representing more than 300 colonies, were found dead or dying in a shopping mall parking lot in Wilsonville, OR. Authorities confirmed Friday that the massive bee die-off was caused by the use of a neonicotinoid pesticide, dinotefuran, on nearby trees. Then on Saturday, it was reported by The Oregonian that what could be hundreds of bees were found dead after a similar pesticide use in the neighboring town of Hillsboro.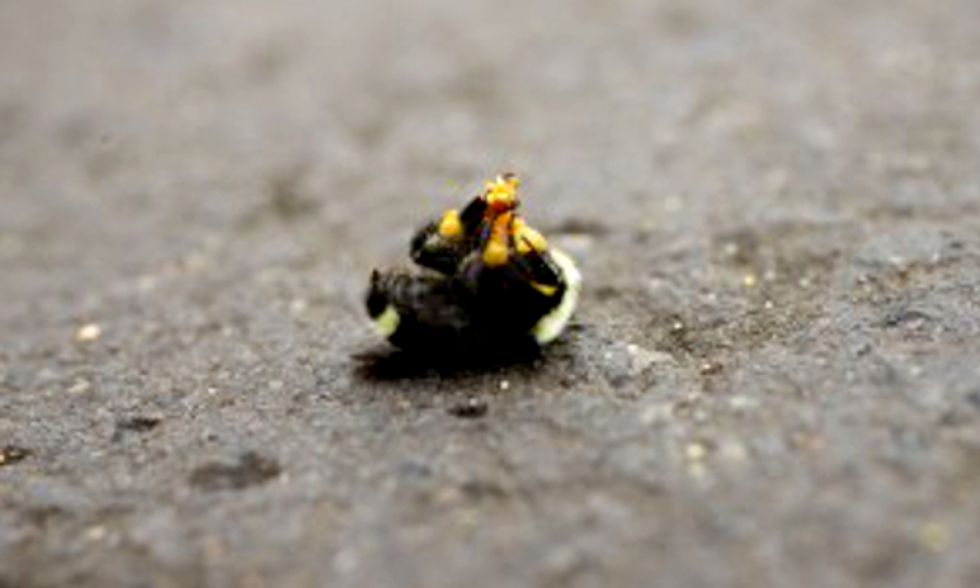 According to the Xerces Society, this is the largest known incident of bumblebee deaths ever recorded in the country. Bumblebees, which are crucial to the pollination of multiple berry and seed crops grown in the Willamette valley—as well as many other food crops across the country—have recently experienced dramatic population declines, a fate similar to other pollinators.
Dan Hilburn, director of plant programs at the Oregon Department of Agriculture (ODA), told Oregon Live that he's "never encountered anything quite like it in 30 years in the business." The incident highlights the difficulty of permitting in commerce such a highly toxic material that indiscriminately kills beneficial insects.
A recent study—an overview of the environmental risks posed by neonicotinoid insecticides—published in the Journal of Applied Ecology, documents that neonicotinoid persistence in soil and water can cause broad, far-reaching impacts on ecosystem health, much of which has undergone little scientific scrutiny. The author asserts that world leaders have failed to meet their commitment made at the 2002 Convention on Biological Diversity—to achieve a significant reduction in the rate of biodiversity loss. David Goulson, Ph.D, of the University of Sussex, author of the study, points to neonicotinoids as a potential cause of this failure, due to their long-term persistence in soil and water. He specifically points to soil dwelling insects, benthic aquatic insects, grain-eating vertebrates and pollinators as being in particular danger from the use of these chemicals.
The ODA and Xerces Society had been working together to investigate the pesticide poisoning. After interviewing the landscaping company that maintains dozens of ornamental trees around the parking lot, the ODA investigators learned that Safari, a pesticide product with the active ingredient dinotefuran, had recently been applied on June 15 to control aphids. Dinotefuran is a neonicotinoid pesticide that is highly toxic to bees; the product's label strictly forbids its use if bees are in the area.
Scott Black, executive director of the Xerces Society, noted that the pesticide was applied to the tree while it was flowering, an action that violates the product's instructions.
"Beyond the fact that a pesticide was applied to plants while they were attracting large numbers of bees, in this case the pesticide was applied for purely cosmetic reasons. There was no threat to human health or the protection of farm crops that even factored into this decision," stated Black.
Neonicotinoids, including dinotefuran, can be broadly applied as a spray, soil drench or seed treatment, however, the ability of these chemicals to translocate through a plant as it grows has led to the creation of a large market within chemical-intensive landscaping and agriculture. Once these systemic pesticides are taken up by a plant's vascular system, they are expressed through pollen, nectar and guttation droplets from which pollinators such as bees then forage and drink. Neonicotinoids kill sucking and chewing insects by disrupting their nervous systems.
Beginning in the late 1990s, these systemic insecticides also began to take over the seed treatment market. Clothianidin and imidacloprid are two of the most commonly used neonicotinoid pesticides. Both are known to be toxic to insect pollinators, and are lead suspects as causal factors in honey bee colony collapse disorder. An extensive overview of the major studies showing the effects of neonicotiniods on pollinator health can be found in Beyond Pesticides' What the Science Shows.
Several different crops in the Willamette valley of Oregon rely heavily on the pollination services provided by bumblebees. Blueberries, raspberries, blackberries and crop seed production, which are grown in Oregon, all rely on bumblebees for pollination. Mace Vaughn, pollinator conservation program director with the Xerces Society, told Oregon Live, "Bumblebees are the single most important natural pollinator in Oregon."
In the midst of the all the attention that is focused on the loss of honey bees and colony collapse disorder, wild pollinator losses are often overlooked. Pesticide risk mitigation measures intended to protect honey bees do not always constitute risk mitigation for other pollinators like bumblebees because they have different foraging practices, social structures and genetics. Minimal research has also been done on pesticide toxicity for wild pollinators.
This massive bee death marked an unfortunate beginning to National Pollinator Week, which was first declared in 2006 by Congress and the U.S. Department of Agriculture to raise awareness about the global decline of many pollinator species. During Pollinator Week and year round, Beyond Pesticides urges communities to come together to highlight the importance of pollinators through public education, the creation of pollinator friendly habitats and other important activities, while hundreds of actions to support pollinators took place across the U.S.
Though pollinator week is over, there are still many ways that you can get involved and help protect pollinators, from providing bee habitat in your yard, to keeping bees in your backyard or simply choosing to eat organic foods. Beyond Pesticides' BEE Protectivecampaign has all the educational tools you need to help pollinators.
Visit EcoWatch's BIODIVERSITY page for more related news on this topic.

chandlerphoto / Getty Images
More and more homeowners in Raleigh, NC, have embraced renewable energy like solar power. This popular option allows residents to fuel their homes cleanly and effectively, minimizing their home's environmental footprint while lowering their monthly utility bills. What are the best solar companies in Raleigh, NC? We'll show you the top options, plus provide important information on solar panel systems, federal tax credits, and more.
<p>If you're looking to adopt solar energy in Raleigh, North Carolina, one of the first steps in the process is to find the best renewable energy company. Thankfully, there are a number of excellent solar power providers throughout the area. They can provide the expertise and reliable technology you need to upgrade your home and truly take advantage of solar energy systems.</p><h2>Our picks for the best solar energy companies in Raleigh</h2><p><em>Each product featured here has been independently selected by the writer. If you make a purchase using the links included, we may earn commission.</em></p><ul class="ee-ul"><li><a href="https://www.8msolar.com/" rel="noopener noreferrer" target="_blank">8M Solar</a></li><li><a href="https://www.ncsolarnow.com/" rel="noopener noreferrer" target="_blank">NC Solar Now</a></li><li><a href="https://www.gosunpro.com/" rel="noopener noreferrer" target="_blank">Sunpro Solar</a></li><li><a href="https://blueravensolar.com/" rel="noopener noreferrer" target="_blank">Blue Raven Solar</a></li><li><a href="https://renuenergysolutions.com/" rel="noopener noreferrer" target="_blank">Renu Energy Solutions</a></li><li><a href="https://www.emeraldenergync.com/" rel="noopener noreferrer" target="_blank">Emerald Energy</a></li><li><a href="https://covenantsolar.com/" rel="noopener noreferrer" target="_blank">Covenant Solar Tech</a></li><li><a href="https://yessolarsolutions.com/" rel="noopener noreferrer" target="_blank">Yes Solar Solutions</a></li><li><a href="https://sundollarenergy.com/about-us/" rel="noopener noreferrer" target="_blank">Sun Dollar Energy</a></li><li><a href="https://www.duke-energy.com/home/products/renewable-energy/nc-shared-solar" rel="noopener noreferrer" target="_blank">Duke Energy</a></li></ul><h2>How we chose the best solar companies in Raleigh</h2><p>In order to create a list of the best solar power installers in Raleigh, North Carolina, we compared each company on a number of important categories. Our picks for Raleigh's best solar energy companies are based on the following:</p><ul class="ee-ul"> <li><strong>Coverage area. </strong>Some companies offer wider, more consistent coverage areas than others. We sought to include companies that make solar power readily available to both Raleigh and nearby areas like Durham and Cary.</li><li><strong>Services.</strong> We also ranked Raleigh's local solar providers on how many total services they offer. For instance, how much help do they offer in terms of consultation, solar system design, and installation? </li><li><strong>Installation process. </strong>We also evaluated local solar energy providers on the basis of whether they can install your new solar panels. Do they send an installation team to your home, or do you have to contract with a separate installation company?</li><li><strong>Pricing and financing. </strong>As you look for the best solar company in Raleigh, you'll definitely need to think about your budget. We've tried to evaluate companies on the basis of affordability and flexible financing options.</li><li><strong>Panel efficiency. </strong>Solar panels can vary quite a bit in terms of how much sunlight they absorb, and how efficiently they convert that solar energy to a usable AC stream. We've selected local companies that offer exemplary technology with the highest <a href="https://www.energy.gov/eere/solar/solar-performance-and-efficiency" target="_blank">solar panel energy efficiency</a>.</li><li><strong>Rebates.</strong> Along with flexible financing options, some solar installers make it easy for you to claim clean energy rebates, another useful way to offset your total energy cost.</li><li><strong>Warranty.</strong> When investing in a significant piece of technology, such as a solar panel system, it makes sense to seek some consumer protections. A good warranty can offer ample peace of mind.</li><li><strong>Professional affiliation. </strong>We looked for companies endorsed or certified by leading professional organizations. These include the <a href="https://www.seia.org/about" target="_blank">Solar Energy Industries Association (SEIA)</a>, the <a href="https://www.nabcep.org/about-us/" target="_blank">North American Board of Certified Energy Practitioners (NABCEP)</a>, the Better Business Bureau (BBB), and more. This is one of the easiest ways to evaluate a solar company's reputation.</li></ul><p>With these factors in mind, we're now ready to take a look at a few of the most highly recommended solar power and renewable energy companies in Raleigh, North Carolina.</p><h2>The best solar energy companies in Raleigh, NC</h2><p class="shortcode-media shortcode-media-rebelmouse-image"> <img type="lazy-image" data-runner-src="https://assets.rebelmouse.io/eyJhbGciOiJIUzI1NiIsInR5cCI6IkpXVCJ9.eyJpbWFnZSI6Imh0dHBzOi8vYXNzZXRzLnJibC5tcy8yNTcwMDY2My9vcmlnaW4uanBnIiwiZXhwaXJlc19hdCI6MTY3NTU4Njk2MH0.4uZ3uc3dKy_eV6VkhXe01FTYZygEbPN2vPY52fIj148/img.jpg?width=980" id="6ae05" class="rm-shortcode" data-rm-shortcode-id="c6d86615b9c32f2ec78431ce0441e6c8" data-rm-shortcode-name="rebelmouse-image" data-width="1200" data-height="721"> <small class="image-media media-photo-credit" placeholder="Add Photo Credit...">Blend Images - Done Mason / Getty Images</small></p><h3><a href="https://www.8msolar.com/" target="_blank">8M Solar</a><br></h3><p>Based in Wake Forest, 8M Solar is one of the best-rated clean energy companies in North Carolina. Their services are NABCEP-certified, they are SolarEdge and Tesla certified installers, and they are endorsed by Duke Energy. The owners are directly involved in all aspects of solar panel system design to provide hands-on expertise, and their panels come with generous 25-year warranties.</p><p><strong>Why buy: </strong>Simply put, 8M Solar is one of the best companies to choose if you're looking for a straightforward way to go green and decrease monthly utility costs. The company claims that their rates are, on average, 10 percent lower than their competitors. Formidable expertise, best-in-class technology, robust warranties, and affordable pricing make 8M Solar a top choice.</p><h3><a href="https://www.ncsolarnow.com/" target="_blank">NC Solar Now</a></h3><p>Since 2010, NC Solar Now has been a dependable clean energy partner to homeowners throughout the state. Their company is built around a vision for sustainability and ensuring that all families have access to affordable energy. The company is a member of the NC Sustainable Energy Association (NCSEA), the NC Clean Technology Center (NCCTC), is endorsed by Duke Energy, and was chosen as one of the top 20 solar contractors in the US by <a href="https://www.generalcontractors.org/the-best-commercial-solar-contractors-in-the-us/" target="_blank">General Contractor Magazine.</a></p><p><strong>Why buy:</strong> NC Solar Now is a great all-around option for anyone looking to embrace the promise of clean solar power. They are locally owned and operated, they offer flexible pricing for both residential and commercial properties, and they can help you take advantage of all available solar incentives and rebates.</p><h3><a href="https://www.gosunpro.com/" target="_blank">Sunpro Solar</a></h3><p>Sunpro is a nationally known and NABCEP-certified company. They offer cost-effective pricing and leading rooftop solar technology that allows you to save big bucks on your home utility bills. SunPro takes a lot of pride in having first-class customer service and their team is also available to help you claim clean energy tax incentives.</p><p><strong>Why buy:</strong> Sunpro is one of the most-trusted solar energy installers in the country, and even ranked #5 on Solar Power World's 2020 list of the Top Residential Solar Installers in the U.S. They handle everything from design to installation, and offer 25-year guarantees on labor and equipment.</p><h3><a href="https://blueravensolar.com/" target="_blank">Blue Raven Solar</a></h3><p>Blue Raven Solar is one of the fastest-growing solar companies in the country, operating in a number of states throughout the Southeast and beyond. They're passionate about helping homeowners save money on their electricity bills, and that's allowed them to become a clean energy provider of choice in the Raleigh-Durham area, as well as Asheville, Charlotte, and Greensboro.</p><p><strong>Why buy:</strong> Blue Raven Solar offers a truly comprehensive solar energy service, including surveying, solar panel system design, installation, and more. The company also offers highly competitive pricing and excellent financing options (including $0 down), and has received rave reviews from their customers as one of the most trusted solar energy companies around.</p><h3><a href="https://renuenergysolutions.com/" target="_blank">Renu Energy Solutions</a></h3><p>Based in Charlotte, Renu Energy Solutions provides dependable solar energy services to homeowners throughout the state. Since 2010, this locally-owned and operated company has been one of the Charlotte area's trusted names in solar energy. They offer free solar assessments, along with plenty of assistance finding flexible financing solutions.</p><p><strong>Why buy:</strong> This is another great example of a local business with world-class solar expertise. Choose them for friendly service, competitive pricing, and high-quality tech. Plus, Renu offers manufacturer's warranties of up to 25 years (depending on the specific solar panels you choose).</p><h3><a href="https://www.emeraldenergync.com/" target="_blank">Emerald Energy</a></h3><p>Emerald Energy is a Raleigh-based contracting company best known for offering design, consulting and installation for solar energy solutions. They offer zero money down and no interest financing on systems, and can help you take advantage of the many solar rebates and incentives that are offered in North Carolina.</p><p><strong>Why buy: </strong>For a fully-licensed local contractor with real clean energy bona fides, Emerald Energy is one of the best companies you'll find. Their in-house system design and installation services can help you enjoy cleaner electricity, energy independence, and lowered utility bills.</p><h3><a href="https://covenantsolar.com/" target="_blank">Covenant Solar Tech</a></h3><p>Covenant Solar Tech is locally owned and operated in Raleigh, North Carolina. They deliver a full spectrum of services, including consultation, design, installation, financing, and beyond. For those exploring solar energy options, they offer free solar estimates, and boast some truly outstanding customer reviews.</p><p><strong>Why buy:</strong> Covenant Solar Tech offers expert installation with friendly, personable customer service. They are one of the best local Raleigh companies in the solar energy game. Their solar energy expertise and experience was also recently enhanced by the company's purchase of Sun Dollar Energy.</p><h3><a href="https://yessolarsolutions.com/" target="_blank">Yes Solar Solutions</a></h3><p>Yes Solar Solutions is a terrific clean energy company located in Cary, NC. Their installers proudly service residents of Raleigh and the surrounding area. The company has been around since 2009, and in that time they've helped more than 1,000 homeowners go solar. They are a certified installer for Tesla solar equipment, offer free assessments and various financing options.</p><p><strong>Why buy:</strong> Yes Solar Solutions is NABCEP accredited and has a long history, an impressive track record, and plenty of ways to help you cut energy costs. Reviews of the company attest to their excellent customer service in helping people go solar.</p><h3><a href="https://sundollarenergy.com/about-us/" target="_blank">Sun Dollar Energy powered by Covenant Solar Tech</a></h3><p>Sun Dollar Energy started a family-owned solar power contractor serving homeowners throughout North Carolina. The small solar company with local roots offered a personalized experience for customers. In January 2021, the company was purchased by Covenant Solar Tech, but will still provide the same reliable service under the Sun Dollar Energy name.</p><p><strong>Why buy:</strong> Sun Dollar Energy powered by Covenant Solar Tech is your best bet for a truly homegrown, local solar energy provider. They offer years of experience and their licensed, NABCEP-certified installers helped them become a leading provider in the area, with positive customer reviews for their easy installation process.</p><h3><a href="https://www.duke-energy.com/Our-Company/Environment/Renewable-Energy/Solar-Energy" target="_blank">Duke Energy</a></h3><p>Duke Energy might not be the first name you think of for this list, but they provide a wide range of solar energy solutions across the Raleigh area. Not only does Duke Energy provide solar rebates worth up to $6,000, they also offer services like <a href="https://www.duke-energy.com/home/products/renewable-energy/generate-your-own" target="_blank">net metering</a> that can help offset your electric bill with the energy from your solar energy system.</p><p><strong>Why buy:</strong> Duke Energy has made some admirable commitments to renewable energy in recent years. With programs like NC <a href="https://www.duke-energy.com/home/products/renewable-energy/nc-shared-solar" target="_blank">Shared Solar</a>, the company allows you to support solar energy generation and development each month even if you can't install solar panels on your own home, making solar energy more accessible.</p><h2>What types of solar energy are available in Raleigh, NC?</h2><p class="shortcode-media shortcode-media-rebelmouse-image"> <img type="lazy-image" data-runner-src="https://assets.rebelmouse.io/eyJhbGciOiJIUzI1NiIsInR5cCI6IkpXVCJ9.eyJpbWFnZSI6Imh0dHBzOi8vYXNzZXRzLnJibC5tcy8yNTcwMDY3OC9vcmlnaW4uanBnIiwiZXhwaXJlc19hdCI6MTY1MjEyOTA1MX0.hZ7m-mEyAd_MBxOlVzFtHSuyPbttXtbGtvW1D6wGgh4/img.jpg?width=980" id="f92ca" class="rm-shortcode" data-rm-shortcode-id="659abb8e87ff463fb88bbe715ccafe0d" data-rm-shortcode-name="rebelmouse-image" data-width="1200" data-height="713"> <small class="image-media media-photo-credit" placeholder="Add Photo Credit...">Buena Vista Images / Getty Images</small></p><p>As you consider your options for solar energy in the Raleigh area, it's important to note that different companies provide varied kinds of access to the sun's energy.<br></p><p>For instance, most of the companies on our list are truly solar installers, which means they can help you upgrade your home with solar panels and batteries, allowing you to directly absorb the sun's rays, convert it to electricity, and use that electricity to power your home.</p><p>But a few companies, like Duke Energy, do something a little different: They essentially allow you to choose a plan where you get solar power straight from Duke's solar energy facilities as part of your home's energy, but also use regular electrical power when necessary.</p><p>Make sure you understand these different models as you seek the right solar power provider for your home.</p><h2>How does solar panel installation work?</h2><p>It is also helpful to know more about the process of having solar panels installed on your home.</p><p>Usually, the process begins with an energy audit. A certified installer will arrive at your home, assess your energy needs, and also evaluate how much sun exposure you get. They will then recommend the number of panels that need to be installed on your roof, as well as the ideal locations for those panels.</p><p>Once installed, these solar panels draw energy from the sun and store it in a battery. This solar power is then converted to AC power, using a component known as an inverter, which can then power all your home appliances and devices.</p><p>If you have any specific questions about the installation process, it's usually best to go straight to your installer. Note that while the initial investment in equipment can be steep, that's usually it in terms of overall solar expense: the sun's energy is free, and you won't need to invest in any further fuel sources.</p><h2>Choose the best rooftop solar company in Raleigh</h2><p>There are countless reasons for Raleigh homeowners to embrace clean energy: it's a great way to minimize your environmental impact; it can lower your household energy expenses; and you can take advantage of the many rebates and tax advantages offered in the state.</p><p>As you consider different players within the solar industry, choose wisely, starting with some of the recommendations we've offered here. These are renewable energy companies that have solid reputations and proven track records of solar energy service.</p><p><em><strong>Josh Hurst </strong></em><em>is a journalist, critic, and essayist. He lives in Knoxville, TN, with his wife and three sons. His writing on natural health, nutrition, and supplements has appeared in Health, Shape, and Remedy Review.</em></p>