This website uses cookies to ensure you get the best experience while browsing it. By clicking 'Got It' you're accepting these terms.


The best of EcoWatch, right in your inbox. Sign up for our email newsletter!
By Ben Jervey
As federal support for electric vehicles (EVs) is expected to wither under the Trump administration, state-level policies will play the biggest political role in how quickly battery powered motors replace the internal combustion engine.
Yet, at this critical moment when state governments should be supporting zero-emission vehicles, many states are cutting their incentives, while others are penalizing EV drivers outright.
Ever consider the environmental impact of letting your vehicle idle? The average American spends more than 16 minutes a day idling his or her vehicle, says Sustainable America.
You can save significant dollars and reduce carbon dioxide emissions at the same time by cutting down on this habit. This infographic from Sustainable America explains the issue.

Visit EcoWatch's TIPS page for more related news on this topic.

EcoWatch Daily Newsletter
A group of like-minded governors on both sides of the nation pledged this morning to get millions of zero-emissions vehicles (ZEVs) on the country's roads by 2025.
Governors from eight states—California, Connecticut, Maryland, Massachusetts, New York, Oregon, Rhode Island and Vermont—said they would do their part to encourage drivers to buy ZEVs to total 3.3 million on U.S. streets in the next dozen years. They agreed to collectively evaluate offering financial incentives for ZEVs and lead by example by using these more environmentally sound vehicles for their government fleets.
"This is not just an agreement, but a serious and profoundly important commitment," California Governor Edmund G. Brown Jr. said. "From coast to coast, we're charging ahead to get millions of the world's cleanest vehicles on our roads."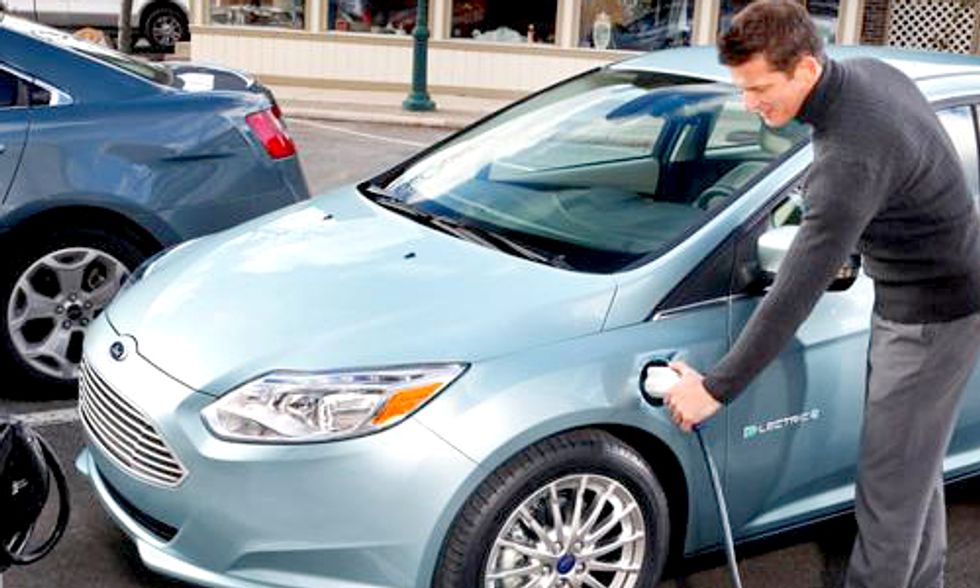 The group estimates 200,000 ZEVs by 2015. There are about 65,000 between the coalition's states, including 50,000 in California.
Sales more than tripled from 17,000 in 2011 to 52,000 last year.
"Today's announcement will ensure that all new cars won't just use less gas, many won't use gas at all," Sierra Club Executive Director Michael Brune said in a statement. "The facts speak for themselves, EVs are cleaner and more efficient than internal combustion engines and U.S. automakers have roared back to life by betting big on efficiency and the new innovative auto technologies that Americans demand."
The governors said they would formalize an action plan within six months. Here are more of their initial ideas to push for more ZEV sales:
Harmonize building codes to make it easier to construct new electric car charging stations
Consider favorable electricity rates for home charging systems
Develop common standards for roadway signs and charging networks
"Today's announcement shows commitment from these states to support a successful and growing market for electric vehicles, a key solution for tackling climate change and cutting our nation's projected oil use in half over the next 20 years," David Reichmuth, senior engineer with the Clean Vehicles program at the Union of Concerned Scientists, said in a statement.
"Auto manufacturers, lawmakers and citizens need to work together so that we can enjoy cleaner vehicles across the United States. Today's agreement, signed by eight states representing a quarter of all new vehicles sales, is an important step toward ensuring that the market for electric vehicles continues to expand."

The advocate who was on the cusp of a one-on-one discussion with President Obama figures the big screen is his best chance to inform the nation's leader about the benefits of electric vehicles (EV).
This week, Plug In America co-founder and Nissan LEAF salesman Paul Scott announced the production of a documentary, My Lunch with Obama. The lunch—really intended to be a two-minute discussion—never took place after the Democratic National Convention (DNC) rescinded Scott's invitation, possibly in response to critics of Scott's plan to pay $32,400 of his retirement fund for the discussion and a seat at a fundraiser earlier this year in Santa Monica, CA.
"This seemed like a good way to spend my money, to push the economic benefits of electric cars for our nation," Scott told Mother Nature Network in June, following the DNC's decision. "My thought is that the average American pays this kind of money, over time, to the oil companies. We pay out $700 billion a year to Big Oil, and spend $80 billion a year protecting the oil supply."
While Scott never got to speak to Obama, he was recently invited to an EV conference where he got to speak in front of leaders from the Netherlands, England, Germany, Norway, Sweden, Denmark and Belgium.

Thousands of children across the U.S. will shun the yellow bus and walk or bicycle to school on Oct. 9 as part of National Walk to School Day.
Organizers of the one-day event, now in its 16th year, say walking or bicycling to school results in a number of positive consequences, including reduced traffic—and less air pollutants emitted by vehicles.
And it's not just by school buses. Personal vehicles taking students to school account for 10 percent to 14 percent of all personal vehicle trips made during the morning peak commute times, according to a 2011 report from the National Center for Safe Routes to School (based on National Household Travel Survey Data, 2009). Those vehicles emit a variety of air pollutants, resulting in increases in ground-level ozone, nitrogen oxides and particulate matter such as particles of dust, soot, smoke, dirt and liquid droplets, according to the U.S. Environmental Protection Agency.
Organizers say other benefits of walking to school include increased physical activity, a stronger sense of community, safer streets and lower costs for school districts—one school district calculated $237,000 in annual savings.
The event was founded in 1997 by the Partnership for a Walkable America as a way to build awareness of the need for walkable communities. The event became international  in 2000 when the U.K. and Canada joined; today more than 40 countries participate.  In 2012, bicycling to school became part of the event.
Participation in Walk to School Day 2012 reached a record high, with more than 4,200 events registered from all 50 U.S. states and the District of Columbia. Many more communities held events but did not register.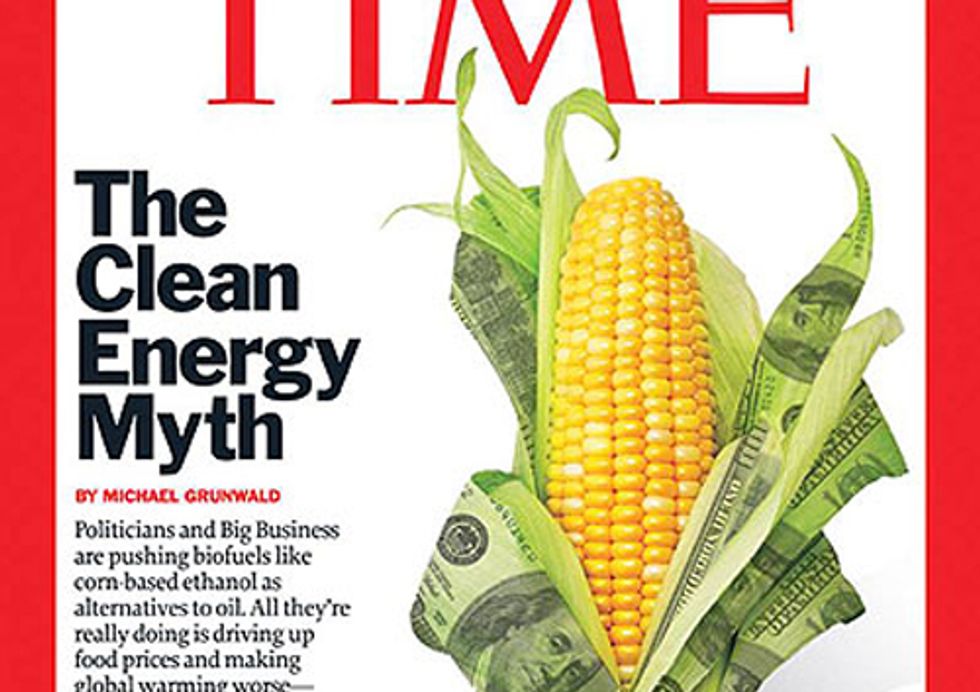 The U.S. Environmental Protection Agency's (EPA) decision to allow the sale of gasoline blended with up to 15 percent ethanol will be a nightmare for car owners who improperly fuel their gas tanks. Every major automaker has warned that millions of vehicle warranties will be voided if drivers fill up with E15.
The approval of E15 for use in vehicles manufactured after 2000 means consumers will pull into gas stations that could have as many as four pumps with different kinds of fuel—one for E10 (up to 10 percent ethanol); one for E15; possibly one for E85 (between 70 and 85 percent ethanol); and maybe one for old-fashioned gasoline. Some gas station pumps might not even have labels specifying which ethanol blend is which because not every state requires them.
"It is going to be extremely confusing and dangerous for consumers," said Sheila Karpf, a legislative analyst at the Environmental Working Group (EWG). "If they make a mistake and put E15 into an older car or small engine, there's a good chance they'll ruin their engine and the manufacturer's warranty won't cover the damage."
To advance consumer safety, EWG analysts have created an Ethanol Blends Guide and Fact Sheet to help drivers choose the right fuel for their vehicles. The analysis provides more information about the new E15 label requirements.
Ethanol is more corrosive and burns hotter than gasoline, properties that could cause some engines to stall, misfire and overheat. Fuel with higher ethanol blends emits more nitrous oxide and formaldehyde than gasoline, lowers mileage and damages fuel tanks and pumps.
"Instead of approving a fuel that will pose health and safety hazards and damage engines, the U.S. should invest in energy efficiency measures and research and development for truly sustainable biofuels," said Karpf. "The high cost of replacing or repairing engines will be tacked onto corn ethanol's other costs—including higher food prices, increased soil erosion and polluted water supplies."
To be safe, EWG recommends that consumers stick with E10 or regular unleaded gasoline if they can find it. If gas pumps are not labeled, consumers should ask a service station employee for more information about the fuel and the amount of ethanol it contains. Consumers should check with their engine manufacturers or mechanics to find out if their cars or small engines can safely run on E15 or other ethanol blends.
Here are other tips for consumers to cut the economic and environmental costs of driving:
Maintain your vehicle properly:
- Keep tires inflated to the recommended pressure.
- Use the right grade of motor oil (check the manual).
- Replace air filters when you change oil (your engine will run more efficiently).
- Replace worn spark plugs.
- Repair leaks from engine oil or other fluids.
Drive the speed limit and don't accelerate too fast or brake too hard.
Minimize air conditioner use.
Turn your engine off when idling for long periods.
Get rid of excess weight in your vehicle.
Drive less.
Walk, run, or bike.
For more information, click here.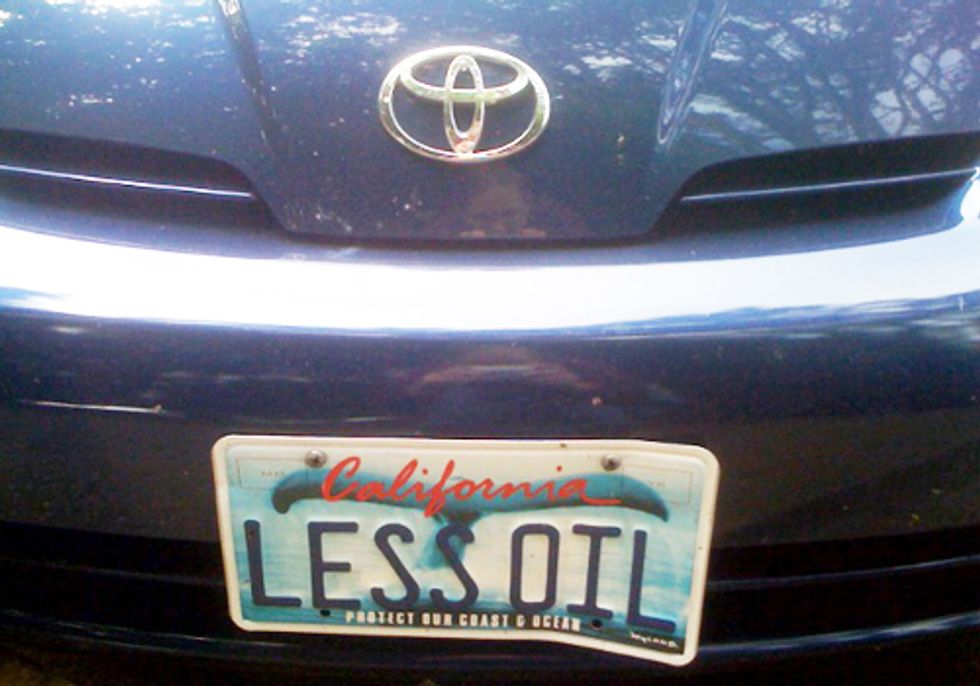 On Jan. 17 in Detroit, the headquarters of major U.S. automakers, the U.S. Environmental Protection Agency (EPA) and U.S. Department of Transportation (DOT) held public hearings on a landmark and broadly supported proposal to provide cleaner, more fuel efficient cars for America.
The hearing is the first of three that will allow for public input on proposed fuel efficiency and greenhouse gas emissions standards for model years 2017-2025 passenger vehicles. Hilary Sinnamon will testify in favor of the historic proposal for Environmental Defense Fund (EDF).
"Cleaner, more efficient cars are a triple play for Americans," said Sinnamon. "They'll help reduce our dependence on imported oil, save families money at the gas pump, and reduce dangerous air pollution. This is an opportunity to improve both our economy and our environment in one step; that's why the auto industry, labor unions and environmentalists are all supporting it."
You can read Sinnamon's full testimony here.
The proposed standards call for fleet-wide average performance comparable to 54.5 miles per gallon, or 163 grams per mile of carbon dioxide, by model year 2025.
Together with the model year 2012-2016 clean car standards finalized in 2010, the light duty fuel efficiency and greenhouse gas program is expected to reduce oil consumption by an estimated 12 billion barrels, cut heat-trapping carbon dioxide pollution by over 6 billion metric tons, and provide $1.7 trillion in national fuel savings over the life of the program.
America's fleet of cars and light trucks now consumes more than 360 million gallons of fuel per day and emits about 20 percent of U.S. greenhouse gas pollution. Under the new standards, we will reduce our oil consumption by an estimated 2.2 million barrels a day by 2025—more than our daily 2010 oil imports from the entire Persian Gulf.
The new standards will also put money back in consumers' pockets. Based on the projected fuel savings from the proposal, owners could save more than $4,000 over the life of their new car or truck. Those fuel savings will offset higher vehicle costs in less than four years, and consumers who buy a vehicle with a typical five year loan will see immediate savings of about $12 a month.
The proposal already has broad support from such widespread groups as auto manufacturers, United Auto Workers, small businesses, American consumers, veterans and military groups, economists, and environmental advocates—including EDF.
For more information, click here.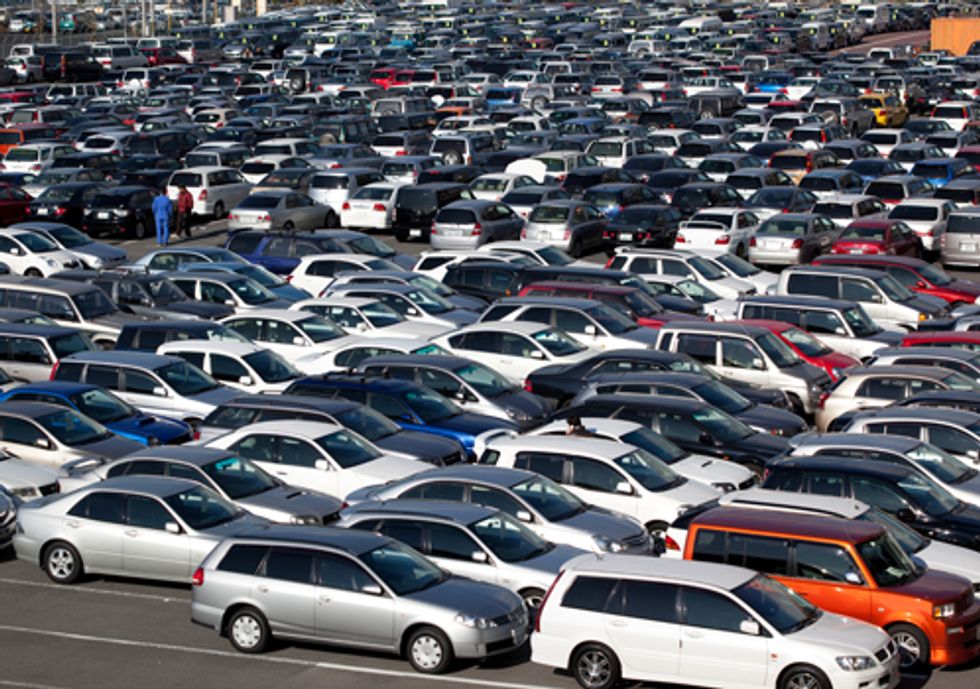 Today, cars and trucks are nearly everywhere. In the U.S., there are more automobiles than there are licensed drivers to drive them.
Altogether, the planet is home to more than a billion vehicles of all sorts, and experts predict that by 2020 there will be more than two billion, of which half will be automobiles.
Smog, carbon pollution and oil dependence
These cars and trucks, as helpful as they are in moving people and cargo, also create a range of environmental challenges. In the U.S., on-road vehicles contribute about a third of the country's smog-producing air pollution. The transportation sector is responsible for approximately 27 percent of America's greenhouse gas emissions.
It is also a leading cause of America's dependence on oil and consumes about 70 percent of the oil we use in this country. More than half of that is consumed by cars and trucks.
Threat to water and wildlife
Vehicles also contribute to water pollution through the oil and other fluids they leak onto roadways—fluids that inevitably wash off into storm drains, rivers and bays.
The nearly 4 million miles of public streets and highways in this country have eaten into wildlife habitat, and where wildlife still exists, those roads create migration impediments and hazards.
One survey found 21 listed threatened species were under greatest threat from road impacts.
Our goal—to make engines cleaner and safer
Our challenge is to find solutions to make those cars and trucks and other vehicles less polluting, and the way we use them less damaging to the planet.
Take action
What will it take to cure our dangerous and unhealthy addiction to oil and reduce the threat of runaway global warming?
Stronger fuel economy and greenhouse gas standards for American cars and trucks are essential—and your email right now to the Obama administration supporting their landmark new standards for cleaner cars and trucks can help us all take a huge step forward.
Public comments are due by Feb. 13. Take action today—stand up for better gas mileage, less oil and a safer climate future.
Thank you for your activism and support.
For more information, click here.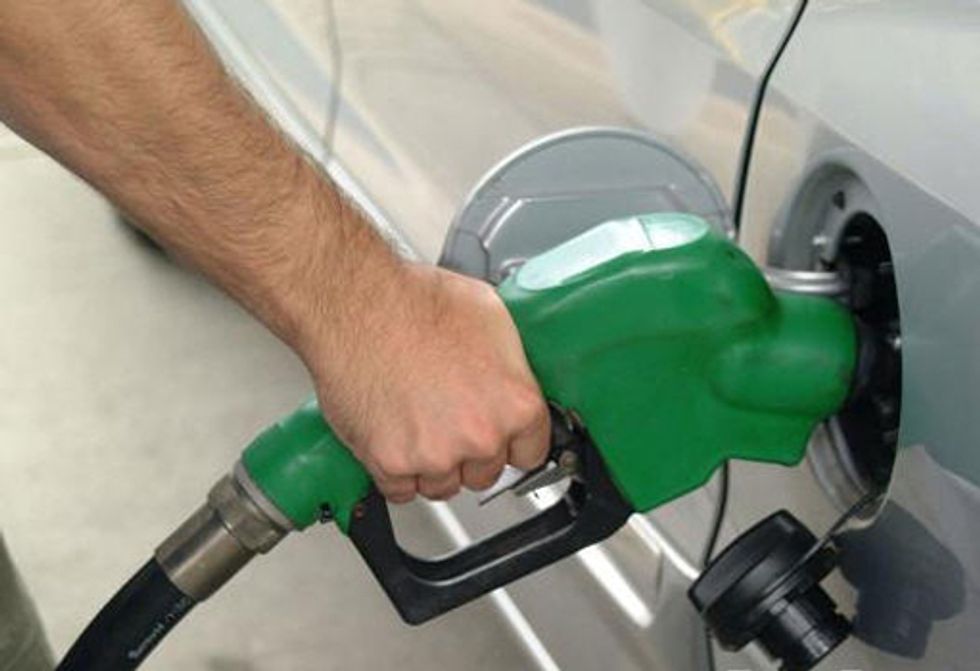 Tell President Obama that you support increased fuel efficiency for cars.
This fall, President Obama proposed increased fuel efficiency standards of 54.5 miles per gallon by 2025 for new cars and light trucks. Adopting these standards will save the average consumer up to $6,600 in fuel costs over the life of a model year 2025 vehicle. A 60-day public comment period opened Dec. 1, 2011, and ends Jan. 30, 2012.
The president needs to hear from you.

Without your comment, special interests could water down this proposal. Tell President Obama to keep the standards strong so Americans can save money at the pump, our country can import less oil, and our environment can be cleaner.

Send your comments to the president now—protect the 54.5 average mpg fuel efficiency standard.
For more information, click here.