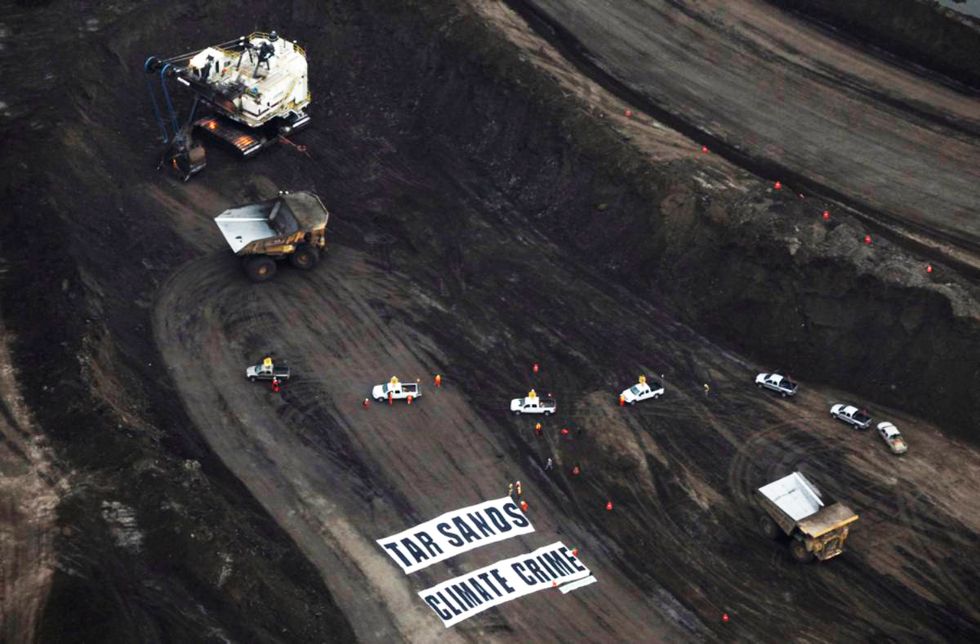 The U.S. government doesn't know exactly where TransCanada wants to lay pipe for the northern section of its Keystone XL tar sands pipeline, according to the results of a 14-month Freedom Of Information Act (FOIA) request to the U.S. State Department. In its final answer to a FOIA request by Thomas Bachand of the Keystone Mapping Project, the State Department admitted:
Neither Cardno ENTRIX nor TransCanada ever submitted GIS information to the Department of State, nor was either corporation required to do so. The information that you request, if it exists, is therefore neither physically nor constructively under the control of the Department of State and we are therefore unable to comply with your FOIA request.
Yes, you read that right. The U.S. State Department published its draft Supplemental Environmental Impact Statement (SEIS)—supposedly an official account of the potential hazards of TransCanada's proposed pipeline on U.S. waterways, wildlife and other major considerations like global climate change—without knowing exactly where TransCanada wants to dig. 
Ongoing Conflicts of Interest in State Department Environmental Assessments
The State Department is already facing legitimate criticism for contracting companies with ties to TransCanada and other oil companies for its environmental impact estimates, which the U.S. Environmental Protection Agency has slammed for being "insufficient." State looked no further than oil industry contractors to run the draft SEIS—companies like Cardno ENTRIX, which calls TransCanada a "major client," and ERM Resources, a dues paying member of the American Petroleum Institute which is being investigated by the State Department's Inspector General for trying to hide its prior consulting for fossil fuel giants like ExxonMobil, BP and Shell. In fact, TransCanada chose ERM Resources to do the Keystone XL SEIS review for the State Department, and one of ERM's people working on the review was formerly employed by TransCanada. 
TransCanada has stacked the deck, wagering American waterways and private property against the promise to profit from continued extraction of dirty tar sands petroleum.
Tar Sands Pipelines Spill
The potential is too high for Keystone XL to leak just like TransCanada's existing Keystone I pipeline has repeatedly done, or rupture like ExxonMobil's Pegasus tar sands pipeline in Mayflower, AK, earlier this year, or Enbridge's tar sands pipeline spill in the Kalamazoo River in Michigan. The southern leg of Keystone XL is already under construction, and the if the cracks, dents and other faults in the "new" pipe are any indication, pollution from oil spills looks inevitable. Beyond being a disaster waiting to happen, Keystone XL guarantees the continued disaster that is tar sands mining, a process that has already poisoned entire regions—and peoples' communities—in northern Alberta, Canada.
With President Obama's recently unveiled Climate Action Plan, it would be a limp gesture to approve the Keystone XL pipeline. You'd think with the State Department having its environmental analysis run by oil industry consultants, they'd listen to the oil industry's own guarantees that Keystone XL would increase demand for tar sands mining. That's bad news for our climate—something the State Department cannot ignore if they do a reasonable review of the "unprecedented" amount of public comments on its draft SEIS on Keystone XL.
What remains to be seen is if the State Department will be reasonable in the last leg of its review, or if it will continue letting TransCanada and Big Oil control the process to the bitter end.
Visit EcoWatch's KEYSTONE XL page for more related news on this topic.
——–
SHARE YOUR THOUGHTS BELOW: How would the U.S. State Department be able to demonstrate its transparent independence in conducting a new environmental review given this information? Or could it?
——–

EcoWatch Daily Newsletter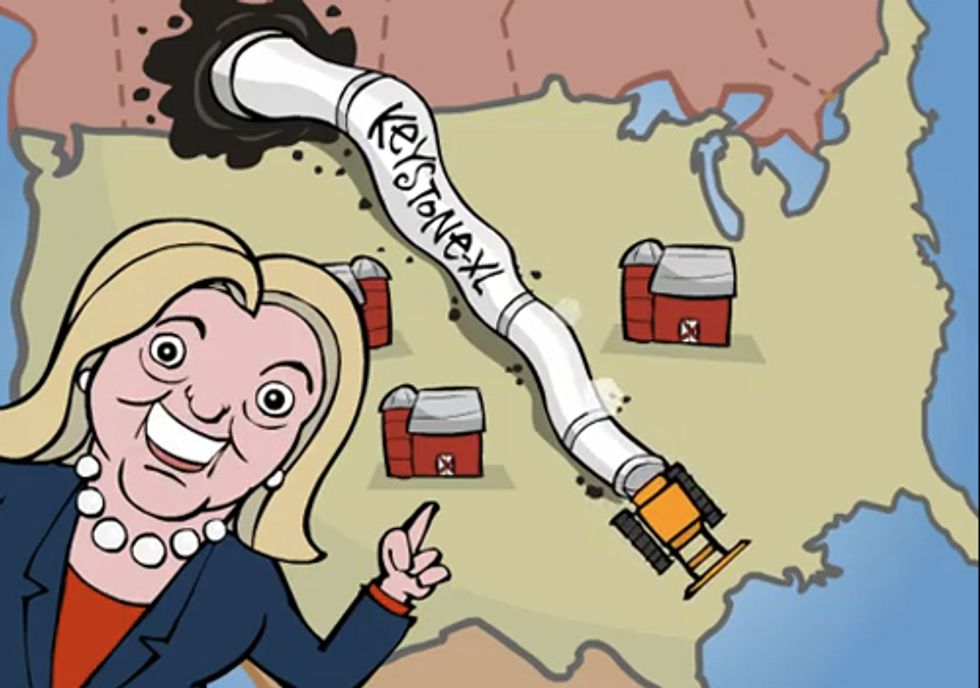 In a move sure to turn up the heat on a conflict-of-interest scandal that has been simmering for months, the State Department told Friends of the Earth this week that it will reject a Freedom of Information Act (FOIA) request for contracts involving the firm Cardno Entrix's work on the review of the Keystone XL tar sands oil pipeline.
Prior to President Obama's rejection of the pipeline last month, the State Department had run an environmental review process that was widely criticized as being rife with bias, lobbyist influence and conflicts of interest. The role played by Cardno Entrix, the contractor chosen by the State Department at TransCanada's behest to oversee drafting of the environmental impacts review as well as the public comment process, has been especially controversial. Cardno Entrix's long history of involvement with the oil and gas industry and with TransCanada in particular—which it listed as a major client—raised significant conflict of interest concerns. An October 7 New York Times expose revealed that the State Department "flout[ed] the intent of a federal law" aimed at ensuring impartiality when it hired Cardno Entrix, and numerous members of Congress subsequently called for investigations.
Yet now, in apparent violation of federal law, the State Department has indicated it will reject Friends of the Earth's Freedom of Information Act request for the State Department's contract or contracts with Cardno Entrix or TransCanada.
State Department program analyst Tangie Ellis acknowledged in a Dec. 14 email that the State Department has a list of "over six pages of contracts" consistent with Friends of the Earth's FOIA request and asked whether Friends of the Earth would be willing to pay to obtain them.
Yet by Jan. 24 the department's tune had changed. Ellis wrote in an email that "the Department of State has not issued any awards to either of the contractors Entrix and/or Cardno" and that "unfortunately the Department of State isn't one of the agency that handle this kind of request," [sic] advising Friends of the Earth to ask other federal agencies for the State Department's contracts.
"Simply put, the State Department's response to our Freedom of Information Act request has been bewildering, and it's unacceptable," said Marcie Keever, legal director at Friends of the Earth. "It's not clear whether gross incompetence or willful disregard for the law is at play, but either way, the result is the same—the public is being denied its right to see a document that could reveal serious problems in the review of the Keystone XL pipeline—problems that may have led the State Department to understate the damage to the environment that the pipeline would cause."
Friends of the Earth pledged to continue its pursuit of the documents.
"This matter is far from over," Keever said. "We will use all the legal tools at our disposal to force the State Department to comply with the law and release its contract with Cardno Entrix."
Friends of the Earth's correspondence with the State Department in regard to this Freedom of Information Act can be read by clicking here.
Like many other plant-based foods and products, CBD oil is one dietary supplement where "organic" labels are very important to consumers. However, there are little to no regulations within the hemp industry when it comes to deeming a product as organic, which makes it increasingly difficult for shoppers to find the best CBD oil products available on the market.
<p>Here you can learn about the importance of organic hemp oil, why it's better for the environment, and which CBD companies actually make trustworthy products with sustainable farming processes. origins which weigh heavily on many consumers who want to buy a product that's produced in the best way possible for not only themselves to ingest, but for the environment as well through sustainable farming methods. </p><h2>What Is CBD Oil?</h2><p>First things first, CBD stands for cannabidiol, and it's a cannabinoid found within cannabis sativa plants. This plant compound is believed to have many potential benefits, and it is primarily derived from hemp plants via a CO2 extraction process. </p><p>Since CBD is extracted from industrial hemp, which contains only trace amounts of THC (the psychoactive component in cannabis plants), this means that CBD won't make you feel high like marijuana, which has much higher levels of THC that causes psychoactive effects. Instead, the effects of CBD are much more subtle and promote a general sense of calm and relaxation in most users.</p><h2>What Makes a CBD Oil Organic?</h2><p>In terms of organic labels, perhaps the most important (and prominent) certification comes from the United States Department of Agriculture (USDA). This government organization has been labeling foods as "organic" for many years, but what exactly does this certification entail? Essentially, a label indicating that a product is "USDA Organic" or "Certified Organic" means that at least 95% of the ingredients are obtained from organic sources.</p><p>For a crop to be considered organic by the USDA, it must be grown without the use of industrial solvents, irradiation, genetic engineering (GMOs), synthetic pesticides, or chemical fertilizer. Instead, farmers rely on natural substances and <a href="https://www.usda.gov/media/blog/2012/03/22/organic-101-what-usda-organic-label-means" rel="noopener noreferrer" target="_blank">mechanical, physical, or biologically based farming</a> techniques to cultivate healthy and organic crops.</p><p>Before the passage of the 2018 Farm Bill, no hemp-derived products could be dubbed as "certified organic" since the hemp plant and its extracts were still categorized as a Schedule I Controlled Substance. However, it's still difficult for CBD companies to obtain a USDA certified organic label for their products due to the legal grey area that still surrounds CBD extracts. </p><p>Because of these challenges, and due to the fact that industrial hemp has only recently become an agricultural crop, very few CBD oils are USDA certified organic. Rather, many CBD products contain hemp extracts from plants that were grown in organic conditions but may not be federally certified.</p><h2>What are the Best Organic CBD Oil Brands?</h2><p><em>Each product featured here has been independently selected. If you make a purchase using the links included, we may earn commission.</em></p>