Ever consider the environmental impact of letting your vehicle idle? The average American spends more than 16 minutes a day idling his or her vehicle, says Sustainable America.
You can save significant dollars and reduce carbon dioxide emissions at the same time by cutting down on this habit. This infographic from Sustainable America explains the issue.

Visit EcoWatch's TIPS page for more related news on this topic.

EcoWatch Daily Newsletter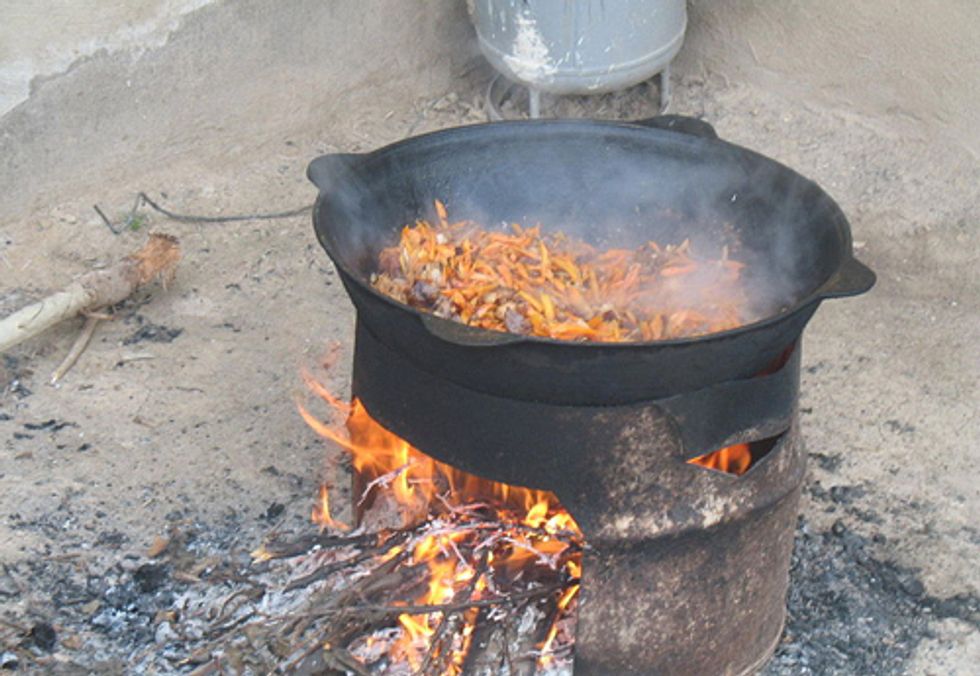 World Wildlife Fund (WWF) has welcomed a "black carbon" initiative announced Feb. 16 by the U.S., Canada, Mexico, Ghana, Sweden and Bangladesh—but warned that the primary effort in reducing dangerous climate changing emissions has to remain on achieving rapid and deep cuts to carbon dioxide emissions.
The substances highlighted in the initiative—black carbon or soot, methane and hydrofluorocarbons—are known as short-lived climate forcers, since they do not stay in the atmosphere as long as CO2. Major sources of black carbon include burning of biomass in traditional cookstoves and fires in some developing countries, as well as diesel exhaust.
'The fact is that the big emitters like the U.S. and Canada that are advancing this initiative have done very little to reduce CO2 emissions, the primary cause of global warming," said Samantha Smith, leader of the WWF Climate and Energy Initiative.
"'Now they have developed a plan that shifts the focus to others—developing countries in particular. While support for poorer countries is important, their primary responsibility should be to cut their own emissions and address the global challenges posed by climate change."'
"Cutting black carbon emissions by ensuring adequate access to energy and cleaner cookstoves is in principle good, but we should not assume that this new initiative will deliver quick results," said Smith. "There are many practical challenges to this and the other measures in the initiative, including the very large number of sources of pollution, financing, and cultural barriers to adoption of new cooking methods. Success will depend on good mechanisms for finance, accounting and delivery."
In short, while short-lived forcers provide a window of opportunity, it should not distract us from addressing the biggest cause of climate change—CO2 emissions.
For more information, click here.
Like many other plant-based foods and products, CBD oil is one dietary supplement where "organic" labels are very important to consumers. However, there are little to no regulations within the hemp industry when it comes to deeming a product as organic, which makes it increasingly difficult for shoppers to find the best CBD oil products available on the market.
<p>Here you can learn about the importance of organic hemp oil, why it's better for the environment, and which CBD companies actually make trustworthy products with sustainable farming processes. origins which weigh heavily on many consumers who want to buy a product that's produced in the best way possible for not only themselves to ingest, but for the environment as well through sustainable farming methods. </p><h2>What Is CBD Oil?</h2><p>First things first, CBD stands for cannabidiol, and it's a cannabinoid found within cannabis sativa plants. This plant compound is believed to have many potential benefits, and it is primarily derived from hemp plants via a CO2 extraction process. </p><p>Since CBD is extracted from industrial hemp, which contains only trace amounts of THC (the psychoactive component in cannabis plants), this means that CBD won't make you feel high like marijuana, which has much higher levels of THC that causes psychoactive effects. Instead, the effects of CBD are much more subtle and promote a general sense of calm and relaxation in most users.</p><h2>What Makes a CBD Oil Organic?</h2><p>In terms of organic labels, perhaps the most important (and prominent) certification comes from the United States Department of Agriculture (USDA). This government organization has been labeling foods as "organic" for many years, but what exactly does this certification entail? Essentially, a label indicating that a product is "USDA Organic" or "Certified Organic" means that at least 95% of the ingredients are obtained from organic sources.</p><p>For a crop to be considered organic by the USDA, it must be grown without the use of industrial solvents, irradiation, genetic engineering (GMOs), synthetic pesticides, or chemical fertilizer. Instead, farmers rely on natural substances and <a href="https://www.usda.gov/media/blog/2012/03/22/organic-101-what-usda-organic-label-means" rel="noopener noreferrer" target="_blank">mechanical, physical, or biologically based farming</a> techniques to cultivate healthy and organic crops.</p><p>Before the passage of the 2018 Farm Bill, no hemp-derived products could be dubbed as "certified organic" since the hemp plant and its extracts were still categorized as a Schedule I Controlled Substance. However, it's still difficult for CBD companies to obtain a USDA certified organic label for their products due to the legal grey area that still surrounds CBD extracts. </p><p>Because of these challenges, and due to the fact that industrial hemp has only recently become an agricultural crop, very few CBD oils are USDA certified organic. Rather, many CBD products contain hemp extracts from plants that were grown in organic conditions but may not be federally certified.</p><h2>What are the Best Organic CBD Oil Brands?</h2><p><em>Each product featured here has been independently selected by the writer. If you make a purchase using the links included, we may earn commission.</em></p><em><br></em>