The Oregon State Capitol building in Salem. Tashka / iStock / Getty Images
EcoWatch Daily Newsletter
Fresno, California, seen above, is receiving $66 million for walking trails, sidewalks, bike lanes, and more. DenisTangneyJr / iStock / Getty Images
Grecia Elenes grew up in Fresno, California. She says some parts of the city have been neglected for decades. When she moved back after college she realized nothing has changed.
"You see the same vacant lots. You see the same liquor stores," she says. "There's still no parks. You have the same missing sidewalks."
Now, she has hope that change is coming.
Elenes works as a policy advocate with the nonprofit Leadership Counsel for Justice and Accountability.
She says that as part of California's cap-and-trade program, major polluters in the state are charged for the carbon emissions they generate.
Some of that money is set aside for programs that both promote economic development and cut carbon pollution in disadvantaged communities. The state awarded Fresno more than $66 million for improvements in a five square mile area.
"That has historically not received any type of investment," Elenes says, "to transform the community in the way that the community sees fit." New infrastructure might include walking trails, sidewalks, or bike lanes, she says.
These amenities can help cut carbon pollution because they help create walkable neighborhoods. They also improve health and quality of life.
"I really hope it will catalyze a transformation that this community so rightly deserves," Elenes says.
Reposted with permission from Yale Climate Connections.
waterlust.com / @tulasendlesssummer_sierra .
Each product featured here has been independently selected by the writer. If you make a purchase using the links included, we may earn commission.
The bright patterns and recognizable designs of Waterlust's activewear aren't just for show. In fact, they're meant to promote the conversation around sustainability and give back to the ocean science and conservation community.
Each design is paired with a research lab, nonprofit, or education organization that has high intellectual merit and the potential to move the needle in its respective field. For each product sold, Waterlust donates 10% of profits to these conservation partners.
Eye-Catching Designs Made from Recycled Plastic Bottles
waterlust.com / @abamabam
The company sells a range of eco-friendly items like leggings, rash guards, and board shorts that are made using recycled post-consumer plastic bottles. There are currently 16 causes represented by distinct marine-life patterns, from whale shark research and invasive lionfish removal to sockeye salmon monitoring and abalone restoration.

One such organization is Get Inspired, a nonprofit that specializes in ocean restoration and environmental education. Get Inspired founder, marine biologist Nancy Caruso, says supporting on-the-ground efforts is one thing that sets Waterlust apart, like their apparel line that supports Get Inspired abalone restoration programs.
"All of us [conservation partners] are doing something," Caruso said. "We're not putting up exhibits and talking about it — although that is important — we're in the field."
Waterlust not only helps its conservation partners financially so they can continue their important work. It also helps them get the word out about what they're doing, whether that's through social media spotlights, photo and video projects, or the informative note card that comes with each piece of apparel.
"They're doing their part for sure, pushing the information out across all of their channels, and I think that's what makes them so interesting," Caruso said.
And then there are the clothes, which speak for themselves.
Advocate Apparel to Start Conversations About Conservation
waterlust.com / @oceanraysphotography
Waterlust's concept of "advocate apparel" encourages people to see getting dressed every day as an opportunity to not only express their individuality and style, but also to advance the conversation around marine science. By infusing science into clothing, people can visually represent species and ecosystems in need of advocacy — something that, more often than not, leads to a teaching moment.

"When people wear Waterlust gear, it's just a matter of time before somebody asks them about the bright, funky designs," said Waterlust's CEO, Patrick Rynne. "That moment is incredibly special, because it creates an intimate opportunity for the wearer to share what they've learned with another."
The idea for the company came to Rynne when he was a Ph.D. student in marine science.
"I was surrounded by incredible people that were discovering fascinating things but noticed that often their work wasn't reaching the general public in creative and engaging ways," he said. "That seemed like a missed opportunity with big implications."
Waterlust initially focused on conventional media, like film and photography, to promote ocean science, but the team quickly realized engagement on social media didn't translate to action or even knowledge sharing offscreen.
Rynne also saw the "in one ear, out the other" issue in the classroom — if students didn't repeatedly engage with the topics they learned, they'd quickly forget them.
"We decided that if we truly wanted to achieve our goal of bringing science into people's lives and have it stick, it would need to be through a process that is frequently repeated, fun, and functional," Rynne said. "That's when we thought about clothing."
Support Marine Research and Sustainability in Style
To date, Waterlust has sold tens of thousands of pieces of apparel in over 100 countries, and the interactions its products have sparked have had clear implications for furthering science communication.
For Caruso alone, it's led to opportunities to share her abalone restoration methods with communities far and wide.
"It moves my small little world of what I'm doing here in Orange County, California, across the entire globe," she said. "That's one of the beautiful things about our partnership."
Check out all of the different eco-conscious apparel options available from Waterlust to help promote ocean conservation.
Melissa Smith is an avid writer, scuba diver, backpacker, and all-around outdoor enthusiast. She graduated from the University of Florida with degrees in journalism and sustainable studies. Before joining EcoWatch, Melissa worked as the managing editor of Scuba Diving magazine and the communications manager of The Ocean Agency, a non-profit that's featured in the Emmy award-winning documentary Chasing Coral.
iStock
By Ken Kimmell
On Monday, Nov. 13, a bi-partisan group of seven states (New York, Maryland, Massachusetts, Connecticut, Rhode Island, Delaware and Vermont), and the District of Columbia announced that they will seek public input on how to craft a regional solution to greenhouse gas emissions from the transportation sector, now the largest source of CO2 emissions in the region. An announcement to conduct listening sessions may not sound like a big deal, but it is. Here's why:
First, this region has been successful at reducing emissions from the electric sector, but transportation is lagging behind, as this graph shows:
Energy Information Administration Data
All of these states have committed to economy-wide goals that will be impossible to reach without ambitious policies to reduce pollution from transportation. Monday's statement demonstrates that policy leaders understand that transportation is the next major frontier in the fight against global warming in the Northeast.

Second, a public conversation is necessary. For several years, these states have talked internally through their departments of energy, environment and transportation, about how to cut transportation emissions. When I served as a commissioner of the Massachusetts Department of Environmental Protection, I was part of those conversations, and they have yielded a number of promising ideas.
But policies that are truly worthy and lasting can't be hatched in isolation from the public. Public engagement is needed to get the best ideas out on the table, test assumptions, gauge political support and persuade the skeptical. The states' announcement shows that the states are serious, and that they are going about this in the right way.
Third, once the states announce a goal (as they have done here), and encourage the public to provide input to it, they create the expectation that action will follow: doing nothing becomes a much harder option. Once these listening sessions begin region wide, as they already have in Massachusetts, state leaders will see that their constituents want clean, affordable transportation, and that they are prepared to invest in that. Thus, the conversation will change from "whether" to implement a regional solution to "how" to do so.
In this regard, it is intriguing that on the day of the announcement, the states also released a white paper on one particularly promising approach—a regional "cap and invest" program. A cap and invest program would build upon this region's success with the Regional Greenhouse Gas Initiative (RGGI), which has helped to dramatically lower emissions from the electric sector while creating jobs and reducing consumer costs.
The program would set an overall cap on regional transportation emissions, require fuel distributors to purchase "allowances" for the right to sell polluting fossil fuels such as gasoline and diesel, and re-invest the proceeds in improved mass transit, electric cars and buses, affordable housing located near transportation centers, and other proven ways to make clean transportation available to all. The white paper does an excellent job of identifying how such a scheme would work under our existing fuel distribution network. (For more information on this approach, read my op-ed and the blog by my colleague Dan Gatti).
I encourage Union of Concerned Scientists members and the public to attend these listening sessions and publicly support a bold regional solution. And I applaud the leaders of these states for taking a critical next step. State leadership, particularly when it is bi-partisan, is the way that the U.S. can best stay on track to meet its climate goals and assure an anxious world that we are still in the fight, notwithstanding the Trump administration's abdication of leadership.
Ken Kimmell is president of the Union of Concerned Scientists and has more than 30 years of experience in government, environmental policy, and advocacy.
California lawmakers extended the state's climate legislation Monday night, in what is being considered a victory for Gov. Jerry Brown's plan to lower greenhouse emissions.
The legislation, a package of bills that extends California's plan to address climate change, passed with a supermajority in both the Assembly and the Senate, insulating it from any legal challenges. The bill passed the Senate 28-12 and was approved 55-21 in the Assembly. Eight Republican lawmakers in the Assembly voted in favor of the bill, and three democrats voted against it. In the Senate, one Republican joined the Democrats voting for the legislation.
Brown's signature on the bill will extend the world's second-largest carbon market to 2030.
"Tonight, California stood tall and once again, boldly confronted the existential threat of our time," Gov. Brown said in a statement. "Republicans and Democrats set aside their difference, came together and took courageous action. That's what good government looks like."
However, as Inside Climate News reported, not everyone is celebrating:
When Brown last week announced the legislation to extend the program, three vocal factions emerged: Republicans pleaded with the governor to back away from the proposal, saying it would hurt California's economy. Progressive environmental groups—including may representing polluted minority communities—bashed the proposals as a giveaway to polluters, particularly the oil industry. Other influential environmental groups applauded the legislation, saying it represented a reasonable balance that represented the best change for moving the program forward.
State Sen. Andy Vidak, speaking in opposition to the bill, said the laws represented a "regressive" tax that would not make any impact on climate change. "We could shut down the entire state of California and it would have no effect on the global climate," Vidak said.
Sen. Vidak is not alone in speaking out against the bill. The extension of AB 398, the state's cap-and-trade program, is being criticized by more than 50 California leading environmental organizations for making concessions to industry and consulting with the oil and gas lobby. The extension on the cap-and-trade program has very few changes. It still allows big polluters to continue buying permits to emit more greenhouse gases and bars some separate regulations on refineries.
"This bill makes a bad cap-and-trade system even worse," Adam Scow, California director for Food & Water Watch. "It was written with oil and gas lobbyists and keeps us dependent of fossil fuels. The climate crisis demands that the state regulate and reduce pollution, but this bill gives polluters massive loopholes.
"Governor Brown's success in passing this polluter friendly bill is consistent with his record of supporting fracking and firing regulators who attempted to hold Big Oil accountable."
Masada Disenhouse, 350.org's U.S. organizing coordinator and co-founder of SanDiego350, agrees. "This plan has Big Oil's fingerprints all over it and doesn't do enough to protect vulnerable communities or to achieve California's ambitious targets for reducing carbon pollution," Disenhouse said. "We need to extend California's climate law, but we also need to protect the ability of local air districts to regulate pollution in their backyards—not give refineries and other fossil fuel infrastructure a free pass to pollute."
Other environmental organizations showed their support for the bill.
Environmental Defense Fund President Fred Krupp strongly supported AB-398 and AB-617. "This vote ensures that another generation of Californians will enjoy a world-leading cap-and-trade program that places a firm and declining limit on carbon pollution and holds polluters accountable," Krupp said. "At the same time, it provides the flexibility and cost-effectiveness necessary to achieve one of the most ambitious climate targets in the world."
Natural Resources Defense Council's Director of California advocacy, Annie Notthoff, said, "Cap-and-trade is a backstop for California's groundbreaking, comprehensive plan to reduce dangerous climate pollution. The legislature set aggressive new carbon-cutting targets last year, and extending cap-and-trade through 2030 helps ensure that the state will meet those new goals—a 40 percent statewide reduction below 1990 levels by 2030, the toughest in North America."
California residents and small businesses will save on their April electricity bills thanks to the state's comprehensive strategy to combat climate change under its groundbreaking Global Warming Solutions Act (AB 32). Since its 2006 passage, AB 32 has reduced carbon pollution and the public health impacts of burning fossil fuels while solidifying California's place as a global leader in clean energy.
For millions of Californians, it's now about to also (literally) pay them dividends.
Beginning April 1, the California Climate Credit will be distributed to residential and small business customers of California's investor-owned utilities, including Pacific Gas & Electric, Southern California Edison, and San Diego Gas & Electric, which collectively serve more than two-thirds of the state's electricity demand.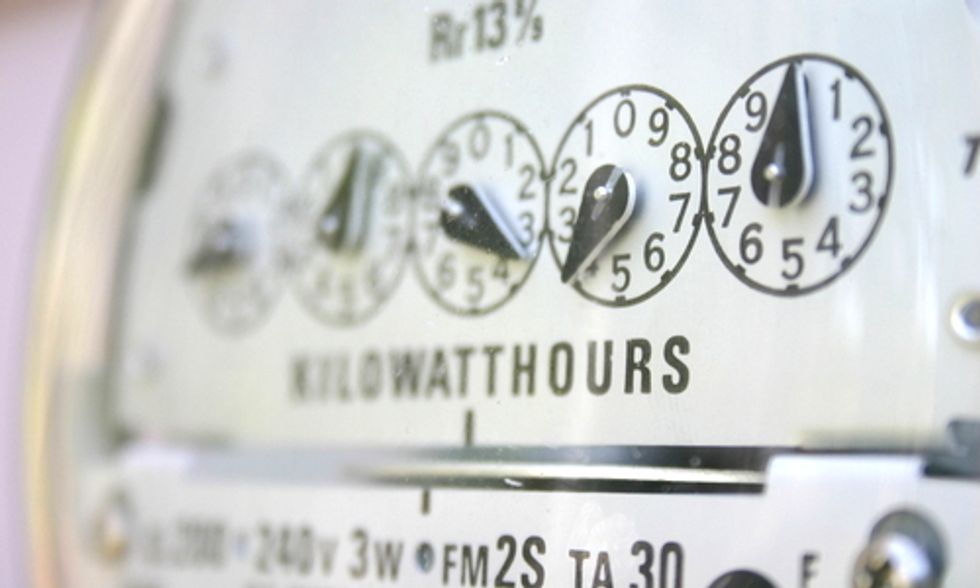 Photo courtesy of Shutterstock
For residential customers, the credits will appear on utility bills in April and October. The amount of the credit varies by utility, this year ranging from about $30 to $40 for households. Eligible small businesses, including schools and hospitals, will receive the credit monthly.
Polluter pays, customers gain
These utility bill savings are a result of a key component of California's plan to achieve AB 32's goal of reducing carbon emissions to 1990 levels by 2020—the cap-and-trade program—which requires the state's largest emitters to acquire a shrinking pool of permits (known as allowances) for every ton of pollution they emit. This puts a price on carbon to help level the playing field for carbon-free energy sources for electricity generation, such as renewables like wind and solar, and also energy efficiency programs to reduce the need for new power plants and encourage customers to use less. It also puts a hard limit on pollution to ensure California achieves AB 32's emissions reduction target.
The California Air Resources Board sells pollution allowances at quarterly auctions. The six auctions to date have raised just under $1.7 billion—with roughly 40 percent ($663 million) earmarked for clean energy investments to further the goals of AB 32, and the balance distributed to utility customers via the Climate Credit and other programs (publicly-owned utilities must use the value of pollution allowances allocated to them exclusively for the benefit of their customers, but are outside the jurisdiction of the Public Utilities Commission and are not required to issue Climate Credits on monthly bills).
Why households get the same amount
While the credits vary by utility, every household within each utility's service territory receives the same amount. This ensures customers using use less electricity are not penalized by receiving a smaller credit, which would otherwise blunt incentives for efficiency and conservation. This is particularly important to protect low-income households—who, by necessity, spend more of their income on basic needs like energy and tend to conserve more than wealthier households.
Making the credit do more
Customers who invest their savings from the Climate Credit in a low-cost energy efficiency option—such as a programmable thermostat or an advanced power strip—can cut their electric bills even more while supporting California's efforts to transition to clean energy. Replacing just one incandescent light bulb with a new LED, for example, can save more than $50 over the life of the bulb—more than doubling the value of the credit. A handy list of other great options to help customers get the most of the credit is available on EnergyUpgradeCA.org. The site also has factsheets, FAQs, and opportunities to get engaged and help spread the word about the credit.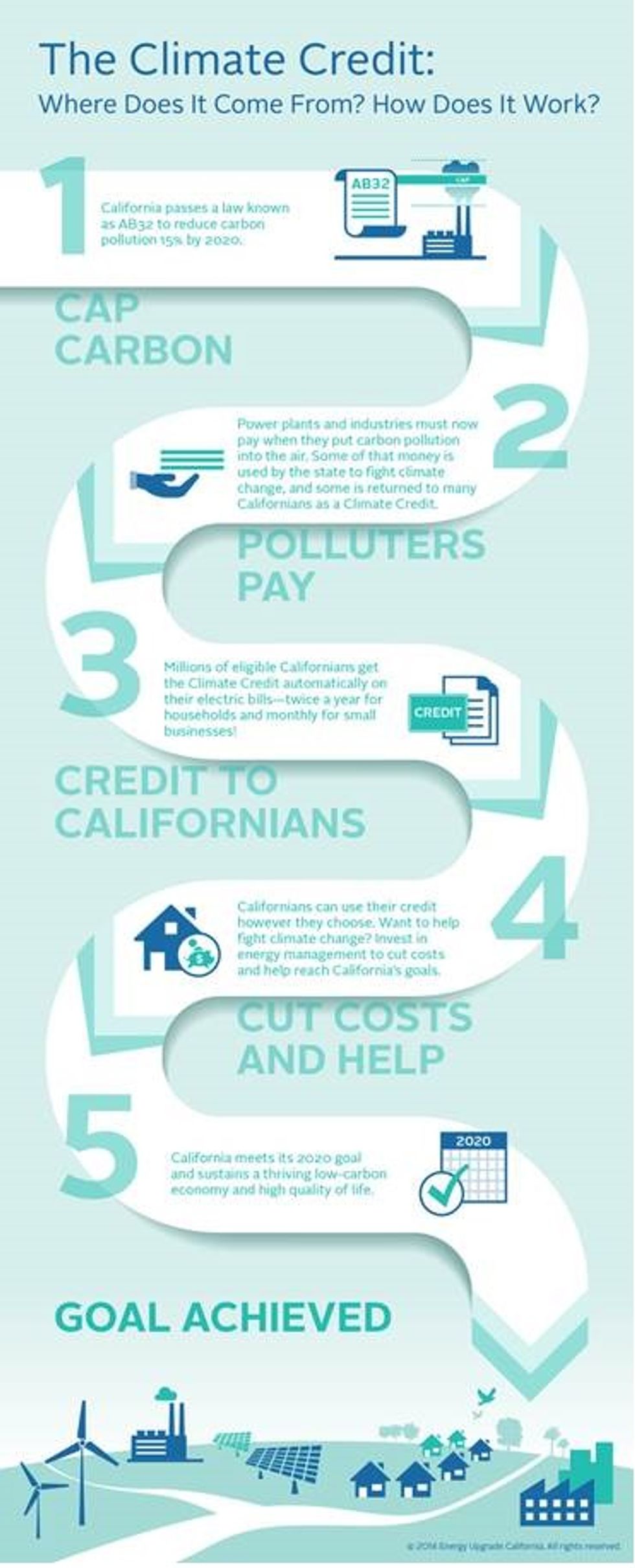 The way forward
As the urgency in addressing climate change continues to mount, the Climate Credit offers yet another reminder that transitioning off of a carbon-based energy diet need not come at the expense of businesses' and households' bottom lines. Under AB 32, California has put a price on carbon to boost clean energy and promote energy efficiency, and is distributing the bulk of the proceeds directly to utility customers.
For the states and countries around the world watching California to show the way forward on climate, I'd say sounds like a pretty good approach.
This post originally appeared on the NRDC's Switchboard blog.
——–
YOU ALSO MIGHT LIKE
Groundbreaking UN Report Warns Climate Change a Threat to Global Security and Mankind
California's Cap-and-Trade Program Upheld in Court
How Energy Policies Dramatically Cut Carbon Pollution State by State
——–
By Maureen Nandini Mitra and Michael Stoll
One hot day this spring John Buckley scrambled up a dusty slope of a patch of deforested land in the middle of California's Stanislaus National Forest in the Sierra Nevada, five miles west of Yosemite National Park, and surveyed the bleak landscape: 20 acres of blackened tree stumps and the shriveled remains of undergrowth. On neighboring ridges, similar brown expanses dotted the green forest canopy. "This," he said, spreading his arms wide, "is resource management."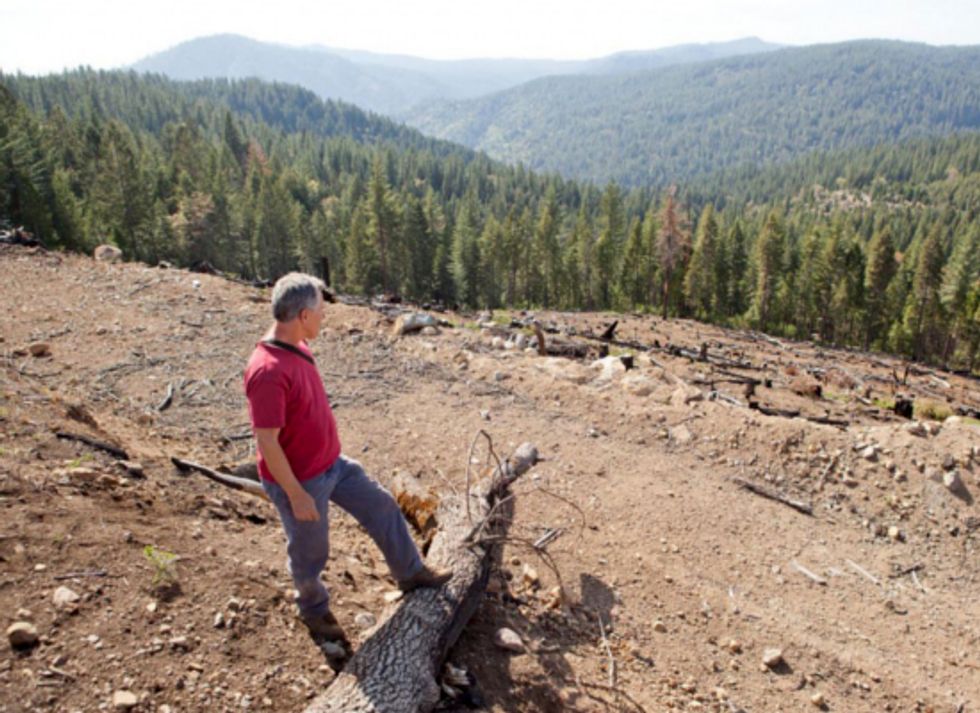 The denuded clearing is on a tract of private forestland owned by timber giant Sierra Pacific Industries that is close to being approved as a sort of carbon bank under California's new cap-and-trade scheme. It will soon grow into a plantation of mostly Douglas fir, ponderosa pine and cedar.
Based on calculations of how much carbon the new and old trees in this forest area will remove from the atmosphere, the timber giant will soon be able to sell carbon credits, which regulators call "offsets," to the largest California polluters so they can compensate for their greenhouse gas emissions. Looking to make a profit from their environmental practices, companies in forestry and other industries are rushing to meet the demand.
Buckley, an environmental activist from Tuolumne County, is dismayed that projects like these—that involve clearing out old, diverse forests and replanting the area with a handful of quick-growing timber varieties—are being considered as a means to enable California industries to emit more pollutants into the air.
Many environmentalists say that because it is notoriously difficult to prove that such projects actually reduce the state's overall carbon footprint, California should proceed slowly in approving a vast expansion of the cap-and-trade market.
The plan is to start the Compliance Offset Program this summer. Sellers include some of the largest forestland owners in the U.S., dairy farms and companies that neutralize greenhouse effect-producing refrigerants. The program might also expand to other activities, such as methane capture from mining and rice farming.
Proponents say that by providing incentives to voluntarily reduce emissions and use new technology, the offset program could help California meet its legal requirement, set in 2006, to reduce its carbon footprint from all sources by about 16 percent by 2020, and even more in later years.
But critics call offsets a loophole that could undermine an effective cap-and-trade system. They say pledges of reductions that are not required by law often cannot be considered real, since companies might have made them anyway without the extra money from selling offsets. Left unchecked, the critics warn, poorly measured offsets could lead to an overall increase in California's emissions.
Depending on the future price of offsets, the addition of these credits from around the country and possibly abroad could swamp the existing regulated emissions market. Independent environmental economists now estimate that offsets could  grow to more than 200 million tons of carbon dioxide (CO2) or the equivalent in other greenhouse gases—representing at least 50 percent of the program.
And under certain supply-and-demand conditions, state trading rules could allow offsets to cover 100 percent of the reductions required under cap-and-trade. In those circumstances, no power plant, cement factory or refinery would have to cut its emissions to comply with the carbon cap.
Offsets "create the illusion that we are doing something to mitigate climate change," said Kathleen McAfee, a professor of international relations at San Francisco State University, who studies global markets for environmental services. Instead, she said, the government should impose strict regulations on fossil fuel extraction and invest in renewable energy technology.
Dave Clegern, a spokesman for the California Air Resources Board, the main state agency writing regulations to fight global warming, argued that carbon reductions can take many forms and should not be limited to one accounting method. He said several other regulatory programs in the state also aimed at lowering greenhouse gas emissions cover many of the same sectors regulated by cap-and-trade.
"Frankly, as long as the emissions are reduced we are achieving our goals," Clegern said. "Whether that's done with offsets, whether that's done with allowances, whether that's done with reductions, there obviously would have to be some reduction in there to achieve this."
Billions of Dollars
The cap-and-trade program, which went into effect in January, covers about 80 percent of the state's greenhouse gas emissions, those emitted by the biggest electricity, industrial and fuel facilities.
It sets an annual limit on total emissions that California's largest polluters can release. The total supply of pollution allowances falls each year, helping the state reach emissions targets established by the landmark Global Warming Solutions Act of 2006.
The offsets program allows regulated industries to use offsets to cover up to eight percent of their carbon emissions. But analysts say that based on the rules, that figure could exceed the reductions required statewide for the entire cap-and-trade program. That means offsets—until now offered mostly as voluntary credits to companies hoping to burnish their green image—could soon become a major part of California's lucrative mandatory program.
Experts estimate that the higher price for California's state-issued carbon allowances, currently more than $14 per metric ton, make the use of cheaper offsets, projected to bring costs down to about $10, especially attractive. If California industries do require at least 200 million offsets over the next eight years it would make them worth more than $2 billion on the market.
The high financial stakes make accurate measurement of offsets a key concern. Cap-and-trade sets carbon allowance targets based on gases detected from smokestacks at the state's 350 largest polluting companies at about 600 facilities. By contrast, offsets are calculated as comparisons with predicted future "business-as-usual" levels of pollution.
This modeling requires teams of scientists and economists to anticipate choices that companies would have made had the offset payments not been available. And as any economist will admit, predicting the future is hard.
Even when emissions cuts are proved to prevent the business-as-usual growth scenario, the exact amount of CO2 stored or released comes with great scientific uncertainty. Supporters of offsets concede that it is hard to verify whether the offsets are valid.
The use of offsets is also associated with unintended consequences such as increases in other pollutants locally, loss of biodiversity in timber plantations and reduced incentives to invest in local mitigation technologies.
That is why some scientists and environmental advocates say cap-and-trade should not incorporate offsets.
"The integrity of the offsets is the integrity of the cap-and-trade program, because of how strongly the program is relying on them," said Brian Nowicki, California climate policy director at the Center for Biological Diversity.
Foggy Future
Offsets preapproved for California's cap-and-trade program are thus far restricted to U.S.-based projects in four sectors—industrial forestry, urban forestry, dairy digesters and destruction of ozone-depleting substances.
The Air Resources Board has developed elaborate protocols for each. The first round of credits, totaling 6 million metric tons of carbon from 45 offset projects, are expected to go on sale after a final staff review, according to a Reuters Point Carbon analysis.
The board is considering adding offsets from other domestic sectors, such as methane capture from rice plantations and mines. It will expand the program internationally, linking up with Quebec's offset program in 2014. It is also considering including offsets from a controversial program called Reduced Emissions from Deforestation and Degradation (REDD) that offers carbon credits for preserving forests and plantations in Mexico, Colombia and other developing countries.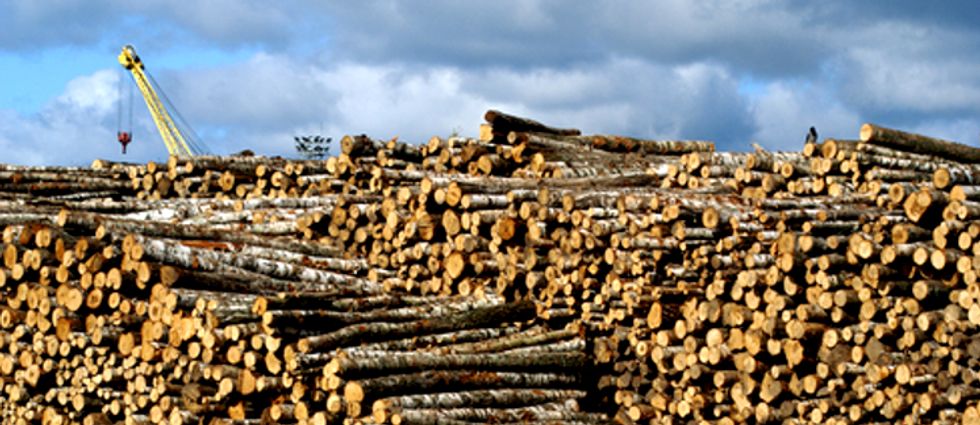 Photo courtesy of Shutterstock
One obvious benefit of offsets for polluters is lower-cost mitigation. Since global warming can be addressed by reducing greenhouse gases anywhere, offsets proponents say innovative projects out of state or in other countries can achieve reductions more cheaply.
"You want to make the program as cost-effective as possible to reduce the economic burden of the program for California consumers," said Gary Gero, president of Climate Action Reserve. He said offsets offer businesses now outside cap-and-trade an incentive to curb emissions through innovation.
Critics say this reasoning ignores myriad uncertainties that beset offsets, including measurement, verification and environmental justice concerns. The conundrum facing climate offsets policy is the debate over "additionality"—whether emissions reductions would have been made anyway. Carbon-saving technologies include installing methane-capture devices at large dairy farms or keeping trees standing for 100 years instead of 50.
But there is no counterfactual world against which to measure which reductions are real. In many instances they must accept offset developers at their word.
Economist David Roland-Holst at the University of California, Berkeley, said background changes in consumer demand for products and services with a lower carbon footprint make additionality difficult to determine.
"Rising energy prices and a rapidly increasing public desire for environmental quality will drive emerging markets toward pollution mitigation," Roland-Holst wrote in a recent paper on sustainable economics.
But Roland-Holst notes that relying on offsets also produces "unwelcome secondary effects." If industries meet the majority of their cap-and-trade requirements through out-of-state offsets, local air pollution in California's industrial areas would worsen.
In June 2012, two environmental groups, Citizens Climate Lobby and Our Children's Earth Foundation, sued the state. They said offsets "credit emission reductions that would occur or have already occurred without the incentive of offset credit payments," resulting in "false accounting of progress." They sought a court order prohibiting offsets trading.
But a San Francisco Superior Court judge rejected the petition in January, saying the judiciary could not rewrite the statute. Our Children's Earth Foundation filed an appeal on May 24. A hearing date has not been set.
State officials say that they have developed stringent standards for additionality, and that offsets are subject to continuous monitoring. If the state finds flawed credits, they will be invalidated.
"There are third-party verifiers who have been certified by us and there are more of them being trained," said Air Resources Board (ARB) spokesman Clegern, adding that independent experts will do on-site inspections.
"If ARB finds malfeasance by any party that developed or verified the offset," he said, the state "can take enforcement action on that party."
Larger Than They Seem
Steven Cliff, manager of the cap-and-trade program at the Air Resources Board, said it was "premature" to make assumptions about the scope of the offsets program.
Offsets, he said, "can account for a pretty high portion of overall reductions. But under the most likely scenario, offsets would cover no more than 41 percent of the reductions." Cliff based his assessment on a 2011 white paper by Adam Diamant, an energy and environment analyst at Electric Power Research Institute.
More recent assessments by Diamant and at least one other independent researcher, Barbara Haya, a fellow at the Stanford Environmental Law Clinic, show that offsets could represent a big chunk of the allowed emissions from industry—anywhere from 53 percent to 224 percent of required carbon reductions, measured cumulatively through the year 2020.
Diamant said the range of projections is so wide because the calculations depend on several variables. The first is the overall cap. The state plans to block off a small portion of credits each year to ensure a steady price for allowances. This reduces California's emissions limit. But if demand for allowances is high, the state will release reserves starting at $40 per metric ton.
Other complementary state policies aimed at reducing greenhouse gases might further reduce emissions. These include energy efficiency, mandates on electric companies to produce renewable energy, and the low-carbon fuel standard for vehicles. That would ease the reductions requirements under cap-and-trade. If reserve allowances were untouched and complementary policies achieved their targets, total allowed offsets could add up to more than twice the reductions needed to make cap-and-trade work.
Achieving reductions from complementary programs achieves the same overall environmental goals, Diamant said. "So it's not like nothing is happening."
But critics say that if industries can buy offsets to meet all their reductions requirements in the program's first eight years, technological innovation could stagnate. They say it also deprives California of the environmental, economic and public health benefits that former Gov. Schwarzenegger promised when the global warming law was passed in 2006.
"The more offsets you allow to be used," said Nowicki, "the more you put the program at risk."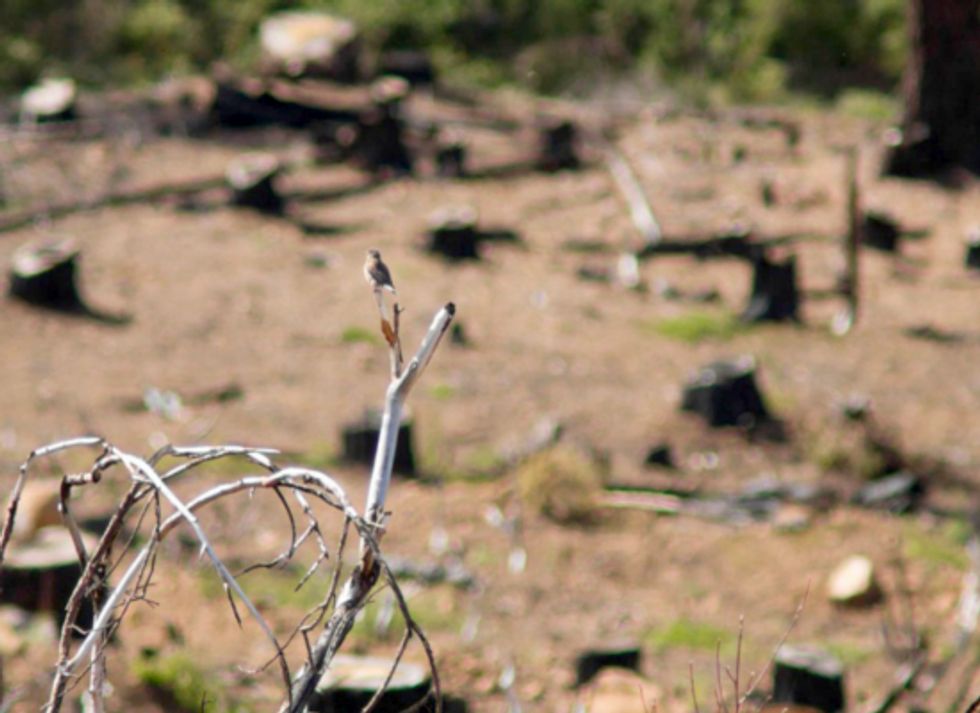 Forest or Tree Farm?
Clear cutting wipes out blocks of habitat, one after another, that are important shelter and food sources for wildlife species that depend upon mature shady forest conditions. The risk is most evident in the case of forest offsets, which market analysts predict is the sector where the bulk of California offsets will be generated.
"Forestry offers the greatest opportunity, but it is also by far the most complicated and challenging offset protocol," said Belinda Morris, California director of the American Carbon Registry, another agency certifying offsets for the state.
Environmentalists say the state's forest protocol, which rewards carbon sequestration through reforestation, forest management and avoided conversion of forests to other uses, contains several fundamental flaws.
The rules do not account for "critical carbon pools" on the forest floor. It also inadequately accounts for soil carbon released during logging, said Nowicki. The protocol only accounts for soil disturbance through "deep ripping, furrowing or plowing" on more than 25 percent of a project area, which can cover several thousand acres.
The U.S. Department of Energy's guidelines for voluntary greenhouse gas reporting estimates that one acre of typical California mixed-conifer forest contains 60 percent more carbon collectively stored in soil (19.2 tons), litter and duff (12.6 tons), down deadwood (2.6 tons), understory (0.9 tons) and standing deadwood (2.5 tons) than in live trees (25.4 tons).
Nowicki said even conservative estimates like these show that if logging takes place on smaller parcels, soil disturbance could dramatically change the overall carbon storage capacity of the area: "The worst case would be that the project gets carbon credits in a year that they should actually show a carbon deficit if they had fully accounted for the soil carbon emissions."
California's forest protocol is also the first in the world to credit durable wood products, including building materials and furniture, that lock carbon out of the atmosphere for a long time.
The Air Resources Board says objections to state rules are premature because none of the proposed offsets have yet been approved for the market.
Lobbying Rewards
That the forest protocol allows timber companies to sell offsets by replanting trees in areas they clear-cut is among the most controversial of the state rules. This is called "even-aged management"—a stand of trees all planted at the same time, for future harvesting.
Landowners may clear-cut up to 40 acres at once, as long as they show that tree growth elsewhere in the project area stores more carbon than is lost.
But environmental groups contend that making even-aged management more profitable undermines less damaging alternative carbon storage options. Clear-cutting degrades forest ecosystems, water quality and wildlife diversity, scientists say.
Initial drafts of the forest protocol disallowed clear-cutting. But around 2007, the timber industry began to seek more favorable rules. Some of the most aggressive lobbying came from Sierra Pacific Industries, California's wealthiest timber company and largest private landowner. It made sure to regularly attend offset rule-making workshops hosted by Climate Action Reserve. The company, which owns nearly 1.9 million acres of timberland in California and Washington, has long sparred with environmentalists who oppose its clear-cutting practices.
A recent report by the Center for Investigative Reporting found that between 2007 and 2008 Sierra Pacific Industries hired a Sacramento lobbying firm, California Strategies, for $37,500, to present its case. In September 2007, the company sent a letter to the Air Resources Board requesting rule changes to permit even-aged management and storage of carbon in wood products. The board accepted most of the recommendations. But the decision to include clear-cutting led to a schism among environmentalists.
Nearly 50 groups, including the Sierra Club, Friends of the Earth, Rainforest Action Network and Central Sierra Environmental Resource Center, urged the Air Resources Board to exclude offsets for clear-cutting. But other big green groups, such as the Nature Conservancy, the Environmental Defense Fund and the Pacific Land Trust supported the idea.
"It's a sticky situation, but it's probably the best way to get landowners to follow better forest management practices," said Paul Mason, vice president of policy and incentives at the Pacific Land Trust.
Mark Pawlicki, director of corporate affairs and sustainability at Sierra Pacific Industries, said the company's influence in framing the forestry protocol was completely aboveboard: "It was an open and public process, and there were many diverse groups involved. We just participated in the process like anyone else in the public would."
Rajinder Sahota, the Air Resources Board's offsets policy manager, dismissed criticisms that carbon accounting was imprecise and that the standards for additionality were lacking.
"With an approved forest project you can have situations where you are able to harvest within a geographical boundary and also sequester carbon at the same time," Sahota said.
Wildlife vs. Carbon
Sierra Pacific Industries is now preparing four offset project areas on its land totaling 80,000 acres for approval by the Air Resources Board. This includes the clear-cut area near Yosemite that Buckley surveyed. The company owns about 130,000 acres of forestland in the area. Viewed from an airplane, its land resembles a patchwork quilt of green forests and brown clear-cut land that stretches for miles.
Pawlicki said improved land management practices in the project areas would remove an additional 5.6 million tons of carbon from the air over 40 years. That would yield the Redding-based company $56 million at current offset prices.
For Buckley, who finds clear signals of climate change in the Sierra Nevada's rapidly receding snow line, this is worrisome news.
"It is not the loss of a 20-acre block of forest that hurts any particular species, because most wildlife can move to another area when bulldozers and chainsaws destroy a block of forests," he said.
Aggressive logging and replanting, he explained, leads to "a loss of the biggest trees—most of the oaks, dogwoods, maples and alders, and most of the plant diversity. It wipes out blocks of habitat, one after another, that are important shelter and food sources for wildlife species that depend upon mature shady forest conditions."
Heavy logging has been associated with the disappearance of the American marten and Pacific fisher from that corner of the Sierra Nevada, and has affected populations of the spotted owl, the northern goshawk, the pileated woodpecker and the northern flying squirrel.
"To somehow claim that this will reduce greenhouse gas emissions and have no impact on the environment," Buckley said, "is ridiculous."
This story is part of a special report on California's cap-and-trade program, in collaboration with San Francisco Public Press and Bay Nature magazine. It was made possible by the Fund for Investigative Journalism.
Visit EcoWatch's CLIMATE CHANGE and BIODIVERSITY pages for more related news on this topic.
——–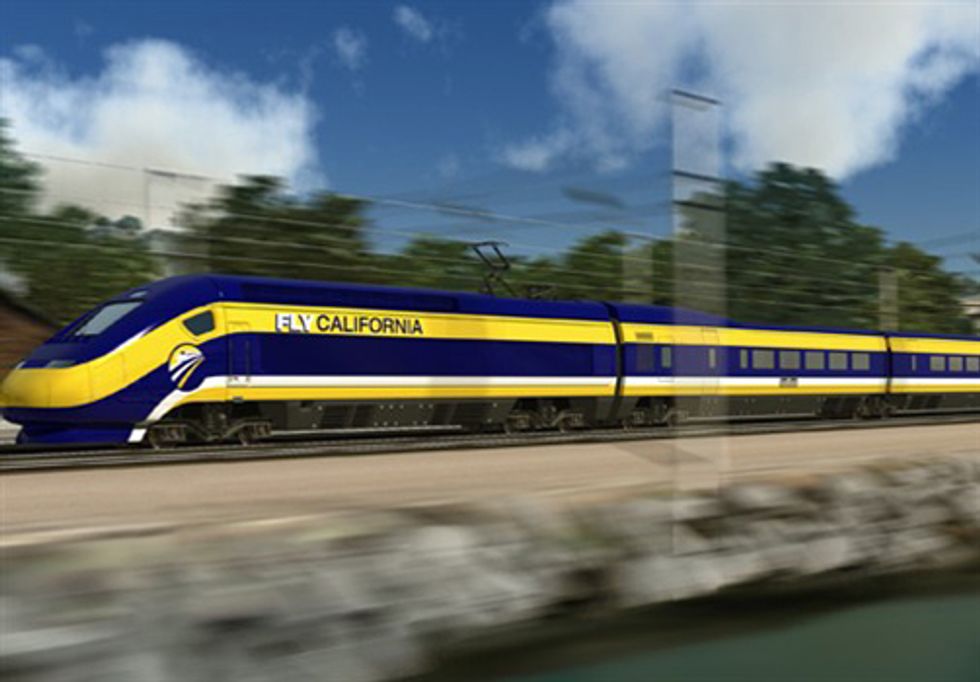 This week, Gov. Jerry Brown outlined his policy priorities for the coming year, one that will see California poised to make history by implementing its groundbreaking climate and clean energy law, increasing water reliability, restoring a troubled and neglected Bay-Delta ecosystem, and investing in low carbon fuels that reduce the state's dependence on petroleum—all measures that will create a healthy environment and a healthy economy. 
Following is a statement by Ann Notthoff, California advocacy director at the Natural Resources Defense Council:
"Protecting California's economy and environment go hand in hand. The governor recognized that a healthy environment is an essential tool to re-energize California's economy. Implementing and enforcing California's landmark climate and clean energy law to reduce harmful pollution and meet our climate goals is vitally important, as is investing in clean fuels that innovate the market and reduce our dependence on oil.
"Gov. Brown also hit the mark by recognizing that protecting the Bay-Delta estuary and ensuring a reliable water supply is key to our environmental and economic well being. Investing in homegrown clean energy sources, including energy efficiency is what California does best, and the governor is right on in singling out these areas in his agenda for economic growth in the year ahead."
Key Issues in the Governor's Budget:
Water—Gov. Brown is to be commended for explicitly recognizing the dual goals of restoring the Bay-Delta ecosystem, including a healthy salmon fishery, and ensuring a more reliable water supply. Achieving these goals will require focusing on risks related to Delta levee stability as well as restoring natural flows and habitat. In 2009, the legislature mapped out the path for achieving these twin goals by reducing reliance on water from the Delta, through increased investments in water recycling, water efficiency, and better management of groundwater and storm water. We look forward to working with the governor to implement his commitment.
Cap-and-Trade and Clean Energy—California's groundbreaking cap-and-trade program will reduce pollution, improve public health, and keep California on the cutting edge of the clean energy economy. The governor's budget recognizes that the revenue from the cap-and-trade program offers an opportunity to invest in our economy and create real benefits for Californians.
Low Carbon Fuels—We agree with the governor on the urgent need to reduce our oil dependency by phasing in cleaner fuels and phasing out the dirtier ones. That's why we are joining the state to defend California's Low Carbon Fuel Standard against the oil industry lawsuit. Hundreds of alternative fuel companies stand ready to produce and supply cleaner fuels. Unfortunately, the oil industry is proving once again they would rather litigate than innovate to keep us hooked on oil.
High Speed Rail—We agree with Gov. Brown that a 21st century high speed rail system presents a unique opportunity to improve mobility and create jobs, yet legitimate concerns have been raised about the management and feasibility of the project in California. We're hopeful that the governor's commitment to the high speed rail means a substantial commitment to addressing these concerns. A meaningful "reset" on the high speed rail can raise public confidence and lead to a viable project.
For more information, click here.
—————
The Natural Resources Defense Council (NRDC) is an international nonprofit environmental organization with more than 1.3 million members and online activists. Since 1970, our lawyers, scientists, and other environmental specialists have worked to protect the world's natural resources, public health, and the environment. NRDC has offices in New York City, Washington, D.C., Los Angeles, San Francisco, Chicago, Livingston, Montana, and Beijing.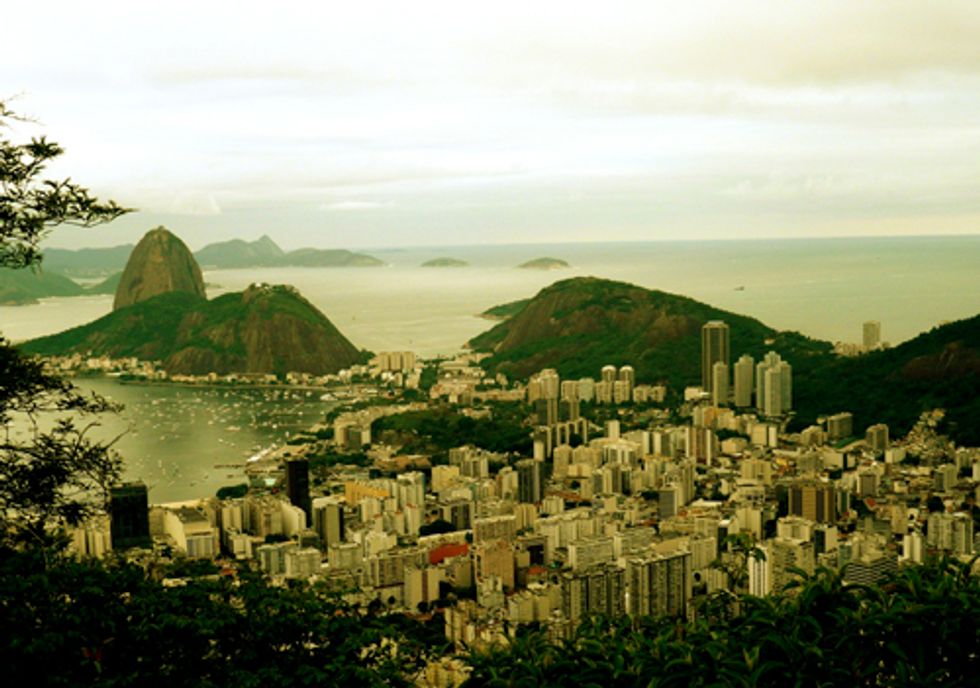 By Manish Bapna
What are the top environmental and development issues that will shape 2012? Jan. 10, I presented the World Resources Institute's (WRI) 9th annual Stories to Watch at the National Press Club. While we can't predict the future, here's a rundown of the key issues to keep an eye on:
1. Environmental Issues in an Election Year
U.S. Climate Policy
In 2008, the Obama administration set a target that the U.S. would reduce greenhouse gas (GHG) emissions 17 percent by 2020 (compared to 2005 levels). According to WRI's 2010 analysis, the 17 percent target is still within reach, but it will require a sustained effort in 2012 and beyond.
In 2012, the Obama administration has significant opportunities to cut emissions—but it remains to be seen how far it will be willing to go. This year you cannot answer the question of whether the administration will be aggressive without considering the political context even more than usual.
At the state level, California will be putting in place the foundation for their new cap-and-trade program, and the Regional Greenhouse Gas Initiative states will be doing a program review in 2012.
U.S. Presidential Election
It's amazing how quickly things can change in politics. Back in 2008, both Democratic and Republican candidates supported national action to address climate change.
Now, the obvious story to watch is how environmental issues play out in the 2012 campaign. This will, in part, set the stage for what happens in the next presidential administration.
Will President Obama leverage his environment and public health record and position himself in contrast to the more extreme strains of the GOP? Will he lean into these issues or distance himself from them?
On the Republican side, will the presumed candidate embrace anti-EPA rhetoric, using it as a prime example of government overreach? Or will he pivot back toward more moderate positions as the general election begins?
2. Transitions in China
Solar and Wind Trade Issues between the U.S. and China
Recent trade cases have upped the ante in the clean energy trade dispute between the U.S. and China. Solarworld has brought a case forward on behalf of a coalition of U.S. manufacturers of solar panels. A group of solar buyers and installers have banded together to oppose the complaint. China's Ministry of Commerce began a formal investigation of U.S. government support for the clean energy sector. And, just last week, a new trade case was filed in the U.S. challenging Chinese subsidies for steel towers used for wind turbines.
We'll be keeping a close eye on this story. Some are suggesting that this dispute could become as heated as the trade wars on automobiles between the U.S. and Japan in the 1980s.
National Energy Cap
For the first time, China is considering setting a national cap on energy use. Although we don't know the details yet, it will likely be an annual limit on total energy consumption or coal consumption, probably through 2015 or through 2020. This would be a major step forward in helping China decouple energy consumption from Gross Domestic Product growth.
The ultimate impact of the cap will be to limit the use of coal in China, which currently makes up more than 70 percent of consumption. We'll be watching to see how this plays out on the national and provincial level.
Carbon Trading Systems
China will be setting up provincial carbon trading systems in 2012. Interestingly, the pilots in different places will be constructed differently. Just as U.S. states act as laboratories of change, the Chinese government uses pilots at the provincial level to test new ideas before scaling up across the country.
3. Rising Food Demand and Opportunities
Demand for food is accelerating at a remarkable rate. The global middle class is expected to triple within the next 20 years, changing the types of food people eat. There will be pressure to convert many of the remaining, pristine natural landscapes to food production. How we respond to this demand will have profound implications for biodiversity, forests and the global climate.
One solution to this problem is to restore degraded or significantly underproductive lands. Although estimates vary, a key study last year published in the Proceedings of the National Academy of Sciences found that somewhere between 600-700 million acres of degraded cropland has been abandoned over the past century, and a huge amount of that land (about four times the size of Texas) could be brought back into production.
4. Renewable Energy—Boom or Bust
Global investment in renewable energy is already approaching global investments in fossil fuels. Could 2012 be the year in which renewable energy investment surpasses fossil fuels?
This depends in part on two issues. First is the effect of the shale gas boom. Abundant, cheap shale gas may make it even more difficult for renewables to break into the market.
Second are government policy decisions, especially in the U.S., China, Germany and India. These will likely determine the scale of future investment in renewable energy. Will countries commit to steady and well-telegraphed renewable policies, as Germany has done successfully over the past few years, or will they cut renewable support under political and fiscal pressures?
5. Rio+20
In June 2012, more than 40,000 people are expected to convene for the Rio+20 Conference in Brazil. This is the fourth historic global environmental summit, following Stockholm in 1972, Rio in 1992, and Johannesburg in 2002. But, with just six months to go, vision for the conference is only now beginning to emerge. I am therefore doubtful that major breakthroughs will emerge from the official process. That said, we may see exciting action emerge from the bottom up—via a subset of governments or from civil society or from the business sector or a combination of them.
For example, we expect to see governments make commitments to energy access, and around water security, food security and governance. If so, we could see some significant developments in Rio.
When we look to 2012, we see that a movement toward sustainability is underway in many places around the globe. It is collapsing the boundaries between economics and environment, and is re-defining concepts of what constitutes quality of life and national security. We observe it is being driven not just by altruism, but by necessity—long-term business strategies, political calculations, re-valuing natural resources and in many instances survival for many people.
For more information, click here.