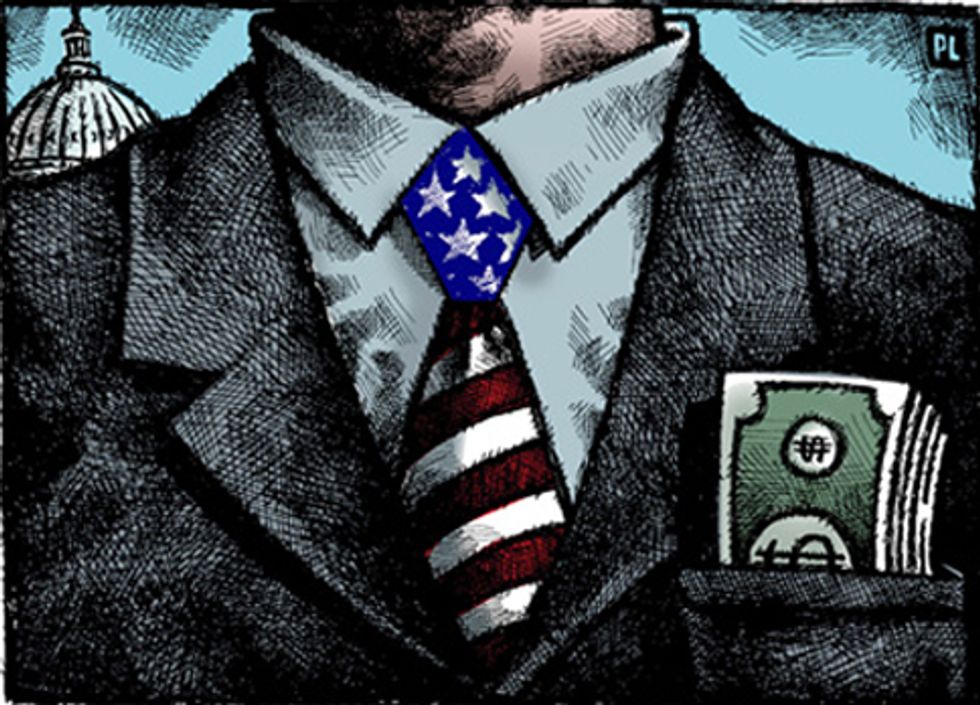 By Steve Kretzmann
What if you were in Vegas, and a friend told you there was a slot machine in the corner that was giving out $59 for every $1 that was put in? You'd think the machine was broken, and that it was rigged.
What if an investment advisor told you that he could get you $59 back for every $1 you gave him? That's a 5,800 percent rate of return. Even Bernie Madoff only promised 10.5 percent. Obviously a scam, right?
Clearly this is a scam, but if you're the oil, gas and coal industry, it's legal and business as usual in Washington. For every $1 the industry spends on campaign contributions and lobbying in Washington, D.C., it gets back $59 in subsidies.
Here's how it works:
Amount the fossil fuel industry spent during the 111th Congress (2009 & 2010) on contributions to Congress' campaigns—$25,794,747
Oil and Gas lobbying total 2009—$175,454,820
Oil and Gas lobbying total 2010—$146,032,543
Total amount spent by Big Fossil in 111th Congress—$347,282,110
2009 amount given to fossils in federal subsidies—$8,910,440,000
2010 amount given to fossils in federal subsidies—$11,578,900,000
Total amount given to fossils during 111th Congress—$20,489,340,000
(Find the original Organisation for Economic Co-operation and Development (OECD) source for subsidies by clicking here and broken down by U.S. Federal totals by clicking here)
Divide the total subsidies by the total money spent by the industry and you get 59.
$1 in. $59 out. That's a 5,800 percent return on political investment. Not bad.
For more information, click here.
EcoWatch Daily Newsletter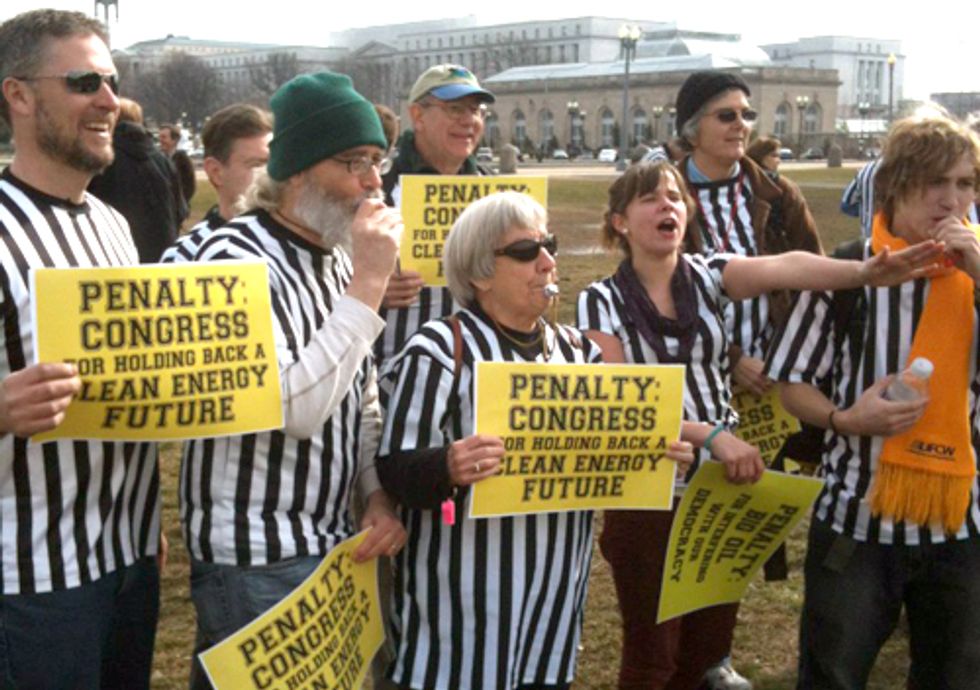 By Steve Kretzmann
On Tuesday, Jan. 24, as Washington readies for the annual State of the Union address, more than 500 people in referee outfits are converging on Capitol Hill to "blow the whistle" on Congress. Why? Consider these two facts:
1. The American people believe (rightly) that Members of Congress are more responsive to their campaign donors than to their own constituents.
2. Americans of all affiliations clearly favor ending fossil fuel industry handouts.
Americans are sick of watching Congress receive bribes from the fossil fuel industry to vote for scams like the Keystone XL pipeline and fossil fuel subsidies.  We see what's happening, and we're declaring it out of bounds and unsportsmanlike from this point forward.
The five biggest oil companies alone have made more than $1 trillion in profits over the last decade. It's absurd that these companies still demand, and still receive, handouts from Congress paid for by taxpayers. This isn't about energy or jobs—it's about greed and corruption.
Listed below is some useful information about the cycle of dirty energy money corruption going on in Congress.
Money In—Campaign Finance
(All data is from Oil Change International's Dirty Energy Money campaign which uses public data made available by the Center for Responsive Politics.)
Since 1999, the coal, oil and gas industries have shelled out more than $93 million to current members of Congress.
The trend is increasing with each election cycle, and current members of Congress took more than $25 million in campaign contributions from the oil, coal and gas industries in 2009-2010.
Through October of 2011, dirty energy interests had given this Congress $7.8 million in this cycle alone.
Speaker Boehner has received the most money from the fossil fuel industry during this term, with more than $287,000 received from the oil, gas and coal industries.
It is worth noting that direct contributions to candidates are only one way that the fossil fuel industry exerts influence. Substantially larger sums of money are mobilized by SuperPacs and other entities.
Money Out—Subsidies
Each year that the president has submitted a budget, it has included eliminating $4 billion in annual subsidies to the dirty energy industry. Each year Congress has been unable to eliminate the subsidies.
In a vote in May of 2011, the reason was clear. Senators who voted to preserve subsidies took an average of five times more dirty energy money than those who voted to stop handouts to the oil industry.
In October of 2011 a large coalition called on the Super Committee to eliminate $12 billion annually in fossil fuel subsidies.
Our tax dollars also fund billions in fossil fuel projects around the world, via institutions like the World Bank and the US Export-Import Bank.
Dirty Energy Money and the Keystone XL Pipeline
Earlier this month, American Petroleum Institute President Jack Gerard threatened President Obama with "huge political consequences" if he rejected the Keystone XL pipeline. This threat was unusual only because it was public, but the industry clearly continues to implicitly threaten all of our elected Representatives.
In July, the House of Representatives voted on the Keystone XL pipeline. Those Representatives who voted for the pipeline received 513 percent more from the oil and gas industry than those who voted against it.
In total, those who voted for the pipeline have received $10,922,161 from the oil and gas industry while those who voted against the pipeline have received only $717,552. In other words, those that voted for the pipeline have received 15 times more money from the oil and gas industry.
In December, the House held another vote with similar results. Members of Congress who supported the measure have received $41 million from the fossil fuel industry, while those who voted against the bill have received only about $8 million from oil, gas and coal interests.
An analysis by ThinkProgress of lobbying disclosure records for the first, second, and third quarters of 2011 suggests that the lobbying expenses of the 20 or more business and labor interests who backed the project was $60 million compared to $1 million by the seven organizations that actively opposed the measure.
TransCanada's lobbying efforts alone over the first three quarters of 2011 totalled $920,000, just under the total amount spent by its opponents..
Political Return on Investment
Buying Congress is a great investment for the oil, gas and coal industries.  During the last two year cycle, they put in $25 million, and they got out at least $4 billion annually—$8 billion. In other words, for every $1 that the fossil fuel industry invests in Congress, they get at least $320 back.
For more information, click here.
Avocado
Increased consumer interest in sustainability has largely driven the expansion of new organic product lines. It's this combination of consumer consciousness and evolved eco-friendly products that has people searching for the best organic mattress.
But there are many brands in this space. We wanted to take a closer look at the Avocado mattress and explore what makes it such a popular pick in the eco-market.
<h2>What should I look for when buying an organic mattress?<br/></h2><p>Whether it's an <a href="http://avocadomattress.n5ka.net/nrJ1V" target="_blank">Avocado mattress</a> or another product from a reputable manufacturer, there are a few things to consider before making a purchase.</p><p>The first thing to know is that accreditation gets a little fuzzy. </p><p>The reality is that not all mattresses claiming to be "natural" or even "organic" will qualify for an official organic label from the United States Department of Agriculture (USDA). </p><p>In order to do so, mattresses must be made up of 95% certified organic materials. </p><p>In addition, no harmful chemicals can be used in the processing or production of the mattress, which is considered a complex finished textile product. </p><p>As you research, you may find that some mattress manufacturers will call their products "organic" because they use a smattering of organic products—but not enough to carry the USDA seal, a practice that's known as "greenwashing."</p><p>To find a mattress that has been certified organic, you'll want to look for accreditations like GOTS (Global Organic Textile Standard).</p><p><br/></p><p class="shortcode-media shortcode-media-rebelmouse-image"> <img type="lazy-image" data-runner-src="https://assets.rebelmouse.io/eyJhbGciOiJIUzI1NiIsInR5cCI6IkpXVCJ9.eyJpbWFnZSI6Imh0dHBzOi8vYXNzZXRzLnJibC5tcy8yNDg1MzAwNy9vcmlnaW4ucG5nIiwiZXhwaXJlc19hdCI6MTYzOTcwOTM1MH0.LFqDzobbjsMxHhtZv3MQ9iOvBSxDwEQF840cDR8Ze9Y/img.png?width=980" id="5dcba" class="rm-shortcode" data-rm-shortcode-id="47f0b3694c23691bb74eb2e4329e6271" data-rm-shortcode-name="rebelmouse-image" /> </p><p><br/></p><p>You can also look for the GOLS (Global Organic Latex Standard) logo.</p><p><br/></p><p class="shortcode-media shortcode-media-rebelmouse-image"> <img type="lazy-image" data-runner-src="https://assets.rebelmouse.io/eyJhbGciOiJIUzI1NiIsInR5cCI6IkpXVCJ9.eyJpbWFnZSI6Imh0dHBzOi8vYXNzZXRzLnJibC5tcy8yNDg1MzAxMC9vcmlnaW4uanBnIiwiZXhwaXJlc19hdCI6MTYxMzIxMzkwOX0.TQWz8NDTzRpr4Q0sDssTj9r1BwV4cRNbgiGtn9wjWrA/img.jpg?width=980" id="73347" class="rm-shortcode" data-rm-shortcode-id="1952e84d562c83064655dd296fdd14aa" data-rm-shortcode-name="rebelmouse-image" /> </p><p>These two standards help to uphold the 95% organic rule.<br/></p><p><span></span>Once you're squared away with certifications, the rest of the buying process is similar to purchasing a traditional mattress. </p><p>First, you'll want to find one that satisfies your desired level of comfort.<br/></p><p>As a rule, many organic mattresses tend to be a bit stiffer, so testing its firmness—either before purchase or during a trial period after you get it home—is in your best interest. </p><p>Lastly, as with most purchases—especially in the organic space—cost is a factor. A goal of bringing home the best eco-friendly mattress money can buy can price some consumers out of the organic market entirely.</p><h2>What makes Avocado the most popular organic mattress?</h2><p>There are two groups that most people will turn to while researching a product: Expert reviewers and fellow consumers. When it comes to picking the best organic mattress, both the pundits and verified customers agree that an Avocado mattress is at or near the top of the list.</p><p><a href="https://www.usnews.com/360-reviews/mattress/avocado" target="_blank">U.S. News & World Report recently gave Avocado the nod</a> in the categories of best mattress, best for back pain, best for stomach sleepers, best firm mattress and best hybrid mattress, citing its ability to provide a more restful night's sleep.</p><p>Avocado mattresses were also named best healthy mattress and <a href="https://www.health.com/home/healthy-home-awards" target="_blank">best organic mattress in Health.com's Healthy Home Awards</a>, <a href="https://www.shape.com/lifestyle/mind-and-body/best-mattress-in-a-box" target="_blank">best mattress in a box for the environmentally conscious by <em>Shape </em>magazine</a> and <a href="https://www.goodhousekeeping.com/home-products/g29892090/best-mattresses/" target="_blank">best organic mattress by <em>Good Housekeeping</em></a>.</p><p><span></span>The brand has also received a <a href="https://help.avocadogreenmattress.com/en_us/can-you-show-me-your-aca-certification-SJOs16UED" target="_blank">certificate of endorsement from the American Chiropractic Association</a>, been <a href="https://www.avocadogreenmattress.com/consumer-reports/" target="_blank">consistently lauded by <em>Consumer Reports</em></a> and touts <a href="https://www.avocadogreenmattress.com/natural-mattress-reviews/" target="_blank">more than 18,000 5-star reviews</a> from real Avocado mattress customers.</p><h3>Corporate Stewardship</h3><p>Peeling the curtain back on the company's operations and mission, it's easy to see why so many people consider Avocado to be the best organic mattress.</p><p>The brand's products are American-made, designed in Hoboken, New Jersey, and manufactured by hand in Los Angeles. </p><p>Its factories are powered by renewable energy, and Avocado ethically harvests wool for products from sheep that it raises while also producing its own natural latex.</p><p>It's because of that commitment to sustainability and eco-friendly practices that the Avocado mattress became the first in the world to achieve net-zero carbon emissions. And earlier this year, the company announced that it now offsets more carbon than it generates. </p><p>It's also important to mention that <a href="http://avocadomattress.n5ka.net/MG32K" target="_blank">Avocado is certified organic by the USDA</a>.</p><p>With a goal of not only providing superior products that promote healthy sleep, Avocado also believes in the power of sustainability and social responsibility—a belief it backs up by donating 1% of all revenues to environmental nonprofits</p><h3><span></span>Quality Products</h3>