This website uses cookies to ensure you get the best experience while browsing it. By clicking 'Got It' you're accepting these terms.
A North Carolina concentrated animal feeding operation, or CAFO, on Sept.18, 2018, Larry Baldwin / Crystal Coast Waterkeeper.
The North Carolina Department of Agriculture said Wednesday that the historic flooding from Florence has killed about 3.4 million chickens and turkeys and 5,500 hogs.
"This was an unprecedented storm with flooding expected to exceed that from any other storms in recent memory. We know agricultural losses will be significant because the flooding has affected the top six agricultural counties in our state," said agriculture commissioner Steve Troxler in a press release.
The footprint of flooding from this storm covers much of the same area hit by flooding from Hurricane Matthew in 2016, which only worsens the burden on these farmers.
Scott Olson / Getty Images News / Getty Images
By Olga Naidenko and Sydney Evans
Residents of communities near industrial-scale hog farms in North Carolina face an increased risk of potentially deadly diseases, Duke University scientists reported in a study released this week.
EcoWatch Daily Newsletter
Excrement from a chicken CAFO leaked from an inundated barn, contaminating water draining into the Neuse River near Seven Springs, North Carolina following Hurricane Matthew in 2016. Waterkeeper Alliance
When Hurricane Matthew hit North Carolina in 2016, it flooded more than 140 feces-strewn industrial-scale swine and poultry barns, more than a dozen open pits brimming with liquid hog waste and thousands of acres of manure-saturated fields. As Hurricane Florence—far bigger than Matthew—bears down on the state, Environmental Working Group (EWG) and Waterkeeper Alliance are prepared to again assess the impact on North Carolina's concentrated animal feeding operations or CAFOs.
There are lots of good reasons to oppose factory-style farming—those giant CAFOs, or confined animal feeding operations, where huge numbers of animals are crowded together in close quarters.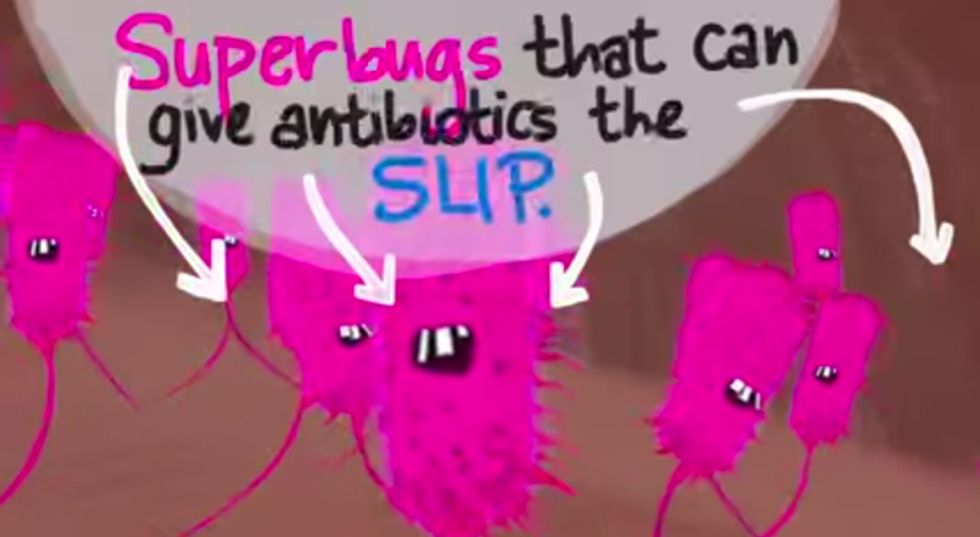 Among them is the way operators have chosen to deal with the spread of disease, an increased threat to stressed, confined animals. They're fed constant, low doses of preventive antibiotics.
But overuse of antibiotics leads to resistance and that's what some experts say is happening. Superbugs are appearing that can't be knocked out. These bugs can then spread off these farms by various means, such as animal manure that's washed into the watershed or used as fertilizer, and spread into the human population,
One Green Planet explains:
Pumping animals with antibiotics kills off weak bacteria, but allows antibiotic-resistant strains to proliferate inside the guts of these poor creatures. These superbugs can't be knocked out with the usual medicines we rely on. Infections caused by these superbugs can require antibiotics with greater side-effects, and can lead to longer illnesses, more hospitalizations, and even death when basic treatments fail.
Natural Resources Defense Council has put together a short, animated video to explain graphically how these superbugs take hold and encourage people to take action.
YOU ALSO MIGHT LIKE
Factory Farming: Bad for People, Planet and Economy
Misuse of Antibiotics Fuels Fatal 'Superbug' Crisis
FDA Regulation of Antibiotics Use on Factory Farms Proves Worthless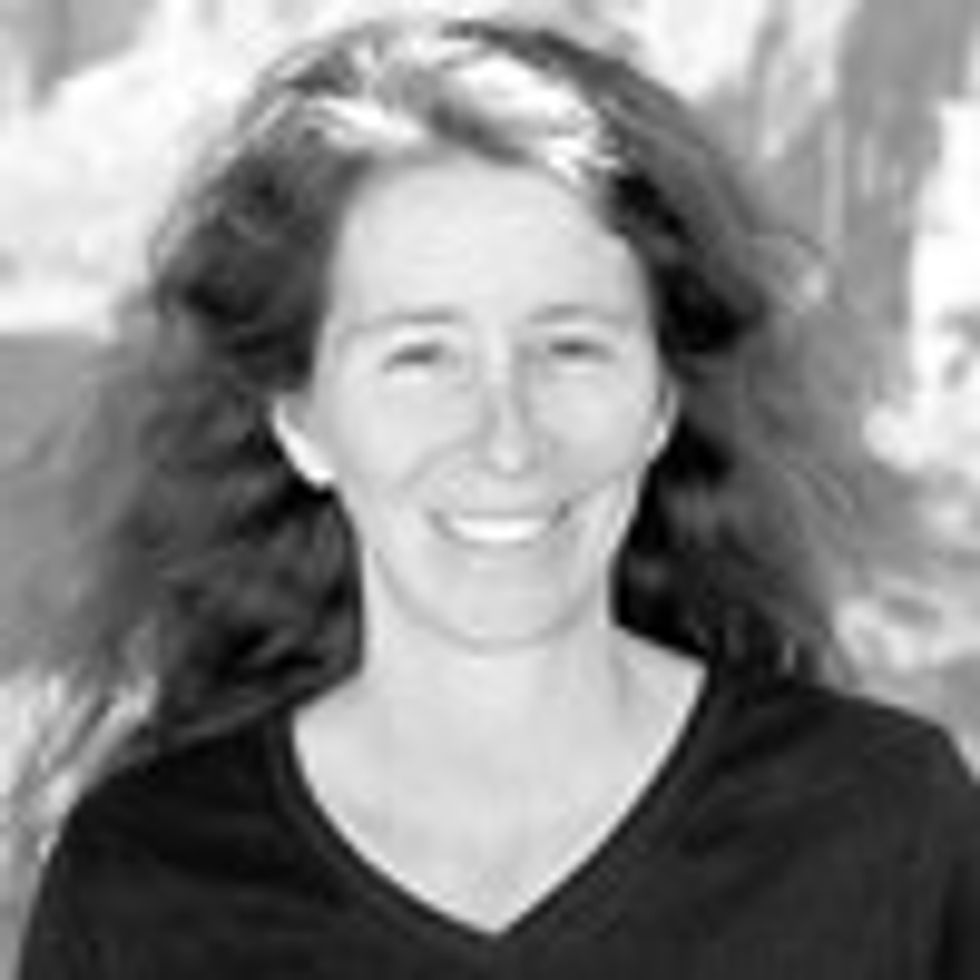 I'm on vacation with my kids in Florida, visiting my parents. I've been coming to this same spot for more than two decades, and love soaking in the sun and running on the beach. More or less, the entire vacation is relaxing and a great way to recharge for the new year.
However, my parents and I do not always see eye to eye on the best places to eat, and my parents are accustomed to eating out every night! I try my hardest to go with the flow, no matter where they choose to eat. However, last night they chose to eat at one of the many roadside barbeque franchises. Knowing I'm a vegetarian, my mom said, Don't worry, they have a great salad bar. After we walked into the restaurant and I checked out the salad bar, I quickly realized that french fries would have to do for my meal.
My mom asked what I thought of the salad bar and I told her no way. She checked it out for herself, came back to the table and said come on let's go. So we left and began our pursuit for a restaurant where we'd all be happy.
I have to admit I was really glad to go. Not just because I was super hungry and wouldn't have had a fulfilling meal, but since we had just published a piece on this site encouraging comments to protect waterways from factory farming waste, it just didn't seem right to support a chain restaurant that undoubtedly gets its meat from a factory farm.
There are a few great local restaurants that we all love, but we had already visited them at least once. After driving by many of the typical chain restaurants that live on the streets of every state, we finally found Thailand Kitchen. Though the experience leading up to what turned out to be a great meal wasn't all that enjoyable, it was a great way to demonstrate to my kids and parents how the choices we make each day have a huge impact on human health and the environment.
Not that they haven't heard all this before, since my kids have to live with me every day and my parents know me really well, but it did drive the point home about the importance of supporting local restaurants that provide healthier alternatives.
Each day we all have the choice of how we spend our dollar. Fortunately, in most communities, people have the opportunity to support companies that embrace sustainability—people, planet, profit—and enrich the community. I'm glad I had the opportunity last night to encourage the people closet to me to value the right to choose and do what's best for today and future generations.