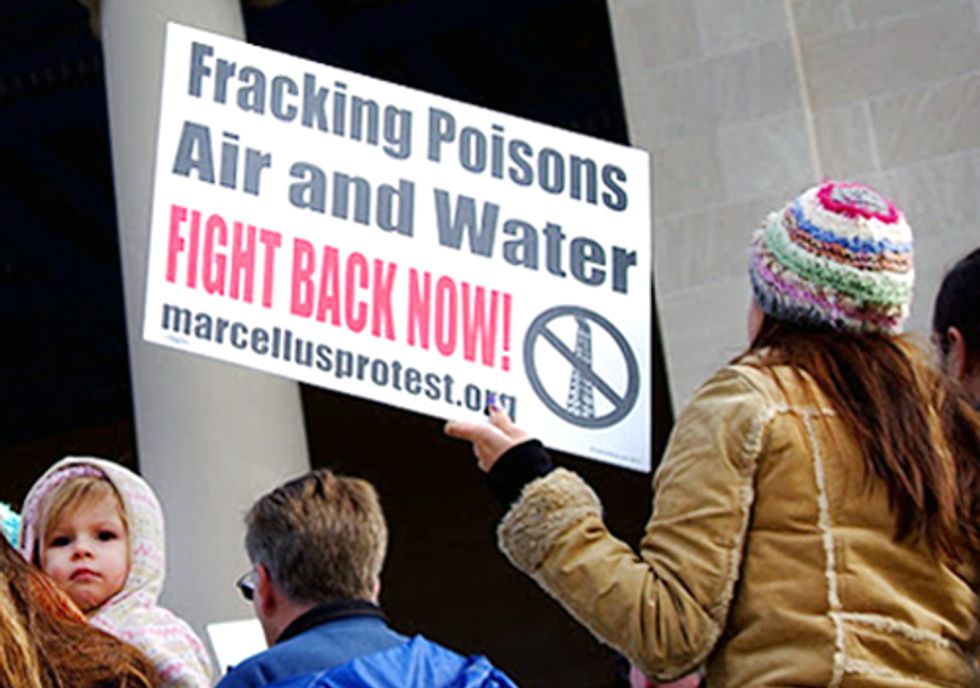 Yesterday, Pennsylvania legislators passed a hydraulic fracturing (fracking) bill that will further limit environmental protections, lower drilling fees, handcuff local governments' zoning power for gas development and undermine public health.
Today, SB 246—a bill to ban hydraulic fracturing in New Jersey—goes before the New Jersey Senate Environment and Energy Committee.
Estimates peg the value of natural gas reserves buried within the Marcellus Shale underneath Pennsylvania and some of the state's immediate neighbors as high as one trillion dollars. With that kind of money at stake, the mostly unregulated extraction process called fracking that's necessary to unleash the gas has become the nation's most polarizing environmental and energy issue.
Look no further than the neighboring states of Pennsylvania and New Jersey.
Fracking was brought to national attention back in 2008 through a sequence of mishaps involving gas wells set up by Cabot Oil and Gas in the small town of Dimock, Pa. In the winter of 2008, metals and methane linked to Cabot's wells were found in many area homes' drinking water. In 2009, the Pennsylvania Department of Environmental Protection (DEP) released a document citing dozens of infractions, including well-construction problems, diesel spills and fracking fluid spills. In September 2009, an estimated 8,000 gallons of fracturing fluid—manufactured by Halliburton—discharged into Stevens Creek and nearby wetlands.
Three years later, residents of Dimock are still fighting for their right to clean water and still reliant upon organizations such as the EPA to deliver fresh drinking water—a responsibility Cabot Oil and Gas is now absolved from. By now, most people are familiar with the infamous images of flammable water pouring from their taps. To see a video, click here.
And that is only the beginning.
Even so, in a move that blatantly disregards the health and welfare of Pennsylvania citizens, Feb. 8 was a landmark day in Pennsylvania as the Pennsylvania Legislature—led by Republican Gov. Tom Corbett—passed a bill to institute an impact fee on Marcellus gas wells and limit the ability of municipalities to restrict gas drilling. In a mostly party-line split, the Republican-led House pushed the bill through on a vote of 101-90.
Next door, New Jersey citizens stand on the brink of banning fracking within state lines entirely as consideration of Senate Bill 246 goes before the New Jersey Senate Environment and Energy Committee on Feb. 9. New Jersey currently has placed a moratorium on fracking until January 2013.
Despite opposition from Republican Gov. Chris Christie and the American Petroleum Institute, SB 246 has garnered overwhelming public support with the help of Sens. Robert Gordon (D-38th District), Linda Greenstein (D-14th District)  and Christopher Bateman (R-16th District).
While citizens of New Jersey are poised to celebrate, residents of Pennsylvania are witnessing just how powerful the oil and gas industry's lobbying arm really is.
According to MarcellusMoney.org, the drilling industry has contributed more than $3 million in political contributions to Pennsylvania lawmakers since 2001 and spent an additional $5 million in the capitol of Harrisburg in the past three years. Unfortunately, the money spent was vindicated yesterday.
The fight isn't over in New Jersey. Click here for more information on how you can reach out to New Jersey lawmakers today.
To learn more about fracking, visit EcoWatch's Fracking page for all the latest information—nationally and internationally.
EcoWatch Daily Newsletter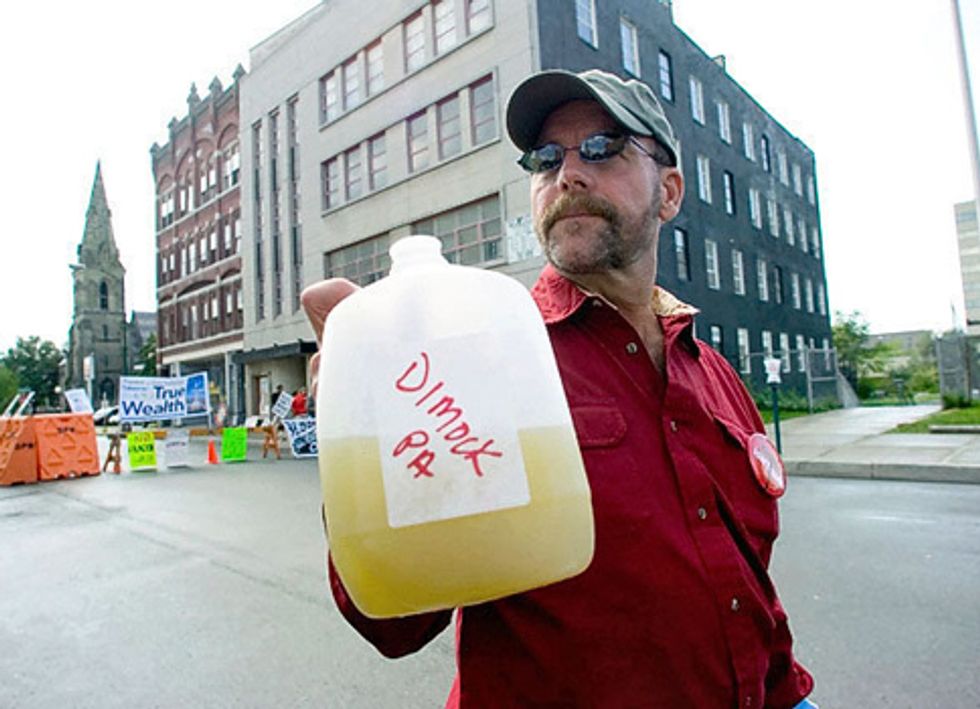 Eleven families in the tiny rural town of Dimock, Pa., 30 miles south of Binghamton, N.Y., have received the most basic of holiday gifts—clean drinking water.
Four pallet-loads of bottled water will provide some relief from the bleach-treated pond water the families have been using for drinking, cooking and bathing since natural gas leached into their wells and poisoned them—a result of hydrofracking.
The bottled water is from Keeper Springs Natural Spring Water, in partnership with Riverkeeper, the watchdog organization that protects the Hudson River and its tributaries.
"Dimock has become the template for the cataclysmic costs of hydrofracking to America's communities, our water supplies and our environment," said Robert F. Kennedy, Jr., founder of Riverkeeper and of Keeper Springs, which donates 100 percent of its profits to protecting America's waterways.
"Imagine turning on your faucet to find water so contaminated that you can light it on fire. This is the condition that the people of Dimock face every day," Kennedy said. "Their plight underscores the costs of hydraulic fracturing operations in communities across our country."
Paul Gallay, president and Hudson Riverkeeper, who appealed for help to Keeper Springs, said, "The balance between public good and private gain here is so out of whack as to be ludicrous. How can you deprive an entire community of what should be a basic right? We are grateful to the Keeper Springs people for their generosity, in making life a little better in Dimock, at least for the time being."
The water supply in Dimock was destroyed in 2008 when Cabot Oil & Gas began hydrofracking in search of natural gas. The water is now a toxic brew of methane gas, heavy metals, radioactive material and chemicals such as ethylene glycol, known as antifreeze.
Cabot, which the Pennsylvania Department of Environmental Protection had found at fault for the contamination, had been delivering clean water to the families but abruptly stopped on Nov. 30, with the department's approval.
For more information, click here.
—————

Riverkeeper is a member-supported, watchdog organization dedicated to defending the Hudson River and its tributaries and protecting the drinking water supply of nine million New York City and Hudson Valley residents. For more information, please visit www.riverkeeper.org.
Founded in 1999, Keeper Springs Natural Spring Water was launched by environmental lawyer and advocate, Robert F. Kennedy Jr., and two friends, John Hoving and Chris Bartle, with one mission: to help support, protect and restore our nation's waterways by donating 100 percent of profits to this cause. The brand Keeper Springs is named to honor the keepers of the Waterkeeper® Alliance, environmental heroes who fight to protect waterways all over the world from polluters and degradation. To date, Keeper Springs is proud to have raised more than $1 million to support America's waterways.
Keeper Springs uses only 100 percent natural and sustainable spring water, sourced and bottled locally, and keeps our carbon footprint to a minimum by using LEED-certified bottling plants and shipping our water no more than 500 miles from our springs. In addition, Keeper Springs uses bottles made from 50 percent recycled PET…and is working towards a 100 percent recycled PET bottle. Keeper Springs also supports the most comprehensive recycling legislation and has spent over a decade helping to fight for better regulation, tough penalties and solutions. Keeper Springs is available at beverage retailers in many of the Eastern states, and is expanding distribution on the West Coast. For more information, visit www.KeeperSprings.com.
Avocado
Increased consumer interest in sustainability has largely driven the expansion of new organic product lines. It's this combination of consumer consciousness and evolved eco-friendly products that has people searching for the best organic mattress.
But there are many brands in this space. We wanted to take a closer look at the Avocado mattress and explore what makes it such a popular pick in the eco-market.
<h2>What should I look for when buying an organic mattress?<br/></h2><p>Whether it's an <a href="http://avocadomattress.n5ka.net/nrJ1V" target="_blank">Avocado mattress</a> or another product from a reputable manufacturer, there are a few things to consider before making a purchase.</p><p>The first thing to know is that accreditation gets a little fuzzy. </p><p>The reality is that not all mattresses claiming to be "natural" or even "organic" will qualify for an official organic label from the United States Department of Agriculture (USDA). </p><p>In order to do so, mattresses must be made up of 95% certified organic materials. </p><p>In addition, no harmful chemicals can be used in the processing or production of the mattress, which is considered a complex finished textile product. </p><p>As you research, you may find that some mattress manufacturers will call their products "organic" because they use a smattering of organic products—but not enough to carry the USDA seal, a practice that's known as "greenwashing."</p><p>To find a mattress that has been certified organic, you'll want to look for accreditations like GOTS (Global Organic Textile Standard).</p><p><br/></p><p class="shortcode-media shortcode-media-rebelmouse-image"> <img type="lazy-image" data-runner-src="https://assets.rebelmouse.io/eyJhbGciOiJIUzI1NiIsInR5cCI6IkpXVCJ9.eyJpbWFnZSI6Imh0dHBzOi8vYXNzZXRzLnJibC5tcy8yNDg1MzAwNy9vcmlnaW4ucG5nIiwiZXhwaXJlc19hdCI6MTYzOTcwOTM1MH0.LFqDzobbjsMxHhtZv3MQ9iOvBSxDwEQF840cDR8Ze9Y/img.png?width=980" id="5dcba" class="rm-shortcode" data-rm-shortcode-id="47f0b3694c23691bb74eb2e4329e6271" data-rm-shortcode-name="rebelmouse-image" /> </p><p><br/></p><p>You can also look for the GOLS (Global Organic Latex Standard) logo.</p><p><br/></p><p class="shortcode-media shortcode-media-rebelmouse-image"> <img type="lazy-image" data-runner-src="https://assets.rebelmouse.io/eyJhbGciOiJIUzI1NiIsInR5cCI6IkpXVCJ9.eyJpbWFnZSI6Imh0dHBzOi8vYXNzZXRzLnJibC5tcy8yNDg1MzAxMC9vcmlnaW4uanBnIiwiZXhwaXJlc19hdCI6MTYxMzIxMzkwOX0.TQWz8NDTzRpr4Q0sDssTj9r1BwV4cRNbgiGtn9wjWrA/img.jpg?width=980" id="73347" class="rm-shortcode" data-rm-shortcode-id="1952e84d562c83064655dd296fdd14aa" data-rm-shortcode-name="rebelmouse-image" /> </p><p>These two standards help to uphold the 95% organic rule.<br/></p><p><span></span>Once you're squared away with certifications, the rest of the buying process is similar to purchasing a traditional mattress. </p><p>First, you'll want to find one that satisfies your desired level of comfort.<br/></p><p>As a rule, many organic mattresses tend to be a bit stiffer, so testing its firmness—either before purchase or during a trial period after you get it home—is in your best interest. </p><p>Lastly, as with most purchases—especially in the organic space—cost is a factor. A goal of bringing home the best eco-friendly mattress money can buy can price some consumers out of the organic market entirely.</p><h2>What makes Avocado the most popular organic mattress?</h2><p>There are two groups that most people will turn to while researching a product: Expert reviewers and fellow consumers. When it comes to picking the best organic mattress, both the pundits and verified customers agree that an Avocado mattress is at or near the top of the list.</p><p><a href="https://www.usnews.com/360-reviews/mattress/avocado" target="_blank">U.S. News & World Report recently gave Avocado the nod</a> in the categories of best mattress, best for back pain, best for stomach sleepers, best firm mattress and best hybrid mattress, citing its ability to provide a more restful night's sleep.</p><p>Avocado mattresses were also named best healthy mattress and <a href="https://www.health.com/home/healthy-home-awards" target="_blank">best organic mattress in Health.com's Healthy Home Awards</a>, <a href="https://www.shape.com/lifestyle/mind-and-body/best-mattress-in-a-box" target="_blank">best mattress in a box for the environmentally conscious by <em>Shape </em>magazine</a> and <a href="https://www.goodhousekeeping.com/home-products/g29892090/best-mattresses/" target="_blank">best organic mattress by <em>Good Housekeeping</em></a>.</p><p><span></span>The brand has also received a <a href="https://help.avocadogreenmattress.com/en_us/can-you-show-me-your-aca-certification-SJOs16UED" target="_blank">certificate of endorsement from the American Chiropractic Association</a>, been <a href="https://www.avocadogreenmattress.com/consumer-reports/" target="_blank">consistently lauded by <em>Consumer Reports</em></a> and touts <a href="https://www.avocadogreenmattress.com/natural-mattress-reviews/" target="_blank">more than 18,000 5-star reviews</a> from real Avocado mattress customers.</p><h3>Corporate Stewardship</h3><p>Peeling the curtain back on the company's operations and mission, it's easy to see why so many people consider Avocado to be the best organic mattress.</p><p>The brand's products are American-made, designed in Hoboken, New Jersey, and manufactured by hand in Los Angeles. </p><p>Its factories are powered by renewable energy, and Avocado ethically harvests wool for products from sheep that it raises while also producing its own natural latex.</p><p>It's because of that commitment to sustainability and eco-friendly practices that the Avocado mattress became the first in the world to achieve net-zero carbon emissions. And earlier this year, the company announced that it now offsets more carbon than it generates. </p><p>It's also important to mention that <a href="http://avocadomattress.n5ka.net/MG32K" target="_blank">Avocado is certified organic by the USDA</a>.</p><p>With a goal of not only providing superior products that promote healthy sleep, Avocado also believes in the power of sustainability and social responsibility—a belief it backs up by donating 1% of all revenues to environmental nonprofits</p><h3><span></span>Quality Products</h3>