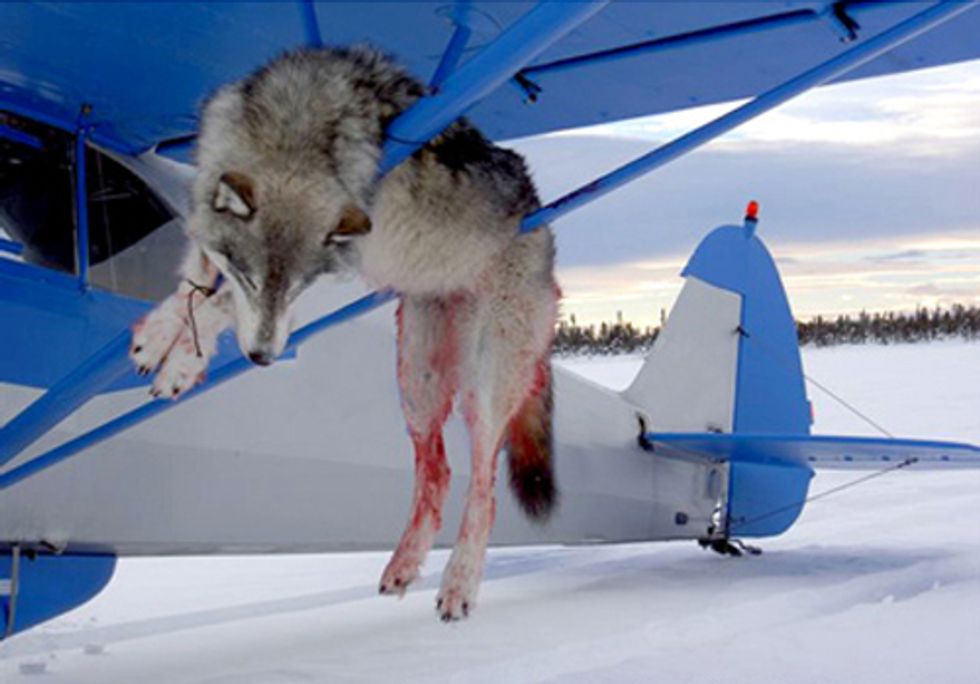 Right now, we need your help to end the brutal and unfounded aerial wolf killing programs that have already claimed the lives of more than 1,000 of these magnificent animals.
Take action now to help save these wolves. Sign our petition to urge the Obama administration to put an end to unscientific and brutal aerial wolf-killing in Alaska.
Easy targets against fallen snow, wolves are gunned down from airplanes or chased to exhaustion, then shot at point-blank range. State-licensed riflemen can target entire packs—even pregnant wolves.
It's not wolf management. It's a wolf massacre.
Defenders of Wildlife has long led the fight to rein in out-of-control aerial wolf killing and promote sound management of wolves in Alaska. We were able to stop this terrible practice twice, only to see it started up again after two years. But, with the anti-wolf Bush/Cheney administration now gone from the White House, we have renewed hope that we can end these awful programs once and for all.
Urge the Obama administration to enforce the Federal Airborne Hunting Act, the federal law that could end Alaska's brutal and unscientific wolf-killing programs.
Alaska's politicians continue to promote aerial gunning and other extreme measures to kill wolves.
In fact, in 2008 then-Gov. Sarah Palin and the state legislature approved spending $400,000 in taxpayer funds to promote the slaughter from the skies and defeat a citizen's initiative to limit aerial gunning. To encourage the killing, Gov. Palin even proposed a $150 bounty for the left foreleg of each dead wolf—a grisly proposal that Defenders of Wildlife was successful at stopping.
Even with Palin gone, her hand-picked Board of Game is continuing her killing policies.
Help us end cruel and unfounded aerial gunning in Alaska before move wolves die.
Our wolves are a crucial part of the natural heritage that we'll leave our children and grandchildren, and we have a real chance to end this terrible practice—and prevent other states from following Alaska's shameful lead.
For more information, click here.
EcoWatch Daily Newsletter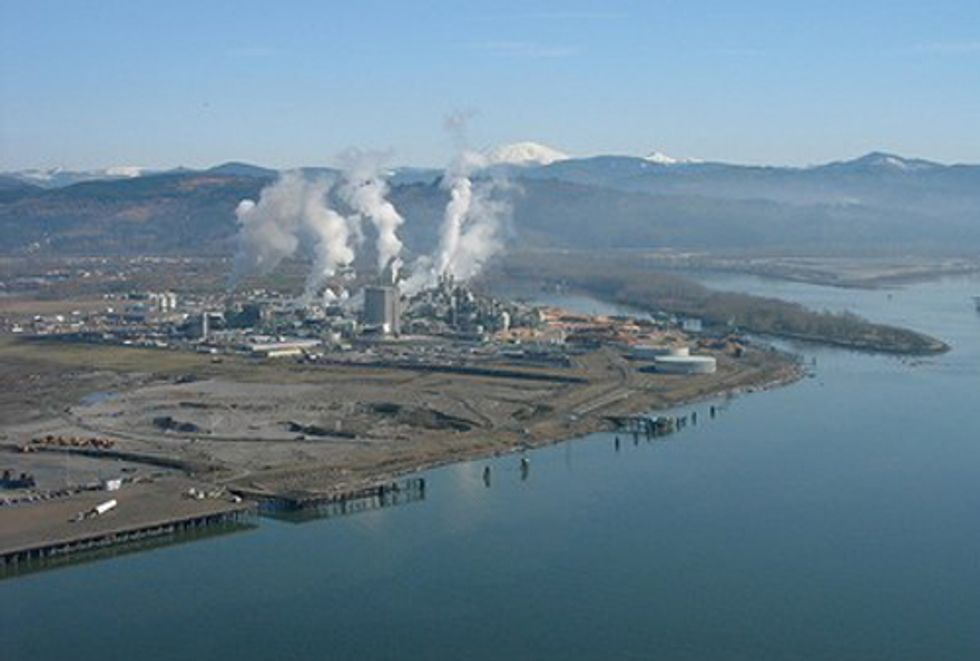 1. With Republicans Bashing the U.S. Environmental Protection Agency (EPA), 2012 Could Be a Turning Point for Environmental Regulation
Summary—House Republicans and Republican presidential candidates have launched unprecedented attacks on the EPA, saying environmental regulations are hurting the economy.
Among the other things causing former President Richard Nixon to turn over in his grave may be Republican attacks on the EPA, which the former president and Congress established in a bipartisan response to public demand for cleaner water, air and land.
Since Republicans regained control of the House of Representatives in the 2010 midterm elections, they have introduced an unprecedented number of measures designed to weaken longstanding environmental protections and block the EPA from putting forth new regulations.
Rep. Henry Waxman, (D-CA), an environmental advocate, has called this "the most anti-environmental Congress in history." The perceived assault has prompted the House Committee on Energy and Commerce, chaired by Waxman, to develop an online database tracking the number and scope of anti-environment bills proposed on the House floor. According to the searchable database, as of September 2011 there have been 170 anti-environment votes under the Republican majority in the 112th Congress. The database breaks down this number by category, finding the vast majority of anti-environment votes targeting the EPA (91 votes). Some of these seek to block actions that prevent pollution (71 votes), and others to dismantle the Clean Air Act specifically (61 votes). Fewer measures have been directed at weakening regulations of the Department of Energy and Department of the Interior, blocking action on climate change and defunding clean energy initiatives.
Included among the more broad-based attacks on the regulatory power of the EPA is the Transparency in Regulatory Analysis of Impacts on the Nation (TRAIN) Act. Passed by the House in September, the TRAIN Act "would create a special committee to oversee the EPA's rules and regulations, and require the agency to consider economic impacts on polluters when it sets standards concerning how much air pollution is too much." This would mark a dramatic shift from the current approach under the Clean Air Act, in which the EPA weighs only scientific and health considerations.
Similarly, the Regulatory Accountability Act, also introduced in September, would require a hearing for each new regulation in which the primary goal would be to find lower cost alternatives to the agency's proposals, ostensibly forcing cost to become the most important consideration in the rulemaking process. Finally, the Regulation from the Executive in Need of Scrutiny (REINS) Act, taken up by the House in November, would require congressional approval of all executive branch regulations if they are deemed major rules.
Under this proposal, major rules are those that will "have an annual effect of $100 million or more on industry, lead to major cost increases, or have adverse effects on employment." The practical effect of requiring a congressional vote for each major regulation would be to derail the government's capacity to adopt any significant regulations. There have also been a variety of proposals targeting more narrow categories of environmental protection, including bills that would postpone EPA regulations on cement factories, boilers and incinerators.
In addition to the database created by the House committee, the Senate Committee on Environment and Public Works, chaired by Sen. Barbara Boxer (D-CA), responded by issuing a report that lays out the bipartisan beginnings of the EPA and the economic and health benefits associated with policies pursued under the Clean Air Act and Clean Water Act. Using Commerce Department data to highlight the revenue and jobs created through environmental protection, Sen. Boxer sought to "explode the myth that a clean environment is antithetical to a strong economy" with this report.
The Senate has a Democratic majority and requires 60 votes to achieve cloture, overcome a filibuster, and for practical purposes get any legislation to the president's desk. This has proven a barrier to many of the bills put forth by House Republicans. There seems to be no end in sight for the assault on the EPA as the 2012 election cycle moves into full swing. Each of the Republican presidential candidates has put forth plans to minimize the EPA's reach, recanted support for more progressive policies, or associated environmental regulation with "killing jobs" in the weakened economy.
Newt Gingrich and Herman Cain favor abolishment of the EPA in favor of an alternative agency that would be more sympathetic to industry interests, while Michele Bachmann and Rick Perry have latched onto the idea that the EPA is responsible for destroying jobs across the country. Ron Paul broadly advocates resolving environmental issues at the state rather than federal level, while Mitt Romney and Jon Huntsman, although acknowledging the existence of climate change, oppose measures designed to limit greenhouse gas emissions at the root of the problem.
Republicans currently control only the House, but environmental advocates fear a Democratic Party that might be too willing to compromise and anti-environment measures being attached to "must pass" bills in an election year. It remains to be seen whether shifts in the political landscape in the coming year will serve to stamp out or further ignite the anti-environment sentiment embraced by House Republicans in 2011.
Whatever happens in the short term, bashing the EPA is bad for public health and the economy in the long run. Richard Nixon and Congress knew it a long time ago and the same holds true today.
2. EPA and White House Clash Over Ozone Standards
Summary—President Barack Obama's rejection of a controversial new air pollution rule pleased industry but angered environmental and public health advocates heading into the presidential election season.
The industry buzzwords "regulatory costs" and "economic burdens" have special appeal in the current economic climate. But serious problems from ozone exposure also impose significant costs and burdens on society.
Tension between President Obama and the EPA over the Clean Air Act reached a crisis Sept. 2, 2011, when the president rejected EPA Administrator Lisa Jackson's proposal to lower the eight-hour National Ambient Air Quality Standards for ozone from 75 parts per billion to 70 parts per billion. While praising the EPA's actions under Jackson, Obama emphasized the "importance of reducing regulatory burdens and regulatory uncertainty" in a time of economic recovery. Although hailed by industry, the president's statement received heavy criticism from environmental and public health groups.
Ozone forms when sunlight interacts with other pollutants in the air, namely volatile organic compounds and nitrogen oxides. Increased levels of ozone near the ground can trigger respiratory ailments and worsen asthma, bronchitis and emphysema. Children and the elderly are particularly at risk. According to the EPA, ozone exposure increases the risk of premature death.
Under the Clean Air Act, the EPA has established air quality standards for six criteria pollutants—ozone, lead, carbon monoxide, nitrogen dioxide, sulfur dioxide and particulate matter. These standards are intended to protect the public health and welfare. In contrast to other statutes aimed at curbing pollution, the Clean Air Act does not give authority to the EPA to directly regulate sources of criteria pollutants. Instead, the EPA sets nationwide standards and requires the states to meet these standards through state implementation plans, which directly regulate individual sources such as factories.
Every five years, the EPA's Clean Air Scientific Advisory Committee has the obligation of reviewing the scientific literature and recommending to the EPA administrator revisions of the air pollution standards. Over time, standards have been lowered, in part due to a better understanding of how ozone harms human health. The most recent revision to the ozone standard came during the George W. Bush administration. Although the EPA's scientific advisers recommended a level of 60-70 parts per billion, the EPA proposed a less stringent standard of 75 parts per billion in 2008. This decision led to litigation by groups arguing it was either too stringent or not stringent enough.
After President Obama appointed Jackson as EPA administrator, the litigation was stayed after she pledged to review the standards by 2010—three years before the end of the required five-year review period. In January 2010, the EPA agreed the 2008 standard was not stringent enough and published a proposed rule that would have lowered the 75 parts per billion standard to meet the 60-70 parts per billion range recommended by the committee. A complete draft of the final rule was prepared in June 2011 and submitted to the White House.
Cass Sunstein, administrator of the Office of Information and Regulatory Affairs, part of the Office of Management and Budget, asserted the new rule would not "promote predictability and reduce uncertainty." Further, he said any new considerations "must be based on the best available science" and that the EPA should wait for a new report from the committee rather than implement a new rule based on a reinterpretation of old data.
The action of the White House has drawn criticism on several fronts. Some see it as a concession to conservative opponents of the EPA in advance of the upcoming election. Others note the conflict of economic interests and environmental protection. Indeed, if the EPA were to set the standards based on the economic concerns expressed by the President, this may constitute a violation of the Clean Air Act. In the 2001 decision Whitman v. American Trucking Associations, Inc., the U.S. Supreme Court expressly held that the EPA may not consider costs in setting air quality standards. By contrast, the states may consider costs in determining how to meet the standards. By not going forward with the final rule based on the White House's concern for the effect on the economy, Administrator Jackson may be in violation of her duty to set standards without regard to costs. On Oct. 11, 2011, the American Lung Association and other organizations filed a lawsuit challenging the EPA's action. It is anticipated that the challenge will include this argument.
As a practical matter, a case can be made for waiting until 2013 for a more thorough review of the ozone standard. Implementing new air quality standards is complex. States may be hesitant to implement new standards because they have to be reviewed again by 2013. With another review deadline just two years away, some have expressed concern over committing valuable resources to meeting new standards. The prudent course might be to use the entire five-year period for the review.
Going forward, the EPA intends to continue implementing the current standard of 75 parts per billion. Implementation involves determining which areas of the country are meeting the standard. This is necessary for determining what steps must be taken to bring all areas into attainment. The EPA now expects area designations to be done by mid-2012. A proposed rule is due in October 2013 with the final rule due by July 2014. Both deadlines are safely after the presidential election.
Prudence and politics aside, this is not just a policy debate or an election talking point. Delays in adopting tougher ozone standards put Americans at continued risk for heart and lung disease. While CEOs look to the next quarter and politicians plan for the next election year, a delay in implementing tougher ozone standards could trigger health problems that last a lifetime.
3. Powder River Basin's Mother Lode of Coal at the Epicenter of Energy Development
Summary—The federal leasing of the Powder River Basin's massive coal deposits opens the door to big profits, plentiful electricity and environmental degradation in a place both remote and central to the world's energy future.
The Powder River Basin, a majestic landscape that also harbors America's largest coal reserves, is nestled in remote eastern Montana and Wyoming. The basin's pine-studded ridges, sandstone buttes and rivers are home to ranches, farms and wildlife that evoke the Old West.
But that panorama, and any hope of stabilizing our atmosphere's carbon balance, may change dramatically because of the U.S. Department of the Interior's decision on March 23, 2011, to allow mining of the basin's shallow seams of subbituminous coal on federal lands. Coal companies, railroads and politicians all have their sights on the fossil fuel, which is low in sulfur and tantalizingly easy to extract. So, too, does China.
The basin's reserves are voluminous, containing more energy than the oil in the Middle East, begging the question—Should the U.S. become the "Saudi Arabia of clean coal?" Much depends on the answer to that question—the environmental integrity of the West, energy security and perhaps most important, whether we have any serious hope of avoiding climatic tipping points.
Spanning Montana and Wyoming, the Powder River Basin is already the largest coal producer in the U.S., supplying more than 40 percent of the nation's coal and 14 percent of America's carbon dioxide emissions. Demand is high for the low sulfur coal because it offers utilities easier compliance with the Clean Air Act.
While some tout this massive coal resource for U.S. energy independence, China eyes the Powder River Basin as an "energy colony," seeking to import basin coal at a staggering rate. According to the U.S. Geological Survey, the Powder River Basin boasts 50 billion tons of recoverable coal. Sierra Club writer Peter Frick-Wright says, "It would take the United States almost a century to burn all that coal—but China could eat through it in 25 years or less." Peabody Coal CEO Gregory Boyce spoke directly on the issue—"The real goal here is to see if we can't get large volumes of basin coal . . . to the Pacific Rim. We know we can sell it in China and Korea." Arch Coal, the nation's second largest coal producer, has already purchased West Coast export terminals and, according to CEO Steven Leer, plans to "service growing coal demand in Asia, the world's largest and fastest-growing coal market."
The fate of much of this coal lies in the hands of the federal government. The Bureau of Land Management (BLM) administers 14 million acres of public surface lands and mineral estates on private lands in the Powder River Basin. In 1976, Congress passed the Federal Coal Leasing Amendment Act requiring the BLM to ensure the maximum economic recovery of federal coal resources.
In March, Secretary of the Interior Ken Salazar announced the BLM would hold four competitive coal lease sales on federal lands in the Powder River Basin in Wyoming. Environmental groups said the Interior Department ignored the impact of coal mining on climate change, air and water quality, and wildlife habitat. Estimated revenue from these and future sales, of which BLM plans to hold dozens over the next three years, ranges from $13.4 billion to $21.3 billion. Wyoming's leases total as much as 2.3 billion tons of coal, while Montana leased more than 500 million tons of coal on state lands at Otter Creek. Otter Creek coal would be hauled by the controversial—and still unconstructed—Tongue River Railroad, slicing through the heart of family ranches throughout the West.
This rush for basin coal on federal lands is worrisome to many, and courts often provide the only recourse for those seeking to challenge BLM's new leases. Ranchers and environmentalists have fought against federal leasing since the 1976 U.S. Supreme Court case Kleppe v. Sierra Club. The Court found no coordinated government plan to develop the Northern Great Plains but required comprehensive studies when such plans crystallized. The Northern Plains Resource Council, a local coalition of ranchers and conservationists, has mounted legal challenges to both the Otter Creek and the Tongue River Railroad projects. Communities in Washington state are challenging the export terminals as small towns along the rail route fear a massive increase in rail traffic. One study predicts giant coal unit trains rumbling across Montana and the Pacific Northwest every 20 to 30 minutes.
While federal leasing provides governmental revenue, it opens the door to significant environmental degradation and portends another "boom and bust" cycle. Environmental reviews are often inadequate; for decades, courts have stricken federal energy leasing decisions. Further staining the federal leasing program is the fact that the government still does not classify the Powder River Basin as a "coal producing region" even though it produces far more coal than any other region. According to Frick-Wright, "if [classified], new mines would receive more environmental scrutiny and competitive bidding between mining companies would be required."
Ultimately, the Powder River Basin's fate lies beyond the courts, where challenges will likely stall and may not thwart the growing global demand for coal. Decisions made by the Obama administration and state officials about whether to approve coal leases in the basin will affect the future of this remote and stunning environment. The implications on climate change—a topic no government official has seriously broached—are mind-boggling. Equally startling is the prospect of tearing up a precious American landscape to stoke China's economic juggernaut. As with Keystone XL and new Clean Air Act regulations, the Obama administration has the opportunity to show true leadership at this pivotal crossroads.
4. Activists Claim Victory, Temporarily, on Disputed Keystone XL Pipeline
Summary—The State Department has postponed a decision on the Keystone XL pipeline, a controversial proposal to carry tar sands oil across the U.S. heartland. While opponents of the project view this as a major victory, the fate of the pipeline remains unclear.
Just south of the Arctic tundra, the boreal forest encircles the globe in an evergreen belt that is largely free of roads and other human development. Home to countless plant and animal species and indigenous peoples, Canada's boreal forest is a natural and cultural treasure, but it also has one of the largest oil reserves in the world, second only to the deserts of Saudi Arabia.
These opposing concerns—preservation versus utilization of natural resources—underlie the controversy over the proposed Keystone XL oil pipeline. Oil companies have begun developing these tar sands fields, but Canada lacks oil refineries to refine a high capacity of this oil. To increase production, Canadian pipeline company TransCanada has proposed building a pipeline to bring raw oil more than 1,700 miles from Alberta to the U.S. Gulf Coast. Environmentalists see the pipeline, called Keystone XL, as a major threat to environmental and human health.
First, oil from tar sands is particularly dirty because it is difficult to extract. Tar sands are a combination of clay, sand and a heavy oil called bitumen. The bitumen can be extracted by surface mining or by in situ production. Using the surface mining technique, companies first clear-cut the forest and dig open-pit mines, resulting in wholesale habitat destruction. The tar sands are then trucked away to processing facilities where they are super-heated to separate the bitumen from the clay and the sand. Using the in situ method, companies insert pipes into the ground and fill the pipes with super-heated steam. This heats the tar sands, liquefying the bitumen and allowing it to be pumped to the surface. Both processes require large amounts of water and energy and leave behind toxic byproducts. Additionally, since heat is used in both methods to separate the bitumen, the process results in 5 to 30 percent more greenhouse gases emitted than by extracting conventional oil.
Extraction has already left large scars on Canadian ecosystems. Both processes have created miles of toxic tailings ponds, some large enough to see from outer space. Any increase in production, fueled by the pipeline, would exacerbate these problems.
If the pipeline is approved, it would threaten important ecosystems in the U.S. as well. It would bisect the country, crossing Montana, South Dakota, Nebraska, Oklahoma and Texas. Although a spill anywhere along the route would be devastating, it could be catastrophic in the environmentally sensitive Sand Hills region. The region includes the Ogallala Aquifer, a critical source of drinking and irrigation water for the Great Plains.
Perhaps most important, though, the pipeline would commit the U.S. even more to fossil fuels at a time when the nation needs to invest in clean energy. It would be a major step backwards in the fight against climate change, linking this huge and unconventional source of oil (and thus carbon dioxide emissions) to America's seemingly unquenchable thirst for gasoline. When asked how heavily tapping tar sands oil would affect the climate, James Hansen, one of the nation's top climate researchers, said it would essentially mean "game over for the climate."
Since the proposed pipeline crosses an international border, the U.S. State Department has been charged with making the decision as to whether to grant a permit to TransCanada. In August 2011, the department released its final environmental impact statement on the pipeline; bewilderingly, the department found that the proposed pipeline would have "no significant impact" on land and water resources along its route. Activists see bias in this decision, charging that TransCanada has a cozy relationship with the State Department. But in October, Secretary of State Hillary Clinton said the administration was "inclined" to give TransCanada a permit to construct the pipeline.
However, after several large protests and increased political pressure from several Great Plains states, the Obama administration announced Nov. 10 that it would delay a decision on the pipeline until after the 2012 election. The State Department said it needed until early 2013 to study the project's environmental impacts and alternate routes to avoid the Sand Hills region. In particular, the department will more thoroughly review the potential impacts to climate change and the Ogallala Aquifer. Meanwhile, the State Department's Inspector General is investigating allegations of a conflict of interest and improper political influence in the project's environmental impact statement.
The Obama administration's decision was a major victory for environmentalists, but the fight isn't over. Many believe the pipeline has been fatally wounded, a view strengthened by signs that Obama's decision will further fuel opposition in Canada and that the financial arrangements supporting the pipeline could unravel. With continued pressure and action, environmentalists can now hope for an eventual defeat of the Keystone XL pipeline.
5. EPA, Transportation Department Step Up Sector-by-Sector Regulation of Greenhouse Gas Emissions
Summary—2012 will be a key time for U.S. climate change policy as the Obama administration appears ready to tackle one industry sector at a time. Toughened fuel economy standards for vehicles are critical to reducing oil consumption, greenhouse gases and consumer expenses, but much more work remains to be done across a range of industries.
Congress' momentum to address the climate crisis has died, shifting the debate over U.S. climate policy to the regulatory arena. President Obama has had a poor track record on environmental decisions in 2011, most notably his egregious retreat from stricter national standards on ozone, but 2012 presents a new chance for the White House to support the EPA's efforts to develop tougher rules for major polluting industries.
In its landmark decision in Massachusetts v. EPA in 2007, the U.S. Supreme Court concluded that greenhouse gases fall within the Clean Air Act's broad definition of a "pollutant." That opened the door for regulatory action by the EPA. In December 2009, the agency took its first major step through that door by issuing a long-awaited finding that six greenhouse gases—including carbon dioxide, methane, nitrous oxide and fluorinated gases—endanger public health and welfare. Although the endangerment finding was based on 20 years of research by hundreds of eminent scientists, industries are trying to overturn the finding through litigation and legislation. Despite these challenges, the EPA has begun to move forward on a sector-by-sector basis.
To date, the EPA has focused primarily on the transportation sector, which accounts for roughly 25 percent of U.S. greenhouse gas emissions. The agency's first action to establish controls on greenhouse gas emissions was its standards for passenger cars, light trucks and SUVs in May 2010 as part of a joint rulemaking with the U.S. Department of Transportation. This rulemaking garnered broad support from automakers because it included many flexibility provisions, and because the EPA persuaded a group of states led by California to postpone their plans to implement more stringent standards. The EPA/Transportation Department rule requires vehicles produced in model years 2012-16 to achieve a fuel efficiency of 35.5 miles per gallon. Over the life of the vehicles, this translates into a reduction of 960 million metric tons of greenhouse gas emissions, a savings of 1.8 billion barrels of oil, and $143 billion in benefits from fuel savings alone.
In August 2011, the EPA and U.S. Department of Transportation finalized a second rule that will control greenhouse gas emissions from semi-trucks, large pickup trucks, vans, and buses produced in model years 2014-18. Over the life of these vehicles, the standards are expected to reduce carbon dioxide emissions by 270 million metric tons, save 530 million barrels of oil, and provide a net fuel savings of $42 billion for vehicle owners. A second phase of regulations for these medium and heavy-duty vehicles is planned for model years beyond 2018, and we may see some progress on this rulemaking during 2012.
In November 2011, the EPA and U.S. Department of Transportation proposed a third round of regulations extending and strengthening the rules for passenger cars, light trucks and SUVs. These standards would apply to vehicles produced in model years 2017-25 and require the industry to achieve a fleet-wide average fuel economy of 54.5 miles per gallon. The EPA has estimated that over the life of the vehicles, this rule would provide consumers with a net savings of $3,000 to $4,400 per vehicle, save approximately four billion barrels of oil, reduce greenhouse gas emissions by two billion metric tons, and generate $311 billion to $421 billion in net benefits for society. The EPA's finalization of this rule will be important to watch in 2012.
The agency is also under pressure from citizen groups to expand the scope of its transportation-related greenhouse gas rules to include marine vessels, aircraft, and other nonroad engines, such as locomotives, construction equipment, farm machinery, mining equipment, and off-road vehicles. Keep an eye out for new EPA proposals relating to these types of equipment in the future.
In contrast to its rapid progress with motor vehicles, the EPA has appeared more reluctant to control greenhouse gas emissions from industrial sources. The Clean Air Act authorizes the EPA to establish new source performance standards for industrial facilities on a sector-by-sector basis. Since the EPA has already made an endangerment finding for greenhouse gas pollution, it may control these emissions from an industrial category after finding that it "contributes significantly" to such pollution. The EPA appears poised to issue performance standards regulations very soon for a few key categories.
In August 2011, EPA published proposed revisions to the performance standards rules for multiple components of the oil and gas industry. Most notably, this rule includes the first federal air pollution standards for the hydraulic fracturing ("fracking") method of extraction, which is becoming more widely used. While the proposed rule targets conventional pollutants (precursors to ozone) and toxic pollutants (such as the carcinogen benzene), the EPA is touting the rule's collateral benefits in controlling the potent greenhouse gas methane. The agency is under a consent decree deadline to issue a final rule by Feb. 28, 2012.
Additionally, in response to litigation brought by citizen groups and states, the EPA has entered into two settlement agreements under which it has committed to issue performance standards controlling greenhouse gas emissions from power plants and petroleum refineries. The proposed rule for power plants was due by July 26, 2011, and the final rule is due by May 26, 2012. The EPA missed its deadline for the proposed rule, but observers expect it to be issued soon. The proposed rule for petroleum refineries was due by Dec. 11, 2011, and the final rule is due by Nov. 10, 2012.
Another court order has compelled the EPA to review its outdated performance standard for nitric acid plants, which emit large quantities of the powerful greenhouse gas nitrous oxide. Strong data from citizen groups indicates that multiple technologies for controlling nitrous oxide are available and effective at a reasonable cost, but the EPA has declined to include a new standard for nitrous oxide in its proposed revision to the nitric acid plant rule issued on October 14, 2011. The final rule is due by March 30, 2012.
The EPA is also under pressure from citizen groups to begin regulating greenhouse gas emissions from cement plants, landfills, coal mines and factory farms. As the 2012 election approaches, however, other voices are calling for a reduction in government spending and a relaxation of regulatory controls. The EPA has been the target of numerous legislative efforts to cut its funding and limit its regulatory authority, particularly with respect to greenhouse gas regulations. The future looks uncertain, but with so much at stake and with so many critical decisions ahead, 2012 will certainly affect the outlook of U.S. climate change policy.
6. Federal Appeals Court Settles Roadless Rule… For Now
Summary—A federal appeals court ruling limits new road building in wild areas, but the debate won't be resolved until Congress acts.
While the debate over the fate of millions of "roadless" acres of National Forests is unresolved, the U.S. Court of Appeals for the 10th Circuit recently solidified interim protections for those lands in the Rocky Mountains, giving Congress yet another opportunity to protect these pristine areas for posterity.
These blocks of public lands are a luminescent landscape of peaks, forests, lakes and streams where few roads, logging, or commercial activities exist. They are ripe for inclusion in our nation's Wilderness preservation system. The appeals court's decision settled a split between the Ninth and 10th Circuits that had Western states following conflicting mandates, but it doesn't settle the debate about preservation and human uses of public lands. The unanimous ruling by a three-judge panel of the appeals court may be taken to the full 10th Circuit Court, but chances are slim the case would be heard by the U.S. Supreme Court.
These lands have long been in limbo, litigated and politicized but never designated or rejected by Congress as Wilderness under the Wilderness Act of 1964. The stakes in the outcome of this debate are huge—these lands span more than 58 million acres from Arkansas to Alaska. It is a century-long struggle between those who want to use public lands for commodity extraction and those who want to preserve them. The competing visions of Gifford Pinchot and Aldo Leopold still stalk the debate. Western politicians still use the issue as a whipping boy, stirring anti-environmentalist fervor over job losses "caused" by preservation, although in reality protecting federal lands often benefits local economies.
Legal skirmishing over roadless lands began in the 1970s when the U.S. Forest Service, bent on increasing logging on federal lands and encouraged by the pro-logging Reagan administration, sought to release these lands from future wilderness protection. Those efforts were thwarted by the agency's failure to comply with environmental laws. The Clinton administration, seeking to end the litigation and bring finality to the debate, enacted a rule banning most new roads and commercial logging in the final days of his administration. The Roadless Area Conservation Rule protected all remaining roadless areas from development that threatens the wilderness qualities of those National Forest lands. But the Bush administration created a process for state governments, many sympathetic to loggers, miners and off-road vehicle users, to petition the federal government to decide the fate of these lands. Bush's rule also lifted Clinton's ban on timber harvest and road building, leaving conservationists to either slog through the petition process or litigate to stop new projects.
In 2001, Republican-leaning Western states, off-road vehicle interest groups, and some Native American tribes filed multiple lawsuits challenging the roadless rule. In Koontenai Tribe of Idaho v. Veneman, the Ninth Circuit upheld the roadless rule. That kicked off a decade of lawsuits and schizophrenic state and federal court rulings that had some Western states following the Clinton roadless rule after Bush's State Petitions Rule was declared illegal in the Ninth Circuit, other Western states adhering to Bush's State Petitions rule, and the Forest Service toiling in limbo.
Now that the 10th Circuit's Wyoming v. U.S. Department of Agriculture (USDA) decision avoids a circuit split by upholding the Clinton Rule, the Forest Service has uniform authority to protect roadless lands. The agency has mostly ended its decades-long logging binge and seeks to manage public lands for ecosystem and recreation values. But the fate of these lands remains in legal limbo, underscoring the larger societal debate over preservation versus utilization. President Obama, charting a centrist course, has not resolved the debate. His administration has encouraged states to use the now-defunct Bush State Petitions Rule but also issued an administrative directive akin to the Clinton roadless rule. Some politicians are trying to solve the roadless issue in their home states, but they do so at great political risk. The 10th Circuit's decision is an important milestone in the roadless rule debate, but until Congress acts, the fate of these public lands remains unresolved.
7. Fukushima Fallout Affects Global Energy Security, Cost, Safety, Grid Reliability
Summary—The world's response to the Fukushima disaster puts the future of a low-carbon energy future in doubt, but nuclear power remains on the table despite safety and cost concerns.
The nuclear industry's potentially bright future dimmed considerably on March 11, 2011, when a natural disaster disabled the Fukushima Daiichi Nuclear Power Station in Japan and highlighted nuclear power's role as the world's most polarizing energy source.
The initial shock of a magnitude 9.0 earthquake knocked out all offsite electric power sources to the Fukushima plant, forcing it to run on emergency diesel generators. Forty-one minutes later, a tsunami struck the crippled plant, overwhelming emergency generators and destroying the water intake pipe used to cool the reactor. The loss of coolant resulted in serious damage to four reactor cores, explosions and a massive release of radioactive material.
The Fukushima disaster received the highest possible rating of seven on the International Nuclear and Radiological Event Scale. Japanese officials estimated it may be more than 20 years before residents can safely return to the area. Studies confirm substantial releases of long-lived radioactive materials such as cesium-137, a known carcinogen, into the atmosphere and Pacific Ocean. The long-term ecological and social impacts remain unclear.
Political responses to Fukushima are changing the future of nuclear power globally. German Chancellor Angela Merkel, once a proponent of nuclear power, announced a phase-out of that nation's 17 nuclear plants by 2022. No other nation has gone so far.
President Obama requested safety reviews for existing nuclear facilities but made clear that nuclear power remains in play. Most European Union countries are also focusing on safety reviews and researching new technology. Chinese officials promise rigorous safety standards but still intend to add 40 gigawatts of nuclear power by 2020, enough to power 40 Vermonts.
Fukushima demonstrates that "stable shut-down mode" is impossible if a plant loses grid power for more than a few hours. Without power, the circulation of cooling water at high pressure through distribution pipes is impossible. It doesn't take an earthquake to knock out grid power. More common outages can have the same catastrophic effects, including billions of dollars in damage to the site itself, let alone radiation damage far beyond.
Still, nuclear power plants are designed to provide continuously reliable electricity and generate no direct greenhouse gas emissions. The only other sources that can provide constant, or base-load, power are hydropower, natural gas and coal. Renewables like solar and wind are a must in a carbon-constrained future but for now are intermittent sources that require backup power. Therefore, a low-carbon, base-load source is an essential element in any future clean energy portfolio.
Energy analysts project that Germany's nuclear phase-out will add up to 40 million metric tons of carbon dioxide emissions annually because utilities will be forced to rely on fossil fuel sources during the transition to renewables. If other countries remove nuclear power from the picture, the multiplier effect makes addressing climate change even more difficult. Nuclear power provides nearly 70 percent of electricity in France, 30 percent in Japan (pre-tsunami) and about 20 percent in Germany and the U.S., where it is the largest source of low-carbon electricity. A rapid nuclear phase-out will have major energy security and grid reliability repercussions, including likely increased dependence on foreign fossil fuels. Japan is scrambling to increase liquid natural gas imports to meet demand, and Russia stands to benefit immensely as the primary source of natural gas to Europe.
Neither the Deepwater Horizon oil spill in April 2010 nor the Fukushima disaster a year later have led to a serious reconsideration of regulatory risks and national energy priorities in the U.S. Still, flatly rejecting nuclear power leaves the world less able to cope with climate change. Instead, we need an effective policy that balances nuclear power's environmental and health costs against the costs of climate change.
According to the International Energy Agency, without further action to reduce carbon emissions in the next five years, the world will be locked into irreversible climate change. We must start aggressively improving efficiency and deploying clean energy now. The debate will continue on how "clean" and cost-effective nuclear power is. New nuclear power plants could provide short-term reductions in carbon emissions by displacing coal plants and provide the back-up necessary for an increase in renewable energy. But investment in new nuclear plants is shortsighted without immediate and substantial investment in less visible and urgently needed measures to improve end-user efficiency, regardless of energy source.
Love it or hate it, it's too soon to take nuclear power off the table. But weigh all the costs, thoroughly promote energy efficiency, and put the necessary regulatory safety structures in place before embracing nuclear power as the silver bullet against climate change.
8. U.S. Supreme Court Rejects Bid to Regulate Greenhouse Gases Under Federal Common Law
Summary—The U.S. Supreme Court's ruling that states cannot use federal common law to restrict greenhouse gas emissions leaves open the questions of whether they can sue under state law and whether climate change victims can seek damages through the courts. The issues are likely to be litigated soon.
Big decisions on greenhouse gases are made in big cities such as Washington, D.C., where the U.S. Supreme Court handed down its long-awaited decision in American Electric Power v. Connecticut (AEP) on June 20, 2011. But the impacts of climate change are playing out in tiny, remote places such as Alaskan village of Kivalina, where sea levels are rising ominously.
Kivalina will likely be a key battlefield in 2012 in the fight to restrict major producers of heat-trapping gases after the Supreme Court's decision in AEP that states cannot invoke federal common law to limit greenhouse gas emissions. It was the Court's second ruling on the judiciary's role in addressing climate change. The first case was Massachusetts v. EPA (Massachusetts), which was decided in 2007. In Massachusetts, the Court narrowly ruled that climate change was real, that states had standing to challenge the EPA's failure to day anything about it, and that the greenhouse gases were air pollutants under the Clean Air Act. In AEP, the same coalition of states—joined by New York City and three land trusts—sued the nation's five largest coal-fired electric power corporations seeking an injunction to cap and reduce their carbon dioxide emissions. According to the plaintiff's complaint, the defendant power companies collectively account for about 10 percent of CO2 emissions in the U.S.
AEP was filed in 2004 in the Southern District of New York under federal and state common law, charging the defendants with contributing to the public nuisance of global warming. Recognizing the novelty of these claims, the states nevertheless saw the suit as a way to apply additional pressure on the EPA and the Bush administration to regulate sources of greenhouse gases under the Clean Air Act. By the time the case got to the Supreme Court, the legal issues had been overtaken by events outside of the courtroom.
Following the Massachusetts decision and a change of administrations, EPA Administrator Lisa Jackson published two endangerment findings under the Clean Air Act that concluded greenhouse gases pose a threat to public health and the environment. This triggered a mandatory duty to adopt regulations to control emissions from power plants, industries, motor vehicles and other sources. The EPA had also issued rules setting tailpipe emission standards for new cars and trucks and requiring "best available technology" for new sources of greenhouse gas emissions. The EPA was also proposing New Source Performance Standards for existing sources of emissions.
In light of all this, the outcome in AEP was hardly surprising. The Court voted unanimously that federal common law had been "displaced" by the Clean Air Act and the Obama administration's efforts to regulate emissions. Writing for the Court, Justice Ginsburg said even if the EPA opted not to regulate greenhouse gases, "the federal courts would have no warrant to employ the federal common law of nuisance to upset the agency's expert determination." She hastened to add, however, that courts would retain their traditional power to review the EPA's failure to perform any mandatory duties imposed by the Clean Air Act.
Now that the EPA has made the endangerment findings, the option of simply doing nothing is no longer available, although the agency does retain some discretion in how to go about the daunting task of regulating greenhouse gases from many sources. Notably, should Congress heed the call of some legislators and presidential candidates to repeal the EPA's Clean Air Act authority, the courts could bring federal common law back into play. Also the Supreme Court expressly declined to address the question of whether the states could pursue their public nuisance claims under state common law. The Court simply remanded the case for further consideration, meaning the remaining issues are likely to be litigated soon.
That brings us to Native Village of Kivalina v. ExxonMobile Corp., a significant case for climate change victims. Kivalina is an Inupiat village with about 400 residents on the tip of a barrier reef along the northwest coast of Alaska. The village has historically been sheltered from winter storms by a barrier of sea ice, but rising temperatures have reduced and delayed the accumulation of sea ice in recent years. That's exposed Kivalina to unprecedented erosion and flooding from otherwise diverted storm surges. The village's governing body predicts residents will have to relocate at an estimated cost of up to $400 million. In February 2008, Kivalina filed suit against two dozen power companies in federal district court in California in an effort to recover damages for the cost of relocation. Kivalina alleges that the power companies "knew or should have known of the impacts on global warming and on particularly vulnerable communities such as [Kivalina]." Further, the complaint alleges the power companies actively conspired to deceive the public about the dangers of global warming.
The federal district court in Oakland dismissed the Kivalina case for lack of standing and on the ground that the case presented a "political question" that was committed to the other branches of government. The plaintiffs have appealed to the Ninth U.S. Circuit Court of Appeals.
Kivalina is different from AEP v. Connecticut because the village seeks monetary damages instead of a judicially mandated emissions cap and reduction. The relief sought by the plaintiffs in AEP was rejected, in part, because of the Court's desire to maintain the separation of powers between the branches of government. In Kivalina, however, the plaintiffs claim that the Clean Air Act does not provide for any compensatory damages and therefore should not "displace" the federal common law. Alternatively, Kivalina argues that the case should proceed based on state common law. Ultimately, the Kivalinans say the oil companies should be held strictly liable for the damage in light of their failure to take any steps to lessen the harm. Industry lawyers used to dismiss climate change lawsuits as frivolous, but an ancient way of life may soon disappear in Kivalina. There's nothing frivolous about that, and those who are causing it should pay for it.
9. Landmark Settlement Under the Endangered Species Act
Summary—A federal court approved a major settlement that likely means many more imperiled species and their habitats will be protected.
From the wolverine's guttural growl to the delicate chirping of a tiny frog, the call of the wild got a little louder on Sept. 9, 2011.
That's when the U.S. District Court for the District of Columbia approved historic settlement agreements between the U.S. Fish and Wildlife Service (FWS) and two conservation groups—Wild Earth Guardians and the Center for Biological Diversity. The settlement ended years of litigation over the slow pace of listing decisions under the Endangered Species Act (ESA).
Under these agreements, the FWS must establish annual work plans that gradually reduce the backlog of nearly 800 species over a six-year period, starting with the 251 species that were candidates for listing in 2010. Though the agreements do not mandate the listing of any species, the accelerated process is virtually certain to greatly increase the number of species entitled to ESA protection. That will have potentially significant consequences for development, recreation and other activities that may affect those species.
Prior to this settlement, the candidate species were stuck in limbo with no federal protection until a listing decision was made. Official ESA listings have been declining steadily, from 522 species during the Clinton administration to only 62 under the George W. Bush administration. At the beginning of 2011, the Obama administration had listed only 59 new species. Many factors have contributed to this backlog. The FWS cites citizen petitions and lawsuits; conservationists cite inadequate resources and political interference. But the overarching problem is that more species are being pushed to the brink of extinction by habitat loss, pollution, invasive species and increasingly by climate change. Many species have languished as candidates for years before this settlement. Other species, such as the Alaskan song sparrow and Texas salamander, have gone extinct while awaiting protection.
This settlement marks a turning point in the protracted battles over the listing program and gives the FWS some breathing room to catch up with its legal obligations. Perhaps most importantly, and central to this recent litigation, the ESA sets strict deadlines for evaluating threats to species and determining whether a species should be listed. The ESA also requires designation of critical habitat at the same time as listing "to the maximum extent prudent and determinable." Although economic concerns are not considered in the context of listing, they must be incorporated for critical habitat designations.
Listing provides several explicit protections. Section seven of the ESA mandates that all federal agencies carry out programs for the conservation of listed species and consult with the FWS to ensure that activities do not jeopardize the species or adversely modify its critical habitat. In addition, section nine prohibits "any person" from "taking" any individual member of a listed species of wildlife without a permit. Taking is broadly defined to include significant habitat modification that actually kills or injures an animal by, for example, interfering substantially with breeding, feeding or sheltering.
The FWS has started implementing the settlement, and already its actions are beginning to spark controversy. A case in point—the proposal to list the dunes sagebrush lizard, a three-inch-long species that roams parts of southeast New Mexico and western Texas. This habitat includes the Permian Basin, an area that accounts for nearly 20 percent of U.S. oil production. The species relies on the shinnery oak, a low-growing shrub found along small dunes in the area, for protection. Oil and gas operations have degraded and fragmented this habitat.
Opposition to this listing comes mainly from oil and gas companies, livestock operators and Western Republican legislators who have also introduced a bill to block the listing. They cite the potential loss of jobs and delays in energy production and question the science used to justify the move. The FWS was due to make a final decision on the lizard by Dec. 15, but on Dec. 1 announced it will postpone its decision by six months. FWS officials said the agency will use the extra time to evaluate information about the lizard's population and loss of habitat. The FWS counters dire predictions about job losses by pointing to a recent study showing that protecting the dunes sagebrush lizard would only affect about one percent of the public lands within the Permian Basin. The FWS also notes that the ESA has mechanisms to address potential conflicts between development and conservation. One option is negotiating habitat conservation plans, which allow potentially harmful activity to continue as long as steps are taken to improve conditions for the species elsewhere.
More controversial decisions can be expected as the FWS works its way through the huge backlog of candidates. The species and their habitats span the U.S., including 403 aquatic species in the Southeast that are slated for an initial determination in 2012. If only a fraction is listed, it will have significant impacts on water allocation, industrial uses and other activities. Other candidates range from the New England cottontail and Bicknell's thrush in the Northeast to the coqui llanero (a tiny tree frog) in Puerto Rico. Also, the wolverine and Pacific walrus are to be considered in 2013-14.
At least during this initial stage, the ESA is a science-based law that requires the listing of species to be based solely on the best available biological evidence. This does not mean, however, that economics are never considered or that the law stifles development. A 1995 study by the Massachusetts Institute of Technology concluded that species listings had no bearing on state economic performance. Additionally, several studies by
the Government Accountability Office have shown that less than one percent of the hundreds of thousands of projects reviewed under the ESA had the potential to jeopardize listed species—and most of those were allowed to continue with reasonable mitigation conditions.
At the same time, the ESA is credited with saving hundreds of species from extinction, from the charismatic bald eagle and whooping crane to the more humble Salt Creek tiger beetle and Karner blue butterfly. The U.S. Supreme Court has ruled that Congress passed the ESA "to halt and reverse the trend toward species extinction whatever the cost." Moving forward, this goal will be put to the test for the hundreds of species covered by these settlement agreements.
10. Combating Climate Change Through Enforcement—EPA v. Tennessee Valley Authority (TVA)
Summary—In a multi-billion dollar legal settlement with one of the nation's biggest coal-fired polluters, the EPA used the Clean Air Act creatively to achieve a major step toward cleaning up the nation's air, saving lives and reducing health care costs.
Since the Depression, the Tennessee Valley Authority has brought electricity to millions of Americans, a feat of modernization that also has spread acid rain, disease and climate change. But on April 14, 2011, the EPA reached a landmark settlement after nearly 12 years of litigation and negotiation with the TVA, one of the largest owners and operators of coal-fired power plants in the U.S. The settlement resolved Clean Air Act violations at 11 of TVA's plants.
In 1999, the EPA had issued the TVA an administrative compliance order alleging that the authority's modifications of a number of coal-fired generators violated new source review permitting requirements and new source performance standards. The standards required the TVA to install and operate state-of-the-art pollution control technology. In addition to bringing the authority into compliance with the Clean Air Act, the recent settlement will reduce the TVA's reliance on coal-fired generation by shutting down 18 generators over the next six years and requiring an investment of $3 billion to $5 billion in clean and renewable energy technology.
The Clean Air Act distinguishes between old and new sources of air pollutants. Old sources are required to meet national ambient air quality standards, but not new source performance standards. The new standards require new or modified stationary sources to install state-of-the-art pollution control technology. The distinction between new and existing stationary sources has been criticized as a loophole for older power plants because the EPA does not regulate them as stringently even though they're responsible for much of the nation's air pollution. Nearly all of the coal-fired generators the TVA agreed to retire do not have state-of-the-art pollution controls because they date to the 1950s. However, old sources that undergo major modifications are designated as "new sources" and are subject to new source review and new source performance standards, which require them to upgrade to the best available control technology at a minimum, and perhaps even the lowest achievable emissions rate if the source is in a non-attainment area.
In the history of the Clean Air Act, there was little to no enforcement of new source review and new source performance standards against old sources that underwent major modifications. Under the Clinton administration, the Department of Justice (DOJ) and EPA began robust enforcement. In November 1999, the DOJ and EPA filed civil suits against seven electric utilities operating coal-fired power plants for violations of new source review permitting requirements and new source performance standards. The suits resulted in a number of settlements between the EPA and utilities prior to the TVA's recent settlement.
The significance of the EPA's settlement with the TVA will be a substantial decrease in harmful emissions and a resulting increase in environmental and human health benefits. The TVA's commitment to shutter 18 coal-fired generators represents the largest retirement commitment of any company to date. The closures will represent nearly one percent of the nation's coal-fired power capacity. In addition to the closures, the settlement requires the authority to address 92 percent of its coal-fired systems, or 41 coal-fired plants, between 2011 and 2018 by retrofitting them with state-of-the-art pollution controls or switching to renewable biomass.
The TVA's commitment to closing and retrofitting its facilities is designed to reduce its emissions of nitrogen oxides by 69 percent and sulfur dioxide by 67 percent. Together, these pollutants cause a host of environmental problems, including smog, water quality deterioration and acid rain. In addition, they are linked to heart and lung diseases that can lead to increased hospital admissions and premature death. By reducing the TVA's emissions, the EPA estimates $11 billion to $27 billion per year in added health benefits.
The settlement also requires the TVA to spend $350 million on other projects that are expected to reduce greenhouse gases and other pollutants. The money will go toward energy efficiency projects, clean and renewable energy projects, and a clean diesel and electric vehicle project, as well as fund improvement, protection and rehabilitation of National Park Service and National Forest Service lands injured by the TVA's emissions. Consequently, the settlement goes beyond reducing pollutants the authority emitted in violation of the Clean Air Act and may achieve more than what the EPA expected from a favorable trial verdict.
The mitigation projects are designed to reduce carbon dioxide emissions by 30 million tons. The EPA currently does not regulate carbon dioxide emissions from stationary sources, either as a criteria pollutant or as a hazardous air pollutant. But in the settlement with the TVA, the EPA is creatively using this Clean Air Act settlement process as a way to achieve carbon dioxide reductions. This suggests that in future cases, the EPA will look to obtain carbon dioxide reductions as one of the key settlement terms and conditions. Thus, the agency may achieve through enforcement what the U.S. has failed to do by legislation—achieve meaningful carbon dioxide reductions from major polluters as a step toward combating climate change.
Special Mention—Federal Energy Regulatory Commission's (FERC) Order 1000 Seeks to Overhaul Electricity Transmission Planning and Cost Allocation
Summary—FERC's ambitious energy policy would accommodate new transmission lines serving renewable energy projects.
Although a comprehensive federal clean energy policy stalled when Congress failed to pass a clean energy bill in 2009, energy policy in America is not at a standstill. The FERC's latest order—Order 1000—is an ambitious new policy that aims to accomplish two sizable goals simultaneously. First, it encourages a more coordinated build-out of the new electric transmission lines the country needs to maintain electric reliability. Second, it aims to allow large-scale renewable energy projects to connect to the grid. Perhaps partly because of its ambitious goals, FERC's latest order has drawn both criticism and praise.
Essentially, Order 1000 requires public transmission utilities to—(1) engage in regional and interregional transmission planning, while accounting for public policy considerations and (2) develop cost allocation methods to allocate the costs of new transmission projects among beneficiaries of the transmission line.
Since the mid-1990s, FERC has presided over an industry in transition. FERC's groundbreaking Order 888 required open access to the transmission system. Order 890 required open and transparent transmission planning. Both orders focused on creating a level playing field to make transmission accessible to all market participants at fair prices. As a result, the industry moved from one of large, vertically integrated electric companies that generated, transmitted and distributed power to one that also includes a plethora of specialized generators, transmission companies, distribution and power marketing companies. This has meant increased competition and to some degree lower electric prices—particularly for large electric consumers—as well as increased selection of generation types. But this transition hasn't overcome a Balkanized grid in regard to transmission planning and development.
Order 1000 thus moves toward expanding transmission planning from regional to interregional planning on the premise that wider planning is better planning. This is the difference between planning for New England or for New England and the mid-Atlantic region. The order also requires the cost of these interregional projects to be more broadly spread between electric consumers in both regions.
Moreover, to guide new transmission that supports the nascent renewable generation industry—large-scale wind being among the most prominent of these—Order 1000 requires transmission owners to acknowledge the public policy requirements of states. Renewable portfolio standards, which about 30 states have enacted to encourage renewable energy, are among the most salient of these requirements.
Not surprisingly, a big source of praise for Order 1000 comes from those who provide transmission capacity. Those in the renewable energy industry also voiced praise. The Energy Future Coalition, a group of companies that includes the American Wind Energy Association, Iberdrola Renewables, and the Solar Energy Industries Association, expressed in a Request for Rehearing before FERC that Order 1000 "represents a very substantial improvement over the status quo." But some critics contend that FERC has overstepped its authority under federal law, including the Large Public Power Council, which represents 25 of the nation's largest locally owned and controlled not-for-profit power systems.
Others question if the approach will hurt the viability of local renewable energy projects. For example, by subsidizing the transmission cost of distant renewable generators, otherwise more economic local renewable generators may seem more expensive even though that may not be the case if the costs of transmission were incorporated.
Another critic is the Coalition for Fair Transmission Policy, a group of seven geographically diverse utility companies. In a Request for Rehearing before FERC, the group said Order 1000 was overly broad in determining the benefits and beneficiaries for transmission projects, and thus spread the costs of new transmission far too widely among electric consumers who might not truly benefit. It also argued that the order replaces the traditional bottom-up transmission planning process, which allows transmission to develop as new generation develops, with a top-down approach that predetermines which types of generation will benefit and thus may end up risking the money of would-be electric consumers and preempting state prerogatives.
Order 1000 may lay the groundwork for large-scale development of renewable energy by facilitating a build out of electric transmission lines connecting renewable energy resources and load centers. But litigation may also reshape the order to make it more responsive to concerns that FERC has overreached its regulatory powers, created inequitable cost-sharing for new transmission lines, or made it harder for local renewable energy projects to be effectively planned.
Other Issues to Watch
Is Coal Ash Hazardous Waste?
It's past time for coal ash to be treated for what it is—dangerous to our health and planet. Instead, nearly three years after the worst coal ash spill in U.S. history, Congress is considering stripping the EPA of its ability to decide if coal ash should be regulated as a hazardous waste. 2012 could be a pivotal time on this issue.
On Dec. 22, 2008, a coal ash impoundment wall collapsed at the Tennessee Valley Authority's Kingston power plant. The disaster sent 5.4 million cubic yards of toxin-laden sludge into the Emory River and onto surrounding land in eastern Tennessee. The disaster included more than 300 acres of damage, high levels of heavy metals, and estimated cleanup costs of more than $1 billion. In response, the EPA proposed regulating coal ash as a hazardous waste under the Resource Conservation and Recovery Act. The act would give the EPA the authority to control hazardous waste from the cradle-to-grave. But after the Office of Management and Budget reviewed the proposal, the EPA added two weaker options that would regulate coal ash as a nonhazardous "solid waste." In addition, the Republican-controlled House of Representatives passed the Coal Residuals Reuse and Management Act in 2011 to try to strip the EPA of its authority to regulate coal ash as hazardous waste.
Since then, the EPA has released additional data that identified far more surface impoundment dams with a "significant hazard" rating than previously known. In addition, We Energies' Oak Creek Power Plant sustained a bluff collapse that spilled an estimated 2,500 cubic yards of coal ash into Lake Michigan. Despite these developments, the White House may not have the political will for a hazardous waste designation during an election year and economic downturn. Alternatively, the EPA's pending effluent limitation guidelines for power plants under the Clean Water Act may address some but not all of the same concerns as a hazardous waste designation. The EPA is required to propose effluent limitation guidelines for power plants by July 2012. Strict standards could push power plants to eliminate unlined surface impoundments, but final action on the rule is not required until January 2014. By then, the EPA may answer to a presidential administration that strongly disfavors environmental regulation.
What to Watch on Fracking
Anyone who has seen the documentary film Gasland or YouTube videos of tap water on fire probably has a good idea of the environmental and health risks associated with hydraulic fracturing. "Fracking" involves injecting chemicals, water and sand into the earth to fracture shale and open fissures through which natural gas will freely flow.
As noted in the film and in numerous nonprofit group materials (e.g., Riverkeeper, Sierra Club, Natural Resources Defense Council, National Wildlife Federation, EarthWorks), fracking impacts include well explosions, severely contaminated drinking and surface waters, air pollution and potentially earthquakes. But the fracking industry is exempt from key provisions of federal environmental laws. In the face of this regulatory vacuum, the public is moving on multiple fronts. A few things to watch for in 2012 (or sooner):
Updated Department of Interior regulations for fracking on public lands, including required disclosure of fracking chemicals
The release of initial research results in the EPA's Hydraulic Fracturing Study relating to ground and drinking water
Stakeholder opportunities in the EPA's development of Natural Gas Wastewater Standards
State attempts at mitigation or moratorium
A final EPA rule on New Source Performance Standards for air emissions from the oil and natural gas sector
Recommendations from the Department of Energy's Shale Gas Commission for "improving the safety and environmental performance" of fracking
An EPA Permitting Guidance on Underground Injection Control for facilities that use diesel fuels in their injection fluids
For more information, click here.
Xsandra / Getty Images
Looking for ways to cut down on single-use plastic while grocery shopping? You may already have eco-friendly shopping bags, but bringing your own reusable produce bags is another easy swap.

According to the UN Environment Program, up to 5 trillion single-use plastic bags are used globally each year, and because of the material they're made from, most municipal recycling centers don't accept them (more on this below).
The most sustainable option is to skip the bag altogether. You can also make your own reusable produce bags out of old T-shirts. But if you'd rather purchase them new, here are our recommendations for the best reusable produce bags on the market today.
<p><em>Each product featured here has been independently selected by the writer. If you make a purchase using the links included, we may earn commission.</em></p>