Twenty four percent of European bumblebee species are threatened with extinction according to a recent study assessing the species group at the European level.
The study examines all of the 68 bumblebee species that occur in Europe. It is part of the Status and Trends of European Pollinators (STEP) project and the European Red List of pollinators, both funded by the European Commission. The results feed into The IUCN Red List of Threatened Species.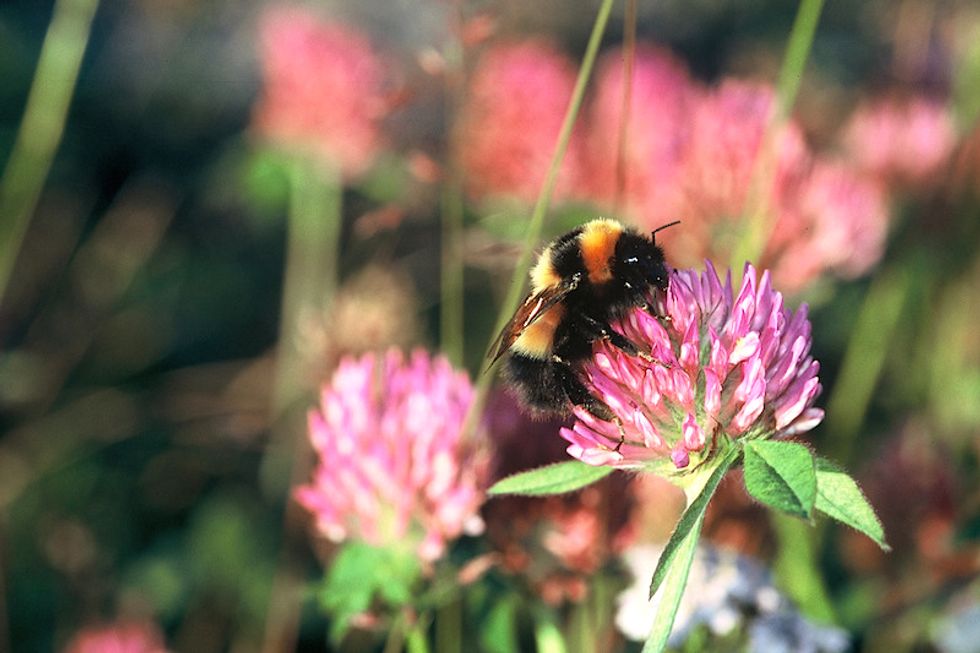 Bumblebees, like other pollinators, play a critical role in securing food production. They allow plants to reproduce and improve the production of crops, such as tomatoes, peppers and many other types of fruit, vegetables and seeds that make up our diet. Of the five most important pollinators of European crops, three are bumblebee species. Together with other pollinators, bumblebees contribute more than 22 billion Euros to European agriculture per year.
"We are very concerned with these findings—such a high proportion of threatened bumblebees can have serious implications for our food production," said Ana Nieto, European biodiversity officer of IUCN and coordinator of the study. "Protecting bumblebee species and habitats, restoring degraded ecosystems and promoting biodiversity-friendly agricultural practices will be essential to reverse the negative trends in European bumblebee populations."
According to the study, 46 percent of bumblebee species in Europe have a declining population, 29 percent are stable and 13 percent are increasing. Climate change, the intensification of agriculture and changes in agricultural land are the main threats to the species. Other reasons for their decline include pollution from agricultural waste and loss of habitat due to urban development.
"The plight of Europe's bumblebees is a problem that needs to be tackled on all fronts," said Janez Potoċnik, EU Environment Commissioner. "The European Union recently banned or restricted the use of certain pesticides that are dangerous to bees, and is funding research into status of pollinators. However, efforts clearly need to be scaled up, not least through better mainstreaming of biodiversity into other policies, but also to raise awareness about the benefits that pollinators bring."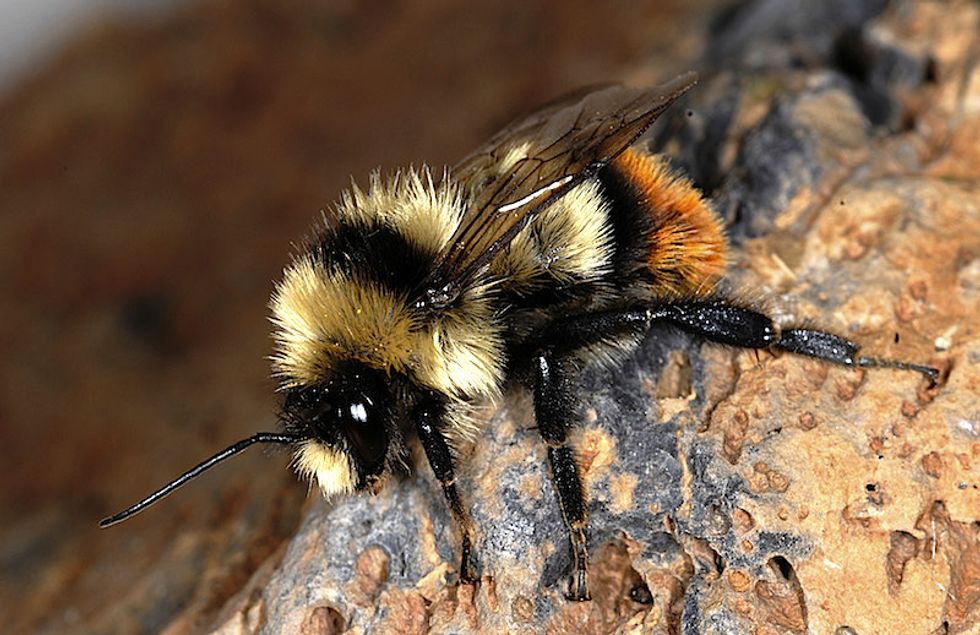 "Many of these species live in very restricted areas and in low numbers," said Pierre Rasmont, member of the STEP team and the IUCN Species Survival Commission's Bumblebees Specialist Group. "They are often extremely specialized on their host plants, which makes them susceptible to any environmental change."
Climate change, through increasing temperatures and long periods of drought, is responsible for major changes in bumblebee habitat. Bombus hyperboreus, the second largest bumblebee of Europe, listed as "vulnerable" on the IUCN Red List, is strictly associated with Arctic and Subarctic regions and only lives in the Scandinavian tundra and in the extreme north of Russia. Climate change is likely to dramatically reduce the area of its habitat, leading to population decline.
Changes in land use and agricultural practices that result in the loss of the species' natural environment also represent a serious threat to many bumblebees in Europe. The geographic range of the "critically endangered" Bombus cullumanus has shrunk enormously in the last ten years following habitat fragmentation and changes in farming practices which involve removing clovers—its main forage. As a consequence, its population has declined by more than 80 percent over the last decade. Previously widespread, it now only occurs in a few scattered locations across Europe.
Europe's largest bumblebee, the Endangered Bombus fragrans, is also seriously threatened by the intensification of agriculture, which is destroying its native habitat in the steppes of Ukraine and Russia.
"The contribution of bumblebees to food security and the maintenance of wider plant biodiversity is an essential part of Europe's natural capital," says Simon Potts, coordinator of STEP. "However, this capital is under increasing threat and the results of this Red List assessment represent an important tool to help protect an indispensable component of biodiversity."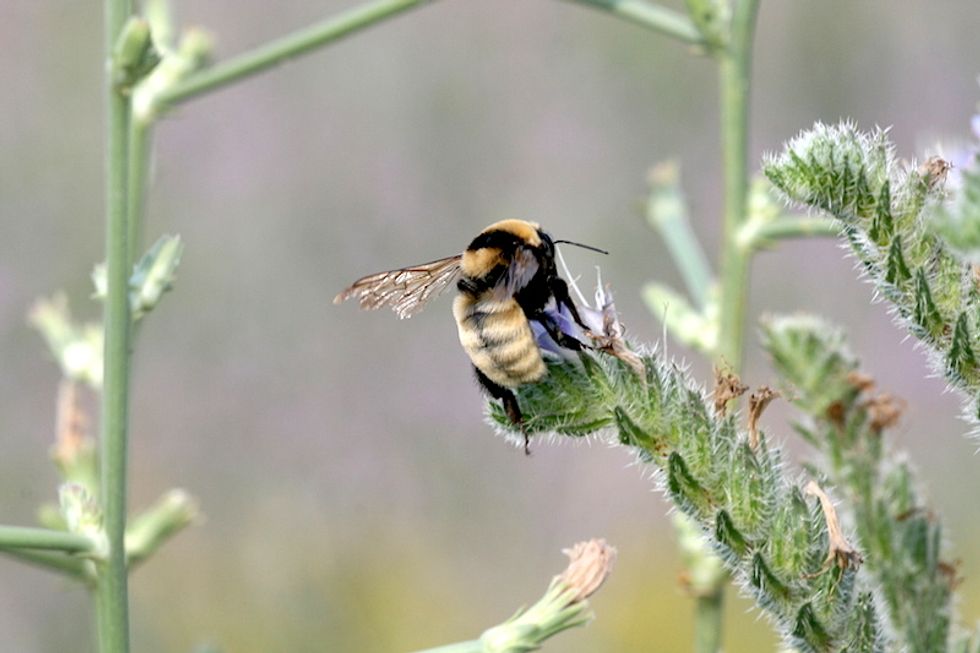 Measures such as increasing the margins and buffer strips around agricultural fields that are rich in flowers and wildlife and the preservation of grasslands are deemed effective tools in alleviating the rapid decline in bumblebee species. They can provide bees with forage and help underpin stable populations of pollinators, whose survival is crucial for European food security.
The assessment comes at a time when progress in implementing Europe's strategy to halt biodiversity loss is under review. It stresses the need for conservation efforts to be stepped up and for the EU 2020 Biodiversity Strategy to be fully implemented in order to meet the 2020 biodiversity target to halt biodiversity loss and the degradation of ecosystems services, set by EU leaders in March 2010.
--------
YOU ALSO MIGHT LIKE
15 Plants to Help Save the Bees
Scientists Discover Two Fatal Diseases Capable of Transmitting From Honey Bees to Bumblebees
New Website Helps Identify Bumblebees and Protect Pollinators
--------
EcoWatch Daily Newsletter
Conservation and science leaders renewed their call today demanding the U.S. Secretary of Agriculture protect bumblebees in light of numerous threats contributing to population declines.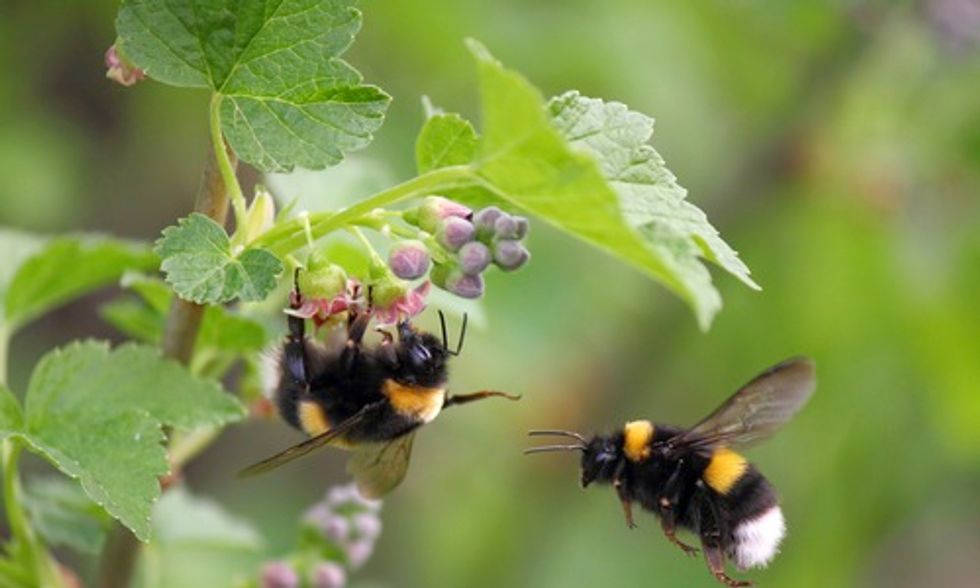 Photo courtesy of Shutterstock
To prevent the spread of disease to wild populations of agriculturally significant bee pollinators, petitioners asked
U.S. Department of Agriculture's Animal and Plant Health Inspection Service
 (APHIS) to use its authority to regulate commercial bumblebees. Specifically, the petitioners want APHIS to create rules prohibiting the movement of bumblebees outside their native ranges and regulate interstate movement of bumblebee pollinators within their native ranges by requiring permits that show the bumblebees are disease-free before being transported.
The letter comes nearly four years after an initial petition for rulemaking, which asked the APHIS to regulate the movement of commercial bumblebees to help control the spread of parasites to wild bees. The agency has not responded, despite dramatic declines in several native bee populations across the country. Researchers believe that pathogens transmitted by commercial bumblebees are likely part of the problem, prompting the call for agency intervention to help stem native bumblebee losses and avert the associated impacts on the U.S. food system.
"It has been almost four years since we filed our petition asking that APHIS regulate the movement of commercial bumblebees," said Sarina Jepsen, endangered species program director at the Xerces Society for Invertebrate Conservation. "Several species of bumblebees
are in steep decline
and it is urgent that APHIS take action soon to protect these important pollinators."
Bumblebee pollination is essential to the reproduction of many crops and native flowering plants, and pathogens of bumblebees can act as indirect plant pests that pose a significant threat to agriculture and native ecosystems.
"Without immediate agency intervention we will likely continue to see a dramatic decline in
bumblebee pollinators
with perilous and potentially irreversible consequences," Giulia Good Stefani, attorney with NRDC said. "One-third of the food on our plates depends on pollinators. A failure to protect our bumblebees has direct implications for the health of the ecosystems that depend on them and for the security of our food supply."
The unregulated interstate movement of bumblebees outside their native ranges may already have introduced diseases that have led to the rapid endangerment of four formerly common bee pollinators and the possible extinction of a fifth bumblebee. The last reported sighting of a Franklin's bee (Bombus franklini) was in August 2006, and, without regulation, the western bumblebee (Bombus occidentalis), the rusty patched bumblebee (Bombus affinis), the yellow-banded bumblebee (Bombus terricola), and the American bumblebee (Bombus pensylvanicus) are each in danger of disappearing throughout significant portions of their distribution ranges.
Visit EcoWatch's BIODIVERSITY page for more related news on this topic.

By Laura Beans
Last week, the beekeeping industry filed legal action against the U.S. Environmental Protection Agency (EPA) for approving a new bee-harming pesticide.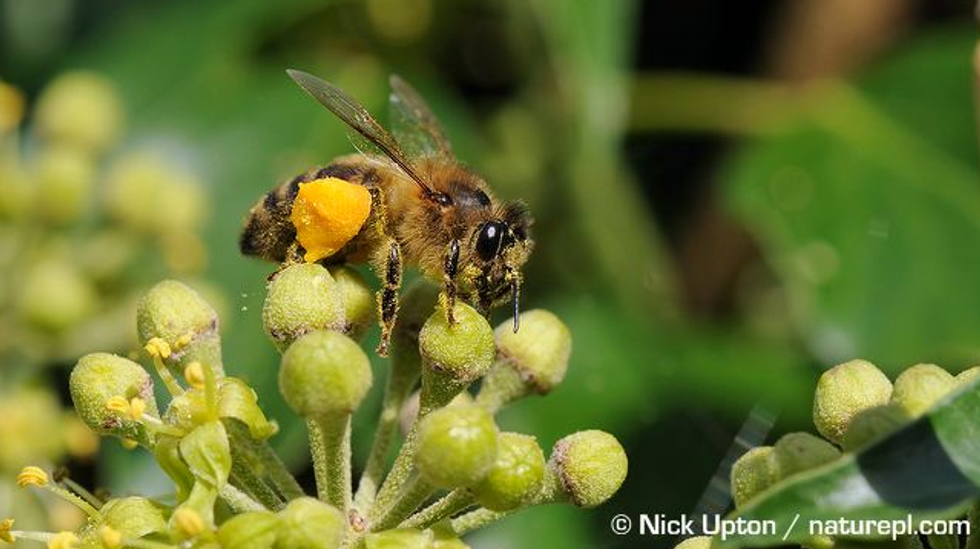 According to Beyond Pesticides, the petitioners—including the National Pollinator Defense Fund, American Honey Producers Association, National Honey Bee Advisory Board, the American Beekeeping Federation, and beekeepers Bret Adee, Jeff Anderson and Thomas R. Smith—filed the suit in the U.S. Ninth Circuit Court of Appeals.
Despite evidence about the harms of the new pesticide, and research questions left unanswered, in May, the EPA approved the full registration of sulfoxaflor. The active ingredient is similar to that of neonicotinoid; it acts on the nicotinic acetylcholine receptor in insects and causes similarly harmful impacts on bees' brains.
Comments were submitted to the EPA by concerned beekeepers and environmental advocacy groups, stating that approval of a pesticide highly toxic to bees would only exacerbate the problems faced by the honey bee industry and further decimate bee populations, which has already reported unparallelled lows across the globe.
However, according to Pesticide Action Network, the EPA dismissed these concerns outrightly and instead pointed to a need for sulfoxaflor by industry and agriculture groups to control insects resistant to pesticide technologies. The EPA is unable (or unwilling) to act decisively to protect bees, and has instead fast-tracked the new pesticide to market.
"The EPA is charged with preventing unreasonable risk to our livestock, our livelihoods and most importantly, the nation's food supply," said Bret Adee, a beekeeper at Adee Honey Farms with operations in South Dakota and California—and a petitioner on the case. "This situation requires an immediate correction from the EPA to ensure the survival of commercial pollinators, native pollinators and the plentiful supply of seed, fruits, vegetables and nuts that pollinators make possible."
The suit is filed on the heels of several recently publicized mass bee die-offs. Last month in Oregon, 50,000 bumblebees were found dead after a cosmetic application of dinotefuran—a neonicotinoid pesticide—was applied to ornamental trees while they were in flower. In Canada last week, 37 million bees were found dead in Elmwood, Ontario. Current estimates of the number of surviving hives in the U.S. show that these colonies may not be able to meet the pollination demands of agricultural crops. 
With reports to the contrary, the EPA says that none of the objections to sulfoxaflor point to any data "to support the opinion that registration of sulfoxaflor will pose a grave risks to bees," even though the agency itself acknowledges that sulfoxaflor is highly toxic to bees. The EPA downplayed the effects of sulfoxaflor—which include behavioral and navigational abnormalities in honey bees—as "short-lived."
The groups are being represented by the public interest law organization Earthjustice. The appeal process through the courts is the only mechanism open to challenge EPA's decision.
Visit EcoWatch's BIODIVERSITY page for more related news on this topic.
———

After the mass poisoning of more than 50,000 bumblebees last week in Wilsonville, OR, and other incidents now being reported in neighboring Washington County, scientists are calling on local officials to ban the cosmetic use of insecticides on city- and county-owned lands. The mass poisoning is the largest event of its kind ever documented, with an estimated impact on more than 300 wild bumblebee colonies.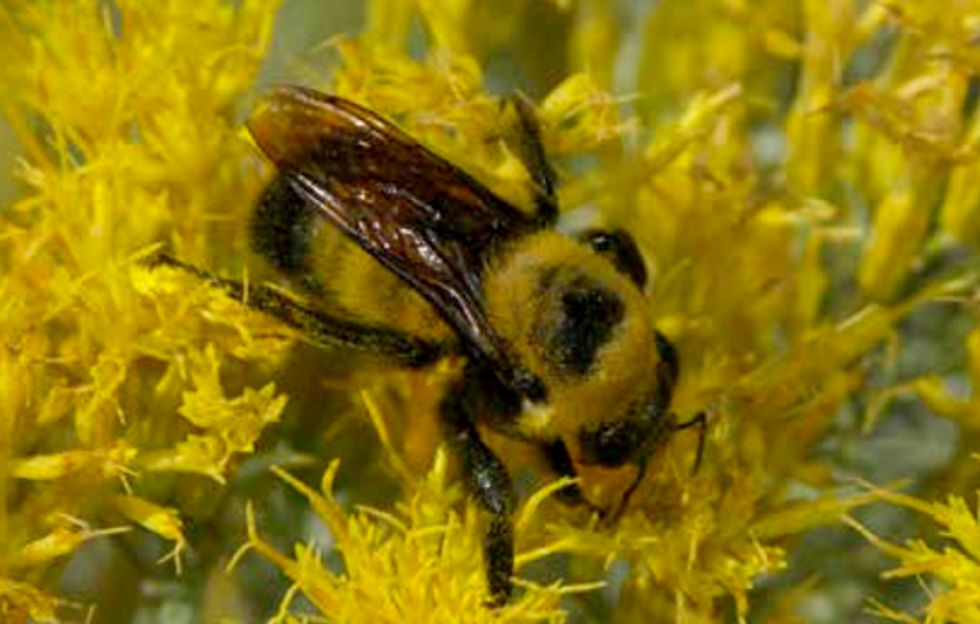 According to Oregon Department of Agriculture, the poisoning occurred after an insecticide was sprayed on linden trees to control aphids, which secrete a sticky residue while feeding, making them a nuisance to parked cars. The pesticide, dinotefuran (also known as Safari), belongs to a relatively new and controversial group of chemicals called neonicotinoids. Because neonicotinoids are long-lasting in plant tissues and can be found in flower nectar and pollen, and because they have been implicated in the global decline of honey bees, there have been growing concerns about their safety for pollinators.
"The cost of losing pollinators far outweighs any value of controlling aphids on ornamental plants," said Mace Vaughan, pollinator conservation director at the Xerces Society. "After the events of last week, and based on the overwhelming science demonstrating the harm that these products can cause, we are calling on city and county governments to immediately stop the damage."
The University of Minnesota's Dr. Marla Spivak, a leading global authority on bee health, echoed Vaughan's sentiment. "The Oregon bee poisoning is a clear warning. We have to stop pesticide use in cases where human health or food security is not at risk."
Spivak points out that neonicotinoids are now the most widely used insecticides in urban and agricultural areas. "They are long-lasting in soil and they readily move into water. If the Oregon event is an indication of what is happening more widely, we will begin to see catastrophic threats to food security and the pollination of wild plants."
In response to these concerns, several local governments are taking action to prevent further bee deaths. One of the most startling of these efforts was the City of Wilsonville's leadership in wrapping the insecticide-laden trees with netting last week to keep any more bees from dying. The City of Eugene had previously publicly stated that they are no longer using neonicotinoids on city properties. In May, Commissioners from Thurston County, Washington unsuccessfully petitioned their state department of agriculture (WDA) to restrict some uses of these chemicals in their county. It is unclear whether WDA is now reconsidering their earlier rejection of the Thurston County petition, which was initiated out of concerns for pollinators such as honey bees and bumble bees.
The Xerces Society applauds the actions on the part of Wilsonville and Eugene to protect bees, but says more needs to be done.
"It is time to take a stronger stance on pollinator protection. The European Union has put restrictions in place on several neonicotinoids, and Ontario, Canada has gone further and banned all pesticides for cosmetic use," said Scott Hoffman Black, executive director of the Xerces Society. "We need a similar response here."
Neonicotinoid insecticides, with active ingredients like imidacloprid, dinotefuran, thiamethoxam and clothianidin, can be purchased in most hardware stores and nurseries under various trade names. As scientists like Vaughan and Spivak point out, most have no warning labels to alert consumers about the potential hazard to bees, butterflies and other beneficial insects.
To help prevent future bee poisonings, the Xerces Society is calling for changes to both regulations and consumer behavior.
"In terms of what we would like to see, legislators, regulators and municipal leaders across the country should ban the use of neonicotinoids and other insecticides for cosmetic purposes," said Black. "At a broader level, it is time for the Environmental Protection Agency to re-assess the ecological safety of neonicotinoids and immediately suspend any product registrations that were made with incomplete data."
Jennifer Hopwood, the lead author of the Xerces Society's report on the risks of neonicotinoids to bees says that there are also steps that individuals can take to avoid harming pollinators, like checking to see if they have neonicotinoid products in their garage or garden shed.
"Consumers should know that they can return pesticides to the store where they purchased them for safe disposal. Beyond that, when buying garden plants, people should ask the store if insecticides have been used on them," she says. "If staff can't tell you, I would shop somewhere else."
The Xerces Society will be following up with mayors, city councils and county commissions across the U.S. with formal letters asking them to take action.
The Xerces Society recommendations include:
For Municipalities
Municipalities should stop using all neonicotinoid insecticides on city- and county-owned property, including schools, parks and gardens.
City and county governments should require that warnings be posted alongside displays of these chemicals at hardware stores and nurseries.
Legislators, regulators and municipal leaders across the country should ban the use of neonicotinoids and other insecticides for cosmetic purposes on ornamental and landscape plants, like the ban now in force in Ontario, Canada.
For Homeowners
Do not buy products that contain neonicotinoids.
Check to see if you have these products in your garage or garden shed. If so, do not use them. Make sure you dispose of them properly or take them back to the store where you bought them.
When buying plants for your yard, ask if neonicotinoids have been used on them. If staff cannot tell you, shop somewhere else.
For Nursery and Hardware Stores
Stores should proactively take action by pulling these toxic and poorly labeled products from their shelves.
At a minimum, display materials should be placed at point of sale so that consumers know that these products kill bees and other beneficial insects, and that they can cause plants to produce toxic nectar and pollen months after treatment.
Nurseries should list plants that have been treated with these chemicals.
For the Federal Government
The U.S. Environmental Protection Agency should work with pesticide companies to add clear warnings to homeowners that ornamental neonicotinoid insecticides are toxic to bees and other pollinators.
For Insecticide Companies
Companies that make homeowner pesticide products that contain neonicotinoids should add clear language to product labels highlighting that these products are highly toxic to bees and other pollinators, and that treatment to plants may result in nectar and pollen that are contaminated with the insecticide and may kill bees and other pollinators.
Visit EcoWatch's BIODIVERSITY page for more related news on this topic.

Just as Pollinator Week began last week, an estimated 50,000 bumblebees, likely representing more than 300 colonies, were found dead or dying in a shopping mall parking lot in Wilsonville, OR. Authorities confirmed Friday that the massive bee die-off was caused by the use of a neonicotinoid pesticide, dinotefuran, on nearby trees. Then on Saturday, it was reported by The Oregonian that what could be hundreds of bees were found dead after a similar pesticide use in the neighboring town of Hillsboro.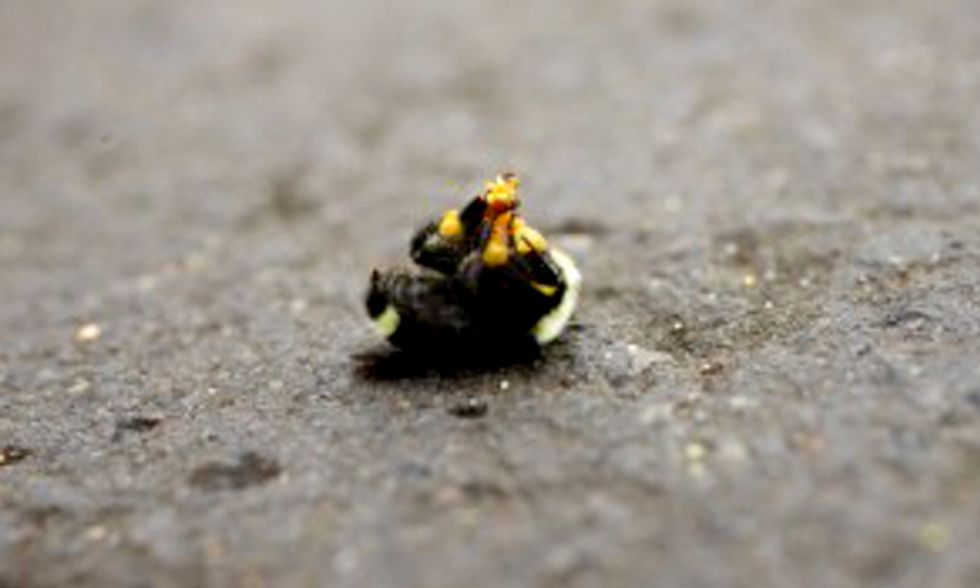 According to the Xerces Society, this is the largest known incident of bumblebee deaths ever recorded in the country. Bumblebees, which are crucial to the pollination of multiple berry and seed crops grown in the Willamette valley—as well as many other food crops across the country—have recently experienced dramatic population declines, a fate similar to other pollinators.
Dan Hilburn, director of plant programs at the Oregon Department of Agriculture (ODA), told Oregon Live that he's "never encountered anything quite like it in 30 years in the business." The incident highlights the difficulty of permitting in commerce such a highly toxic material that indiscriminately kills beneficial insects.
A recent study—an overview of the environmental risks posed by neonicotinoid insecticides—published in the Journal of Applied Ecology, documents that neonicotinoid persistence in soil and water can cause broad, far-reaching impacts on ecosystem health, much of which has undergone little scientific scrutiny. The author asserts that world leaders have failed to meet their commitment made at the 2002 Convention on Biological Diversity—to achieve a significant reduction in the rate of biodiversity loss. David Goulson, Ph.D, of the University of Sussex, author of the study, points to neonicotinoids as a potential cause of this failure, due to their long-term persistence in soil and water. He specifically points to soil dwelling insects, benthic aquatic insects, grain-eating vertebrates and pollinators as being in particular danger from the use of these chemicals.
The ODA and Xerces Society had been working together to investigate the pesticide poisoning. After interviewing the landscaping company that maintains dozens of ornamental trees around the parking lot, the ODA investigators learned that Safari, a pesticide product with the active ingredient dinotefuran, had recently been applied on June 15 to control aphids. Dinotefuran is a neonicotinoid pesticide that is highly toxic to bees; the product's label strictly forbids its use if bees are in the area.
Scott Black, executive director of the Xerces Society, noted that the pesticide was applied to the tree while it was flowering, an action that violates the product's instructions.
"Beyond the fact that a pesticide was applied to plants while they were attracting large numbers of bees, in this case the pesticide was applied for purely cosmetic reasons. There was no threat to human health or the protection of farm crops that even factored into this decision," stated Black.
Neonicotinoids, including dinotefuran, can be broadly applied as a spray, soil drench or seed treatment, however, the ability of these chemicals to translocate through a plant as it grows has led to the creation of a large market within chemical-intensive landscaping and agriculture. Once these systemic pesticides are taken up by a plant's vascular system, they are expressed through pollen, nectar and guttation droplets from which pollinators such as bees then forage and drink. Neonicotinoids kill sucking and chewing insects by disrupting their nervous systems.
Beginning in the late 1990s, these systemic insecticides also began to take over the seed treatment market. Clothianidin and imidacloprid are two of the most commonly used neonicotinoid pesticides. Both are known to be toxic to insect pollinators, and are lead suspects as causal factors in honey bee colony collapse disorder. An extensive overview of the major studies showing the effects of neonicotiniods on pollinator health can be found in Beyond Pesticides' What the Science Shows.
Several different crops in the Willamette valley of Oregon rely heavily on the pollination services provided by bumblebees. Blueberries, raspberries, blackberries and crop seed production, which are grown in Oregon, all rely on bumblebees for pollination. Mace Vaughn, pollinator conservation program director with the Xerces Society, told Oregon Live, "Bumblebees are the single most important natural pollinator in Oregon."
In the midst of the all the attention that is focused on the loss of honey bees and colony collapse disorder, wild pollinator losses are often overlooked. Pesticide risk mitigation measures intended to protect honey bees do not always constitute risk mitigation for other pollinators like bumblebees because they have different foraging practices, social structures and genetics. Minimal research has also been done on pesticide toxicity for wild pollinators.
This massive bee death marked an unfortunate beginning to National Pollinator Week, which was first declared in 2006 by Congress and the U.S. Department of Agriculture to raise awareness about the global decline of many pollinator species. During Pollinator Week and year round, Beyond Pesticides urges communities to come together to highlight the importance of pollinators through public education, the creation of pollinator friendly habitats and other important activities, while hundreds of actions to support pollinators took place across the U.S.
Though pollinator week is over, there are still many ways that you can get involved and help protect pollinators, from providing bee habitat in your yard, to keeping bees in your backyard or simply choosing to eat organic foods. Beyond Pesticides' BEE Protectivecampaign has all the educational tools you need to help pollinators.
Visit EcoWatch's BIODIVERSITY page for more related news on this topic.