This website uses cookies to ensure you get the best experience while browsing it. By clicking 'Got It' you're accepting these terms.
The Bulgarian prime minister fired Neno Dimov, pictured above, for mismanagement of a water crisis. EU2018BG Bulgarian Presidency / Flickr /
CC BY 2.0
Bulgaria's minister for the environment abruptly resigned after he was arrested and charged for mismanagement of a water crisis in a western Bulgaria city, as the AP reported.
Pirin National Park. Maya Eye Photography
Pirin National Park, one of Europe's most important biodiversity hotspots, has suffered irreparable damage from the construction and expansion of Bansko ski resort, reveals a World Wildlife Fund (WWF) report published Monday. The analysis found that the ski resort, approved by Bulgaria's government in 2000, has also compromised Pirin's long-term economic value and delivered a mixed economic impact to date.
EcoWatch Daily Newsletter
By Nicole D'Alessandro
Worldwide, a trillion single-use plastic bags are used each year, nearly 2 million each minute. Usage varies widely among countries, from more than 400 a year for many East Europeans, to just four a year for people in Denmark and Finland. Plastic bags, made of depletable natural gas or petroleum resources, are often used only for a matter of minutes. Yet they last in the environment for hundreds of years, shredding into ever-smaller pieces but never fully breaking down.

By Dave Levitan
As municipal food composting programs spread across North America and Europe, no city faces a more daunting task than New York. Its Department of Sanitation collects more than 10,000 tons of trash every day, and another 1,700 tons of recyclable materials. A large portion of that waste, though, may soon have a future other than the landfill: Food scraps and other "organics" have long been just a part of New York's trash pile, but a pilot program in the city is aimed at rolling out collection of that material and composting it, a far more environmentally friendly method.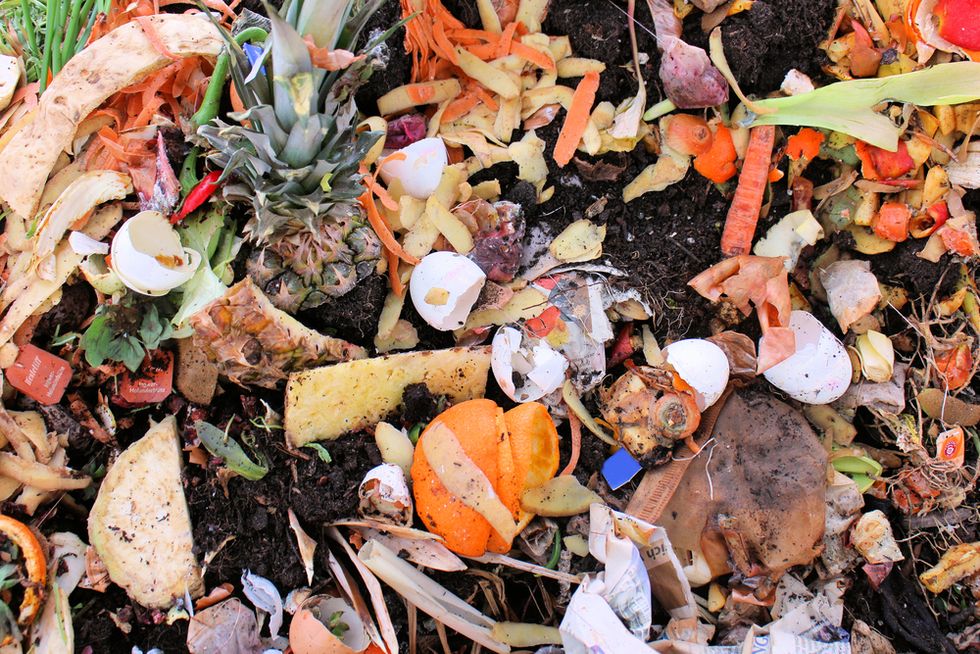 Photo courtesy of Shutterstock
"It's the next new thing in terms of municipal waste handling in the 21st century," says Eric Goldstein, a senior attorney with the Natural Resources Defense Council (NRDC) in New York. "Right now ... there are over 150 communities throughout the United States that are collecting organics at curbside. It's a national trend. It's revolutionary."
Many of those programs are still voluntary, and the bulk are in small cities and towns. But larger cities in North America—including San Francisco, Seattle, San Antonio, Toronto and Portland, OR—are moving rapidly ahead. And municipal composting efforts in many European countries are far advanced and steadily growing. In 2011, the 27 states in the European Union composted on average 15 percent of municipal waste, with Austria composting 34 percent, the Netherlands 28 percent, and countries like France, Spain, and Germany each composting about 18 percent.
In New York Mayor Michael Bloomberg's State of the City address this past February, he called food waste the city's "final recycling frontier," which holds true for the rest of the U.S., as well. According to the U.S. Environmental Protection Agency (EPA), the country as a whole produced 250 million tons of municipal solid waste in 2011, and compostable materials—which include yard trimmings, paper and paperboard, as well as food waste—comprised the largest component of that at 56 percent.
The environmental benefits of recycling that material are significant. As it decomposes in landfills, food and other organic waste produces methane, a greenhouse gas 25 times more powerful than carbon dioxide. According to the EPA, landfills are the third-largest source of methane in the U.S., behind industry and agriculture. Shipping waste long distances from cities to landfills produces even more greenhouse gas emissions. Composting, meanwhile, takes that waste and turns it into something usable: fertilizer. If cities like New York want to cut emissions, cut waste and even cut costs, composting is a proven way to go about it.
The good news is that of the 87 million tons of "recovered" waste in the U.S. in 2011—meaning waste that did not end up in a landfill—organic material accounted for the largest component. But most of that material was paper; food waste accounted for only 1.6 percent of the recovered total versus 14.5 percent of the generated total, the EPA says. The U.S. does a reasonably good job of keeping paper out of landfills thanks to recycling programs, but food almost universally still goes where it shouldn't.
New York is trying to change that with its new program. So far, compost collection is being offered in one neighborhood of Staten Island, and city officials say that after only a few months participation rates are above 40 percent. Contamination rates—meaning, the presence of non-compostable material in the compost bin—are at 1 percent or below. In Manhattan, about 100 city schools are also participating, with a goal of spreading to 400 schools by the end of the year. Two high-rise apartment buildings are included as well, with more to follow this fall.
"We spend over $85 million a year sending food waste to landfills, so there's a major cost," said Ron Gonen, New York City's deputy commissioner for recycling and sustainability, who heads up the composting program. He said so far the program is collecting at a pace on the order of "tens of thousands" of tons per year. "It's growing every day," said Gonen. "We're going to continue to expand, in all five boroughs." By 2014 the program will cover around 100,000 households.
Goldstein says that if New York demonstrates the economic and logistical viability of its program it could be a "bellwether" in the push to expand composting nationwide. But a few cities—in general, the green, progressive ones you might expect—have already taken the lead over the last decade. San Francisco—the second-densest large city in the U.S. after New York—is considered the frontrunner, thanks to legislation in 2002 that set a goal of diverting 75 percent of its waste from landfills by 2010 and achieving "zero waste" by 2020.
San Francisco's composting program began with restaurants and other businesses, and in 2009 an ordinance made it mandatory for all residents to separate organic material for collection. Instead of two bins to set out on the curb for trash and recyclables, there are now three. The green compost bins can include all food scraps, no matter how spoiled, along with vegetation from yards like leaves and flowers, and solid paper products including coffee cups, waxy paper, milk cartons and related items. The city collected its millionth ton of organic waste for composting last fall. Overall, 78 percent of San Francisco's waste is now diverted from landfills.
Seattle has a similar program, as does Portland; the latter went a step further and scaled back residential garbage pickup to only once every two weeks when the weekly compost pickup began.
Despite some early resistance and confusion—much of it related to every-other-week garbage collection—a survey in Portland found that 66 percent of residents rated the city's recycling and composting program as "good" or "very good" after one year, with another 20 percent neutral on the issue. Along with the positive reception, there has been clear progress. In the 12-month period prior to the October 2011 start of the composting program, 94,100 tons of garbage were collected. In the following 12 months, that figure fell to 58,300 tons. Meanwhile, collections of compostable material rose from 30,600 tons to 85,400 tons, a figure that includes yard waste.
There were questions early on about vermin, but moving the scraps from the garbage can to the compost bin doesn't change much, said Bruce Walker, Portland's solid waste and recycling program manager. The organic material in Portland travels to one of two facilities that are 15 and 90 miles from downtown. Walker said regular garbage gets trucked much farther, about 140 miles from the city, so the environmental savings are compounded. The composting facilities produce fertilizers that are sold to farms, tree nurseries and to the general public.
In Europe, the European Landfill Directive requires European Union member states to reduce "biodegradable municipal waste" sent to landfills to 35 percent of 1995 amounts by 2016. In the EU, 40 percent of waste is now composted or recycled, with 23 percent incinerated and 37 percent landfilled. Norway, Sweden, the Netherlands, Denmark, Switzerland, Belgium, Austria and Germany now send less than 3 percent of their waste to landfills. Copenhagen, one of the greenest cities in the world, stopped sending organic waste to landfills as far back as 1990.
Other European countries lag far behind, with Greece and eastern European nations such as Bulgaria, Lithuania and Romania doing almost no composting. Still, some of the swiftest progress has come from some former eastern bloc countries like Estonia. The capital city of Talinn has been collecting biodegradable kitchen waste separately since 2007, part of the reason why landfill rates in Estonia have dropped from close to 100 percent 15 years ago to below 60 percent today. Europe is also much farther along than the U.S. in using anaerobic digestion, a process that takes organic waste and turns it into biogas, which can be used to generate electricity.
In New York, the question of where to bring collected organic material is unresolved. The city has a request for proposals to build a new composting plant in or close to the city, but until then there aren't nearby facilities that can handle large amounts. Goldstein, of the NRDC, said that one possibility is to site facilities outside the city or partner with farms in the Catskills—sending the material 75 miles or so is still a huge improvement on the current system, which involves exporting to landfills sometimes many states and hundreds of miles away.
"The city has been really slow in terms of going through this process," said Christine Datz-Romero, co-founder and executive director of the Lower East Side Ecology Center, which has worked on composting in New York for two decades. "If we wanted a facility here in New York City we should have started that process a long time ago. For building a facility we're talking years. I see that as the biggest stumbling block because right now we have very limited capacity."
Should New York and numerous other U.S. cities and towns establish vibrant composting programs, the environmental benefits will be enormous, advocates say. "Ultimately, there's going to be very little left in the traditional garbage can," said Goldstein.
Visit EcoWatch's FOOD page for more related news on this topic.
——–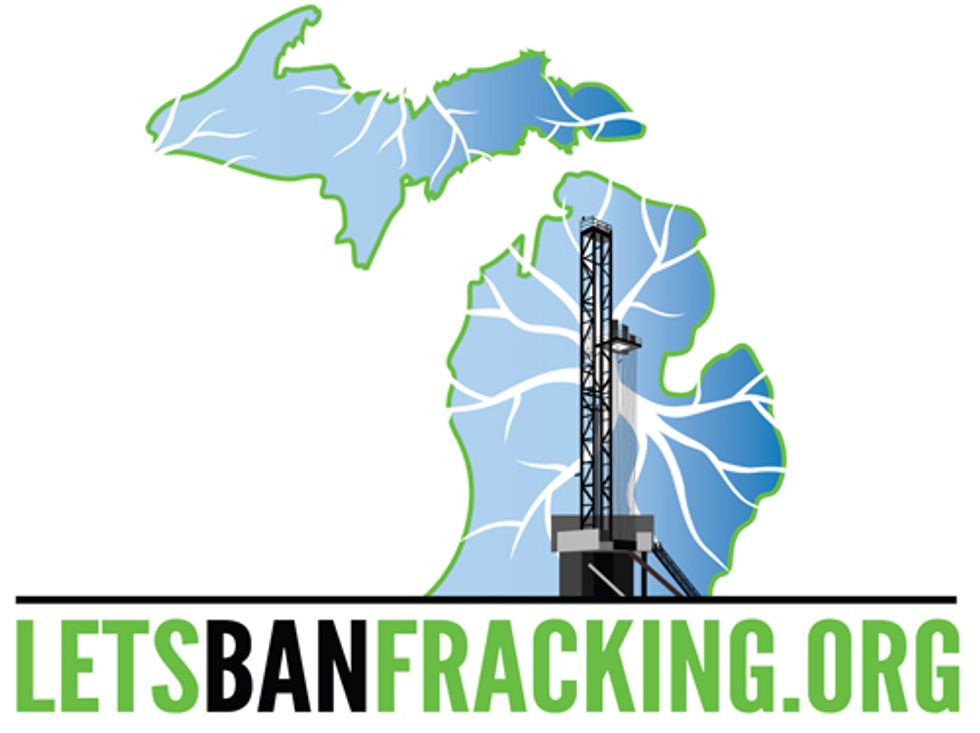 The Committee to Ban Fracking in Michigan, a citizen-led ballot initiative group seeking to ban fracking announces its campaign kick off events in communities around the state. Volunteer circulators begin collecting signatures starting April 12 for a six-month period to qualify for the 2014 ballot.
The kick off events are for volunteers and people interested in volunteering for the campaign to obtain petitions and campaign literature, learn about the ballot initiative process and how to circulate petitions, and begin organizing in their community.
"In Michigan we have the constitutional power to write our own laws through a ballot initiative and put them before the voters. Other states threatened by fracking, such as New York and Pennsylvania, do not have this option," said LuAnne Kozma, campaign director.
Michigan is already being fracked by the gas industry, with 52 wells permitted so far. Toxic chemicals, many of them known carcinogens, sand and water are used in the process to fracture the targeted rock formations, permanently destroying millions of gallons of water by turning them into frack wastes.
"Drilling and fracking create a tremendous amount of solid, liquid and gaseous wastes, polluting the land, water and air. Wastes and pollution are integral to the process, not an accident or a possibility, but a surety," said Kozma. In Michigan, drill cuttings and muds are brought to landfills or solidified on site. Frack well wastes are brought to injection wells. Some of the frack wastes stay inside the frack well, transforming it into its own toxic waste well. Wastes from frack wells in one county are brought to injection wells in other locations. For example, some frack wastes generated in Kalkaska County are brought to an injection well in Grand Traverse County. Michigan has over 1,000 injection wells and more are being proposed and approved.
The frack industry is using more groundwater per well in Michigan than any other state, with wells by Encana using 21 million gallons per frack and the company's newest applications proposing to use over 31 million gallons per frack. The industry and regulators have widely used the figure 5 million gallons. Higher amounts of water mean Michigan is also creating much more frack waste. Michigan depends on clean ground water for drinking, with more private wells than any other state. Michigan is also connected to four of the Great Lakes and its water flows directly into them.
"It is a dire situation, but there is something we can do," noted Kozma. "As a grassroots movement of people, building signature by signature, circulator by circulator, we are the largest, on-the-ground force in the state working to ban fracking," said Kozma. "Committee to Ban Fracking volunteers are devoted to making change, getting onto public sidewalks, in parks, at farmers' markets and other public gatherings to raise awareness face-to-face, voter-to-voter, while collecting signatures for a ban on fracking."
"Fracking is a hot issue in Oakland County, where Waterford Township has recently allowed gas drilling and West Bloomfield has banned it temporarily. We need hundreds of people in the Detroit area to be a part of the ballot initiative and circulate petitions," said Todd Bazzett, the Committee's coordinator for the Detroit area. "If you miss a kick off, you can help us plan an organizing event in your community."
The Committee to Ban Fracking in Michigan changed its petition in 2013 from a constitutional amendment proposal to a "legislative proposal." The Committee starts collecting signatures April 12. The legislative proposal would amend the state statute, not the state constitution, and requires 258,088 signatures. When the signatures are validated, the proposal goes first to the legislature, which must pass or reject it with no changes. If the House and Senate vote no or take no action within 40 days, the proposal automatically goes to a vote of the people in the November 2014 election. Once the ballot proposal wins, the new law cannot be vetoed. The legislature can only amend it with a ¾ vote in both houses.
In addition to banning horizontal hydraulic fracturing, the Committee to Ban Fracking in Michigan's ballot proposal would ban frack wastes and eliminate the state's policy codified into current law "fostering" the oil-gas industry and "maximizing production"—"frack, baby, frack" language that provides the fossil fuel industry with uncommon special interest protection.
"Only a ban can protect us from the significant harms of fracking," said Peggy Case, president of Michigan Citizens for Water Conservation and a member of the Committee to Ban Fracking in Michigan. "The language in our current law favoring the fossil fuel industry makes it inevitable that Michigan contributes mercilessly to global climate change and serious pollution of the Great Lakes, 20 percent of the world's fresh water. It is urgent that we move to alternative forms of energy to protect future generations."
The Committee to Ban Fracking in Michigan is part of a worldwide movement to ban fracking. France and Bulgaria have banned fracking, as have numerous communities in New York, Pennsylvania, Ohio and Colorado. Vermont became the first state to ban fracking in 2012. Michigan's citizen effort has the support of Vermont legislators Tony Klein and Peter Peltz who sponsored the Vermont ban bill. "It was clear in Vermont the dangers of fracking to our natural resources. In Vermont our natural resources are our number one priority, so it was not a difficult thing to prohibit fracking forever. It passed overwhelmingly," said Klein. "We encourage all states, when they have the chance to do so, to ban this dangerous technique."
The entire Lower Peninsula now stands to be fracked. Devon Energy is fracking in the A-1 carbonate layers in Crawford, Ogemaw and Roscommon Counties in the middle of the state. Encana is drilling the Utica-Collingwood shale in state forests and on private land and plans to drill and frack 500 to 1,700 sites. Densely populated areas such as Ann Arbor, Oakland County and the Grand Rapids region—communities historically not affected by oil and gas drilling within their borders—are now facing the threat.
To volunteer to circulate petitions, donate or endorse the campaign, visit Committee to Ban Fracking in Michigan.
Kick Off Events (in chronological order):
WARREN
March 30, 1 - 3 p.m.
Tracy's Corner Café
29200 Hoover Rd.
 
TRAVERSE CITY
April 2, 7 - 8 p.m.
Horizon Books, lower level
243 E Front St.
 
BOYNE CITY
April 4, 6 - 8 p.m.
Water Street Café
113 Water St.
 
FRANKENMUTH
April 5, 1:30 - 3 p.m.
Harvest Coffeehouse & Beanery
626 S Main St.
 
LAPEER
April 5, 5:30 - 7 p.m.
River Street Music & Café
454 W Nepessing St.
 
LANSING
April 6, 9 - 10 a.m.
The Avenue Café
2021 E Michigan Ave.
 
HOPKINS
April 6, 10 a.m. - Noon
118 E Main St.
 
DETROIT
April 6, 11 a.m. - 1 p.m.
Ce Ce's Pub
1426 Bagley Ave.
 
KALAMAZOO
April 6, 1 - 2 p.m.
Bronson Park (rain location: Kalamazoo Public Library)
200 S Rose St.
 
FERNDALE
April 6, 3 - 5 p.m.
Ferndale Library
222 E 9 Mile Rd.
 
GRAND RAPIDS
April 6, 6:30 - 8 p.m.
Kava House Café
1445 Lake Dr. SE
 
ALLEGAN
April 9, 3 - 4 p.m.
Allegan District Library
331 Hubbard St.
 
MOUNT PLEASANT
April 7, 1 - 2:30 p.m.
Kaya Coffee House
1029 South University
 
FENNVILLE
April 8, 11 a.m. - 3 p.m.
Fennville Library, lower level
400 W Main St.
 
DOUGLAS
April 9, 11 a.m. - 3 p.m.
Douglas Library Annex
and The Well Read Bookstore
137 Center St.
 
PETOSKEY
April 9, 6 - 7 p.m.
Roast and Toast Café
309 E Lake St.
 
ANN ARBOR
April 10, 6 - 9 p.m.
Arbor Brewing Company, Tap Room
114 East Washington St.
 
SAUGATUCK
April 11, 6 - 9 p.m.
Uncommon Grounds Cafe
127 Hoffman St.
 
HARRISVILLE
April 11, 7 - 8 p.m.
Harrisville Holistic Center
220 N State St.
 
MARQUETTE
April 12, 10 a.m. - Noon
Northern Michigan University Campus
 7-9 p.m.
Ore Dock Brewing Company
114 W Spring St.
 
SOUTH HAVEN
April 12, 6:45 p.m.
Before the showing of Gasland
Foundry Hall
422 Eagle St.
 
HASTINGS
April 12, 7 - 8:30 p.m.
Thomas Jefferson Hall
328 S. Jefferson
 
MANISTEE
April 13, 11 a.m. - 1 p.m.
164 Harrison St.
Visit EcoWatch's FRACKING page for more related news on this topic.
——–
Sign the petition today, telling President Obama to enact an immediate fracking moratorium: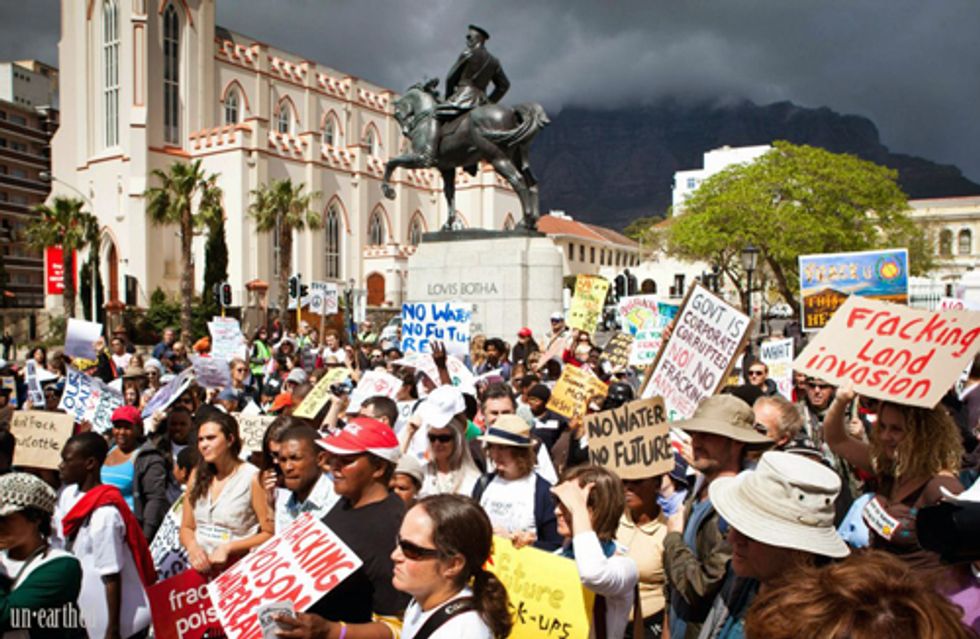 Today people from all over the world hosted events to ban fracking. From New York to South Africa, people gathered to protect human health and the environment from the risks associated with fracking. Global Frackdown is the first coordinated international day of action against fracking that united activists on five continents at more than 150 events calling for a ban on fracking in their communities and to advocate for the development of clean, sustainable energy solutions.
"Fracking and drilling for oil and gas poses a direct and immediate threat to our drinking water, our health and our communities," said Wenonah Hauter, executive Director of Food & Water Watch. "While big oil and gas continues its spin campaign to obscure the dangers of this toxic, polluting process, people around the world are taking a stand through the Global Frackdown."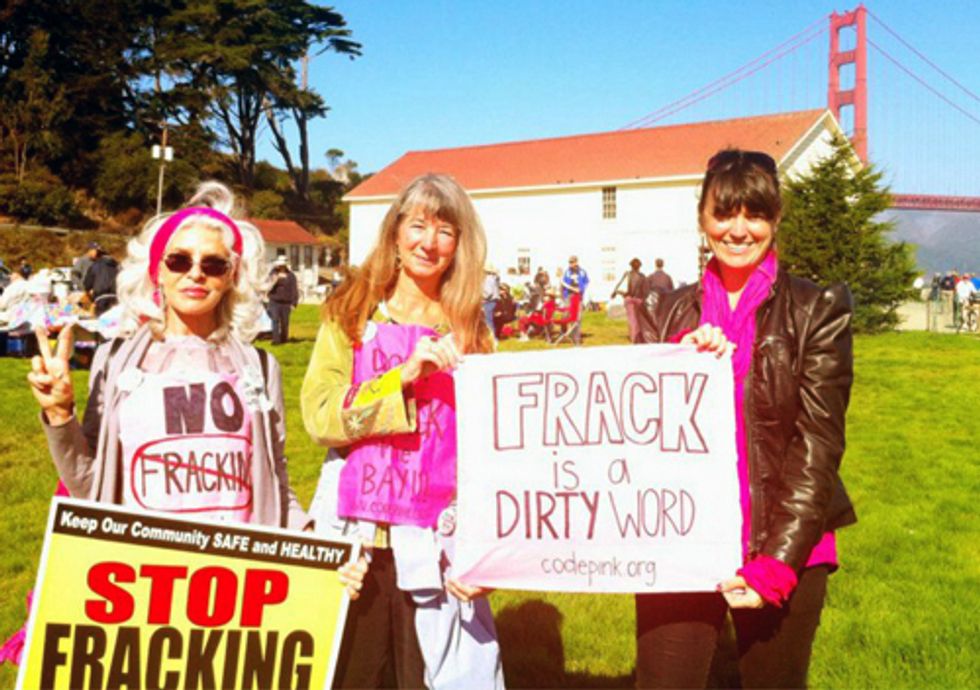 Major actions overseas included a rally on the steps of the European Parliament; demonstrations in front of Parliament buildings in South Africa, Bulgaria and the Czech republic; marches in Argentina; grassroots activities in Paris and the south of France, and screenings of the film Gasland in Spain.
"The events taking place around the world as part of the Global Frackdown prove that people are tired of the lies from big oil and gas," said Jim Dean, chair of Democracy for America. "Time and again, studies prove fracking is unsafe—for our communities, our families and our country. We've learned our lessons from Love Canal and the Horizon oil spill—when money is involved, corporations lie to the people to keep their profits up. It's time to end the lies." 
"Fracking operations are contaminating drinking water sources and making nearby families sick," added John Rumpler, senior attorney for Environment America. "This dirty drilling has to stop."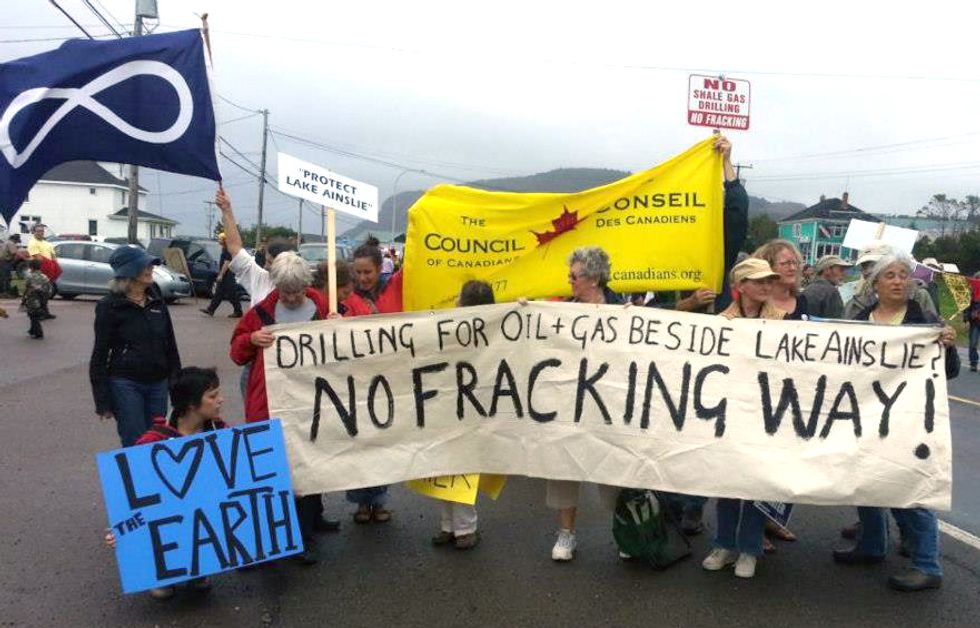 "This past summer, we've gotten one stark reminder after another of the human and economic costs of a climate system starting to spiral out of control," said Erich Pica, president of Friends of the Earth. "Substituting one bad fossil for another doesn't solve the climate crisis. But the good news is that communities all over the world aren't buying what the oil and gas industry is selling—more extreme energy fueling more extreme weather. They're organizing inspiring actions all over the world to turn up the heat on the fossil fuel industry and its bought-and-paid-for political cronies."
"Big oil's plan to frack the world will keep us addicted to fossil fuels at a critical moment when we need to immediately transition to clean, safe, renewable energy," concluded Duncan Meisel, anti-fracking campaigner at 350.org. "This is the world's richest industry, and they're doing all they can to buy off politicians in order to frack our communities, but this event shows that the entire world is ready to stand up to stop them."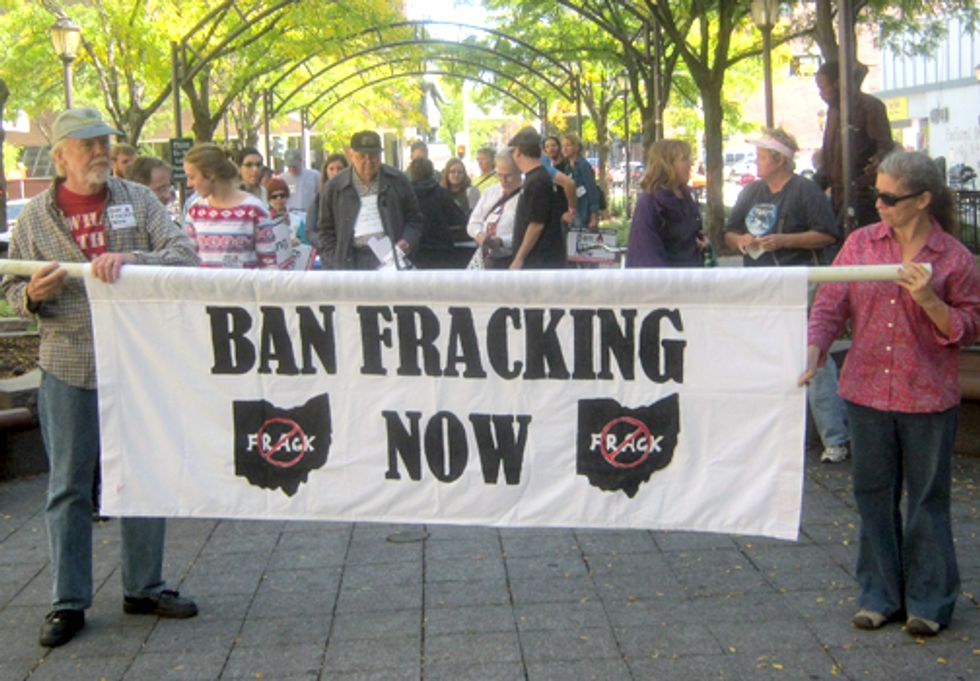 At the Cincinnati Frackdown in Ohio, 50 people met in Piatt Park to hear speakers and take action on the local, state and federal levels. Among the speakers were Cincinnati Vice Mayor Roxanne Qualls, Cincinnati Council Members Laure Quinlivan and Wendell Young, Father Neil Pezzulo of Glenmary Home Missioners, Kate Melges of Greenpeace and Alison Auciello of Food & Water Watch. Speakers conveyed the need to be good stewards of the Earth, frustration with state laws that make it difficult for local communities to protect human health and safety, and the need for a statewide ban on fracking. After the rally, protestors marched to Cincinnati City Hall to recognize the strong stand Cincinnati has taken against fracking.
Photos are still coming in from this tremendous day of action across the globe to ban fracking.
Visit EcoWatch's FRACKING page for more related news on this topic.