Gulf Change, a group of Gulf Coast mothers, grandmothers and concerned citizens, is calling for an immediate Congressional hearing concerning actions needed in order to address the continuing health effects of the BP Oil drilling disaster.
More than 2,400 cases of chemical poisoning have been reported across the Gulf Coast, with symptoms including headaches, respiratory illness, pulmonary issues, seizures, gastrointestinal problems, rectal bleeding, skin and eye ailments, memory loss and neurological issues.
Clean-up workers, fishermen and coastal residents have reported symptoms and proper diagnosis and care is urgently needed, particularly for children who are suffering the effects of oil and dispersant exposure.
Kindra Arnesen, resident of South Plaquemines Parish in South Louisiana describes the children's health crisis in her community:
"...we have 388 children in the local elementary school and in that school we have sick kids all over the place, they're suffering from upper respiratory infections, severe asthma, all the sudden, in kids that had nothing wrong with them before. Skin conditions, lesions in between their fingers, around their mouths. As of April 2011 we had a closet full of nebulizers to help them breath. A closet full of nebulizers for a school with 388 kids. Where's the red flag?"
A recently released video by the Louisiana Environmental Action Network (LEAN), highlights the health struggles of several coastal families. One mother of three, Julie Creppel, of Burras, La., estimates her son has been on antibiotics ten or eleven times in the two years since the disaster and her 12-year old daughter's health has also suffered:
"They say she's got acute sinusitis....I've had to pick her up multiple times from school since the spill. I never picked her up before. She's stayed sick and had to miss more school now than she ever has before...and her stomach, it bothers her...she swears it's killing her."
In addition to their call for an immediate Congressional hearing, Gulf Coast activists are calling for health care for effected clean-up workers and residents and for the Gulf Coast Claims Facility, the victim's compensation fund paid for by BP and administered by Kenneth Feinberg, to immediately pay all health-related and economic claims.
Click here and here to be a hero to children on the Gulf Coast today.
For more information, click here.
EcoWatch Daily Newsletter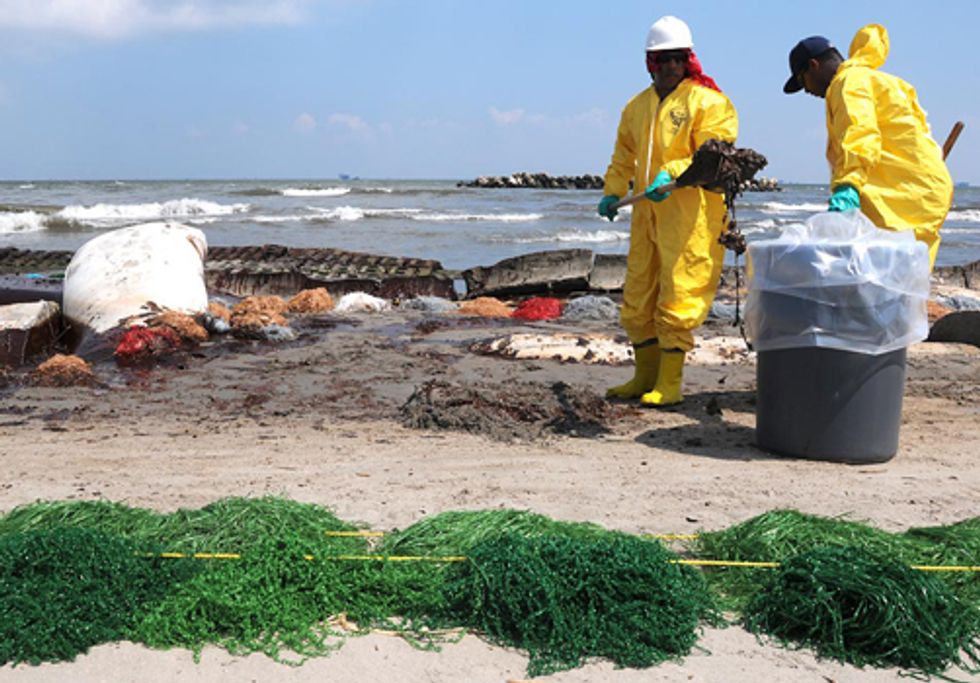 By Tammy Herrington
During the summer of 2010, the nation watched in horror as gallons of oil spewed into the Gulf of Mexico. While many outside the Gulf region are hearing that we are back to normal, we continue to find tarballs on our beaches, mats of tar beneath the surface of local waters and fish with lesions, leading to questions about long-term impacts.
The RESTORE Act, or Senate Bill 1400, was introduced by Gulf Coast Senators as an effort to send 80 percent of the fines BP will pay from this disaster back to the Gulf Coast for environmental and economic recovery. It has passed through committee, but we now need it to pass a vote of the full Senate. Sending this money to the region that suffered can make a huge impact on Gulf economies and make the area more resilient to future disasters. The Gulf produces nearly half of the U.S. domestic energy supply, holds seven of the nation's ten largest ports, and produces two-thirds of the nation's shrimp and oysters. The health of these resources truly impacts the entire nation.
What we need from you:
Mobile Baykeeper, in conjunction with the Women of the Storm, needs friends in non-Gulf Coast states to fax and/or phone their two U.S. senators. Ask for the staffer on environmental or governmental affairs, and urge the senator to support the RESTORE Act. You can find the names and contact information from Senators in all 50 states here. Our goal is to make contact with Senators by Feb. 3, 2012.
Message:
The Gulf Coast provides energy independence, commerce, ecotourism, and national security to the entire nation. Restoration of Gulf resources is critical for the region as well as the nation.
If most of the fine dollars are not designated to environmental and economic recovery of the Gulf Coast, they will disappear into the federal budget. Applying BP fine dollars to Gulf restoration will create thousands of jobs and make the area more resilient to future disasters.
When a disaster of this magnitude strikes, the entire nation must support the affected area. The Gulf Coast's environment, economy, and communities bore the brunt of this disaster, and these fines should go back to the Gulf Coast to fix what has been broken. The next disaster could be in that Senator's state. We would want citizens of that state to get fair and reasonable support.
Sample content for fax or phone call:
"Senator (NAME), I support the RESTORE Act because I know the importance of the Gulf Coast to (Senator's state), the U.S. and around the world. I hope you will support it too." Then add a version of the message points above.
Feedback:
Email me at [email protected] the states in which you have made contact with friends to call their senators and the information you and your friends have received about senatorial positions on the RESTORE Act so we can keep track of our activity. Thank you for your help. We are grateful to have your support and hopeful that we can work together to pass the RESTORE Act in 2012.
For more information, click here.
waterlust.com / @tulasendlesssummer_sierra .
Each product featured here has been independently selected by the writer. If you make a purchase using the links included, we may earn commission.
The bright patterns and recognizable designs of Waterlust's activewear aren't just for show. In fact, they're meant to promote the conversation around sustainability and give back to the ocean science and conservation community.
Each design is paired with a research lab, nonprofit, or education organization that has high intellectual merit and the potential to move the needle in its respective field. For each product sold, Waterlust donates 10% of profits to these conservation partners.
Eye-Catching Designs Made from Recycled Plastic Bottles
waterlust.com / @abamabam
The company sells a range of eco-friendly items like leggings, rash guards, and board shorts that are made using recycled post-consumer plastic bottles. There are currently 16 causes represented by distinct marine-life patterns, from whale shark research and invasive lionfish removal to sockeye salmon monitoring and abalone restoration.

One such organization is Get Inspired, a nonprofit that specializes in ocean restoration and environmental education. Get Inspired founder, marine biologist Nancy Caruso, says supporting on-the-ground efforts is one thing that sets Waterlust apart, like their apparel line that supports Get Inspired abalone restoration programs.
"All of us [conservation partners] are doing something," Caruso said. "We're not putting up exhibits and talking about it — although that is important — we're in the field."
Waterlust not only helps its conservation partners financially so they can continue their important work. It also helps them get the word out about what they're doing, whether that's through social media spotlights, photo and video projects, or the informative note card that comes with each piece of apparel.
"They're doing their part for sure, pushing the information out across all of their channels, and I think that's what makes them so interesting," Caruso said.
And then there are the clothes, which speak for themselves.
Advocate Apparel to Start Conversations About Conservation
waterlust.com / @oceanraysphotography
Waterlust's concept of "advocate apparel" encourages people to see getting dressed every day as an opportunity to not only express their individuality and style, but also to advance the conversation around marine science. By infusing science into clothing, people can visually represent species and ecosystems in need of advocacy — something that, more often than not, leads to a teaching moment.

"When people wear Waterlust gear, it's just a matter of time before somebody asks them about the bright, funky designs," said Waterlust's CEO, Patrick Rynne. "That moment is incredibly special, because it creates an intimate opportunity for the wearer to share what they've learned with another."
The idea for the company came to Rynne when he was a Ph.D. student in marine science.
"I was surrounded by incredible people that were discovering fascinating things but noticed that often their work wasn't reaching the general public in creative and engaging ways," he said. "That seemed like a missed opportunity with big implications."
Waterlust initially focused on conventional media, like film and photography, to promote ocean science, but the team quickly realized engagement on social media didn't translate to action or even knowledge sharing offscreen.
Rynne also saw the "in one ear, out the other" issue in the classroom — if students didn't repeatedly engage with the topics they learned, they'd quickly forget them.
"We decided that if we truly wanted to achieve our goal of bringing science into people's lives and have it stick, it would need to be through a process that is frequently repeated, fun, and functional," Rynne said. "That's when we thought about clothing."
Support Marine Research and Sustainability in Style
To date, Waterlust has sold tens of thousands of pieces of apparel in over 100 countries, and the interactions its products have sparked have had clear implications for furthering science communication.
For Caruso alone, it's led to opportunities to share her abalone restoration methods with communities far and wide.
"It moves my small little world of what I'm doing here in Orange County, California, across the entire globe," she said. "That's one of the beautiful things about our partnership."
Check out all of the different eco-conscious apparel options available from Waterlust to help promote ocean conservation.
Melissa Smith is an avid writer, scuba diver, backpacker, and all-around outdoor enthusiast. She graduated from the University of Florida with degrees in journalism and sustainable studies. Before joining EcoWatch, Melissa worked as the managing editor of Scuba Diving magazine and the communications manager of The Ocean Agency, a non-profit that's featured in the Emmy award-winning documentary Chasing Coral.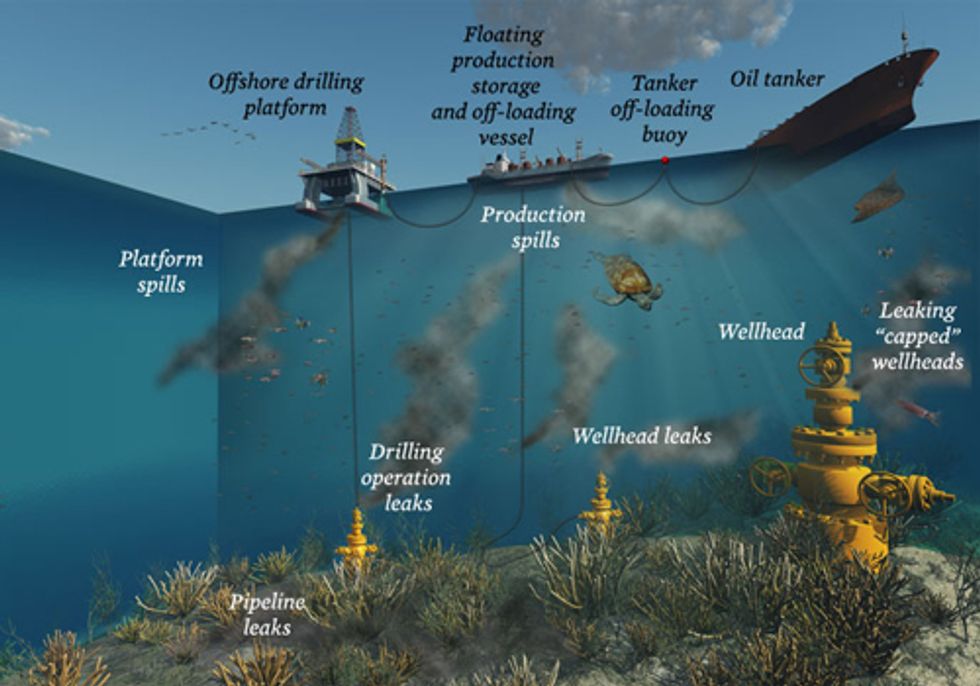 The Bureau of Ocean Energy Management (BOEM) paved the way to opening roughly 63 million acres in the Central Gulf of Mexico Jan. 11 by issuing its Final Supplemental Environmental Impact Statement for the Central Gulf lease sale 216/222 to new oil and gas exploration and development. This area notably includes the site of British Petroleum's (BP) massive 2010 oil spill.
"The Central Gulf of Mexico is literally a disaster zone, with oil plumes and dispersants still in the water, and marine life still trying to recover. We haven't even fully assessed the damage done by the last spill. Allowing more drilling there is like opening up a crime scene before you have all the evidence and while the perpetrator is still at large," said Jacqueline Savitz, senior campaign director for international ocean conservation group Oceana. "We need to understand what happened, how it affected the ecosystem and how we can prevent it from happening again before we reopen for business," Savitz added.
For more specifics about shortcomings in drilling safety requirements, see the new Oceana analysis, False Sense of Safety.
Central Gulf waters are important habitat for bluefin and yellowfin tuna, red snapper, red drum and gulf sturgeon, in addition to numerous marine mammals. Many of these species are already struggling. Gulf sturgeon are endangered and bluefin tuna have been severely overfished. Until the status of these species is confirmed, it's impossible to determine the impacts of this lease sale, a step required by law prior to the sale.
Many of the existing leases already purchased in the Gulf have yet to be tapped for oil. According to the U.S. Department of Interior, 76 percent of leases in the Central Gulf remained inactive as of October 2011 The companies holding these leases have not yet produced any oil from them. In addition, BOEM just sold off many more leases in the Western Gulf last month.
For these reasons, Oceana urges the Obama administration to more fully consider the impacts of the Deepwater Horizon spill prior to moving forward with a proposed Central Gulf lease sale.
For more information, click here.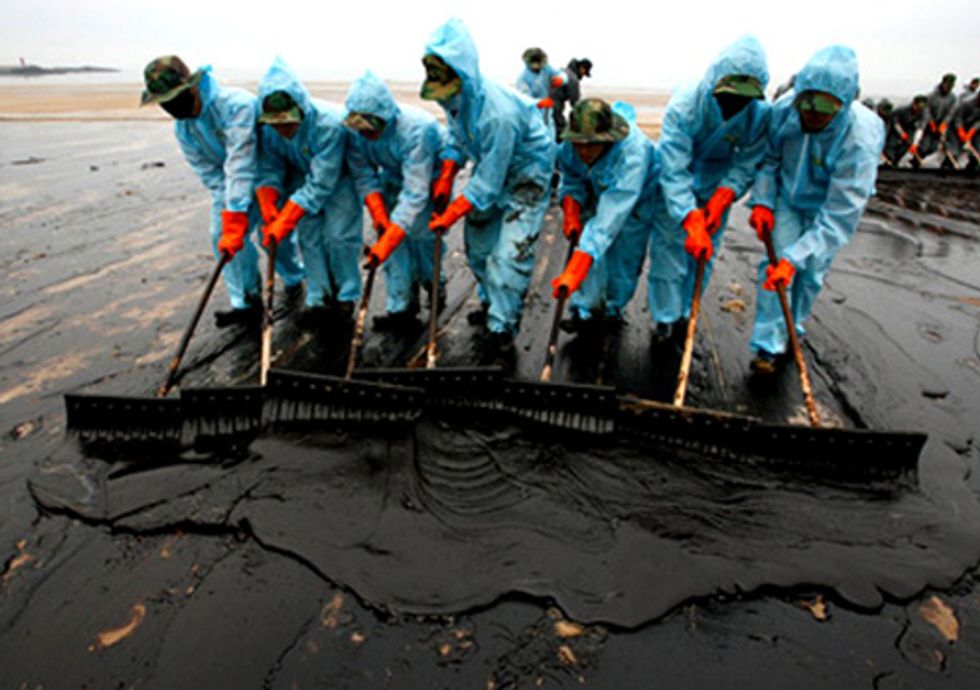 By Whit Remer
There is one unanswered wish many residents along the Gulf Coast are still hoping for this new year—passage of the RESTORE Act (Resources and Ecosystems Sustainability, Tourist, Opportunities and Revived Economy of the Gulf Coast Act). As Congress wrapped up 2011, there was talk all along the Gulf Coast and Washington, D.C. about the bill. And the buzz is resounding. Thanks to the efforts of citizens and organizations working to restore the Gulf Coast, members of Congress from across the region are returning to Washington, D.C. determined to pass the RESTORE Act early this year.
Over the last few months, the RESTORE Act has been praised for its bipartisan support and commitment to restoring the environment and economies of the Gulf that were damaged by the British Petroleum (BP) oil disaster. In December, over a dozen prominent environmental groups sent a letter to Senate leadership urging passage of the RESTORE Act. The bill is supported across the Gulf, with a recent poll finding that 84 percent of Florida voters support sending Clean Water Act penalties back to the Gulf. It's clear that residents of the Gulf Coast, environmental organizations, economic developers and businesses large and small support sending BP penalty money back to the Gulf.
With passage through the Senate Environmental and Public Works Committee and a productive hearing in the House Transportation and Infrastructure Committee, the bill enjoys success both on the ground in the Gulf and in the halls of Washington, D.C. With all this momentum, the RESTORE Act is primed for passage in 2012.
Moving forward, Gulf Coast congressional members will be working hard to keep the RESTORE Act on the radar of House and Senate leadership. Gulf Coast members must also work with their colleagues from around the country by reminding them that the Gulf Coast is a place of national significance. The region serves as an important commercial trade route, hosts extensive oil and gas infrastructure, and is home to 33 percent of the nation's seafood, hundreds of species of wildlife, and migratory waterfowl.
The important take-away is this—the RESTORE Act is alive and well. But for the RESTORE Act to become a law, we must continue to remind Congress how important it is to return BP oil spill money to the injured Gulf Coast area. Help Congress answer your wish for the Gulf by writing your congressional members and letting them know you support the RESTORE Act.
For more information, click here.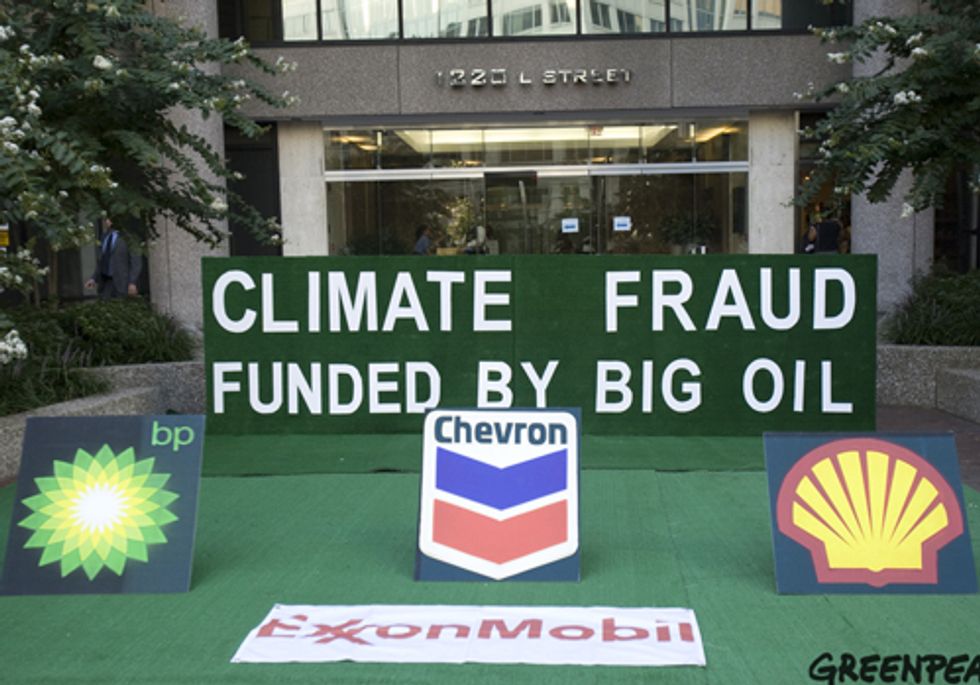 By Kert Davies
Recently, Greenpeace got a rare look behind the curtain at how Big Oil stages citizen support for huge oil companies, when activists got inside a television commercial shoot in Washington, D.C. The American Petroleum Institute (API), and their public relations firm Edelman, were filming a new series of television commercials that we learned API plans to air nationally on CNN starting in January. The ads, aimed at the 2012 elections, will aim to demonstrate authentic citizen support for the oil industry's agenda.
Greenpeace disrupted API's astroturf commercial plans by not following instructions and going off script, declaring support for a clean energy future and demanding an end to political interference by the oil industry's lobbyists and PR firms.
Inside API's Secretive Commercial Shoot
Details of the CNN January ad campaign as described by API and other clips are posted below.
Activists (or citizens) were led through the wardrobe and makeup process, approved for looks by representatives from API and Edelman Blue Advertising, before waiting their turns to go on set. Participants were required to be registered voters, explained an API representative, to protect API from opponents who may inquire if actors stating "I vote" are actually eligible to do so. Other recruited actors were being watched by the industry representatives during their takes, repeating lines like "That (energy independence) will come from our own energy resources—like oil and natural gas."
Late in the morning, the API Edelman team filmed three unexpectedly honest 'citizens' who made clear the script did not represent their real opinions on energy. Greenpeace researcher Connor Gibson of the PolluterWatch project repeated their scripted line, "I vote," then declared, "But I am a clean energy citizen. I will not believe the lies and influence peddling of the American Petroleum Institute, which would leave you to believe that I am a citizen that is okay with giving my tax payer dollars to billionaires and millionaires that run oil companies, the most profitable industry on the planet." Gibson stressed movement away from a "perpetual petroleum future" and finished his speech by telling Edelman Blue President Robert McKernan "we need clean sources of energy, like wind and solar." Listen to Gibson's full declaration and read the transcript, below.
In addition to Gibson, two other participants refused to recite API's script. Peter Roquemore of the Sierra Student Coalition and Gabe Elsner, deputy director of the Checks and Balances Project showed up to the shoot with the expectation that they would provide their own assessments of American energy. Both decided not to participate once they were fed oil industry talking points on camera.
API's New Vote 4 Energy Ad Campaign Exposed
In a taped conversation with the activists, an API communications advisor described the upcoming Vote 4 Energy advertising package in great detail. "This is scheduled to launch in January in a commercial on CNN, so it'll be a national spot. API—American Petroleum Institute—bought into an election package, so anytime CNN does anything like covering the presidential debates, cover a caucus, anything like that, those will be the kinds of programs where the commercial is seen," the advisor said. The commercial debuts Jan. 1. How much the deal with CNN cost remains an open question.
The API rep also said, "we are shooting a ton of people so, you know, you may make the cut, you may not, it all depends on the demographic." Earlier in the morning, API agents were overheard expressing a need for more people of color in the commercials, noting that black and Asian demographics tend to disagree with Big Oil's warped political positions. API has been caught in the past photo-shopping print ads to include racial minorities in purchased iStock Photo to make their already fabricated supporters appear more diverse.
API Busted—Staging Grassroots Support for Dirty Energy
More than two years ago, Greenpeace obtained a confidential memo from American Petroleum Institute CEO Jack Gerard, asking API member oil companies to support a campaign to fake a grassroots movement called "Energy Citizens." Under the guise of this astroturf group, Big Oil would pay for public events similar to Tea Party rallies in support of their absurd wishlist—killing global warming legislation, unrestricted offshore oil drilling, increased tar sands development through the Keystone XL pipeline, expanded hydraulic fracturing, and no form of accountability for their immense contributions to climate change.
Luckily, the leaked memo was revealed on the front page of the Financial Times and covered in the Washington Post, Guardian and on Huffington Post. The New York Times called it "Another Astroturf Campaign," revealing what a fluke Energy Citizens was before Chevron had the chance to bus its employees to API's first round of staged rallies, the majority of which were organized by oil lobbyists. Greenpeace called attention to API's tactic by installing astroturf on the front entrance of API's Washington, D.C. headquarters, featuring the logos of its largest members—ExxonMobil, Chevron, Shell and British Petroleum and the banner CLIMATE FRAUD: FUNDED BY BIG OIL.
Given the nature of API's newest commercial shoot, its Energy Citizens rallies where participants had to be instructed to clap (see Turf Wars), and its repeated use of iStock Photos to boost the perception of public support for Big Oil, it is reasonable to question the authenticity of similar PR moves like the "1'm One" or "One in a Million" advertising campaigns, also run by PR company Edelman, which purport to show real people who work for the oil industry.
The American Petroleum Institute, the top lobbying firm for the oil and gas industry, has spent at least $30 million peddling its dirty influence to our federal government in the last five years, and recently announced it would start funneling oil money to politicians. With its $200 million Big Oil budget, API has played a key role in the industry's climate denial movement by funding junk scientists like Willie Soon and coordinating a public relations strategy to create doubt over climate change.
Recordings from Inside the American Petroleum Institute Vote 4 Energy Commercial Shoot
API explains the commercial deal with CNN (click to listen)
API: "Just so you know, I don't know how much they told you, but this is scheduled to launch in January in a commercial on CNN, so it'll be a national spot...API--American Petroleum Institute, uh, bought into an election package so anytime CNN does anything like covering the presidential debates, cover a caucus, anything like that, those will be the kinds of programs where the commercial is seen."
API reveals commercial debut date (click to listen)
Greenpeace Activist: "So what date is this going to launch?"
API: "Um, January first."
API says chance of being in commercial "depends on the demographic" (click to listen)
API: "And so to your point though, we are shooting a ton of people so, you know, you may make the cut, you may not, it all depends on the demographic."
API explains concern over "opponents" (click to listen)
API: "And I'm sure they checked with you but you're a registered voter and all that stuff?" 
Gibson: "Yeah, they asked me. I don't know how you check that, but I am."
API: "We, um...the only reason is really a lot of the, you know, the script is saying "I vote," "I vote for energy," "I vote for..." so, we at least want to be genuine in the sense that you are a registered voter. As you can imagine, there are some opponents of the oil and natural gas industry and so we always have to be very careful of, you know, what our opponents could use against us. And that is, you know, if they found out that we were using people who aren't actually registered voters, or not even eighteen, or whatever, so..."
Production staffer explains how lines are fed to participants (click to listen)
"No they put them in costumes and then the makeup lady takes care of them and then they walk them out, and all they do is the director feeds them the lines and he talks them through it. It's…he'll [Gibson] be fine."
Transcript of Greenpeace activist going off API script (click to listen)
Director, prompting the first scripted line: "Smile, deep breath... 'I vote.'"
Gibson: "I vote. But I am a clean energy citizen. I do not believe in the lies and influence peddling of the American Petroleum Institute, which would lead you to believe that I am a citizen that is okay with giving my taxpayer dollars to the billionaires and millionaires that run oil companies, the most profitable industry on the planet. The American Petroleum Institute is peddling its influence to make you think people like me are fully in support of [a] perpetual petroleum future. 'Energy Citizens' is an astroturf front group created by the American Petroleum Institute to make it sound like there is citizen support for petroleum in our energy future, and we need clean energy – like wind and solar."
For more information, click here.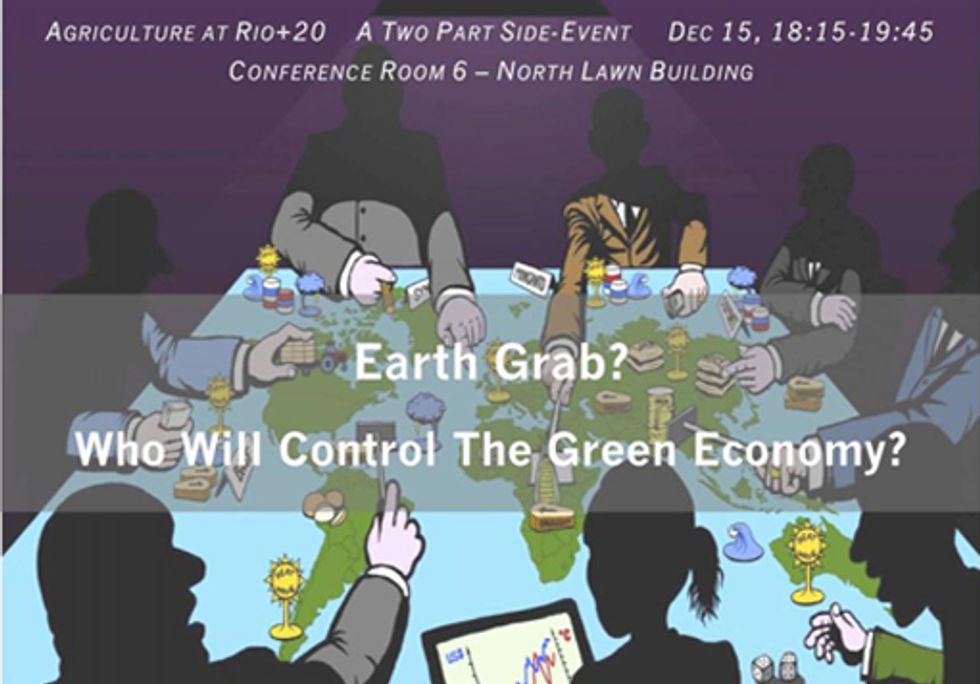 From the United Nations (U.N.) Rio+20 preparatory meetings in New York, ETC Group launched Who Will Control the Green Economy? The 60-page report connects the dots between the climate and oil crises, new technologies and corporate power. The report warns that the world's largest companies are riding the coattails of the "Green Economy" while gearing up for their boldest coup to-date—not just by making strategic acquisitions and tapping new markets, but also by penetrating new industrial sectors.
DuPont, for example, already the world's second largest seed company and sixth largest company in both pesticides and chemicals, is now a powerhouse in plant-based materials, energy and food ingredients. DuPont's business plan is not unique. Other major players in seeds, pesticides, chemicals and food—including Monsanto, Syngenta, Dow, BASF and Unilever—are also making strategic investments in risky technologies and forming R&D collaborations in hopes of turning plant biomass into all kinds of high value products—and profit.
Since the turn of the millennium, the vision of a bio-based economy has been taking shape, with its promise to solve the problems of peak oil and climate change and to usher in an era of sustainable development, it quickly acquired a patina of green. New technologies, primarily synthetic biology or extreme genetic engineering, enabled by advanced bioinformatics and genomics, are the bioeconomy's engine while agricultural feedstock is its fuel.
While seductive, the new green techno-fixes are dangerous because they will spur even greater convergence and concentration of corporate power and unleash privately owned technologies into communities that have not been consulted about—or prepared for—their impacts. If the "Green Economy" is imposed without full intergovernmental debate and extensive involvement from peoples' organizations and civil society, the Earth Summit to take place in Rio de Janeiro June 20-22, 2012 risks becoming the biggest Earth grab in more than 500 years.
"The goal is not to reject the green economy or technologies, but these are tools that must be guided by strong social policies," said Kathy Jo Wetter of ETC Group. "Agenda 21 called for technology assessment back in 1992 and the need for such a precautionary tool, that includes strict oversight of corporate concentration, is now more urgent than ever before."
"Corporate control over our food system threatens peasant farmers around the world," said Alberto Gomez of La Via Campesina. "We already produce 70 percent of the world's food, but our ability to do so in an agro-ecological way is being undermined by the kind of corporate control this report documents."
Who Will Control the Green Economy? will be launched at the Rio+20 intersessional meeting taking place in New York, Dec. 15-16. Kathy Jo Wetter, one of the report's researchers, will present the findings on Thursday, Dec. 15, 2011, at 7 p.m. at a side-event on agriculture at Rio+20, in conference room 6, North Lawn Building at the U.N. Headquarters. Alberto Gomez will also speak at this event.
What you will find in the Who Will Control the Green Economy? Report—December 2011
Naming The Green Economy's "One Percent" 
Who Will Control the Green Economy? provides hard data on the largest and most powerful corporate players controlling 25 sectors of the real economy. This is the only freely available report to assemble top 10 listings of companies (by market share) from 18 major economic sectors relevant to the Green Economy. These lists include the top 10 players in water, energy, seeds, fishing and aquaculture, food retail and processing, chemicals, fertilizer, pesticides, mining, pharmaceuticals, biotech, the grain trade and more. The report also identifies the leading players in a handful of new and emerging industrial sectors including synthetic biology, big data, seaweed and algae production and livestock genetics (pp.1-2).
Corporate Concentration Unchecked 
ETC Group has been monitoring corporate ownership trends for 30 years and the trendline is remaining steady—more monopoly everywhere. For example, the top 10 multinational seed companies now control 73 percent of the world's commercial seed market, up from 37 percent in 1995 (p. 22). The worlds 10 biggest pesticide firms now control a whopping 90 percent of the global 44 billion dollar pesticide market (p.25). 10 companies control 76 percent of animal pharmaceutical sales (p.34). 10 animal feed companies control 52 percent of the global animal feed market (p.33), 10 chemical firms account for 40 percent of the chemical market (p.11), 10 forestry companies control 40 percent of the forestry market (p. 31), 10 mining companies control a third of the mining market (p. 29) and the top ten energy companies control a quarter of the energy market (p.10).
Forget Windmills, Think Grain Mills
The "Green Economy" may evoke iconic images of solar panels and wind turbines but this is not actually where corporate activity is focusing. While non-hydro and non-nuclear renewable energy is only a thin sliver (1.8 percent) of global energy consumption—almost all of this consists of harvesting and burning biomass for energy and fuels and now chemicals. This report shows how the major corporate realignments in the new "Green Economy" are happening around plant biomass (pp.8-12, 18-21).
New Green Oligopolies 
This report uncovers new corporate convergences across diverse industry sectors as large players position themselves to dominate the "Green Economy." A case in point is the DuPont company—the world's 2nd largest seed company, 6th largest chemical company and 6th largest pesticide company which is now emerging as a major player in biotech, biofuels and bioplastics, synthetic biology, seaweeds, ingredients and enzymes while partnering with the worlds third largest energy company, British Petroleum (B.P.) (pp. ii-iii).
Food Dollars Trump Energy Dollars 
Conventional wisdom says the size of the global energy market weighs in at $7 trillion and dwarfs every other economic sector. According to our research, however, the global grocery market ekes out ahead of energy—even when government subsidies paid to producers for energy and agriculture are taken into account (p.37). 
Synthetic Biology's Meteoric Rise 
In the early 1990's the early commercialization of genetic engineering technologies drove massive reorganization of the seed, agrochemicals and pharmaceutical sectors and the emergence of 'life science' giants such as Monsanto and Novartis. Today, the new technologies of synthetic biology are spurring another frenzy of mergers, acquisitions and joint ventures around the biomass economy drawing large energy and chemical players such as Dow, DuPont, B.P., Shell, Exxon, Chevron and Total into new alliances with grain, forestry and seed giants such as Monsanto, Cargill, Bunge, Weyerhaeuser and ADM. At the heart of these new alliances are surprisingly new synthetic biology companies such as Life Technologies Inc, Amyris, Solazyme and Evolva—all rapidly being promoted to significant roles in the global food, energy, pharma and chemicals sectors (pp.8-12).
Controlling the Blue Economy, too. 
Biomass found in oceans and aquatic ecosystems accounts for 71 percent of the planet's surface area. That's why energy and chemical corporations such as DuPont, Statoil , DSM, Exxon, Mitsubishi, Monsanto, Chevron and shipping giant Stolt Nielsen are looking to the wild, wet frontier for new sugars and oils to fuel the bio-based economy, proposing the large-scale exploitation of algae, seaweed, fish and all the aquatic biomass found in lakes, rivers and coastal estuaries. (pp. 18-21)
For more information, click here.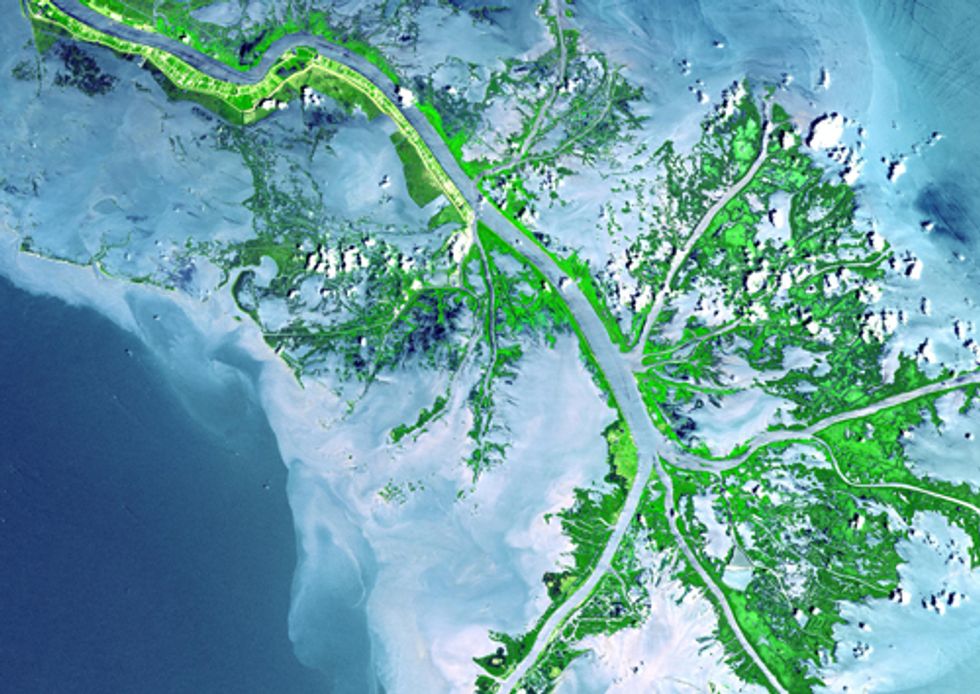 Today and tomorrow, we are asking everyone to participate in Twitter (today, Dec. 12) and Facebook (tomorrow, Dec. 13) Social Media Days of Action around the RESTORE Act, urging Congress to make the bill a priority this year. The RESTORE Act will ensure that 80 percent of the Gulf oil spill Clean Water Act penalties that British Petroleum and other responsible parties will have to pay will be returned to the Gulf States that deserve it. We need Congress to make passing the RESTORE Act a priority, so that this money will be dedicated to Gulf Coast ecosystem and economic restoration.
You can help by joining our RESTORE Act Twitter Day of Action today. Be sure to include the #RESTOREact hashtag, as well as tagging @SenatorReid and @McConnellPress in your Tweets.
Sample Tweets (Click to Tweet):
Help protect Gulf wildlife, people & jobs. Tell @SenatorReid & @McConnellPress to pass #RESTOREact -- Please RT! via @RestoreDelta
Gulf wildlife still need our voice. Tell @SenatorReid & @McConnellPress to pass #RESTOREact & send #oilspill fines back to Gulf. Please RT!
Help restore the Gulf Coast ecosystem and economy. Tell @SenatorReid & @McConnellPress to make #RESTOREact a priority this year. Please RT!
The Gulf #oilspill is not over. Tell @SenatorReid & @McConnellPress to pass #RESTOREact -- Please RT! via @RestoreDelta
Pls RT! The wildlife & people of the Gulf Coast need your voice. Tell @SenatorReid & @McConnellPress to make the #RESTOREact a priority
A reminder that tomorrow we will be having a Facebook RESTORE Act Day of Action. Become a fan of Restore the Mississippi River Delta on Facebook to participate and check back here tomorrow for more details.
For more information, click here.