For nearly 10 years, the Unistoten camp has occupied hereditary lands directly in the path of the pipeline. Photo by Stephen Miller / YES! Magazine
By Zoë Ducklow
1. Where Is the Unist'ot'en blockade, and What's It About?
The gated checkpoint is on a forest service road about 120 kilometers southwest of Smithers in Unist'ot'en territory at the Morice River Bridge. Two natural gas pipelines are to cross the bridge to serve LNG terminals in Kitimat. Unist'ot'en is a clan within the Wet'suwet'en Nation.
Wet'suwet'en hereditary chiefs claim title to the land, based on their pre-Confederation occupation and the fact that they've never signed a treaty. Their claim has not been proven in court.
The gated checkpoint is meant to control access to their traditional territory. A protocol for entry, based on principles of free, prior and informed consent, is publicly available. While the first checkpoint was built by the Unist'ot'en clan, all the hereditary chiefs of the Wet'suwet'en Nation have affirmed that their consent is required prior to any development.
TransCanada's Coastal GasLink pipeline will carry natural gas from Dawson Creek to Kitimat. It's in the early construction phase. The proposed Pacific Trail pipeline, run by Chevron, proposes to transport natural gas from Summit Lake to Kitimat for conversion to LNG. This pipeline received an environmental assessment certificate, but the investment agreement has yet to be finalized. (The Northern Gateway pipeline, run by Enbridge, was also planned to go through the region, but was scrapped in 2016.)
2. Hasn't the Unist'ot'en Camp Been Around for Years Now? Why Is It Suddenly the Center of Attention?
Yes, the checkpoint was established on April 1, 2009. Since then, annual work camps have added a cabin, healing lodge, pit house and bunkhouse for visitors. The camp is used year-round for healing retreats, culture camps and living.
Coastal GasLink applied for an injunction in November 2018 because workers have been unable to cross the checkpoint to start clearing the pipeline route. The B.C. Supreme Court issued a temporary injunction in December, prohibiting anyone from blocking the bridge. The court also ordered the checkpoint to be dismantled within 72 hours.
A few photos from #Gidumten a few hours ago as RCMP moved in to enforce the injunction for Coastal GasLink #bcpoli… https://t.co/rw3KSTRWt8

— ChantelleBellrichard (@ChantelleBellrichard)1546915842.0
It's in the news now because not only did Unist'ot'en camp refuse to take down the checkpoint, but their neighboring clan, Gidimt'en, established a second checkpoint. (The injunction was expanded on Jan. 4 to include that checkpoint.)

Throngs of people are traveling to join the camp in solidarity, and on Jan. 7 the Royal Canadian Mounted Police mobilized to enforce the injunction. Rallies were planned in more than 30 cities around the world.
3. Who Called in the RCMP to Raid the Camp?
The RCMP's job is to enforce the injunction on behalf of the court, and it's not necessarily raiding the camp. On Jan. 7, tactical teams began to dismantle the Gidimt'en checkpoint. On the evening of Jan. 9, RCMP reported 14 arrests of people who refused to comply with the court order. The individuals were taken to Houston, B.C.
By the night of Jan. 7 the RCMP had breached the Gidimt'en blockade but had not reached the Unist'ot'en blockade or camp. The Unist'ot'en camp beside that blockade, which has been in operation for nearly 10 years, is not part of the order, and because it's not in the way of construction access, can likely remain as is.
4. How Is the B.C. Government, Which Supports the LNG Export Terminal, Reacting to the Raid?
The government has not made an official statement, but Stikine MLA Doug Donaldson, minister of forests, lands, natural resource operations and rural development, visited the Gidimt'en checkpoint on Jan. 6. He arrived with a box of food in hand as a show of support and was admitted into the camp after going through the entry protocol with a Gidimt'en member.
Premier John Horgan is an enthusiastic supporter of the Kitimat LNG project. He has also vowed to implement the U.N. Declaration on the Rights of Indigenous Peoples, which includes such principles as free, prior and informed consent for activities on the territories of Indigenous people, the right not to be forcibly removed from traditional land and the right to maintain connection to the land.
5. Aren't the Wet'suwet'en Among the First Nations Who Have Approved the Pipeline?
It's complicated. The elected chief and council signed the agreement, but the hereditary chiefs are opposed. The 13 hereditary chiefs argue that the elected chief only has jurisdiction over the band's reserves, and that hereditary chiefs retain jurisdiction over the traditional territory where the checkpoint and camps are located.
The band with the elected council who have the reserve is called the Wet'suwet'en First Nation. The hereditary chiefs are leaders of the Wet'suwet'en Nation. The difference has been described like a municipal government versus the federal government. The two governance structures are different and have different jurisdictions. The elected council was established by the federal government when they made reserves. The hereditary chiefs are how the Wet'suwet'en Nation have always governed themselves.
6. Who Are the Wet'suwet'en Nation?
The Unist'ot'en clan is one of five clans that make up the Wet'suwet'en Nation. The camp is on their territory, and the injunction was initially filed against them, but five hereditary chiefs came to the checkpoint Jan. 7 to show their support and solidarity for resisting the pipeline. Wet'suwet'en traditional territory spans 22,000 square kilometers in northwest B.C. west of Smithers.
7. How are First Nations Leaders in B.C. and Canada Reacting?
Some First Nations leaders support the Coast GasLink pipeline, including a chief from the Skin Tyee band, which is part of the Wet'suwet'en First Nation. Up to 20 First Nations (including the elected council of the Wet'suwet'en First Nation, as noted earlier) have signed agreements with the pipeline. Agreements provide opportunities for work and training on the job.
Grand Chief Stewart Phillip of the Union of B.C. Indian Chiefs released a statement condemning the RCMP's tactics of "intimidation, harassment and ongoing threats of forceful intervention and removal of the Wet'suwet'en land defenders from Wet'suwet'en unceded territory."
8. What Do the People at the Checkpoint Facing Arrest Say?
Freda Huson is one of the people named in the injunction. She works at the healing lodge at the Unist'ot'en camp.
"We didn't agree with the injunction because they didn't hear our side, and we have too much to lose. We don't want them to say that we can be in a reservation and stay in my buildings here, but they can destroy the rest of the territory," Huson said in a Facebook video on Jan. 7.
"I'm here now because this is my home, this is where I live. This is an unjust system that we live in. My people have been pushed aside, pushed aside for hundreds of years. And it hasn't stopped, it's still happening right now. My people live off these lands.
"The gate is for our protection. We had racists coming in and shooting rifles, ramming my gate with vehicles and using explosives to blow up my gate. And the police in Houston know, and they did nothing about it. They said not enough evidence.
"And now the state. I blame Justin Trudeau, John Horgan. If you guys are listening to this, you guys are behind this project. You guys are behind approving these police to come in and treat me like a criminal. And all I am doing is living on my lands that my clan has title and rights to. You say reconciliation? This is not reconciliation. You're treating my chiefs and us as criminals. We're not criminals. This is our land."

9. When People Say this Could be "Another Gustafsen Lake," What Do They Mean?
The Gustafsen Lake standoff happened in the summer of 1995 in the Secwepemec (Shuswap) region. A Sundance ceremony, which takes a month to complete, was being held when relations with a rancher who claimed ranging rights over the land turned hostile.
The standoff began Aug. 18 and ended Sept. 17. More than 400 RCMP officers, supported by military advisers, blockaded the camp. Landmines were used to block access, police were heavily armed, and helicopters and airplanes were used for surveillance. The police operation cost more than $4.5 million.
No one died in the standoff, although tens of thousands of shots were fired and two people were wounded.
The Sundancers surrendered, and 18 people were charged with trespassing. RCMP tactics—including a smear campaign to spread misinformation about the Sundancers—were criticized during the court proceedings. Fifteen people were found guilty, mainly of tresspass, and jailed.
The fear in this case is that the RCMP will employ similar tactics. Officers have set up an exclusion zone around the area, as they did during Gustafsen Lake.
In my 2nd @EcoWatch post today, #FirstNations @UnistotenCamp activists call Canadian police action against… https://t.co/YV6CqMJT2n

— Olivia Rosane (@Olivia Rosane)1546954794.0
Reposted with permission from our media associate YES! Magazine.

From Your Site Articles
Related Articles Around the Web
EcoWatch Daily Newsletter
By Andy Rowell
If Justin Trudeau didn't know before, he does now. If Canada's prime minister could blame ignorance before, he can't now.
Every day brings reports of new deaths and disasters as the intense heat wave which has gripped much of the Northern Hemisphere continues.
The numbers do not lie. Some fifty dead in Greece, at least 44 dead in Japan, at least 70 dead in Canada. Sweden alight. Numerous other parts of the world are scorching, too.
Let's start with Greece. Many people awoke this morning to the distressing news that at least 50 people have been killed, including a six-month old baby and many children, with dozens more injured and hundreds rescued as devastating wildfires swept through a small resort near Athens. The authorities have called a state of emergency, and has asked for international help.
Twenty-six people had reportedly died huddled together close to a beach in a town called Mati. Nikos Economopoulos, head of Greece's Red Cross, told the country's Skai TV, "They had tried to find an escape route but unfortunately these people and their kids didn't make it in time."
One Mati resident, Kostas Laganos, said that he escaped by diving into the sea: "Thankfully the sea was there and we went into the sea, because the flames were chasing us all the way to the water, it burned our backs and we dove into the water."
Greek authorities urged residents at the coast west of Athens to abandon their homes as the tinder dry conditions continued, with temperatures over 40°C (104°F).
Greece is not alone. Yesterday I blogged on the heatwave in Japan. Today, the country's weather agency has declared the heatwave a natural disaster, saying that at least 65 deaths had been recorded in the past week. Experts believe there will be many more.
Meanwhile in Sweden, where the country is experiencing the hottest July for 260 years, the country has asked for international help to put out wildfires in the Arctic.
In Canada, the hot weather has reportedly caused the deaths of at least 70 people in Quebec alone. Earlier this month, in Ottawa, in Ontario, the humidity index—the method used there to measure the combined humidity level and temperature—hit 47°C (116.6°F) on July 2.
But the hot temperatures are back. Early this morning, the Canadian government issued another heat warning for the Montreal area, advising people that the so-called humidex values are expected to reach the high thirties.
"Heat warnings are issued when very high temperature or humidity conditions are expected to pose an elevated risk of heat illnesses, such as heat stroke or heat exhaustion," it said.
Parts of Canada too are alight. As of last weekend, there were more than one hundred fires burning in British Columbia, and a further 118 burning in Ontario, with 29 of them considered "out of control."
Finally, some in the media are waking up. One BBC journalist tweeted: "Climate change. It's here. It's catastrophic. This month alone: — '50 dead' in Greece wildfires — Arctic Circle ablaze — Japan heatwave, flooding and landslides kill hundreds — Record temperatures in Algeria, Morocco, Oman — Drought squeezes US lemons."
Climate change. It's here. It's catastrophic. This month alone: — '50 dead' in Greece wildfires — Arctic Circle a… https://t.co/mEQ5iMMupj

— James Cook (@James Cook)1532415848.0
But not, it seems, Justin Trudeau, who is asleep in the heat. All he has to do is switch on the news to see what is happening. As people die across the globe, his government was searching for a buyer for the controversial Trans Mountain pipeline, which will triple the amount of dirty tar sands exported from Alberta to Vancouver to 890,000 barrels a day.

The pipeline has become the most toxic political issue in Canada. It is vehemently opposed by the government of British Columbia and by a coalition of First Nations, community and environmental groups.
Despite all the warnings about the climate impact of the pipeline, Trudeau's government offered to buy it from Kinder Morgan after the company froze investment, to keep construction continuing. They had hoped to sell the pipeline quickly to a new buyer.
But that has not happened and no buyer could be found before the deadline, which was on Sunday. So Trudeau's government has no option now but to be the full-time owner of the tar sands pipeline.
As the Canadian Star stated: "But with that date set to pass without a deal, it was expected the pipeline company will now take Ottawa's $4.5-billion offer to purchase the project to its shareholders."
On Saturday, the day before the deadline, protesters amassed in Parliament Hill wearing hazardous-materials suits and carrying a fake pipeline. One of the protesters, Aaron Thornell, said, "I think that this investment sets us down a completely wrong and long path that will not lead to the [clean energy] transition. Another, Pat Taylor, added, "It's just crazy. And you know, I have a son. I think about my grandchildren to come and it just breaks my heart."
The formal sale now looks likely to be approved next month, or in September. It is undoubtable that more people will die from the global heatwave in the meantime. But that won't worry Trudeau who is on holiday. Ironically, in British Columbia.
236 Civil Society Groups to Justin Trudeau: 'The Time for Investment in New Fossil Fuel Infrastructure Is Over'… https://t.co/MYATeBUbyc

— EcoWatch (@EcoWatch)1527213627.0
Reposted with permission from our media associate Oil Change International.

From Your Site Articles
Related Articles Around the Web
waterlust.com / @tulasendlesssummer_sierra .
Each product featured here has been independently selected by the writer. If you make a purchase using the links included, we may earn commission.
The bright patterns and recognizable designs of Waterlust's activewear aren't just for show. In fact, they're meant to promote the conversation around sustainability and give back to the ocean science and conservation community.
Each design is paired with a research lab, nonprofit, or education organization that has high intellectual merit and the potential to move the needle in its respective field. For each product sold, Waterlust donates 10% of profits to these conservation partners.
Eye-Catching Designs Made from Recycled Plastic Bottles
waterlust.com / @abamabam
The company sells a range of eco-friendly items like leggings, rash guards, and board shorts that are made using recycled post-consumer plastic bottles. There are currently 16 causes represented by distinct marine-life patterns, from whale shark research and invasive lionfish removal to sockeye salmon monitoring and abalone restoration.

One such organization is Get Inspired, a nonprofit that specializes in ocean restoration and environmental education. Get Inspired founder, marine biologist Nancy Caruso, says supporting on-the-ground efforts is one thing that sets Waterlust apart, like their apparel line that supports Get Inspired abalone restoration programs.
"All of us [conservation partners] are doing something," Caruso said. "We're not putting up exhibits and talking about it — although that is important — we're in the field."
Waterlust not only helps its conservation partners financially so they can continue their important work. It also helps them get the word out about what they're doing, whether that's through social media spotlights, photo and video projects, or the informative note card that comes with each piece of apparel.
"They're doing their part for sure, pushing the information out across all of their channels, and I think that's what makes them so interesting," Caruso said.
And then there are the clothes, which speak for themselves.
Advocate Apparel to Start Conversations About Conservation
waterlust.com / @oceanraysphotography
Waterlust's concept of "advocate apparel" encourages people to see getting dressed every day as an opportunity to not only express their individuality and style, but also to advance the conversation around marine science. By infusing science into clothing, people can visually represent species and ecosystems in need of advocacy — something that, more often than not, leads to a teaching moment.

"When people wear Waterlust gear, it's just a matter of time before somebody asks them about the bright, funky designs," said Waterlust's CEO, Patrick Rynne. "That moment is incredibly special, because it creates an intimate opportunity for the wearer to share what they've learned with another."
The idea for the company came to Rynne when he was a Ph.D. student in marine science.
"I was surrounded by incredible people that were discovering fascinating things but noticed that often their work wasn't reaching the general public in creative and engaging ways," he said. "That seemed like a missed opportunity with big implications."
Waterlust initially focused on conventional media, like film and photography, to promote ocean science, but the team quickly realized engagement on social media didn't translate to action or even knowledge sharing offscreen.
Rynne also saw the "in one ear, out the other" issue in the classroom — if students didn't repeatedly engage with the topics they learned, they'd quickly forget them.
"We decided that if we truly wanted to achieve our goal of bringing science into people's lives and have it stick, it would need to be through a process that is frequently repeated, fun, and functional," Rynne said. "That's when we thought about clothing."
Support Marine Research and Sustainability in Style
To date, Waterlust has sold tens of thousands of pieces of apparel in over 100 countries, and the interactions its products have sparked have had clear implications for furthering science communication.
For Caruso alone, it's led to opportunities to share her abalone restoration methods with communities far and wide.
"It moves my small little world of what I'm doing here in Orange County, California, across the entire globe," she said. "That's one of the beautiful things about our partnership."
Check out all of the different eco-conscious apparel options available from Waterlust to help promote ocean conservation.
Melissa Smith is an avid writer, scuba diver, backpacker, and all-around outdoor enthusiast. She graduated from the University of Florida with degrees in journalism and sustainable studies. Before joining EcoWatch, Melissa worked as the managing editor of Scuba Diving magazine and the communications manager of The Ocean Agency, a non-profit that's featured in the Emmy award-winning documentary Chasing Coral.
Scientists at the Canadian company Carbon Engineering have moved carbon-capture technology one step closer from pipe dream to viable solution.
The company has developed technology at its plant in British Columbia that can both remove carbon dioxide from the atmosphere and convert it into carbon-neutral fuels, suggesting such technology could be a meaningful part of the fight against climate change.
In a paper published Thursday in Joule, they estimated the costs of scaling up their operation to be $94 to $232 per ton of carbon dioxide captured. This is much cheaper, and more feasible, than some theoretical estimates that have put the costs of scaling up carbon capture technology at $1,000 per ton of carbon dioxide.
"If these costs are real, it is an important result," senior Carnegie Institution for Science scientist Ken Caldeira, who was not involved in the research, told The Atlantic. "This opens up the possibility that we could stabilize the climate for affordable amounts of money without changing the entire energy system or changing everyone's behavior."
The paper claims to be the first to provide a cost estimate for a carbon-capture system that is both based on technology commonly used in commercial engineering and described in enough detail that readers can adequately assess the results for themselves.
"After 100 person-years of practical engineering and cost analysis, we can confidently say that while air capture is not some magical cheap solution, it is a viable and buildable technology for producing carbon-neutral fuels in the immediate future and for removing carbon in the long run," study lead author, Harvard University applied physics professor and Carbon Engineering founder David Keith said in a Cell Press release published in ScienceDaily.
The technology works by sucking air into cooling tower-like structures with fans. The acidic carbon dioxide is attracted to an alkaline liquid within the towers that is then taken into the factory where acid and base are separated. The carbon-dioxide containing liquid is frozen and then reheated into a slurry that is combined with hydrogen to make liquid fuels like gasoline and jet fuel.
Keith told The Atlantic that the immediate commercial application of the technology would be to create new fuels that would recycle existing carbon dioxide instead of adding new emissions into the atmosphere. Storing the carbon is also possible, but there isn't yet any market for this service.
Instead, the technology could help the transportation sector, responsible for around 20 percent of carbon dioxide emissions, transfer over to renewable energy and fuel.
"Electricity from solar and wind is intermittent; we can take this energy straight from big solar or wind installations at great sites where it's cheap and apply it to reclaim and recycle carbon dioxide into new fuel," Keith told Cell Press. "Making fuels that are easy to store and transport eases the challenge of integrating renewables into the energy system," he said.
Keith was quick to point out that he didn't see his technology as an excuse to stop trying to reduce emissions the conventional way, but rather as a means of supporting and supplementing this process.
"My view is we should stick to trying to cut emissions first. As a voter, my view is it's cheaper not to emit a ton of [carbon dioxide] than it is to emit it and recapture it," he told The Atlantic.
8 Ways to Sequester Carbon to Avoid Climate Catastrophe https://t.co/IXr7bAOFko @climateprogress @globalgreen

— EcoWatch (@EcoWatch)1500500409.0
Canadian Prime Minister Justin Trudeau at World Bank Group headquarters during Trudeau's first official visit to Washington, DC in March 2016. Franz Mahr / World Bank / CC BY 2.0
By Andy Rowell
With just over a week to go until the May 31 deadline set by Kinder Morgan for the Canadian Government to resolve all financial and political issues surrounding its highly controversial Trans Mountain pipeline, some 236 civil society groups from 44 countries have written to Justin Trudeau to tell him to drop his support for the project.
Kinder Morgan's Trans Mountain Pipeline will triple the amount of dirty tar sands being shipped from Alberta to the coast of British Columbia.
The pipeline has become the most toxic Canadian political issue of the day, with Trudeau's government saying they will underwrite losses incurred by Kinder Morgan in their desperation to see the dirty pipeline be built.
Since that announcement for financial support on May 16, there has been growing national and international hostility to the plan.
Just in the last 24 hours, for example, award-winning Canadian journalist Andrew Nikiforuk said that Trudeau was being held "hostage" by Kinder Morgan. "The Trudeau federal government has made itself a pathetic hostage to a Texas-based pipeline company known for its cheapness and debt," he wrote Wednesday.
Also on Wednesday, some 200 youths from a number of Vancouver schools walked out of class to protest the government's support for the pipeline. "This is a chance to show our elected leaders and Kinder Morgan that our lands, livelihoods and future are more important than a pipeline," said Ta'Kaiya Blaney from Vancouver. And finally on Wednesday, protesters unveiled banners at the Canadian Embassy in Washington, DC, saying, "Canadian Leaders Don't Build Pipelines."
And that banner refers to a simple climate circle that Trudeau can't square, however much he tries to spin it otherwise: Trudeau has signed up to the Paris climate goals, but the amount of carbon that would be transported and ultimately burnt by the Trans Mountain Pipeline means that Canada would miss those goals.
As the letter outlines: "Canada has been a vocal champion of the Paris Agreement and ambitious climate action, and under your leadership, Canada has finally signed the United Nations Declaration on the Rights of Indigenous Peoples."
It continues: "However, your unwavering support for the Kinder Morgan Trans Mountain pipeline expansion runs counter to both of these commitments and undermines Canada's role as a global leader."
"Climate leaders cannot expand or finance major fossil fuel expansion, and climate leaders must begin to plan for a managed phase-out and just transition away from all fossil fuel production," says the letter.
The letter, signed by the likes of Amazon Watch, Asian Peoples' Movement on Debt and Development, Center for International Environmental Law, Christian Aid, The Climate Reality Project, Council of Canadians, Friends of the Earth International, Greenpeace, Hip Hop Caucus, Indigenous Environmental Network, Natural Resources Defense Council, Oil Change International, Physicians for Social Responsibility, Rainforest Action Network, Sierra Club, SumOfUs.org, Union of British Columbia Indian Chiefs, Wilderness Committee, and 350.org, says that financing the pipeline "with public money, as your government has suggested, is particularly offensive in the face of the global climate crisis."
The letter goes on to say: "As global organizations deeply concerned about the climate, communities, workers, and Indigenous Rights, we stand in solidarity with those who oppose the Kinder Morgan Trans Mountain pipeline. We also support communities along the proposed pipeline and tanker routes who are standing up to protect the land, the coast, and the ocean from the risks of spills and other damage".
It points out that Canada should be leading the world in a "managed decline" of fossil fuels and transition to clean energy. "The time for investment in new fossil fuel infrastructure is over," say the signatories, before ending with: "We urge you to reconsider your support for this project, and instead work to make Canada the climate leader that it should be."
Leila Salazar-López, executive director of Amazon Watch, said, "We stand with our indigenous brothers and sisters in the North in their efforts to protect their territories from the Kinder Morgan Pipeline and other destructive fossil fuel infrastructure. It is past time for governments—including the Canadian government—to respect UNDRIP [United Nations Declaration on the Rights of Indigenous Peoples] and begin a managed decline of fossil fuel extraction. Our collective futures depend on it."
May Boeve, executive director of 350.org added, "The Kinder Morgan pipeline threatens to pollute clean air and water, violate the rights of First Nations, and lock us into climate-wrecking fossil fuel extraction. Justin Trudeau has spoken about justice for Indigenous people and addressing climate change, but his actions are miles behind his words. At the end of the day, you cannot be a climate leader while supporting fossil fuel pipelines."
Bill Nye Confronts Justin Trudeau Over Kinder Morgan Pipeline https://t.co/EwCzoBV48n @NRDC @YEARSofLIVING… https://t.co/olSrnqvMu3

— EcoWatch (@EcoWatch)1520448496.0
Reposted with permission from our media associate Oil Change International.

From Your Site Articles
Related Articles Around the Web
Emma Cassidy / Greenpeace
By Andy Rowell
As the clock ticks down until the May 31 deadline for the controversial Kinder Morgan Trans Mountain pipeline project, which will triple the amount of tar sands being transported from Alberta to the British Columbian coast, the campaign against its expansion is spreading abroad.
On Sunday in Seattle, more than 120 miles south of where the pipeline hits the coast, hundreds of "kayactivists" took to the water to protest against the pipeline.
They were part of a demonstration by the U.S. environmental groups Mosquito Fleet, Greenpeace USA and Sierra Club that organized a rally in the city against Kinder Morgan's proposed pipeline expansion.
Tensions are certainly rising. Kinder Morgan has given the federal government of Canada until the end of the month to resolve outstanding financial and legal issues surrounding the pipeline. Last week, in order to appease the Texan oil company, Trudeau's government announced that it will effectively give Kinder Morgan a "blank check" "to indemnify" the pipeline "against any financial loss," suffered if they build the pipeline.
The move seems to have backfired and emboldened everyone fighting the pipeline. And as the May 31 deadline gets closer, there is a growing awareness not only of the threat that the pipeline poses to the climate, but also to marine life as it would massively increase the tanker traffic up the west coast of Canada and the U.S.
Indeed, last week the Natural Resources Defense Council warned Kinder Morgan that the pipeline project, could be "illegal" under the Endangered Species Act, which is seen as one of the world's strongest species protection laws.
"It's not just about the spills, it's not just about the orcas," said Graham Clumpner, one of the paddlers with the Mosquito Fleet: "The bigger issue that we are all facing is climate change," he said. "We are going to not allow Kinder Morgan to finish this pipeline."
Ben Smith from Greenpeace USA added, "It would make climate change worse, it would trample Indigenous rights, it would run over our clean water here, and it would decimate the final 76 remaining orcas, the Southern Resident killer whale in our waters."
At the rally yesterday, one of the speakers was Cedar George-Parker from the Tsleil-Waututh Nation, who have been leading the community opposition to the pipeline in British Columbia. "They want to bring that oil through here, but we say that we will stop Kinder Morgan," George-Parker said. "It is not happening."
Not only is the resistance growing from the local community, indigenous rights groups and local and U.S.-based environmental groups to the pipeline, but even the financial community thinks the economics and changing energy market is stacked against it. Wal van Lierop is president and CEO of Chrysalix Venture Capital.
Writing in the Globe and Mail Sunday, Van Lierop pointed out what many people having been saying to Trudeau for months, but what the Canadian prime minister has flatly ignored: "There is also growing consensus that the world is going through an energy transition," he wrote, before likening the current energy transition to a baseball game, where "we could see the stages of its progression over the past decade."
In the first inning, argued Van Lierop, "coal lost to gas in the competition for power generation in North America and Europe; solar and wind lit up the scoreboard with incredible cost reductions in the second inning; but in the third, shale oil and gas rallied, creating an energy boom in U.S. gas and making that country the international swing player—supplanting OPEC in that position."
Van Lierop added: "Now we are entering the fourth inning, with a playing field of abundant cheap energy and midway through the ball game it looks like the players highest on the cost curve will be the ones striking out. Those players will likely include both new projects in Arctic oil and the oil sands, as their business case makes them weak in a game where cost is key."
He even went as far as to warn, because the pipeline makes no economic sense due to the expensive tar sands extraction and transportation costs, that "we would have to presume that the Alberta and federal governments hadn't seen the Kinder Morgan order book before they announced an intention to financially support the company's pipeline, because that may show a rapidly deteriorating business case."
He is not the only one who thinks Trudeau is in trouble here. Indeed, as Bloomberg pointed out at the end of last week, "Justin Trudeau's pipeline nightmare may be only getting started … the prime minister could end up fighting for an asset that hardly anybody wants."
Bill Nye Confronts Justin Trudeau Over Kinder Morgan Pipeline https://t.co/EwCzoBV48n @NRDC @YEARSofLIVING… https://t.co/olSrnqvMu3

— EcoWatch (@EcoWatch)1520448496.0
Reposted with permission from our media associate Oil Change International.

From Your Site Articles
Related Articles Around the Web
Rising Tide NA / Twitter
By Andy Rowell
Just because you get older, it doesn't mean you cannot stop taking action for what you believe in. And Monday was a case in point. Two seventy-year-olds, still putting their bodies on the line for environmental justice and indigenous rights.
Early Monday morning, the first seventy-year-old, a grandfather of two, and former nominee for Canada's Juno musical award, slipped into Kinder Morgan's compound at one of its sites for the controversial Trans Mountain pipeline and scaled a tree and then erected a mid-air platform with a hammock up in the air.
Terry Christenson had taken food and water with him and said he had no intention of coming down. His non-violent direct action was in protest of Kinder Morgan's tree clearing through Burnaby Mountain for the company's highly contentious pipeline to the BC coast.
It was part of a week of direct action designed to slow construction and clearing that has to be undertaken by the company before March 26, when migratory birds start flying north for the summer.
Terry Christenson outlined why he was taking action: "This pipeline does not have consent of the Indigenous Nations it would pass through. It would endanger the livelihoods and economies of all those that depend on an oil-free coast and I for one won't stand by and let it happen. I'm taking this action to protect my grandchildren's future. I care about this land, this coast and I won't let it be destroyed, all so a Texas oil company can increase its profit share.
"We are all in this fight together," Christenson added. "We have better options to produce energy and move people around than building another dirty pipeline that the world's scientific community has said we need to move away from. It's time that the prime minister got that message and I'll be doing my best to hang out here until he does."
Christenson was arrested around 8 p.m. last night.
He was not the only one arrested. Fifteen more people were arrested by blocking the gates to Kinder Morgan's compound. This brings the total to about fifty people arrested in the past few days, with opposition against the pipeline growing daily. Yesterday, one of the first to be arrested at the gates was another seventy-year-old, Rex Weyler, who co-founded Greenpeace International in 1979 and is one of the founders of the Hollyhock retreat center in BC.
"Forty-six years ago, Greenpeace got its start right here in Vancouver protecting this coastline, and the world, from the sorts of ecological disasters and social disruption that Kinder Morgan's pipeline threatens," he said. "Like then, we stand now for protection of the natural bounty that keeps our communities alive and prosperous.
"We stand here on the land and by the waters of the Tsleil Waututh people, who have shown us generosity and taught us responsibility, in solidarity and prepared to go to jail, to preserve the ecological integrity of this coast for ourselves and future generations."
Also present were Barbara and Bob Stowe, daughter and son of Greenpeace founders Dorothy and Irving Stowe. "Today, we will stand with Coast Salish Peoples against it. If our parents were alive today, they'd be standing right here with us," said Barbara.
"If someone comes on to your property and starts drilling without approval, what are you doing to do? We're going to stop it."
28 Activists Arrested at Kinder Morgan Pipeline Construction Site https://t.co/JhPdbcLfm3 @Greenpeace @wwwfoecouk @Sierra_Magazine

— EcoWatch (@EcoWatch)1521494706.0
Reposted with permission from our media associate Oil Change International.
From Your Site Articles
Related Articles Around the Web
British Columbia Wine Institute
By Andy Rowell
They say that oil and water do not mix. And now the proverb applies to oil and wine.
There is an escalating tension in Canada between the Albertan and British Columbian (B.C.) governments over the disputed Kinder Morgan Trans Mountain Pipeline, which is due to transport tar sands from Alberta to the B.C. Coast.

On Tuesday, the Albertan premier announced that the Alberta Gaming and Liquor Commission would immediately halt the import of all wines from British Columbia, in response to the B.C. government's announcement at the end of January that it would be introducing the Environmental Management Act, which gives it the right to take action that would protect B.C.'s coastline and environment. This would also mean further analysis and review of the risks of an oil spill from the expansion of the pipeline, which is likely to result in a seven-fold increase in the number of oil tankers in B.C. waters.
Rachel Notley, the premier of Alberta, said at a news conference, "The wine industry is very important to B.C. Not nearly as important as the energy industry is to Alberta and Canada, but important nonetheless." Last year Alberta imported about 95 percent of its wine from B.C., worth about $70 million.
She added, "This is one good step to waking B.C. up to the fact that they can't attack our industry without a response from us. The Alberta Gaming and Liquor Control Board will put an immediate halt to the import of B.C. wine into Alberta."
"I'm also encouraging all Albertans: next time you're thinking about ordering a glass of wine, think of our energy workers. Think of your neighbours. Think of our community. Think about our province, and maybe choose some terrific Alberta craft beer instead."
The wine ban adds to the announcement last week by Notley that she was suspending talks to buy electricity from B.C., which could scupper a proposed $500 million a year deal.
"We did play by the rules, and we secured the approval of a new pipeline to tidewater to export energy products that support tens of thousands of jobs across this country," Notley said. "Alberta will not stand by and be the only province impacted by another province's refusal to play by the rules."
Notley's announcement caused an angry response from B.C. Premier John Horgan, who said in a statement, "If Alberta disagrees they can make that argument in the proper venue, in our court system. Our consultation on proposed new regulations hasn't even begun, but Alberta has seen fit to take measures to impact B.C. businesses."
He urged "Alberta to step back from this threatening position" and said he would "respond to the unfair trade actions announced today."
On Wednesday, Horgan added, "It's not the government's intention to respond in any way to the provocation. We're going to focus on the issues that matter to British Columbians and hope that cooler heads on the other side of the Rockies will prevail."
Critics slammed the move by Notley as "utterly absurd" and an act of "pointless grandstanding." One Vancouver-based tech entrepreneur, Nick Routley, tweeted sentiments expressed by many in the Province: "Alberta's #BCWine ban isn't just counterproductive, it's going to spike sales and galvanize anti-pipeline sentiment. Amateur-hour move."
The David Suzuki Foundation added on Facebook: "Does Alberta's boycott of B.C. wines have you perplexed? Us too. We support #bcwine—a fine local industry that when spilled doesn't kill marine life. #toastthecoast #stopkm #pinotnotpipelines. Supporting B.C. wines is easy but stopping a pipeline is hard." The Suzuki Foundation added, " We're also encouraging people to support Indigenous-led resistance to the Kinder Morgan pipeline."
The Canadian press is also reporting that as far away as Quebec, "environmental groups flocked to buy B.C. wine to show their support for the industry." On Wednesday, Quebeckers held a "mass purchase in solidarity to stop Kinder Morgan" at a liquor store in Montreal.
Members of the environmental group Equiterre bought bottles of B.C. wine, holding up signs stating, "Pinot Not Pipelines" and "QC loves BC wines."
Meanwhile, First Nations are gearing up for further protests against the pipeline next month. Members of the Tsleil-Waututh First Nation are calling for a mass demonstration on Burnaby Mountain in March. They are expecting hundreds of Indigenous people and supporters to join from across Canada.
Cedar George, a member of the Tsleil-Waututh First Nation, said, "I'll do whatever it takes to keep this beautiful British Columbia. Ninety percent of our diet came from that water. We are being stewards of the land and when we see an immediate threat to the water, it's time for us to stand up and delay this project."
"Supporting B.C. wines is easy but stopping a pipeline is hard. We're also encouraging people to support Indigenous-led resistance to the Kinder Morgan pipeline."David Suzuki Foundation / Facebook
Reposted with permission from our media associate Oil Change International.

Circle M Outfitters
British Columbia's provincial government Monday announced a decision to prohibit grizzly bear hunting province-wide.
In stark contrast to the province's decision to protect its estimated 15,000 grizzly bears, the Trump administration in June removed endangered species protections for the roughly 700 bears found in the Greater Yellowstone Ecosystem.
Following the removal of federal protections, Idaho, Montana and Wyoming are now readying for their first grizzly bear trophy hunts since the animals were first listed under the Endangered Species Act in 1975.
"We're ecstatic British Columbia has banned cruel trophy hunts for these magnificent animals," said Andrea Santarsiere, a senior attorney with the Center for Biological Diversity. "This wise decision highlights the cruel absurdity of the Trump administration's decision to strip protections from imperiled Yellowstone grizzlies. We'll keep fighting to prevent the horrific and wasteful practice of hunting grizzly bears in the U.S."
The Center for Biological Diversity and allies are challenging removal of endangered species protections in court in an effort to stop these hunts and obtain broader recovery for grizzly bears.
From Your Site Articles
Related Articles Around the Web
Photo credit: Free Spirit Spheres
Free Spirit Spheres resort in British Columbia knows there's nothing quite like being in an orb in a tree canopy. They invite you to experience an enchanted rainforest vacation in a spherical suspended treehouse. The year-round, adult-only resort on Vancouver Island features three hanging handmade orbs, which you can rent for $175 per night.
The Eve sphere in winter. Free Spirit Spheres
"Normal buildings that we're in are all about separation ... when you step into a sphere there is no separation. There's only one wall," owner Tom Chudleigh told Arbutus RV Island Adventures. Chudleigh has a background in engineering and spends three years personally building each sphere.
The three rentable orbs are called Eve, Eryn and Melody and each is accessed by a spiraling staircase. Chudleigh also has his own office sphere, called Gwyn. The orbs weigh about 1,100 pounds and are each tied to three separate trees. A strong breeze or the movement of an inhabitant causes them to sway.
The sphere interiors hold drop-beds, workspaces, sinks and round windows, Curbed explained. Each has its own electric composting toilet outhouse and a shared bathhouse with a sauna. There are several restaurants within three to 15 miles from the resort.

Eve was the prototype and is 9 feet in diameter. Next came Eryn and then Melody, with 10.5-foot-diameters. Melody has scales from Beethoven's Ode to Joy painted on it. Eve is best suited for one occupant and Eryn and Melody can accommodate two adults.
"There's a magic about these spheres," that comes in part "from the love and intention Tom puts into each one," says Kait Burgan of Arbutus RV Island Adventures. Free Spirit Spheres is about 35 miles north of the city of Nanaimo on Vancouver Island, between Qualicum Beach and what is locally known as "lighthouse country."
Free Spirit Sphere's hopes this floating oasis in the canopy of the coastal forest will "provide a venue for people to enjoy exceptional experiences while dwelling in a natural forest environment." Chudleigh also wants to build new spheres and is seeking new spaces and potential partners that can enable him to do so.
A nearly three-quarter-square-mile chunk of ice broke off the Porcupine Glacier in British Columbia this summer, but it was only detected recently when the National Aeronautics and Space Administration posted a satellite image of the area. Glaciologist Mauri Pelto called it "the biggest calving event in North America" that he has ever seen.
The breakup at Porcupine is the largest single iceberg (by area) to calve from a North American glacier in recent decades.NASA Earth Observatory
The Porcupine Glacier, a 12-mile-long tongue of an ice field in the Hoodoo Mountains of Northern British Columbia, has been studied for many years. From 1985 to 2005, researchers saw a reduction of 0.3 percent a year. The glacier has also been thinning, at a rate of about 2.5 inches per year. As it melts, it grows a lake at the end of the glacier.

"The volume loss has been speeding up in these glaciers," Pelto told The Globe and Mail.
The Landsat 8 satellite passed over Porcupine Glacier on Aug. 27 revealing the breakaway ice as compared to an image made two days earlier. Dr. Pelto, who has been analyzing satellite imagery of the area's glaciers since the 1980s, said the Porcupine Glacier event is part of a broader trend in which glaciers are retreating rapidly. This summer's sudden calving event shrunk the glacier back a full mile.
Pelto is a professor of environmental science at Nichols College in Dudley, Massachusetts, a small town on the Connecticut border south of Worcester. Pelto has been making field trips to the North Cascades every year since 1983 and uses satellite images to see the larger view.
"Without the images, we would just have the isolated point measurements of ground truth at specific times," Pelto said.

This calving event would have been unlike those often seen in Alaska, where a large section of ice crashes dramatically into the sea. The Porcupine Glacier features a low slope, so the iceberg would have simply slid into the lake.
"It would have been more like if you're pushing off from the shore in a canoe. It didn't break off and fall in," Pelto explained.
During his three decades of research, Pelto has also observed a large number of new alpine lakes being formed and expanded as glaciers have retreated in the Alps, Himalayas, Andes, North America, New Zealand, and Norway. He has also witnessed new islands revealed off the coast of Greenland and Novaya Zemlya that had been hidden under ice for thousands of years.
The U.S. Geological Survey says that Alaska's glaciers are losing 75 billion tons of ice each year. That's an amount of water that would fill Yankee Stadium 150,000 times, year after year.
Glaciers on these 25 mountains will completely melt in 25 years https://t.co/I1L13uobCL via @EcoWatch #climate… https://t.co/Lq6dmE8Hfz

— climatehawk1 (@climatehawk1)1475611261.0
"It's hard for me to forecast the climate going forward, but it's not going to get better for the glaciers," Pelto said.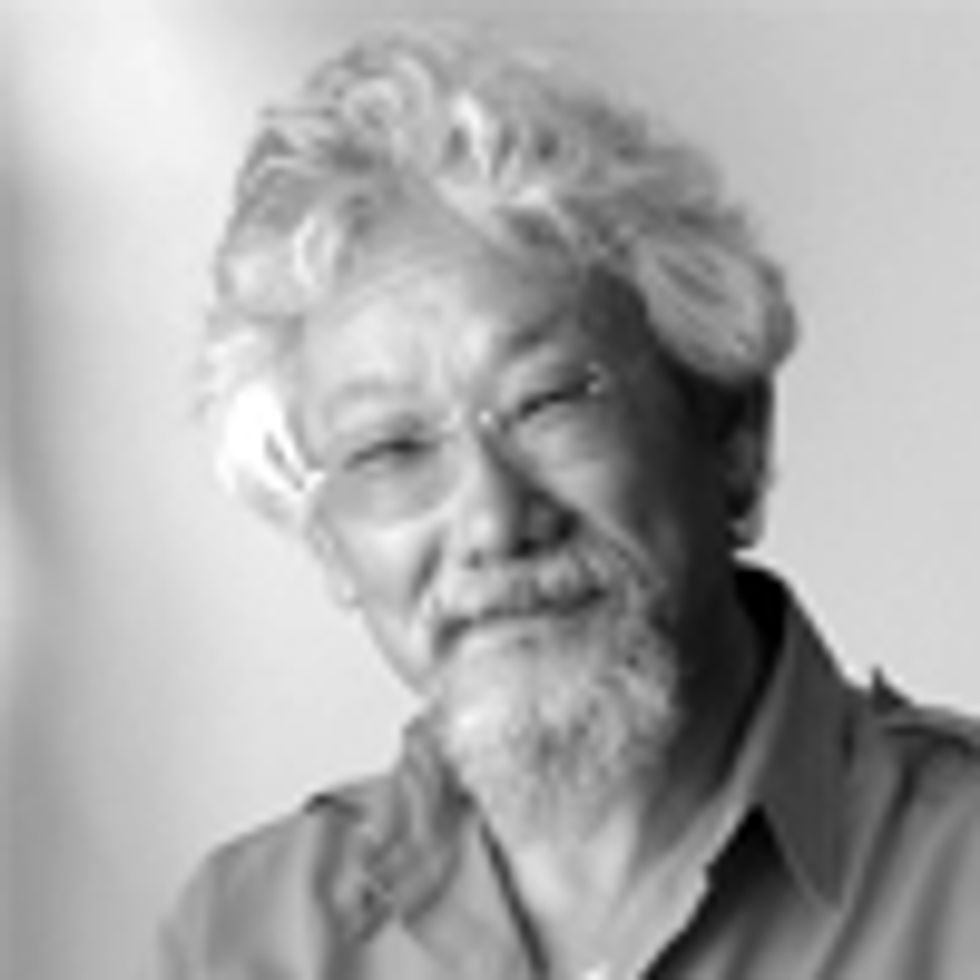 British Columbia (B.C.) appears to be pinning its economic hopes on natural gas—much of it obtained by fracking. While the world should be turning from fossil fuels to cleaner energy and conservation, we're poised to dig ourselves deeper into the climate-altering carbon hole.
 
Taking a cue from the liquidation-sale policies of the Alberta and federal governments, B.C.'s leaders want to get fossil fuels out of the ground, piped to the coast, liquefied and shipped to Asia—or wherever they can find buyers—as quickly as possible. It's a short-sighted plan based on outmoded thinking. In the long run, it's not good for the economy or the environment.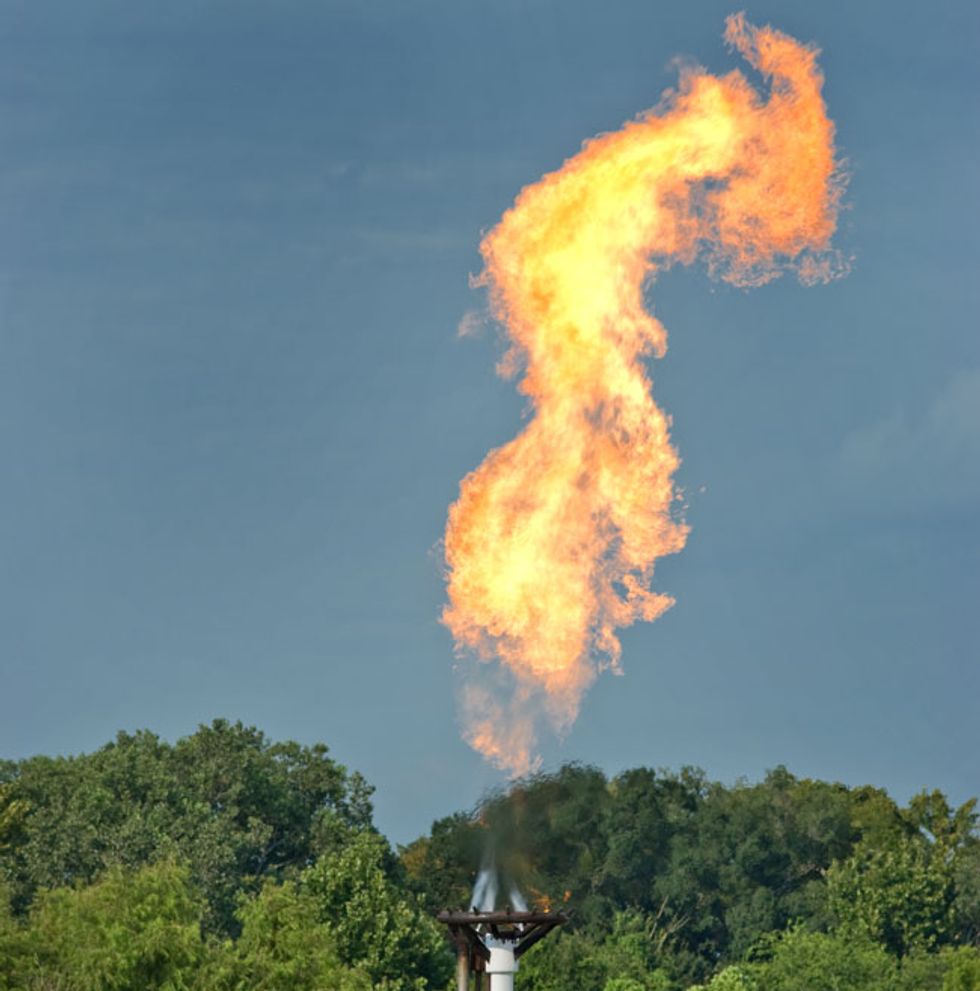 Whether politicians believe fossil fuel supplies are endless or can only see as far as the next election, they're selling out our future and leaving a shattered legacy for our kids and grandkids. To start, natural gas is not the clean-energy solution it's touted to be. According to the Pembina Institute, if only five of the 12 proposed liquefied natural gas (LNG) terminals were built on the B.C. coast, they could spew 63 million tons of carbon a year into the atmosphere—exceeding the amount now produced by the Alberta tar sands and equal to all of B.C.'s greenhouse gas emissions in 2010. Discharged particle matter and volatile organic compounds would also be significant new sources of pollution.
Liquefying the gas for export, which requires enormous amounts of energy, isn't the only source of greenhouse gases. Leaks–or what the industry refers to as "fugitive emissions"–during drilling, extraction and transport are also concerns. Although the B.C. Environment Ministry claims just .3 to .4 percent of gas escapes into the atmosphere, independent studies say it's likely many times that amount.
According to an article in Nature, scientists from the U.S. National Oceanic and Atmospheric Administration and the University of Colorado in Boulder found leaks of methane—a greenhouse gas 20 times more potent than carbon dioxide—amounted to between four and nine percent of total production at two gas fields in the U.S.
Even the economic benefits of the province's LNG plans are suspect. Many analysts expect price corrections, and LNG expert Peter Hughes told the Canadian Broadcasting Corporation the perceived windfall is "wishful thinking" because B.C. will have to compete with producers in places like Qatar, East Africa and Australia. Most of the money wouldn't even stay in B.C., as many gas companies are from other provinces and countries. As for jobs, natural gas extraction, transport and production create relatively few compared to almost every other economic sector–including tourism, science and technology, health care, education and small business.
 
On top of that, fracking—shooting water, sand and chemicals at high pressure into the ground to shatter shale and release natural gas—has many other environmental consequences. It requires massive amounts of water, contaminates drinking water, damages habitat and ecosystems—even causes small earthquakes!
 
As well as seeing natural gas as an economic panacea, some argue it could be a "bridging fuel"–something cleaner than oil or coal to use while we make the transition to renewable energy. But it's a hazard-strewn bridge, and subsidizing and investing in natural gas extraction and infrastructure without any real commitment to wean us off oil, coal and gas will only keep us on the fossil fuel road and discourage investment in clean energy and conservation.
 
The industry also relies on taxpayers' money to subsidize it, through tax and royalty credits, and to provide water, roads and the massive amounts of energy required to liquefy the gas. And fugitive emissions from gas operations are exempt from the carbon tax. If we are really "bridging" to reduce fossil fuels, why are we subsidizing companies for their carbon costs?
 
It's time to invest our money and human resources in long-term, innovative ideas that will create good, lasting jobs and ensure that we and our children and grandchildren continue to enjoy healthy and prosperous lives and that our spectacular "supernatural" environment is protected. We have abundant renewable resources and opportunities to conserve energy and lead the way in developing clean energy. It's time to move forward.
Visit EcoWatch's LNG and FRACKING and pages for more related news on this topic.
——–
Click here to tell Congress to Expedite Renewable Energy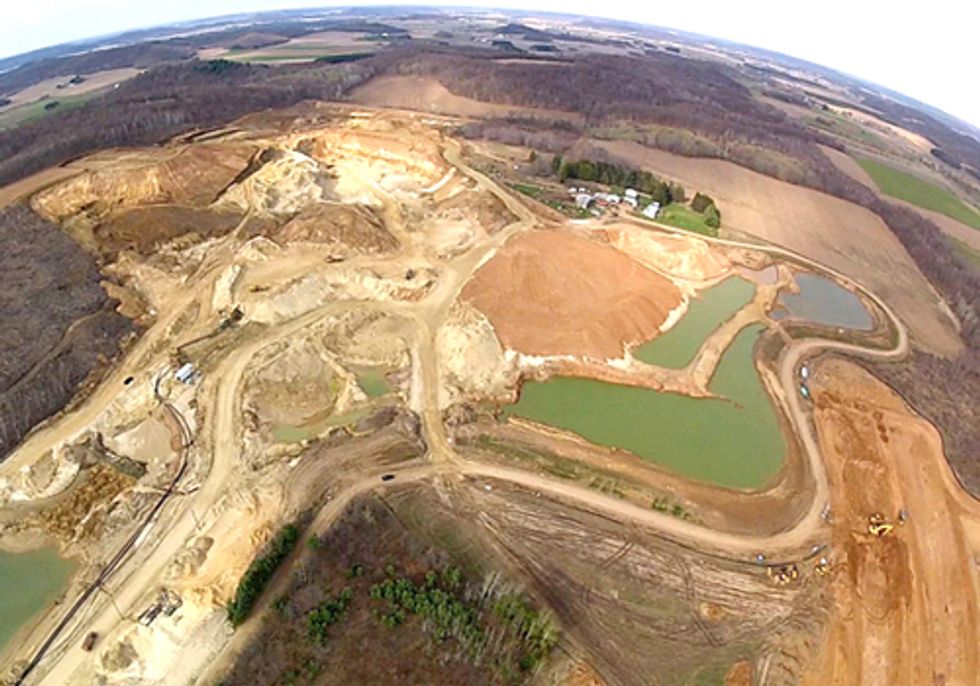 Stikine Gold Mining Corp. will provide unconventional gas producers with British Columbian silica sand for fracking operations if the Ministry of Forests, Lands and Natural Resource Operations approves the company's open pit frac-sand mine project application. According to the Ministry's website the project, located 90 kilometers north of Prince George, is in pre-application status with the Environmental Assessment Office.
If granted approval, Stikine could gouge a 5 kilometer wide and 200 meter deep hole in the region's sandstone shelves, dismantling what works as a massive natural water filtration system in order to benefit an industrial enterprise that removes millions of gallons of freshwater from the earth's hydrogeological system each year. This is done as an intermediary step towards fracking for unconventional gas, an energy-intensive, heavy industrial process that will ultimately release high levels of greenhouse gasses into the atmosphere. 
"Stikine's new focus on the potential production of Frac Sand from silica sources in north eastern BC (NEBC) represents a strategic opportunity in the market and a first for what is shaping up to be a massive gas play in region," the company announced on its website.
Frac-sand mining is an often overlooked component of hydraulic fracturing operations. Producers use a mixture of sand, water, and chemicals to blast open shale gas deposits, such as those located in northeastern BC. Fracking opponents often point to the toxicity of fracking chemicals, the possibility of groundwater contamination and high levels of fugitive methane emissions associated with the process to demonstrate the high environmental footprint of the industry-lauded 'clean' energy source.
The role sand plays in fracking is often overshadowed by these more widespread problems that follow the process to each well-pad, affecting communities at the local level. However, giving more thought to the industry's need for sand—a single well can use between 2 and 5 million pounds of sand—sheds light on just how destructive fracking is, right from inception.
As DeSmog's Steve Horn reported this summer in his investigative video report Sand Land, mining for frac-sand is associated with serious ecological dangers and threats to human health. Most egregious on the human health level is the risk of silicosis, a respiratory condition associated with silica particulate which shreds lung tissue causing permanent scarring. Because silica dust is carcinogenic, the condition is often associated with cancer.

The impact of sand mining is far reaching ecologically. Pastoral landscapes, like those previously found around Wisconsin's Chippewa county, have been transformed into post-mining wastelands. According to Grist, the mining industry took Chippewa by storm in 2009, producing 6.5 million metric tons of sand that year alone. Between 22 and 36 frac-sand facilities were either open or approved in Wisconsin as of July 2011. That number catapulted to a total of 60 mines and 45 sand-refining plants by February 2012, only seven months later.
This summer the state's Department of Natural Resources estimated corporations are mining at least 15 million metric tons of sand annually in Wisconsin alone.
Is BC the Gas Industry's Next Wisconsin?
BC's Ministry of Forests, Lands and Natural Resource Development includes Stikine's application for the open pit sand mine in its October 2012 Major Projects list.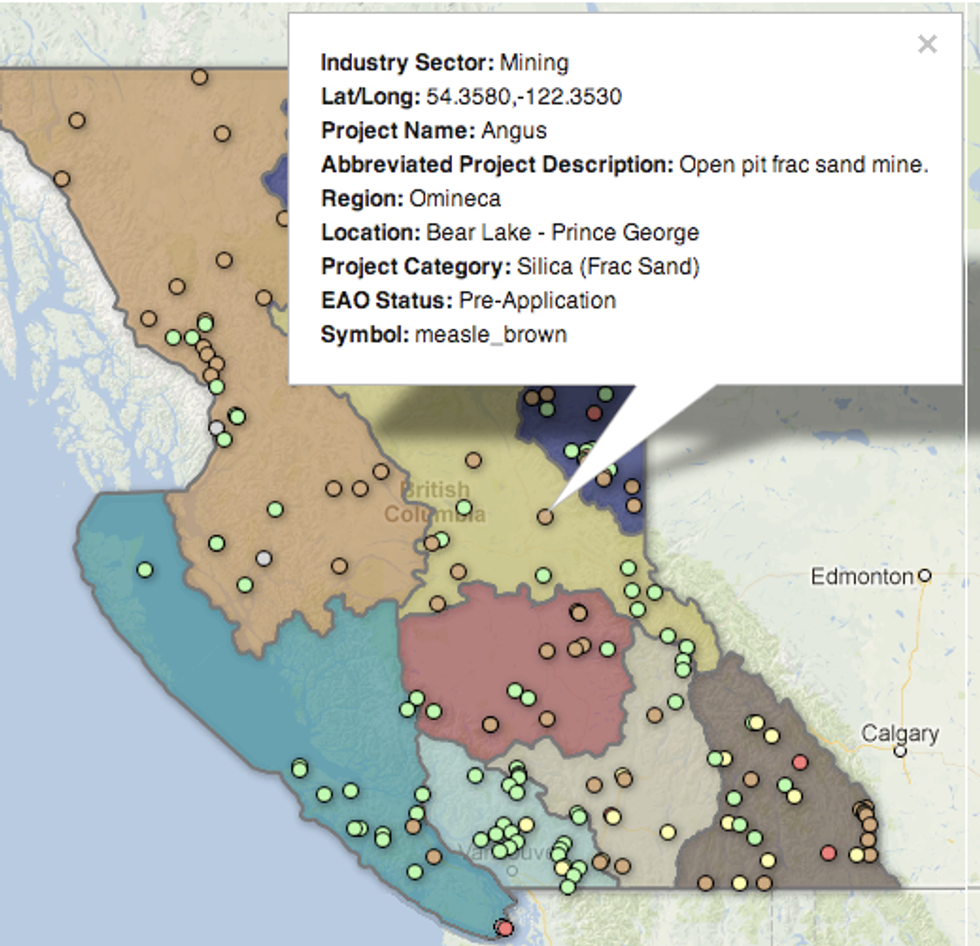 Companies operating in the region currently spend hundreds of dollars per tonne to import frac-sand from thousands of kilometers away, according to Stikine, a gold mining company that sees sand as an easy way to cash in on BC's fracking boom.
Sattelite images demonstrate how tremendous industry's impact has already been on the region's landscape.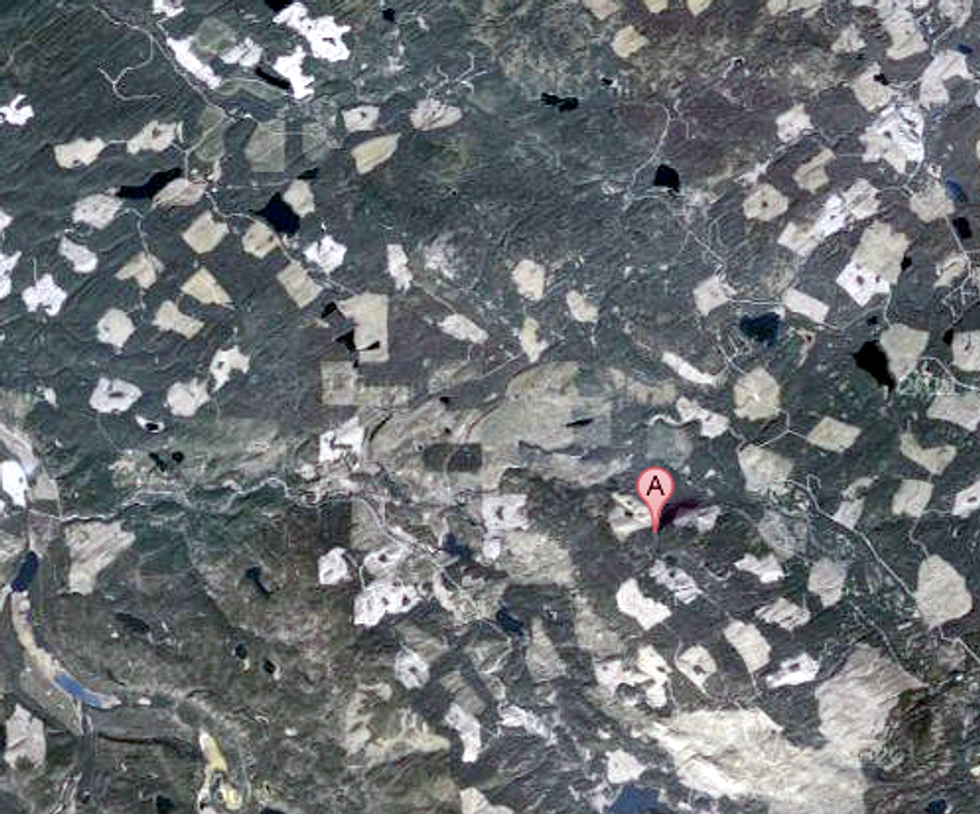 Google map images of Stikine's proposed frac-sand open pit mine location. The coordinates
Stikine's sights may be set on additional future frac-sand mines. The company's map below outlines BC's quartz deposits, all of which may prove suitable for frac sand mining.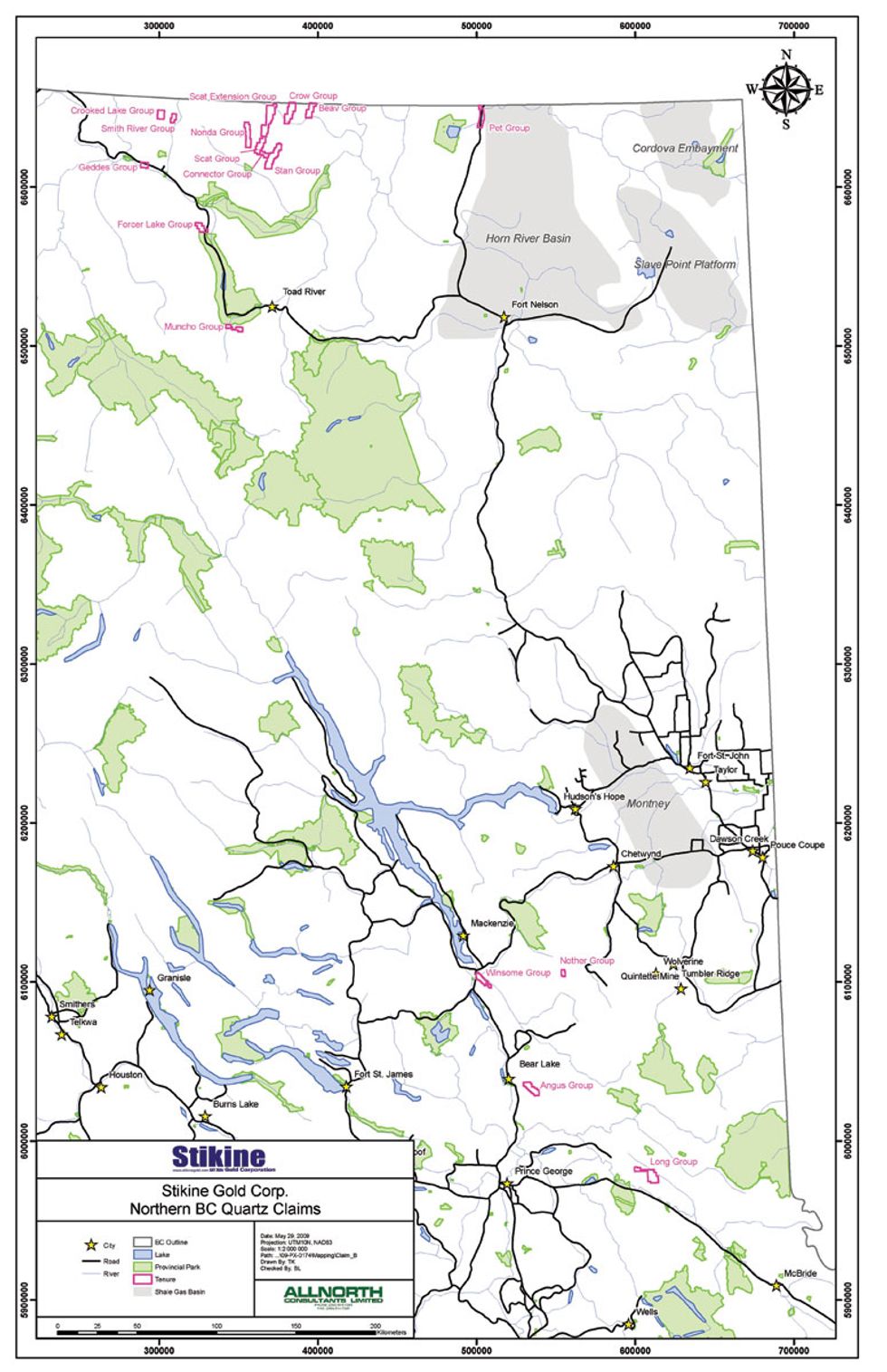 The crucial question is whether or not British Columbia is prepared to level vast swaths of the province's prized forests to feed the fracking fire. 
Visit EcoWatch's FRACKING page for more related news on this topic.