Such an achievement "would have been unthinkable just a few years ago," Iain Staffell of Imperial College London wrote about the new findings.
Over the past five years, the capacity from renewables has tripled while a third of fossil fuel generating capacity has retired, the Electric Insights report said.
Here are some other key findings of the report:
Wind farms provide the biggest share of renewable capacity on the system, with more than 20 gigawatts available.
Solar comes in second providing more than 13 gigawatts.
Biomass is third, with 3.2 gigawatts.
The rollout of renewables has also eclipsed the so-called "dash for gas" in the 1990s, Staffell noted. An average of 3.8 gigawatts of new renewable capacity was added in Britain each year, compared to 2.4 gigawatts of natural gas at its peak.
"Britain's power system is slowly but surely walking away from fossil fuels, and this quarter saw a major milestone on the journey," Staffell wrote.
World's Largest #Offshore #Wind Farm Opens in Irish Sea @movetheworld @projectaware @pbsnature @rootsofchange… https://t.co/c8YKt8WsVL

— EcoWatch (@EcoWatch)1536255612.0
The UK has a target of slashing greenhouse gas emissions by 80 percent compared with 1990 levels by 2050. Coal, which was once king in Britain, will be phased out by 2025 under government plans.

"The fall in fossil capacity has come mostly from coal plants retiring. A quarter of the country's coal capacity has retired in the last year, leaving just six generators in the country," Staffell explained.
Meanwhile, investment in renewable energy has ramped up in recent years, including the recent opening of the 659-megawatt Walney Extension—the world's largest offshore wind farm—off the coast of Cumbria, England.
"However," Staffell noted, "unabated gas capacity will remain for the next few decades, and may soon increase as a new gas power stations are being developed in Keadby, Lincolnshire and on the site of the recently-closed Eggborough coal power station in Yorkshire. Similarly, small gas and diesel reciprocating engines are appearing throughout the country, as a cheap (but polluting) supplier of peak capacity and balancing services."
Tremors Interrupt First #UK #Fracking Attempt in 7 Years https://t.co/l5Pc56mbxu

— EcoWatch (@EcoWatch)1540544590.0
EcoWatch Daily Newsletter
Mine opponents said the project would cause environmental destruction in Druridge Bay. John Robert McNally / Flickr
In an unprecedented move, the British government rejected plans for a new open-pit coal mine in Northumberland county in northeast England, citing concerns over climate change as a reason.
Northumberland County Council had approved in 2016 a plan from developer Banks Mining to extract three million metric tons of coal, sandstone and fireclay from a site near Druridge Bay. While supporters said the mine would create at least 100 jobs and bring economic investment in the region, opponents said the mine would hurt wildlife, harm tourism and continue the UK's dependence on the polluting fossil fuel.
But last week, Sajid Javid, Britain's Communities and Local Government Secretary, rejected the project.
I've made a decision on planning permission for a surface coal mine at Highthorn, Druridge Bay, Northumberland – ta… https://t.co/7tstXcm44l

— Sajid Javid (@Sajid Javid)1521796750.0
In a March 23 letter from the Ministry of Housing, Communities & Local Government to Banks Mining, Sec. Javid "agrees that Green House Gas (GHG) emissions from the proposed development would adversely impact upon measures to limit climate change. He further agrees that most of the GHG emissions would be emitted in the short term, resulting in an adverse effect of substantial significance, reducing to minor significance in the medium term; and that Green House Gas emissions in the long term would be negligible, but that the effects of carbon in the atmosphere would have a cumulative effect in the long term.
"Given that cumulative effect, and the importance to which the Government affords combatting climate change, he concludes that overall the scheme would have an adverse effect on Green House Gas emissions and climate change of very substantial significance, which he gives very considerable weight in the planning balance."
The UK government has committed to phasing out coal power no later than 2025 in order to meet its climate targets. Britain is also part of the international Powering Past Coal Alliance aimed at reducing global coal consumption.
#Oregon and #Washington Join 20 Countries to Phase Out #Coal By 2030 https://t.co/PezTQjVdEI @BeyondCoal… https://t.co/6PFpOHNcCj

— EcoWatch (@EcoWatch)1510850855.0
Environmental groups celebrated the decision.
"This is the first coal mine ever to be rejected in the UK because of climate change impacts—a vindication for everyone who has been calling for fossil fuels to be left in the ground," Friends of the Earth campaigner Rose Dickinson said.
"Now ministers should take the next step by banning all new opencast coal and stop trying to impose fracking on communities," she added.
"Our renewable energy resources hold the answer: by being able to reduce emissions, meet energy needs, and bring the jobs and investment that is badly needed for communities here in Druridge Bay and elsewhere."
Banks Mining criticized Javid's action. Gavin Styles, managing director at Banks Mining, called it an "absolutely perverse decision" that was "made for purely political reasons."
The company said it "will now carefully review the precise reasons for the Secretary of State's decision before deciding on the most appropriate next steps to take."
The UK is Europe's second-largest emitter behind Germany. However, preliminary government data released Thursday shows that greenhouse gas emissions fell 3 percent last year from 2016 levels—a fifth consecutive yearly drop.
This decrease was largely due to a decline in coal-fired power generation. The Department for Business, Energy and Industrial Strategy reported that power generation from coal plants fell 26 percent in 2017 to 21.36 terawatt hours (TWh), making up less than 7 percent of Britain's total electricity supply. Meanwhile, Britain experienced a banner year with renewable energy, with wind power rising 33 percent to a record 40.9 TWh and solar generation up 43 percent to a record 2.9 TWh.
Macron: France Will Shut All Coal-Fired Power Stations by 2021 https://t.co/JzQ8Wim6un @TheCCoalition @CarbonBrief

— EcoWatch (@EcoWatch)1516962011.0
From Your Site Articles
Related Articles Around the Web
waterlust.com / @tulasendlesssummer_sierra .
Each product featured here has been independently selected by the writer. If you make a purchase using the links included, we may earn commission.
The bright patterns and recognizable designs of Waterlust's activewear aren't just for show. In fact, they're meant to promote the conversation around sustainability and give back to the ocean science and conservation community.
Each design is paired with a research lab, nonprofit, or education organization that has high intellectual merit and the potential to move the needle in its respective field. For each product sold, Waterlust donates 10% of profits to these conservation partners.
Eye-Catching Designs Made from Recycled Plastic Bottles
waterlust.com / @abamabam
The company sells a range of eco-friendly items like leggings, rash guards, and board shorts that are made using recycled post-consumer plastic bottles. There are currently 16 causes represented by distinct marine-life patterns, from whale shark research and invasive lionfish removal to sockeye salmon monitoring and abalone restoration.

One such organization is Get Inspired, a nonprofit that specializes in ocean restoration and environmental education. Get Inspired founder, marine biologist Nancy Caruso, says supporting on-the-ground efforts is one thing that sets Waterlust apart, like their apparel line that supports Get Inspired abalone restoration programs.
"All of us [conservation partners] are doing something," Caruso said. "We're not putting up exhibits and talking about it — although that is important — we're in the field."
Waterlust not only helps its conservation partners financially so they can continue their important work. It also helps them get the word out about what they're doing, whether that's through social media spotlights, photo and video projects, or the informative note card that comes with each piece of apparel.
"They're doing their part for sure, pushing the information out across all of their channels, and I think that's what makes them so interesting," Caruso said.
And then there are the clothes, which speak for themselves.
Advocate Apparel to Start Conversations About Conservation
waterlust.com / @oceanraysphotography
Waterlust's concept of "advocate apparel" encourages people to see getting dressed every day as an opportunity to not only express their individuality and style, but also to advance the conversation around marine science. By infusing science into clothing, people can visually represent species and ecosystems in need of advocacy — something that, more often than not, leads to a teaching moment.

"When people wear Waterlust gear, it's just a matter of time before somebody asks them about the bright, funky designs," said Waterlust's CEO, Patrick Rynne. "That moment is incredibly special, because it creates an intimate opportunity for the wearer to share what they've learned with another."
The idea for the company came to Rynne when he was a Ph.D. student in marine science.
"I was surrounded by incredible people that were discovering fascinating things but noticed that often their work wasn't reaching the general public in creative and engaging ways," he said. "That seemed like a missed opportunity with big implications."
Waterlust initially focused on conventional media, like film and photography, to promote ocean science, but the team quickly realized engagement on social media didn't translate to action or even knowledge sharing offscreen.
Rynne also saw the "in one ear, out the other" issue in the classroom — if students didn't repeatedly engage with the topics they learned, they'd quickly forget them.
"We decided that if we truly wanted to achieve our goal of bringing science into people's lives and have it stick, it would need to be through a process that is frequently repeated, fun, and functional," Rynne said. "That's when we thought about clothing."
Support Marine Research and Sustainability in Style
To date, Waterlust has sold tens of thousands of pieces of apparel in over 100 countries, and the interactions its products have sparked have had clear implications for furthering science communication.
For Caruso alone, it's led to opportunities to share her abalone restoration methods with communities far and wide.
"It moves my small little world of what I'm doing here in Orange County, California, across the entire globe," she said. "That's one of the beautiful things about our partnership."
Check out all of the different eco-conscious apparel options available from Waterlust to help promote ocean conservation.
Melissa Smith is an avid writer, scuba diver, backpacker, and all-around outdoor enthusiast. She graduated from the University of Florida with degrees in journalism and sustainable studies. Before joining EcoWatch, Melissa worked as the managing editor of Scuba Diving magazine and the communications manager of The Ocean Agency, a non-profit that's featured in the Emmy award-winning documentary Chasing Coral.
Like other groups, Zero Carbon Britain (ZCB) is working to find the best ways to address and respond to climate change. The difference in ZCB is that the organization doesn't want to rely on future promises or technologies to get the job done.
ZCB says the job can be done with existing resources, sooner than later.
"By making changes to our buildings, transport systems and behavior, and by investing in a variety of renewable energy generation technologies suited to the UK (without a nuclear component), we can provide a reliable zero carbon energy supply without negatively impacting on quality of life," reads an executive summary of the organization's latest report, Rethinking the Future.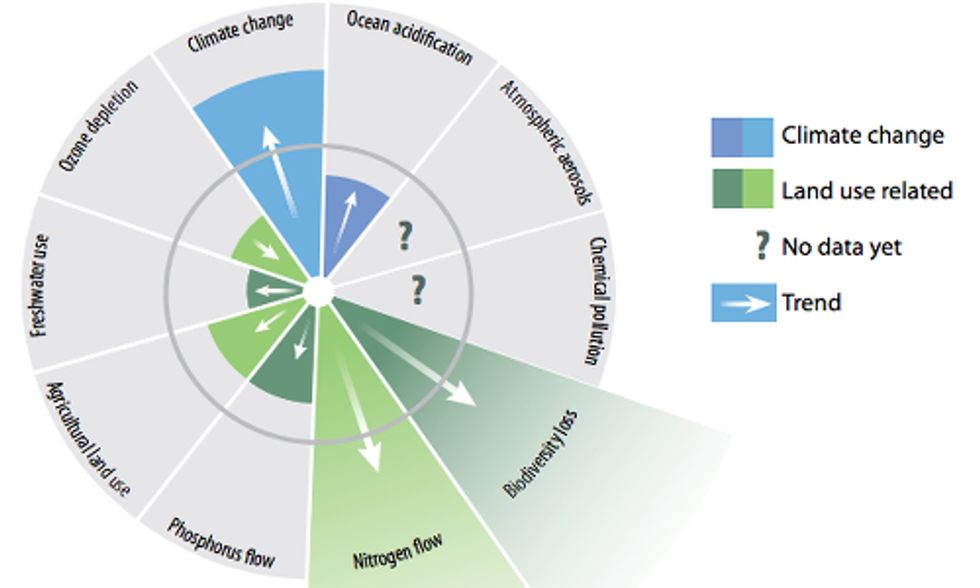 roots of climate change and of land use.The grey circle represents the 'safe operating space' for humanity. Graphic credit: Zero Carbon Britain
Those ideas are coming to the U.S. next week when ZCB coordinator Paul Allen comes to the Cleveland Museum of Natural History for a special lecture about the project. Allen has held several key positions in the United Kingdom, including climate change commissioner for Wales and board member of the International Forum for Sustainable Energy.
Allen's appearance is through the GreenCityBlueLake Institute, the museum's sustainability center. He will likely provide advice for Sustainable Cleveland 2019, an initiative to minimize the city's environmental impact as it tries to expand and accelerate its economy.
The ZCB team is comprised of researchers who formed the group in 2006. They have have released three reports to date, all of which contain "rapid scenarios" for getting to a zero-carbon United Kingdom and, perhaps, world. Rethinking the Future imagines a successful transition a decade and a half from now.
"It is 2030. We have acknowledged our historical responsibility as a long-industrialized nation and made our contribution to addressing climate change by reducing UK greenhouse gas emissions rapidly to net zero," the report reads.
The 214-page document spells out how emissions related to energy, transportation, buildings and more are each reduced to arrive at a zero-carbon state.
The Center for Alternative Technology (CAT) houses ZCB and uses its materials for educating its students, while the group also offers its reports to people looking to encourage their local politicians to enact policies that will aid in the quest to reduce emissions.
Allen is external relations director at CAT. This 2010 clip from Peace Trees features Allen explaining the ZCB vision:
Allen was little more blunt in late 2013 when he appeared at an event in Penrith, Cumbria to discuss the report.
"We know we can do it, we just have to get off our butts and do it," he said.
By Andy Rowell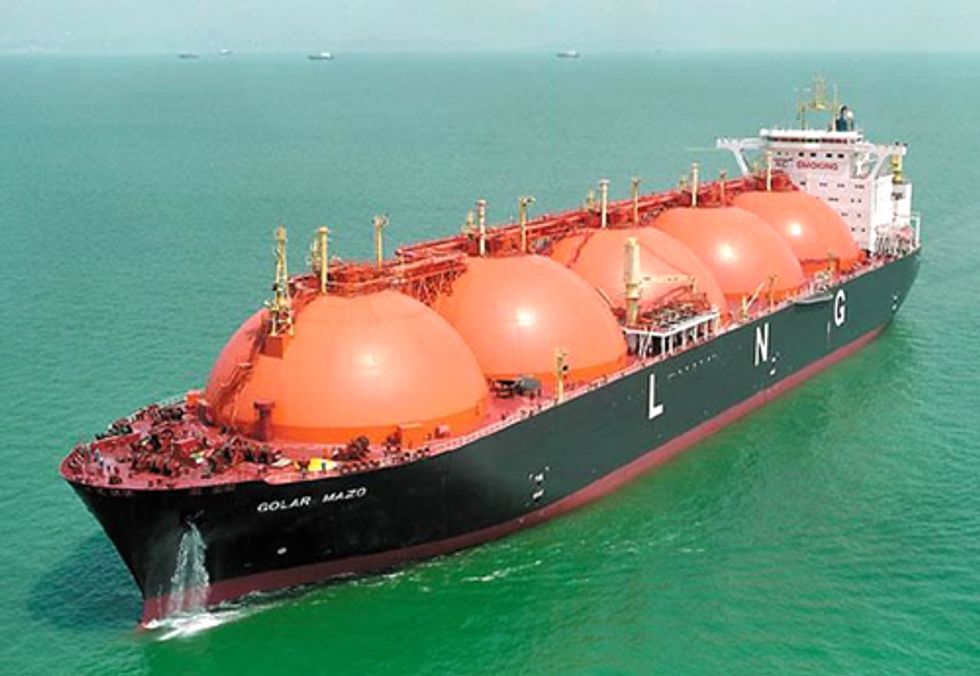 The oil and gas industry has long argued that the fracking boom sweeping America will lead to an age of plenty where gas prices remain low indefinitely, energy is cheap and jobs are created.
But the oil and gas industry does not work in geographical isolation; it is an international industry. And increasingly the U.S. is looking to export frack gas as liquified natural gas (LNG).
Yesterday came the first of what could potentially be many deals. The British company Centrica announced that it had signed a $15 billion, 20-year, "landmark" agreement with Cheniere Energy Partners, which would allow it to export enough from the U.S. to supply just under 2 million British homes each year.
British Prime Minister David Cameron, welcomed the deal: "Future gas supplies from the U.S. will help diversify our energy mix and provide British consumers with a new long-term, secure and affordable source of fuel."
Exporting LNG to Europe and the thirsty markets of Asia could be a sign of things to come. Indeed, in the Financial Times, Ed Crooks argues that more than 40 percent of the entire U.S. marketed gas production could be exported, if all the LNG applications go ahead.
He writes: "The U.S. Department of Energy has been sent applications from 21 proposed LNG projects for permits to export a total of 28.3bn cubic feet of gas per day: 41 percent of the entire marketed gas production of the U.S. last year."
The rush to export has provoked a backlash, and Crooks argues that: "An increasingly vocal campaign is arguing for a go-slow in allowing U.S. shale production to be exported as liquefied natural gas."
The reason for this is simple old economics of supply and demand. At the moment, there is a glut of U.S. gas, driving down prices, but if 20 or 30 percent is exported, this will reduce supply in the U.S. and raise prices. And if prices rise, investment will fall, further curtailing supply and further increasing prices.
One businessman, Peter Huntsman, chief executive of Huntsman chemicals who is advocating a slowdown in exports, cautions that "the U.S. price of gas would skyrocket," if LNG exports are allowed to continue.
Indeed, there is now an industry-backed campaign called America's Energy Advantage that is warning that billions of dollars of potential investment in U.S. industry could be at risk if the large scale LNG exports do indeed happen.
The group—which includes the heavy energy users such as Dow Chemical, Huntsman and Alcoa—is essentially calling for exports to be curtailed soon.
On the other side of the fence more than 100 members of Congress have signed a letter asking for the Obama administration to "advance without delay … toward approval of export permits."
The oil industry has also attacked opponents of exporting natural gas. Earlier this month, Exxon Mobil Senior Vice President Michael Dolan told an energy conference in Houston that "It's absolutely embarrassing for people in our industry at very high levels to make a case that's blatantly to put money in their pocket."
Writing on the Oilprice.com website yesterday, Kurt Cobb author of the peak-oil thriller, Prelude, argued that the pro-export drive of the oil industry "is to get higher prices for its product than customers in the United States can provide."
But all may not be what they seem in the U.S. right now he argues. Cobb argues that, even without a massive export boom, that "U.S. natural gas production could actually start declining soon and send prices soaring … the present and the past suggest that the so-called shale gas revolution is about to be laid to rest."
If Cobb is proved right, and that is a big if, Centrica may have just bet $15 billion on the wrong horse.
Visit EcoWatch's FRACKING and LNG pages for more related news on this topic.
——–
Sign the petition today, telling President Obama to enact an immediate fracking moratorium:

By Salvatore Colleluori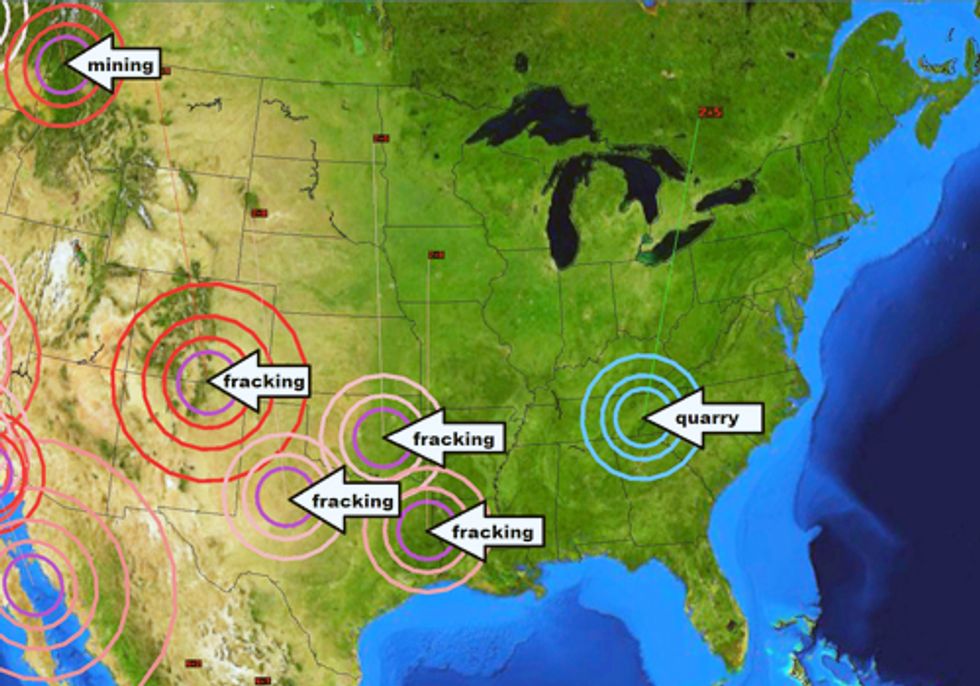 The Oklahoman relied on the "absence of compelling evidence" and the comments of a single geologist to conclude that the largest recorded earthquake in Oklahoma's history was not tied to fracking, despite mounting evidence that indicates otherwise. In doing so, the paper dismissed mounting evidence linking underground injection of wastewater to earthquakes at large, continuing its attempt to cast doubt on science and shut down policy debates that could affect the paper's owner, billionaire oil and gas tycoon Philip Anschutz.
In a Dec. 11 editorial, The Oklahoman dismissed the links between oil and gas exploration and earthquakes by saying "unless proven otherwise," any assumption of what caused the earthquake "should go to nature" instead of being attributed to mankind. From The Oklahoman editorial (emphasis added):
Ties go to the runner in baseball. Assumptions about nature, when apparently tied, should go to nature. Unless proven otherwise.

This is the heart of the discussion on whether the largest recorded earthquake in Oklahoma history was manmade rather than an act of nature. Some believe that oil and gas exploration activity in the area of the epicenter caused the quake. That's an assumption, as is the belief that earthquakes are natural phenomena always caused by nature and never by mankind.

We subscribe to the view that in the absence of compelling evidence that a natural phenomenon was caused by human activity, we should assume it was caused by nature. But we live in a time when science-based policymaking is highly politicized and a portion of mankind dislikes humanity to the point of suspecting that many "natural" events (such as hurricanes) are the unnatural result of people.
The editorial points to one seismologist, Oklahoma Geological Survey's Austin Holland, who said, "until you can prove that it's not a natural earthquake, you should assume it's a natural earthquake." However, experts believe that the November 2011 earthquake and other events in Oklahoma—such as the drastic increase from six earthquakes between 2000 and 2008 to 850 earthquakes between January 2010 and March 2011 in Oklahoma County—point to a link between fracking-related activites, specifically wastewater injection and seismic activity. Similar links have also been made in Dallas, Texas, Ohio and Arkansas. Scientists from the U.S. Geological Survey also presented a report in April that found that "seismicity rate changes" in Arkansas and Oklahoma "are almost certainly manmade," although it remains unclear if the changes were related specifically to fracking or to the rate of oil and gas production.
Even shale development corporations have voiced their concerns that their activities may have contributed to seismic activity. Cuadrilla Resources, the only company in Britain using hydraulic fracturing to extract oil and gas, admitted in a report that earthquakes near Blackpool, England were likely caused by their work in the area. From the Huffington Post:
The only company in Britain using hydraulic fracturing to release natural gas from shale rock said Wednesday that the controversial technique probably did trigger earth tremors in April and May.

But a report commissioned by Cuadrilla Resources, which is drilling for gas in the area outside the northwestern English coastal resort town of Blackpool, cautioned that the tremors, measuring 1.9 and 2.8 on the Richter scale—were due to an unusual combination of geology and operations and were unlikely to happen again.
The Oklahoman editorial is the second editorial in two weeks to criticize the use of science in policy making. On Nov. 28, the paper told policymakers to ignore science because it could hurt jobs and increase economic hardship "in the name of global warming theories" its editors don't believe are valid. In fact, since the paper was purchased by oil and gas tycoon Philip Anschutz, whose company sued a town that banned fracking, the paper has dismissed the links between fracking and groundwater contamination and written two previous editorials attacking the connection between fracking-related activities and seismic activity.
Despite the mounting evidence that oil and gas extraction could be harmful to our planet, The Oklahoman continues to disregard science and shut down any debate that might hurt its owner's financial interests.
Visit EcoWatch's FRACKING page for more related news on this topic.