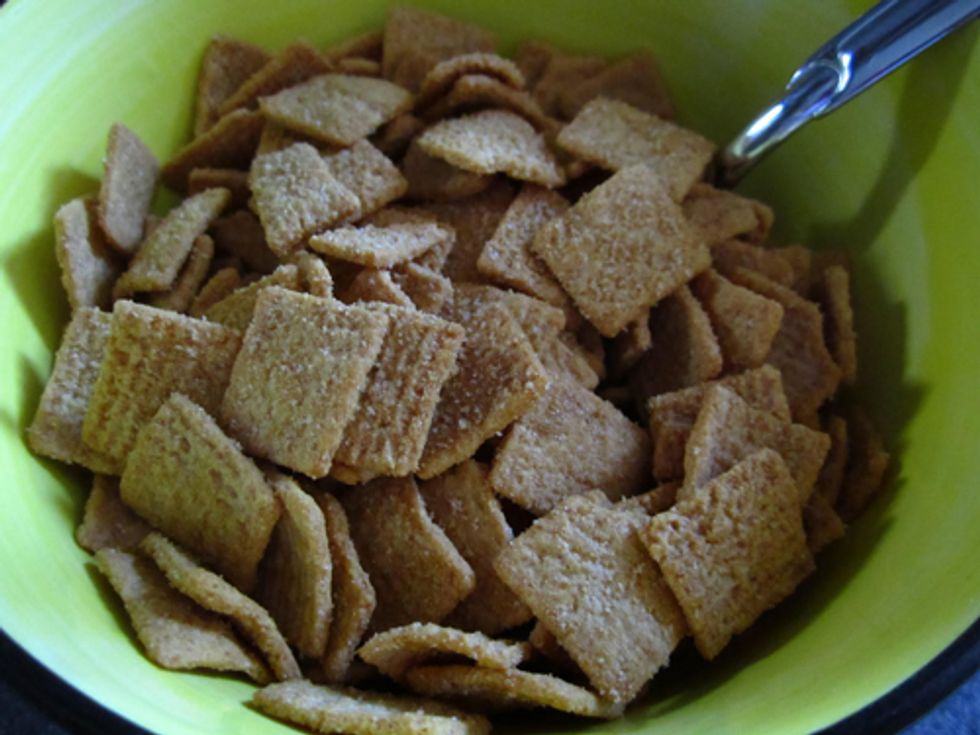 By Janelle Sorensen
Like many other consumers, I used to think that if I shopped at the local co-op or in the natural section of the grocery store, I couldn't go wrong. I could relinquish my fears of genetically modified organisms (GMOs) and pesticides and breeze through my grocery shopping without an eco-care in the world.
Not so true.
Now, I know that just because a product has pictures of baby animals or leaves, or is sitting on the shelf next to an organic product, or says "natural," it does not mean it's healthier or more eco-friendly than other conventional options.
According to the latest report from the Cornucopia Institute:
There are no restrictions for foods labeled "natural" (very basic standards exist only for meat products). The term often constitutes nothing more than meaningless marketing hype promoted by corporate interests seeking to cash in on the consumer desire for food produced in a genuinely sustainable manner.
Unlike the organic label, no government agency, certification group or other independent entity fully defines the term "natural" on processed food packages or ensures that the claim has merit.
This report explores the vast differences between organic cereal and granola products and so-called natural products, which contain ingredients grown on conventional farms where the use of toxic pesticides and genetically engineered organisms is widespread.
Our analysis reveals that "natural" products—using conventional ingredients—often are priced higher than equivalent organic products. This suggests that some companies are taking advantage of consumer confusion.
To find brands that are committed to sustainable agriculture, avoiding genetically engineered ingredients and supporting organic farmers, use the Cereal Scorecard.
Here's a quick video summary of their findings:
Does your family eat cereal? What kind? Any other easy breakfast ideas?
Learn more:
Visit Eat Healthy to find recipes that are fast, frugal, fun and eco-friendly.
 For more information, click here.

EcoWatch Daily Newsletter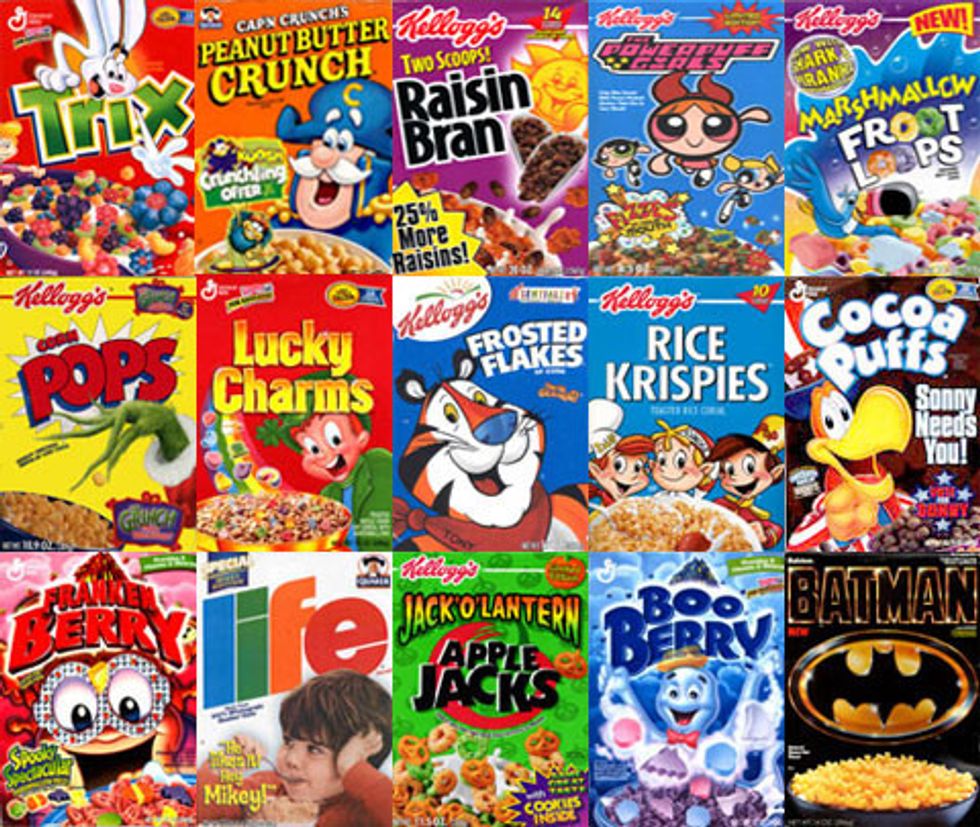 Parents have good reason to worry about the sugar content of children's breakfast cereals, according to an Environmental Working Group (EWG) review of 84 popular brands.
Kellogg's Honey Smacks, at nearly 56 percent sugar by weight, leads the list of the 10 worst children's cereals, according to EWG's analysis. In fact, a one-cup serving of the brand packs more sugar than a Hostess Twinkie, and one cup of any of the 44 other children's cereals has more sugar than three Chips Ahoy! cookies.
In response to the exploding childhood obesity epidemic and aggressive food company advertising pitches to kids, Congress formed the federal Interagency Working Group on Food Marketed to Children to propose standards to Congress to curb marketing of kids' foods with too much sugar, salt and fat.
But EWG has found that only one in four children's cereals meets the government panel's voluntary proposed guidelines, which recommend no more than 26 percent added sugar by weight. EWG has been calling for an even lower cap on the maximum amount of sugar in children's cereals.
"When I went to medical school in the 1960s, the consensus view was sugar provided empty calories, devoid of vitamins, minerals or fiber," said health expert Dr. Andrew Weil. "Aside from that, it was not deemed harmful. But 50 years of nutrition research has confirmed that sugar is actually the single most health-destructive component of the standard American diet. The fact that a children's breakfast cereal is 56 percent sugar by weight—and many others are not far behind—should cause national outrage."
"Cereal companies have spent fortunes on convincing parents that a kid's breakfast means cereal, and that sugary cereals are fun, benign and all kids will eat," said noted New York University nutrition professor Marion Nestle. "The cereals on the EWG highest-sugar list are among the most profitable for their makers, who back up their investment with advertising budgets of $20 million a year or more. No public health agency has anywhere near the education budget equivalent to that spent on a single cereal. Kids should not be eating sugar for breakfast. They should be eating real food."
"As a mom of two, I was stunned to discover just how much sugar comes in a box of children's cereal," said Jane Houlihan, EWG's senior vice president of research. "The bottom line—most parents would never serve dessert for breakfast, but many children's cereals have just as much sugar, or more."
Studies suggest that children who eat breakfasts that are high in sugar have more problems at school. They become more frustrated and have a harder time working independently than kids who eat lower-sugar breakfasts. By lunchtime they have less energy, are hungrier, show attention deficits and make more mistakes on their work.
About one-in-five American children is obese, according to the federal Centers for Disease Control and Prevention, which has reported that childhood obesity has tripled over the past 30 years.
"It has been said that exploding rates of obesity and type 2 diabetes in today's children will lead them to be the first in American history to have shorter lifespans than their parents," Weil said. "That tragedy strikes me as a real possibility unless parents make some dramatic changes in their children's lives."
"Nearly 20 percent of our children and one-third of adults in this country are obese. Our children face a future of declining health, and may be the first generation to have a shorter lifespan than their parents. We must provide consumers with the information they need to make healthier choices and prevent misleading claims about the nutritional contents of food," said Congresswoman Rosa DeLauro (D-CT). "Cereal is a prime example of this—we know that children do better in school if they have breakfast. But we also know that the type of breakfast matters. And yet, as the Environment Working Group's report shows, many children's cereals have sugar content levels that are above 40 percent by weight. Our children deserve better, and it is critical that we take action to combat America's obesity epidemic." Congresswoman DeLauro serves on the appropriations subcommittee responsible for the Food and Drug Administration and agriculture, where she oversees drug and food safety.
10 Worst Children's Cereals
Based on percent sugar by weight
1.) Kellogg's Honey Smacks 55.6%
2.) Post Golden Crisp 51.9%
3.) Kellogg's Froot Loops Marshmallow 48.3%
4.) Quaker Oats Cap'n Crunch's OOPS! All Berries 46.9%
5.) Quaker Oats Cap'n Crunch Original 44.4%
6.) Quaker Oats Oh!s 44.4%
7.) Kellogg's Smorz 43.3%
8.) Kellogg's Apple Jacks 42.9%
9.) Quaker Oats Cap'n Crunch's Crunch Berries 42.3%
10.) Kellogg's Froot Loops Original 41.4%
Some cereals are better than others. Nutrition expert Marion Nestle recommends:
Cereals with a short ingredient list (added vitamins and minerals are okay).
Cereals high in fiber.
Cereals with little or no added sugars (added sugars are ingredients such as honey, molasses, fruit juice concentrate, brown sugar, corn sweetener, sucrose, lactose, glucose, high-fructose corn syrup and malt syrup).
Among the best simple-to-prepare breakfasts for children are fresh fruit and high-fiber, lower-sugar cereals. Better yet, pair fruit with homemade oatmeal.
For more information, click here.
Like many other plant-based foods and products, CBD oil is one dietary supplement where "organic" labels are very important to consumers. However, there are little to no regulations within the hemp industry when it comes to deeming a product as organic, which makes it increasingly difficult for shoppers to find the best CBD oil products available on the market.
<p>Here you can learn about the importance of organic hemp oil, why it's better for the environment, and which CBD companies actually make trustworthy products with sustainable farming processes. origins which weigh heavily on many consumers who want to buy a product that's produced in the best way possible for not only themselves to ingest, but for the environment as well through sustainable farming methods. </p><h2>What Is CBD Oil?</h2><p>First things first, CBD stands for cannabidiol, and it's a cannabinoid found within cannabis sativa plants. This plant compound is believed to have many potential benefits, and it is primarily derived from hemp plants via a CO2 extraction process. </p><p>Since CBD is extracted from industrial hemp, which contains only trace amounts of THC (the psychoactive component in cannabis plants), this means that CBD won't make you feel high like marijuana, which has much higher levels of THC that causes psychoactive effects. Instead, the effects of CBD are much more subtle and promote a general sense of calm and relaxation in most users.</p><h2>What Makes a CBD Oil Organic?</h2><p>In terms of organic labels, perhaps the most important (and prominent) certification comes from the United States Department of Agriculture (USDA). This government organization has been labeling foods as "organic" for many years, but what exactly does this certification entail? Essentially, a label indicating that a product is "USDA Organic" or "Certified Organic" means that at least 95% of the ingredients are obtained from organic sources.</p><p>For a crop to be considered organic by the USDA, it must be grown without the use of industrial solvents, irradiation, genetic engineering (GMOs), synthetic pesticides, or chemical fertilizer. Instead, farmers rely on natural substances and <a href="https://www.usda.gov/media/blog/2012/03/22/organic-101-what-usda-organic-label-means" rel="noopener noreferrer" target="_blank">mechanical, physical, or biologically based farming</a> techniques to cultivate healthy and organic crops.</p><p>Before the passage of the 2018 Farm Bill, no hemp-derived products could be dubbed as "certified organic" since the hemp plant and its extracts were still categorized as a Schedule I Controlled Substance. However, it's still difficult for CBD companies to obtain a USDA certified organic label for their products due to the legal grey area that still surrounds CBD extracts. </p><p>Because of these challenges, and due to the fact that industrial hemp has only recently become an agricultural crop, very few CBD oils are USDA certified organic. Rather, many CBD products contain hemp extracts from plants that were grown in organic conditions but may not be federally certified.</p><h2>What are the Best Organic CBD Oil Brands?</h2><p><em>Each product featured here has been independently selected by the writer. If you make a purchase using the links included, we may earn commission.</em></p><em><br></em>