This website uses cookies to ensure you get the best experience while browsing it. By clicking 'Got It' you're accepting these terms.


The best of EcoWatch, right in your inbox. Sign up for our email newsletter!
BP oil spill led to baby dolphin deaths and diseases along the Gulf Coast. Truth Wire
BP's 2010 Deepwater Horizon explosion that claimed the lives of 11 men, killed numerous dolphins and other marine life, and released millions of barrels of oil and natural gas into the Gulf of Mexico was an environmental disaster. The catastrophe has left far-reaching impacts on the region's economy and ecosystems that continue to this day. This is fact.
But leave it to Rush Limbaugh to alternative fact the BP oil spill, claiming on his radio show this week that it "didn't do any damage" to the environment.
Black smoke billows from a controlled burn during the 2010 Deepwater Horizon oil spill. U.S. Coast Guard
President Donald Trump announced Tuesday his intention to nominate Jeffrey Bossert Clark—who defended BP in lawsuits surrounding the 2010 Deepwater Horizon oil spill and challenged the Obama administration over greenhouse gas rules on behalf of the U.S. Chamber of Commerce—to head the Justice Department's Environment and Natural Resources Division.
EcoWatch Daily Newsletter
Researchers in Louisiana have found carbon from the BP Deepwater Horizon oil spill in the feathers and digestive tracts of seaside sparrows, proving for the first time that oil from the disastrous 2010 spill has entered the food chain.
Seaside sparrows show signs of BP Deepwater Horizon oil.
The study, published today in Environmental Research Letters, was conducted by scientists from Louisiana State University and Austin Peay State University in Tennessee. They found oil carbon signatures consistent with the Deepwater Horizon event in each of 10 birds tested.
These marsh-dwelling sparrows inhabit an area known to have been contaminated by the spill. Sediments from the site also tested positive for oil with the same fingerprints as that found in the tested birds.
The Deepwater Horizon accident followed the blowout of the wellhead at the Macondo oil rig and lasted for 87 days. Eleven workers died and 4.9 million barrels of oil flowed into the Gulf of Mexico. It became the largest oil spill in U.S. history and was called the "worst environmental disaster the U.S. has faced" by White House Energy Adviser Carol Browner.

Oil sheens continued to be seen as much as three years after the event. The source of many were never discovered, but the containment dome failed and had to be plugged in 2012.
The immediate effects of such major spills are readily apparent. Oiled birds, dead fish and beaches covered in crude-oil sludge are often the first, horrific results. Disasters like Exxon Valdez, Deepwater Horizon and the Santa Barbara oil spill damage critical wildlife habitat and destroy fisheries.
Longer-term, the pernicious oil enters the food chain.
The first signs of Deepwater Horizon oil were found in blue crab larvae in 2010. Oil likely entered the food chain through zooplankton. A 2012 study found traces of oil in zooplankton impacted by the BP oil spill.
BP oil spill led to baby dolphin deaths and diseases along the Gulf Coast.Truth Wire
By November 2010, nearly 7,000 dead animals had been collected. They included more than 6,100 birds along with 69 sea turtles, 100 dolphins and other mammals. A 2016 Oceana report concluded that 600,000 to 800,000 birds had died from the spill in the six years since.
In 2014, Dr. Paul Montagna of Texas A&M University-Corpus Christi examined the deep-sea effects of the BP accident. He found severe impacts to life over nine square miles.
"The things that live on the bottom are very important for different reasons," Montagna explained. "They serve as food for higher trophic (food chain) levels, particularly for fish and other organisms that come and feed on the bottom sediments."

"Fish can consume phytoplankton poisoned by oil, fish eat fish and carry on the absorption of toxins, marine mammals and birds eat fish and could potentially carry on toxic properties to other predators," wrote wildlife biologist Jenna Bardroff in One Green Planet.
Seaside sparrows mostly eat insects, but also consume small crabs and the seeds of cordgrass and saltbush. The small birds can be prey to larger shore birds, snakes or mammals. In previous research, this same population of seaside sparrows was shown to have suffered reproduction problems in the years immediately following the oil spill.
There have been 11,700 reported oil spills in the Gulf of Mexico since Deepwater Horizon. Gulf oil producers lose one gallon of oil for every 20,000 they produce—and they produce 20 billion gallons of crude in the Gulf each year.

A drilling platform owned by Taylor Energy was damaged in 2004 by Hurricane Ivan and has been leaking oil ever since.
In May, Shell leaked 90,000 gallons of oil into the Gulf. The spill was reported by a helicopter pilot who was flying in the area. Monitoring the leak, SkyTruth called the concept of oil spill cleanup "nothing more than a convenient fantasy." They found that oil spill response vessels often arrive late and fail to fully recover the lost oil.
"Our government is indulging in a troubling fantasy that is eagerly abetted by the oil industry and pro-drilling politicians, dressing up deepwater offshore drilling as a safe operation so they can continue to rubber-stamp permit applications that contain laughable oil-spill response plans," SkyTruth concluded.
About 95 metric tons of oil leaked into the North Sea on Sunday from BP's Clair platform, and it will be left in the ocean. BP says the oil is moving away from land and dispersing naturally, but the spill is a reminder that accidents happen as more oil development is eyed for the Arctic.
Oil slick visible from spill off BP Clair platform in the North Sea.Maritime and Coastguard Agency
In what BP called a "technical issue," oil was released into the North Sea, located about 46 miles, west of the Shetland Islands. BP shut down the oil rig and said it is investigating the accident.
The oil company said it had conducted five aerial surveys with three more planned for Tuesday to monitor the oil slick.
"It is considered that the most appropriate response remains to allow the oil to disperse naturally at sea, but contingencies for other action have been prepared and are available, if required," BP said.
In addition to Clair, BP operates the Quad204 facility in the North Sea, 108 miles west of Shetland, in a field that has been drilled since 1998. The North Sea has seen oil and gas extraction for decades, with about half of the estimated reserves having already been taken. Oil production peaked in 1999, but production has been on an upswing in recent years. A recent discovery off Norway, the Johan Sverdrup oil field, is expected to begin production in 2019.
According to energy consultancy Crystol Energy, "The Johan Sverdrup field is expected to be one of the most important industrial projects in Norway over the next 50 years."
Crystol Energy
From 2000 to 2011, there were 4,123 separate oil spills in the North Sea, according to an investigation by The Guardian. Oil companies were fined for just seven of them. No single fine was greater than about $25,000.
There have been a number of major oil spills in the North Sea—the largest of which was the 1977 Bravo blowout that released an estimated 80,000 to 126,000 barrels of oil. The well spewed oil for seven days. In 2011, Shell spilled more than 200 metric tons from the Gannet Alpha platform, and a 2007 mishap while a tanker was loading oil resulted in a spill of 4,000 metric tons, or about 25,000 barrels of oil. None of these spills were alleged to have any ecological impact, and all but the Bravo blowout were allowed to disperse, unchecked, by the sea.
As the Arctic Ocean warms, oil giants are eyeing the northern seas for more oil exploration and development. It is a dangerous environment in which to drill.
As Greenpeace stated, "The long history of oil spills around the world has made one thing clear: the only way to prevent an oil spill is to keep oil in the ground."
The Arctic lacks the infrastructure to stop, mitigate or clean up a major oil spill, or even to quickly aid workers on a damaged platform.

But that isn't stopping oil companies. Today, Caelus Energy boasted of a "world-class" discovery that could turn out to be one of the largest finds in Alaska. In a press release, Caelus CEO Jim Musselman called the find "really exciting" and the company said the Smith Bay complex could produce 200,000 barrels of oil per day.
"Without the state tax credit programs, none of this would've happened, and I'm not sure Caelus would've come to explore in Alaska," Musselman added.
In June, 400 scientists signed a letter urging President Obama to stop any further oil development in the Chukchi and Beaufort Seas. A 2014 study found that the polar bear population in the Southern Beaufort Sea had dropped by an astounding 40 percent from 2001 to 2010.
"Accidents can and do happen, and in this extreme environment, the only truly safe approach to protect the unique and fragile Arctic offshore environment is no drilling whatsoever," Brad Ack, World Wildlife Fund's senior vice president for oceans, said in July.
Today is the fourth anniversary of the Deepwater Horizon explosion, which killed 11 workers and dumped more than 4.9 million barrels of oil into the Gulf of Mexico over a three month period in 2010.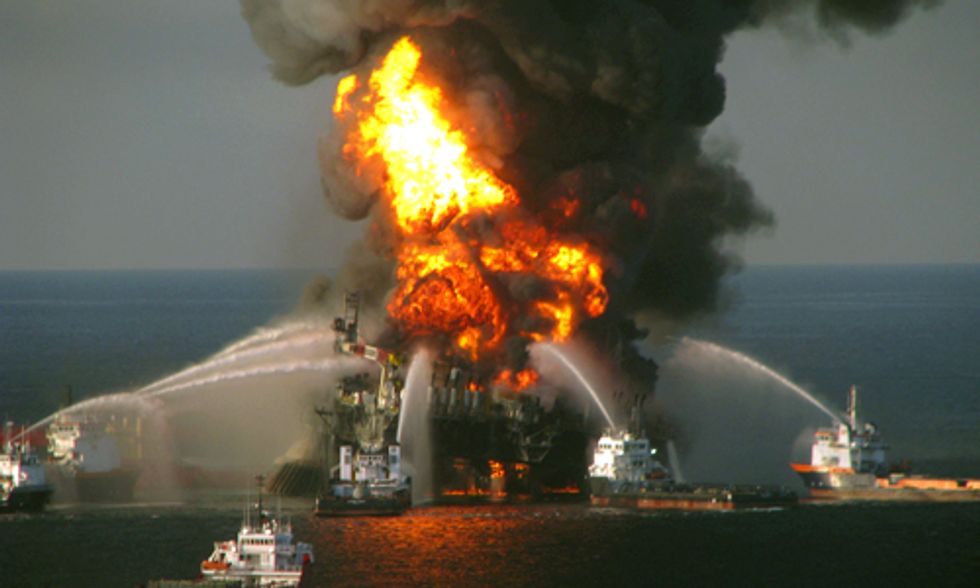 You wouldn't think that the London-based company that spilled the oil would get an anniversary gift from the federal government. But the U.S. Environmental Protection Agency (EPA) has just given BP a big one. The EPA ruled that the corporation could start bidding on lucrative new oil leases in the Gulf of Mexico after having been suspended from doing any new business with the government ever since the accident.  
That suspension was lifted on March 13 less than a week before the yearly government auction for drilling rights. The company whose negligence was responsible for the worst marine oil-spill in history won 43 new leases in the Gulf that is still fouled by million of gallons of unrecovered crude. 
The Deepwater Horizon disaster was not the first time that BP was found culpable in a major accident. In 2005 the company was deemed criminally liable for a refinery explosion in Texas City which killed 15 people. Yet again in 2006, a Justice Department investigation found that BP had willfully ignored evidence of serious corrosion in its pipeline, which led in Alaska to the largest oil spill ever in the Arctic. 
BP's critics say this was not just a run of bad luck, but the result of an ingrained corporate culture which routinely put profits above safety. In an interview, Tyson Slocum of the public interest group Public Citizen said: "If ordinary people are found guilty in three felony cases, they will be imprisoned—suspension from contracts is a kind of corporate imprisonment." 
However, under intense pressure from BP, which filed a lawsuit challenging the contract ban, and the British government, which filed a brief in the case criticizing the U.S. for its action, the company was just granted a get out of jail free card by the Obama administration. 
Perhaps not coincidentally, the head of the EPA suspension and debarment office which ordered the original ban against the oil giant, "retired" just days after the administration caved to BP's demand to end their 5-year criminal probation period early. 
After the Gulf oil spill, there were calls in the environmental community and in Congress to reform the outdated regulatory system. "The last time that regulations for offshore drilling were written," says Slocum "was 1978. Deepwater wells, like the Deepwater Horizon were introduced in 1994. So what you've got is regulations for the typewriter age applying to iPhones."
In the aftermath of the disaster, Congress passed a bill in the summer of 2010 which called for a comprehensive reorganization of the Offshore Oil Agency, and for tougher new environmental standards. But, under pressure from the American Petroleum Institute that bill died in the Senate. 
The Obama administration then took matters into its own hands calling for a temporary moratorium on drilling. By executive decree, the President reintroduced many of the same rules that had been included in the ill-fated bill. These rules, however, do not have the force of law and can be reversed by future administrations. 
Moreover, the central problem, according to Slocum, remains: "Remember, we all watched in horror over a period of two and a half months how one of the largest and most profitable multinationals on the planet with some of the smartest engineers in the world had absolutely no idea how to cap that well ... We still do not have clear certification that any driller—whether they be BP or Exxon or Shell—has the right equipment and the proven technology to stop a deepwater blowout." 
Slocum says drillers need to be required by law to have equipment on hand to drill a relief well in case of a future blowout. And we also need to require companies to thoroughly test in advance critical equipment—like the faulty blowout protector which malfunctioned to cause the Deepwater Horizon accident.  
However, we're unlikely to get these critical regulations anytime soon. The American Petroleum Institute has said that they will oppose any efforts to impose new regulations on offshore drilling. One of the wealthiest and most powerful lobbies in Washington, the American Petroleum Institute generally gets what it asks for.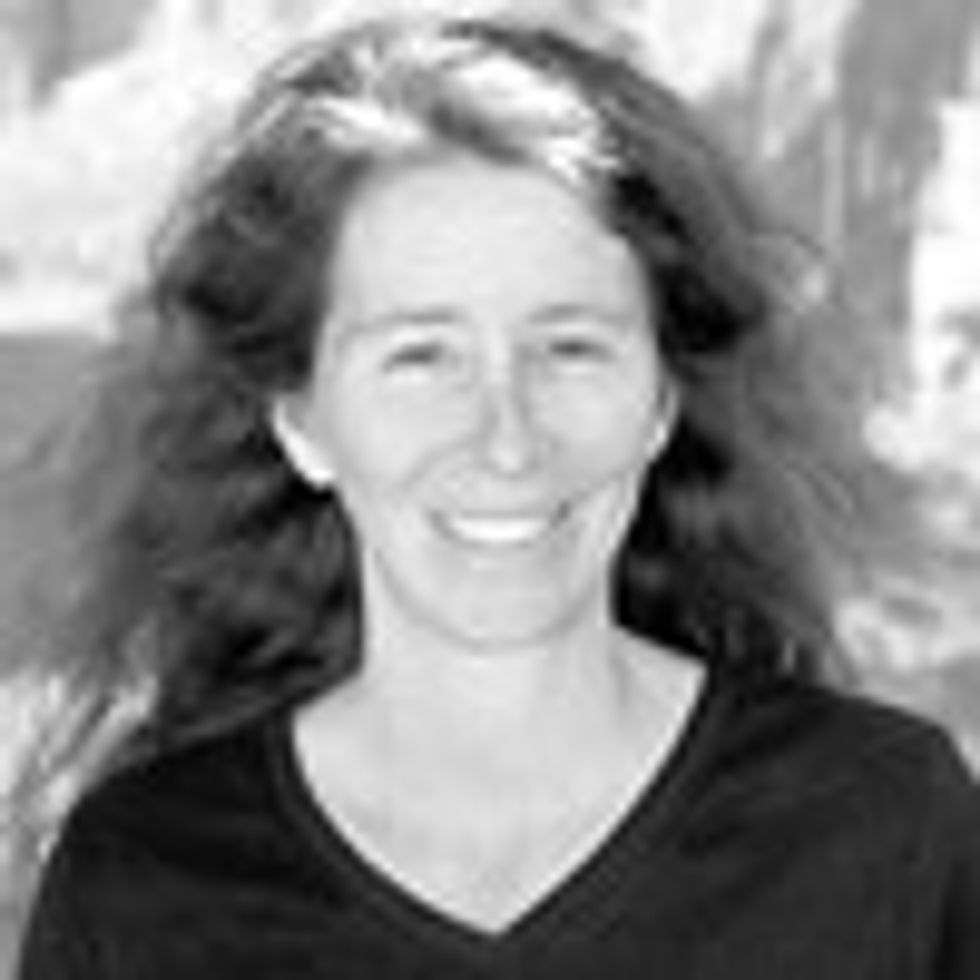 On April 24, BP engineer Kurt Mix was arrested on criminal charges of intentionally destroying evidence concerning the flow of oil into the Gulf of Mexico after the Deepwater Horizon disaster two years ago. The charges allege that BP might have misled Americans and the government about the flow rate of oil pouring into the gulf.
The charges against Mix, brought on by the U.S. Department of Justice, mark the first criminal case against BP in reference to the Gulf Oil spill that on April 20, 2010, killed 11 oil rig workers, injured 17 others and released about 4.9 million barrels of crude oil into the ocean for more than three months. This disaster devastated the Gulf region's economy, and threatened—and continues to threaten—the health of its residents and the environment.
I was interviewed today by Andrea Sears, news editor for WBAI-Pacifica Radio. Listen to the interview below for details on the criminal charges against Mix and my thoughts on other charges the Justice Department should consider investigating.
[audio:BP_Spill_Arrest.mp3]
Mix is being charged with deleting more than 200 texts with his supervisor and 100 text messages with a BP contractor concerning how much oil was flowing from the well head after the blowout.
As I mentioned in the interview with Sears, strict regulations need to be adopted for off-shore oil drilling before any more permits are issued.
Thanks to Save Our Gulf, an initiative of Waterkeeper Alliance in support of Gulf Waterkeepers directly impacted by the BP oil disaster, for creating a petition to encourage the Bureau of Safety and Environmental Enforcement, and the Bureau of Ocean Energy Management to adopt the Oil Spill Commission's recommendations for strict regulations on off-shore oil drilling.
Sign the petition today and ask the directors of the Bureau of Safety and Environmental Enforcement and Bureau of Ocean Energy Management to enforce strict regulations that make off-shore oil drilling safe.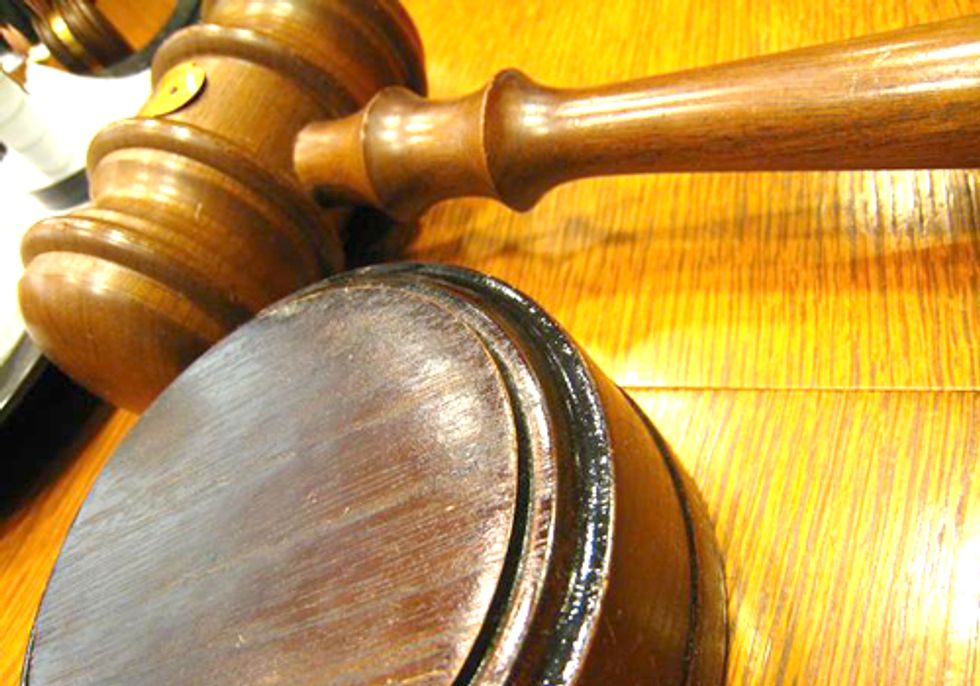 When the massive trial over liability in the 2010 BP Gulf of Mexico oil spill begins in New Orleans on Feb. 27, teams of lawyers will debate what led to the deaths of 11 workers and an oil spill that spewed into the ocean for 86 days. But there's an ugly truth they won't be discussing—Very little has changed regarding governmental oversight of offshore drilling.
Twenty-two months after the start of America's worst environmental catastrophe, which spilled more than 4 million barrels of oil, offshore drilling in the U.S. is essentially as dangerous as it was before BP's Deepwater Horizon exploded. The federal government has since issued only a small number of new safety requirements. The vast majority of recommendations from the various investigative commissions organized following the spill have not been enacted according to a new report by engineer and Arctic Program Director Lois Epstein, P.E., of The Wilderness Society.
Despite this lack of progress, the Bureau of Ocean Energy Management plans to oversee extensive new drilling in the Gulf of Mexico and the Arctic Ocean during the next five years, even though drilling safety has not significantly improved.
"It could take up to a decade to put in place the laws, regulatory structures, transparency, staffing and effective enforcement necessary for the Bureau of Ocean Energy Management and its sister agency, the federal Bureau of Safety and Environment Enforcement, to prevent major oil spills," said Epstein, who advised the federal Office of Pipeline Safety for 12 years. "Since Congress has not passed a single law remedying any of the problems that resulted in the BP spill, a decade for significant safety improvements may be optimistic."
Epstein's report compiles the key recommendations of the Department of the Interior's 30-day safety report for which she served as an expert advisor, the National Commission on the BP Deepwater Horizon Oil Spill and Offshore Drilling report, the National Academy of Engineering/National Research Council report, and the Joint Investigation Team report by the U.S. Coast Guard and the federal Bureau of Ocean Energy Management, Regulation and Enforcement.
Epstein cites the need for new blowout preventer design requirements for new and existing wells, identified by the National Academy of Engineering, as an example of key changes needed. "Congress and the Obama administration need to get moving on the many excellent recommendations from the various post-spill investigative commissions. Until that is done, more significant and devastating spill events are inevitable."
For more information, click here.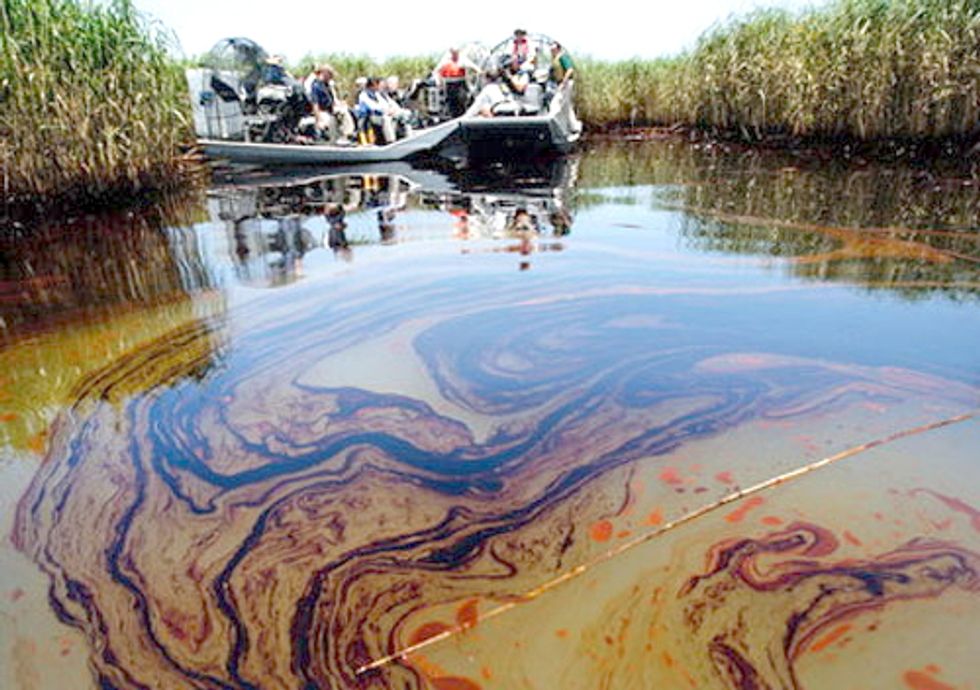 By Jaclyn McDougal
BP could soon squirm its way to a sweet settlement deal this week for the Gulf oil disaster—a move that would allow the company's pockets to continue to expand on the heels of their record profits, while leaving more uncertainty for restoring the Gulf of Mexico to an environmentally and economically healthy state.
News reports indicate that BP may be close to reaching a settlement for its part in the Gulf oil disaster. The proposed settlement allegedly requires BP to pay a mere 3 percent of the full amount of Clean Water Act (CWA) penalties it could be fined under the law. Reports suggest the agreement would require BP to pay only $142 per barrel of oil spilled into the Gulf, although CWA allows up to $4,300 per barrel to be assessed against a liable party. BP has reportedly set aside $3.5 billion in preparation for paying CWA fines, but this settlement deal would be significantly less.
The settlements do not stop there. MOEX Offshore recently settled to pay only $90 million for its part in the Deepwater Horizon blowout. The settlement would send $45 million to the federal government for penalties and restoration. In addition to paying $25 million in CWA penalty funds to the states, MOEX will acquire $20 million worth of properties containing habitat and natural resources worthy of conservation in perpetuity, and/or which will protect water quality in the Gulf of Mexico region.
According to the Department of Justice, there are no federal requirements for how the states use the penalty money.
"The states should use the $25 million in penalty funds to help the damaged Gulf ecosystems and the people in the Gulf that depend on those ecosystems for their livelihoods and quality of life," said John Kostyack, National Wildlife Federation's vice president for wildlife conservation, reacting to the initial MOEX settlement. "As far as the $20 million goes, we need a lot more transparency on where that money is going and what projects it will fund. It is hard to support this without knowing which properties will be acquired or restored and how they intend to restore water quality."
Now is a critical time to get the RESTORE Act passed—it's been nearly two years since the Gulf oil disaster. Last week Sens. Bill Nelson (D-FL) and Richard Shelby (R-AL) introduced an amendment to the Senate Transportation bill (S.1813) that would ensure BP fines from the oil spill go to the Gulf where they belong. Unless Congress takes action now, before a settlement is reached, a significant portion of the funds BP pays could be used for unrelated federal spending, instead of helping the Gulf.
For more information, click here.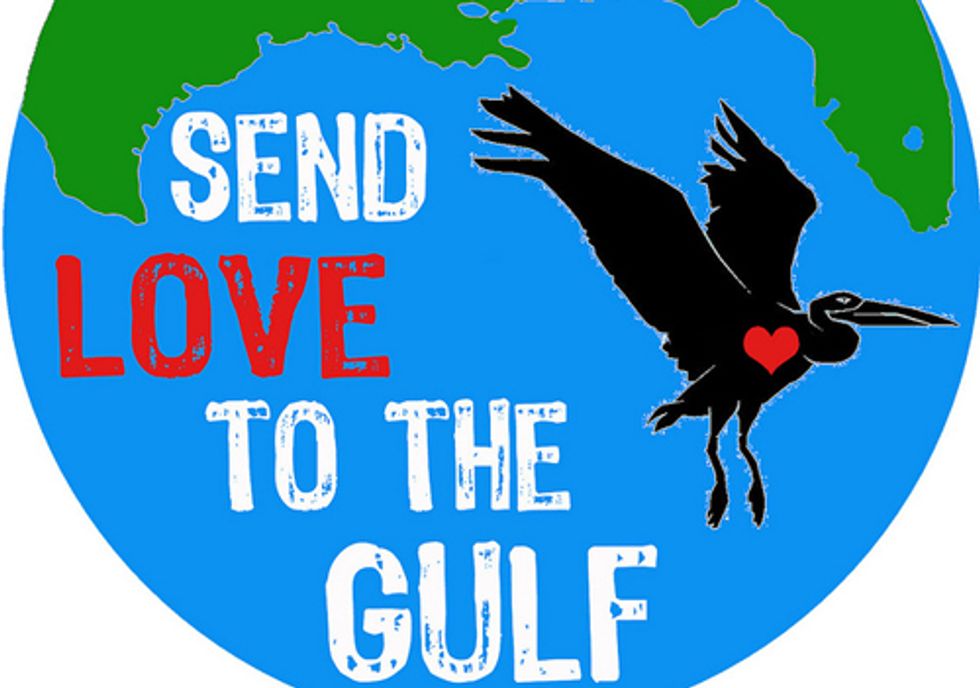 Want to help show your love for the Gulf this Valentine's Day? It's easy. Just click on one of the messages below to tell Senate Majority Leader Harry Reid (D-NV) and Minority Leader Mitch McConnell (R-KY) that you want money from the BP oil spill to go back to the Gulf.
Background on the RESTORE Act:
The BP oil disaster dumped nearly five million barrels of oil into the Gulf of Mexico, damaging the wildlife, ecosystems and economy of the Gulf Coast.
The RESTORE Act seeks to ensure that at least 80 percent of the penalties paid by BP are returned to the Gulf to be used for restoring the region's communities, economies and environments.
However unless Congress acts quickly, these penalties could go toward unrelated federal spending. We must act now if we want to ensure that this money goes back to where the damage was done.
Click on one of the messages below to tweet your love for the Gulf.
Be sure to check out our Facebook page as well and share our Valentine's Day image with your friends.
For more information, click here.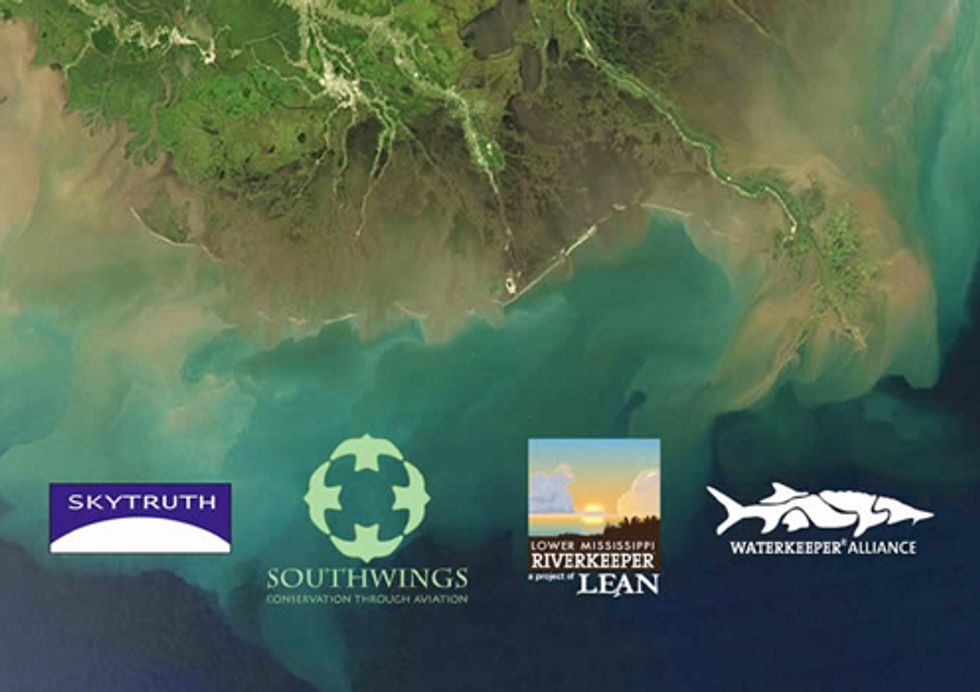 By Paul Woods
On Feb. 9, SkyTruth released its Site 23051 Cumulative Spill Report showing an estimation of the total cumulative amount of crude oil spilled into the Gulf of Mexico at the site of Taylor Energy's ongoing oil spill that began in 2004. In this report, we conclude:
Crude oil has been leaking continuously from this site for more than 7 years
Estimated cumulative volume of crude oil spilled is between 251,677 and 1,174,492 gallons
Read the full report to see how we came up with these numbers by clicking here.
We created this report using 950 pollution reports filed with the National Response Center (which we presume were filed by the polluter, Taylor Energy) covering 714 out of 2,662 days (just 27 percent) from the first report of oil at the site on Sept. 17, 2004 through the end of 2011. We filled in the substantial gaps in this official public reporting record with observations on satellite images, and then computed an Estimated Average Daily Slick Extent. From that we derived an Estimated Average Daily Flow Rate for each calendar year since the spill began. Multiply the daily flow rate by the number of days the site has been leaking, and you have an estimate of the cumulative volume of the spill.
There are two key assumptions we used to compute the average daily flow rate:
Average oil thickness in observable slicks
Average rate of degradation of an oil slick, expressed in terms of a half-life
For average thickness, we used our tried and true standard of 1 micron (1 millionth of a meter). We also computed everything using 0.5 microns to reflect the possibility that this slick is thinner than most. For degradation half life, we assumed that one half of a given amount of a thin slick of oil on the surface of the ocean will degrade in 3-7 days. We believe this range is a very conservative assumption, because the longer the assumed lifetime of oil on the surface of the water, the lower the implied daily flow rate will be.
Combining all our data on slick extent with the high and low values for each of the key assumptions, we get 4 values for estimated cumulative oil spilled (see the calculations):
Half Life (days)    Thickness (microns)    Estimate(gallons)    
            3                                   1.0                                       1,174,492
            3                                   0.5                                         587,246
            7                                   1.0                                         503,354
            7                                   0.5                                         251,677
Background
SkyTruth, the Gulf Monitoring Consortium and others have been actively monitoring this site for 21 months since May of 2010 (during what turned out to be the early days of the massive BP—Deepwater Horizon spill), when we noticed on our satellite images another much smaller slick about 11 miles off the tip of the Mississippi River Delta.
Since then, we have analyzed historic satellite imagery back to the beginning of the spill,  and we have waded through the spotty but extensive public record of official pollution reports filed with the National Response Center. Site 23051 also featured prominently in the recent Gulf Monitoring Consortium report, and earlier this month Waterkeeper Alliance announced a lawsuit against Taylor Energy over the ongoing spill.
Other Sources of Estimates
As far as we know, our report is the first comprehensive attempt to estimate the total amount of oil spilled at this site. However, the Coast Guard was recently quoted in an Associated Press news article as saying "a total of 12,720 gallons of oil have been reported from daily observations since the spill started in 2004."
We called the Coast Guard last week and asked them where that number came from, and they told us, "Approximately 12,720 gallons have been reported from daily observations (over flights) as of Feb. 2, 2012." We followed up on Feb. 9 and the Coast Guard told us that this number is the total of all the reports filed with them by Taylor Energy, who is conducting the regular overflights, but they could not say how many reports this represents.
We asked them to investigate and get us a breakdown of exactly what they added up to get this number, especially what days are actually covered in that total, but as of this writing we do not have an answer. However, if their reporting record is as spotty as the public NRC record, then this number likely only captures a fraction of the true amount.
More on this under-reporting problem coming soon, so stay tuned.
Parting Thought—Worst-Case Scenario?
The environmental and economic damage from this chronic spill may be relatively minor, although if you ask a biologist and tell her it's a 1.2 million gallon spill, you might get a different answer than if you tell her it's only a 12,000 gallons spill. But imagine that the same event that wiped out Taylor's platform just 11 miles off the coast, had instead happened at a deepwater platform 100 miles offshore.
More on that later
For more information, click here.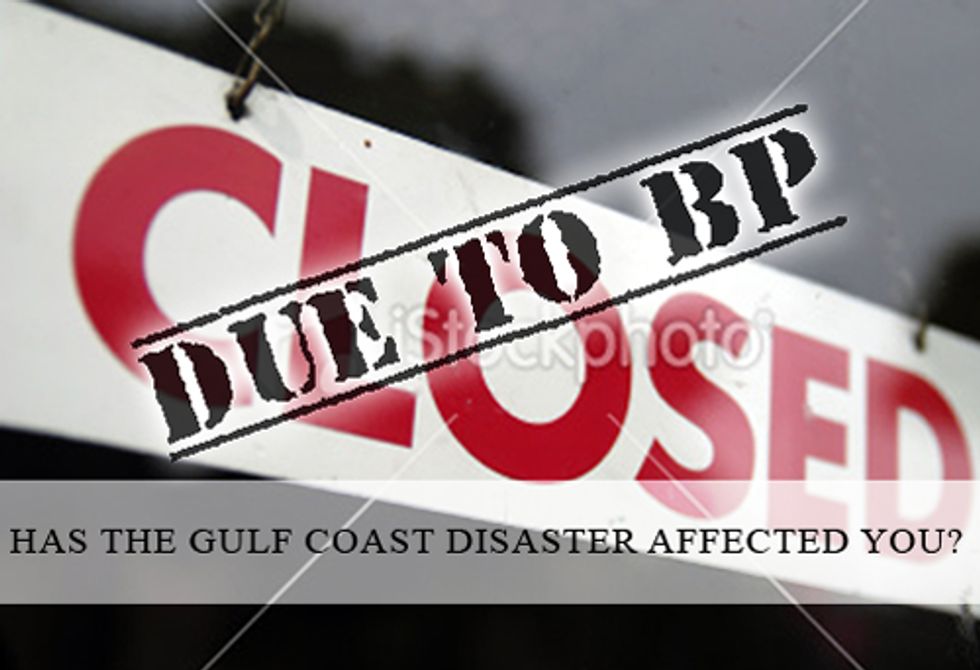 Michael Brune, Sierra Club executive director, called on President Obama Feb. 6 to take strong action in any settlement of claims under the Clean Water Act and Oil Pollution Act from BP's 2010 Gulf of Mexico oil spill to ensure comprehensive restoration and recovery of the Gulf of Mexico's ecosystem and communities, and to protect the region from future oil spill disasters. With the public largely shut out of the legal process, Brune weighed in directly in a letter to the president, requesting that specific measures be included in any settlement agreement over the Deepwater Horizon disaster.
Sierra Club summarized six main points from their Feb. 6, 2012, letter to President Obama.
Establish a Natural Resource Damages Fund in an amount assessed by the Natural Resource Trustees for comprehensive, long-term ecosystem restoration and monitoring that satisfies Natural Resource Damage Assessment (NRDA) regulations and prioritizes the public interest
Create a fund of no less than $10 billion to execute the Gulf Coast Ecosystem Restoration Task Force Early Restoration Strategy with $500 million dedicated to long-term monitoring
Establish a fund of no less than $20 billion or an amount equivalent to the Clean Water Act penalties assessment for "gross negligence" dedicated to Supplemental Environmental Projects that enhance NRDA restoration, including long-term monitoring and independent scientific studies
Include a broad re-opener provision that allows the government to re-open the settlement for at least 30 years and requires the responsible parties to reimburse the U.S. for latent, unforeseen damages
Establish and fund the operation of a Gulf of Mexico Regional Citizen's Advisory Council to ensure formal public oversight and industry accountability of offshore drilling activities in the region
Ensure that all activities executed under a settlement comply with Executive Order 12898 on Environmental Justice.
The full letter is available here.
For more information, click here.