Tom Perez, chairman of the Democratic National Committee.
Gage Skidmore / Flickr / CC BY-SA 2.0
That was fast. Just two months after the Democratic National Committee (DNC) unanimously prohibited donations from fossil fuel companies, the DNC voted 30-2 on Friday on a resolution that critics say effectively reverses the ban, The Huffington Post reported.
The resolution, introduced by DNC Chair Tom Perez, allows the committee to accept donations from "workers, including those in energy and related industries, who organize and donate to Democratic candidates individually or through their unions' or employers' political action committees" or PACs.
It conflicts with the original resolution that called on the committee to "reject corporate PAC contributions from the fossil fuel industry that conflict with our DNC Platform."
In a conference call after the vote, Perez said that members of the labor community considered the original resolution passed in June "an attack on the working people in these industries," per The Hill.
He insisted that the DNC is still committed to the Democratic Party platform, "which states unequivocally our support for combating climate change."
DNC executive committee member Christine Pelosi, co-author of the original resolution and the daughter of House Democratic leader Nancy Pelosi, tweeted Friday that the committee "NEVER consulted me on language to reverse my resolution banning corporate fossil fuel PAC money."
To be clear —> @DNC staff and officers NEVER consulted me on language to reverse my resolution banning corporate fo… https://t.co/FMSVgZdCX2

— Christine Pelosi (@Christine Pelosi)1533939442.0
Pelosi proposed an amendment Friday that would remove the words "employers' political action committees" but the motion failed 4-28.
A DNC spokeswoman disputed accusations that the committee is backtracking on its earlier resolution, telling HuffPo it's "not a reversal" and that "any review of our current donations reflects" the Democrats' "commitment" to no longer take money from the fossil fuel industry. The spokeswoman offered no further comment.
Jerald Lentini, deputy director of the Democratic fundraising group It Starts Today, explained to HuffPo that the new proposal may only apply to Democratic campaigns, meaning it does not fully annul the first resolution. However, as Lentini noted, it would still "repudiate the spirit" of it.
As @jrlentini pointed out to me, it could be that this proposal only applies to Democratic campaigns ― in which cas… https://t.co/AcNw0oJZV5

— Alexander Kaufman (@Alexander Kaufman)1533935806.0
Environmentalists and progressive Democrats decried the DNC's move.
"Why in the age of Trump, wildfires, and eminent domain for private gain are we using land gauge and stances of the GOP? Many of us will fight this at DNC meeting in August," Bold Nebraska founder and Nebraska Democratic Party Chair Jane Fleming Kleeb tweeted.
New York gubernatorial candidate Cynthia Nixon, who has sworn off any corporate donations and has joined hundreds of politicians that have signed the No Fossil Fuel Money Pledge, had a similar sentiment: "You can't do right when you're getting donations from companies that do wrong."
You can't do right when you're getting donations from companies that do wrong. https://t.co/OOa1WMQazt

— Cynthia Nixon (@Cynthia Nixon)1533933221.0
"Honestly, these people are bound and determined to deflate and demobilize their base," tweeted author and activist Naomi Klein.
What's more, the text of the new resolution embraces an "all-of-the-above energy economy" that includes clean and low-emissions energy technology, "from renewables to carbon capture and storage to advanced nuclear technology."
350.org co-founder Bill McKibben criticized the measure and noted that the "new DNC proposal would support an 'all of the above' energy policy which the last party platform explicitly rejects. This is a bad idea, on both scientific and political grounds."
In 2016, the Democratic National Committee axed its support for an "all-of-the-above" energy policy and calls for having the nation run "entirely on clean energy by midcentury."
Taxpayers Still Shelling Out Billions Annually in Fossil Fuel Subsidies https://t.co/TY5gpcctOv @GoFossilFree @350

— EcoWatch (@EcoWatch)1528147505.0
From Your Site Articles
Related Articles Around the Web
EcoWatch Daily Newsletter
350.org's No KeyStone XL Washington, DC march.
John Duffy / Flickr / CC BY-NC-SA 2.0
Environmentalists spoke out against President Donald Trump's State Department after it found "no significant environmental impacts" in its review of TransCanada's long-gestating Keystone XL (KXL) pipeline.
The alternative route approved by Nebraska regulators in November would have "minor to moderate" impacts from its construction and operation, according to the 300-page draft report released Monday. It said the route would not have a major impact on the state's water resources, soils or wildlife. It may cause minor impacts on cultural resources such as Native American graves.
Once built, the $8 billion 1,180-mile pipeline will transport heavy crude from Alberta's tar sands to U.S. Gulf Coast refineries. The controversial project has been at the center of an environmental fight for a decade. President Obama rejected the KXL in 2015 partly due to concerns about its contribution to climate change, but President Trump reversed the decision just days into office.

In a press release, the Sierra Club said that Trump's approval of the KXL was based on an outdated Environmental Impact Statement from 2014 and accused the administration of short-cutting the permitting process.
"Once again, the Trump administration is attempting to take a shortcut around the legally required review process on Keystone XL, putting our communities at risk for the sake of propping up the Canadian tar sands industry," said Sierra Club Beyond Dirty Fuels Campaign Director Kelly Martin in a statement. "Keystone XL was a bad idea when it was proposed a decade ago, it was a bad idea when former President Obama rejected it, and it's an even worse idea now. This pipeline is a threat to our land, water, wildlife, communities, and climate, and we will continue fighting, in the courts and in the streets, to ensure that it is never built."
The group noted that in November, Nebraska regulators rejected TransCanada's preferred route for the pipeline. Instead, they voted for a new route that had not been assessed.
KXL opponents are now trying to block the State Department's approval of the pipeline "based on this insufficient analysis" in federal court, the Sierra Club said.
The press release added: "Rather than following the legally required process of preparing a Supplemental Environmental Impact Statement before approving a project, the State Department is attempting to rush the project through by releasing an abbreviated Environmental Assessment on the new Nebraska route while leaving its permit in place, and still failing to conduct an adequate review of the project's climate impacts, harm to endangered species, or changes in oil prices and market forces since 2014."

Under a 2011 state law, Nebraska is not allowed to factor in pipeline safety or spill risks. Nebraska regulators did not factor in a 210,000-gallon spill from Transcanada's existing Keystone Pipeline on South Dakota farmland that happened just days before they voted on the KXL's alternative route.
TransCanada hopes to start KXL construction in the beginning of 2019.

"We will review the environmental assessment and provide comment to the Department of State as necessary," Matthew John, a TransCanada spokesman, told Bloomberg.

The State Department has opened its draft report of the Keystone XL Mainline Alternative Route for a 30-day public comment period.
Other environmentalists blasted the State Department's assessment.
"The Trump administration can't patch over its total failure to comply with the law by releasing this environmental assessment now, after Keystone XL has already been approved," said Jackie Prange, senior attorney with the Natural Resources Defense Council in a statement. "The dirty tar sands carried by this pipeline would have disastrous effects on our climate, land, and water. This project should have been rejected at the outset, and the administration should revoke the permit immediately."

Jane Kleeb, founder of Bold Nebraska, has similar sentiments.
"The Trump administration doesn't care about water or property rights," Kleeb stated. "Landowners, Tribal Nations and everyday citizens will continue to fight the Trump administration's illegal rubber-stamp of a permit for Keystone XL, and this illegal review that completely violated due process of affected landowners on the Mainline Alternative Route. The only right thing to do, would be to reject Keystone XL again."
TransCanada #Pipeline Explodes in West Virginia https://t.co/tFobp9KhlS #pipelines @StopFrackNCTown… https://t.co/Y5NuERpQVp

— EcoWatch (@EcoWatch)1528397919.0
waterlust.com / @tulasendlesssummer_sierra .
Each product featured here has been independently selected by the writer. If you make a purchase using the links included, we may earn commission.
The bright patterns and recognizable designs of Waterlust's activewear aren't just for show. In fact, they're meant to promote the conversation around sustainability and give back to the ocean science and conservation community.
Each design is paired with a research lab, nonprofit, or education organization that has high intellectual merit and the potential to move the needle in its respective field. For each product sold, Waterlust donates 10% of profits to these conservation partners.
Eye-Catching Designs Made from Recycled Plastic Bottles
waterlust.com / @abamabam
The company sells a range of eco-friendly items like leggings, rash guards, and board shorts that are made using recycled post-consumer plastic bottles. There are currently 16 causes represented by distinct marine-life patterns, from whale shark research and invasive lionfish removal to sockeye salmon monitoring and abalone restoration.

One such organization is Get Inspired, a nonprofit that specializes in ocean restoration and environmental education. Get Inspired founder, marine biologist Nancy Caruso, says supporting on-the-ground efforts is one thing that sets Waterlust apart, like their apparel line that supports Get Inspired abalone restoration programs.
"All of us [conservation partners] are doing something," Caruso said. "We're not putting up exhibits and talking about it — although that is important — we're in the field."
Waterlust not only helps its conservation partners financially so they can continue their important work. It also helps them get the word out about what they're doing, whether that's through social media spotlights, photo and video projects, or the informative note card that comes with each piece of apparel.
"They're doing their part for sure, pushing the information out across all of their channels, and I think that's what makes them so interesting," Caruso said.
And then there are the clothes, which speak for themselves.
Advocate Apparel to Start Conversations About Conservation
waterlust.com / @oceanraysphotography
Waterlust's concept of "advocate apparel" encourages people to see getting dressed every day as an opportunity to not only express their individuality and style, but also to advance the conversation around marine science. By infusing science into clothing, people can visually represent species and ecosystems in need of advocacy — something that, more often than not, leads to a teaching moment.

"When people wear Waterlust gear, it's just a matter of time before somebody asks them about the bright, funky designs," said Waterlust's CEO, Patrick Rynne. "That moment is incredibly special, because it creates an intimate opportunity for the wearer to share what they've learned with another."
The idea for the company came to Rynne when he was a Ph.D. student in marine science.
"I was surrounded by incredible people that were discovering fascinating things but noticed that often their work wasn't reaching the general public in creative and engaging ways," he said. "That seemed like a missed opportunity with big implications."
Waterlust initially focused on conventional media, like film and photography, to promote ocean science, but the team quickly realized engagement on social media didn't translate to action or even knowledge sharing offscreen.
Rynne also saw the "in one ear, out the other" issue in the classroom — if students didn't repeatedly engage with the topics they learned, they'd quickly forget them.
"We decided that if we truly wanted to achieve our goal of bringing science into people's lives and have it stick, it would need to be through a process that is frequently repeated, fun, and functional," Rynne said. "That's when we thought about clothing."
Support Marine Research and Sustainability in Style
To date, Waterlust has sold tens of thousands of pieces of apparel in over 100 countries, and the interactions its products have sparked have had clear implications for furthering science communication.
For Caruso alone, it's led to opportunities to share her abalone restoration methods with communities far and wide.
"It moves my small little world of what I'm doing here in Orange County, California, across the entire globe," she said. "That's one of the beautiful things about our partnership."
Check out all of the different eco-conscious apparel options available from Waterlust to help promote ocean conservation.
Melissa Smith is an avid writer, scuba diver, backpacker, and all-around outdoor enthusiast. She graduated from the University of Florida with degrees in journalism and sustainable studies. Before joining EcoWatch, Melissa worked as the managing editor of Scuba Diving magazine and the communications manager of The Ocean Agency, a non-profit that's featured in the Emmy award-winning documentary Chasing Coral.
By Jessica Corbett
In a move that could challenge the proposed path of TransCanada's Keystone XL pipeline—and acknowledges the U.S. government's long history of abusing Native Americans and forcing them off their lands—a Nebraska farm couple has returned a portion of ancestral land to the Ponca Tribe.
At a deed-signing ceremony earlier this week, farmers Art and Helen Tanderup transferred to the tribe a 1.6-acre plot of land that falls on Ponca "Trail of Tears."
Now, as the Omaha World-Herald explained, rather than battling the farmers, "TransCanada will have to negotiate with a new landowner, one that has special legal status as a tribe."
The transfer was celebrated by members of the Ponca Tribe as well as environmental advocates who oppose the construction of the pipeline and continue to demand a total transition to renewable energy.
"We want to protect this land," Larry Wright Jr., the chairman of the Ponca Tribe of Nebraska, told the World-Herald. "We don't want to see a pipeline go through."
"While TransCanada is trampling on Indigenous rights to fatten their bottom line, Native leaders are resisting by building renewable energy solutions like solar panels in the path of the pipeline," said 350.org executive director May Boeve.
"Repatriating this land to the Ponca Tribe raises new challenges for the Keystone XL pipeline and respects the leadership of Native nations in the fight against the fossil fuel industry," she added. "Tribal sovereignty is central to the movement to keep fossil fuels in the ground and build a more just society for all."
BREAKING: In Historic First, #Nebraska Farmer Returns Land to #Ponca Tribe Along "Trail of Tears":… https://t.co/Cw6EAG7DpN

— Bold Nebraska (@Bold Nebraska)1528722161.0
Author and 350.org cofounder Bill McKibben called the land transfer an "important strategic move," while also noting that "it's sacred ground."

In recent years, the Tanderups have worked with Ponca leaders to grow the tribe's sacred corn on the land that's now been returned. The signing ceremony featured the fifth planting of the corn and a performance by Ponca singers and grass dancers.
"It's an honor to be here today to celebrate this gracious and generous donation nation to the Ponca Nation," Wright said at the ceremony. "This event is another step to healing old wounds and bringing our people together again to a land once ours."

The Tanderups—who have joined with Indigenous and environmental advocates to protest Keystone XL—said the possibility of blocking the pipeline was only one of the factors that contributed to their decision.
"The Ponca and people of this community continue to build strong relationships as they work in collaborative efforts," Art Tanderup told the Norfolk Daily News. "It is only fitting that out of the tragedy of the Ponca Trail of Tears that a small piece of this historic trail be transferred to them."
Reposted with permission from our media associate Common Dreams.

The Leonardo DiCaprio Foundation tweeted: "The #KeystoneXL must be stopped: commit to peaceful resistance on the route http://nokxlpromise.org/ #NoKXL #KeystoneXLPipeline #KeystoneSpill"
Yes, it's true that the Nebraska Public Service Commission voted Monday to approve the long-gestating Keystone XL (KXL) tar sands pipeline. But don't score it as a win for TransCanada—or as a "boost for Trump"—just yet.
That's because the commission approved the "mainline alternative route," and that's not the route that the pipeline operator wants.
It could take years before the project finally gets off the ground (if it ever does), as the alternative route includes 63 miles of new pipeline not yet approved by the federal government and plenty of landowners could stand in the way.
As Crystal Rhoades, a commission member, wrote in her dissent: "The route violates the due process of landowners. There are at least 40 landowners along the approved route who may not even know that their land is in this pipeline's path. Since they might not know that they are in the path of the pipeline, they may not have participated in this proceeding."

And you can bet with last week's 210,000-gallon oil spill from the existing Keystone pipeline in South Dakota that many landowners wouldn't be thrilled about the project.
Even TransCanada seemed lukewarm about the commission's decision.
"As a result of today's decision, we will conduct a careful review of the Public Service Commission's ruling while assessing how the decision would impact the cost and schedule of the project," said Russ Girling, TransCanada's president and chief executive officer.
Even though President Trump has issued a presidential permit for the KXL, it was based on an environmental analysis assuming that the pipeline would follow the route TransCanada preferred, The Hill reported.
A State Department spokesperson told The Hill that the agency "heard about a possible modified route, and we are in the process of gaining more precise information in order to determine if there will be any permitting impacts as a result of those changes."
Many pipeline opponents stressed that the fight is not over.
"TransCanada has to now go back to the drawing board. They'll need new plans, new permits, new agreements with landowners, new assessments, and more," 350.org co-founder Jamie Henn tweeted.
"The decision to re-route the pipeline opens up *tons* of opportunities for legal challenges. To name a few: there was no tribal consultation, proper environmental impact studies haven't been done, landowners weren't consulted, etc." Henn added.

Jane Kleeb, the founder of Bold Nebraska and a prominent anti-KXL activist, tweeted that the Public Service Commission's decision means "years of new review and legal challenges are now on the table."
Today was a victory for everyone working to stop Keystone XL. TransCanada did not get their preferred route which m… https://t.co/kYhSIQ43JD

— Jane Fleming Kleeb (@Jane Fleming Kleeb)1511202388.0
Immediately after Monday's announcement, environmental groups and Native American tribes launched a renewed effort to battle the controversial pipeline, including the "Promise to Protect" campaign to make "a concerted stand" against TransCanada's $8 billion project.
Finally, Mother Jones pointed out that TransCanada's biggest challenge might come down to economics:
"When TransCanada originally proposed the route, the energy economy was different. As gas has flooded the market and oil prices have come down, TransCanada has had trouble attracting buyers interested in the heavy viscous oil that is more expensive and energy intensive to extract and refine. The company wants enough customers to fill 90 percent of its capacity before it proceeds. In June, the Wall Street Journal reported the 'oil producers and refiners the pipeline was originally meant to serve aren't interested in it anymore.'"
As Henn noted: "Every bit of uncertainty and every day of delay makes Keystone XL less likely. The economics are already stacked against this project and it's just a matter of time before the last few backers pull out leaving TransCanada all alone."
Collin Rees / Twitter
Pipeline Fighters from Nebraska and across the region marched through the streets of Lincoln, Nebraska Sunday—on the eve of a weeklong public hearing on the proposed Keystone XL pipeline before the Nebraska Public Service Commission, where Nebraska farmers and ranchers, the Ponca Tribe of Nebraska, Yankton Sioux Tribe, Bold Alliance and other environmental and citizen advocates will present evidence on why TransCanada's tar sands export pipeline is unnecessary and not in the public interest.
Pipeline opponents have vastly outnumbered proponents who showed up to testify at public meetings on Keystone XL held by the Public Service Commission in Norfolk, York, O'Neill and Omaha. Landowners and citizens have voiced concerns about the state authorizing the use of eminent domain for a foreign corporation to take their land for a private gain pipeline that threatens the Ogallala aquifer and fragile Nebraska farmland.
"Keystone XL never has been and never will be in Nebraska's public interest," Jane Kleeb, president of Bold Alliance, said. "This is a foreign pipeline, headed to the foreign export market, wanting to use eminent domain for private gain on Nebraska landowners. We are confident the PSC will follow the rules they set forth and reject the proposed route that still crosses the Sandhills and risks the Ogallala Aquifer."
A coalition of organizations including Bold Nebraska, 350.org, Sierra Club, Indigenous Environmental Network, CREDO, Greenpeace, Oil Change International and MoveOn have collected hundreds of thousands of written public comments from citizens from Nebraska and across the country with their concerns about Keystone XL's threat to property rights, water and climate. The coalition will deliver these public comments to the Nebraska Public Service Commission's offices in Lincoln at 8:30 a.m. on Aug. 10—on the eve of the PSC's Keystone XL public comment submission deadline of Aug. 11.
Nebraska officials eager not to hear from homeowners during #KXL hearings. Oil ind. is so devious, but on we fight https://t.co/zBbcod9dTR

— Bill McKibben (@Bill McKibben)1501858229.0
"The PSC is tasked with determining whether Keystone XL is in our state's best interest, and the answer is simple: the only people who would benefit from this pipeline being built are oil executives in Canada, while Nebraskans would face the daily threat of a devastating tar sands spill," John Crabtree, a campaign representative from the Sierra Club, said. "Keystone XL is all risk and no benefit for Nebraska, and the PSC should reject it."
The public comments delivery will take place just blocks from the Cornhusker Marriott hotel in downtown Lincoln—where landowners, Tribal leaders and environmental advocates will be testifying during the critical week of intervenor hearings on Keystone XL at the Public Service Commission.
The Nebraska Public Service Commission (NPSC)—the Republican-dominated state board deciding the fate of TransCanada's long-delayed Keystone XL pipeline—have barred experts and homeowners from testifying over potential spills or whether the tar sands pipeline is even necessary during final hearings next week.
The Omaha World-Herald reports that former Lancaster County District Judge Karen Flowers, who was hired by NPSC to conduct the hearings, issued more than 30 rulings based on objections filed by TransCanada.
She ruled that issues such as safety or if the U.S. even needs Canadian oil are out of the commission's scope of authority.

"The (Nebraska Major Oil Pipeline) Siting Act specifically prohibits the commission from considering safety considerations, including the risk of spills and leaks," Flowers wrote in her ruling.

Nebraska law requires the NPSC to approve a pipeline construction application if it is "in the public interest." The commission—made up of four Republicans and one Democrat—will mainly consider issues that impact the local economy such as jobs and revenues.
Pipeline opponent Oil Change International spoke out against the hearing officer's ruling, as it bars the testimony of 15 outside experts and more than 25 landowners.
For instance, the decision barred the planned testimony of Lorne Stockman, senior research analyst at Oil Change International. Stockman's testimony, which was submitted ahead of the hearings and thus part of the official record, would have stressed how changing market conditions and realities in the tar sands industry negates the need for Keystone XL pipeline.
"There is simply no need for the Keystone XL pipeline based on the current market conditions, which even TransCanada has admitted," he said, noting recent statements by TransCanada representatives who have cast doubt in finding sufficient shippers to fill the pipeline.
"Those conditions," Lockman continued, "include an end to growth in the tar sands sector and stagnant global oil demand, headwinds that look set to end the reckless proliferation of tar sands pipelines. Given all of the risks to Nebraskans inherent in the building and operation of this pipeline, the fact that there's no compelling need to build it should be a critical element of the commission's deliberations."
"My testimony exposes that the Keystone XL pipeline is not only a disaster for our climate and communities, but also that TransCanada has no business case to it to be built in the first place. It's no wonder they don't want me to testify," Lockman concluded.

Bold Nebraska founder Jane Kleeb, a prominent critic of the Keystone XL project, said legal action against the NPSC's decision to bar expert and landowner testimonies could be necessary.
"They're headed for a very tough court fight," Kleeb told the World-Herald.
A recent Bloomberg report highlighted how during the hearings, Keystone opponents will focus on the issue of eminent domain, which Republicans traditionally oppose in favor of landowner property rights. Keystone proponents, meanwhile, will focus on job creation, which the GOP also supports.
TransCanada's proposed pipeline would carry 830,000 barrels of tar sands oil from Canada into the U.S. daily.
Jane Kleeb. Mary Anne Andrei / Bold Nebraska
By Nicole Greenfield
In the red state of Nebraska, people know Jane Kleeb for her politics.
She's a progressive Democrat in a land of Trump voters, after all. But people also know the 44-year-old Kleeb, a Florida native who moved to Nebraska in 2007 after marrying into a family of local homesteaders, as someone who can bridge the political divide and unify the most unlikely of groups.
And that's exactly what she's done around the fight against TransCanada's 1,179-mile-long Keystone XL pipeline, which, if built, would transport a minimum of 830,000 barrels of tar sands oil through Nebraska's heartland every day. As the founder of Bold Nebraska, which has since grown into the multistate Bold Alliance, Kleeb has successfully united Republicans and Democrats, ranchers and native tribes, country folk and city dwellers to battle the oil company's attempts to push its project through. And while the U.S. State Department's March 24 announcement that it was reauthorizing the project certainly dealt a blow to their common cause, the diverse group is not backing down.
"I'll tell you the reason our battle against KXL has been successful so far," said Art Tanderup, one of the farmers whose land is along the pipeline's proposed route. "That reason is Jane Kleeb. She is a great organizer. And she's a cheerleader—she's always out here saying, 'Come on guys, I know we can beat this.'"
For Kleeb, the first goalpost in the KXL fight was building that team to cheer on. Bold's initial meetings took place in early 2010 in the Nebraska Sandhills, home to the precious Ogallala Aquifer, which is threatened by the pipeline. At those meetings, skeptical landowners greeted her with crossed arms and stern faces.
"In the beginning, there was resistance," she remembered. "But I knew that if I kept showing up, and if their peers were always standing with me, we would build a good team and build trust. We've had political disagreements over the past seven years, but we're such a deep-knit community—we cherish each other like family members—that we just don't let that stuff divide us."
Jane Kleeb (third from right) and fellow activists before their meeting with White House officials during a 2014 Reject and Protect rally.Garth Lenz/iLCP
Those tight bonds, in addition to their unwavering persistence, bolstered the Nebraskans' efforts in helping defeat the Keystone XL pipeline in November 2015. Kleeb credited quality time spent together for bringing the group so close―the many late nights sitting around landowners' kitchen tables, the days they braved stormy weather to create crop art, their annual ritual of planting sacred Ponca corn along the pipeline route, and a 2014 trip to Washington, DC, where they camped out on the National Mall and urged President Obama to reject KXL and protect the heartland.
"We have these moments where we're all in it—hands in the soil trying to stop this thing," she said. "That's really important and a lesson for all pipeline fights. If you want to do this, it can't just be a bunch of people in a room writing a plan on paper. You have to be with the people that are directly in the path, because they're the ones we're standing up for and standing with."
Kleeb noted that her four-year-old minivan already has nearly 200,000 miles on it from all the times she's crisscrossed Nebraska to be with the pipeline fighters. And, choking back tears, she said that after every single long night of work or strategizing, a landowner would leave eggs or meat on her passenger seat. "No note, nothing—just one of the farmers or ranchers decided they were going to make sure that I left with some food to take home to my family."
Still, Bold Nebraska doesn't succeed because of personal relationships alone. Kleeb is a seasoned political organizer and strategist—the former executive director of the Young Democrats of America and current chair of the Nebraska Democratic Party. She started Bold Nebraska in 2010 as a means to counter the growing force of the state's Tea Party and keep Nebraskans informed about issues that cut across the political spectrum. About two months after she founded the organization, the Keystone XL controversy arose as exactly one of those issues, beginning with a series of phone calls Kleeb received from concerned farmers and ranchers. She and the landowners quickly learned about tar sands—the particularly harmful, dirty crude that would flow under their land and endanger their water supply.
Bold Nebraska supporters gather at the site of a solar and wind powered barn outside Benedict, Nebraska.Mary Anne Andrei/Bold Nebraska
"Jane Kleeb deserves a lot of credit," said Anthony Swift, director of NRDC's Canada Project, who partnered with Bold Nebraska to help make a strong case to the state legislature about the pipeline. "She worked with all of the landowners along the route, and Nebraskans as a whole, to educate them about the risks of the pipeline." Meanwhile, he added, "TransCanada came and told them things that really stretched the truth." The company also rattled landowners who didn't want to sign easement agreements by threatening the use of eminent domain. "Nebraskans can identify a straight-talker; they know when people are not being entirely honest with them. So the juxtaposition between Jane Kleeb and TransCanada was pretty perfect—it made a clear choice for them on who they could trust."
Bold Nebraska's communal efforts and hard work were validated when President Obama rejected the pipeline in 2015. Since then, as the director of Bold Alliance, Kleeb has expanded her pipeline-fighting efforts to other states like Iowa and Louisiana. And back in the Cornhusker State, even without her day-to-day oversight, the fight continues. With the Nebraskan holdouts once again on the front lines, the pipeline route is still unapproved, and they await a final call from the five elected members of Nebraska's Public Service Commission. (The battle is simultaneously playing out in federal court in Montana, where NRDC, Bold Alliance, and partner groups Northern Plains Resource Council, Center for Biological Diversity, Friends of the Earth, and Sierra Club are suing the Trump administration for unlawfully issuing a cross-border permit for the project.)
A series of public hearings were held in the spring, and the Bold Nebraskans will gather in Lincoln from Aug. 7 to 11, many as formal intervenors, to testify anew against the pipeline and raise awareness with a kickoff parade that will feature Harleys, horses and tractors. "We want to show that this unlikely alliance is still here, still fighting," Kleeb said. An official decision on Keystone XL could be made as soon as September.
With the roller-coaster emotions the pipeline has brought so far, how do Kleeb and other Nebraskans keep the faith? "We fundamentally see this as such a wrong project that for us there's no other way to look at it," she said without hesitation. "We have no option but to think that our work will stop this pipeline again."
First "Solar XL" installation of USA-made solar panels in the path of the Keystone XL pipeline. Bold Nebraska / Facebook
Keystone XL owner TransCanada told investors Friday that the company was still assessing demand for the project with oil companies, increasing speculation that the controversial pipeline may not see the light of day.
On an investor call, a TransCanada executive called for an "open season" on the Keystone project to attract investor bids, and said the company would assess interest and make a decision on the pipeline by November.
As reported by Politico:
"It was the strongest acknowledgment from TransCanada to date that the nearly decade-long Keystone saga may end in failure—despite President Donald Trump's overwhelming support for the project, which he green-lit as one of his first acts in office."
TransCanada is also still awaiting approval from Nebraskan regulators to finalize the pipeline's proposed route through the state. A final Nebraska Public Service Commission hearing on Keystone last week showcased the depth of opposition to the pipeline in the state, while a local farmer has attracted attention for installing American-made solar panels on his land to protest the project.
Activist Building Solar Arrays to Block Keystone XL Route. "We are putting solutions in path of the problem." #NOKXL https://t.co/agcayQFMXX

— 350 Tacoma (@350 Tacoma)1500738471.0
Jim Carlson said he rejected offers as high as $307,000 from TransCanada Corporation to lay pipe across his land.
"They'll have to go under it, around it or tear it down to get their dirty oil from Canada to the Gulf of Mexico," Carlson told NBC Nebraska.
Carlson is a pipeline fighter with Bold Nebraska, a grassroots organization opposing Keystone XL. Jane Kleeb, the group's founder, told NTV that they've raised more than $40,000 to install solar projects in the path of the proposed pipeline.
"We're not just out in the streets protesting with signs, but we're actually building the type of energy we want to see," Kleeb said.

"With the threat of Keystone XL destroying our water and taking away property rights from farmers, we decided to build solar, directly inside the route where the Keystone XL is proposed to go because the contract says you can't have anything permanent in the route, so we are building permanent clean energy."
For a deeper dive:
Investors: Politico, Omaha World-Herald, Reuters, The Hill, Washington Examiner. PUC hearing: Omaha World-Herald, Lincoln Journal-Star. Solar panels: NBC Nebraska, NTV
For more climate change and clean energy news, you can follow Climate Nexus on Twitter and Facebook, and sign up for daily Hot News.
Bold Nebraska / Twitter
By Ron Johnson
When President Donald Trump signed off on a presidential permit okaying the Keystone XL crude oil pipeline in March, it was a real blow to an environmental movement that had tasted victory over the dirty tar sands clunker back in 2015 when President Obama withdrew the permit for the project.
With Trump and Canadian Prime Minister Justin Trudeau united in their support of the pipeline, it seemed little could stand in the way of some 830,000 barrels of dirty tar sands fuel barreling down a 36-inch crude oil pipe from Hardisty, Alberta through Montana, South Dakota and Nebraska to export terminals in the Gulf of Mexico. The pipeline seemed destined to pass over, under, and through environmentally sensitive areas such as Nebraska's Sandhills, and put at risk the Ogallala Aquifer, one of the world's largest underground freshwater sources.
But not so fast.
Anti-pipeline activists are holding strong. They announced Solar XL, the latest move in a battle waged against the pipeline. Launched July 6 by a coalition of groups including Bold Nebraska, 350.org, Indigenous Environment Network and Oil Change International, the campaign features a series of solar panel arrays installed directly on the KXL pipeline route as it passes through Nebraska.
"We are putting solutions in the path of the problem," said Sara Shor, a campaigner for 350.org. "TransCanada will have to literally dig up these solar arrays in order to build a polluting pipeline of the past that will pollute land and water, increase carbon emissions, and make climate change worse. The first project will be completed by the time the hearing in Lincoln starts in August."
Each installation will cost $15,500 for a nine-panel frame, net-metering connection to the Nebraska power grid and labor. The groups aim to raise $50,000 via crowdfunding at the Action Network to help finance the installation in locations where landowners have refused to sell to TransCanada.
The energy produced by the arrays will be used by Nebraska farmers and ranchers leading the fight against KXL in Nebraska, both symbolically and literally putting a renewable energy future directly in the path of some of the dirtiest fuel on the planet.
"I am vehemently opposed to the Keystone XL pipeline mainly because of the properties of the contents of the tar sands oil it will carry—this is not your Mother's crude oil, it is the Devil's, and it can kill," said Nebraska landowner Jim Carlson. "We must be focused on clean, renewable energy and America can get along just fine without this foul concoction they call bitumen that TransCanada wants to pipe across our precious soil and water."
The current pipeline route would also pass through Indigenous treaty lands, and the campaign includes solar panel installation at the Rosebud Sioux Tribe Spirit Camp in South Dakota, a prayer camp set up to oppose KXL back in 2014.
"On the Rosebud reservation in South Dakota, renewable energy projects are already serving Indigenous peoples, and more are being planned," said Wayne Frederick, member of the Rosebud Sioux Tribe. "From Nebraska to Alberta, Indigenous peoples, farmers, and communities along Keystone XL's route know that our best resistance is through putting the answers in the path of the problem."
Advocates are honing in on Nebraska as it is the last state reviewing the pipeline—all the other states through which KXL would pass have already approved the project. The publicly elected Public Service Commission (PSC) is tasked with approving (or not approving) the route. The PSC has been holding a series of hearings over the past months to gather information from the public, and is reviewing the thousands of comments registered in opposition to the project. The crucial final hearings are set to get underway August 3.
For grassroots activists such as Bold Nebraska, PSC is the last line of defense, and they are doing whatever they can to get the message out that Keystone XL has no place in the Cornhusker state. The group is made up largely of local farmers and ranchers fighting against the use of eminent domain to get the pipeline onto Nebraska land, as threatened by TransCanada, the Canadian energy company behind the project.
"Building America means relying on energy that protects our property rights and ensures we have clean drinking water. Foreign tar sands in the Keystone XL pipeline, that would flow to the export market, is not in our public or our state's interest," Bold Alliance president Jane Kleeb said in a statement. "When faced with challenges, Nebraskans find solutions together to show our communities' values and the bond to the land that TransCanada cannot break or buy."
Since President Trump approved KXL, it seems there has been no shortage of news demonstrating why it isn't needed, from the withering away of customer interest in using the new pipeline to new statistics showing more people working in the solar industry than oil, gas and coal combined, which begs the question of who stands to benefit from more fossil fuel infrastructure.
"The fight is absolutely not over," Shor said. "And no matter what happens in Nebraska, Trump's complete disregard for communities in approving this project has only activated thousands more people to fight the fossil fuel projects that are in their backyards," Shor said. "Every fossil fuel company should be shaking in their boots because of the inevitable transition away from fossil fuels to renewable energy projects."
Ron Johnson is based in Toronto, Canada, where he is an editor for Post City magazines and contributes to The Globe and Mail, Maclean's, The National Post and the London Business Times.
Art and Helen Tanderup with their daughter Vanessa Brand, their grandchildren Kyle and Amelia. Mary Anne Andrei / Bold Nebraska
By Nicole Greenfield
When TransCanada began knocking on doors throughout Nebraska in 2008, most residents didn't know much about its Keystone XL pipeline or the dirty tar sands oil it would be transporting. The energy company was negotiating easements with local landowners in order to secure a route for its multibillion-dollar project—which would run north to south through the state, directly through the Ogallala Aquifer and across hundreds of Nebraskan rivers and streams. TransCanada threatened landowners with eminent domain if they didn't comply.

Although the company had some early takers, many Nebraskans along KXL's proposed route questioned the pipeline's safety, the risks to their water supply, and the legality of TransCanada's tactics. With the help of an organizer named Jane Kleeb, they banded together as Bold Nebraska to forge a unified resistance to Keystone XL.
Still No Approved Route for Keystone XL in Nebraska as Resistance Mounts https://t.co/H3W1kV8gfU #NoKXL @NRDC @IENearth @StandingRockST @350

— EcoWatch (@EcoWatch)1496583162.0
Following years of protest and courtroom battles, a rigorous U.S. State Department environmental review that echoed the concerns of pipeline resisters, and the conflicting decisions of President Obama to reject it and President Trump to later reauthorize it, the bold Nebraskans haven't given up. After all, as Anthony Swift, director of NRDC's Canada project, said, "There's no question that Nebraskans know more than most people how high the stakes are with regard to Keystone XL."
So, on the KXL front lines in the Cornhusker State, it's now up to the Nebraska Public Service Commission (PSC) to approve or deny TransCanada's permits for construction. (The battle is simultaneously playing out in federal court in Montana, where NRDC is suing the Trump administration for unlawfully approving the project.)
Without a route though Nebraska, Keystone XL can't move forward, and landowners are making sure the five-person commission hears their objections. Many testified during public hearings held this spring, and some will return to the podium as registered intervenors in August, when five days of formal arguments will precede an official decision on the pipeline as soon as September.
Below, several of the intervenors share their stories of resistance:
Art and Helen Tanderup: Neligh, Nebraska
It wasn't long after Art and Helen Tanderup retired that TransCanada began trying to claim areas of the couple's 160-acre farm—owned by Helen's family for more than a century—so the company could run its Keystone XL pipeline a mere 600 feet from the Tanderups' house in the state's eastern sandhills and directly over the Ogallala Aquifer, a primary source of water for a vast stretch of the country's agricultural heartland. "We have two kids, and we hope to pass this farm on to them and our grandchildren," Art said. "If this pipeline's here, we don't know what we'll do."
Their land, which is situated along the historic Ponca Trail of Tears, has since become a hub for the KXL resistance in Nebraska. Landowners and Native Americans whose properties and heritage are directly threatened by the pipeline have joined forces here. Together, they've created massive crop art, welcomed supporters for the Harvest the Hope concert (featuring Neil Young and Willie Nelson), and organized the annual sacred Ponca corn planting and harvest.
Part of the battle cry for the pipeline-fighting Tanderups and others has been to "leave tar sands in the ground" and invest instead in renewable energy sources as a means to address global climate change. And the Tanderups have put their money where their mouths are, by installing solar power on their farm and purchasing an electric car, choices they wouldn't have made before learning about the climate impacts of tar sands oil—thanks to TransCanada.
With so much invested in their fight against Keystone XL, the Tanderups remain concerned about Trump's plan to revive the pipeline. Art's message for the president? "I would ask him, as I have before, to come to Nebraska. Come out and visit the landowners on this route. Come out and see the sandhills. Come out and look at the aquifer and see what it does for us. Come out and see how this is going to destroy the livelihood of the heartland of the United States. Come out and see how this is not—this is not—making America great again."
Susan and Bill Dunavan: York, Nebraska
Susan and Bill Dunavan have moved around a lot, living in New York, California and Lesotho, where they spent time as missionaries. So when they landed in York, Nebraska, in 1979, they were looking forward to living in the countryside in a small, quiet place to raise their family.
Susan and Bill Dunavan on their land.Alex Matzke/Bold Nebraska
Things turned out quite differently.
"I didn't realize what kind of trauma we would end up experiencing," Susan said, referring to the nine-year battle they've fought with TransCanada. The Dunavans live on 80 acres of native pastureland, land they've been working on restoring to its natural state for decades—and land through which TransCanada wants to run its KXL pipeline. The Dunavans received their first letter from the oil company in May 2008, and soon after, land agents began stopping by to negotiate easements. All told, they've received seven offers—of just about enough money to buy a used car—and countless letters threatening eminent domain.
"TransCanada didn't treat us very well," Susan said. "I couldn't understand why they were threatening us with eminent domain when they had no authority." (It wasn't until 2015 that TransCanada filed paperwork to exercise this power over the unwilling landowners, a move later nullified with President Obama's pipeline veto.)
Susan talks about the "dirty tricks" TransCanada has employed to get people to sign their land over. She wonders why her state's legislators won't stand up for the citizens they represent and why they'd put the profits of a foreign company above the health and safety of Nebraskans. And if you resist? "They demonize you. They turn you into a radical protester," she said. "What is so radical about wanting to give clean water to our children?"
A devout Catholic, Susan draws strength from her faith as she fights against Keystone XL. "The integrity of creation is being sacrificed for economic gain," she said, invoking the words of an Alberta-based bishop. "The scale and the pace of the development of oil sands cannot be morally justified. It's just wrong."
Tom Genung: Atkinson, Nebraska
For Tom Genung, community is at the heart of the fight against Keystone XL. A member of the Cowboy Indian Alliance—a group of ranchers, farmers and members of tribal communities who have coalesced around their opposition to the pipeline—Tom is quick to honor "the spirits of the indigenous people that lived on these grounds way before we did." He talks often of the "unlikely alliances"—farmers and Native Americans, Republicans and Democrats—that the battle against KXL has created.
Tom Genung sits alongside fellow pipeline opponents during the Nebraska Supreme Court hearing on September 5, 2014.J Grace Young/Bold Nebraska
It wasn't until TransCanada came knocking at Tom's door that he and his wife, Cathie, realized their land in Atkinson was at risk. "We'd never been activists in any sense of the word," Tom said. "Sure, we took interest in things and did our voting and hoped for the best. But when this came along, it got our attention and it became a calling. The most powerful realization for him has been that "a lot of landowners don't feel any different than native people do about honoring the earth—we have a mutual understanding that maybe we didn't know we had prior to getting together."
Going to meetings, distributing educational materials, testifying at hearings, joining protests and chairing the landowner collective Nebraska Easement Action Team has been a lot of hard work and, at times, emotionally draining. But Tom considers the experience a privilege, regardless of the outcome. And he remains optimistic that the local resistance he's helped build will be able to stop Keystone XL once again. "I'm excited to kick TransCanada's ass one more time," he said. "We're having more fun than they are, I'll tell you that."
Larry Wright, Jr.: Lincoln, Nebraska
Under the fluorescent lights of a conference room in York in early May, Larry Wright, Jr., chairman of the Ponca Tribe of Nebraska, delivered testimony against the Keystone XL pipeline to a panel of PSC members. The next day, near David City, he joined a 273-mile march through the state in commemoration of the Ponca's forced removal 140 years earlier. The remembrance walk followed the Ponca Trail of Tears, the path the tribe was made to traverse from its homeland in Nebraska to a reservation in Oklahoma—a route Keystone XL would cross several times in the northern and central parts of the state.
Larry Wright, Jr. testifies before the Nebraska Public Service Commission against the TransCanada Keystone XL pipeline, May 4, 2017.Alex Matzke
"The proposed pipeline is going through what we consider cultural and historic traditional lands," said Wright. "Even though we don't physically own those lands today, at one point in our history, that's where our people were. Our people are buried there." Some were willing to die to try and move back home from Oklahoma, Wright adds. "That should say what the land means to us."
In August, the Ponca Tribe of Nebraska will serve as an official intervenor in the review process for KXL's permit. Wright said the tribe is particularly sensitive to TransCanada's forceful efforts to use eminent domain. "We know what it's like to have a foreign entity come in and take our land without just compensation. We empathize with those property owners and we stand with them."
As Wright retraced the steps of his ancestors, he reflected on the beauty of his home state and the potential dangers the pipeline would bring. "It's hard to fathom that Nebraska is considering approving this permit, especially when you're out here and you're walking. Hopefully we'll bring a bit of light to that issue."
Nancy and Bob Allpress: Naper, Nebraska
The Allpress homestead, 13 miles southwest of Naper on the South Dakota border, lies at the end of a long dirt road that's unpassable in the rain or snow. Nancy and Bob run cattle and grow corn and alfalfa on these 900 acres, which are a Homestead Act acquisition and owned by Bob's family since 1886. A century and a quarter later, the land entered TransCanada's crosshairs as part of the Keystone XL pipeline route revised in 2012.
Bob and Nancy Allpress on their land near Naper, Nebraska.J Grace Young/Bold Nebraska
"Our family was in consensus that we did not think it was a good thing for us or for Nebraska," Nancy said. "We drew that conclusion way before we were notified of it coming through our land."
The Allpresses are the only family in Keya Paha County that have not signed an easement agreement. Many landowners, without the resources or power to fight the oil company, felt resigned to comply with it, the Allpresses said. "A lot of landowners signed on early out of fear. There were people that signed because they didn't have all the information. And the lure of some money for your land is hard for some people to pass up, especially in these rural communities."
But Nancy also sees a steady resistance to the pipeline among people who are confident that fighting back can make a difference. Local history buoys them: in the 1990s, citizens successfully stopped a nuclear waste dump from making its home in nearby Boyd County.
She, too, remains cautiously optimistic. "You can't come into Nebraska and threaten people with eminent domain. It just doesn't go over. Nebraskans are strong pioneer stock, very proud people and great stewards of the land."
Encouraged by the Obama administration's shelving of the Keystone XL pipeline and its revoked authorization for construction of the Dakota Access Pipeline on federal lands, activists are now eyeing new battles.
At least 14 new pipeline projects are in the works, carrying both oil and natural gas. These projects involve at least 24 states, adding to the existing 2.5 million miles of energy pipelines in the U.S.—the largest network in the world. Driven by low natural gas prices and the fracking boom, these new pipelines will cross major urban areas as well as important watersheds.
Some of the proposed pipelines being monitored by activists.Oil Change International/E&E Publishing
Supporters say that they supply energy needs for many communities, provide jobs and are safer for oil transport than truck or rail. Take the case of the Atlantic Sunrise pipeline expansion. Running from Louisiana through the Southeast all the way to Long Island, New York, the project is an expansion of an existing Transco pipeline operated by Tulsa, Oklahoma-based Williams Companies.
Counting branch pipelines, Transco is a 10,200-mile system that can move 10.9 billion cubic feet of natural gas per day. The company transports 10 percent of the natural gas consumed in the U.S., but it was built to move gas mainly from the Gulf of Mexico to the Northeast.
Now, the Marcellus Shale in Pennsylvania provides lower-cost gas and the Atlantic Sunrise will be reconfigured to move product south. In 2014, 1,370 wells were being drilled in the Marcellus, with high-yield wells using hydraulic fracturing, or fracking. The Marcellus provides more than 36 percent of the shale gas produced in the U.S.
Williams Companies said that construction of the pipeline expansion in Pennsylvania will create 2,300 jobs for one year, with 15 permanent full-time jobs after that for operation and maintenance. Citing U.S. Department of Transportation (DOT) statistics, the company's website states that "pipelines are the safest method for transporting energy." They add that their safety practices include 24/7 monitoring of the pipeline.
But critics aren't convinced. While pipelines are, statistically, far safer than trucks or trains, "When a pipeline does fail, the consequences can be catastrophic," ProPublica said.
On a quiet Thursday evening, six years ago this month, a massive blast shattered the peace of San Bruno, California, as a tower of fire erupted from a natural gas pipeline under the city of 41,000. Whipped by fierce winds, the blaze killed eight people and severely injured 58. It destroyed or damaged 55 homes.
Last month, a federal jury convicted Pacific Gas & Electric of obstructing the investigation and violating pipeline safety laws both before and after the explosion.

From October 2015 to February 2016, the largest methane leak in U.S. history spewed out of a natural gas storage field near Porter Ranch, California, releasing 94,500 tons of the powerful greenhouse gas. The leak sickened thousands and forced the temporary relocation of more than 5,000 households. Methane absorbs heat more effectively than carbon dioxide.
NASA: Porter Ranch Gas Leak Was So Big It Could Be Seen From Space https://t.co/AToTYowaYC @energyaction @tcktcktck

— EcoWatch (@EcoWatch)1466197275.0
"In the first two decades after its release, methane is 84 times more potent than carbon dioxide," according to the Environmental Defense Fund.
Southern California agreed to pay $4 million to settle criminal charges but still faces civil actions. In March, the Los Angeles Times found leaks in 229 natural gas storage fields in California, and said that they "are often left untreated for months."
Oil-carrying pipelines may leak or rupture, creating dangerous spills. In 2010, an Enbridge Energy pipeline released 840,000 gallons of heavy tar sands oil into the Kalamazoo River in Michigan. Oil flowed for 17 hours before the pipeline was shut down. Cleanup costs reached $1.2 billion, making this the most expensive on-shore oil spill in U.S. history.
The company agreed to a $177 million settlement, which also included violations relating to a 269,000 gallon pipeline spill in Illinois. And in 2011, an ExxonMobil pipeline spilled 42,000 gallons of crude oil into the Yellowstone River, agreeing Wednesday to a $12 million settlement.
Enbridge, the company responsible for the Kalamazoo River spill, is now seeking to pump 800,000 barrels of tar sands crude per day through North Dakota, Minnesota and Wisconsin by expanding its Alberta Clipper pipeline. This facility crosses the Great Lakes and Mississippi River, along with tribal lands including Fond du Lac, Red Lake Nation and Leech Lake Indian Reservation. Enbridge is also behind the proposed Northern Gateway pipeline, which threatens the Great Bear Rainforest in British Columbia.
While the Obama administration has put a stop to the Dakota Access Pipeline, it has permitted two pipelines linking the Permian Basin in Texas with customers in Mexico. Despite the administration's legacy of conservation actions and its role in the historic Paris climate agreement, fossil fuel development continues unabated. The U.S. Energy Information Administration's Annual Energy Outlook 2016 projects a 55 percent increase in natural gas production by 2040.
"The currently planned gas production expansion in Appalachia would make meeting U.S. climate goals impossible," states a July 2016 report published by Oil Change International.
Which brings us back to the Marcellus Shale in Pennsylvania. The state is enjoying a boom to the tune of more than $10 billion in pipeline projects. Production from the Marcellus gas wells is outpacing the capacity to bring it to market. That's why the Atlantic Sunrise project is seen as key to the state's economy. But the U.S. Environmental Protection Agency (EPA) has voiced concerns about the pipeline.
In a June 27 letter to the Federal Energy Regulatory Commission (FERC), EPA Associate Director Jeffrey D. Lapp criticized FERC's draft environmental impact statement (DEIS). "[The] EPA is concerned that the selection of the current preferred alternative may result in significant adverse environmental impacts," the letter states.
The EPA also voiced concerns about "terrestrial resources, including interior forests, aquatic resources, rare, threatened and endangered species."
The rush to build pipelines may soon result in overcapacity. Referring to two competing projects in the Mid-Atlantic, the Atlantic Coast pipeline and the Mountain Valley pipeline, the Southern Environmental Law Center said in a report published last week that they would be unnecessary if the Atlantic Sunrise project is completed and a proposed upgrade to an existing Columbia Gas pipeline goes through.
Hundreds of activists, joined by high-profile allies including Susan Sarandon, Shailene Woodley and Josh Fox, rallied outside the U.S. District Court in support of the Standing Rock Sioux Tribe on Aug. 24.
Against this background, activists look askance at every new pipeline proposal. Protests have taken place against the Atlantic Sunrise pipeline in both Pennsylvania and at FERC's office in Washington. The Sierra Club in Pennsylvania is working to stop the pipeline. Elsewhere in the state, both the EPA and National Park Service have condemned FERC's DEIS for the Penn East pipeline, which would connect the Marcellus Shale to markets in Pennsylvania and New Jersey. The proposed Pilgrim Pipeline is under attack in New York and New Jersey by residents and numerous conservation groups. More than 60 towns and cities in the two states have passed resolutions opposing the pipeline, which would carry oil across major groundwater aquifers and two aqueducts feeding New York City's public water supply.
Thousands rally nationwide demanding permanent end to Dakota Access Pipeline https://t.co/ggbnwf6G9Z via @EcoWatch #climate

— climatehawk1 (@climatehawk1)1473901264.0
Another Williams Company project, the Constitution Pipeline in Pennsylvania and New York, used eminent domain to force its way across private property, cutting down hundreds of trees to make way for the pipeline. The company had the approval of FERC to proceed.
"I think the Atlantic Coast and Mountain Valley [pipelines] are cued up to be the next hot spots. They have river crossings, and there are such historic grounds of American history—literally land given by George Washington to families during the wars," Bold Alliance President Jane Fleming Kleeb said. As pipeline builders take private property, desecrate sacred Native American land and attack protesters with dogs and mace, angry citizens prepare for future battles.
This week, environmentalists called on the State Department to reopen the Keystone XL tar sands pipeline environmental review process. New information from the Department of Energy, the International Energy Agency, industry analysts and refining executives offers new evidence that Keystone XL will, in fact, directly contribute to increased tar sands development, U.S. greenhouse gas emissions and pollution at U.S. refineries, calling into question the original State Department findings.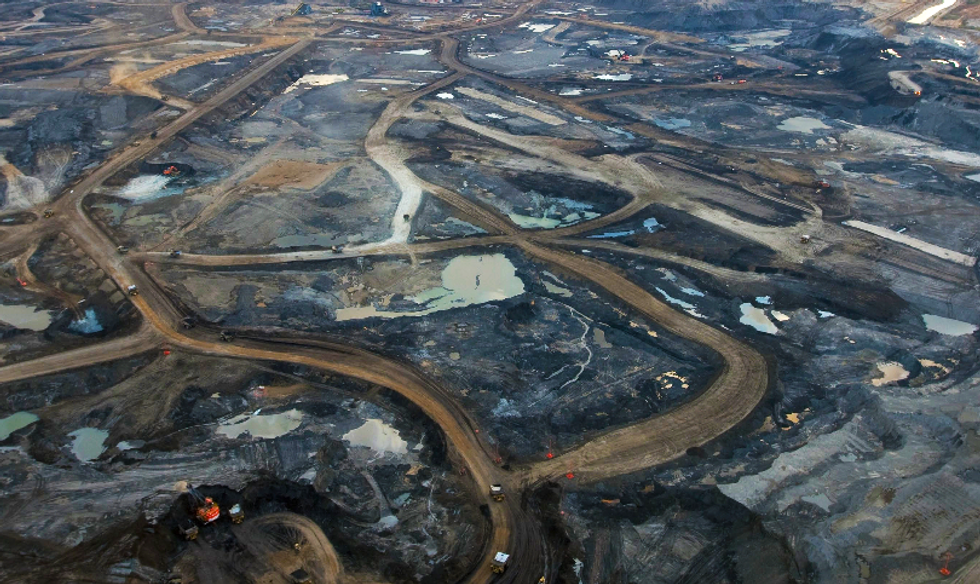 "Since the close of the comment period, evidence of inaccuracies and bias in the State Department's review of Keystone XL has been steadily mounting," says Doug Hayes, Sierra Club attorney. "This new information demonstrates that the review relies on an overly-simplistic, outdated view of a rapidly-changing oil market."
The new data contradicts three primary conclusions by the State Department:
Increased rail shipments of crude oil have the potential to completely replace the capacity of Keystone XL if the pipeline were rejected.
Increasing domestic production of oil will not affect the demand for heavy Canadian crude oil in Gulf Coast refineries.
Canadian crude will not be exported from the Gulf Coast if the pipeline is built.
"The State Department is alone in its conclusion that the Keystone XL pipeline is not fundamental to the prospects of the dirty tar sands industry," says Lorne Stockman, research director at Oil Change International and coauthor of the letter. "State needs to take a careful look at the new evidence that we've compiled in the past several weeks and they will reach the same conclusion that we do: that the Keystone XL pipeline is crucial to the expansion of the tar sands, and that expansion is not in the public interest."
President Obama said his administration will weigh the pipeline's impact on the climate and it will be approved only if "this project does not significantly exacerbate the problem of carbon pollution." Evidence that Keystone XL is the lynchpin for tar sands development detailed in the letter includes:
A Goldman Sachs report that says that rail shipments of tar sands could not replace the proposed pipeline logistically and economically.
Royal Bank of Canada's estimate that denial of Keystone XL would jeopardize $9.4 billion in tar sand development.
U.S. EPA estimates that Keystone XL will add 18.7 million metric tons of carbon pollution per year. And a new U.S. government report increases the estimated social cost of this pollution—related to human health, sea level rise and other natural disasters—by as much as double.
"This recent information paints a clear picture," said Anthony Swift, Natural Resources Defense Council attorney. "The Keystone XL tar sands export pipeline would significantly increase climate emissions while providing few benefits to the United States—it really is an all risk and no reward proposition for the American people."
According to the groups, the State Department is obliged by federal law to analyze and respond to this new data.
Groups who have signed on to the letter include Bold Nebraska, Center for Biological Diversity, National Wildlife Federation, Natural Resources Defense Council, Oil Change International and the Sierra Club.
Visit EcoWatch's KEYSTONE XL page for more related news on this topic.
——-