North Carolina senators are taking an American Legislative Exchange Council (ALEC) style approach in their efforts to push through legislation that allows oil companies a loophole in regulations requiring disclosure of the chemicals used in hydraulic fracturing, or fracking, operations.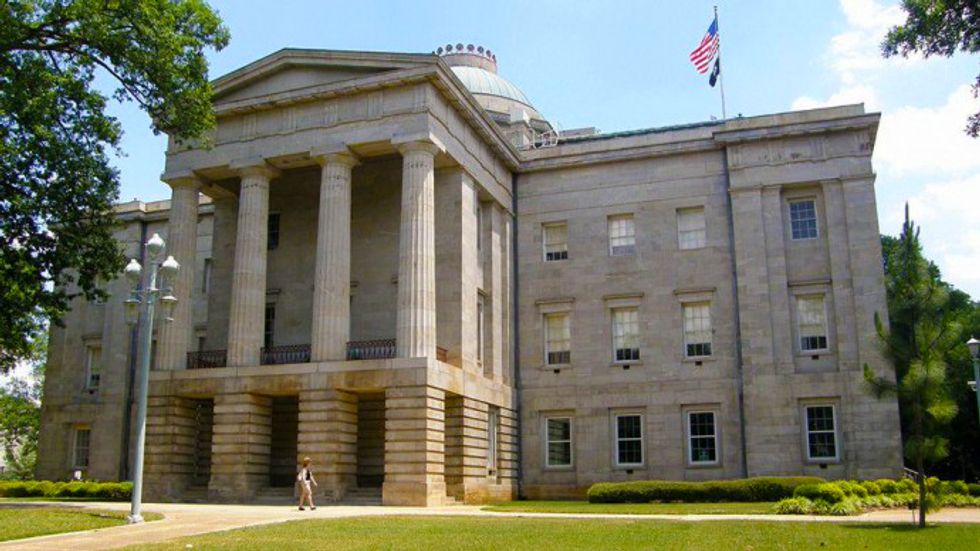 This week, a state Senate committee approved a version of what is normally an annual environmental "housecleaning bill," according to the Associated Press. While the House version of the bill was a mere four pages, the Senate version contained 44 pages and language relating to the regulation of the fracking industry.
The Senate's version allows companies to withhold "trade secret" chemicals used in the drilling process. Similar provisions are seen in model ALEC legislation that has been adopted by states throughout the nation—including Florida and, most recently, Illinois.
The regulations came as a surprise to North Carolinians, as the legislature voted earlier this year to create an Energy and Mining Commission, a body whose purpose is to create regulations for the industry. The commission's most recent attempts were axed after Halliburton, a leader in the industry, claimed the regulations were too intense.
With fracking poised to begin in the state by 2015, environmental advocates are calling out the most recent Senate move as an attempt by pro-fracking forces to steamroll the process of creating fracking regulations.
Oil companies have already purchased more than 9,000 acres of land for drilling in Chatham, Lee and Moore Counties, according to Environment North Carolina.
North Carolina's Tug-of-War Over Fracking
Republican state Sen. Bob Rucho is the likely suspect behind the somewhat secretive moves made by the Senate this week. Sen. Rucho is a staunch advocate of the would-be fracking industry in the state.
In June 2012, when debating the issue in the Senate, Rucho was quoted by McClatchy News Service in a debate over the safety of the fracking industry, saying, "The only way you'll ever know is by actually punching down some wells."
In February, Rucho co-sponsored SB 76, which set March 2015 as the goal for the issuance of fracking permits, undoing a previously issued moratorium. The bill also set Oct. 1, 2014, as the deadline for the state to come up with a "modern regulatory program for the management of oil and gas exploration and development activities."
On June 7, the House voted in favor of a version of SB 76 that would also allow permits to be issued by March 1, 2015.
"Nothing will get done if you don't have a timeline," Rucho told Stateline, the news service of the Pew Charitable Trusts. "We believe we have a significant resource here … the upside potential is tremendous."
In July 2012, Republicans, with the help of one accidental Democratic vote, overrode Gov. Bev Perdue's veto of a fracking bill, ushering in the Clean Energy and Economic Security Act. The legislation called for the creation of the Energy and Mining Commission, which would be responsible for coming up with regulations by October 2014.
Those in the state concerned with fracking saw it not as a step in the direction of caution, but one that paves the way for the oil and gas industry to move in without adequate environmental review.
As environmentalists saw it, regulations were not an appropriate substitute for an environmental review.
"Without allocating funding to this effort, the bill directs to develop a massive new oil and gas regulatory infrastructure, but ignores the DENR's [Department of Energy and Natural Resources] recommendation that more studies are needed to determine if fracking can be done safely in NC [North Carolina], given the state's unique geology," Sierra Club's North Carolina branch said in a statement following the move.
That new regulatory department, the Energy and Mining Commission, has already come under scrutiny by environmental groups for caving to industry pressure.
Minutes from the commission's March meeting indicate it had already been looking into a chemical disclosure system that allowed for "trade secrets" to be left out. However, it would have required chemicals to be released for each well.
Like other states, the commission was looking at the industry-created FracFocus website, an online platform that allows companies to disclose chemicals used at each well, aside from those deemed trade secrets.
"Committee Chairman (George) Howard stated that the trade secret disclosure rule would require all companies to submit a master chemical family name list of fracturing fluid additives before being permitted for operations," minutes for the March 2013 meeting state. "Emergency responders and health professionals would be notified within two hours of a request for trade secret information via telephone."
The commission's move to potentially institute chemical disclosure rules of any kind were halted when Halliburton, a leader in the fracking industry, flexed its muscles. According to the News Observer, Halliburton told the Commission that the regulations were too strict.
Halliburton runs its own chemical disclosure operation on its website. In 2010, in the midst of a debate with the U.S. Environmental Protection Agency about disclosure regulations, the company launched its own "honesty policy" website, showcasing chemicals used in the states in which it operates.
"While it's nice to see Halliburton acknowledging that desire, it's not meaningful or sufficient unless the information is fully disclosed on a site-by-site basis," Natural Resources Defense Council's Amy Mall told The New York Times in 2010.
This isn't the first time Halliburton has influenced fracking politics. The entire oil and gas industry in the U.S. is exempt from the Clean Air Act and Clean Water Act, thanks to exemptions issued in the 2005 energy bill that were supported by then-Vice President Dick Cheney, former CEO of Halliburton.
What's the Big Deal?
According to a 2009 North Carolina Geological Survey report, the state has two potential areas for commercial oil extraction, and one of them—the Atlantic Outer Continental Shelf formation—extends nearly 50 miles into coastal waters.
"The offshore Atlantic Outer Continental Shelf remains prospective and may be tested in the future," the 2009 report states.
According to McClatchy News Service, the federal government estimates there are 1.7 cubic feet of natural gas in a 150-mile stretch of the Deep River Basin. The estimated extraction potential would provide 5.6 years of use, based on the state's 2010 consumption rates.
Fracking, which injects water, silica sand and chemicals into the Earth to break up rock formation, allowing oil to be extracted, is a concern for those living near fracking wells. At the top of the list of concerns is groundwater contamination, which can result when the flow of chemicals used makes its way into the groundwater table.
According to Environment North Carolina, the drinking water of more than 2.4 million people who live on the coast and the piedmont—areas where oil has been identified—would be at risk.
There's debate over how frequently this occurs. A study published this week by North Carolina's Duke University profiles water contamination in Pennsylvania, a frack-heavy state. The study sampled water from 141 drinking water wells throughout the area.
The report indicates that methane was detected in 82 percent of drinking water samples, with "average concentrations six times higher for homes" less than 1 kilometer from fracking wells. Ethane levels were 23 times higher in homes less than 1 kilometer from fracking wells. Propane was detected in 10 water wells, all within a kilometer of fracking operations.
The North Carolina Senate bill regulations, like those in other ALEC bills, aim to provide a form of transparency, allowing residents access to the chemicals being used in the drilling process.
Yet without full knowledge of chemicals, anti-fracking advocates are claiming the so-called regulations don't do much good.
Visit EcoWatch's FRACKING page for more related news on this topic.
——
Sign the petition today, telling President Obama to enact an immediate fracking moratorium:

EcoWatch Daily Newsletter
Xsandra / Getty Images
Looking for ways to cut down on single-use plastic while grocery shopping? You may already have eco-friendly shopping bags, but bringing your own reusable produce bags is another easy swap.

According to the UN Environment Program, up to 5 trillion single-use plastic bags are used globally each year, and because of the material they're made from, most municipal recycling centers don't accept them (more on this below).
The most sustainable option is to skip the bag altogether. You can also make your own reusable produce bags out of old T-shirts. But if you'd rather purchase them new, here are our recommendations for the best reusable produce bags on the market today.
<p><em>Each product featured here has been independently selected by the writer. If you make a purchase using the links included, we may earn commission.</em></p>