Yesterday, Spokane Riverkeeper and the Natural Resources Defense Council (NRDC) joined Sierra Club and its partners in filing a complaint against Burlington Northern Santa Fe Railway Company (BNSF) in the U.S District Court for the Eastern District of Washington for violations of the Clean Water Act in the eastern part of the state. An earlier federal lawsuit, filed by the same groups in western Washington for violations in the western part of the state, is also underway.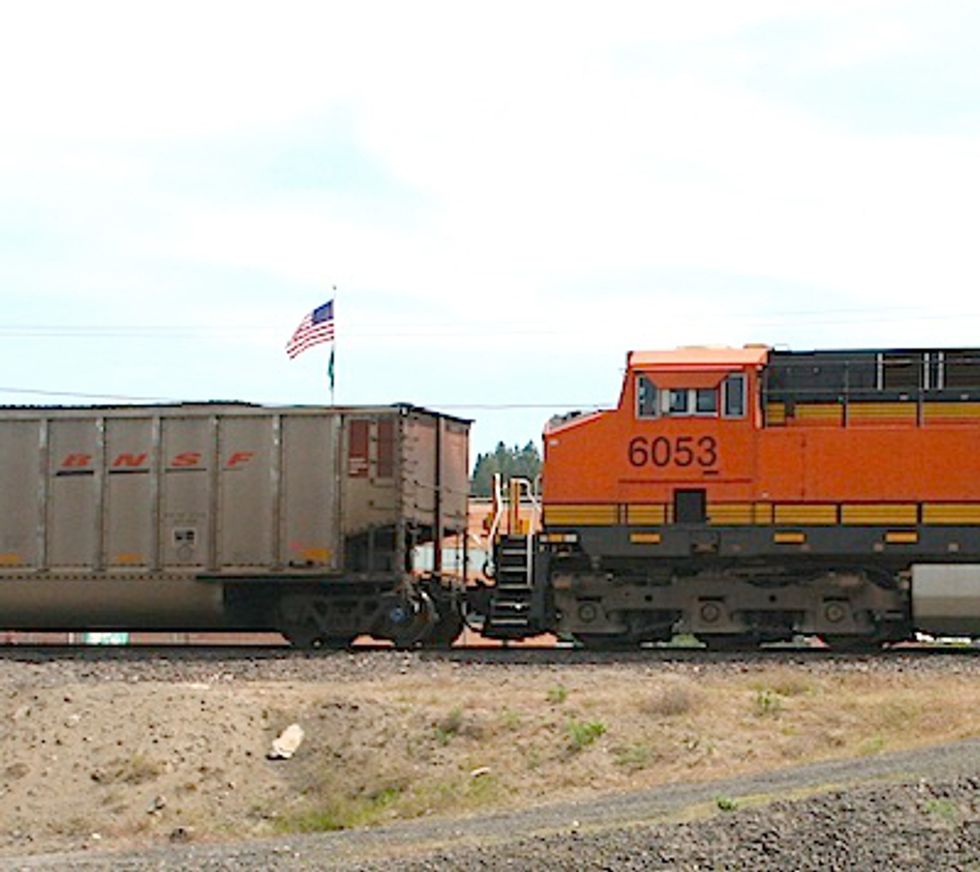 "We have found coal in the Spokane River and its tributary Hangman Creek," said Bart Mihailovich, director of Spokane Riverkeeper. "That is toxic pollution in our waterways, and that is a major concern to Spokane Riverkeeper and all of those who have a right to a swimmable and fishable Spokane River."
"Coal is dangerous for our health and wildlife whether it is dumped into our air or into our water," said Morgan Wyenn, attorney for NRDC. "We're talking about pieces of coal ranging from fine dust to large chunks falling out of these open cars every day, spoiling waters of the Northwest and violating our federal Clean Water Act. BNSF must be held accountable for this preventable pollution."
According to BNSF testimony at hearings before the Surface Transportation Board, each rail car loses an average of 500–3,500 pounds of coal dust. Coal trains are composed of approximately 120 rail cars, resulting in an average of 60,000–420,000 lbs. of coal lost per train each trip. A massive increase in rail traffic and longer trains are expected in the future should new hotly contested coal export terminals be built in Washington and Oregon.
If ports are developed, Spokane would be the choke point for all of the predicted 42 trains heading to and from the three proposed coal export facilities in Washington and Oregon each day. Spokane Riverkeeper believes that finding toxic coal in local waterways along rail communities in the state of Washington demonstrates clearly that environmental impacts from exporting coal exist beyond just the proposed exporting sites.
"The Clean Water Act is in place exactly for issues like this, and it's up to us to hold those accountable who infringe upon our collective right to clean water in this country," added Mihailovich.
As more local residents and elected leaders connect the dots on the broad global and regional implications of moving forward with the Northwest coal export proposals, concerns climb about coal contamination of the region's waters.
"Spokane River is tributary to the Columbia River," said Brett VandenHeuvel, executive director of Columbia Riverkeeper. "What happens to the water in the Spokane damages our water in communities all along the Columbia River."
"With only a handful of coal trains moving through Washington everyday, the alarming rate that we're already finding coal polluting our waters is sending a clear signal of the damage to come," VandenHeuvel concluded.
According to BNSF, approximately 90 percent of its annual coal shipments are from coal mines in the Powder River Basin (PRB) located in Wyoming and Montana. PRB coal breaks apart easily and contains mercury, arsenic, uranium and hundreds of other toxins harmful to fish and human health. Additionally, PRB coal dust falls onto train tracks, contributing to track destabilization and dangerous train derailments.
In this filing, the defendant groups have been narrowed to focus on BNSF while the coal industry continues to point fingers about who is responsible for the coal pollution. The original Clean Water Act suit was filed in Washington's Western District on June 5 by The Sierra Club, Puget Soundkeeper, Columbia Riverkeeper, RE Sources for Sustainable Communities and Friends of the Columbia Gorge. With the addition of Spokane Riverkeeper and NRDC, the groups point to a clear pattern of coal dust water pollution in all corners of the state of Washington.
The plaintiffs are represented by the Law Offices of Charles M. Tebbutt, P.C. of Eugene, OR, Andrea Rodgers Harris of Seattle, WA, Jessica Yarnall Loarie of the Sierra Club Law Program, and David Pettit and Morgan Wyenn of the Natural Resources Defense Council.
Visit EcoWatch's COAL and COAL ASH pages for more related news on this topic.
——–
EcoWatch Daily Newsletter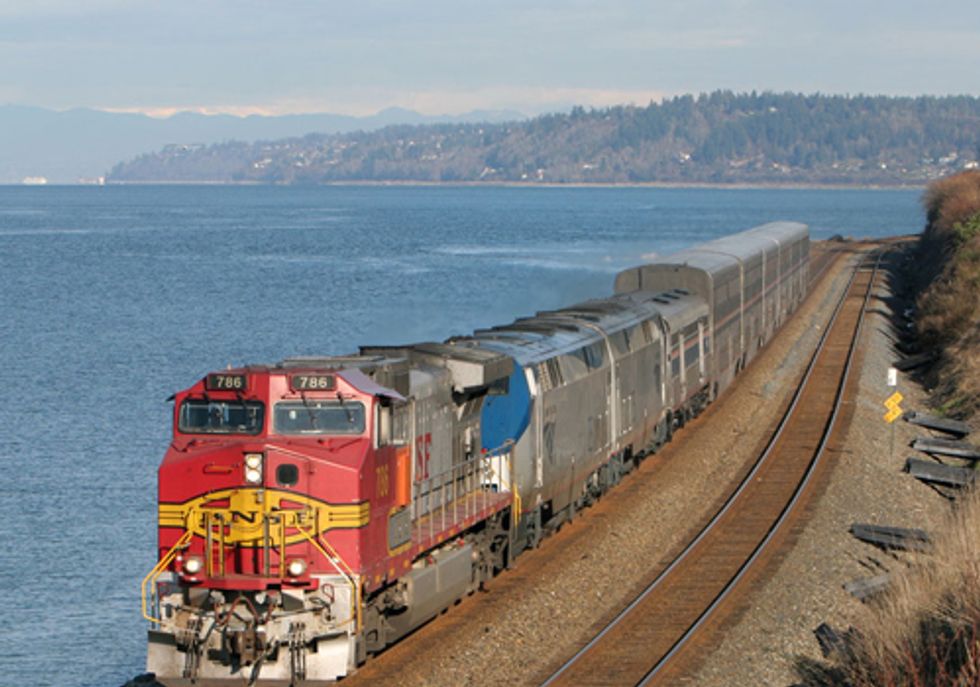 After a multi-year legal challenge, Puget Soundkeeper Alliance (Soundkeeper) has entered one of the country's largest Clean Water Act settlements involving the discharge of stormwater pollution. As part of a settlement of Federal Clean Water Act claims, BNSF Railway Company (BNSF) agreed to pay $1.5 million to a third-party organization to fund Puget Sound restoration and pollution mitigation projects. Soundkeeper had earlier obtained a court ruling establishing that BNSF had illegally discharged industrial stormwater from a Seattle facility to Puget Sound. The case is pending before the Honorable John Coughenour in the Federal Court for the Western District of Washington, located in Seattle.
"Stormwater pollution is killing Puget Sound. The size of this settlement is one of the largest ever in a citizen enforcement action involving stormwater discharges. It sends a strong message that stormwater pollution is an important issue and has serious consequences for polluters," said Chris Wilke, Puget Soundkeeper and executive director at Puget Soundkeeper Alliance.
As described in the proposed Consent Decree submitted Dec. 21 to a Washington federal judge, BNSF has implemented numerous measures since the lawsuit was filed to help ensure compliance with the Clean Water Act in future discharges to Elliott Bay. By law, the U.S. Department of Justice and the U.S. Environmental Protection Agency have 45 days to review the agreement before it may be signed into legal effect as an order of the court.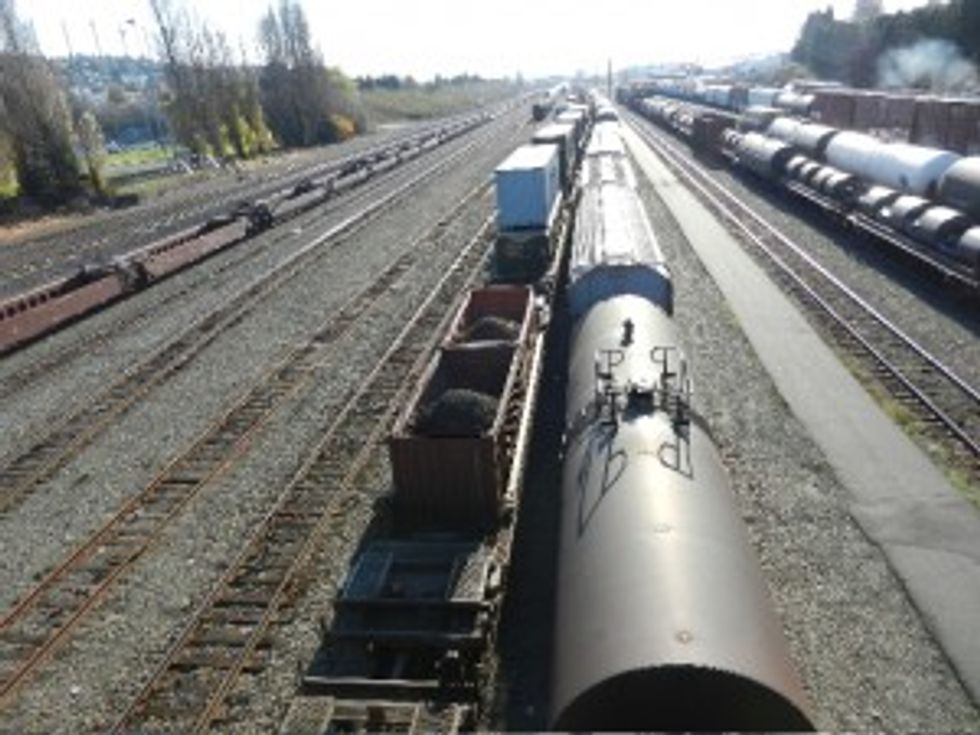 The case involves stormwater discharges from BNSF's Balmer Yard facility, located between Seattle's Queen Anne and Magnolia neighborhoods. The facility discharges industrial stormwater to Elliott Bay near the public beach at Smith Cove Park. The facility is operated by Texas-based BNSF, a subsidiary of Berkshire Hathaway.
Industrial stormwater can contain toxic levels of heavy metals, such as copper, zinc and lead, as well as oils and suspended solids. Elliott Bay is identified by state and federal agencies as providing critical habitat for threatened Chinook salmon and is home or a migration route to other species including coho salmon, sixgill shark, octopus, lingcod, marbled murrelet, harbor seals, harbor porpoise and orca whales. Polluted stormwater runoff is the number-one source of toxic loading in the Puget Sound, according to a recent study by the Department of Ecology. Heavy metals, especially copper, are particularly dangerous to the survival of salmon species, which are highly valued culturally and economically by the people of the Puget Sound Region.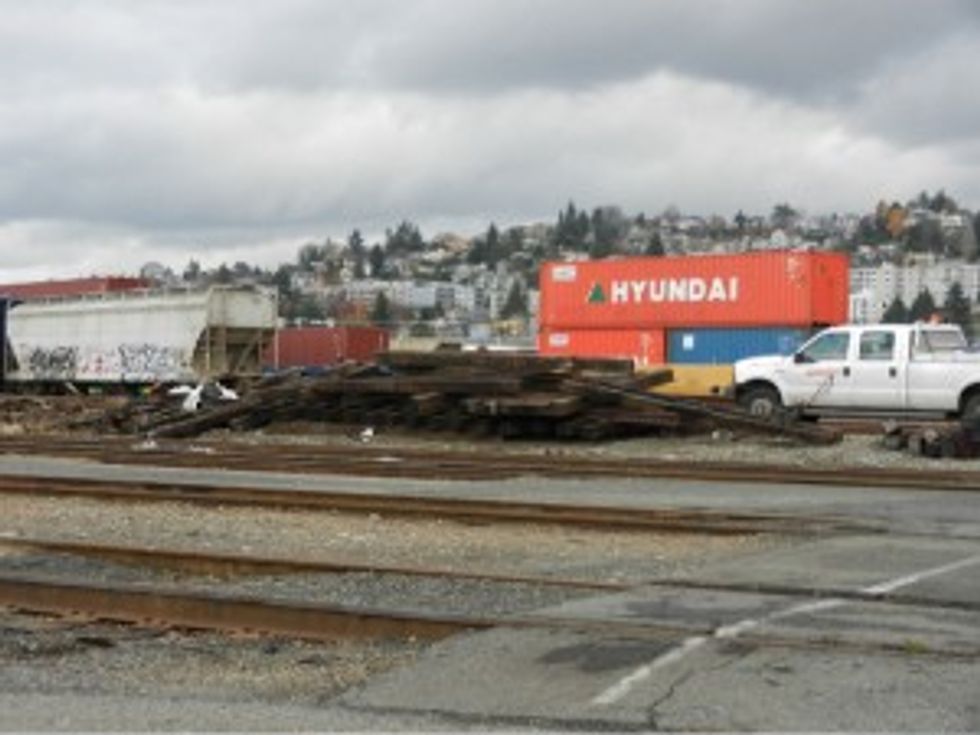 Soundkeeper filed the suit against BNSF in July of 2009 under the Clean Water Act's "citizen suit" provision, which authorizes concerned citizens to step in and enforce its provisions to protect public waterways when public agencies fail to do so. Soundkeeper alleged that BNSF was in violation of its Clean Water Act permit regulating discharges of industrial stormwater from the Balmer Yard facility. Soundkeeper amended the complaint in August 2010 to add claims that BNSF's unpermitted discharges of industrial stormwater from the Balmer Yard violated the Clean Water Act.
"We identified the Balmer Yard because BNSF had consistently reported concentrations of heavy metals in its discharges far exceeding the thresholds set by its permit," said Wilke of Soundkeeper. "These pollutant levels were particularly concerning because a facility as large as the Balmer Yard can discharge a significant amount of industrial stormwater to Puget Sound." Wilke said this is an important step in the long process to clean up toxic stormwater discharges to the Puget Sound, which is identified as a high priority in the recovery of the Puget Sound by state and federal agencies.
Federal Judge John Coughenour entered an order in August of 2011 finding BNSF liable for extensive violations of the Clean Water Act, including for discharging industrial stormwater without a permit and for failing to implement required stormwater pollution control measures.
Soundkeeper was represented in the lawsuit by the Seattle law firm of Smith & Lowney, which focuses on environmental and public interest law. "This settlement shows that the Clean Water Act is a potent tool for holding industry accountable for illegal stormwater pollution. We hope the size of this settlement encourages businesses and governments to tackle their stormwater problems," said Brian Knutsen, the lead attorney on the case.
The Consent Decree filed Dec. 21 contains provisions for recovering damages to the environment and ensuring compliance with the Clean Water Act at the facility. The Consent Decree recognizes that since the case was filed, BNSF has taken significant actions to improve its management of stormwater on its site, including developing a stormwater pollution prevention plan, coating roofs to minimize zinc pollution, stabilizing banks to minimize soil erosion, and taking other actions to prevent and control spills and minimize rain contact with sources of contamination.
BNSF must pay a total of $1.5 million to a new Puget Sound Stewardship and Mitigation Fund established by the Rose Foundation, which will award grants for environmental restoration projects in Puget Sound. "This new fund will help support important work to protect the waters of Puget Sound," said Rose Foundation director Tim Little. "The money will be put to good use in protecting water quality and rebuilding habitat for endangered salmon for years to come."
The federal court will retain jurisdiction over the case to enforce the requirements of the consent decree, which includes the requirement that BNSF comply with the terms of its stormwater discharge permit.
For more information, click here.
The proposed Consent Decree can be viewed by clicking here.
The Court's order on Clean Water Act violations can be viewed by clicking here.
—————
The mission of Puget Soundkeeper Alliance is to protect and preserve Puget Sound through monitoring, engagement, enforcement and partnership. Puget Soundkeeper is a licensed member of the 200-member international Waterkeeper Alliance, which fights to protect waterways around the world. Puget Soundkeeper Alliance does not receive any money from this settlement, despite the intense involvement of its staff and several board members over the years of litigation.
boonchai wedmakawand / Moment / Getty Images
Delta-8 THC is a cannabis product that has become a bestseller over the past few months, as many consumers find they can legally purchase it from CBD retailers. Its proponents say that Delta-8 THC will give you a nice little buzz, minus some of the more intense feelings (including paranoia) that are sometimes associated with marijuana.

Delta-8 THC is being marketed as a legal option for consumers who either don't live in a state with legal cannabis, or are a little apprehensive about how traditional psychoactive THC products will affect them. But is it all it's cracked up to be? Let's take a closer look, exploring what Delta-8 THC is, how it differs from other THC products, and whether it's actually legal for use.
<h2>What is Delta-8 THC?</h2><p>To better understand <a href="https://www.nytimes.com/2021/02/27/health/marijuana-hemp-delta-8-thc.html" target="_blank">Delta-8 THC</a>, it helps to cover some basics about THC and cannabis.</p><p>Cannabis plants come chock full of different <a href="https://www.nccih.nih.gov/health/cannabis-marijuana-and-cannabinoids-what-you-need-to-know" rel="noopener noreferrer" target="_blank"><em>cannabinoids</em></a>. These are naturally-occuring chemical compounds that bind with receptors throughout your body. They can offer a wide range of mental, emotional, and physical effects; indeed, the healing and therapeutic properties marijuana or <a data-linked-post="2648563694" href="https://www.ecowatch.com/strongest-cbd-oil-2648563694.html" target="_blank">CBD products</a> offer can be attributed to cannabinoids.</p><p>One of the most common cannabinoids is what's known as Delta-9 THC. Simply put, this is the part of marijuana that gets you "high." It's worth noting that Delta-9 THC remains illegal in many states, except for in the most minute doses, and is still illegal at the federal level. CBD products are made with trace amounts of THC, ensuring that consumers can enjoy positive health effects in a perfectly legal way, without the risk of getting high.</p><p>On a chemical level, <a href="https://www.nytimes.com/2021/02/27/health/marijuana-hemp-delta-8-thc.html" rel="noopener noreferrer" target="_blank">Delta-8 THC</a> is not too different from Delta-9 THC; the distinction comes down to just a few molecules. But those molecules make a big practical impact: Delta-8 THC will give you a buzz, but the psychoactive effects are considerably milder than with Delta-9 THC.</p><p>More specifically, many cannabis enthusiasts report that Delta-8 THC helps them feel good but also leaves them relatively clear-headed; and, it doesn't produce the anxiety or jitteriness that often characterize a Delta-9 THC high.</p><p>Additionally, because of the way the law is written regarding Delta-9 THC, some CBD companies now sell Delta-8 THC products in places where traditional cannabis is still illegal.</p><h2>What's the Difference Between Delta-9 THC and Delta-8 THC?</h2><p>Here are the primary differences to note between Delta-9 and Delta-8 THC:</p><ul class="ee-ul"><li>Delta-9 THC is the primary psychoactive ingredient found in marijuana. In other words, it's the part that gets you high.</li><li>Though some states have found workarounds, Delta-9 THC is still illegal under federal law.</li><li>Delta-8 THC is also found in the cannabis plant, though it's not quite as powerful or as well-known. </li><li>Delta-8 THC is milder in its psychoactive effects. And, it's not <em>technically </em>illegal under current law.</li></ul><p>These are just a few of the key distinctions to keep in mind. Delta-8 THC is popular among consumers who want a smoother high, and don't want to violate federal law.</p><h2>Is Delta-8 THC Legal?</h2><p>We noted that Delta-8 THC is not <em>technically </em>illegal. Here, we need to get into some of the nuanced legal considerations that surround this substance.</p><p>First of all, there are plenty of cannabis companies that actively promote Delta-8 THC as a legal way to get high. Again, that's technically true, but is still a point of debate for some.</p><p>For one thing, it's not explicitly listed as an illegal substance. While federal laws, and some state laws, specifically ban Delta-9 THC, Delta-8 THC is never mentioned. More to the point, though, many proponents will cite the<a href="https://www.usda.gov/farmbill" rel="noopener noreferrer" target="_blank"> 2018 Farm Bill</a>. This law legalized several industrial hemp products on a national level, including CBD.</p><p>The Farm Bill also includes some fairly nuanced positions regarding THC. In summary, the law says that hemp and cannabis-derived products are legal so long as they contain less than 0.3 percent Delta-9 THC.</p><p>With that said, some lawyers contend that Delta-8's heyday may soon come to an end. That's because the Farm Bill clears it only so long as it's derived directly from hemp; most of the Delta-8 THC products sold today aren't made from hemp, but rather from synthetically-altered CBD.</p><p>Some of these issues are a little fuzzy, and <a href="https://www.rollingstone.com/culture/culture-features/delta-8-thc-legal-weed-explained-1113859/" rel="noopener noreferrer" target="_blank">the legal future of Delta-8 THC</a> remains a little uncertain. For now, though, many experts would argue that it is legal to purchase.</p><h2>What Kinds of Delta-8 THC Products Are Available?</h2><p><em>Each product featured here has been independently selected by the writer. If you make a purchase using the links included, we may earn commission.</em></p><p>If you're looking to try Delta-8 THC products, you'll certainly find plenty of different products. Dispensaries and legal cannabis stores currently have a trove of products that use this cannabinoid. Some examples include:</p><ul class="ee-ul"><li>Vape cartridges, tinctures, and capsules.</li><li>Beverages made with Delta-8 THC, including some seltzers.</li><li>Edibles, including Delta-8 THC gummy bears, chocolate bars, and more.</li></ul><p>The cannabis industry has really been running with Delta-8 THC, finding creative ways to bring it to market. And chances are, even more products will be springing up in the weeks and months to come. </p><p>It's very important to note that you should only purchase Delta-8 THC products from reputable brands and established cannabis retailers. We do not recommend purchasing any products that contain Delta-8 THC from gas stations or vape shops. If you are looking for a reputable place to explore these products, here are a few brands that we trust and recommend:</p>
<img class="rm-lazyloadable-image rm-shortcode" type="lazy-image" data-runner-src="https://assets.rebelmouse.io/eyJhbGciOiJIUzI1NiIsInR5cCI6IkpXVCJ9.eyJpbWFnZSI6Imh0dHBzOi8vYXNzZXRzLnJibC5tcy8yNjAzNjAyMy9vcmlnaW4uanBnIiwiZXhwaXJlc19hdCI6MTYzMTMxMjAyNX0.wRpb_E9ZFZFNgkYsYh6cleNbTezo16rUeTmifcP_yCk/img.jpg?width=980" id="60683" width="400" height="400" data-rm-shortcode-id="32630bf41fd6909a232194b540c570eb" data-rm-shortcode-name="rebelmouse-image" />
nuleafnaturals.com
<p><a href="https://nuleafnaturals.com/product/full-spectrum-delta-8-thc-oil-30mg-ml/" target="_blank" rel="noopener noreferrer">NuLeaf Naturals Full Spectrum Delta 8 THC Oil</a> is made from organic hemp and organic virgin hemp seed extract. It's available in a 150 mg bottle and a 450 mg bottle, which both provide 15 mg of Delta 8 THC per serving. This formula is also available in a soft gel.</p>
<img class="rm-lazyloadable-image rm-shortcode" type="lazy-image" data-runner-src="https://assets.rebelmouse.io/eyJhbGciOiJIUzI1NiIsInR5cCI6IkpXVCJ9.eyJpbWFnZSI6Imh0dHBzOi8vYXNzZXRzLnJibC5tcy8yNjAzNjE2Ni9vcmlnaW4uanBnIiwiZXhwaXJlc19hdCI6MTY2OTcwNTgzM30.opm4l5-rSqV1HfvrbVE16EEVZvqxI42xgqnsQfL9p2M/img.jpg?width=980" id="2c749" width="400" height="400" data-rm-shortcode-id="a678e76d8cd5e13bae95d9c3ae664b85" data-rm-shortcode-name="rebelmouse-image" />
botanyfarms.com
<p>The <a href="https://www.botanyfarms.com/product/delta-10-thc-vape-cartridge/?aff=14" target="_blank">Botany Farms Delta-10 THC Vape Cartridge</a> actually contains both Delta-10 and Delta-8 THC.This is designed to provide the desired effects of Delta-8 THC but without the drowsiness. They also offer a vape cartridge with a 1:1 concentration of <a href="https://www.botanyfarms.com/product/delta-10-delta-8-thc-vape-cartridge/?aff=14" target="_blank">Delta-8 THC</a> and Delta-10 THC. Note that while vape products can be used to aid in smoking cessation, we do not recommend vaping or smoking because of the negative health effects they can cause.</p>
<h2>What are the Pros and Cons of Delta-8 THC?</h2><p>As you consider whether Delta-8 THC is worth your time, it may be helpful to weigh the pros against the cons.</p><p><strong>Pros</strong></p><p>Let's start with some of the positives:</p><ul class="ee-ul"><li>Delta-8 THC does have psychoactive effects, but it's a milder effect than with traditional Delta-9 THC.</li><li>Delta-8 THC is currently legal and widely accessible in multiple states.</li><li>There are a wide number of products that use Delta-8 THC.</li></ul><p><strong>Cons</strong></p><p>Now, a few of the downsides.</p><ul class="ee-ul"><li>Delta-8 THC isn't quite as commonplace as other cannabis products, including CBD, and some of the options on the market are expensive.</li><li>While this substance is technically legal, there are plenty of uncertainties over its legal future. It's something you want to keep in mind.</li><li>As a relatively new product, Delta-8 THC products are not regulated by the FDA and there is not independent testing in place to verify that it is safe or pure.</li></ul><p>As with any cannabis product, Delta-8 THC has its pros and cons. As you seek the cannabis product that's best for you, it's largely a matter of personal preference.</p><p>Also note that smoking, vaping, or otherwise imbibing any kind of cannabis-related product can carry some medical risks and negative health consequences. If you have any specific concerns, we recommend consulting with your doctor before you try any Delta-8 THC product.</p><p><em><strong>Josh Hurst </strong></em><em>is a journalist, critic, and essayist. He lives in Knoxville, TN, with his wife and three sons. He covers natural health, nutrition, supplements, and clean energy. His writing has appeared in Health, Shape, and Remedy Review.</em></p>