This website uses cookies to ensure you get the best experience while browsing it. By clicking 'Got It' you're accepting these terms.


The best of EcoWatch, right in your inbox. Sign up for our email newsletter!
A new technology has the potential to transform the transportation of tars sands oil. Right now, the already thick and slow-flowing oil, known as bitumen, has to be diluted with a super-light petroleum product, usually natural gas condensate, in order for it to flow through a pipeline or into a rail tank car.
However, scientists at the University of Calgary's Schulich School of Engineering inadvertently found a way to make tar sands oil even more viscous, turning it into "self-sealing pellets" that could potentially simplify its transport.
By Andy Rowell
This disaster has been years in the making, but finally the reality of tar sands mining may be hitting home.
According to an article in the Canadian Star, underground tar sands operations have resulted in four separate oil spills that have been leaking over the last six weeks. The spills have been on-going since May, with some 26,000 barrels of bitumen mixed with surface water having been removed, including over 4,500 barrels of bitumen.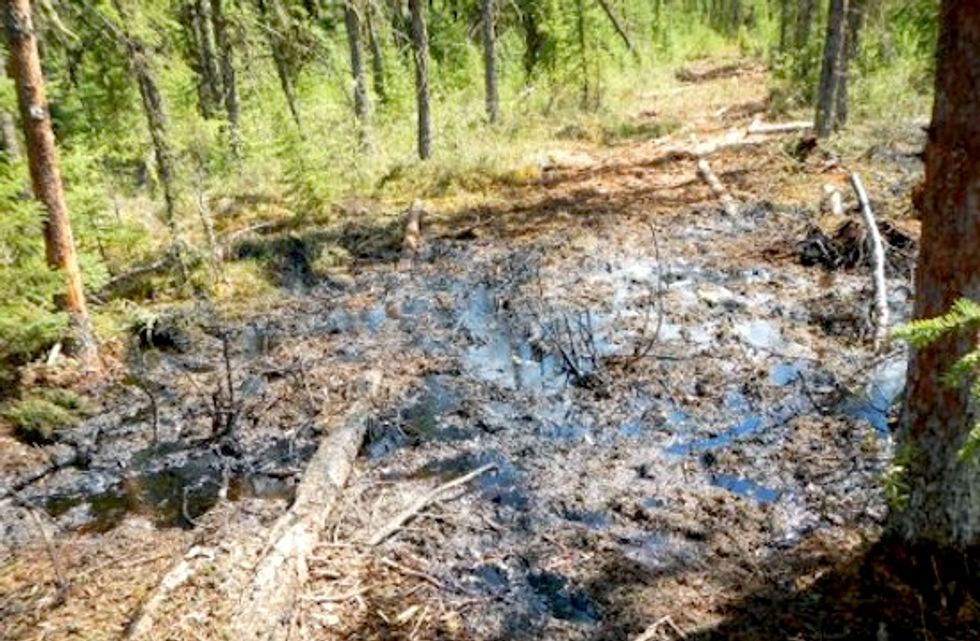 The paper points out that the spills—although relatively small—cast doubt on the safety of underground extraction methods.
And indeed they do: if you think about BP's catastrophic disaster in the Gulf, at least there was a traditional well-head that the company could plug. But no such thing exists for the tar sands.
The company responsible, Canadian Natural Resources Limited, uses an in situ or underground extraction method of extracting the oil, which is called "cyclic steam stimulation."
This involves injecting thousands of gallons of boiling hot, high-pressure steam into deep underground reservoirs. This in turn liquefies the bitumen and creates cracks through which the bitumen flows. It is then pumped to the surface. The problem is that it that the company has created fractures from the oil reservoir reaching the surface that they did not expect. Oil has been flowing to the surface at different sites.
The company has so far failed to stop the latest spill which has killed dozens of animals such as beavers and loons as well as contaminating a lake and local forest. The latest spill has contaminated at least 40 hectares.
The paper quotes one scientist saying that everybody in the company is concerned and the government "is freaking out about this. We don't understand what happened. Nobody really understands how to stop it from leaking, or if they do they haven't put the measures into place."
"This is a new kind of oil spill and there is no 'off button,'" Keith Stewart, an energy analyst with Greenpeace who also teaches at the University of Toronto, told the paper. "You can't cap it like a conventional oil well or turn off a valve on a pipeline."
"You are pressurizing the oil bed so hard that it's no wonder that it blows out," adds Stewart. "This means that the oil will continue to leak until the well is no longer pressurized."
And that could be months.
This problem could get more common as in situ tar sands extraction is expected to account for 40 percent of Canada's oil sands production by 2020.
Meanwhile, tomorrow, the UK Tar Sands Network—which is leading the anti-tar sands fight in the UK—will release a new info-graphic website that showcases two possible future energy scenarios for 2035: the one we are currently headed for which would result in runaway climate change; and one without fossil fuels.
"We're standing at a crossroads," said Jess Worth, from the UK Tar Sands Network. "It's time for humanity to make a choice. Do we sit back and allow fossil fuel companies and oil-friendly governments to dig, drill and frack us into a dark and dirty future? Or do we stand together with communities around the world to stop these extreme energy projects, and head down a different path?"
Visit EcoWatch's TAR SANDS page for more related news on this topic.
——–

EcoWatch Daily Newsletter
By Andy Rowell
The inherent risks of transporting crude oil have once again been brutally and painfully exposed after a massive explosion in Quebec, Canada left part of an affected town looking like a war zone.
At least five people died when a crude oil train derailed and blew up on Saturday, causing an explosion that has been compared to an atomic bomb. An estimated 40-50 people are missing, many whom had been enjoying a late night drink in a local bar. An estimated 30 buildings have been completely incinerated.
The fire and explosion was so intense that the local police are warning that some bodies may never be recovered or identified. The explosion happened in the picturesque lakeside town of Lac-Megantic, which is close to the U.S. border with Maine. The train had been bringing shale oil from the Bakken Field in North Dakota to a refinery in Saint John, New Brunswick.
In the aftermath of the disaster the on-going debate as to whether it is safer to transport oil via pipeline or railroad has once again been raging. The disaster may well be used by the proponents of the Keystone XL pipeline to argue that pipelines are safer.
Both transport modes have problems. Edward Whittingham, the executive director of the Canadian research organization, the Pembina Institute, argues there are safety and environmental risks inherent in both pipelines and railroads. We only have to think back to Exxon's recent Arkansas spill to know that pipelines in the U.S. are not that safe either.
But for the moment, even as Canada's tar sands are delivered apace, there is no clear route for them to get to the international markets. That is why they continue to press the U.S. to approve the Keystone XL pipeline.
Despite this on-going uncertainty, Canada is looking to exploit another heavy form of oil too in Northern Alberta. Think of it as "Tar Sands Two"—except this time its called Dolofudge and has the consistency of peanut butter.
This sludgy bitumen like substance is not like the tar sands and found in the region's sands, but it is located in the porous rocks of the region's limestone and dolomite, hence the name Dolofudge. The Canadians are saying the region could contain some 500 billion barrels of Dolofudge—more than the combined recoverable reserves of Saudi Arabia and Venezuela.
Dolofudge is not even included in the traditional oil reserve amounts of Canada, because no one has managed to extract it on a commercial scale. But one pilot study is now up and running in the West Athabascan Grosmont, about 100 kilometres west of the tar sands center of Fort McMurray, Alberta.
How much Dolofudge is recoverable is anyone's guess. What we do know is that with any new oil development there is a huge amount of hype which may not bear any resemblance to reality. One analyst has warned that developing the new fudge reserves is "fraught with blind alleys and unanticipated setbacks."
The trouble is, that is what they used to say about tar sands and it never stopped the oil industry before.
Visit EcoWatch's TAR SANDS page for more related news on this topic.
——–

This week, environmentalists called on the State Department to reopen the Keystone XL tar sands pipeline environmental review process. New information from the Department of Energy, the International Energy Agency, industry analysts and refining executives offers new evidence that Keystone XL will, in fact, directly contribute to increased tar sands development, U.S. greenhouse gas emissions and pollution at U.S. refineries, calling into question the original State Department findings.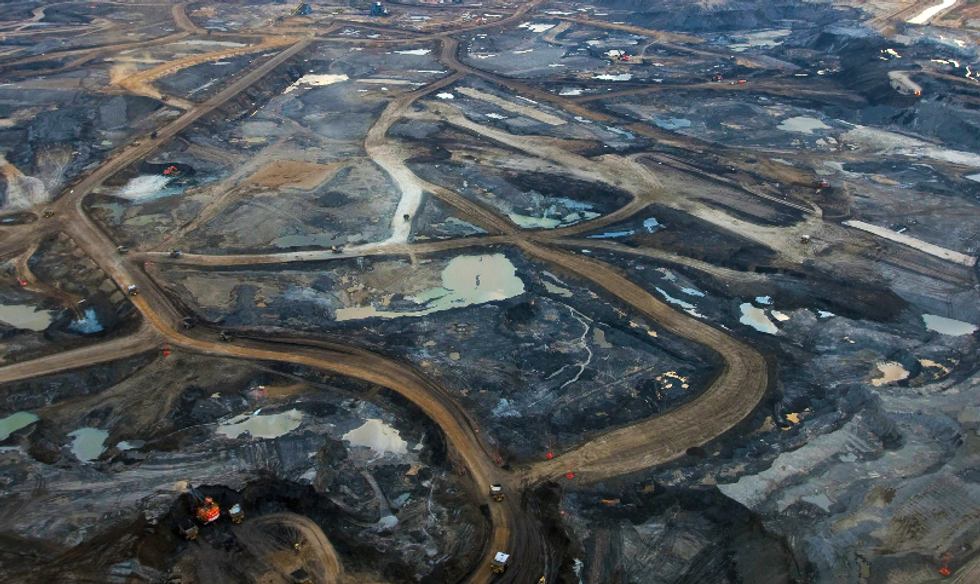 "Since the close of the comment period, evidence of inaccuracies and bias in the State Department's review of Keystone XL has been steadily mounting," says Doug Hayes, Sierra Club attorney. "This new information demonstrates that the review relies on an overly-simplistic, outdated view of a rapidly-changing oil market."
The new data contradicts three primary conclusions by the State Department:
Increased rail shipments of crude oil have the potential to completely replace the capacity of Keystone XL if the pipeline were rejected.
Increasing domestic production of oil will not affect the demand for heavy Canadian crude oil in Gulf Coast refineries.
Canadian crude will not be exported from the Gulf Coast if the pipeline is built.
"The State Department is alone in its conclusion that the Keystone XL pipeline is not fundamental to the prospects of the dirty tar sands industry," says Lorne Stockman, research director at Oil Change International and coauthor of the letter. "State needs to take a careful look at the new evidence that we've compiled in the past several weeks and they will reach the same conclusion that we do: that the Keystone XL pipeline is crucial to the expansion of the tar sands, and that expansion is not in the public interest."
President Obama said his administration will weigh the pipeline's impact on the climate and it will be approved only if "this project does not significantly exacerbate the problem of carbon pollution." Evidence that Keystone XL is the lynchpin for tar sands development detailed in the letter includes:
A Goldman Sachs report that says that rail shipments of tar sands could not replace the proposed pipeline logistically and economically.
Royal Bank of Canada's estimate that denial of Keystone XL would jeopardize $9.4 billion in tar sand development.
U.S. EPA estimates that Keystone XL will add 18.7 million metric tons of carbon pollution per year. And a new U.S. government report increases the estimated social cost of this pollution—related to human health, sea level rise and other natural disasters—by as much as double.
"This recent information paints a clear picture," said Anthony Swift, Natural Resources Defense Council attorney. "The Keystone XL tar sands export pipeline would significantly increase climate emissions while providing few benefits to the United States—it really is an all risk and no reward proposition for the American people."
According to the groups, the State Department is obliged by federal law to analyze and respond to this new data.
Groups who have signed on to the letter include Bold Nebraska, Center for Biological Diversity, National Wildlife Federation, Natural Resources Defense Council, Oil Change International and the Sierra Club.
Visit EcoWatch's KEYSTONE XL page for more related news on this topic.
——-
Early this morning, concerned community members and activists from the Texas Action Coalition for the Environment and Tar Sands Blockade attended the Pipeline and Hazardous Materials Safety Administration's (PHMSA) Pipeline Safety Public Awareness Workshop, at the Hyatt Regency in Richardson, TX. The protesters staged a tar sands spill and carried banners and signs to say that tar sands aren't being regulated and must be stopped. Activists are expected to continue demonstration outside until dusk, when they will hold lighted billboards reading "PHMSA: No Tar Sands Pipelines" and "Water > Oil."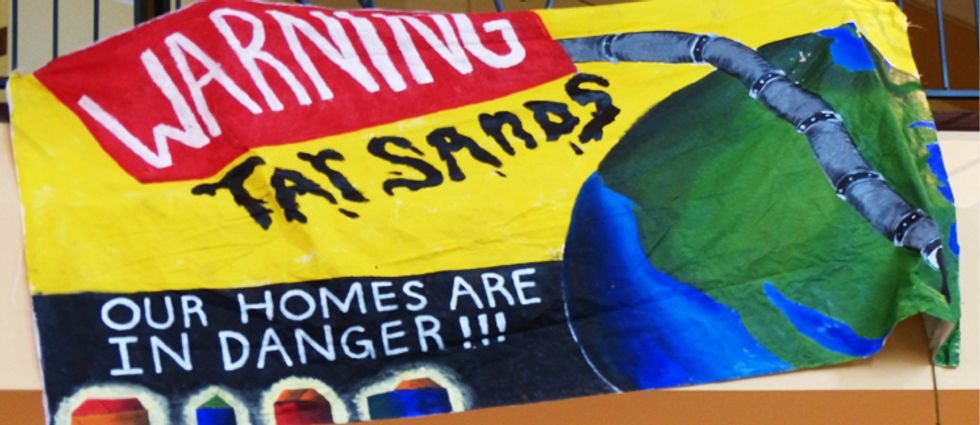 Many from across the Keystone XL pipeline route attended the workshop and aired their grievances directly to regulators, asking pertinent questions during panel "question and answer" sessions in order to draw out a complete record of the PHMSA assessment of its awareness efforts.
The sad truth is that PHMSA fails to properly regulate diluted tar sands bitumen—the deadly substance which has leaked in the hundreds of thousands of gallons from shoddily maintained pipelines regulated by PHMSA, poisoning communities like Mayflower, AR, and Kalamazoo, MI. In fact, Sen. Edward Markey recently revealed that while PHMSA issued a Corrective Action Order against ExxonMobil for the Pegasus tar sands pipeline, they allowed Exxon to use a disaster response plan that had not yet been approved without facing any consequences. Exxon did not detect and respond to the spill in Mayflower within the required time limit of the formally approved safety plan. This is just one of many examples of industry and government collusion and oversight to keep the high risk and toxicity of tar sands out of the eyes and mind of the public.
Of particular concern is the fact that tar sands (diluted bitumen or "dilbit") is a different chemical composition than crude oil, and yet it is only classified as such when it benefits the industry bottom line. On the basis that tar sands dilbit is "synthetic crude" and not crude oil, the transport of tar sands through pipelines in the U.S. is exempt from payments into the Oil Spill Liability Trust Fund. Otherwise, regulators claim that tar sands bitumen is a type of crude oil. Tar sands are far more difficult and costly to clean up and spills are more toxic to water, wildlife and affected persons as a result of the differences in composition. "Tar sands dilbit needs to be recognized and classified as different from crude oil, for the sake of public awareness and pipeline safety," says Aly Tharp, one of the organizers of today's protest.
UPDATE:
Update 3:30 pm: Blockaders have disrupted a panel titled "Affected Stakeholder Awareness Panel" to bring attention to the safety concerns of landowners and impacted residents who are not included in PHMSA's definition of stakeholders. Emergency planners on the panel are totally unaware of the differences between tar sands and conventional crude oil.
Tar sands are toxic and have the consistency of crunchy peanutbutter. This is diluted with chemicals and heated up  so the tar sands mixture can flow through a pipeline. Tar sands sinks. Emergency planners across the country still do not know how to clean up a spill.
Watch the livestream here.
Update 2 p.m.: Photo of banner drop inside hotel lobby greeting conference guests
Update 1:55 p.m.: Blockaders have moved outside chanting "no tar sands, no way, not ever not today!"
Update 1:45 p.m.: What is PHMSA? PHSMA is the regulatory agency required to inspect the pipeline during installation and is responsible for matoking sure the land is properly restored according to code developed by the American Society of Mechanical Engineers. PHSMA's code makes inspections of the pipeline during installation mandatory, not optional, since that is the only way to assure code compliance. Furthermore the Keystone XL project was mandated to supply a project-specific quality manual that details how the regulations and codes will be met.
You can read more about PHMSA and the Keystone XL in this excellent article on EcoWatch by Stefanie Spear.
Update 1:30 p.m.: Blockaders have been stopped from entering the hotel lobby by unmarked security. Blockader who was detained has been released.
Update 1:15 p.m.: One blockader has been detained. Several have been stopped outside of the hotel.
Be sure to sign this EcoWatch petition: Tell PHMSA to Immediately Investigate Anomalies in the Southern Leg of TransCanada's Keystone XL pipeline.
Click here for the latest updates on this action.
Visit EcoWatch's KEYSTONE XL page for more related news on this topic.
——-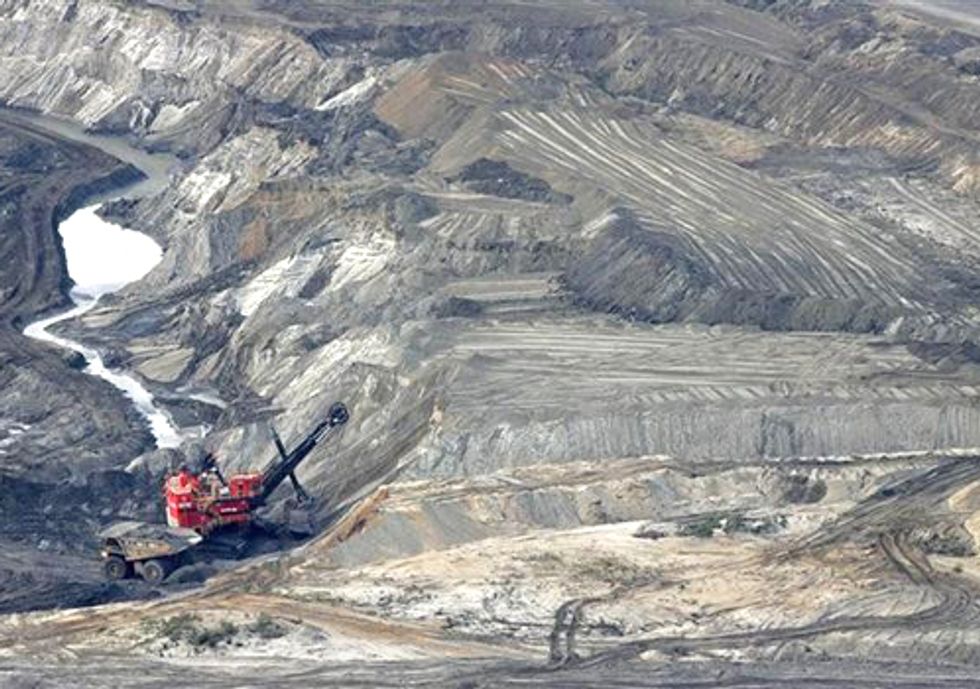 A meeting on Feb. 23 of European Union (EU) country representatives to decide on an effective ban of climate-wrecking fuels, such as those produced from tar sands, has ended in stalemate, said Greenpeace. The decision to implement the EU's fuel quality directive and its agreed objective of cutting carbon emissions from fuels by 6 percent by 2020 now lies with European environment ministers, who are expected to vote on the matter in June.
The issue has been the subject of a furious back-room lobby offensive by the government of Canada, backed by global oil companies, which are set to profit from environmentally destructive tar sands extraction. Canada sits on what is probably the world's third biggest oil reserve, but most of it is locked up in tar sands.
Tar sands oil produces 23 percent more climate emissions than conventional fuels, Stanford University found in a report for the European Commission.
"Now that the tar sands issue is finally in the hands of publicly accountable ministers, we will see who's pulling the strings in Europe," said Greenpeace EU transport policy adviser Franziska Achterberg. "The evidence is clear—tar sands are the world's dirtiest fuels. The decision is even clearer—ministers should stand up to the oil industry and ban them from Europe."
For more information, click here.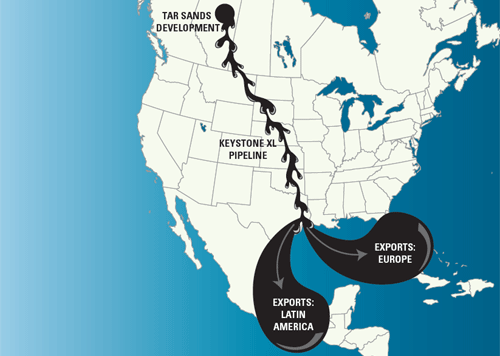 Sen. Mitch McConnell (R-KY) claimed recently that the Keystone XL Pipeline "doesn't require a penny of our taxpayer money—all the president has to do is approve it." But our research reveals many places that the pipeline project benefits from many taxpayer subsidies.
The refineries that are linked to the Keystone XL tar sands pipeline as committed shippers will receive between $1 billion and $1.8 billion in tax breaks. They are paid specifically for investing in equipment to process the heavy sour oil the pipeline promises to deliver.
The largest of these refineries, Motiva, is half owned by Saudi Refining Inc., and will receive between $680,000 and $1.1 billion in U.S. taxpayer support.
Keystone XL, like all oil industry projects, is enabled by substantial taxpayer subsidies. Three of the refineries that are planning to process the pipeline's oil have invested in special equipment to handle the extra heavy tar sands oil. According to our conservative estimates, the U.S. taxpayer is subsidizing these investments to the tune of $1.0-1.8 billion. Here's how it works.
Tar sands oil is not like most other crude oil. It is a semi-solid bituminous sludge that has to be diluted with much lighter oil in order to be transported by pipeline. Once it arrives at a refinery, the diluent is removed and the bitumen is refined into petroleum products using special equipment. The equipment required includes cokers and hydrocrackers.
In anticipation of the Keystone XL pipeline, three refineries in Port Arthur, Texas have added this equipment in order to be able to profitably process the bitumen. Their goal is to maximize their production of high value fuels such as gasoline and diesel rather than be left with less valuable fuels such as residual oil (for shipping and industrial burners) and Petroleum Coke, a coal like substance that is burned in aluminum smelters and the like. Heavy oil yields high proportions of these less valuable fuels if you do not have the specific equipment to increase the higher value yield.
Special tax rules apply to these investments that are unique to the refining industry. Title 179C of the tax code allows the refining companies to deduct the value of these investments from their tax returns at a highly accelerated rate. Rather than spread the expense over the lifetime of the equipment, say 20-30 years, the refiners are allowed to expense (i.e., deduct from their taxable income) 50 percent in the first year and expense the rest through the next 9 years. This is tantamount to a massive interest free loan from the taxpayer to big oil refiners, making it cheaper for them to process a particularly dirty form of foreign oil. In the case of the three Port Arthur refineries preparing to process Keystone XL crude, we calculate this to cost the taxpayer between $1.0 billion and $1.8 billion.
In the case of the Valero Port Arthur refinery's hydrocracker project, the company has described the project to investors as one that will enable the refinery to process Canadian heavy oil into diesel and jet fuel for the export market. See below.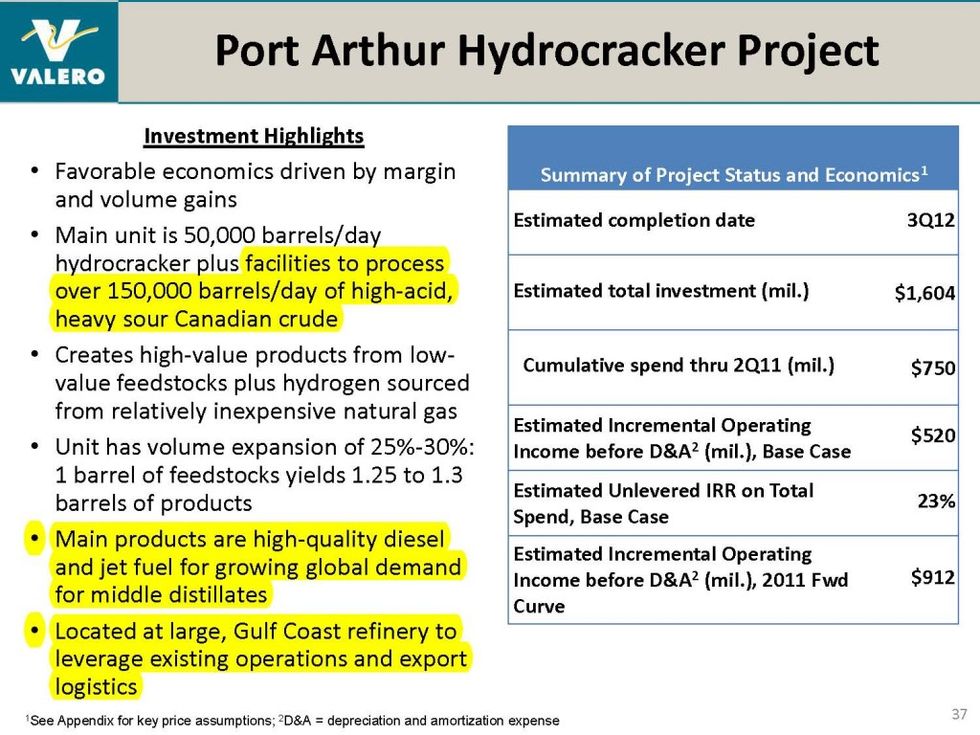 Does that look like the 'national interest' to you?
Of the three refineries involved, two of them, Valero Port Arthur and Total Port Arthur made these investments explicitly to process Canadian heavy oil that would be delivered by Keystone XL. Both companies are committed shippers on the pipeline, meaning they have signed contracts committing them to a specific proportion of the pipeline's capacity.
The other refinery, Motiva Port Arthur, jointly owned by Shell and Saudi Aramco, is expected to take some Keystone XL oil but it is also expected to use the new equipment to process large quantities of heavy sour oil imported from Saudi Arabia.
When the work finishes later this year, this refinery will become the largest in the U.S. It will have the capacity to process up to 325,000 barrels per day of heavy sour oil. The U.S. is not a significant producer of heavy sour oil. Countries that are expected to increase their production of this difficult-to-process crude include Canada (tar sands), Venezuela, Colombia, Saudi Arabia and Kuwait among others. So the subsidy received by this refinery is directly to enable the processing of a particularly dirty form of oil that is not produced in America.
Hmm, what was it pipeline proponents, including the owners of these refineries, were saying about reducing dependence on oil from hostile and unstable countries?
The special tax treatment of refinery investments that allows the 50 percent accelerated depreciation was introduced in the 2005 Energy Policy Act and was targeted at refinery investments that expand the capacity of the refinery. However, in August 2011, the act was amended specifically to extend the tax break to refinery investments that enable the refinery to process tar sands oil or enable an increase in capacity to refine tar sands oil if the new equipment is commissioned between 2008 and 2014. All of these projects qualify.
We have calculated the value to these three companies of this accelerated depreciation for the investments listed in the table below. These investments were made specifically to process heavy sour oil in refineries closest to the terminus of the proposed Keystone XL pipeline and owned by companies who are known committed shippers on the pipeline.
Finally, all the refineries that will receive Keystone XL tar sands crude operate in a Foreign Trade Zone (FTZ), which gives tax benefits to companies that use imported components to manufacture items within the U.S. (FTZ Act – 19 USC 81a-81u). Usually, refineries importing oil tax-free will still pay taxes when selling the refined products into the U.S. market. By both importing into and exporting from foreign trade zones the companies will avoid paying tax on the product sales. In other words, it's a great deal for the oil industry, and a raw deal for the taxpayer.
Nobody in the oil industry can claim that Keystone XL, or any other oil and gas project, is free of taxpayer support. The subsidies we have revealed here are just a few examples among many forms of fiscal support to Keystone XL and the tar sands industry. Further, the full costs of our oil addiction in terms of health, environment and security are never included in an official analysis of these projects.
The public has the right to both know how our money supports Big Oil and see a thorough evaluation of any proposal the oil industry has for expanding its infrastructure. Such an examination would throw light on the true costs of expanding fossil fuel infrastructure at a time when we need to reduce our dependence on oil, rather than simply trumpeting the short term benefits to companies involved. Now that the project has been stopped, the true cost of Keystone XL is only just coming to light.
For full details of our analysis, click here.
For more information, click here.
Table—Three refinery refit projects intended for processing Keystone XL oil
| | | | |
| --- | --- | --- | --- |
| Project | Company | Investment ($millions) | Value of accelerated depreciation ($millions) |
| Port Arthur Hydrocracker Project | Valero | 1,604 | 156-273 |
| Port Arthur Coker | Total S.A. | 2,200 | 214-375 |
| Port Arthur Expansion | Motiva Enterprises (Shell and Saudi Aramco) | 7,000 | 680-1,192 |
| Total |   | 10,804 | 1,050-1,840 |