This website uses cookies to ensure you get the best experience while browsing it. By clicking 'Got It' you're accepting these terms.


The best of EcoWatch, right in your inbox. Sign up for our email newsletter!
American bison roaming Badlands National park, South Dakota. Prisma / Dukas / Universal Images Group / Getty Images
By Clay Bolt
On Oct. 11 people around the world celebrated the release of four plains bison onto a snow-covered butte in Badlands National Park, South Dakota.
Christy Williams / WWF
It's been a big year for conservation.
Together we assured the world that the U.S. is still an ally in the fight against climate change through the We Are Still In movement, a coalition of more than 2,500 American leaders outside of the federal government who are still committed to meeting climate goals. WWF's activists met with legislators to voice their support for international conservation funding. And we ensured that Bhutan's vast and wildlife-rich areas remain protected forever through long-term funding.
EcoWatch Daily Newsletter
Photo credit: Photo by dmbaker/iStock.
By Elizabeth Wartenkin
Immense herds of up to 30 million bison once thundered across the plains of North America. Like their American brethren, overhunted Canadian plains bison came dangerously close to extinction in the late 1800s. In an effort to reverse the damage, Parks Canada on Feb. 1 successfully restored 16 healthy bison—transporting them the 280 miles from Elk Island National Park, 30 miles east of Edmonton, Alberta, to their original, rightful home on the eastern slopes of Banff National Park.
Bison await shipment to slaughter after being processed and tested for brucellosis by Park Service employees at the Stephens Creek facility, located at the northern edge of Yellowstone National Park. Photo credit: Michelle McCarron
Under continued pressure from Montana livestock interests, Yellowstone National Park is sending hundreds of America's last wild buffalo—the National Mammal of the U.S.—to slaughter.
A new video appears to show wild buffalo corralled behind razor wire and 8-foot deep trenches near the Dakota Access Pipeline (DAPL) construction site in Standing Rock, North Dakota. The video, posted on Facebook by Indigenous Rising Media on Nov. 11 with more than 1.2 million views, accuses DAPL builders of fencing off the animals in order to finish construction of the controversial pipeline.
"As of today, Dakota Access pipeline has fenced our sacred wild buffalo and they are building a razor wire wall to protect the last stretch of construction," the Facebook post's accompanying text states.
Reports claim that the buffalo are being held without access to food or water.
However, in the video's comments section, some have questioned whether the herd is actually part of a bison ranch and that the pipeline company might have nothing to do with it.
Still, there have been random sightings of wild buffalo/bison stampedes during the ongoing Standing Rock protests. (Note: although they are different animals, Americans use "bison" and "buffalo" interchangeably).
Watch here as the Standing Rock Sioux and their allies cheer over the arrival of the unexpected visitors:
According to the fact-checking site Snopes, "Bison are not necessarily a rare sight at the reservation. The Standing Rock Sioux have long-range plans to increase the size of their buffalo herd to 1,000. To handle a herd of that size, the tribe would need 20,000 acres of rangeland."
Buffalo are sacred to the Sioux. "Buffalo (Tatanka in Lakota) are a significant animal to Sioux and other plains peoples, who use it for food and clothing," Snopes writes.
The Animal Legal Defense Fund (ALDF) has since launched an investigation into the matter.

"It has been reported that wild buffalo are being corralled and held behind razor wire fencing without food or water near the Dakota Access Pipeline—and that there have been threats of killing the buffalo by the construction company," the ALDF wrote on their Facebook page. "The Animal Legal Defense Fund is confirming reports, collecting additional information and investigating the legality of the treatment of these buffalo."
The $3.8 billion pipeline project is now entering the final stretch. As EcoWatch reported, more than 80 percent of has already been constructed. The final phase is an easement to build a tunnel beneath the federally protected Missouri river, but it first needs approval from the Obama administration.
Energy Transfer Partners's Kelcy Warren, the CEO of the parent company of Dakota Access LLC, which is building the DAPL, told CBS News last week he is confident the pipeline will finish despite the ongoing protests.
"We will get this easement and we will complete our project," he said.
Warren has been emboldened after Donald Trump's election win, as the president-elect holds stocks that are directly funding the Dakota Access Pipeline. According to Trump's financial disclosure forms, The Guardian reported that he has invested between $500,000 and $1 million in Energy Transfer Partners.
The ardent supporter of fossil fuels wants to bring back the Keystone XL and announced plans to undo President Obama's climate change and environmental policies.
Efforts to conserve and restore wild bison won a victory Monday when a Montana judge rejected an effort by opponents of bison restoration to classify the iconic animals as livestock instead of wildlife under state law.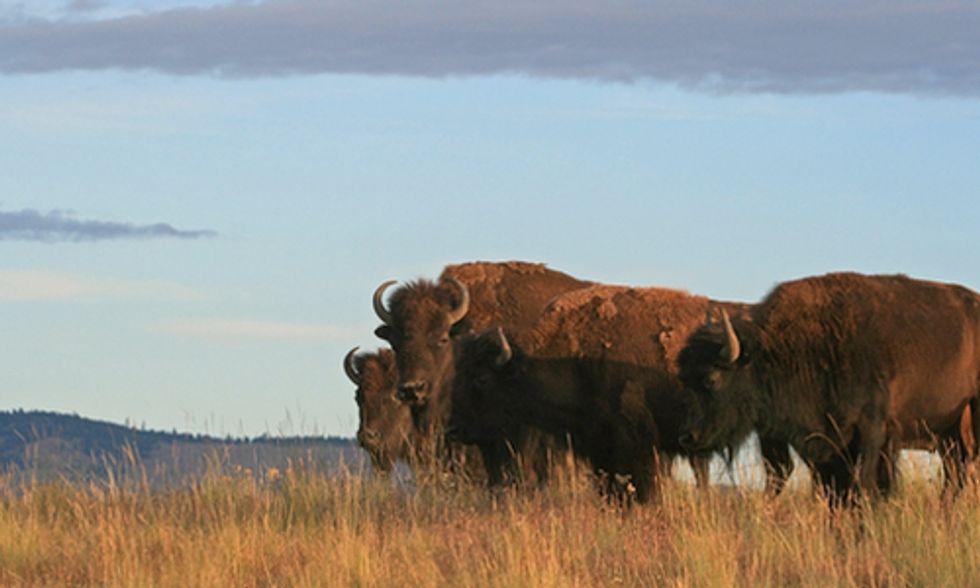 Photo courtesy of Shutterstock
If it had been accepted, the argument rejected by Montana District Judge John McKeon would have treated wild bison as livestock under Montana law once the animals were captured and held in quarantine as a prelude to wild bison restoration efforts. A legal classification as livestock, in turn, would have transferred jurisdiction over quarantined bison from the Montana Department of Fish, Wildlife and Parks to the Montana Department of Livestock—a move that threatened to impede any future efforts to restore native bison as a wildlife species in appropriate portions of their historic habitat.
However, Judge McKeon ruled that wild bison remain classified as wildlife under state law regardless of their confinement in quarantine.
"This ruling rightly discredits what amounted to a stealth attack on future efforts to restore wild bison in Montana," said Earthjustice attorney Tim Preso, who represented Defenders of Wildlife and the National Wildlife Federation in opposing Citizens for Balanced Use's argument. "Wild bison are classified as wildlife under Montana law. Now it is time to restore wild bison as wildlife on the Montana landscape."
Monday's ruling represents the latest chapter in a successful legal effort by the conservationists to support a plan by the Montana Department of Fish, Wildlife and Parks to transfer a group of disease-free wild bison from a quarantine facility near Yellowstone National Park to the Fort Peck and Fort Belknap Reservations in northeast and north central Montana.
Citizens for Balanced Use filed a lawsuit in 2012 to stop the transfer program, and the Montana district court responded by issuing a preliminary injunction that halted the planned bison transfer to Fort Belknap lands. But the conservationists appealed that injunction ruling to the Montana Supreme Court, which overturned the injunction in a decision issued in June 2013. The Fort Belknap transfer went forward later that summer.
"Judge McKeon has now validated the obvious," said Defenders of Wildlife program director Jonathan Proctor. "Just because wild Yellowstone bison were moved to a different location doesn't make them any less wild. These bison were moved specifically to start a new wild herd and are managed as wildlife. This victory will enable wild bison recovery to continue on willing locations in Montana—such as the Fort Peck and Fort Belknap Reservations."
Once numbering approximately 30 million across the Great Plains and Rocky Mountains, wild bison were almost driven to extinction by market hunters in the late nineteenth century. Montana was among their last strongholds, but the slaughter persisted until in 1903 only about 25 individuals remained in the wild, located in the Pelican Valley of Yellowstone National Park. Since then, Yellowstone's wild bison population has rebounded to approximately 4,000 animals, and Montana wildlife officials continue to consider plans to transplant some of these wild bison to the species' historic plains habitat.
--------
YOU ALSO MIGHT LIKE
Yellowstone Announces End to 2014 Bison Slaughter Following One-Man Blockade
Man Risks Arrest Blocking Road That Leads Yellowstone Bison to Slaughter
--------