This website uses cookies to ensure you get the best experience while browsing it. By clicking 'Got It' you're accepting these terms.


The best of EcoWatch, right in your inbox. Sign up for our email newsletter!
Far-right congressman Jair Bolsonaro, whose hostile campaign rhetoric has earned him comparisons to U.S. President Donald Trump, won Brazil's presidential election Sunday, a development that has raised concerns about the future of human rights and environmental action in the world's sixth-largest greenhouse gas emitter, CNN reported.
Like Trump, Bolsonaro has made homophobic, sexist and racist statements and emboldened right wing groups who share his views.
Boeing Airplanes / Twitter
Virgin Atlantic has successfully flown and landed a commercial flight using aviation fuel partly made of waste carbon gas from a steel mill.
The Boeing 747 took off from Orlando, Florida and landed in London's Gatwick airport on Wednesday morning.
EcoWatch Daily Newsletter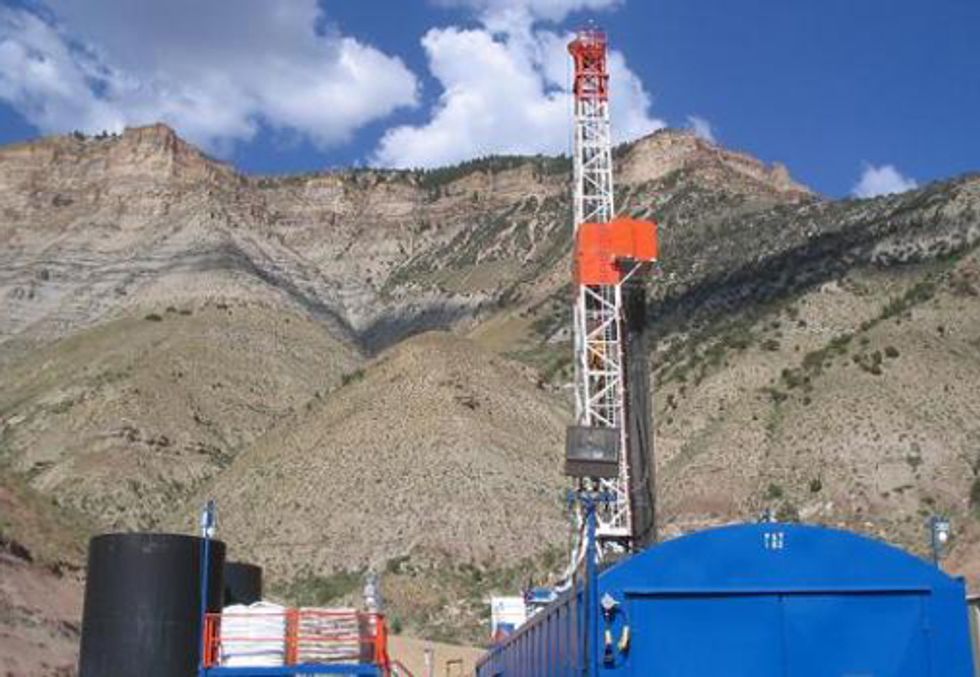 By Gary Wockner
First, the good—A few weeks ago, the state of Colorado passed the strongest rules in the U.S. for publicly disclosing what cancer-causing and other types of chemicals are used in oil and gas fracking. In a ground-breaking and intense set of negotiations between oil and gas companies and environmentalists, frackers are now forced to publicly disclose when they are fracking and what chemicals they use in fracking.
This disclosure gets at two very serious concerns posed by fracking. First, when fracking pollution occurs in groundwater, in streams, or on land, the public should be able to connect that pollution back to the fracking chemicals that caused it. Second, it will allow landowners to test their wells and groundwater prior to fracking, and then re-test after fracking to check for fracking pollution.
Importantly, the new rules substantively removed the "trade secret loophole" that was proposed in the original version of the rules that would have allowed frackers to not disclose the names of the chemicals in fracking fluids by saying those chemicals were "trade secrets." Led by attorneys from Earthjustice in Denver, the environmental community held its ground against this ridiculous exemption.
Thank you industry leaders, Gov. John Hickenlooper and environmentalists for passing these new rules.
Now for the bad—These new rules do nothing to stop or slow down fracking, do nothing to address the fracking pollution that's already occurred, and do nothing to directly protect water, land, wildlife or people from oil and gas pollution and fracking. These rules simply allow the cancer-causing chemicals to be named and tested for after the poisoning and pollution may have occurred.
Obviously, there's still a long way to go to protect Coloradans from fracking. What, at an absolute minimum, needs to happen next?
First, like the laws passed a few years ago to protect Coloradans from in situ leach uranium mining, oil and gas companies and frackers should be required to prove that they have not polluted or poisoned your property and should be required to pay for long-term groundwater monitoring. If a company is injecting cancer-causing chemicals into the ground on your property, why should you have to pay for the expensive groundwater and lab tests? Frackers should pay to prove that your land and water is clean and protected, not the other way around.
Second, the industry should be required to better manage fracking chemicals, drilling water and fracking wastes so that pollution and poisoning does not occur.
For example, in Weld County alone, which has more active oil and gas wells than any county in America (almost 18,000), public documents on the Colorado Oil and Gas Conservation Commission's (COGCC) website reveal that there have been more than 1,000 spill incident reports, more than 800 notice of alleged violations, and hundreds of public complaints associated with oil and gas drilling and fracking. Pollution and poisoning water and land are occurring—much of that due to mistakes that involve spilling frack fluids, improperly handling drilling wastes, and improperly lining waste ponds.
Third, far more mechanical integrity tests by state regulators should occur on drilling and fracking jobs in Colorado. Again, public COGCC documents reveal that of the nearly 18,000 wells in Weld County, there have only been 232 tests reported by state regulators to make sure the well casing is intact so that fracking chemicals cannot migrate back up the bore hole.
Fourth, the oil and gas industry needs to collect and publicly disclose the amount of water they use for drilling and fracking and the source of that water. All of Colorado has very serious water supply and river protection problems already—though likely in the billions of gallons per year, the amount of water used in fracking is still relatively unknown as is the source of that water as drilling and fracking continue to march across the landscape slurping up farm, city and river water.
Finally, the ugly—The director of COGCC has recently been quoted as saying that the "first line of defense" against the threat of drilling and fracking pollution is to maintain the "integrity of the wellbore" to make sure fracking chemicals do not migrate into groundwater.
I completely disagree.
The first line of defense against the threat of drilling and fracking pollution is to aggressively switch to a clean energy economy. Remember those words—"clean energy?" They were the two words most spoken by our previous pro-environment governor, Bill Ritter, but now are completely lost in the public debate. Windmills, solar panels, biofuels—remember all that?
Instead, the public debate has become insane. Billions of gallons of clean water are drained out of Colorado's endangered rivers every year in order to mix that water with cancer-causing fracking chemicals and then inject that toxic cocktail in the ground around our homes, schools and farms in order to extract non-renewable, global-warming-causing fossil fuels that are being burned at a faster and faster rate. But, insanely, the public debate at the state level is almost solely about making sure everyone knows the name of the cancer-causing fracking chemicals.
Colorado made a good start with its new fracking rules, but has a long way to go to stop our health, our economy and our state from really getting ugly.
For more information, click here.
—————

Gary Wockner, Ph.D., is director of Save the Poudre and Colorado program director for Clean Water Action in Fort Collins, Colorado.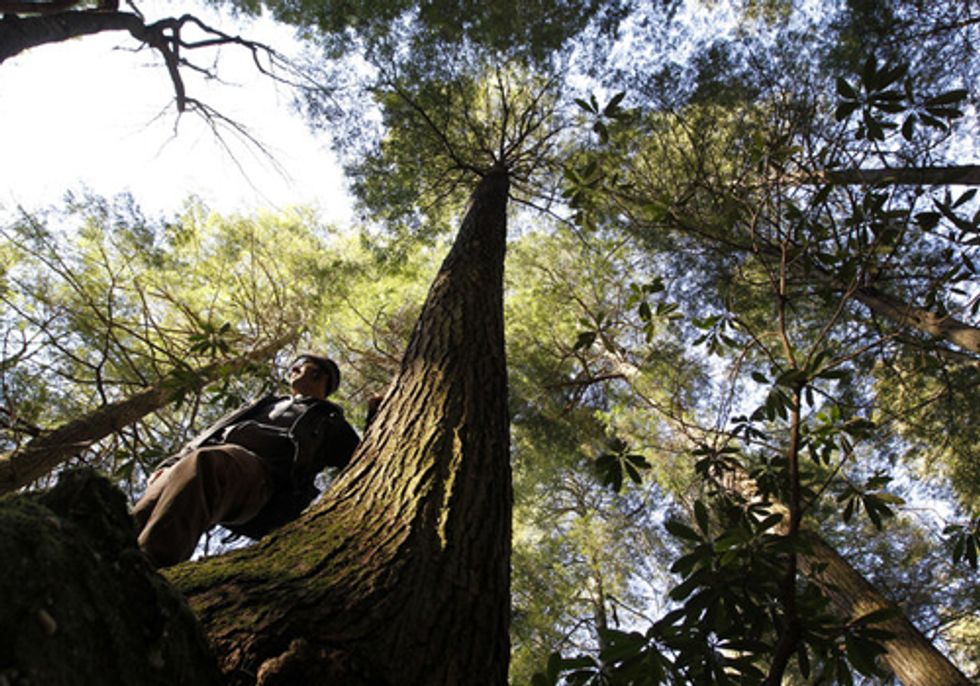 By Jim Scheff
The Nov. 27 editorial was correct in asserting that Kentucky needs to diversify its energy portfolio and take meaningful steps toward joining other states in capitalizing on renewable sources of energy and the jobs that come with them.
However, generating electricity by burning wood is not how to do it.
Burning waste wood and low-quality timber for electricity sounds like a great idea. And the stated goals of ecoPower, the Lexington-based company struggling to build a 50-megawatt power station in Hazard, are admirable—Create jobs and renewable electricity while supporting sustainable forest management. Unfortunately, those goals and reality are in disagreement, and the results could be disastrous.
The ecoPower plant will need to burn about 500,000 tons of wood a year to keep running. That's over 400 semi-trucks of wood chips each week. One quarter of this will be supplied by Pine Mountain Lumber, ecoPower's sister company.
However, with small mills and manufacturers increasingly using their wood waste in on-site boilers, ecoPower will most certainly need to turn to wood coming directly from the forest to keep their power plant operating.
In May, just a month before awarding ecoPower $250,000 as part of an initiative to support renewable energy projects, the U.S. Forest Service released The Southern Forest Futures Project Summary Report, stating, "Energy forecasts show wood use for bioenergy starting with and then quickly exhausting harvest residuals and other available wood waste. As a result, bioenergy demand would lead to additional harvesting of raw material."
Biomass harvesting relies heavily on what is called "whole-tree harvesting." This is different than traditional forestry, which leaves the tops of trees, known as "slash." Leaving that slash on the ground is important in limiting erosion and returning vital nutrients back to the soil.
Again quoting the Southern Forest Futures Project Summary Report, "Forecasted levels of woody-biomass harvests could lead to a reduction of stand productivity, deterioration of biodiversity, depletion of soil fertility, and a decline in water quality."
The recently released Recommendations for the Harvesting of Woody Biomass, produced by the Kentucky Division of Forestry, echoes these concerns, stating that removing this extra material "could result in possible impacts to soil productivity, soil compaction, water quality and quantity, wildlife habitat, and other environmental influences tied to forest sustainability."
Further, dragging whole trees through the forest to a central chipping and loading site, as is common with biomass harvesting, scars the soil, damages native seedlings, and creates conditions known to promote the establishment of non-native invasive plants such as Tree-of-Heaven and Japanese stiltgrass.
And then there's the issue of carbon neutrality. It's simply not honest to say that logging is carbon neutral, as many biomass proponents insist. Peer-reviewed studies, including those that factor in long-lived wood products, have offered inconsistent conclusions on whether forest regrowth captures all of the carbon released.
But this is beside the point. With new studies suggesting a 3- to 6-foot increase in sea level by the end of the century, we simply can't wait 70 or 100 years for the forest to recapture the carbon released from logging and burning.
Smart, sustainable forestry is important to Kentucky's future, and the well-meaning people at ecoPower know this. Creating a market to support thinning forests that are recovering from prior mismanagement could help promote forest health in some places.
However, in the absence of appropriate regulations or binding purchasing agreements, a woody-biomass market will too easily lead to damage that outweighs potential benefits. Future generations deserve to inherit productive, diverse forests that can sustain families and communities. An under-regulated wood-burning biomass economy puts this at risk.
The sad irony is that if the ecoPower facility never opens, it will be for all of the wrong reasons. It won't be because of a commitment toward sustainable forestry. It will be the perennial Kentucky story of the influence of the coal industry dictating not only policy, but our futures.
Moving away from fossil fuels will require large-scale efficiency and innovation, including wind, solar and micro-hydro, but is completely possible if our legislators are willing to stop subsidizing the big polluters that fund their campaigns and instead create incentives to promote a truly sustainable energy economy.
For more information, click here.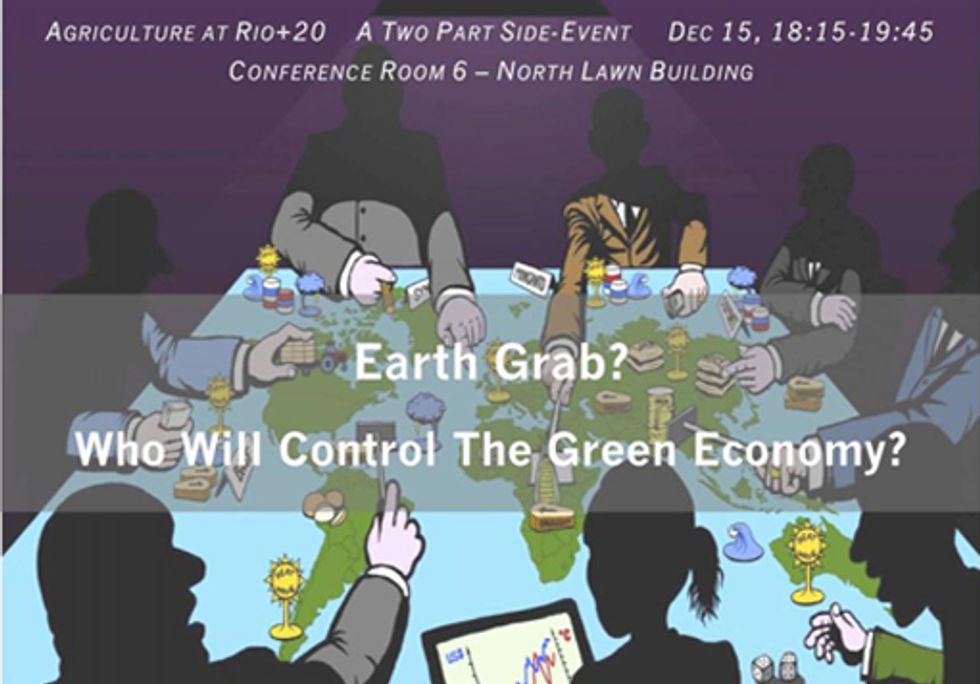 From the United Nations (U.N.) Rio+20 preparatory meetings in New York, ETC Group launched Who Will Control the Green Economy? The 60-page report connects the dots between the climate and oil crises, new technologies and corporate power. The report warns that the world's largest companies are riding the coattails of the "Green Economy" while gearing up for their boldest coup to-date—not just by making strategic acquisitions and tapping new markets, but also by penetrating new industrial sectors.
DuPont, for example, already the world's second largest seed company and sixth largest company in both pesticides and chemicals, is now a powerhouse in plant-based materials, energy and food ingredients. DuPont's business plan is not unique. Other major players in seeds, pesticides, chemicals and food—including Monsanto, Syngenta, Dow, BASF and Unilever—are also making strategic investments in risky technologies and forming R&D collaborations in hopes of turning plant biomass into all kinds of high value products—and profit.
Since the turn of the millennium, the vision of a bio-based economy has been taking shape, with its promise to solve the problems of peak oil and climate change and to usher in an era of sustainable development, it quickly acquired a patina of green. New technologies, primarily synthetic biology or extreme genetic engineering, enabled by advanced bioinformatics and genomics, are the bioeconomy's engine while agricultural feedstock is its fuel.
While seductive, the new green techno-fixes are dangerous because they will spur even greater convergence and concentration of corporate power and unleash privately owned technologies into communities that have not been consulted about—or prepared for—their impacts. If the "Green Economy" is imposed without full intergovernmental debate and extensive involvement from peoples' organizations and civil society, the Earth Summit to take place in Rio de Janeiro June 20-22, 2012 risks becoming the biggest Earth grab in more than 500 years.
"The goal is not to reject the green economy or technologies, but these are tools that must be guided by strong social policies," said Kathy Jo Wetter of ETC Group. "Agenda 21 called for technology assessment back in 1992 and the need for such a precautionary tool, that includes strict oversight of corporate concentration, is now more urgent than ever before."
"Corporate control over our food system threatens peasant farmers around the world," said Alberto Gomez of La Via Campesina. "We already produce 70 percent of the world's food, but our ability to do so in an agro-ecological way is being undermined by the kind of corporate control this report documents."
Who Will Control the Green Economy? will be launched at the Rio+20 intersessional meeting taking place in New York, Dec. 15-16. Kathy Jo Wetter, one of the report's researchers, will present the findings on Thursday, Dec. 15, 2011, at 7 p.m. at a side-event on agriculture at Rio+20, in conference room 6, North Lawn Building at the U.N. Headquarters. Alberto Gomez will also speak at this event.
What you will find in the Who Will Control the Green Economy? Report—December 2011
Naming The Green Economy's "One Percent" 
Who Will Control the Green Economy? provides hard data on the largest and most powerful corporate players controlling 25 sectors of the real economy. This is the only freely available report to assemble top 10 listings of companies (by market share) from 18 major economic sectors relevant to the Green Economy. These lists include the top 10 players in water, energy, seeds, fishing and aquaculture, food retail and processing, chemicals, fertilizer, pesticides, mining, pharmaceuticals, biotech, the grain trade and more. The report also identifies the leading players in a handful of new and emerging industrial sectors including synthetic biology, big data, seaweed and algae production and livestock genetics (pp.1-2).
Corporate Concentration Unchecked 
ETC Group has been monitoring corporate ownership trends for 30 years and the trendline is remaining steady—more monopoly everywhere. For example, the top 10 multinational seed companies now control 73 percent of the world's commercial seed market, up from 37 percent in 1995 (p. 22). The worlds 10 biggest pesticide firms now control a whopping 90 percent of the global 44 billion dollar pesticide market (p.25). 10 companies control 76 percent of animal pharmaceutical sales (p.34). 10 animal feed companies control 52 percent of the global animal feed market (p.33), 10 chemical firms account for 40 percent of the chemical market (p.11), 10 forestry companies control 40 percent of the forestry market (p. 31), 10 mining companies control a third of the mining market (p. 29) and the top ten energy companies control a quarter of the energy market (p.10).
Forget Windmills, Think Grain Mills
The "Green Economy" may evoke iconic images of solar panels and wind turbines but this is not actually where corporate activity is focusing. While non-hydro and non-nuclear renewable energy is only a thin sliver (1.8 percent) of global energy consumption—almost all of this consists of harvesting and burning biomass for energy and fuels and now chemicals. This report shows how the major corporate realignments in the new "Green Economy" are happening around plant biomass (pp.8-12, 18-21).
New Green Oligopolies 
This report uncovers new corporate convergences across diverse industry sectors as large players position themselves to dominate the "Green Economy." A case in point is the DuPont company—the world's 2nd largest seed company, 6th largest chemical company and 6th largest pesticide company which is now emerging as a major player in biotech, biofuels and bioplastics, synthetic biology, seaweeds, ingredients and enzymes while partnering with the worlds third largest energy company, British Petroleum (B.P.) (pp. ii-iii).
Food Dollars Trump Energy Dollars 
Conventional wisdom says the size of the global energy market weighs in at $7 trillion and dwarfs every other economic sector. According to our research, however, the global grocery market ekes out ahead of energy—even when government subsidies paid to producers for energy and agriculture are taken into account (p.37). 
Synthetic Biology's Meteoric Rise 
In the early 1990's the early commercialization of genetic engineering technologies drove massive reorganization of the seed, agrochemicals and pharmaceutical sectors and the emergence of 'life science' giants such as Monsanto and Novartis. Today, the new technologies of synthetic biology are spurring another frenzy of mergers, acquisitions and joint ventures around the biomass economy drawing large energy and chemical players such as Dow, DuPont, B.P., Shell, Exxon, Chevron and Total into new alliances with grain, forestry and seed giants such as Monsanto, Cargill, Bunge, Weyerhaeuser and ADM. At the heart of these new alliances are surprisingly new synthetic biology companies such as Life Technologies Inc, Amyris, Solazyme and Evolva—all rapidly being promoted to significant roles in the global food, energy, pharma and chemicals sectors (pp.8-12).
Controlling the Blue Economy, too. 
Biomass found in oceans and aquatic ecosystems accounts for 71 percent of the planet's surface area. That's why energy and chemical corporations such as DuPont, Statoil , DSM, Exxon, Mitsubishi, Monsanto, Chevron and shipping giant Stolt Nielsen are looking to the wild, wet frontier for new sugars and oils to fuel the bio-based economy, proposing the large-scale exploitation of algae, seaweed, fish and all the aquatic biomass found in lakes, rivers and coastal estuaries. (pp. 18-21)
For more information, click here.