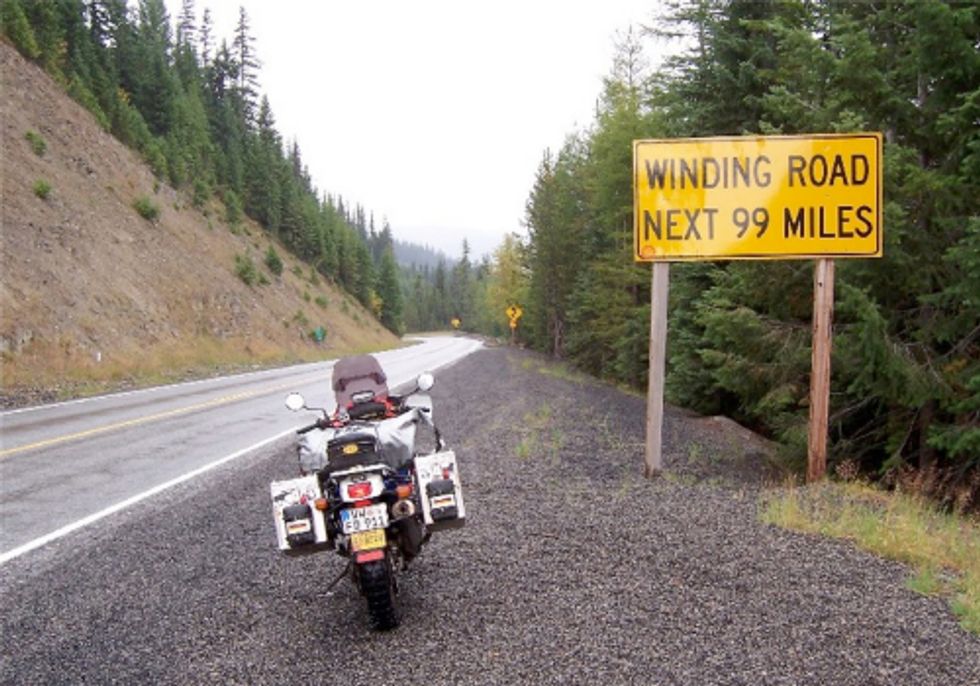 There's a new entry on the list of famous upsets—David Slays Goliath, Jack Topples Giant, Red Sox Sweep Yanks. And now—Little Guys Beat Big Oil.
Beginning in 2008, ExxonMobil and officials from Montana and Idaho secretly planned the shipment of more than 200 massive truckloads of oil-field processing equipment along some of the country's most scenic roads on their way to Alberta's tar-sands project. Each "Big Rig" assigned to travel these winding, narrow roads would be larger than the Statue of Liberty—220-feet long, 28-feet high, 26-feet wide and weighing 330 tons. The planned route included National Scenic Highway 12 along Idaho's Lochsa River and Montana's equally beautiful Highway 200 along the Big Blackfoot River.
The public first became aware of the agreement late last year when crews inexplicably began installing ultra-tall poles at hundreds of power-line crossings along these highways. At that point Montana's Department of Transportation (MDOT) fast-tracked the issuance of permits for these trucks, based on an environmental assessment produced by Exxon that, not surprisingly, found no environmental risks in the project. Despite MDOT's public-comment website crashing and being disabled for more than a week when it was swamped by the public's enormous uproar, MDOT Director Jim Lynch refused to extend the public review process beyond 30 days. He then announced that approximately 8,000 citizen-protest letters that had been presented in a form suggested by Natural Resources Defense Council would only count as a single protest.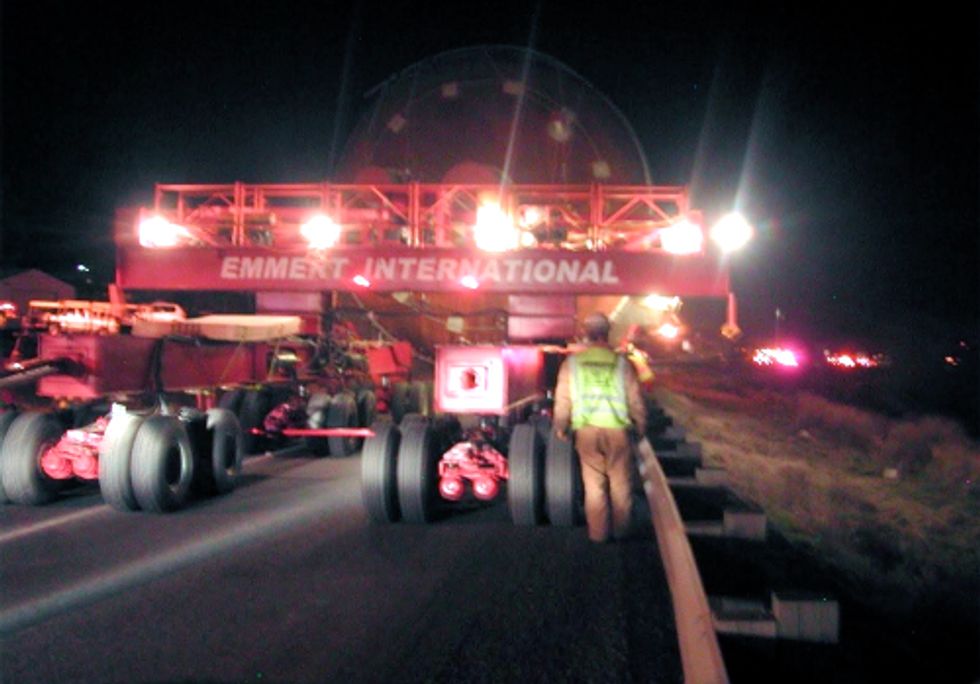 The deck was clearly stacked and final approval seemed inevitable. Still, a number of local environmental groups, including Big Blackfoot Riverkeeper, rallied together and convinced Missoula County, which lies in the middle of the proposed route, to lead a lawsuit against MDOT for its hastened, sloppy review process. Timing was crucial. The suit was filed on April 11, 2011, as the first mega-load was creeping up Idaho's Lochsa valley, just a few miles from the Montana border on the top of Lolo Pass. A temporary restraining-order halted that load, and on July 19, what had seemed an impossible dream began to be realized when the court issued a preliminary injunction against MDOT and ExxonMobil, determining that the state had failed to consider seriously the environmental impacts of the project.
Recognizing the long delays and formidable costs it faced in continuing the fight, ExxonMobil announced plans in early August to reconfigure the loads into smaller units that could travel on interstate highways. A further vindication for the plaintiffs came one week later when Montana Governor Brian Schweitzer demanded MDOT Director Lynch's resignation.
Meanwhile, high up on Lolo Pass, that first mega-load has sat quietly on a siding, the company being unable to secure a permit to move it in either direction. It has become Montanans' 220-foot long monument to the power of the people over Big Oil.
For more information, click here.
Reprinted with permission from Waterkeeper Magazine. To read the winter issue of the Waterkeeper Magazine, click here.
EcoWatch Daily Newsletter
waterlust.com / @tulasendlesssummer_sierra .
Each product featured here has been independently selected by the writer. If you make a purchase using the links included, we may earn commission.
The bright patterns and recognizable designs of Waterlust's activewear aren't just for show. In fact, they're meant to promote the conversation around sustainability and give back to the ocean science and conservation community.
Each design is paired with a research lab, nonprofit, or education organization that has high intellectual merit and the potential to move the needle in its respective field. For each product sold, Waterlust donates 10% of profits to these conservation partners.
Eye-Catching Designs Made from Recycled Plastic Bottles
waterlust.com / @abamabam
The company sells a range of eco-friendly items like leggings, rash guards, and board shorts that are made using recycled post-consumer plastic bottles. There are currently 16 causes represented by distinct marine-life patterns, from whale shark research and invasive lionfish removal to sockeye salmon monitoring and abalone restoration.

One such organization is Get Inspired, a nonprofit that specializes in ocean restoration and environmental education. Get Inspired founder, marine biologist Nancy Caruso, says supporting on-the-ground efforts is one thing that sets Waterlust apart, like their apparel line that supports Get Inspired abalone restoration programs.
"All of us [conservation partners] are doing something," Caruso said. "We're not putting up exhibits and talking about it — although that is important — we're in the field."
Waterlust not only helps its conservation partners financially so they can continue their important work. It also helps them get the word out about what they're doing, whether that's through social media spotlights, photo and video projects, or the informative note card that comes with each piece of apparel.
"They're doing their part for sure, pushing the information out across all of their channels, and I think that's what makes them so interesting," Caruso said.
And then there are the clothes, which speak for themselves.
Advocate Apparel to Start Conversations About Conservation
waterlust.com / @oceanraysphotography
Waterlust's concept of "advocate apparel" encourages people to see getting dressed every day as an opportunity to not only express their individuality and style, but also to advance the conversation around marine science. By infusing science into clothing, people can visually represent species and ecosystems in need of advocacy — something that, more often than not, leads to a teaching moment.

"When people wear Waterlust gear, it's just a matter of time before somebody asks them about the bright, funky designs," said Waterlust's CEO, Patrick Rynne. "That moment is incredibly special, because it creates an intimate opportunity for the wearer to share what they've learned with another."
The idea for the company came to Rynne when he was a Ph.D. student in marine science.
"I was surrounded by incredible people that were discovering fascinating things but noticed that often their work wasn't reaching the general public in creative and engaging ways," he said. "That seemed like a missed opportunity with big implications."
Waterlust initially focused on conventional media, like film and photography, to promote ocean science, but the team quickly realized engagement on social media didn't translate to action or even knowledge sharing offscreen.
Rynne also saw the "in one ear, out the other" issue in the classroom — if students didn't repeatedly engage with the topics they learned, they'd quickly forget them.
"We decided that if we truly wanted to achieve our goal of bringing science into people's lives and have it stick, it would need to be through a process that is frequently repeated, fun, and functional," Rynne said. "That's when we thought about clothing."
Support Marine Research and Sustainability in Style
To date, Waterlust has sold tens of thousands of pieces of apparel in over 100 countries, and the interactions its products have sparked have had clear implications for furthering science communication.
For Caruso alone, it's led to opportunities to share her abalone restoration methods with communities far and wide.
"It moves my small little world of what I'm doing here in Orange County, California, across the entire globe," she said. "That's one of the beautiful things about our partnership."
Check out all of the different eco-conscious apparel options available from Waterlust to help promote ocean conservation.
Melissa Smith is an avid writer, scuba diver, backpacker, and all-around outdoor enthusiast. She graduated from the University of Florida with degrees in journalism and sustainable studies. Before joining EcoWatch, Melissa worked as the managing editor of Scuba Diving magazine and the communications manager of The Ocean Agency, a non-profit that's featured in the Emmy award-winning documentary Chasing Coral.