This website uses cookies to ensure you get the best experience while browsing it. By clicking 'Got It' you're accepting these terms.
Micromobility is the future of transportation in cities, but cities and investors need to plan ahead to avoid challenges. Jonny Kennaugh /
Unsplash
By Carlo Ratti, Ida Auken
On the window of a bike shop in Copenhagen, a sign reads: Your next car is a bike.
Cycling advocates set up "ghost bikes," like this one in Brooklyn, in memory of bikers killed in traffic.
Nick Gray
/
CC BY-SA
By John Rennie Short
As cities strive to improve the quality of life for their residents, many are working to promote walking and biking. Such policies make sense, since they can, in the long run, lead to less traffic, cleaner air and healthier people. But the results aren't all positive, especially in the short to medium term.
EcoWatch Daily Newsletter
This narrow street, lined with parked cars but devoid of people, is both unwelcoming and unsafe for cyclists.
Anne Lusk,
CC BY-ND
By Anne Lusk
Designing for bikes has become a hallmark of forward-looking modern cities worldwide. Bike-friendly city ratings abound, and advocates promote cycling as a way to reduce problems ranging from air pollution to traffic deaths.
But urban cycling investments tend to focus on the needs of wealthy riders and neglect lower-income residents and people of color. This happens even though the majority of Americans who bike to work live in households that earn less than $10,000 yearly, and studies in lower-income neighborhoods in Brooklyn and Boston have found that the majority of bicyclists were non-white.
Pexels
By Anne Lusk
City streets and sidewalks in the U.S. have been engineered for decades to keep vehicle occupants and pedestrians safe. If streets include trees at all, they might be planted in small sidewalk pits, where, if constrained and with little water, they live only three to 10 years on average. Until recently, U.S. streets have also lacked cycle tracks—paths exclusively for bicycles between the road and the sidewalk, protected from cars by some type of barrier.
Bike to Work Day Summer 2017. City of Fort Collins / John Robson / CC BY-NC-SA 2.0
Today is Bike to Work Day, and while that sounds deceivingly simple—you know, hop on a bike and ride to work—your city might not be the best place to make that commute. For instance, how safe is it? Are there designated lanes? Does your town support bike culture?
Luckily, there's a way to find out if you should leave your car keys or metro card at home today. The nonprofit PeopleForBikes launched a new database that rates the bike-ability of 480 cities in the U.S.
Citibike station in midtown Manhattan. Jim Henderson, CC BY
By Douglas Johnson
Residents of major U.S. cities are becoming used to seeing docks for bike sharing programs nestled into parking spaces or next to subway station entrances. Adorned with stylish branding and corporate sponsors' logos, these facilities are transforming transportation in cities across the country.
The modern concept of bike sharing—offering bikes for short-term public rental from multiple stations in cities—was launched in Copenhagen in 1995, but U.S. cities only started piloting their own systems in the past decade. Washington, DC led the way, launching SmartBike DC in 2008 and an expanded network called Capital Bikeshare in 2010. This program now boasts more than 480 stations and a daily ridership of 5,700.
Electric bikes are a great way to zip around town with less pedal power, but they have two problems. First, the machinery can make them heavy or bulky. Second, at some point, they will run out of juice.
But Austria-based VELLO BIKE has solved these two problems with its innovative VELLO Bike+, the world's first self-charging electric folding bike that gives cyclists ultimate freedom.
The lightest self-charging folding e-bike in the world.VELLO BIKE
The bike claims to be lighter than most folding e-bikes on the market—the titanium model weighs about 24 pounds, and the chromoly frame model weighs 26 pounds.
It can easily fold down to just 72 x 53 centimeters, or suitcase size, making it easy to store in tight spaces, such as under a desk or in the trunk of a car. You don't even have to carry it—once folded it can also stand on its own, meaning you can just wheel it around. The bike's patented magnetic release makes it quick and easy to fold.
"A self-locking magnet allows hands-free folding, which makes it very different from a typical folding bike with complicated hinges to open," company co-founder and designer Valentin Vodev said. "They don't tend to be very user-friendly as the folding process is lengthy and can be frustrating."
Vodev was given a Red Dot award, an international product design and communication design prize, for the bike's innovative design.

"I always try to take a novel, previously unexplored approach in my designs. This mostly results in unconventional solutions, which I can then turn into innovations. In my opinion, design is a mixture of logic, aesthetics and art," he said of his work after being given the award.
As for its self-charging feature, the bike's integrated lithium-ion battery can be completely recharged just by pedaling or braking, the developers claim. Using its Integrated Kinetic Energy Recovery System, the VELLO Bike+ converts mechanical energy into electricity to power a 250-watt motor.
Kickstarter
"You can ride up to 15 miles per hour for unlimited mileage in 'self-charging mode,' or in 'turbo mode' up to 18-30 miles on a full charge without any effort," the company says. "As soon as you stop pedaling, the motor will stop pushing. The generated power depends on several factors including the bike speed, the pedaling speed, the road slope and the selected power mode."

The bike comes with its own smartphone app with features such as a custom dashboard (to see your speed, miles, battery, etc) and an option to lock the bike remotely.

"Riding performance was also essential to us in the development of the VELLO BIKE+, it feels and rides better than most of the existing folding bikes on the market," Vodev said.
The VELLO Bike+ has already blown past its €80,000 ($87,863) Kickstarter goal with 18 days to go. Prices start at €1,599 ($1,756) on Kickstarter and will ship anywhere around the world.

Watch the bike in motion here:

A new product from FlyKly could be the answer for those who want the fuel and emissions savings of biking without the sweat and tired legs.
The company has created the Smart Wheel, a replacement wheel for bikes that contains a 9-pound motor and lithium battery. The motor turns on once a biker begins pedaling.
"We decided to turn an ordinary bike into a smart bike," said FlyKly founder Niko Klansek, whose company produced the first line of electric bicycles sold in the U.S. "It makes the riding effortless."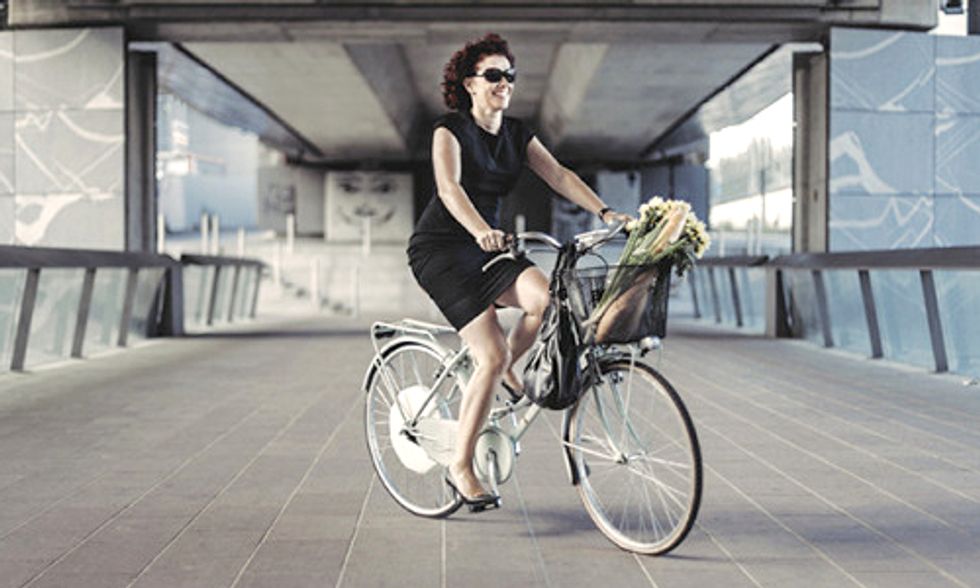 The battery can be fully charged via wall socket in two to three hours. The user can travel 30 miles per charge. The battery life is good for about 1,000 charging cycles.
The 250-watt motor can propel a rider to a top speed of about 20 miles per hour. The product works in conjunction with a FlyKly smartphone app, which allows the user to set his or her top speed.
The app also suggests routes, includes a GPS locator and can lock the motor and deliver a message if the bike has been stolen.
The wheel is available in 26- or 29-inch versions and in eight colors.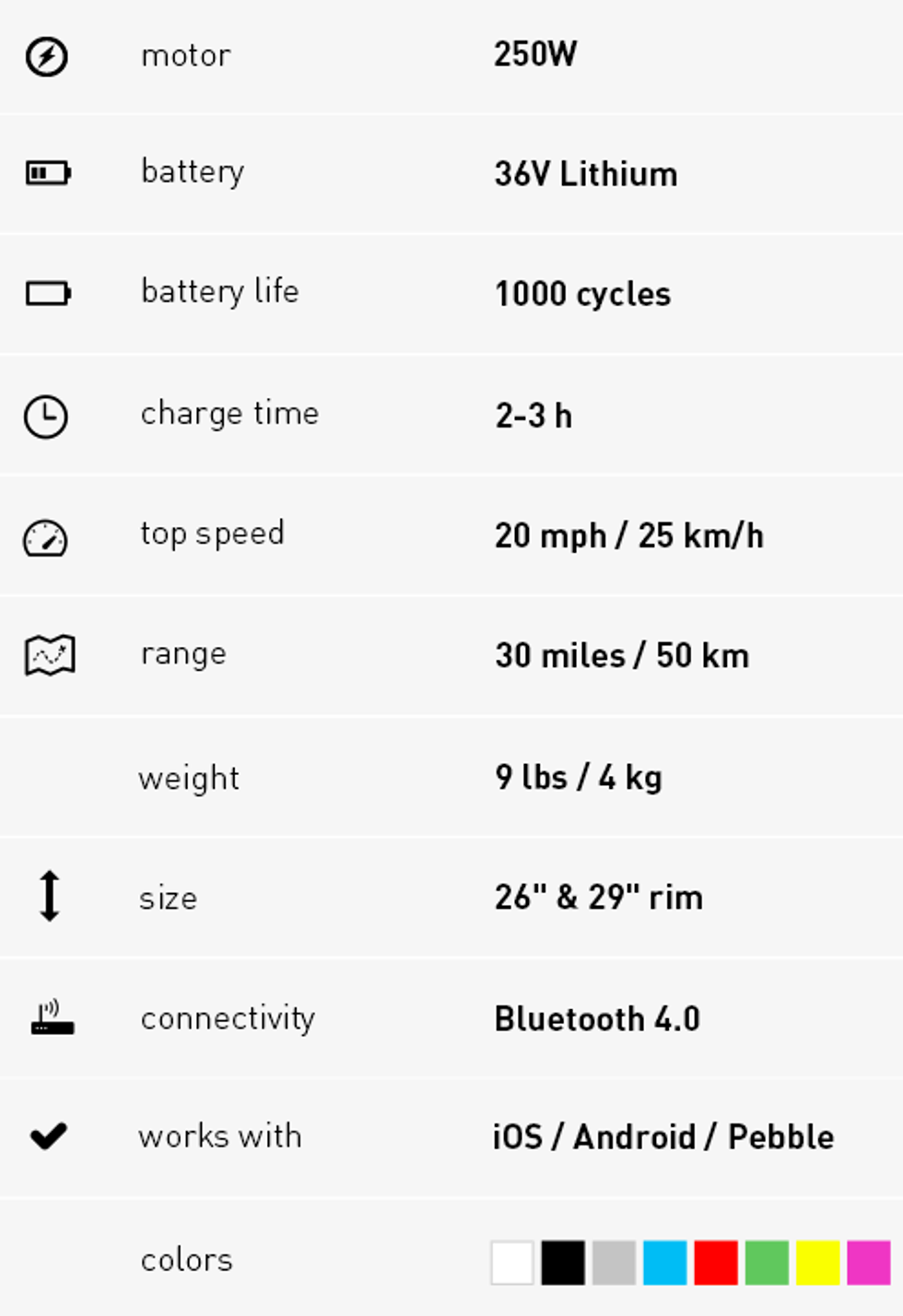 The wheel comes with an LED Smart Light, which can be attached to a handle bar. The light serves two other functions—smartphone stabilizer and charger with a USB port.
Mass production of the Smart Wheel is expected to begin early next year, with assembly and packaging and shipping to follow in the spring.