This website uses cookies to ensure you get the best experience while browsing it. By clicking 'Got It' you're accepting these terms.


The best of EcoWatch, right in your inbox. Sign up for our email newsletter!
People drink coffee at a Pret A Manger store in central London. Daniel Berehulak / Getty Images
Late Wednesday, a coalition of environmental organizations and farmers represented by the Center for Food Safety (CFS) and Earthjustice filed new legal papers in federal court seeking the reversal of Scott Pruitt and the Trump Environmental Protection Agency's (EPA) approval of Dow Chemical's toxic pesticide, Enlist Duo. The novel pesticide is a combination of glyphosate and 2,4-D, to be sprayed over the top of corn, cotton and soybeans that are genetically engineered by Dow with resistance to both pesticides.
EcoWatch Daily Newsletter
Orange grove in California. punahou77 / Flickr
A judge has ordered the California Department of Food and Agriculture to stop using chemical pesticides in its statewide program until the agency complies with state environmental laws.

The injunction, issued late last week, is a sweeping victory for 11 public-health, conservation, citizen and food-safety groups and the city of Berkeley. The coalition sued the state after unsuccessfully attempting for years to persuade the agency to shift to a sustainable approach to pest control that protects human health and the environment.
Wil Molenkamp / Flickr
Congressman Earl Blumenauer (D.-Ore.), alongside Representative Jim McGovern (D.-Mass.) and conservation, farmworker, farmer and consumer groups, on Wednesday reintroduced the Saving America's Pollinators Act, which aims to suspend the registration of certain neonicotinoid insecticides until the U.S. Environmental Protection Agency (EPA) conducts a full scientific review.
In addition, 16 environmental and conservation groups have collected more than 100,000 public comments urging the agency to rein in the rampant overuse of neonicotinoid pesticides—a leading cause of pollinator population declines.
Moms Across America, Organic Consumers Association and Beyond Pesticides announced Monday that the District of Columbia Superior Court has rejected General Mills' motion to dismiss a lawsuit brought by the three nonprofits against the maker of Nature Valley granola bars. The recent ruling upholds the right of nonprofits to bring these types of complaints against corporations. It also reinforces the notion that consumers can reasonably expect a product labeled "100% Natural" to be free of herbicides.
A federal court has ruled that the U.S. Environmental Protection Agency (EPA) systematically violated the Endangered Species Act—a key wildlife protection law—when it approved bee-killing insecticides known as neonicotinoids.
Monsanto's herbicide Roundup is the most popular weedkiller in the United States. Photo credit: Flickr
Monsanto is staring down yet another lawsuit over its glyphosate-based product, Roundup.

Two nonprofit groups allege that the agribusiness giant intentionally mislabels its weedkiller as "target[ing] an enzyme found in plants but not in people or pets." The lawsuit charges that Monsanto's statement is "false, deceptive and misleading" because the enzyme targeted by glyphosate "in fact, is found in people and pets."
Triclosan and 18 other chemicals have been banned from soaps and washes.
AP Photo / Kiichiro Sato
By Erica Hartmann
This year marks 20 years since Hasbro was fined for false advertising, claiming their Playskool toys laden with the antimicrobial chemical triclosan would keep kids healthier. It is also the year when soap manufacturers will finally have to remove the chemical from their products.
Any antimicrobial chemicals in there? Shutterstock
Triclosan is one example of a potentially hazardous chemical used in some antimicrobial products. The U.S. Food and Drug Administration (FDA) recently banned it, along with 18 others chemicals, from hand soaps because of unacceptable risks to humans and the environment. Exposure to triclosan in general is linked with disruption of hormone function and the development of antibiotic resistance in bacteria.

The FDA asked manufacturers to demonstrate that these chemicals are safe for long-term use and more effective than regular soap. Neither has been proven.
But these same chemicals are still used in many other products—including plush toys, pool wings, pacifier pockets, building blocks and even craft supplies like markers and scissors—without any label required. Some of these products are marketed as being antimicrobial, but many aren't.
Because these products are not under the purview of the FDA, they aren't subject to the ban and companies aren't required to reveal what makes them antimicrobial. This means it is hard for consumers to know what products contain these chemicals.
Why Was Triclosan Banned in Soaps?
Manufacturers failed to demonstrate that antimicrobial soaps were any more effective than regular soaps. Essentially, there are no reported benefits of antimicrobial soaps to outweigh the risks of using antimicrobial chemicals. So, are these chemicals any more effective in other products?
Overall, peer-reviewed research showing that household products and building materials containing antimicrobial chemicals, such as cutting boards and industrial flooring, harbor fewer bacteria is scant. Research further demonstrating that these products protect human health is essentially nonexistent. This indicates that, much like in soaps, triclosan in other products isn't doing much good.
The FDA's decision applies only to over-the-counter soaps sold to consumers and not to soaps used in health care settings or any other consumer products or building materials not under the purview of the FDA.
But some health care providers are deciding to skip the antimicrobials. For example, Kaiser Permanente, a major health care system, stopped purchasing soaps containing triclosan several years ago. And in 2015 the system announced it would no longer use paint and interior building products containing antimicrobial chemicals, citing a lack of evidence that they actually prevent disease along with safety concerns.
Not only does research suggest that antimicrobial products are ineffective at reducing microbes on the product, but several studies also suggest they may be causing an increase in antibiotic resistance. Antibiotic-resistant infections, such as MRSA, cause an estimated 23,000 deaths every year in the U.S..
Research that I conducted at the Biology and the Built Environment Center at the University of Oregon demonstrated a troubling link, finding higher concentrations of triclosan and antibiotic resistance genes in dust in an athletic and educational facility. We are currently investigating how these antibiotic resistance genes can get into bacteria.
At the moment, it's unclear how much of the triclosan we find in dust comes from soaps or other products, but triclosan has been found in almost every dust sample assayed worldwide. This suggests that the more antimicrobial chemicals we use in our homes, classrooms and offices, the more antibiotic-resistant bacteria we see there.
Again, it is worth noting that we have no evidence that using any antimicrobial products other than toothpaste, whether they are soaps or other household goods, makes us any healthier. There is even some evidence to the contrary: Without adequate exposure to the right microbes, our children may be at a higher risk of developing conditions like allergies and asthma.
Why It's Hard to Know What Products Contain These Chemicals
Let's say, then, that we want to avoid products that contain triclosan or any of the other 18 antimicrobials banned in soap by the FDA. Should be fairly easy, right? Not so: Manufacturers are not required to tell us what makes their products antimicrobial.
Soaps are personal care products, which means they fall under the FDA's jurisdiction. The agency requires that active ingredients such as triclosan be listed. For instance, triclosan is also found in some toothpastes, in which it has been proven effective against plaque and it is listed on the label.
If you want to avoid buying soaps containing these chemicals before the ban goes into effect on Sept. 6 you just need to read the label. But products that are not under the agency's jurisdiction are subject to different requirements and don't have to list the chemicals they contain. It is incredibly difficult—if not impossible—to find out exactly which products contain which antimicrobial chemicals.
Products that are marketed as being antimicrobial, for instance, often contain these chemicals. But not all products that contain antimicrobial chemicals are advertised as such.
Concerned consumers can get recommendations from advocacy groups like the Environmental Working Group and Beyond Pesticides. However, that information is focused largely on triclosan and not the additional 18 chemicals banned from soap. And as manufacturers reformulate products without making public announcements, information may be incomplete or out of date.
Consumers looking for a simple way to get comprehensive information about antimicrobial products are out of luck. But one consumer with an awful lot of resources is actually starting to collect this information: Google. The tech giant went to such great lengths to uncover the ingredients for products used in their facilities that it developed an online tool called Portico. Unfortunately for us, Portico isn't yet available to the public.
It would help if regulators adopted consistent standards requiring common labeling practices and if manufacturers were required to disclose hazardous ingredients. We need to know what chemicals are in the products, especially when those chemicals could have adverse effects on our health and our environment.
What can consumers do? We can apply pressure by calling on retailers to carry antimicrobial-free products and to require clear labels on products that contain chemicals banned by the FDA.
Erica Hartmann is an assistant professor at Northwestern University. Reposted with permission from our media associate The Conversation.
By Sarah McColl
I was on a bright, brisk winter walk recently in my Brooklyn neighborhood when I saw a folksy hand-painted sign lashed to a chain-link fence: "Organic Christmas trees." It was like learning I'd been singing the wrong Bon Jovi lyrics for 20 years, another recent revelation. My Christmas tree needs to be organic too?
Or does it?

The answer is a little nuanced, but the short version is yes.
"As with food, local and organic is best," The Nature Conservancy advises for your tree choice. Conventionally grown Christmas trees present the same problems as the "Dirty Dozen," the Environmental Working Group's annual list of pesticide-tainted produce: To keep trees looking lush, Christmas tree farms use chemical sprays to control pests and farmers use the pesticide Roundup to control weeds.
"A lot of stuff growers are using can't be used in the home anymore and you can't wash a tree off like a tomato," said John Kepner, the project director at Beyond Pesticides, a nonprofit group in Washington.
But we also don't eat Christmas trees and no studies have been conducted to see if the boughs still have pesticides on them at the time of harvest. By the time the tree stands in your living room, pesticides shouldn't be a cause of concern, according to Chal Landgren, a Christmas tree specialist at Oregon State University, who said the amount of residue at that point is minimal.
Pesticides inside the Yule log may not be an issue, but toxins trickling into the watershed where the trees are grown is another story. In Oregon, the nation's leading Christmas tree producer, more than 6 million trees are harvested every year; most of those farms are concentrated along the Clackamas River watershed. Since 2005, the Oregon Department of Environmental Quality has monitored pesticide levels and found many to be exceeding the U.S. Environmental Protection Agency benchmarks, including at least two used by the Christmas tree industry. It's one reason Landgren helped develop the Socially & Environmentally Responsible Farm program to help teach growers how to reduce chemical use.
"It's better for the environment for the tree to be grown without pesticides," said Adam Parke, who sells organically grown Christmas trees from his Vermont farm in Brooklyn during the holidays and whose sign I saw on my walk. "It's better for the health of the growers and the people around them, and it's better for you not to bring something into your living room that has been coated with pesticides over the several years of its life. Everyone wins."
The Nature Conservancy advises looking for trees native to your region and to check farmers markets for local dealers. But a local, organic Christmas tree may be tough to find. Only 1 percent of the 33 million live Christmas trees sold each year are organic, according to Oregon State University's extension service. In that case, you're better off buying a locally farmed tree than a SERF-approved one shipped from Oregon.
Or make an outing of it and chop an always organic wild tree. Many of the public lands managed by the U.S. Forest Service and the Bureau of Land Management are open to tree cutting—all you need is a $5 or $10 permit—and selective thinning is good for the health of the forest ecosystem. There's no worry of deforestation by saw-wielding Charlie Brown types yet: Only 2 percent of Christmas trees are wild-chopped. Turning it into a group outing will help reduce the carbon footprint of the jingle bell jaunt.What about a living Christmas tree that can be planted in the new year? Parke said this is only a good option for those who have the time to keep the tree healthy while it's in the house; most of them die shortly after the holidays because pine trees don't thrive in the arid, overheated environment of a house or apartment.
"Remember, though, that cut trees are farmed," he said. "They're a renewable resource like any other vegetable you use."
Every expert agrees on one thing: Don't buy a fake. (Although the reusable wooden trees available on Etsy seem a noble enough choice). The tinsel-y, oil-based plastic trees available at drugstores can't be recycled and don't decompose once chucked—a tale more befitting the saddest Radiohead song ever written than a jolly rendition of "O Christmas Tree." That's hardly befitting the spirit of the season.
Reposted with permission from our media associate TakePart.
By Carey Gillam
Residues of the main ingredient in Monsanto's flagship herbicide Roundup has been found in honey in the key farm state of Iowa.
The U.S. Food and Drug Administration (FDA) began glyphosate residue testing in a small number of foods earlier this year after the International Agency for Research on Cancer classified glyphosate as a probable human carcinogen in March 2015. The "special assignment," as the FDA refers to the testing project, is the first time the FDA has ever looked for glyphosate residues in food, though it annually tests foods for numerous other pesticides.
Research by FDA chemist Narong Chamkasem and John Vargo, a chemist at the University of Iowa, shows that residues of glyphosate have been detected at 653 parts per billion (ppb), more than 10 times the limit of 50 ppb allowed in the European Union. Other samples tested detected glyphosate residues in honey samples at levels from the low 20s ppb to more than 123 parts per billion ppb. Some samples had none or only trace amounts below levels of quantification. Previous reports had disclosed glyphosate residues in honey detected as high as 107 ppb. The collaborative work was part of an effort within the FDA to establish and validate testing methodology for glyphosate residues.

"According to recent reports, there has been a dramatic increase in the usage of these herbicides, which are of risk to both human health and the environment," Chamkasem and Vargo stated in their laboratory bulletin.
Because there is no legal tolerance level for glyphosate in honey in the U.S., any amount could technically be considered a violation, according to statements made in FDA internal emails, obtained through Freedom of Information Act (FOIA) requests.
The U.S. Environmental Protection Agency (EPA) may soon move to set a tolerance, however. The agency has set tolerance levels for glyphosate residues in many foods the EPA expects might contain residues of the weed killer. When residue levels are detected above the tolerance levels, enforcement action can be taken against the food producer.

"EPA is evaluating the necessity of establishing tolerances for inadvertent residues of pesticides in honey," the agency said in a statement. "EPA has examined the glyphosate residue levels found in honey and has determined that glyphosate residues at those levels do not raise a concern for consumers."
Despite these reassurances by the EPA, at least two lawsuits have been filed over this issue. The Organic Consumers Association and Beyond Pesticides filed suit Tuesday against the Sioux Honey Association Cooperative, a large Iowa-based group of bee keepers who produce the nationally known brand Sue Bee Honey.
Sue Bee bills itself as "America's Honey," but the lawsuit alleges that the labeling and advertising of Sue Bee Products as "Pure," "100% Pure," "Natural" and "All-natural" is "false, misleading and deceptive." Some of the glyphosate residues detected in the FDA tests were found in the Sue Bee brand, according to the FDA documents obtained through FOIA requests.
The claims are similar to another lawsuit, which seeks class action status, that was filed against Sioux Honey Association in late September in U.S. District Court for the Eastern District of New York.
Quaker Oats was sued earlier this year on a similar claim regarding glyphosate residues. The FDA has also found glyphosate residues in oatmeal, including several types of infant oat cereal.
Considering corn is the key crop grown in Iowa and most of the U.S. corn crop is genetically modified to tolerate being sprayed directly with glyphosate, it is not surprising that glyphosate residues are showing up in honey in Iowa and other farm states.
"It's a chemical intrusion, a chemical trespass into our product," said Darren Cox, president of the American Honey Producers Association. "We have really no way of controlling it. I don't see an area for us to put our bees. We can't put them in the middle of the desert. They need to be able to forage in ag areas. There are no ag areas free of this product."
Sioux Honey Association President David Allibone said no one from the FDA has communicated with his group about the chemical residues found in honey and he said he could not discuss the issue further because of the litigation.
The lawsuit filed Tuesday acknowledges the difficulties beekeepers face. They "are often the victims of and have little recourse against, contamination of their hives caused by pesticide applications in the fields where bees forage," the lawsuit states.
The glyphosate residues showing up in food are surprising and worrisome, according to dietitian Mitzi Dulan, a nationally known nutrition and wellness expert.
"I think more testing should be done so that we are armed with the knowledge and then we can decide what we want to put into our bodies," Dulan said. "I do believe in minimizing pesticide exposures whenever possible."
Jay Feldman, executive director of Beyond Pesticides, a plaintiff in the lawsuit filed yesterday, said regulators need to do more to address the issue.
"Until U.S. regulatory agencies prohibit Monsanto and other manufacturers of glyphosate from selling pesticides that end up in the food supply, we need to protect consumers by demanding truth and transparency in labeling," Feldman said.
The Chinese government has just announced its work plan to manage and clean up contaminated groundwater in North China Plains, a region where many are completely dependent on groundwater for drinking water.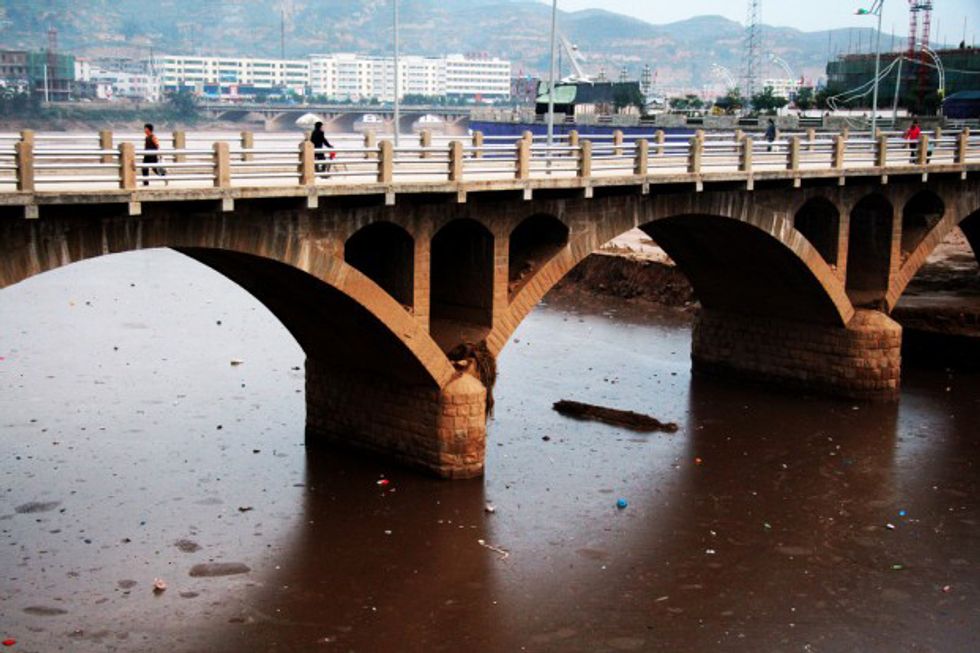 Eighteen percent of water use in China is groundwater. Unfortunately, the report indicates this groundwater is highly contaminated with pesticides, fertilizers and irrigation waste water from agricultural expansion, as well as petrochemical industry wastewater, and domestic and industrial waste. Considering 400 of the approximately 655 cities in China are completely reliant on groundwater for drinking, the plan could not come sooner.
Likely though, "It will be very expensive to clean up, if it is even possible," said Sun Ge, PhD, research hydrologist of the U.S. Department of Agriculture's Forest Service Southern Research Station. Many of the chemicals are extremely persistent, remaining in the environment years after they were released.
The plan marks progress made after a massive government investigation launched in 2006, which found that groundwater of the North China Plains, home to nearly 130 million people, was almost irreparably contaminated. After six years of investigation and a year of planning, the Chinese Ministry of Land and Resources has finally announced its work plan to manage and clean up contaminated waters.
While the results of the 2006 survey have not been made public, the government has acknowledged that water contamination levels are quite serious. Previous data released by the Land Ministry revealed that 41 percent of the groundwater monitoring sites across the country had poor water quality, including 4,929 monitoring sites spread out over 198 administrative regions. Iron, manganese, fluoride, nitrites, nitrates, ammonium and heavy metals were just some of the contaminants found, with some of them reaching levels above state safety levels.
The report builds on academic research conducted by Zhang Zhaoji, PhD, a hydrogeologist at the Chinese Academy of Geological Sciences' Institute of Hydrology and Environmental Geology in Hebei and project leader for the 2006 survey. Published in the Journal of Jilin University, the results indicated that 35.5 percent of shallow groundwater samples were contaminated by human activities.
The levels of water pollution are "not a surprise, as China is under rapid urbanization and industrialization that bring problems of water pollution for both surface and groundwater," said Dr. Ge to the journal Nature. Regardless, the effects are already being seen in China. This summer agricultural runoff caused the largest algal bloom ever recorded in China, which has grown twice the size from the previous record years' bloom. Additionally, fluoride exposure caused almost 38.8 million recorded cases of tooth-enamel damage and 2.84 million cases of bone disease. Humans are exposed to a wide range of fluoride-based compounds from agricultural sources, many of which leach into the groundwater or run off into local streams. While fluoride is often added to water sources to protect from tooth decay, it is also found in almost 150 fluoridated pesticide products. Three of the most widely used herbicides include triflualin, flumeturon, and benefin. Others include sodium fluoride, used as a rodenticide and insecticide; superphosphate fertilizer, used as a fertilizer and animal feed supplement, which contains up to five percent fluoride); and cryolite, used in fruit and vegetable crops against leaf eating pests but as an aluminofluoride ion.
Although it is difficult to directly link fluoride exposure from water contamination as the primary cause of fluoride-related ailments, undoubtedly, "These diseases are closely related to environ­mental and geological factors [and are] especially associated with contaminated groundwater," says Yang Linsheng, PhD, director of the Department of Environmental Geography and Health at the Institute of Geographic Sciences and Natural Resources Research.
The government work plan states that it intends to divide the North China Plain into 30 units for pollution prevention and control, while simultaneously ranking each by severity levels, from serious to good. The journal Nature reports that they will also commit almost 500 million renminbi (U.S. $81 million) between 2013 and 2020 to increase water pollution assessments, limit agricultural water pollution and point source pollution from industry and landfill, treat polluted waters and conduct further water clean-up research. As of now, details of the plan are unavailable to the public.
However, the plan is expected to be a boon for the environment, requiring a harsher approval process for new industry products and stricter regulations for industrial and agricultural wastes. Last week, Chinese authorities announced that courts were now able to hand down the death penalty in cases of serious pollution.
WHAT WILL IT TAKE FOR THE U.S. TO CLEAN UP ITS WATER SUPPLY? COMMENT BELOW:
Visit EcoWatch's WATER page for more related news on this topic.
——–

WHAT WILL IT TAKE FOR THE U.S. TO CLEAN UP OUR WATER SUPPLY? COMMENT BELOW: