This website uses cookies to ensure you get the best experience while browsing it. By clicking 'Got It' you're accepting these terms.


The best of EcoWatch, right in your inbox. Sign up for our email newsletter!
Air pollution in Beijing. DuKai photographer / Getty Images
More than one million people die each year in China from particulate matter air pollution, but despite 15 years and billions of dollars of efforts to clean up the country's air, dangerous winter smog persists.
Now, an international team of scientists think they have discovered the reason why: The instruments used to measure Beijing's particulate matter pollution were misinterpreting their readings.
By Phineas Rueckert
Last year, scientist Stephen Hawking gave humans a shelf-life of 1,000 more years on Earth.
Apparently, 2017 hasn't been to his liking—as Hawking shaved another 400 years off that prediction.
The world-renowned scientist said Tuesday that he believes humans will only last another 600 years before Earth becomes a "sizzling ball of fire" that marks the end of humanity, The Sun reported.
EcoWatch Daily Newsletter
Since China launched its "action on air pollution" local governments have been shutting down smaller outdated steel plants.
By Lauri Myllyvirta, Unearthed
Earlier this month and without much comment, dozens of huge steel mills in China stopped or curtailed their operations. In northern China cement plants are preparing to shut down entirely before Christmas.
The measures are a part of an aggressive action plan that aims to cut wintertime particulate pollution by 15 percent year-on-year over the next five months. These cuts are badly needed as Beijing and the surrounding industrial provinces have suffered the winter's first serious episode this week, with PM2.5 levels across several provinces reaching "very unhealthy" levels.
A British engineer based in Beijing captured on film a cloud of smog descending on the Chinese capital. The video clip, posted by Chas Pope Sunday on Twitter, shows a busy urban neighborhood being engulfed in air pollution during a 20 minute span.
The past few weeks have been especially bad in Beijing, according to the New York Times. On Dec. 16, government officials declared a red alert for the city, the most severe warning in a four-tier system.
According to Treehugger, there was a big bump in the PM10 air quality index when the video was being shot, as noted by the red arrow in the image below. The reading of 391 was at levels considered "hazardous" by the U.S. government.
PM10 indexTreehugger
As EcoWatch previously reported, more than 90 percent of people on the planet live in places where air pollution levels are dangerously high, and millions of people are dying as a result of the exposure. According to David Suzuki, "Beijing's 21-million residents live in a toxic fog of particulate matter, ozone, sulphur dioxide, mercury, cadmium, lead and other contaminants, mainly caused by factories and coal burning." Toxic smog puts cancer as a leading cause of death in China.
According to Bloomberg, "air pollution is killing an average of 4,000 people a day in China," accounting for 17 percent of all Chinese deaths each year. Researchers cited coal-burning as the likely principal cause.
Today on American Public Media's Marketplace Morning, Rob Schmitz reports on the dangerous air pollution levels that hit Beijing over the weekend.
According to the report, Beijing's air pollution went off the charts. The pollution was about 40 times more than the limit set by the World Health Organization. One of Beijing's biggest hospitals, Peking University Hospital, reported treating twice as many heart attacks over the weekend. The Beijing children's hospital said a third of its outpatient visits in the past two days were due to lung ailments. The World Bank found that China's air pollution causes damage equal to 5 percent of the country's GDP, or $360 billion, each year.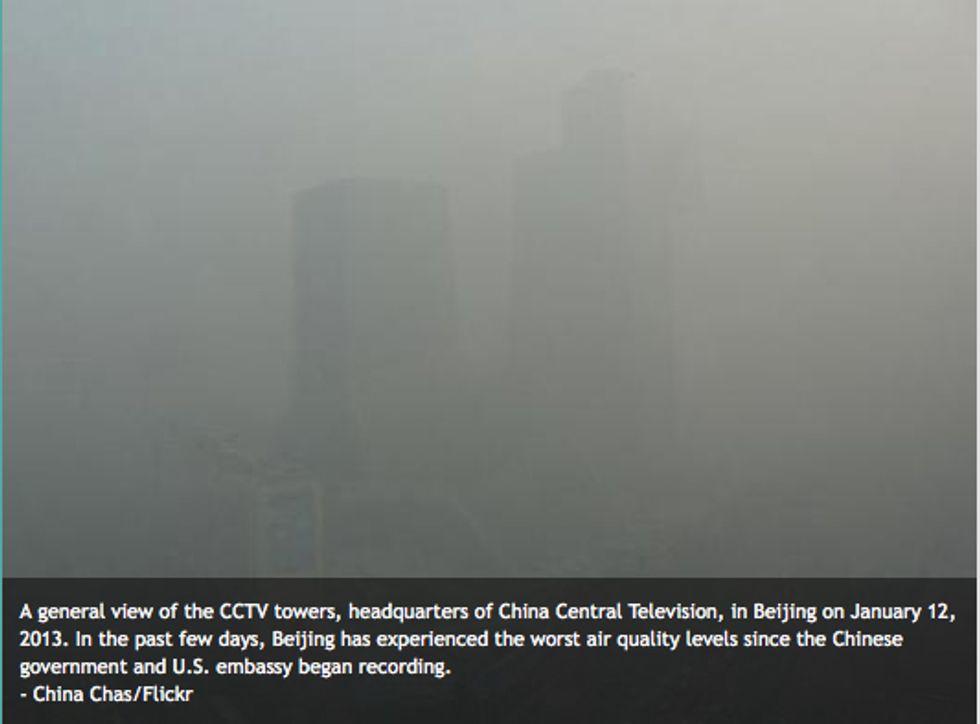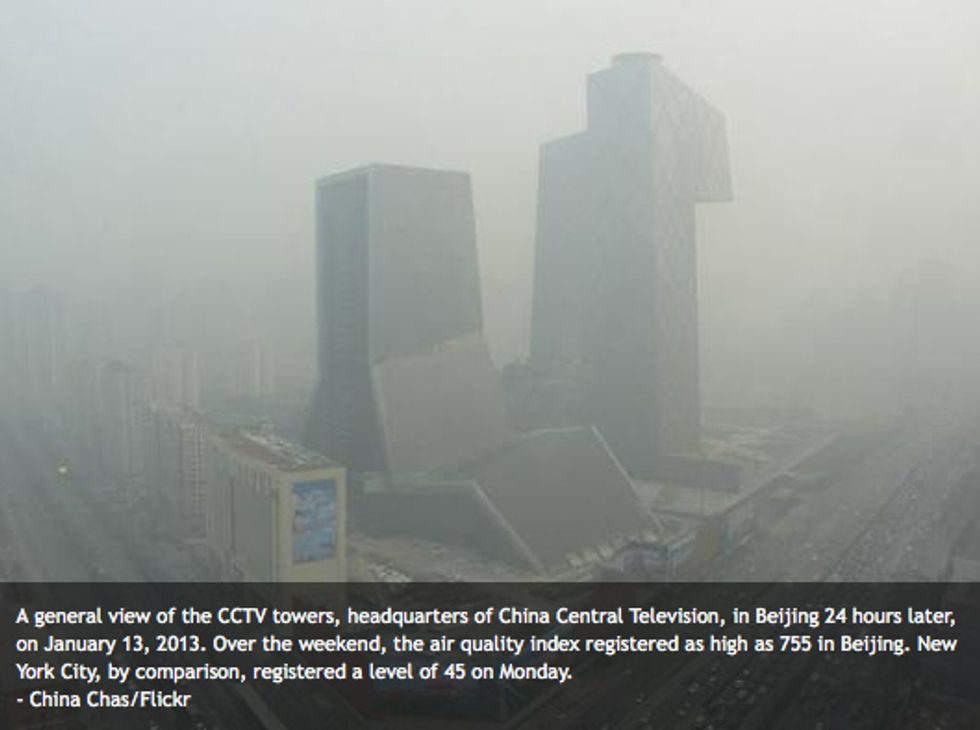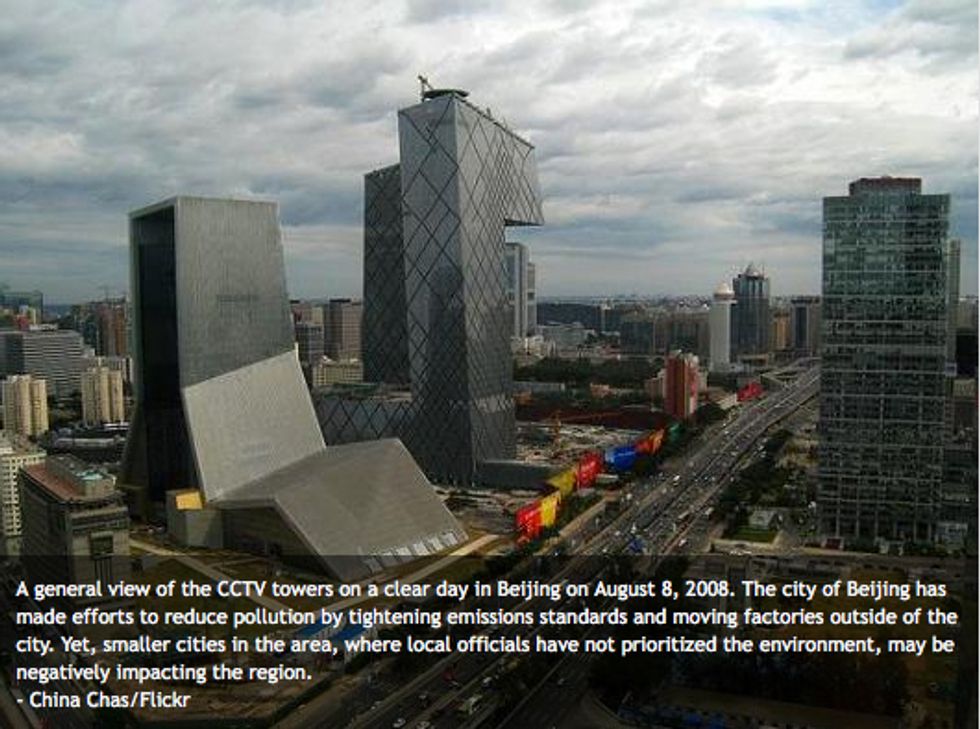 Visit EcoWatch's AIR and BIODIVERSITY pages for more related news on this topic.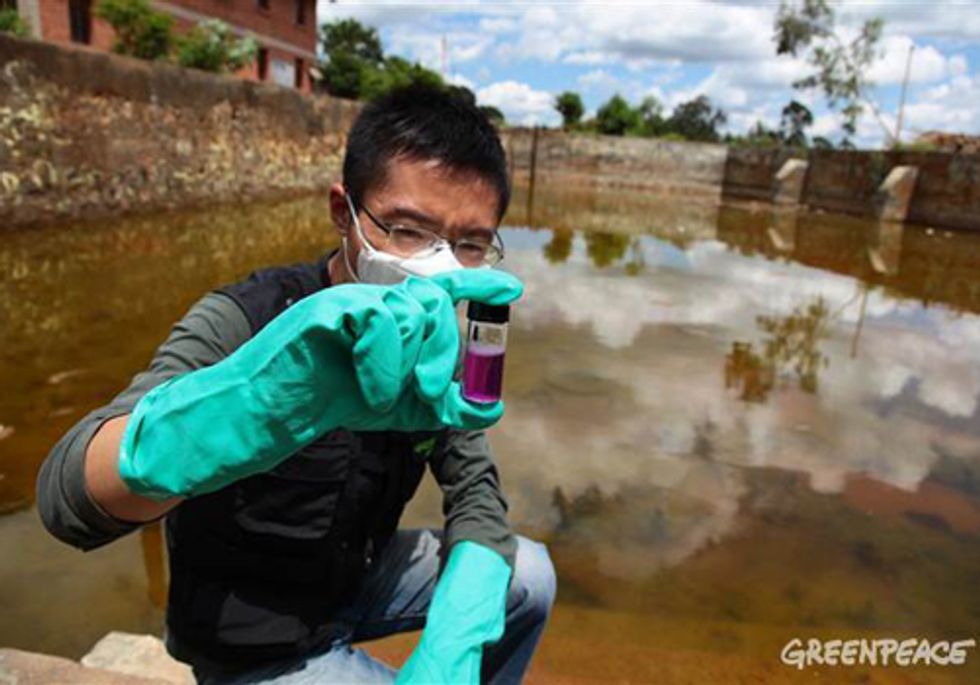 By Monica Tan
Earlier this year we were all shocked by the news that a chemical company in southern China's Yunnan province had been illegally dumping toxic cancer-causing waste near the village of Xinglong. The problem was so serious that the Chinese press began calling Xinglong a cancer village. Yunnan Liuliang Chemical Industry had dumped 5,000 tons of the hazardous waste and had another 140,000 tons that would likely have ended up the same way if they had not been discovered. The waste should have been driven to the neighbouring province of Guizhou to a processing plant.
The chemical waste, containing toxic chromium VI, had seeped into the soil, drinking water and crops. And the villagers did not know the real dangers. They were still drinking the water and walking in their fields barefoot.
As soon as we heard about the news, Greenpeace sent a rapid response team to the area to document the problem and raise awareness among the local people. When we tested the water used by the villagers for drinking, the levels of chromium VI were so high the readings went off the scale.
Our work and the resulting media attention then kick-started a clean-up campaign. The local government fenced off the polluted area, surveyed the region for other illegal waste sites, tested for levels of contamination and then made the results public.
There are many other chromium waste dump sites across China, endangering people's lives and polluting the land and water. Following our work in Yunnan, the Ministry of Environmental Protection announced a national crackdown on chromium waste sites, with clear timelines. And it's had a positive spill-on effect into other waste issues such as e-waste.
Then in October, local environmental NGO (non-governmental organization), Friends of Nature, filed a public interest law suit against Luliang Chemical for dumping the toxic chromium waste. This is the first time a grassroots Chinese NGO has successfully brought a public interest lawsuit to court.
Ma Tianjie, from Greenpeace in Beijing, was part of the Greenpeace rapid response team that was dispatched to Yunnan to investigate that toxic chromium dump. Here he shares with us his experiences:
The drivers working for the chemical company were lazy and so they dumped the toxic chromium waste in several sites in the hills here. Rain washed the waste into a nearby reservoir killing dozens of cattle and sheep. And the bigger problem is that Liuliang Chemical still has more than 100,000 tons of untreated chromium waste. If there was a bad storm this waste could contaminate the source of the Pearl River and turn it into a toxic soup.

We visited a nearby village, called Xinglong, which because of abnormally high rates of cancer has been dubbed a cancer village by the media. We took some measurements from the mouth of an underground aquifer, which locals call 'the dragon's fountain' and it was hundreds of times over the safe limit for chromium. But still local villagers plant their crops barefoot and put their cattle and sheep out to graze on this contaminated land. They told us crops fail and their livestock die for no reason.

The other members of the emergency response team and I put on rubber boots, gloves and masks, and dug through the chromium waste dump to take suitable samples. We also told the villagers how to protect themselves and urged the local government to take immediate action.

Sadly, this dump in Liuliang County is not the only one. There are similar toxic dump sites all across the country including in Tianjin, Henan and Hunan. They are like toxic time bombs. We hope that we can use this Yunnan example to kick start a big cleanup everywhere. We have taken the first step.
Chromium VI—Fast Facts
Heavy metal, highly toxic, commonly used in electroplating or in the manufacture of stainless steel.
Included on China's national list of hazardous waste, one of eight substances most harmful to the human body.
Difficult to break down, it requires years or even decades to completely clean up.
In the U.S., similar contaminated sites are still not completely clean even after 30 years.
For more information, click here.