Air pollution in Beijing. DuKai photographer / Getty Images
More than one million people die each year in China from particulate matter air pollution, but despite 15 years and billions of dollars of efforts to clean up the country's air, dangerous winter smog persists.
Now, an international team of scientists think they have discovered the reason why: The instruments used to measure Beijing's particulate matter pollution were misinterpreting their readings.
"Our research points towards ways that can more quickly clean up air pollution. It could help save millions of lives and guide billions of dollars of investment in air pollution reductions," said Jonathan M. Moch, first paper author and graduate student at the Harvard John A. Paulson School of Engineering and Applied Sciences (SEAS), in a Harvard press release.
In the past, instruments had picked up on the high level of sulfur compounds and read them as sulfates. The Chinese government therefore focused on reducing sulfur dioxide pollution from coal burning power plants. But while the government was successful in those efforts, the overall air pollution levels did not decrease as expected.
That is because, as the team of researchers from Harvard, Tsinghua University and the Harbin Institute of Technology revealed in Geophysical Research Letters Thursday, a lot of those sulfur compounds were actually hydroxymethane sulfonate (HMS)—a compound formed when sulfur dioxide reacts with formaldehyde in smog or fog. The type of instruments used to measure particulate matter in Beijing can easily confuse the two.
The researchers ran a computer model and found that HMS compounds could make up a lot of the particulate matter found in China's persistent winter smog.
"By including this overlooked chemistry in air quality models, we can explain why the number of wintertime extremely polluted days in Beijing did not improve between 2013 and January 2017 despite major success in reducing sulfur dioxide," Moch said.
Moch also said the findings explained why the government's efforts finally seemed to pay off last winter—sulfur dioxide fell below formaldehyde for the first time, so less HMS was formed.
"We think there could have been a shorter way if they had gone straight at formaldehyde," Moch told The Boston Globe.
Major sources of formaldehyde pollution in Eastern China include emissions from vehicles and chemical or oil refineries, so the researchers recommend that China now work on reducing pollution from these sources.
The research team now plans to directly measure HMS levels in Beijing using altered instruments and to use models to assess the importance of HMS formation to pollution across China.
Pollution Sources in China Increased More Than 50 Percent in Eight Years https://t.co/zo7IUGnVIG @Greenpeace @ScienceNewsOrg

— EcoWatch (@EcoWatch)1522455004.0
From Your Site Articles
Related Articles Around the Web
EcoWatch Daily Newsletter
By Phineas Rueckert
Last year, scientist Stephen Hawking gave humans a shelf-life of 1,000 more years on Earth.
Apparently, 2017 hasn't been to his liking—as Hawking shaved another 400 years off that prediction.
The world-renowned scientist said Tuesday that he believes humans will only last another 600 years before Earth becomes a "sizzling ball of fire" that marks the end of humanity, The Sun reported.
Hawking's comments came as part of the Tencent WE Summit in Beijing. The scientist, who suffers from amyotrophic lateral sclerosis (ALS) and speaks with a speech-generating device, dialed into the conference with a video call urging humans to instead look toward colonizing a neighboring star system called Alpha Centauri, according to Metro UK.
So, how does he want humans do this?
Hawking believes something called the "Breakthrough Starshot" project may offer a way to find life beyond Earth. The project aims to reach the nearest star system to our own, Alpha Centauri, where last August scientists discovered a "potentially habitable Earth-like planet," by sending out ultralight nanobeams that would reach Alpha Centauri in a couple of decades.
"Such a system could reach Mars in less than an hour, or reach Pluto in days, pass Voyager in under a week and reach Alpha Centauri in just over 20 years," Hawking said Tuesday.
"Maybe if all goes well, sometime a little after the middle of the century, we'll have our first picture of another planet that may be life-bearing orbiting the nearest star," he added.
As for this planet, Hawking was not so hopeful. Hawking warned that "soaring population sizes and increasing demands for energy" would lead to Earth's eventual demise, according to the Daily Mail.
The relationship between population growth and climate change is clear. Rapidly industrializing countries like India and China are expected to contribute half of all CO2 emissions by 2050, according to the United Nations Population Fund.
Global Citizen advocates for countries to adopt the Global Goals for Sustainable Development, including goal number 13: climate action. You can take action here.
"If we cannot stabilize climate and we cannot stabilize population, there is not an ecosystem on Earth that we can save," the nonprofit Worldwatch Institute told Scientific American.
Hawking has been critical of U.S. climate change policy under President Donald Trump. The U.S. will soon be the only country to not sign the Paris agreement, which aims to put a cap on global temperature rise at 1.5 degrees Celsius.
U.S. Now the Only Country Not in Paris Climate Agreement https://t.co/XBYj1lZu7x @ecowatch #COP23

— Sierra Club (@Sierra Club)1510071828.0
"Trump's action could push the earth over the brink, to become like Venus, with a temperature of two hundred and fifty degrees, and raining sulphuric acid," Hawking said in an interview with BBC this past July.

Reposted with permission from our media associate Global Citizen.
waterlust.com / @tulasendlesssummer_sierra .
Each product featured here has been independently selected by the writer. If you make a purchase using the links included, we may earn commission.
The bright patterns and recognizable designs of Waterlust's activewear aren't just for show. In fact, they're meant to promote the conversation around sustainability and give back to the ocean science and conservation community.
Each design is paired with a research lab, nonprofit, or education organization that has high intellectual merit and the potential to move the needle in its respective field. For each product sold, Waterlust donates 10% of profits to these conservation partners.
Eye-Catching Designs Made from Recycled Plastic Bottles
waterlust.com / @abamabam
The company sells a range of eco-friendly items like leggings, rash guards, and board shorts that are made using recycled post-consumer plastic bottles. There are currently 16 causes represented by distinct marine-life patterns, from whale shark research and invasive lionfish removal to sockeye salmon monitoring and abalone restoration.

One such organization is Get Inspired, a nonprofit that specializes in ocean restoration and environmental education. Get Inspired founder, marine biologist Nancy Caruso, says supporting on-the-ground efforts is one thing that sets Waterlust apart, like their apparel line that supports Get Inspired abalone restoration programs.
"All of us [conservation partners] are doing something," Caruso said. "We're not putting up exhibits and talking about it — although that is important — we're in the field."
Waterlust not only helps its conservation partners financially so they can continue their important work. It also helps them get the word out about what they're doing, whether that's through social media spotlights, photo and video projects, or the informative note card that comes with each piece of apparel.
"They're doing their part for sure, pushing the information out across all of their channels, and I think that's what makes them so interesting," Caruso said.
And then there are the clothes, which speak for themselves.
Advocate Apparel to Start Conversations About Conservation
waterlust.com / @oceanraysphotography
Waterlust's concept of "advocate apparel" encourages people to see getting dressed every day as an opportunity to not only express their individuality and style, but also to advance the conversation around marine science. By infusing science into clothing, people can visually represent species and ecosystems in need of advocacy — something that, more often than not, leads to a teaching moment.

"When people wear Waterlust gear, it's just a matter of time before somebody asks them about the bright, funky designs," said Waterlust's CEO, Patrick Rynne. "That moment is incredibly special, because it creates an intimate opportunity for the wearer to share what they've learned with another."
The idea for the company came to Rynne when he was a Ph.D. student in marine science.
"I was surrounded by incredible people that were discovering fascinating things but noticed that often their work wasn't reaching the general public in creative and engaging ways," he said. "That seemed like a missed opportunity with big implications."
Waterlust initially focused on conventional media, like film and photography, to promote ocean science, but the team quickly realized engagement on social media didn't translate to action or even knowledge sharing offscreen.
Rynne also saw the "in one ear, out the other" issue in the classroom — if students didn't repeatedly engage with the topics they learned, they'd quickly forget them.
"We decided that if we truly wanted to achieve our goal of bringing science into people's lives and have it stick, it would need to be through a process that is frequently repeated, fun, and functional," Rynne said. "That's when we thought about clothing."
Support Marine Research and Sustainability in Style
To date, Waterlust has sold tens of thousands of pieces of apparel in over 100 countries, and the interactions its products have sparked have had clear implications for furthering science communication.
For Caruso alone, it's led to opportunities to share her abalone restoration methods with communities far and wide.
"It moves my small little world of what I'm doing here in Orange County, California, across the entire globe," she said. "That's one of the beautiful things about our partnership."
Check out all of the different eco-conscious apparel options available from Waterlust to help promote ocean conservation.
Melissa Smith is an avid writer, scuba diver, backpacker, and all-around outdoor enthusiast. She graduated from the University of Florida with degrees in journalism and sustainable studies. Before joining EcoWatch, Melissa worked as the managing editor of Scuba Diving magazine and the communications manager of The Ocean Agency, a non-profit that's featured in the Emmy award-winning documentary Chasing Coral.
Since China launched its "action on air pollution" local governments have been shutting down smaller outdated steel plants.
By Lauri Myllyvirta, Unearthed
Earlier this month and without much comment, dozens of huge steel mills in China stopped or curtailed their operations. In northern China cement plants are preparing to shut down entirely before Christmas.
The measures are a part of an aggressive action plan that aims to cut wintertime particulate pollution by 15 percent year-on-year over the next five months. These cuts are badly needed as Beijing and the surrounding industrial provinces have suffered the winter's first serious episode this week, with PM2.5 levels across several provinces reaching "very unhealthy" levels.
The shutdowns began ahead of the twice-a-decade party congress where President Xi Jinping outlined his vision of a "beautiful China." They are set to take full effect in mid-November and continue throughout the winter.
The operating restrictions affect one quarter of China's total steel-making capacity and approximately 10 percent of cement production.
The measures are expected to cut national steel output by more than 10 percent in the next five months and could avoid as much CO2 as Denmark and Finland emit in one year.
Air Pollution
The steel industry is the dominant source of air pollutant emissions in the Beijing region, as the surrounding Hebei province is the world's largest producer of the metal and has poorer emission control performance than other large producer provinces.
Industrial emissions are responsible for 40-50 percent of the PM2.5 levels in the region, with steel and cement the largest emitting sectors. PM2.5 refers to tiny particles of pollution small enough to pass through the lung into the bloodstream.
The winter action plan on air pollution in northern China was announced this year to inject new momentum into the war on pollution.
Progress on air pollution stalled in the region after a massive stimulus push started by the government in early 2016, leading to a temporary increase in output and prices of steel, cement and other products from highly polluting industries.
Besides curbs on steel, cement and aluminum production, the plan targets household coal use, restricts diesel trucks and stops major construction projects. Brick-making, pottery and other small industries are ordered to close down as well.
It means three million households are to be shifted from coal-burning to electric and gas heating.
Air pollution has hit dangerous levels in recent months in and around Beijing.
Environmental Protection Bureau

The five month shutdowns are temporary, though the plan also creates a new joint environmental protection bureau covering Beijing and the two surrounding provinces and ratchets up enforcement of industrial emission norms.
Improvements in enforcement could have a lasting impact.
Indeed, factory shutdowns are becoming a recurring feature in China's war on air pollution, affecting the profitability of heavy industry and potentially paving the way for reforms that will reduce the economy's reliance on highly polluting sectors in a sustained way.
China's environmental minister Li Ganjie has also emphasized the forward-looking aspect of the campaign, saying: "These special campaigns are not a one-off, instead it is an exploration of long-term mechanisms."
In the short term, major construction projects in the province are also being suspended for the winter period in an effort to control dust emissions.
As the construction sector is by far the largest source of steel demand, the measures will also reduce demand on the partially closed plants.
A British engineer based in Beijing captured on film a cloud of smog descending on the Chinese capital. The video clip, posted by Chas Pope Sunday on Twitter, shows a busy urban neighborhood being engulfed in air pollution during a 20 minute span.
The past few weeks have been especially bad in Beijing, according to the New York Times. On Dec. 16, government officials declared a red alert for the city, the most severe warning in a four-tier system.
According to Treehugger, there was a big bump in the PM10 air quality index when the video was being shot, as noted by the red arrow in the image below. The reading of 391 was at levels considered "hazardous" by the U.S. government.
PM10 indexTreehugger
As EcoWatch previously reported, more than 90 percent of people on the planet live in places where air pollution levels are dangerously high, and millions of people are dying as a result of the exposure. According to David Suzuki, "Beijing's 21-million residents live in a toxic fog of particulate matter, ozone, sulphur dioxide, mercury, cadmium, lead and other contaminants, mainly caused by factories and coal burning." Toxic smog puts cancer as a leading cause of death in China.
According to Bloomberg, "air pollution is killing an average of 4,000 people a day in China," accounting for 17 percent of all Chinese deaths each year. Researchers cited coal-burning as the likely principal cause.
Today on American Public Media's Marketplace Morning, Rob Schmitz reports on the dangerous air pollution levels that hit Beijing over the weekend.
According to the report, Beijing's air pollution went off the charts. The pollution was about 40 times more than the limit set by the World Health Organization. One of Beijing's biggest hospitals, Peking University Hospital, reported treating twice as many heart attacks over the weekend. The Beijing children's hospital said a third of its outpatient visits in the past two days were due to lung ailments. The World Bank found that China's air pollution causes damage equal to 5 percent of the country's GDP, or $360 billion, each year.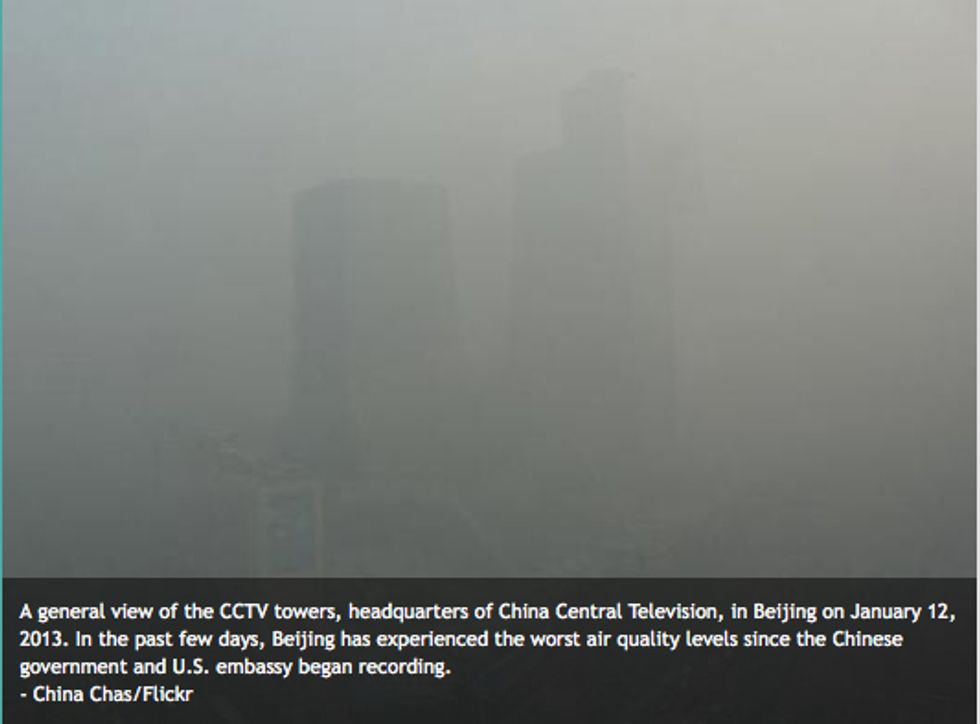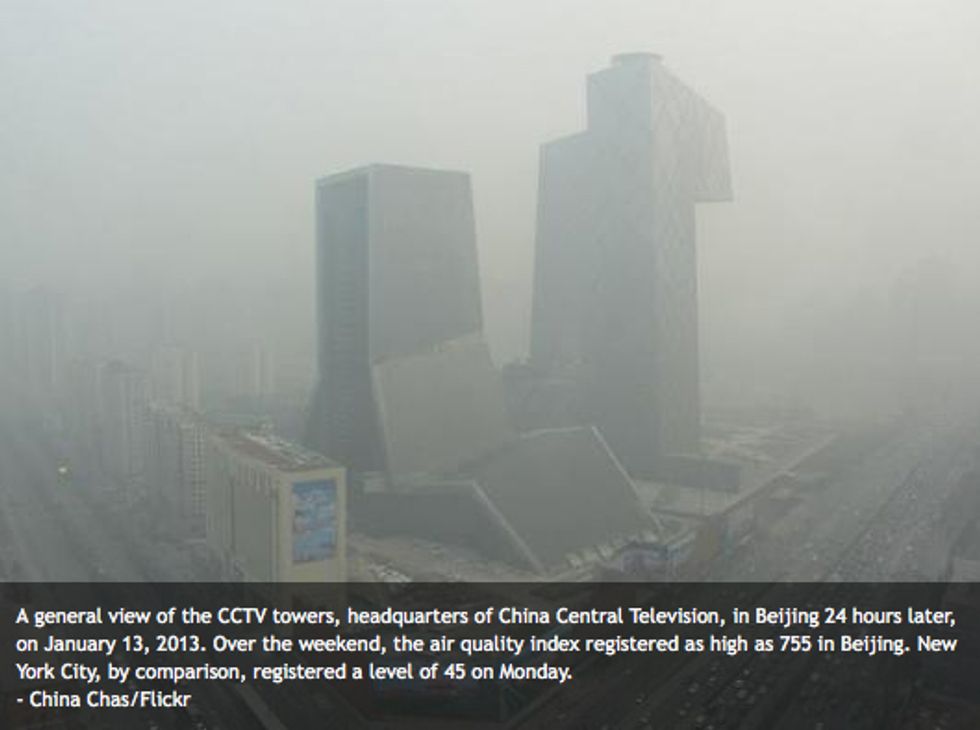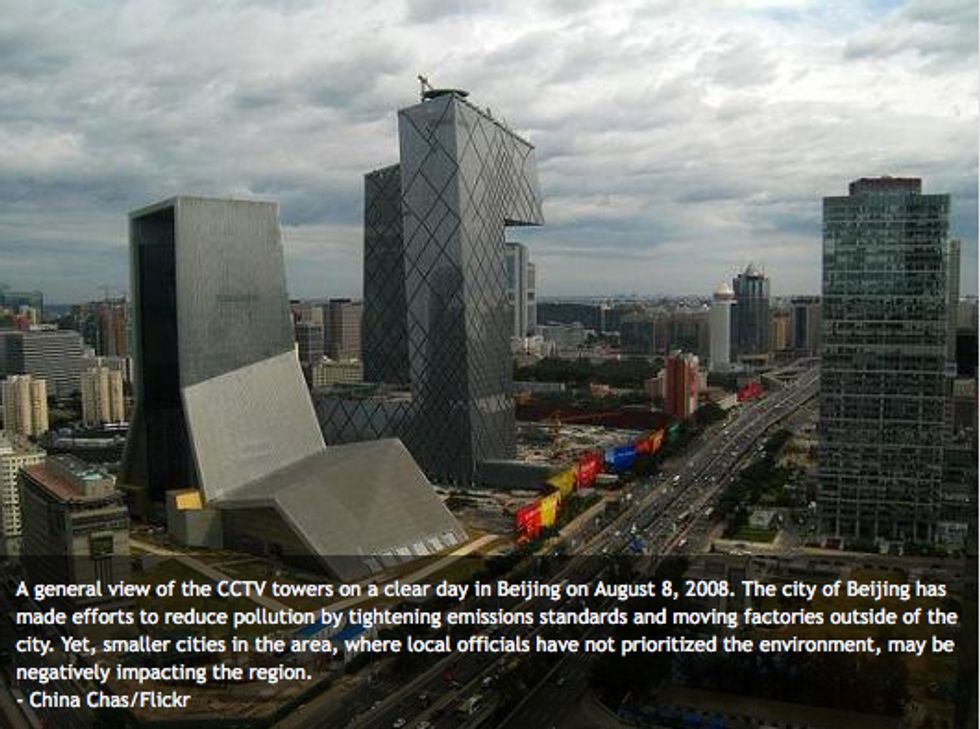 Visit EcoWatch's AIR and BIODIVERSITY pages for more related news on this topic.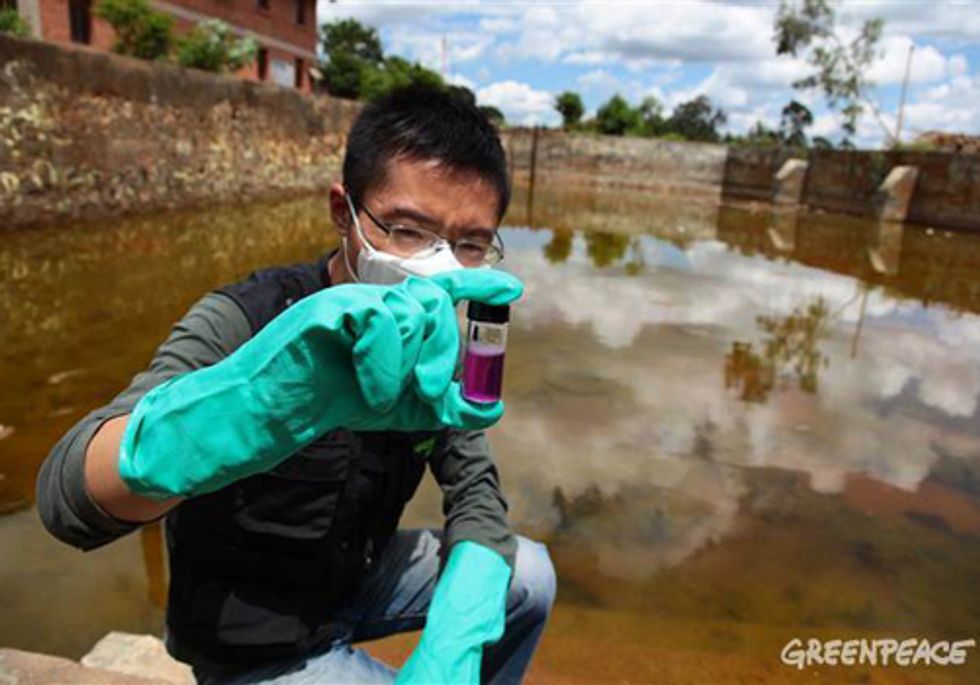 By Monica Tan
Earlier this year we were all shocked by the news that a chemical company in southern China's Yunnan province had been illegally dumping toxic cancer-causing waste near the village of Xinglong. The problem was so serious that the Chinese press began calling Xinglong a cancer village. Yunnan Liuliang Chemical Industry had dumped 5,000 tons of the hazardous waste and had another 140,000 tons that would likely have ended up the same way if they had not been discovered. The waste should have been driven to the neighbouring province of Guizhou to a processing plant.
The chemical waste, containing toxic chromium VI, had seeped into the soil, drinking water and crops. And the villagers did not know the real dangers. They were still drinking the water and walking in their fields barefoot.
As soon as we heard about the news, Greenpeace sent a rapid response team to the area to document the problem and raise awareness among the local people. When we tested the water used by the villagers for drinking, the levels of chromium VI were so high the readings went off the scale.
Our work and the resulting media attention then kick-started a clean-up campaign. The local government fenced off the polluted area, surveyed the region for other illegal waste sites, tested for levels of contamination and then made the results public.
There are many other chromium waste dump sites across China, endangering people's lives and polluting the land and water. Following our work in Yunnan, the Ministry of Environmental Protection announced a national crackdown on chromium waste sites, with clear timelines. And it's had a positive spill-on effect into other waste issues such as e-waste.
Then in October, local environmental NGO (non-governmental organization), Friends of Nature, filed a public interest law suit against Luliang Chemical for dumping the toxic chromium waste. This is the first time a grassroots Chinese NGO has successfully brought a public interest lawsuit to court.
Ma Tianjie, from Greenpeace in Beijing, was part of the Greenpeace rapid response team that was dispatched to Yunnan to investigate that toxic chromium dump. Here he shares with us his experiences:
The drivers working for the chemical company were lazy and so they dumped the toxic chromium waste in several sites in the hills here. Rain washed the waste into a nearby reservoir killing dozens of cattle and sheep. And the bigger problem is that Liuliang Chemical still has more than 100,000 tons of untreated chromium waste. If there was a bad storm this waste could contaminate the source of the Pearl River and turn it into a toxic soup.

We visited a nearby village, called Xinglong, which because of abnormally high rates of cancer has been dubbed a cancer village by the media. We took some measurements from the mouth of an underground aquifer, which locals call 'the dragon's fountain' and it was hundreds of times over the safe limit for chromium. But still local villagers plant their crops barefoot and put their cattle and sheep out to graze on this contaminated land. They told us crops fail and their livestock die for no reason.

The other members of the emergency response team and I put on rubber boots, gloves and masks, and dug through the chromium waste dump to take suitable samples. We also told the villagers how to protect themselves and urged the local government to take immediate action.

Sadly, this dump in Liuliang County is not the only one. There are similar toxic dump sites all across the country including in Tianjin, Henan and Hunan. They are like toxic time bombs. We hope that we can use this Yunnan example to kick start a big cleanup everywhere. We have taken the first step.
Chromium VI—Fast Facts
Heavy metal, highly toxic, commonly used in electroplating or in the manufacture of stainless steel.
Included on China's national list of hazardous waste, one of eight substances most harmful to the human body.
Difficult to break down, it requires years or even decades to completely clean up.
In the U.S., similar contaminated sites are still not completely clean even after 30 years.
For more information, click here.