Roughly 250 beaches in northeastern Brazil are affected by the mysterious oil spill. Shutterstock / Joa Souza
By Emily Petsko
Update, Nov. 7: Brazilian authorities named a Greek-flagged vessel as the culprit of the oil spill, but backtracked on Wednesday when they announced that four other suspected tankers were also being investigated. Three of the crude-carrying vessels are owned by Greek companies, and the fourth suspect is owned by a Belgian company, according to Reuters.
Update, Nov. 4: Brazilian and international media are now reporting that fragments of oil have reached the Abrolhos Marine National Park. This story is still developing.
One by one, the golden beaches in northeastern Brazil have begun to turn black. Thick clumps of oil have been washing ashore since late August, killing marine animals, threatening the livelihoods of coastal communities and tainting 2,500 kilometers of coastline spanning nine Brazilian states. Once-pristine beaches now look like something resembling a Rorschach inkblot test. And the complex root systems of carbon sink mangrove forests have become polluted mazes.
This oil spill is one of the largest environmental disasters in Brazil's recorded history — and for months, no one knew where it was coming from. The Brazilian government has responded with delayed action and defensiveness, first blaming neighboring Venezuela for the spill while also suggesting that Greenpeace was somehow involved. President Jair Bolsonaro's tactic is familiar: He previously accused environmental groups of setting fires in the Amazon rainforest, without any supporting evidence.
Brazilian investigators now say that a Greek-flagged vessel hauling Venezuelan oil is the culprit, according to the latest reports. The ship reportedly spilled oil 700 kilometers from Brazil's coast in late July while traveling to Singapore.
"There is strong evidence that the company, the captain and the vessel's crew failed to communicate with authorities about the oil spill/release of the crude oil in the Atlantic Ocean," prosecutors said, according to The Guardian.
While the mystery appears to have been solved, this environmental crisis is far from remedied. It took exactly 41 days for Bolsonaro's administration to enact a national plan from 2013 that specifically outlines how to address large oil spills in Brazilian waters.
Ademilson Zamboni, vice president of Oceana Brazil, said the government must apply the plan while also investigating the source of the spill, calling the incident "very serious." Some fear that the oil could soon reach the country's largest coral reef, located within the Abrolhos Marine National Park. The Abrolhos region is home to the largest biodiversity in the South Atlantic.
A colorful coral within the Abrolhos Marine National Park. Shutterstock / Leo Francini
A report released by the Brazilian Navy says that over 1,000 tons of oil have already been removed from beaches in the region. Without a coordinated federal response, citizens have had no choice but to take action themselves, putting their own health at risk. Volunteers, some in their bare feet, have been using shovels and their gloved hands to scoop and remove oil deposits. In one striking photograph, a 13-year-old boy, coated in oil and wearing a plastic garbage bag, is seen wading through waist-high waters off the coast of Pernambuco. He said he and his relatives had just wanted to help.
Volunteers remove oil from Jardim de Alah Beach in the state of Bahia. Shutterstock / Joa Souza
The problem extends far beyond the shore, too. "It is easy to clean up oil from beaches, but not from mangroves and rocky shores," Zamboni says. "And the longer it remains in these places, the worse the damage it causes. The main problem is that we do not know how much oil is yet to arrive. And it may last a long time."
This is exactly the type of disaster that Oceana and its allies have worked hard to prevent. Just weeks ago, environmental advocates successfully convinced companies that the risk of drilling for oil off the coast of Bahia, a state in northeastern Brazil, was too high. When the government attempted to auction off four oil fields near the Abrolhos Marine National Park, the would-be bidders fell silent. Oil industry analyst Adriano Pires told the Associated Press that companies "didn't want to get themselves in the middle of an environmental mess."
A dead turtle on a beach in the Brazilian state of Ceará. © OCEANA / José Machado
Drilling in that area has been averted for now, but the fight continues to stop offshore drilling in Brazil and many other countries where Oceana works. Spills such as the one now coating Brazil's coast — and approaching the very area just spared from drilling — also prove that other steps must be taken to protect our oceans.
Better transparency at sea, for example, could help identify the individual ships responsible for oil spills. "If vessel tracking — useful for both fishing and oil — were in place all over the world, we could have more clear information," Zamboni says.
But until that happens, and until the Brazilian government takes decisive action to stem the spill, once-beautiful beaches will continue to turn black.
Reposted with permission from our media associate Oceana.
EcoWatch Daily Newsletter
This photo taken on May 19, 2018 shows plastic waste on a garbage-filled beach on the Freedom island critical habitat and ecotourism area near Manila in the Philippines. NOEL CELIS / AFP / Getty Images
While Nestle, Pepsi and snack-maker Mondelez followed Coca-Cola, the Atlanta-based beverage giant was responsible for more plastic litter than the other three combined, according to the report called BRANDED Volume II: Identifying the World's Top Corporate Plastic Polluters.
The plastic was counted during "brand audits" where Break Free From Plastic counted plastic litter collected in 484 cleanups in more than 50 countries on six continents in September, as Vice reported.
To undertake such a large project, Break Free From Plastic enlisted more than 72,000 volunteers who scoured beaches, waterways and streets. The volunteers collected bottles, cups, wrappers, bags and scraps during World Clean Up Day on Sept. 21. After sorting through the collected debris, the researchers identified 50 different types of waste traced back to nearly 8,000 different brands. Coke was the most counted product at 11,372 identifiable pieces of plastic litter in 37 countries, according to the report, as The Intercept reported.
The numbers for Coke, PepsiCo, Mondelez International and Unilever were probably low, since more than half of the plastic had eroded to the point where it was impossible to identify which brand it belonged to. The volunteers collected 476,423 pieces of plastic waste, but only 43 percent were marked with a clear consumer brand, according to the report.
Coke was the top source of branded plastic collected in Africa and Europe. It was the second largest in Asia and South America, but fifth in North America. In North America, the most collected plastic litter was produced by Nestle, followed by the Solo Cup Company, and Starbucks, according to the The Intercept.
"This report provides more evidence that corporations urgently need to do more to address the plastic pollution crisis they've created," said Von Hernandez, global coordinator of the Break Free From Plastic movement. "Their continued reliance on single-use plastic packaging translates to pumping more throwaway plastic into the environment. Recycling is not going to solve this problem."
Recent investigations have found that only 9 percent of all plastic is recycled. Most ends up in landfills, burned in incinerators or it is dumped in the ocean. The collected litter has spurred Break Free From Plastic to urge companies to eliminate their production of single-use plastic packaging and to instead find innovative solutions, according to Vice.

The report suggested that cities adapt a zero-waste lifestyle. It also suggested brands set up a delivery system for refills, that people use traditional packaging like banana leaves, and that consumers to use their own reusable materials, as Vice reported.
Coca-Cola has recently introduced Dasani water in aluminum cans and a plastic bottle made of marine waste. Both Coca-Cola and PepsiCo have pledged to package their products in fully recyclable, reusable or compostable containers by 2025. However, Break Free From Plastic and Greenpeace balk at the beverage manufacturers actions.
"Recent commitments by corporations like Coca-Cola, Nestlé, and PepsiCo to address the crisis unfortunately continue to rely on false solutions like replacing plastic with paper or bioplastics and relying more heavily on a broken global recycling system," said Abigail Aguilar, Greenpeace Southeast Asia plastic campaign coordinator, in a statement. "These strategies largely protect the outdated throwaway business model that caused the plastic pollution crisis, and will do nothing to prevent these brands from being named the top polluters again in the future."
Coca-Cola responded to questions from The Intercept with an emailed statement: "Any time our packaging ends up in our oceans — or anywhere that it doesn't belong — is unacceptable to us. In partnership with others, we are working to address this critical global issue, both to help turn off the tap in terms of plastic waste entering our oceans and to help clean up the existing pollution."
From Your Site Articles
Related Articles Around the Web
waterlust.com / @tulasendlesssummer_sierra .
Each product featured here has been independently selected by the writer. If you make a purchase using the links included, we may earn commission.
The bright patterns and recognizable designs of Waterlust's activewear aren't just for show. In fact, they're meant to promote the conversation around sustainability and give back to the ocean science and conservation community.
Each design is paired with a research lab, nonprofit, or education organization that has high intellectual merit and the potential to move the needle in its respective field. For each product sold, Waterlust donates 10% of profits to these conservation partners.
Eye-Catching Designs Made from Recycled Plastic Bottles
waterlust.com / @abamabam
The company sells a range of eco-friendly items like leggings, rash guards, and board shorts that are made using recycled post-consumer plastic bottles. There are currently 16 causes represented by distinct marine-life patterns, from whale shark research and invasive lionfish removal to sockeye salmon monitoring and abalone restoration.

One such organization is Get Inspired, a nonprofit that specializes in ocean restoration and environmental education. Get Inspired founder, marine biologist Nancy Caruso, says supporting on-the-ground efforts is one thing that sets Waterlust apart, like their apparel line that supports Get Inspired abalone restoration programs.
"All of us [conservation partners] are doing something," Caruso said. "We're not putting up exhibits and talking about it — although that is important — we're in the field."
Waterlust not only helps its conservation partners financially so they can continue their important work. It also helps them get the word out about what they're doing, whether that's through social media spotlights, photo and video projects, or the informative note card that comes with each piece of apparel.
"They're doing their part for sure, pushing the information out across all of their channels, and I think that's what makes them so interesting," Caruso said.
And then there are the clothes, which speak for themselves.
Advocate Apparel to Start Conversations About Conservation
waterlust.com / @oceanraysphotography
Waterlust's concept of "advocate apparel" encourages people to see getting dressed every day as an opportunity to not only express their individuality and style, but also to advance the conversation around marine science. By infusing science into clothing, people can visually represent species and ecosystems in need of advocacy — something that, more often than not, leads to a teaching moment.

"When people wear Waterlust gear, it's just a matter of time before somebody asks them about the bright, funky designs," said Waterlust's CEO, Patrick Rynne. "That moment is incredibly special, because it creates an intimate opportunity for the wearer to share what they've learned with another."
The idea for the company came to Rynne when he was a Ph.D. student in marine science.
"I was surrounded by incredible people that were discovering fascinating things but noticed that often their work wasn't reaching the general public in creative and engaging ways," he said. "That seemed like a missed opportunity with big implications."
Waterlust initially focused on conventional media, like film and photography, to promote ocean science, but the team quickly realized engagement on social media didn't translate to action or even knowledge sharing offscreen.
Rynne also saw the "in one ear, out the other" issue in the classroom — if students didn't repeatedly engage with the topics they learned, they'd quickly forget them.
"We decided that if we truly wanted to achieve our goal of bringing science into people's lives and have it stick, it would need to be through a process that is frequently repeated, fun, and functional," Rynne said. "That's when we thought about clothing."
Support Marine Research and Sustainability in Style
To date, Waterlust has sold tens of thousands of pieces of apparel in over 100 countries, and the interactions its products have sparked have had clear implications for furthering science communication.
For Caruso alone, it's led to opportunities to share her abalone restoration methods with communities far and wide.
"It moves my small little world of what I'm doing here in Orange County, California, across the entire globe," she said. "That's one of the beautiful things about our partnership."
Check out all of the different eco-conscious apparel options available from Waterlust to help promote ocean conservation.
Melissa Smith is an avid writer, scuba diver, backpacker, and all-around outdoor enthusiast. She graduated from the University of Florida with degrees in journalism and sustainable studies. Before joining EcoWatch, Melissa worked as the managing editor of Scuba Diving magazine and the communications manager of The Ocean Agency, a non-profit that's featured in the Emmy award-winning documentary Chasing Coral.
In this Oct. 7 handout photo from the Aracaju Municipal Press Office, workers are removing oil from Viral Beach, in Aracaju, Brazil. The spill has been polluting Brazil's beaches since early September. Aracaju Municipal Press Office / AP
More than 1,000 miles of shoreline in Brazil are now contaminated by a mysterious oil spill. that has lasted for weeks as the country struggles to clean what may be its largest oil spill in history.
The administration of industry-friendly President Jair Bolsonaro has failed to identify the source of the spill, and Bolsonaro has blamed both Venezuela and plots to destroy a large upcoming oil auction. Disgust over the administration's inaction has spread across the country, and videos of residents cleaning up oil using plastic bags and shovels have gone viral.
"People in the north-east are cleaning the oil from the coast with their own hands while the federal government is immobile," Joel de Oliveira Filho, who joined a cleanup of residents and city hall employees along the beach where he owns a guest house, told The Guardian.
For a deeper dive:

Washington Post, The Guardian, AP
For more climate change and clean energy news, you can follow Climate Nexus on Twitter and Facebook, and sign up for daily Hot News.
From Your Site Articles
Related Articles Around the Web
Pexels
It may seem innocuous to flush a Q-tip down the toilet, but those bits of plastic have been washing up on beaches and pose a threat to the birds, turtles and marine life that call those beaches home. The scourge of plastic "nurdles," as they are called, has pushed Scotland to implement a complete ban on the sale and manufacture of plastic-stemmed cotton swabs, as the BBC reported.
The Marine Conservation Society praised the move as a "fantastic win" for the sea and wildlife, as Sky News reported. Over the last 25 years, the group says its volunteers have collected more than 150,000 plastic cotton bud sticks from Scottish beaches.
"I am proud that the Scottish Government has become the first UK administration to ban plastic-stemmed cotton buds," said Scotland's Environment Secretary Roseanna Cunningham, as Packaging News reported. "Single-use plastic products are not only wasteful but generate unnecessary litter that blights our beautiful beaches and green spaces while threatening our wildlife on land and at sea."
The Marine Conservation Society, which has consistently ranked cotton buds in its top 10 of beach litter, believes there is more to be done. Catherine Gemmell, conservation officer at the organization, said "We look forward to more ambitious action from the Scottish government and to working with them on future actions needed to stop the plastic tide," as The Independent reported.
The move to eliminate plastic cotton swabs follows a ban on the sale and manufacture of plastic micro beads, which was passed in June 2018, as the Scottish Sun reported. Manufacturers like Unilever and Johnson and Johnson have responded to the ban by changing what the stems are made of, according to the BBC. All major manufacturers and supermarket brands have either followed suit by switching to biodegradable paper or promising to do so.
"Cotton buds are some of the most pervasive forms of marine pollution, so a ban is very welcome step and one that we hope other countries will follow," said Lang Banks, director of World Wide Fund for Nature in Scotland, as the BBC reported. "We know plastic is suffocating our seas and devastating our wildlife with millions of birds, fish and mammals dying each year because of the plastic in our oceans. Plastics are also finding their way into the food we eat and the water we drink, so saving our oceans will require further ambitious action from governments, industry and consumers."
Scotland is ahead of the curve on its commitment to meet the standards set out in the European Union's single-use Plastics Directive, which will ban items plastic cotton buds along with plates, food and drink containers, and balloon sticks by July 2021.
"This ban builds on work already underway to address Scotland's throw-away culture, and we will continue to take action on other problematic items in the coming years as part of our efforts to reduce harmful plastics and single-use items, protect our environment and develop a thriving circular economy," said Cunningham, as Packaging News reported.
"We are facing a global climate emergency and must all work together to reduce, reuse and recycle to ensure a sustainable future for the current and next generation."
From Your Site Articles
Related Articles Around the Web
CrackerClips / iStock / Getty Images Plus
If you're looking to cool off in the waters of Mississippi's Gulf Coast, think again.
A toxic algal bloom has made the waters dangerous to humans and their pets. The Mississippi Department of Environmental Quality has shut down swimming at all of its beaches due to a blue-green harmful algal bloom, according to CNN.
Toxic algae are dangerous to touch and poisonous when swallowed. It can cause rashes, stomach cramps, nausea, diarrhea and vomiting, the state agency warned.
While the sand on the beaches is still open, the state's DEQ said beachgoers should avoid water contact or consumption of anything from the waters "until further notice," as CNN reported. The agency also advised anyone exposed to the water to wash with soap and water and to not eat fish or any other seafood taken from affected areas.
The blooms are not technically algae, but cyanobacteria — aquatic and photosynthetic bacteria. Many things, including changes in water temperature and fertilizer run-off, can trigger its bloom. Once the conditions are right for the cyanobacteria to spawn rapidly, they produce harmful toxins, as The Week reported.
"I had a feeling it was going this way. Water always flows west to east," Pascagoula resident Bill Kenan told Biloxi ABC affiliate WLOX. "It just keeps going and going and going. I don't know if it's ever going to get better. I hope it does."
The National Oceanic and Atmospheric Administration said that the climate crisis and increases in nutrient levels of bodies of water due to fertilizer run-off are potentially causing harmful algal blooms to occur more often and in areas not previously affected, ABC News reported. Warmer waters with a marked increase in surface temperature or a change in sea currents are particularly susceptible to the bloom. A harmful algal bloom can look like foam, scum or mats on the surface of water and can be different colors, according to the Centers for Disease Control and Prevention.
This bloom was triggered in part by the opening of the Bonnet Carre spillway in Louisiana, which introduced an excessive amount of freshwater to the coastline, according to the Jackson Clarion-Ledger.
The spillway was opened to offset a rising Mississippi River that experienced massive swelling after an especially wet winter that caused flooding in along the river's coastlines.
The spillway is expected to close mid-July after the river's waters recede. Experts believe its closure will prompt the algae bloom to dissipate. "Once they close the structure, conditions will start to change pretty quickly," said John Lopez, of Lake Pontchartrain Basin Foundation, a conservation organization that monitors water conditions throughout the Gulf Coast region, as reported by CBS New Orleans.
That prognosis will offer little relief to residents and tourists along the Mississippi Gulf Coast where temperatures will hover in the mid-90s all week.
Surfrider Foundation / 2017 State of the Beach Report Card
By Stefanie Sekich-Quinn
The Surfrider Foundation released the 2017 State of the Beach Report Card, which evaluates U.S. states and territories on their policies to protect our nation's beaches from coastal erosion, haphazard development and sea level rise. The results reveal that 22 out of 30 states, and the territory of Puerto Rico, are performing at adequate to poor levels, with the lowest grades located in regions that are most heavily impacted by extreme weather events. Surfrider's report card clearly denotes that not only do the majority of states need to make improvements, but they also require continued support at the federal level for the Coastal Zone Management Act and funding for agencies such as the National Oceanic and Atmospheric Administration (NOAA), to protect our coastlines for the future.
About 40 percent of our nation resides along America's unique coastlines. Healthy beaches fuel coastal tourism and recreation economies that are worth more than $100 billion and provide 2.15 million jobs nationwide. However, beaches are disappearing at an alarming rate, due to both natural processes and human intervention. Coastal erosion causes approximately $500 million in coastal property loss annually in the U.S., including damage to structures and loss of land. To mitigate erosion impacts, the federal government spends an average of $150 million every year on beach replenishment and other shoreline erosion control measures. In addition, scientists predict that sea levels could potentially increase up to six feet by 2100, which would impact coastal economies, public access, recreation and healthy ecosystems.
In response, Surfrider has produced the State of the Beach Report Card to serve as a tool to empower concerned citizens to work with coastal municipalities and ensure that their local communities actively protect coastal resources. The report is also intended to provide a basis for decision-makers and agencies to form proactive, long-term solutions for increased coastal protection for the future.
Key Highlights

Surfrider's report finds that only eight states are doing a "fair or better" job (e.g., earned grade of A or B based on relevant criteria) of protecting beaches.
The states scoring higher had strong policies regarding coastal building setbacks, prohibitions against coastal armoring and rebuilding in coastal hazard areas, and support for incorporating sea level rise and coastal adaptation into planning documents.
More than 22 states assessed are doing a "barely adequate to poor" job (with an earned grade of C or less). These states tend to have less stringent policies regarding development in hazardous coastal zones, sediment management, no prohibitions on coastal armoring, and/or little in the way of policies that require the incorporation of sea level rise projections into coastal planning.
The latest science and frequent coastal damage from storms show that our nation's beaches are under siege and highly vulnerable to erosion.
The report findings underscore why NOAA's Coastal Management Program must be adequately funded to support stewardship of our nation's beaches.
Most of the states that experience extreme weather events lack solid coastal preservation and sea level rise policies.
As a result of the assessments and recommendations provided by Surfrider's State of the Beach Report Card, it is our responsibility to work together to drive awareness of the increasing challenges facing our nation's coasts and improve local, state and federal government responses to erosion and sea level rise, to protect our ocean, waves and beaches for the future.
Related Articles Around the Web
If one of your favorite summertime activities is a trip to the nearest beach (or a vacation to the shore), then you'll want to read this.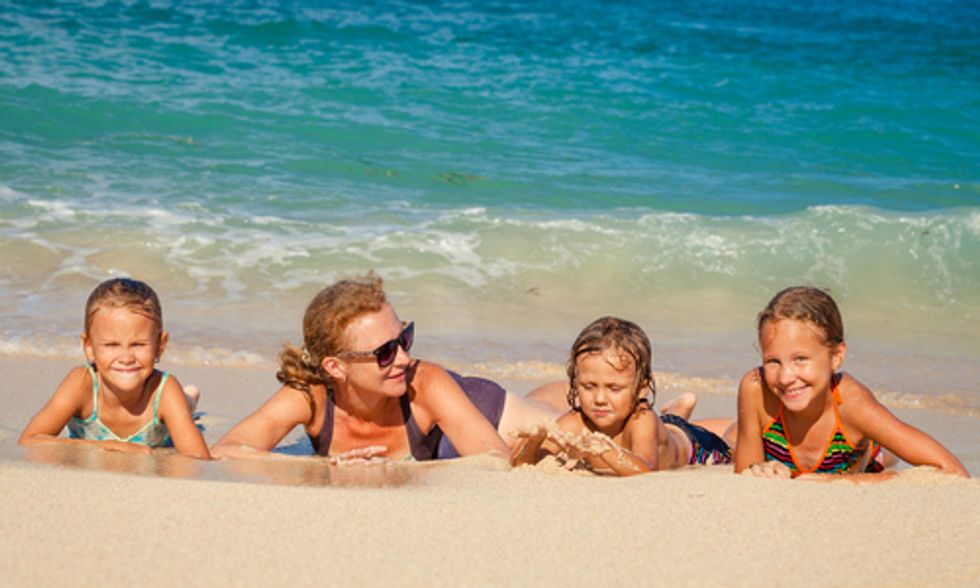 How healthy is your beach? Photo courtesy of Shutterstock
In its 24th annual beach report released yesterday, Natural Resources Defense Council (NRDC) designated 35 popular U.S. beaches across 14 states as "superstars." Beaches were rated on how closely they met water quality safety benchmarks; the superstars met the standards 98 percent of the time during the past five years.
But before perusing the list of 35, think about this: why aren't all U.S. beaches superstars?
The fact is that 10 percent of the water samples collected in 2013 from nearly 3,500 coastal and Great Lakes beaches contained levels of bacteria that failed to meet the U.S. Environmental Protection Agency (EPA)'s most stringent benchmark for swimmer safety, as outlined in EPA's newly created "Beach Action Value."
"Sewage and contaminated runoff in the water should never ruin a family beach trip," said NRDC senior attorney Jon Devine. "But no matter where you live, urban slobber and other pollution can seriously compromise the water quality at your favorite beach and make your family sick."
The report card, Testing the Waters: A Guide to Water Quality at Vacation Beaches, confirms that serious water pollution continues to be a problem at many U.S. beaches. Sewage overflows and stormwater runoff persist as the biggest known sources of contamination. According to EPA, up to 3.5 million people get sick annually from contact with raw sewage from sanitary overflows. Exposure to contaminated beach water causes waterborne illnesses in swimmers such as stomach flu; dysentery; hepatitis; respiratory ailments; rashes; pinkeye; ear, nose and throat problems; and neurological disorders.
"This means two things," said NRDC attorney Noah Garrison. "First, people need to make sure they know what's in the water at the beaches they visit, and to choose their beach carefully."
To help choose your beach, here are NRDC's 35 superstar beaches:
Alabama: Gulf Shores Public Beach in Baldwin County

Alabama: Gulf State Park Pavilion in Baldwin County

Alabama:  Dauphin Island Public Beach

California: Newport Beach in Orange County (1 of 3 monitored sections)
• Newport Beach—38th Street
Delaware: Dewey Beach-Swedes in Sussex County

Florida: Bowman's Beach in Lee County

Florida: Coquina Beach South in Manatee County

Florida: Fort Desoto North Beach in Pinellas County

Georgia: Tybee Island North in Chatham County

Hawaii: Hapuna Beach St. Rec. Area in Big Island       

Hawaii: Po'ipu Beach Park in Kauai

Hawaii: Wailea Beach Park in Maui

Massachusetts: Singing Beach in Essex County

Maryland: Point Lookout State Park in St Mary's County

Maryland: Assateague State Park in Worcester County

North Carolina: Ocean Pier at Main St. and Sunset Blvd. in Brunswick County

North Carolina: Beach at Cape Hatteras Lighthouse in Dare County

North Carolina: Ocean Pier at Salisbury Street in Wrightsville Beach in New Hanover  

North Carolina: Ocean Pier at Ocean Blvd. and Crews Ave. in Topsail Beach in Pender County           

New Hampshire: Hampton Beach State Park in Rockingham County

New Hampshire: Wallis Sands Beach at Wallis Rd. in Rockingham County

New Hampshire: Wallis Sands State Park in Rockingham County

New Jersey: Washington (Margate) in Atlantic County

New Jersey: 40th St. (Avalon) in Cape May County

New Jersey: 40th St. (Sea Isle City) in Cape May County

New Jersey: Stone Harbor at 96th St. in Cape May County

New Jersey: Upper Township at Webster Rd. in Cape May County

New Jersey: Wildwood Crest at Orchid in Cape May County

New Jersey: Broadway (Pt. Pleasant Beach) in Ocean County

New York: Long Beach City in Nassau County

Virginia: Virginia Beach at 28th St. in Virginia Beach County    

Virginia: Virginia Beach at 45th St. in Virginia Beach County

Virginia: Back Bay Beach in Virginia Beach County

Virginia: Virginia Beach—Little Island Beach North in Virginia Beach County

Washington: Westhaven State Park, South Jetty in Grays Harbor         
The report also includes a list of 17 repeat offenders, with the Great Lakes region having the highest failure rate for water quality samples, and Ohio rating worst among the states where water samples were drawn. Sections of these beaches have persistent contamination issues, and water quality samples failed to meet health standards more than 25 percent of the time over the past five years.
Here are the 17 repeat offenders:
California: Malibu Pier, 50 yards east of the pier, in Los Angeles County
Indiana: Jeorse Park Beach in Lake County (both monitored sections):
• Lake Jeorse Park Beach I 
• Lake Jeorse Park Beach II
Massachusetts: Cockle Cove Creek in Barnstable County

Maine: Goodies Beach in Knox County

New Jersey: Beachwood Beach in Ocean County

New York: Main Street Beach in Chautauqua County

New York: Wright Park—East in Chautauqua County

New York: Ontario Beach in Monroe County

Ohio: Lakeshore Park in Ashtabula County

Ohio: Arcadia Beach in Cuyahoga County

Ohio: Euclid State Park in Cuyahoga County

Ohio: Noble Beach in Cuyahoga County

Ohio: Sims Beach in Cuyahoga County

Ohio: Villa Angela State Park in Cuyahoga County

Ohio: Edson Creek in Erie County

Wisconsin: South Shore Beach in Milwaukee County
The full report card and zip code searchable map are available online, as well as a guide to finding a clean beach.
How to eventually make all U.S. beaches superstars? NRDC offers evergreen solutions such as protecting streams and wetlands and boosting green infrastructure.
NRDC's infographic illustrates how natural solutions can keep beaches clean: