This website uses cookies to ensure you get the best experience while browsing it. By clicking 'Got It' you're accepting these terms.
Barack Obama speaking on Earth day during his presidency at the Everglades National Park, April 22, 2015, Homestead, Florida. Joe Raedle / Getty Images
During a recent interview in Norway, former president Barack Obama answered an interesting question: What would you do if you had one more day as president?
Flourescent lamps must now be 4 percent more efficient. DOE
By Lauren Urbanek
Hotels, offices, stores and other commercial spaces across the U.S. are reaping benefits from new energy efficiency standards taking effect this year, one of which is the largest ever set by the Department of Energy (DOE). Consumers will see lower bills from these efficiency efforts, which were finalized during the Obama administration, even as the Trump DOE seeks to stall new standards.
EcoWatch Daily Newsletter
Neil Young and Daryl Hannah are standing with the water protectors at Standing Rock and urging President Barack Obama to step in and end the violence over the controversial Dakota Access Pipeline (DAPL).
Environmental activist and rocker Neil Young asks President Obama to stop the violence at Dakota pipeline protest.Flickr
"The camp grows as winter comes," Young and Hannah wrote in a lengthy open letter posted onto their respective Facebook pages. "Standing in protection of our most vital life support systems, but also for the rightful preservation of Native American cultural ways and their sovereignty."
The couple explain how the DAPL demonstrators are "standing strong in the face of outrageous, unnecessary and violent aggression, on the part of militarized local and state law enforcement agencies and National Guard, who are seemingly acting to protect the interests of the Dakota Access Pipeline profiteers, at a cost of hundreds of thousands of tax-payer dollars, above all other expressed concerns."
Watch footage of Young playing guitar at the DAPL protest site:
The protest, ongoing since April, has been marked by the presence of heavily militarized law enforcement who have used tear gas, pepper spray, rubber bullets and water cannons to blast away pipeline protestors in freezing temperatures. Last week, the Standing Rock Medic & Healer Council reported 300 injuries and more than 20 people sent to the hospital, with many patients needing treatment for hypothermia.
One water protector, 21-year-old Sophia Wilansky, might lose her arm following the police standoff.
The environmentally conscious musician and actress are urging President Obama to immediately take action in light of the recent eviction notice issued by the Army Corps as well as the presidential election of Donald Trump, who lost the popular vote to Hillary Clinton.
"The surprise president elect was not the winner of the popular vote [and] does not have a mandate for the change of ideals envisioned. Keep in mind, close to over two million more people voted for another candidate," Young and Hannah wrote. "Nor is the surprise president the leader of the free world. Two hundred of the world's nations believe in science, above the profits of the oil, gas and coal industries, and are committed to working together to protect the future from an unchecked climate crisis."

They highlight how Trump, whose personal investments ride on the completion of the pipeline, is appointing fellow climate deniers to his cabinet.
"The surprise president claims he does not believe in climate science nor the threats it presents and his actions and words reflect that claim in tangible and dangerous ways," the letter states. "Do not be intimidated by the surprise presidents' cabinet appointees as they descend the golden escalator. Those who behave in racist ways are not your leaders. The golden tower is not yours. The White House is your house."
Young and Hannah promise in their letter, "We will be going back to support the water protectors again."

The two traveled to the protest site earlier this month to celebrate Young's 71st birthday on Nov. 12.
"Got my birthday wish today, my girl took me to #StandWithStandingRock #WaterIsLife," Young wrote on social media. "Those who damage Mother Earth, damage us all, forgive them, they don't yet see."
Young, a passionate environmentalist who has spoken against fossil fuels and pipelines before, released a protest song and video in September called "Indian Givers" which features footage of the DAPL protests.
"There's a battle raging on the sacred land / Our brothers and sisters have to take a stand," Young sings. "Against us now for what we all been doing / On the sacred land there's a battle brewing."
Young and Hannah call on on President Obama to protect his environmental legacy as well as future generations.
"Your growing activism in support of freedom over repression, addressing climate change, swiftly replacing a destructive old industries with safe, regenerative energy, encouraging wholistic thinking in balance with the future of our planet; that activism will strengthen and shed continued light on us all. These worthy goals must be met for the all the world's children and theirs after them," they stated. "This is our moment for truth."
"Unintimidated, stand, speak up and show up. Be counted. Be like our brothers and sisters at Standing Rock. Be there if you can. The progress we have made over two hundred and forty years as a nation, has always come first from the people," they concluded.
During an hour-long sit down about climate change at the inaugural South by South Lawn (SXSL) with President Obama and leading climate scientist Dr. Katharine Hayhoe on Monday, Leonardo DiCaprio made a clear dig at climate change deniers.
"The scientific consensus is in, and the argument is now over," the Revenant actor and environmental activist said in his opening remarks. "If you do not believe in climate change you do not believe in facts or science or empirical truths, and therefore in my opinion, you should not be allowed to hold public office."

Even though DiCaprio did not name names, the comment has been interpreted as an attack on Donald Trump, who believes climate change is "a hoax perpetrated by the Chinese" (even though the Republican presidential candidate denied what he actually said at last week's presidential debate).
The Oscar winner was at the White House to promote his new Fisher Stevens-directed documentary Before the Flood, which highlights the perils of a warming planet.
As The Guardian observed, Stevens said he plans to screen the film at college campuses and swing states such as Florida, where Marco Rubio is running for his Senate seat again.

"Rubio is a climate change denier, and we want to get these deniers out of Congress, to make them understand the Paris [climate] accords are important and that we need to do more," Stevens said.
Back at the SXSL stage, DiCaprio pressed the president to grade the global response on climate change thus far. While Obama said he was hopeful about some progress such as the Paris Agreement, more fuel-efficient cars and investment in clean energy, Obama warned that "obstructionist politics" are an obstacle in combating rising emissions.

"Climate change is happening even faster than five years ago or 10 years ago," Obama said. "What we're seeing is the pessimistic end of what was possible, the ranges that had been discerned or anticipated by scientists, which means we're really in a race against time. We can't put up with climate denial or obstructionist politics for very long, if we want to leave for the next generation beautiful days like today."
Obama also said that "the likelihood of an immediate carbon tax" to force businesses to curb emissions "is a ways away."

"It's frustrating because the science tells us we don't have time to compromise, but if we want to get anything done we have to take people's current views into account," he said.

President Barack Obama, scientist Katharine Hayhoe and Leonardo DiCaprio on the South Lawn of the White HouseWhite House screen grab
DiCaprio asked Hayhoe to name the most urgent threats facing modern-day civilization.

"We think of poverty, hunger and disease and people dying today from preventable causes that nobody should be dying from in 2016," Hayhoe said. "We think to ourselves climate change, we can deal with that later. We can no longer afford to deal with climate change later."
"On average every year 200,000 people die from air pollution from burning fossil fuels," in the U.S. alone, Hayhoe said. "Air pollution alone gives us all the reason we need to shift toward clean energy, let alone climate change."

Hayhoe suggested that a way of reaching climate skeptics "is to connect this issue to what's already in our hearts."
While climate change is a highly politicized issue, Obama said that people across the political spectrum must agree that tackling global warming is important for our future.

"There are many entry points into this issue, and we have to use all of them to get people to care about this," Obama said. "But at the end of the day, everyone cares about their kids and grandkids and the kind of world we pass on to them."

Before the Flood will air on the National Geographic Channel globally in 171 countries and 45 languages on Oct. 30.
DiCaprio said at SXSL that he was purposely releasing the documentary before the November election to highlight the political importance of the issue.
Watch the entire SXSL here (starts at 38:20):
Dear President Obama, Vice President Biden, Secretary Moniz, Heather Zichal and Valerie Jarrett,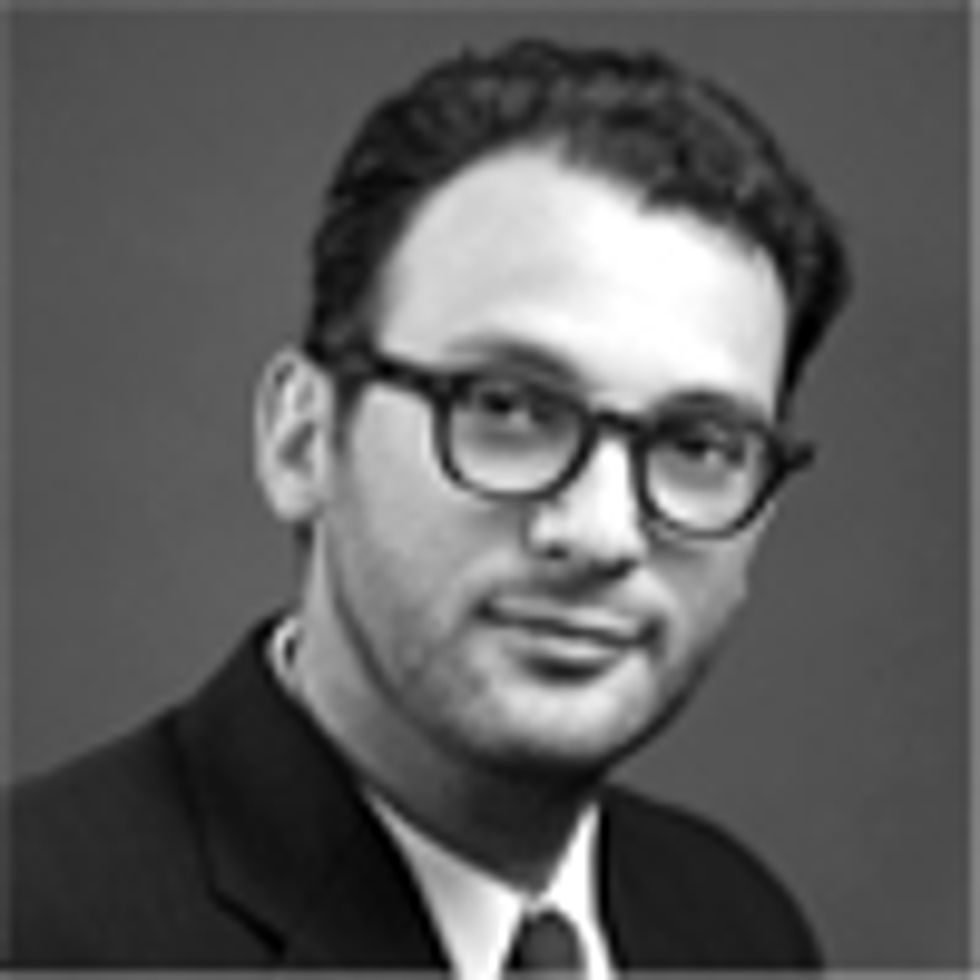 I write to request a meeting with you and families directly impacted by oil and gas drilling and fracking—as documented in Gasland Part II—together with a small group of scientists and engineers who are also featured in the film. We would like to discuss health and economic impacts felt by communities located near the oil and gas fields, share our first-hand stories, and provide you with evidence on rates of well leakage, water contamination, air pollution and methane emissions.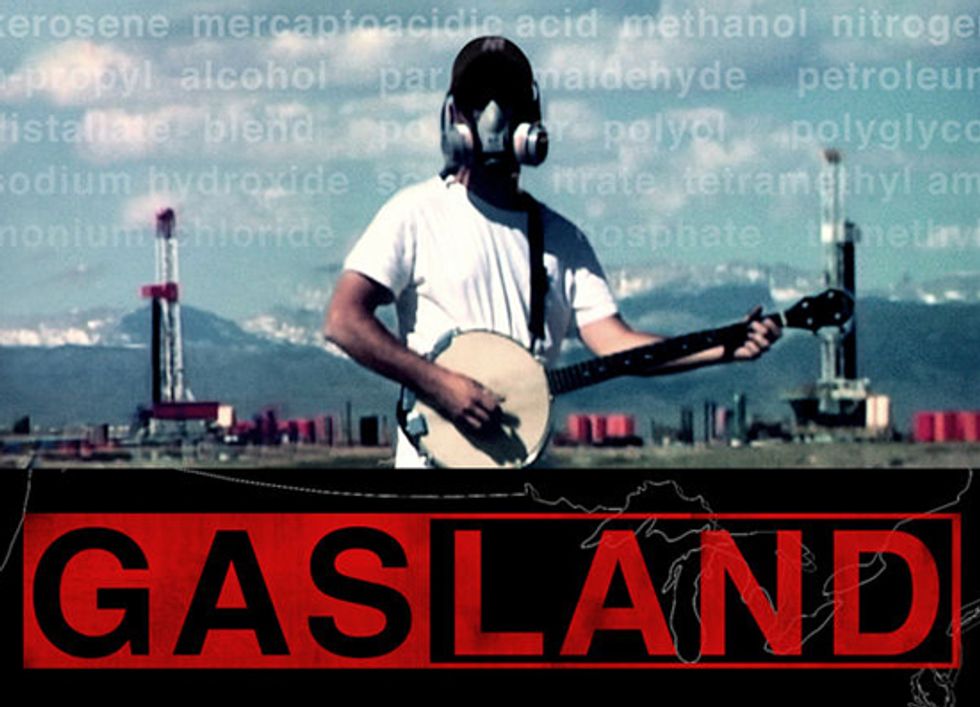 We are aware that your administration has met with the natural gas industry and their representatives and lobbyists many times. We now ask you to meet with us: representatives of those suffering from unconventional drilling and fracking, and members of the scientific community who wish to inform you of the perils of this unprecedented push to drill.
We believe that the natural gas industry has not been forthcoming with your administration about the real effects of drilling and fracking on our water, air, land, climate, public health and safety—and on democracy itself. As such, we seek to discuss with you the dark side of fracking, a perspective that has not yet been presented to you with adequate weight or emphasis.
In 2008, when I was offered a gas lease on my land in the upper Delaware River watershed in Pennsylvania, I decided to investigate the effects of drilling and fracking around the nation. That investigation became the documentary Gasland. While filming, I discovered widespread water contamination, air pollution, methane leakage, land scarring and massive industrialization of previously rural, suburban or urban areas. Most disturbingly of all, I discovered in the gasfields of America people who had lost control of their lives, their communities and their human and civil rights.
Although I had never before made a documentary, Gasland was accepted at the Sundance Film Festival, picked up by HBO, nominated for the 2011 Academy Award for Best Documentary and received four Emmy nominations—winning one for my direction. The film has been aired on television in over 30 countries to an estimated audience of 50 million people.
I have now made a second film, Gasland Part II, which covers a new form of contamination—the capture of our regulatory agencies by the oil and gas industry. I document industry's undue influence on your administration as well as on state and local regulators whose job is to protect the public health and safety. A striking pattern emerges: Time and again, regulators investigating citizens' concerns determine the gas development operation nearby is a clear cause of water contamination, only to walk away after protest from industry reaches an uncomfortable pitch. The film's portrayal of the exclusion of "we the people" from the dialogue about the future of energy in the United States should concern you. Gasland Part II premieres July 8, on HBO.
We thus respectfully request a meeting with you. More specifically, I wish to introduce you to members of seven families from disparate regions across the nation who have all had their lives ruined by drilling and fracking operations. These families are emblematic. They represent thousands of people who have had their basic rights trampled by drilling on nearby properties and by the attendant gas refining and delivery infrastructure. These citizens include—
The Lipsky family in Texas, whose water was contaminated and made flammable by Range Resources;
The Gee family in Pennsylvania, who, after four generations, were forced off their land by a six-well horizontal drill pad built by Shell on a neighboring property;
The Fenton family in Wyoming, who have been battling Canadian drilling giant Encana and who are now suffering health problems from the air and water contamination around their house;
The Tillman family of Dish, Texas, who were forced by polluted air to move from the town that Mr. Tillman was serving as mayor;
The Switzer and Ely familes of Dimock, Pennsylvania, whose water was shown to be contaminated by both the federal Environmental Protection Agency and the Pennsylvania Department of Environmental Protection—only to receive a roller coaster ride of broken promises by both agencies; and
The Bevins family from West Virginia, whose son CJ was killed on a drilling pad in New York as a result of an unsafe drilling site, and whose campaign has helped alert the country that workers in the oil and gas industry are seven times more likely to die on the job than workers in other industries.
In addition, I would like you to meet with the scientists in the film: Dr. Tony Ingraffea, Dr. Robert Howarth and Professor Mark Z. Jacobson.
Dr. Ingraffea from Cornell University, a former oil and gas industry researcher, will explain how the industry is incapable of ensuring the integrity of wells being drilled and how the industry's own science shows that wells are leaking at high rates, contaminating our country's precious groundwater. Dr. Howarth, also of Cornell, will describe how the release of methane, one of our most potent greenhouse gases, into the air from fracking and natural gas production render the use of fracked gas even more deleterious to the climate than burning coal. Professor Mark Z. Jacobson, director of Stanford University's Atmosphere and Energy Program, will explain that there is a way forward for America that is free of fossil fuels. As he and his colleagues have documented in a groundbreaking study, wind, water and solar resources available to us right now make it possible for our nation to claim true energy independence and protect the health and safety of the generations to come.
America has been forever changed by the sense of grassroots collective drive that your election in 2008 instilled in us as a nation. The grassroots movement that has sprung up across the country and across the world against fracking has all the enthusiasm, positivity, sense of history, endurance and resolve as the one that elected you our President. When speaking to your grassroots campaign staff in 2012, you reminded them that the only way to fight the enormous influence of corporate cash and power in the election was the strength of "neighbor talking to neighbor," of communities coming together to fight for what is right. That is exactly what the grassroots movement against fracking is made of: people fighting for their communities locally, with an eye on the bigger global challenges ahead. Above all, we are a movement of people, not corporations; we are a movement of neighbors who care deeply about the places we live and about this country as a whole. We believe that it is your desire to put the people's interests at the forefront of your political message and it is in this spirit that we ask you to meet with us.
President Obama, we support you. We support your earnest desire to fight climate change, but the science shows that your embrace of natural gas will undermine everything you are trying to accomplish in your plan. And the violation of health and property rights that inexorably accompany drilling and fracking operations undermines any claim of energy independence.
We urge you to meet with us as you have met with the gas industry. We are on your side. We do not wish to see your legacy inscribed by fracking chemicals in the ground, high levels of emissions and pollution in the air, ruined families, broken shards of the American dream and the terror felt by millions as the drilling industry descends on lands in 34 states. Do not let your legacy be a switch from coal to gas, a Pyrrhic victory, an exchange of one form of climate-killing pollution for another that, over its entire lifecycle, is just as calamitous. Instead, ground your energy policy in careful science and let your legacy include hearing the people out.
In the name of fairness and democracy, we implore that you meet with us, as you have met with the oil and gas industry.
We look forward to your reply. Thank you for considering this request.
Visit EcoWatch's FRACKING page for more related news on this topic.
--------
SHARE YOUR THOUGHTS BELOW: What would you like to share with President Obama about fracking?
--------

By Sharon Kelly
The key takeaway from President Obama's major climate change announcement last week was his intent to batten down on coal. But if history is any indication, the man Mr. Obama selected to run the Department of Energy may have different plans.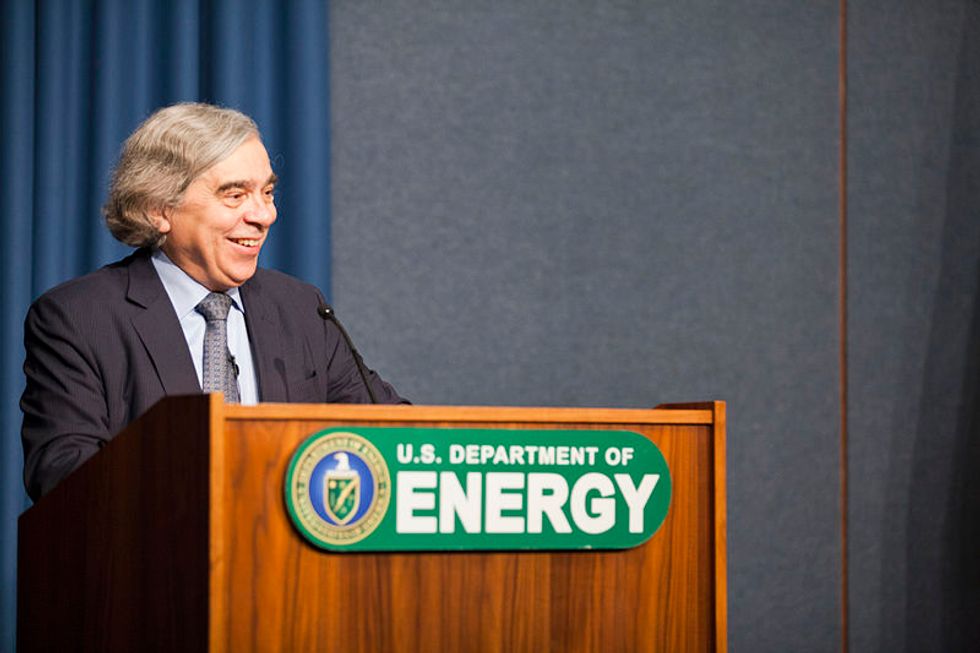 Ernest J. Moniz has a long history of supporting coal-powered electricity, staking his arguments in favor of coal on a technology that remains entirely unproven: carbon capture and sequestration (CCS).
Mr. Moniz will be in a uniquely influential position when it comes to confronting these problems. President Obama announced that he would rely on executive agencies instead of Congress, so Mr. Moniz's Energy Department will play a crucial role in determining precisely how Obama's strategy is administered.
The day after Obama's speech, Moniz told Congress "the President advocates an all-of-the-above energy strategy and I am very much in tune with this."
What's wrong with an all-of-the-above strategy? It extends reliance on fossil fuels, at a time when scientists warn that we can only burn 20 percent of current reserves before the world tips past the crucial 2 degree Celsius point. Beyond two degrees, some of the most devastating impacts of global warming will be felt. Keep in mind that, if all of the world's coal is burned, global temperatures could rise by a jaw-dropping 15 degrees Celsius, a study published in the prestigious journal Nature last year concluded.
The stakes, when it comes to controlling American greenhouse gas emissions, are huge.
In May, carbon dioxide levels in the Earth's atmosphere reached 400 parts per million—the highest level of carbon dioxide ever recorded in human history. Last year, the continental U.S. experienced its hottest year on record, and the Natural Resources Defense Council estimates that climate-related disasters like crop loss, wildfires and floods cost the nation roughly $140 billion last year alone, with much of the tab picked up by taxpayers.
Power plants are the single largest source of American carbon dioxide emissions, accounting for a third of the nation's total greenhouse gases. So focusing on power plants is key if emissions are to be reduced.
Coal currently supplies about 40 percent of American electricity, according to Energy Information Administration statistics, down from 50 percent in 2005. Coal's decline comes as natural gas from fracking (which has its own worrisome climate impacts, measured in methane rather than carbon dioxide), wind and solar, have risen in their share of the U.S. electric portfolio. Since the beginning of 2010, 145 coal-fired power plants announced plans to retire.
But the Department of Energy is focused not on retiring more of these plants, pinning its hopes instead on developing new technologies to make coal cleaner. The plan in rough form, involves collecting carbon dioxide emitted by power plants and burying it, forever, underground.
If that sounds like a heck of a challenge, that's because it is.
There's not a single large commercially-operating carbon sequestration plant anywhere in the world.
That's despite over $25 billion in government subsidies worldwide from 2008 to 2012.
Nevertheless, Mr. Moniz told Congress that "the Administration has already committed about $6 billion to [carbon capture and sequestration] demonstrations, and success of the forthcoming projects will be a critical step toward meeting the President's climate goals."
The $8 billion in total subsidies adds up to more than the wind and solar industries combined receive—and those are industries that have proven themselves to be commercially viable.
Undaunted, Moniz told The New York Times that CCS was a vital part of the country's climate change strategy. He called for CCS to be commercialized first for coal-fired power plants. He added that natural gas' carbon emissions, though half those of coal, are still too high to meet Obama's long-term goal of slashing emissions 80 percent from 1990 levels by 2050—so he called for the same speculative technology to resolve that problem as well.
The transition to an electric industry that captures its greenhouse gases instead of releasing them into the atmosphere makes the challenges associated with developing renewables like wind and solar look easy in comparison.
Professor Vaclav Smil, author of Energy Myths and Realities: Bringing Science to the Energy Policy Debate has calculated that to sequester just a fifth of current carbon dioxide emissions:
"... we would have to create an entirely new worldwide absorption-gathering-compression-transportation-storage industry whose annual throughput would have to be about 70 percent larger than the annual volume now handled by the global crude oil industry whose immense infrastructure of wells, pipelines, compressor stations and storages took generations to build."
Carbon capture is also grossly inefficient. "By some estimates, 40 percent of the energy generated has to go to the carbon capture and sequestration process," Josh Galperin, associate director of the Yale Center for Environmental Law and Policy, said after the climate strategy was released. DeSmog's Kevin Grandia describes some further technical hurdles that carbon sequestration has yet to overcome.
In a key indication of how shaky the science is behind carbon sequestration, not even the World Bank will fund it. Concerns about climate change led the Bank to restrict its financial support for coal projects except in "rare circumstances," a draft strategy leaked to the press last week indicates. In a glaring omission, the strategy says nothing about carbon capture and sequestration as an alternative.
None of this seems to matter to Mr. Moniz, whose support of the coal industry and faith in sequestration has been longstanding.
A 2009 report he helped produce focused on how to reduce carbon dioxide from coal plants, touting the potential for so-called "clean coal."
"It's cheap," he told Scientific American when the report was released, "there's lots of it and there's lots of it in places with high demand, namely the U.S., China and India."
In 2007, Moniz co-authored an Massachusetts Institute of Technology report titled The Future of Coal that aimed to examine "how the world can continue to use coal, an abundant and inexpensive fuel, in a way that mitigates, instead of worsens, the global warming crisis."
Moniz's faith in carbon sequestration has remained unshaken up to the present day.
"It's not going to happen tomorrow, but I believe in this decade we will have demonstrated the viability of large-scale storage" of carbon dioxide from industrial operations, he told the Associated Press recently. "The president made clear that we anticipate that coal and other fossil fuels are going to play a significant role for quite some time on the way to a very low carbon economy," he added.
Meanwhile, broader concerns about the President's climate plans remain.
"We're happy to see the president finally addressing climate change" said Bill Snape, senior counsel for the Center for Biological Diversity, "but the plain truth is that what he's proposing isn't big enough, and doesn't move fast enough, to match the terrifying magnitude of the climate crisis."
And if the clean coal technology Mr. Moniz is counting on doesn't pan out, prospects may be even dimmer.
Visit EcoWatch's CLIMATE CHANGE page for more related news on this topic.
——–

DO YOU THINK ERNEST MONIZ MAY HAVE A CONFLICT OF INTEREST IN THE HEAVILY SUBSIDIZED CARBON CAPTURE AND SEQUESTRATION INDUSTRY?

Storebrand, a major Norwegian pension fund and life insurance firm, has announced it has divested from 19 fossil fuel companies.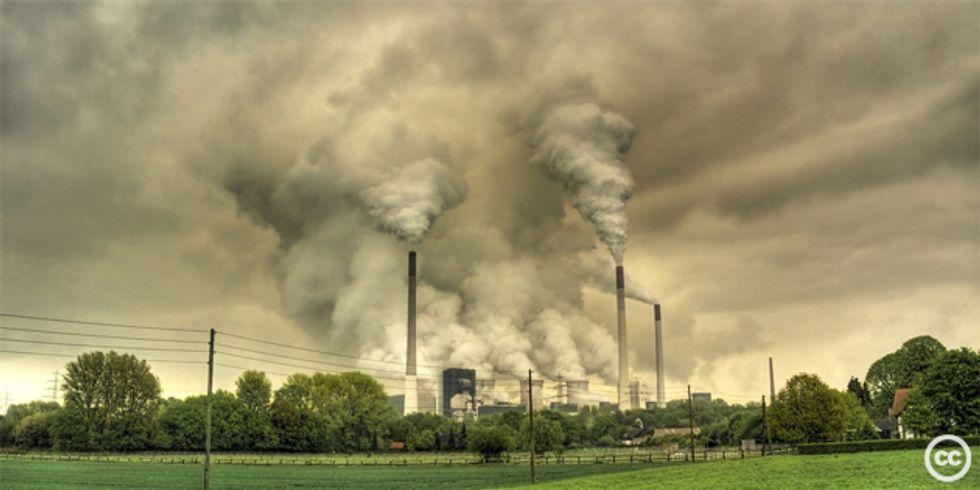 Announcing the move, the group's head of sustainable investment, Christine Tørklep Meisingset, said it had gone down the divestment route to "reduce fossil fuel and CO2 [carbon dioxide] exposure and ensure long-term stable returns" for its members—as these stocks, it says, will be "worthless financially" in the future.
She said:
"[As] the stated climate goals become reality, these resources are worthless financially, but it is also true that they do not contribute to sustainable development in the extent and the pace we want. Exposure to fossil fuels is one of the industry's main challenges, and for us it is essential to work purposefully to take our share of responsibility."
Its decision to divest comes after the publication of Carbon Tracker's latest Unburnable Carbon report, which said some 60-80 percent of fossil fuel reserves need to be left in the ground if the worst effects of climate change are to be avoided.
In total, it has pulled out of 13 coal extractors and six firms that are heavily exposed to tar sands oil.
Bold moves like this that channel finance away from carbon-intensive assets towards clean renewable energy projects gained a ringing endorsement from Barack Obama last week.
The divestment and clean investment movement appears to be gaining momentum.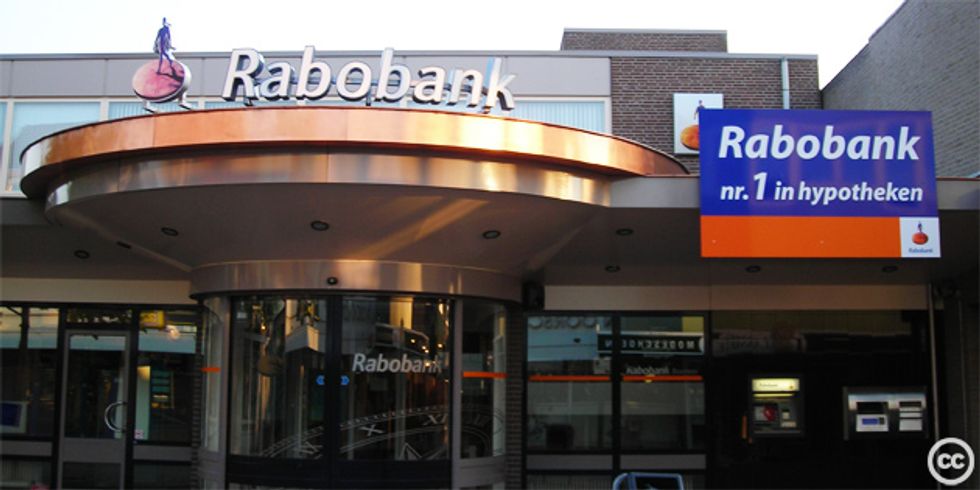 In Europe, the Dutch bank Rabobank recently took the extraordinary step of enforcing a blanket ban on loans to firms involved with oil sands and fracking for shale gas.
In both cases, it claimed the financial and environmental risks were too great for it to lend money.
While in the U.S., where the movement has been strongest, the United Church of Christ is the latest notable organization to follow the trend and approve a fossil fuel divestment strategy, becoming the first national and religious body in the U.S. to do so.
Visit EcoWatch's CLIMATE CHANGE page for more related news on this topic.
——–

DO YOU THINK IT IS TIME TO COMPLETELY DIVEST FROM FOSSIL FUELS?
In light of recent action in Europe to suspend the use of certain neonicotinoid pesticides, Beyond Pesticides joined 12 other environmental and advocacy organizations in urging the Obama Administration to direct the U.S. Environmental Protection Agency (EPA) to follow the European Union's lead in recognizing that risks posed by these pesticides are unacceptably high, and to suspend the use of these chemicals in the U.S. to protect pollinators and the nation's agricultural economy.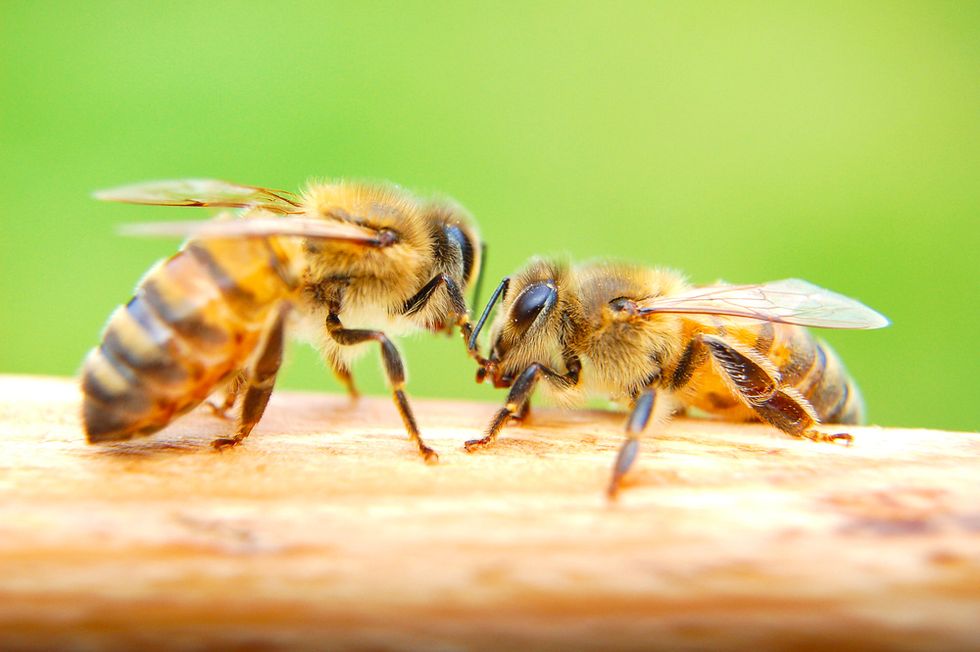 Photo courtesy of Shutterstock
The letter urges the Obama Administration to not only direct EPA to follow Europe's lead in suspending certain neonicotinoid pesticides uses, but requests even more protective measures, including a minimum two-year suspension for all outdoor uses of neonicotinoid insecticides pending resolution of their hazards to bees and beneficial organisms. Highlighting the negative environmental and economic impacts of outdoor uses of the EPA-approved neonicotinoid insecticides—imidacloprid, clothianidin, thiamethoxam, dinetofuran and acetamiprid—as well as a recognition that the initial risk assessments for these chemicals fail to adequately consider key risks to bee health, the letter to President Obama notes that it, "would not be responsible to continue to allow these threatening compounds to be used so broadly."
On average, U.S. beekeepers lost 45.1 percent of the colonies in their operation during the winter of 2012-2013, with many reporting over 70 percent losses of their bee colonies. Recently, over 50,000 bumble bees, representing approximately 300 colonies, were killed after the application of a neonicotinoid pesticide to trees in Oregon. Given that bee pollination is a $20-$30 billion per year contributor to U.S. agriculture and vital to the majority of fruit and vegetable produce, current impacts on bees are rapidly evolving into devastating—perhaps irreversible—losses to farmers, consumers and the economy as a whole, which relies on domestically-produced bee-pollinated food and fiber crops.
The neonicotinoid class of insecticides has been identified as a leading factor in bee declines. Neonicotinoids are systemic insecticides used primarily as seed treatment for corn and soybeans, as well as in home and garden products. The Center for Food Safety has a comprehensive list of neonicotinoid products to avoid. These chemicals contaminate nectar and pollen, as well as soil and surface water. Foraging and navigational disruptions, immune suppression as well as learning and memory disorders have been documented in bees exposed to even low levels of these chemicals. An extensive overview of the major studies showing the effects of neonicotinoids on pollinator health can be found on Beyond Pesticides' What the Science Shows webpage.
In March 2013, commercial beekeepers and environmental organizations filed an emergency legal petition with EPA to suspend use of the pesticides linked to honey bee deaths, urging the agency to adopt safeguards. Meanwhile in Europe, the European Commission passed a continent-wide suspension on the neonicotinoids imidacloprid, clothianidin and thiamethoxam, citing unacceptable hazards to bees, which is supported by a European Food Safety Authority (EFSA) report that finds the neonicotinoid class of insecticides of "critical concern" to bee health. Unfortunately, in the U.S., response from federal regulatory agencies is stymied. Despite the groundbreaking decision in Europe, EPA released a report which failed to address the overwhelming scientific evidence of neonicotinoid-related bee deaths or present any sustainable solution to address the bee crisis.
The letter also brings several key acknowledgments by federal officials made in public statements at recent meetings, in media statements, in EPA documents and other venues to the Administration, including:
EPA's enforcement guidance for neonicotinoid use is inadequate.
EPA's bee kill incident reporting system is inadequate.
Labels on neonicotinoid products are inadequate to mitigate adverse environmental effects, specifically to avoid seed dust-mediated mortality to honey bees and other beneficial insects in or near corn fields.
Current corn planting machinery poses significant dust-off risks and needs changing, while also recognizing that such changes will likely take many years and stating that EPA lacks authority to mandate machinery changes.
Bee health and populations, and crop pollination, are in a near-crisis state based on several synergistic factors including insecticide use.
EPA has not consulted with the U.S. Fish and Wildlife Service on potential effects on threatened or endangered species under Sec. 7 of the Endangered Species Act for the neonicotinoid insecticides.
According to the concerned groups, EPA has refused to exercise its regulatory power to address the major contribution of these insecticides to bee declines. Instead, the agency has pointed to land use decisions, crop planting choices by farmers, pathogens, bee nutrition and other factors outside the agency's authority, while failing to adopt measures that could offer long-term sustainable protection of bee populations. The letter also cites emerging science which documents extensive surface water contamination and impacts on non-target organisms such as aquatic invertebrates, birds and other pollinators.
"We could face a second Silent Spring above and beyond the threats to managed and wild pollinators," the letter states. Additionally, it states that EPA's planned 2018 deadline to complete its registration reviews for the major neonicotinoids "is far too slow in view of their potentially calamitous risks."
The signatories to this letter include: Beyond Pesticides, The Center for Food Safety, Pesticides Action Network North America, Friends of the Earth, The Xerces Society, Sierra Club, Defenders of Wildlife, Californians for Alternatives to Toxics, Food & Water Watch, Center for Environmental Health, American Bird Conservancy and the Northwest Coalition for Alternatives to Pesticides.
Beyond Pesticides' BEE Protective campaign also has educational tools to help the pollinators in your yard, park or garden and information to help transform your community and raise awareness about pollinator health.
Visit EcoWatch's BIODIVERSITY page for more related news on this topic.
——–

WHAT STEPS COULD BE TAKEN TO PRESERVE BIODIVERSITY IN URBAN AREAS?
By Will Fantle
From the U.S. Department of Agriculture (USDA) to foreign policy, Congress, state governments, elections and the courts, the feverish politics of genetically modified foods (GMOs) have infected decision making and dramatically tilted policies towards the desires of Monsanto and the biotech industry.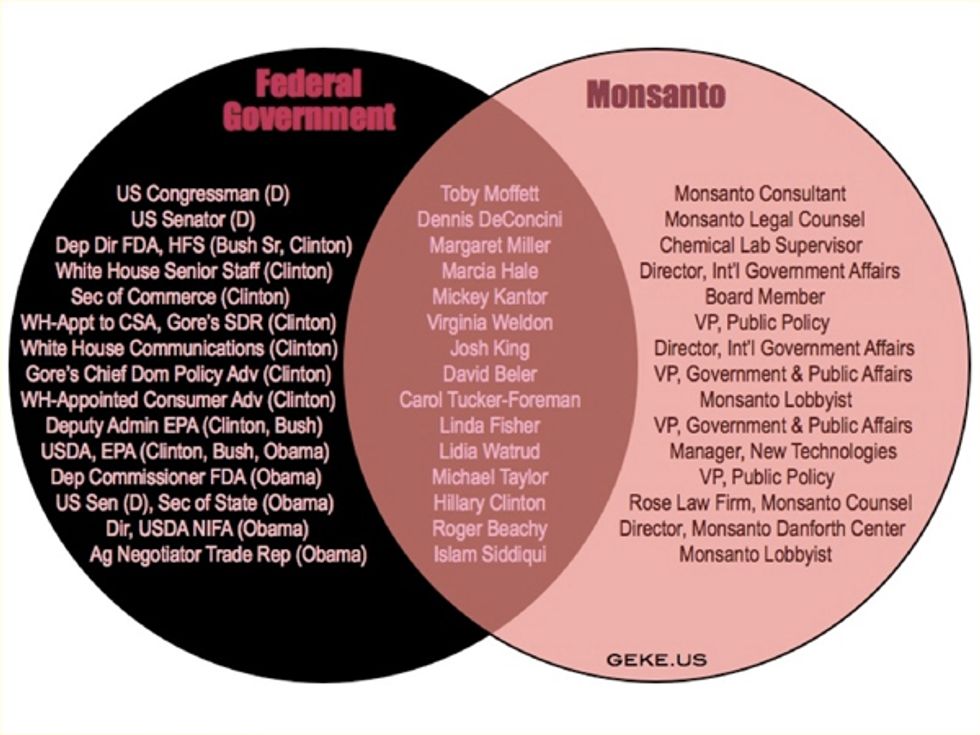 Candidate Barack Obama in 2008 promised change. However, when he came to Washington he appointed former Iowa Governor Tom Vilsack as USDA Secretary. The one-time award winning "Biotech Governor of the Year" has presided over a rapid roll out of new GMO crops and foods. Change he implemented included a series of agency adjustments designed to speed up the approval process for GMOs. Under Vilsack's watch, the agency has never denied the approval of one GMO crop.
Yes, the USDA also brought more attention to the National Organic Program—professional, knowledgeable management, more staffing, more resources. But it's small potatoes compared to the attention afforded biotech. And Vilsack's team has pushed hard for the organic community to swallow a policy of co-existence, the strange view that pollen and DNA recognize fence rows, that rain, winds, birds, insects and other natural forces will refrain from carrying GMO contaminants to non-GMO plants and crops.
Millions of Americans are suspicious of GMO foods for assorted health and environmental reasons. Polling conducted last year by the Mellman Group indicated that nearly 90 percent of Americans would like GMO foods labeled so they can make a choice about what kinds of foods they purchase in the marketplace. Sixty other countries require such labeling.
But Vilsack says no, telling the Farm Bureau at their annual meeting in January, "I know of no health reason connected to GMOs that would require labeling under our current labeling philosophy."
Monsanto and the biotech industry allies spent mightily to narrowly defeat last November's state referendum calling for the labeling of GMO foods sold in California. While labeling advocates decried the misleading and deceptive advertising conducted against the referendum, they were unable to weather the deluge of dollars. Still, the seeds of discontent are spreading. Washington state's voters will have a labeling referendum on the ballot later in 2013. Vermont has passed GMO labeling legislation; Connecticut's Senate overwhelmingly did so as well, as has Maine. Nearly 20 other state legislatures have similar proposals in the works.
"To try to oppose this state by state, that is unsustainable," says Cathy Enright, the executive vice president for food and agriculture for the Biotechnology Industry Organization (BIO), of which Monsanto, DuPont, and Dow Chemical are members.
Seeking to douse the prairie fire, Monsanto—which spends about $6 million annually on lobbying—and its allies are working the fields in Washington, D.C. Their target? The nation's reauthorization of the Farm Bill. Currently winding its way through Congress (as of this writing), an amendment attached to the House Agriculture committee's version, and authored by Rep. Steve King (R-IA), would strip the rights of states to enact labeling laws. The Farm Bill is an essential piece of national legislation that is reauthorized every five years. Once an item gets in the bill, it becomes very difficult to remove. The House and Senate will reconcile differences in their bills, but it is far from certain that either will consider the amputation of state's GMO labeling rights a deal breaker. [Since this was written, the Farm Bill failed to pass the U.S. House.]
Monsanto and their allies also prevailed in a vote in the Senate on an amendment by Sen. Bernie Sanders (I-VT), who wanted to make it clear that states "have the authority" to require the labeling of foods produced through genetic engineering. Sanders' amendment failed 71-27.
While some of the no-votes in the Senate may have come from officials who believe that a national-level regulation is more appropriate, the effort to have the Food and Drug Administration (FDA) do just that is mired axle deep in the muck. The FDA has already said that genetic modification does not materially change the food. But when the deadline passed last year for the agency to respond to a petition requiring GMO food labeling—a petition that contained the signatures of well over a million citizens—their response was that they needed more time to study the matter. Fourteen more months have since passed.
And just so no stone goes unturned, Monsanto is actively pushing state-level legislation in Oregon and elsewhere to override any labeling laws passed by county and municipal governments.
The suppression of dissent in the fertile ground of Washington, D.C., yielded another reward for Monsanto when they snuck a policy rider into an essential appropriations bill earlier this year. Dubbed the Monsanto Protection Act, it swatted down the ability of Monsanto's pesky critics to use judicial review as a brake on questionable regulatory decisions. It allows full speed ahead on the unrestricted sale and planting of genetically modified seeds even when a court finds that they were not properly examined for their impact on farmers, the environment, and human health.
Sen. Roy Blunt (R-MO), from Monsanto's home state of Missouri, authored the controversial rider and then blocked efforts by Sen. Jon Tester (D-MT) and Sen. Jeff Merkley (D-OR) to remove it from the critical governmental operations funding bill.
Tester later told a reporter, "Not only does this ignore the constitutional idea of separation of powers, but it also lets genetically modified crops take hold across this country, even when a judge finds it violates the law." He added that giant multinational agribusiness corporations are treating farmers as "serfs."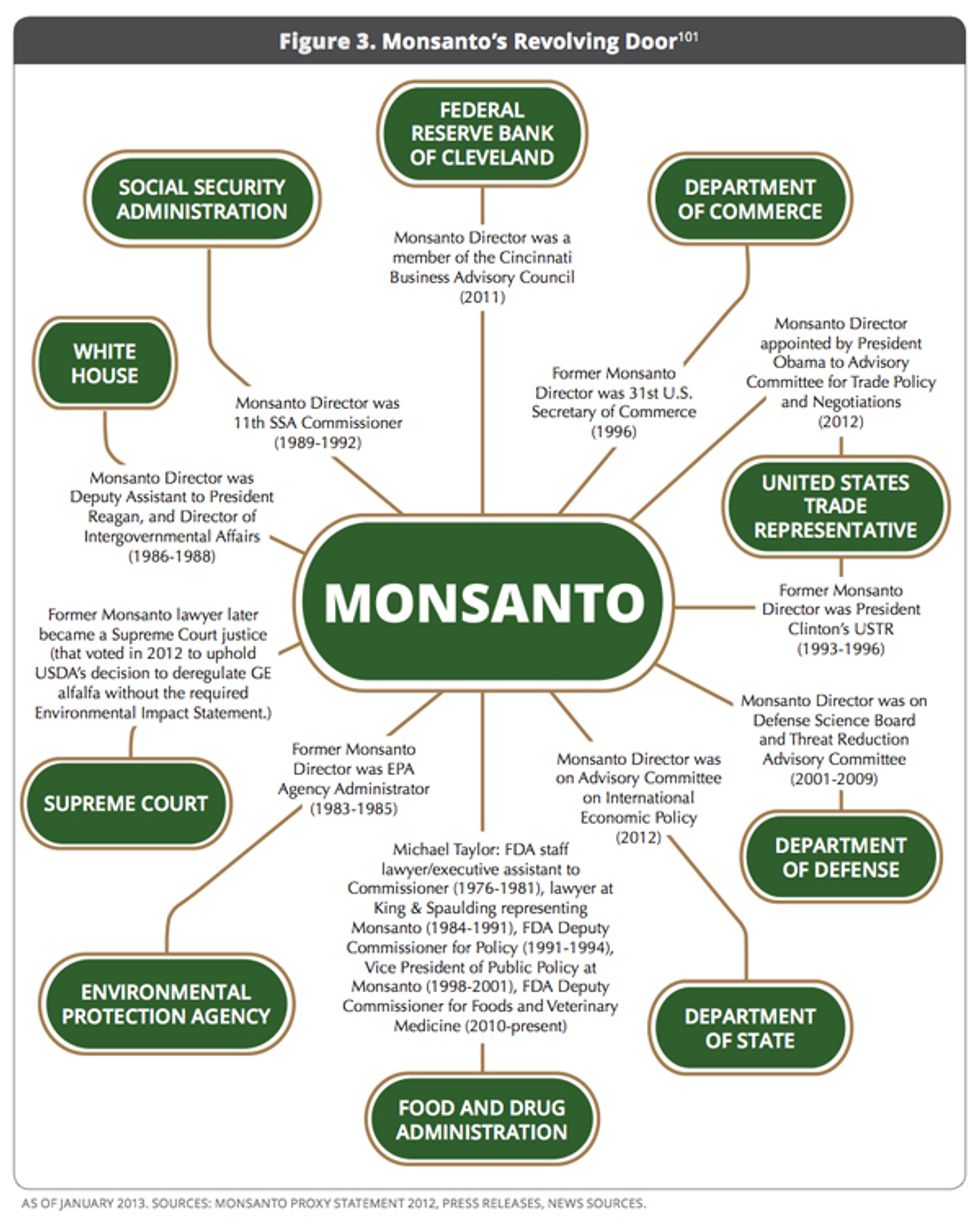 Perhaps it should come as no surprise that Monsanto's power at the federal level is so pervasive. As a recent Food & Water Watch report detailed, board members from the $12 billion company "have worked for the EPA, advised the U.S. Department of Agriculture [USDA] and served on President Obama's Advisory Committee for Trade Policy and Negotiations." Company staff and former employees enjoy a revolving door relationship with jobs and advisory positions in the federal government, at public universities and with trade groups. Even one sitting Supreme Court justice, Clarence Thomas, once worked for Monsanto.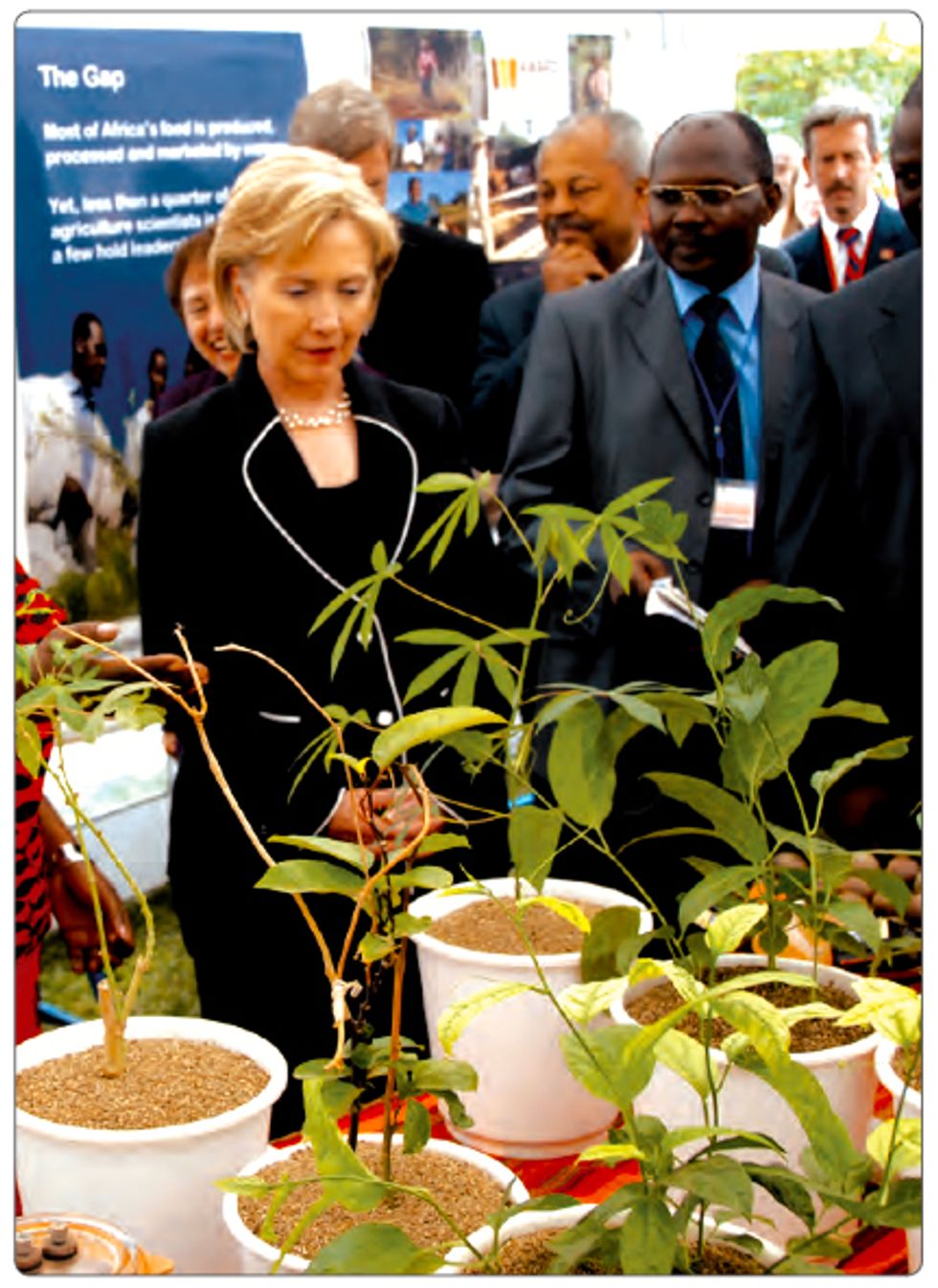 Former Secretary of State Hillary Clinton listens to a presentation on the "genetic improvement" of local crops hosted by the Kenya Agriculture Research Institute. Photo credit: USAID.
Their reach extends far beyond America's shores. Again, according to Food & Water Watch, the State Department works with trade officials to promote GMO crop exports and to force unwilling nations to accept GMO crops and foods. The State Department has engaged in pro-GMO lobbying campaigns in foreign countries, promoted foreign cultivation of GMOs and targeted foreign opinion-makers and reporters with junkets and public events.
Yet signs of cracks in the GMO empire are visible. On May 25, two million people joined March Against Monsanto rallies that were held in more than 400 cities in 52 countries. The growing consumer awareness of GMO foods and crops in the U.S. has sprouted vigorous labeling campaigns across the country with widespread public support for labeling. Even though 90 percent of all corn and soy grown in the U.S. is GMO, with a variety of other crops in the ground or under development, much of the rest of the world has yet to fall under the influence. In fact, just five countries account for 90 percent of total GMO crop production—the U.S., India, Canada, Argentina and Brazil.
The USDA also recently reversed itself and decided to conduct a full environmental impact statement assessing the health and environmental impacts of the next generation of GMO crops. These include, as proposed by Dow and Monsanto, 2,4-D-resistant corn and soybeans and Dicamba-tolerant soy and cotton crops. Still, notes the Center for Food Safety's Andrew Kimbrell, "it remains to be seen whether the agency will undertake the required hard-look analysis of the environmental and economic impacts of these crops."
Reflecting on the importance of a true choice in the marketplace for consumers, the Cornucopia Institute's Codirector Mark Kastel says that "organic food and agriculture offers the only available and verifiable alternative with regulatory oversight from seed to table prohibiting genetically modified organisms in farming and food production."
"Given the astounding influence of Monsanto and their GMO allies on all aspects of our government, it makes Cornucopia's work protecting the integrity of the organic label even more imperative," adds Kastel.
Visit EcoWatch's GE FOODS page for more related news on this topic.
——–