Apple, Bank of America and Amalgamated Bank have pledged to go 100 percent renewable, joining the RE100 group.
This new solar project will supply Apple's data center in Arizona with renewable energy.Apple
Bank of America also announced it will be "carbon neutral" by 2020, while Apple announced new commitments to power its supply chain with renewable energy.

"Apple is committed to running on 100 percent renewable energy, and we're happy to stand beside other companies that are working toward the same effort," said Lisa Jackson, Apple's vice president for Environment, Policy and Social Initiatives.

The announcements at Climate Week come on the heels of GM's pledge last week to power its worldwide operations with 100 percent clean energy by 2050.
.@GM Commits to Run on 100% #Renewables by 2050 https://t.co/x9dhx4uXCH #RenewableEnergy @BusinessGreen @VanJones68 @edbegleyjr @mzjacobson

— EcoWatch (@EcoWatch)1474032839.0
"Apple has taken another important step to deliver on its commitment to powering its corner of the internet with 100 percent renewable energy," said Gary Cook, Greenpeace senior IT analyst. "This deal once again shows that renewables are not just good for the environment, but good for business."

For a deeper dive:
News: GreenBiz, BusinessGreen, Ars Technica, Mashable, Global Times, PV-Tech, edie.net, Environmental Leader, CNBC

For more climate change and clean energy news, you can follow Climate Nexus on Twitter and Facebook, and sign up for daily Hot News.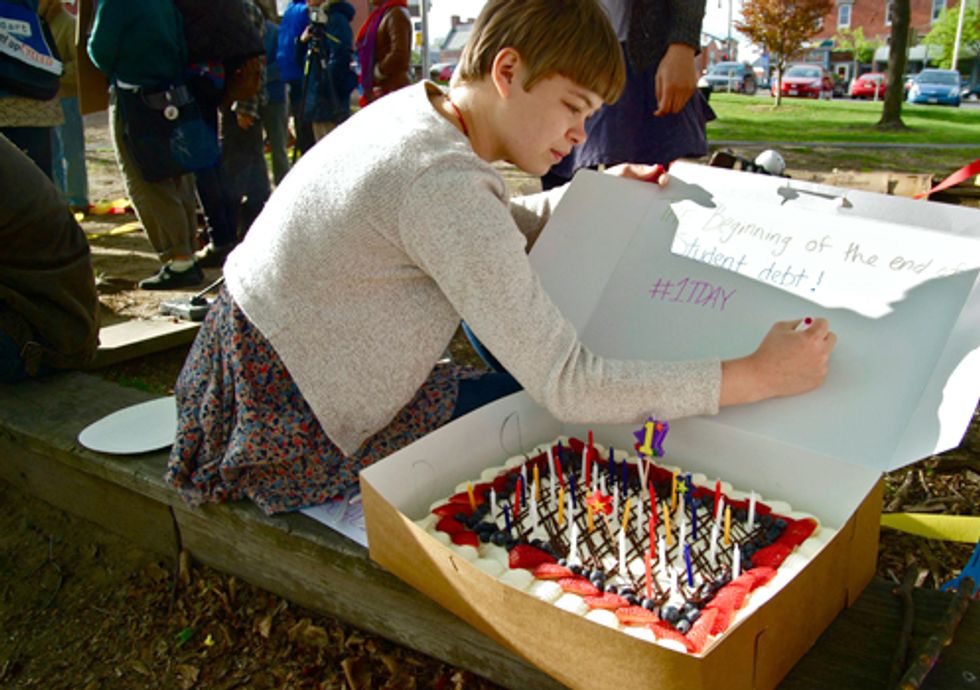 Just weeks before Bank of America's (BoA) May 9 shareholders meetings, thousands of students pledge to move their money and took to the streets to demand Bank of America stop financing dirty coal and bankrupting our future with predatory lending and student debt. Energy Action Coalition, along with student and youth organizations across the country, organized a day of action against Bank of America in 7 cities on April 25, the day students debt rose to $1 trillion. More than 2,000 students have pledged to not do business with Bank of America and continue to take action.
"Young people across the country are sick of Bank of America threatening our future with investments in coal," said Maura Cowley, executive director of Energy Action Coalition. "Thousands of young people are ready to use their financial power, creativity and campuses to ensure that Bank of America cleans up it's act."
Bank of America is the top financier of the U.S. coal industry, the top forecloser on American homes and one of the biggest holders of student loan debt. In the lead-up to BoA's May 9 Shareholder Meeting, environmental and economic justice groups are joining together to demand that Bank of America stop bankrupting our future.
April 25th's Day of Action against Bank of America and student debt included students at George Washington University hosting a teach-in on student debt outside a campus branch of Bank of America, students at University of Massachusetts, Amherst burning their students loans outside their Bank of America branch, along with students at Yale University, University of Chicago, University of Oregon, University of Texas and University of North Carolina, Chapel Hill taking creative actions against Bank of America and student debt. To cap off the day of actions, activists in Washington, D.C. turned Bank of America ATMs in the city into "automated truth machines" by posting special non-adhesive stickers mimicking BofA's ATM interface to show the truth about their detrimental policies.
"Our national day of action was only the beginning of our call to Bank Of America to stop financing dirty coal and bankrupting our future," said Tait Chandler, a student at UNC-Chapel Hill. "Students across the country are using their financial power to demand Bank of America clean up their act, and we're delivering those demands right here in North Carolina, where Bank of America is headquartered."
For photos of the national actions, click here.
For more information, click here.
EcoWatch Daily Newsletter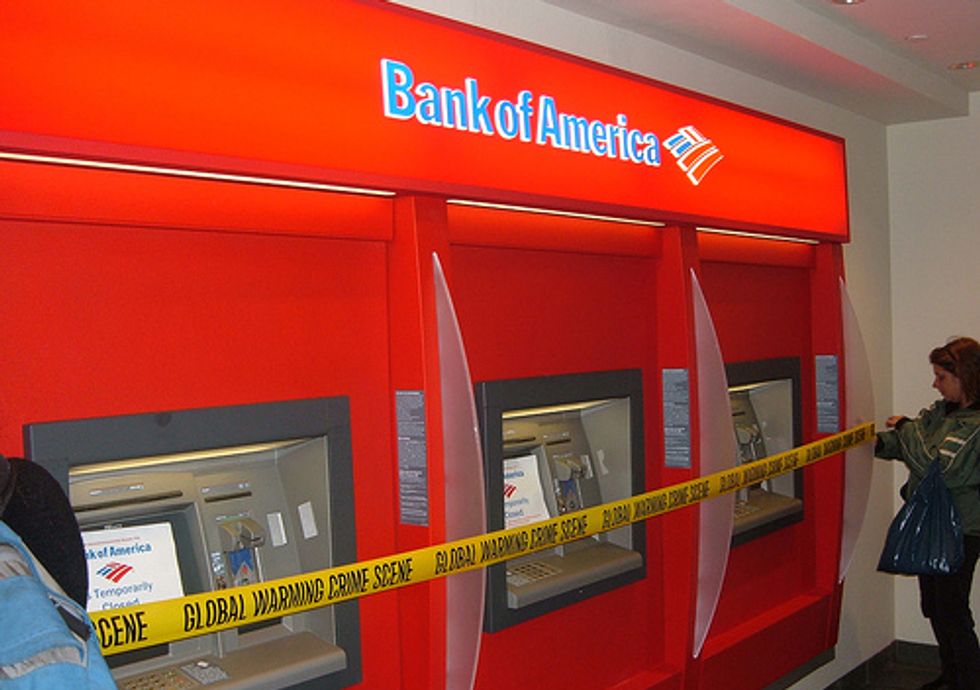 Rainforest Action Network (RAN) and The New Bottom Line teamed up Jan. 9 to launch a new Tumblr blog, called Bankrupting America. This hub on everything Bank of America (BoA) highlights the worst of the big bank's deeds, personal stories of those that have been hurt by the company and what everyday people are doing to fight back. The website features everything from posts lampooning the company, to on-the-ground organizing efforts, to the latest news and reports on Bank of America activities.
People everywhere are invited to submit content, including their own personal stories of how Bank of America has hurt them, their families and their communities.
Leading up to the anticipated Bank of America shareholder meeting in Charlotte, N.C. this spring, the groups provide a sampling of the widespread public outcry against BoA for the destructive environmental and economic impacts caused by company practices.
"Communities everywhere are fed up with Bank of America for putting profits before people and that's what this new blog is all about," said Amanda Starbuck, director of RAN's Energy and Finance program. "Whether it's the fact that the company bankrolls climate change through coal investments or forecloses on America's homeowners while paying top executives millions in bonuses, these are all symptoms of the bank's lack of morality."
"Bank of America is one of the prime movers behind the housing crisis and the economic collapse of this country. From being the biggest forecloser in the country to avoiding paying their fair share of taxes to financing payday lenders, they are draining the 99 percent to pad their own bottom line," said Tracy Van Slyke, co-director for The New Bottom Line. "It's time we have a new bottom line where Bank of America contributes to the economy, and stops bankrupting it."
In the final quarter of 2011, unprecedented consumer divestment in Bank of America rippled across the country and can be seen with more than 50,000 pledged account closures and industry analysis suggesting that 20 percent of the bank's customers are considering leaving. The dissatisfied customers represent only a tiny fraction of those committed to boycott the company until it reforms.
The historic coalition between the environmental and economic justice organizations link struggles against Bank of America to point out three major grievances that hurt both the planet and people. The company leads all others when it comes to foreclosing on America's homes and financing the U.S. coal industry. As of June 2010, BoA had $88 billion worth of foreclosed homes in its portfolio, and invested more than $4.3 billion in coal. The company has shed nearly 100,000 jobs over the past seven years. And while Bank of America's stock prices have plummeted in the last few months, executives are set to award themselves near-record bonuses for 2011.
Rainforest Action Network and The New Bottom Line are calling on Bank of America to:
Pay its fair share
. Stop draining government of revenue. Pay the statutorily required 35 percent corporate income tax instead of gaming the system through off-shore tax shelters, loopholes and scams.
Stabilize the housing market and revitalize the economy
. Bank of America must stop investing in payday loans and must start making affordable business and family credit available, especially into communities of color. They must also reduce principal for all underwater homeowners to current market value. This would end the foreclosure crisis, reset the housing market, pump billions of dollars back into the economy, and create jobs.
Fund the future—not dirty coal
. Stop financing for the coal industry and shift the balance of energy financing to support renewable power generation that is less threatening to our environment and health.
For more information, click here.
—————
The New Bottom Line (NBL) is a new and growing movement fueled by a coalition of community organizations, congregations, and individuals working together to challenge established big bank interests on behalf of struggling and middle-class communities. Together, we are working to restructure Wall Street to help American families build wealth, close the country's growing income gap, and advance a vision for how our economy can better serve the many rather than the few. Coalition members include PICO National Network, National People's Action (NPA), Alliance for a Just Society, and dozens of state and local organizations from around the country. 

Rainforest Action Network (RAN) runs hard-hitting campaigns to break North America's fossil fuels addiction, protect endangered forests and Indigenous rights, and stop destructive investments around the world through education, grassroots organizing, and non-violent direct action. For more information, please visit www.ran.org
Rainforest Action Network runs hard-hitting campaigns to break North America's fossil fuels addiction, protect endangered forests and Indigenous rights, and stop destructive investments around the world through education, grassroots organizing, and non-violent direct action. For more information, please visit www.ran.org