This website uses cookies to ensure you get the best experience while browsing it. By clicking 'Got It' you're accepting these terms.


The best of EcoWatch, right in your inbox. Sign up for our email newsletter!
Opening a new front in the battle over fracking in New York State, citizens in yet another neighboring state—Massachusetts—called on their legislators to ban the processing of fracking wastewater.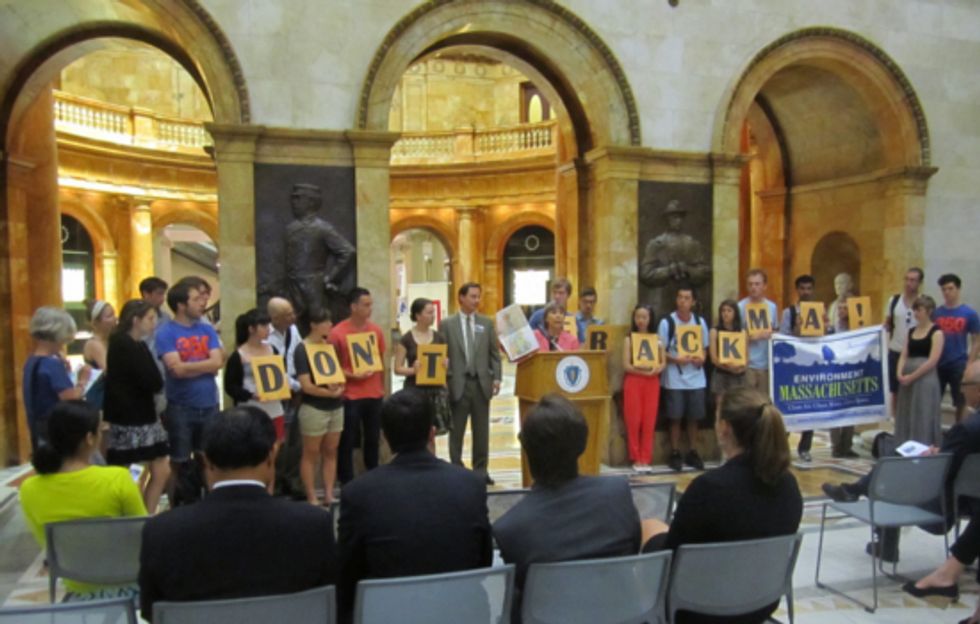 "Laced with cancer-causing and even radioactive materials, the millions of gallons of toxic wastewater generated by fracking are among the most compelling reasons for New York to abandon the path of dirty drilling." said Eric Whalen, Environment New York field organizer. "Our neighbors certainly think so. Looking at how fracking in Pennsylvania led to the export of fracking waste to surrounding states including New York, every single one of New York's neighbors is sending a message about such waste in terms they hope Albany will understand: fuhgettaaboutit."
Here are the actions going on in neighboring states protesting fracking waste: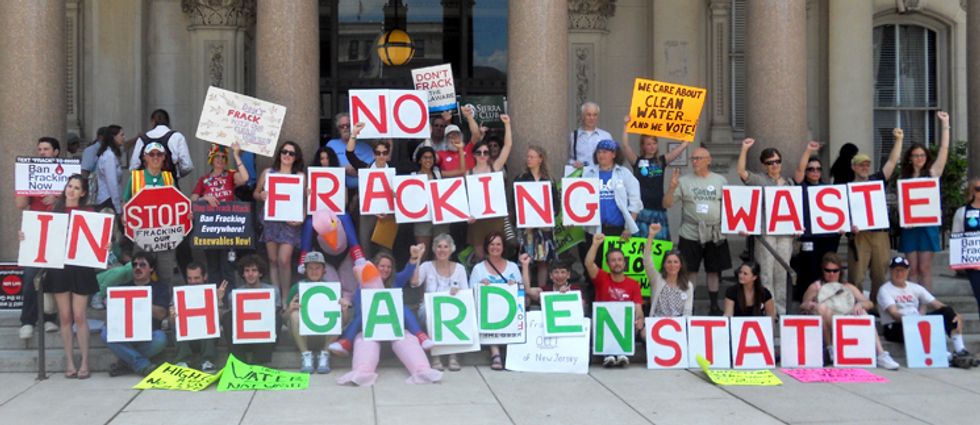 "In other words, none of our neighbors are willing or able to be a dumping ground for New York's toxic fracking waste," said Whalen. "This fact draws into sharp relief that fracking proponents have presented no credible plan to safely manage the billions of pounds of toxic waste that would be generated by a fracking boom in New York."
"We urge Governor Cuomo to recognize this toxic regional calculus, and close the door on dirty drilling," Whalen concluded.
Visit EcoWatch's FRACKING page for more related news on this topic.
——–
Residents, activists and community leaders held coordinated actions across New Jersey yesterday to pressure legislative leaders into acting on the Fracking Waste Ban Bill. Notably, they collected and delivered more than 17,000 petition signatures in support of the measure to Assembly Speaker Oliver and Assembly Minority Leader Bramnick.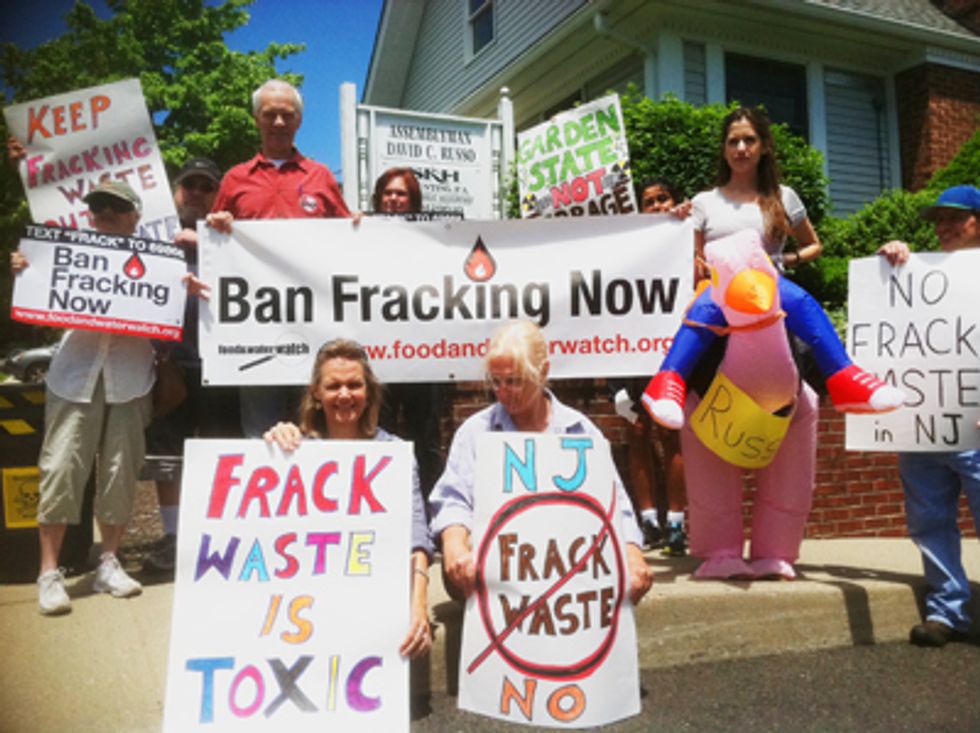 The Fracking Waste Ban Bill would protect residents by banning the disposal, treatment and discharge of toxic waste created through the process of fracking, a highly controversial natural gas drilling method. The legislation was passed with overwhelming bipartisan support last year but was vetoed by the governor in September. At various rallies today, activists dressed as ostriches, urging Oliver and Bramnick not to "bury their heads in the sand" but instead take immediate action to protect state residents.
"It's very simple—the people of New Jersey want this veto overridden, and they're expecting legislative leaders to act now," said Jim Walsh, regional director of Food & Water Watch. "There's nothing more important than the health and safety of New Jersey families, and an inundation of toxic fracking waste into our state would threaten that."
New Jersey's wastewater treatment facilities are not designed to handle the toxins found in fracking wastewater and cannot remove all the toxics before discharging the waste into public waterways. Fracking waste is exempted from critical federal protections regulating the disposal of hazardous waste and toxic materials.
"This is the most important clean water issue New Jersey has faced since the passage of the Clean Water Act 40 years ago. If we had fracking waste stored here when Sandy hit a disaster would have become an environmental nightmare," said Jeff Tittel, director of New Jersey Sierra Club. "We already have enough toxic sites and polluted water, we do not need to create more through fracking waste. We need the legislature to stand up for clean water and against special interests by voting to override the veto."
Analysis from the non-partisan Office of Legislative Services confirms the constitutionality of the legislation, directly refuting the governor's claims to the contrary. A recent study from Stony Brook University finds that the greatest risk of contamination of drinking water and environmental pollution from the fracking process occurs during the wastewater disposal period.
"The legislature took a stand to protect our drinking water and communities from frack waste pollution with the passage of the Frack Waste Ban Bill. With the governor's veto, the bill will die unless the legislature stands up again," said Tracy Carluccio, deputy director of Delaware Riverkeeper Network. "We need all those who voted to prohibit the dumping of this waste to vote again to override the veto to prevent the pollution and health impacts that will result from this radioactive material."
"This is an important vote—to protect our drinking water, to avoid enabling climate disruption in a post-Sandy New Jersey, and to bring hope to citizens that their representatives will put partisan politics aside and do the right thing," said Dave Pringle, campaign director of New Jersey Environmental Federation. "It's one thing to vote the right way when your vote's not needed, but it's another when your vote will be the difference maker."
Visit EcoWatch's FRACKING page for more related news on this topic.
——–
Sign the petition today, telling President Obama to enact an immediate fracking moratorium:

EcoWatch Daily Newsletter
By Jon Campbell
Proponents of hydraulic fracturing have asked New York's top court to decide whether local governments can ban gas drilling, but whether the court agrees to take the case is far from certain. Attorneys for Norse Energy and an Otsego County farmer made the filing late Friday, asking the seven-member Court of Appeals to take on the cases of a pair of upstate towns that changed their zoning laws in 2011 to ban hydrofracking and gas drilling.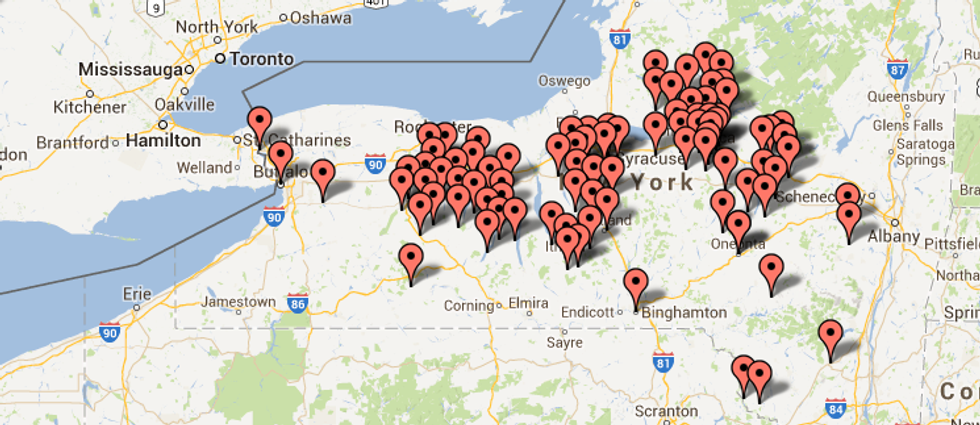 New Yorkers Against Fracking
Since a mid-level appeals court ruled unanimously last month in favor of upholding the bans, however, there's no requirement that the top court must hear the case.
The cases—involving the towns of Dryden in Tompkins County and Middlefield in Otsego County—are expected to set a precedent statewide and have been closely watched by fracking supporters and opponents. More than 150 municipalities have passed a ban or moratorium on gas drilling or fracking, according to FracTracker, a website tracking the issue.
"We hope that the New York Court of Appeals recognizes the importance of this issue and grants leave to appeal to provide definitive guidance concerning this important issue of statewide significance," said Tom West, an Albany-based attorney representing Norse, which inherited the lawsuit from Anschutz Exploration Corp. after the company declined to pursue an appeal.
Attorneys for Norse and Jennifer Huntington, owner of a dairy farm in Middlefield, contend that a provision in state oil-and-gas law—which prohibits localities from regulating the industry, except for when it comes to local roads—also prevents local governments from enacting drilling bans. The lower courts, however, have sided with the municipalities, citing a previous court decision regarding sand and gravel mining that allowed a ban to stand.
"Our client, the Town of Dryden, is prepared to continue fighting to preserve its way of life from the consequences of oil and gas development," said Deborah Goldberg, managing attorney of Earthjustice, a nonprofit law group representing Dryden. "And we'll fight alongside them until this matter is resolved once and for all."
Statistically, the chances of the Court of Appeals accepting the appeal is small. Of the 999 requests for permission to appeal to the court in 2012, just 64 requests, or 6.4 percent, were granted, according to the Court of Appeals' annual report. In 2011, 7.4 percent of such requests were granted.
The court usually takes several weeks to decide on whether to accept a motion to appeal.
High-volume hydrofracking is on hold in New York as Gov. Andrew Cuomo's administration completes various levels of review. State Health Commissioner Nirav Shah has given no recent timeline for his work to be completed.
Visit EcoWatch's FRACKING page for more related news on this topic.
——–
Sign the petition today, telling President Obama to enact an immediate fracking moratorium: