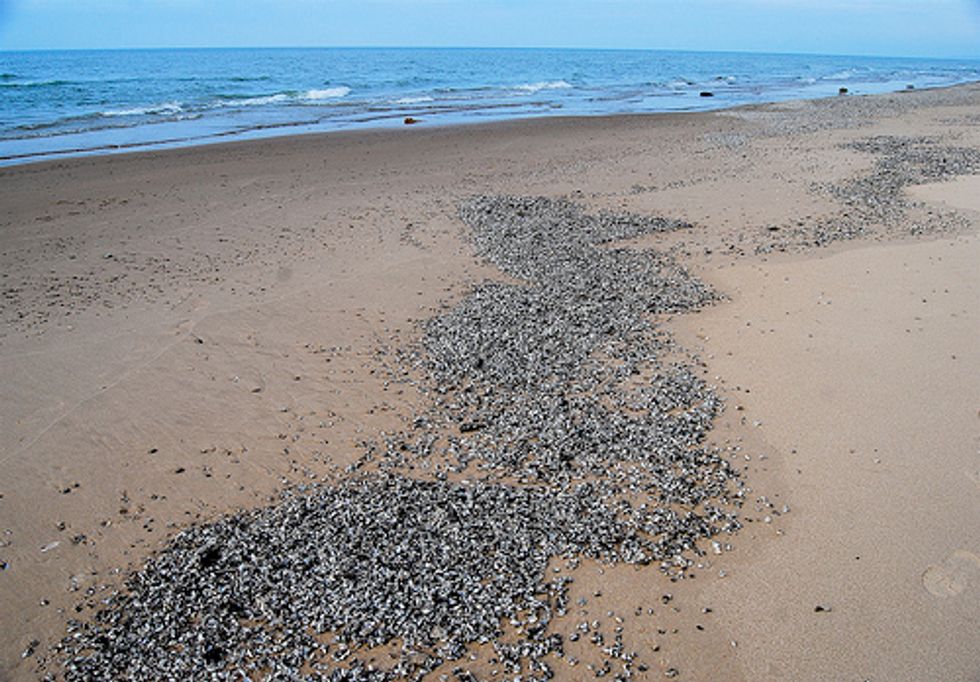 The U.S. Environmental Protection Agency (EPA) is failing to uphold its federal Clean Water Act duty to protect the Great Lakes and other U.S. waters from the introduction and spread of invasive species via ships' ballast water discharge, conservation groups said in comments to the agency on Feb. 21.
The organizations call on EPA to strengthen a proposed permit to regulate ballast water discharges from commercial vessels. The comment period on the permit ends Feb. 21.
"The Great Lakes have been global ground zero for invasions and ought to be a global leader in prevention," said Joel Brammeier, president and CEO of the Alliance for the Great Lakes. "We've waited long enough. EPA has the opportunity to apply the protections our waters sorely need. Let's get it right this time."
Invasive species introduced and spread via ballast water discharge are already wreaking havoc on the Great Lakes and other U.S. waters. A litany of non-native invaders—including zebra mussels, quagga mussels, spiny water fleas and round gobies—have turned the Great Lakes ecosystem on its head, altering the food web and threatening the health of native fish and wildlife. Non-native ballast water invaders cost Great Lakes citizens, utilities, cities and businesses at least $1 billion every five years in damages and control costs, according to research by the University of Notre Dame.
Despite the staggering costs associated with the damage caused by invasive species, the EPA has resisted taking action on the issue for decades. The proposed permit to regulate ballast water discharges comes after a long legal battle. Now, as the nation celebrates the 40th anniversary of the Clean Water Act, advocates are working to ensure the agency finally issues a permit that shuts the door on invasive species.
The proposed ballast water permit takes modest steps to reduce the risk of ballast-mediated introductions. The permit:
Requires ships to install technology that meets the International Maritime Organization's standard to treat ballast water
Requires ships entering the Great Lakes to employ the added protection of exchanging ballast water to flush out and kill non-native freshwater organisms
Conservation groups assert that the permit still leaves the Great Lakes and other U.S. waters vulnerable to the introduction and spread of invasive species—and does not adhere to the Clean Water Act. The groups are asking the EPA to make the following improvements to the permit:
Adopt a zero-discharge standard for invasive species
Adopt the most protective technology standards nationwide
Develop standards for lakers, ships that ply the Great Lakes
Develop a faster implementation timeline to implement new technology standards
Now the states must certify EPA's permit. The EPA must issue a final permit by Nov. 30.
To see the full comment letter to EPA, click here.
To see the abbreviated comments to EPA, click here.
To see the joint press release, click here.
For more information, click here.
EcoWatch Daily Newsletter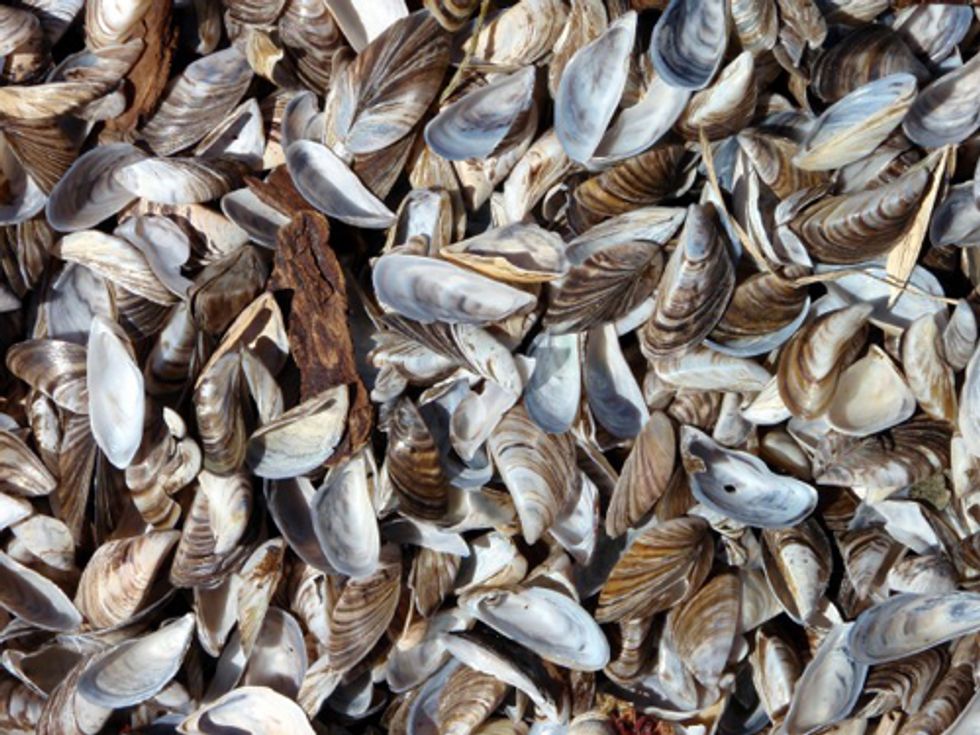 Late Nov. 30, the federal government took another tentative step toward protecting the Great Lakes and vulnerable coastal waters from the scourge of invasive species with proposed limitations on their chief delivery vehicle—ballast water dumping by commercial vessels. The U.S. Environmental Protection Agency (EPA) proposed a new national permit to deal with discharges of ballast water that are a normal part of operating freighters and other large commercial vessels. As a result of a legal settlement, that permit will limit the number of invasive species that vessels can dump in the Great Lakes and other water bodies. Unfortunately, EPA's new limits are pegged to standards established by the International Maritime Organization, which while supported by the shipping industry, are not strict enough to prevent the introduction and spread of invasive organisms which currently cost the eight Great Lakes states more than $1 billion every five years.
"It is hard to see the movement of invasive species until it is too late," said Thom Cmar, attorney for the Natural Resources Defense Council. "Unfortunately, out of sight, out of mind has meant that we have not dealt with the problem of 'living pollution' as aggressively as other environmental threats like oil spills or toxic releases. The new proposed ballast water permit is par for that course—it is a start, but nowhere near what is needed to stop these uninvited critters from sapping our most valuable water resources."
The permit update comes on the heels of a long legal battle to force EPA to regulate ballast water under the Clean Water Act. Protective limits on invasive species in vessels' ballast discharges are necessary to prevent the introduction and spread of aquatic invasive species carried in the ballast tanks from overseas ports. Species like the zebra and quagga mussels, spiny water fleas and round gobies have all arrived to the Great Lakes via the unregulated discharge of contaminated ballast water.
"Since the opening of the St. Lawrence Seaway, the Great Lakes has been ground zero for freshwater invasions from overseas vessels," said Jennifer Nalbone, director of Navigation and Invasive Species for Great Lakes United. "The EPA's VGP (Vessel General Permit) is a real opportunity to advance protection for the Great Lakes and the nation. After decades of painfully slow progress, our waters deserve a leap forward in protection, not a baby step."
While the new permit represents an improvement over previous versions, conservation groups and scientists are concerned that the weak international standards are not strict enough to prevent the next major invasive species threat. International Maritime Organization ballast water standards are not scientifically based and offer only a marginal improvement over the current practice of flushing ballast tanks with saltwater.
The federal Clean Water Act requires EPA to give states an opportunity to add requirements to the proposed permit if the states find that more stringent provisions are necessary to protect against vessels' pollution. The states of New York and California have already adopted far more stringent standards, based on their own scientific determinations that anything less protective would leave their waters vulnerable to new species invasions. As part of EPA's permit update, all of the states will have the opportunity to decide whether they will adopt their own more stringent ballast water standards. In addition, the Coast Guard has finally sent its final rule-making to set standards for living organisms in ships' ballast water to the Office of Budget and Management. By contrast, recent legislation passed by the U.S. House of Representatives would also adopt the weak International Maritime Organization ballast water standards, but it would do so while also eliminating EPA's authority to require more protections under the Clean Water Act, as well as states' authority to create more stringent requirements under tougher state laws.
"The proposed EPA permit is a step in the right direction, but it still doesn't shut the door on invasive species," said Andy Buchsbaum, director of the National Wildlife Federation-Great Lakes Program Office. "On the positive side, it sets numerical limits for ballast water discharges and maintains the rights of states to add additional protections. But EPA's proposed standard still allows the discharge of invasive organisms into the Great Lakes and the nation's waters at significant levels. That's simply not acceptable."
EPA will entertain public comments on the draft permit for 75 days, before finalizing the permit in late 2012. Conservation groups will submit written comments to EPA urging the permit be strengthened.
Great Lakes groups also express concern over the exemption of "lakers," ships operating only in the Great Lakes. While these boats may not be responsible for the introduction of new invasive species from overseas, they have been shown to facilitate the movement of foreign organisms between the Great Lakes. Additionally, the permit allows for a lengthy delay before vessels will be required to install new ballast technology, allowing some vessels to operate for more than a decade before meeting the new standards.
"The Great Lakes are more than ready for a strong national standard that can help win the war against invasive species," said Joel Brammeier, president and CEO of the Alliance for the Great Lakes. "While EPA's first draft does not go far enough to protect our waters, there is still time to craft a permit that truly puts us on track to eliminate devastating invasions of the largest freshwater resource on the continent."
"Stopping the influx of invasive species is essential to restore and protect the Great Lakes," said Jeff Skelding, campaign director for the Healing Our Waters-Great Lakes Coalition. "The people, communities and businesses that have paid billions of dollars over the years to deal with the vast economic and environmental damage caused by invasive species deserve the strongest possible water quality protections."
For more information, click here.
waterlust.com / @tulasendlesssummer_sierra .
Each product featured here has been independently selected by the writer. If you make a purchase using the links included, we may earn commission.
The bright patterns and recognizable designs of Waterlust's activewear aren't just for show. In fact, they're meant to promote the conversation around sustainability and give back to the ocean science and conservation community.
Each design is paired with a research lab, nonprofit, or education organization that has high intellectual merit and the potential to move the needle in its respective field. For each product sold, Waterlust donates 10% of profits to these conservation partners.
Eye-Catching Designs Made from Recycled Plastic Bottles
waterlust.com / @abamabam
The company sells a range of eco-friendly items like leggings, rash guards, and board shorts that are made using recycled post-consumer plastic bottles. There are currently 16 causes represented by distinct marine-life patterns, from whale shark research and invasive lionfish removal to sockeye salmon monitoring and abalone restoration.

One such organization is Get Inspired, a nonprofit that specializes in ocean restoration and environmental education. Get Inspired founder, marine biologist Nancy Caruso, says supporting on-the-ground efforts is one thing that sets Waterlust apart, like their apparel line that supports Get Inspired abalone restoration programs.
"All of us [conservation partners] are doing something," Caruso said. "We're not putting up exhibits and talking about it — although that is important — we're in the field."
Waterlust not only helps its conservation partners financially so they can continue their important work. It also helps them get the word out about what they're doing, whether that's through social media spotlights, photo and video projects, or the informative note card that comes with each piece of apparel.
"They're doing their part for sure, pushing the information out across all of their channels, and I think that's what makes them so interesting," Caruso said.
And then there are the clothes, which speak for themselves.
Advocate Apparel to Start Conversations About Conservation
waterlust.com / @oceanraysphotography
Waterlust's concept of "advocate apparel" encourages people to see getting dressed every day as an opportunity to not only express their individuality and style, but also to advance the conversation around marine science. By infusing science into clothing, people can visually represent species and ecosystems in need of advocacy — something that, more often than not, leads to a teaching moment.

"When people wear Waterlust gear, it's just a matter of time before somebody asks them about the bright, funky designs," said Waterlust's CEO, Patrick Rynne. "That moment is incredibly special, because it creates an intimate opportunity for the wearer to share what they've learned with another."
The idea for the company came to Rynne when he was a Ph.D. student in marine science.
"I was surrounded by incredible people that were discovering fascinating things but noticed that often their work wasn't reaching the general public in creative and engaging ways," he said. "That seemed like a missed opportunity with big implications."
Waterlust initially focused on conventional media, like film and photography, to promote ocean science, but the team quickly realized engagement on social media didn't translate to action or even knowledge sharing offscreen.
Rynne also saw the "in one ear, out the other" issue in the classroom — if students didn't repeatedly engage with the topics they learned, they'd quickly forget them.
"We decided that if we truly wanted to achieve our goal of bringing science into people's lives and have it stick, it would need to be through a process that is frequently repeated, fun, and functional," Rynne said. "That's when we thought about clothing."
Support Marine Research and Sustainability in Style
To date, Waterlust has sold tens of thousands of pieces of apparel in over 100 countries, and the interactions its products have sparked have had clear implications for furthering science communication.
For Caruso alone, it's led to opportunities to share her abalone restoration methods with communities far and wide.
"It moves my small little world of what I'm doing here in Orange County, California, across the entire globe," she said. "That's one of the beautiful things about our partnership."
Check out all of the different eco-conscious apparel options available from Waterlust to help promote ocean conservation.
Melissa Smith is an avid writer, scuba diver, backpacker, and all-around outdoor enthusiast. She graduated from the University of Florida with degrees in journalism and sustainable studies. Before joining EcoWatch, Melissa worked as the managing editor of Scuba Diving magazine and the communications manager of The Ocean Agency, a non-profit that's featured in the Emmy award-winning documentary Chasing Coral.