By Andy Rowell
Later today, the 538 members of the Electoral College will meet to determine who will be the next President of the U.S.
Normally these meetings are a formality, with electors reflecting the vote results from their states, but there is growing sense that some electors might defy their party and vote against Donald Trump.
At least one elector has publicly said he will not vote for Trump as he refuses to vote for "someone who shows daily he is not qualified for the office … Trump lacks the foreign policy experience and demeanor needed to be commander in chief."
#TrumpWatch: Trump Declares All-Out War on Environment With Fossil Fuel-Loving Cabinet https://t.co/Yo98Ttt791 @beyondzeronews @ukycc

— EcoWatch (@EcoWatch)1482141911.0
This lack of foreign policy experience has been reflected in Trump's disastrous pick for Secretary of State, Rex Tillerson, the current boss of oil giant Exxon, which has caused outrage from many quarters and is now the subject of satirists, cartoonists and fodder for the sketch writers at Saturday Night Live.
OMG! #Putin & #Tillerson Talk Drilling the #Arctic on #SaturdayNightLive https://t.co/S3e6ZJWHg2 @nbcsnl @greenpeaceusa @Greenpeace @NRDC

— EcoWatch (@EcoWatch)1482091931.0
Apart from Exxon being the subject to a criminal investigation into lying about climate change, there are many other accusations of ill-practice against the company including its "long history of questionable deals with oil-rich countries around the world" and the fact it has "consistently tried to undermine global efforts aimed at reducing corruption in the extractives sector," according to Global Witness.

One of the main problems for Trump is Tillerson's close relationship with Russian President Vladimir Putin, which raises huge conflicts of interest. The issue has been raised by both sides of the house in the U.S. as well as the company's critics, since Tillerson was nominated.
As my colleague Lorne Stockman wrote, "There's no doubt that Rex Tillerson and Exxon's executives and shareholders will profit from his nomination to Secretary of State. The only question is by how much."
Tillerson owns Exxon stock worth $200 million. So even after leaving the company, what is good for Exxon will be good for Tillerson and one of those will be getting sanctions lifted in Russia, allowing Exxon back into the Russian Arctic. And even if Tillerson divests that stock, his lifetime of allegiance to Exxon and the oil industry will be hard to break.
This is a man who has oil in his veins.
Many have criticized his appointment, with Steve Kretzmann from OCI arguing that "The nomination of Rex Tillerson has revealed with startling clarity that our government is being set up to support the interests of Big Oil and Putin, not the American people or the planet."
Ken Kimmell, president of the Union of Concerned Scientists added: "You wouldn't hire the CEO of a tobacco company to serve as surgeon general. So why would you pick the leader of an oil and gas corporation to spearhead a position tasked with national security and global climate action?"
And now further questions are being asked over Tillerson's links with the Russians.
Documents leaked over the weekend, reveal that Tillerson was a long-term director of a U.S.-Russian oil firm based in the tax haven of the Bahamas.
Tillerson became a director of the oil company's Russian subsidiary, Exxon Neftegas, in 1998. He was a director for just under a decade, according to Exxon.
As the Guardian reported: "Though there is nothing untoward about this directorship, it has not been reported before and is likely to raise fresh questions over Tillerson's relationship with Russia ahead of a potentially stormy confirmation hearing by the U.S. senate foreign relations committee."
The documents from the Bahamas reveal that Exxon registered at least 67 companies in the secretive tax haven. And they add to the evidence that Tillerson's Russian links are deeper than we thought, and a real cause for concern.
EcoWatch Daily Newsletter
Undercover police raided an environmental activist's home. Cabinet ministers hacked and then released to the media emails and sensitive financial information from an environmental group. When the Supreme Court ruled that the cabinet ministers had violated the environmentalists' right to privacy, the ministers tried to jail the environmental group's lawyer and the judge who decided the case.
Are these assaults on civil and human rights and the rule of law taking place in some far-away, fragile, failed state, teetering on the brink of dictatorship? Unfortunately, this is happening less than 100 miles from Florida in the Bahamas, a long-standing democracy, American ally and member of the British Commonwealth.
Bahamian officials' alliance with a billionaire polluter, has created a constitutional crisis in their island nation—and cause for concern for their country's freedom-loving allies on both sides of the Atlantic Ocean.
Canadian Tycoon Clashes With Environmentalists in Bahamas http://t.co/qQJfVAu8sQ @ClimateLabBook @GreenpeaceUK @GreenpeaceAustP

— EcoWatch (@EcoWatch)1410039921.0
The target of abuse by the politicians and police is Save the Bays, the umbrella organization of Bahamian Waterkeepers. It's a feisty little advocacy group that safeguards Bahamian coral reefs, beaches and marine environments through education and legal action. These efforts sometimes put Save the Bays and its Waterkeeper affiliates at odds with the country's big polluters, foreign developers and their friends in the Bahamian parliament.
The nation-shaking drama began when Save the Bays' Clifton Bay Waterkeeper sued Canadian apparel manufacturer Peter Nygard for illegally taking public ("Crown") land by filling Clifton Bay and destroying its world famous marine area to expand buildings on his private Lyford Cay residence. Nygard is a well-connected billionaire who boasts of having donated millions of dollars to members of the current Bahamian government. His neighbor, philanthropist and co-founder of Save the Bays, Louis Bacon, subsequently was subjected to a bogus police raid on his home called-in by Nygard in retaliation. Bahamian undercover officers handcuffed and threatened Bacon's household staff, and in what was clearly intended as a menacing gesture, collected photos of Bacon's children. The commissioner of police later apologized to Bacon for the raid, blaming it on an officer cozy with Nygard, and the pictures were returned.
In March, a group of Bahamian cabinet ministers mysteriously procured Save the Bays' private emails and financial records and disclosed them in an open session of Parliament, under the guise of Parliamentary privilege. Save the Bays promptly challenged this unlawful conduct in court. In August, the Bahamian Supreme Court ruled against the ministers, holding that publishing their private communications violated constitutional rights to privacy.
Instead of backing down, the ministers doubled down. They appealed the ruling, which could eventually be heard by the Judicial Committee of the Privy Council in London—the court of final appeal for Commonwealth countries—arguing that Parliamentary privilege trumped personal rights to privacy, and that the Supreme Court lacked power to enforce the constitution against Parliament. Just for clarification, the ministers are challenging the seminal doctrines that an independent judiciary is the ultimate arbiter of constitutional interpretation. That separation of power underlies a millennium of western law.
"The right to privacy is the essence of liberty," said Frederick Smith, Save the Bays' legal director and Queens Counsel. "Were the minister's actions upheld as lawful, it would deal a crippling blow to personal freedom in the Bahamas and open the door to further extreme abuses of government power."
Furthermore, a decision to weaken privacy rights and bolster government power in the Bahamas could affect all British Commonwealth nations, which look to each other's judicial systems for legal precedents.
Even more troubling, the Bahamian government is now seeking retribution through unprecedented, punitive contempt proceedings. In a gross display of political intimidation, the ministers are actually seeking to jail Smith, who successfully argued the case against them, and have even threatened to jail Supreme Court Judge Indra Charles, who decided the case.
Resurrecting an archaic procedure from the feudal dawn of western legal history, the ministers have appointed a hand-picked Parliamentary committee that can investigate, judge, sentence and imprison Bahamian citizens—including Judge Charles—for actions that parliament considers insulting. This is a dangerous expansion of government power over civil society.
Unfortunately, the trampling of basic rights is becoming a pattern in the Bahamas. In early September, police detained Bahamian attorney Maria Daxon on charges of "criminal libel" for speaking out against the government.
This type of bullying overreach signifies a disturbing perversion of Bahamian democracy that could blowback on the economy, 15 percent of which is dependent on the financial services industry and the demand for confidentiality and privacy. Paul Moss, president of Dominion Management Services Ltd, a pre-eminent Bahamian-owned financial services firm, expressed alarm that parliamentarians or their minions had illegally hacked the emails of Save the Bays activists.
"This country has built an industry on privacy, and that is being grossly betrayed," Moss told the Bahamian Tribune. "When the international community sees there's no distinction between the Government and abuses of power, we're going to have a difficult time sustaining that [financial services] business when really it's already contracting."
If such privacy infringements are allowed to stand, it would set a legal precedent that could undermine banking privacy not just in the Bahamas, but in other Commonwealth banking centers such as the Cayman Islands and the British Virgin Islands.
Abandoning the rule of law, stomping on privacy rights, and publicly savaging and jailing sitting judges, lawyers and environmental and human rights NGOs clashes with the Bahamas' hard-won image as a financial and tourist haven. It's time for level-headed leaders in the Bahamas to step in and fix this fiasco before more lasting damage is done.
waterlust.com / @tulasendlesssummer_sierra .
Each product featured here has been independently selected by the writer. If you make a purchase using the links included, we may earn commission.
The bright patterns and recognizable designs of Waterlust's activewear aren't just for show. In fact, they're meant to promote the conversation around sustainability and give back to the ocean science and conservation community.
Each design is paired with a research lab, nonprofit, or education organization that has high intellectual merit and the potential to move the needle in its respective field. For each product sold, Waterlust donates 10% of profits to these conservation partners.
Eye-Catching Designs Made from Recycled Plastic Bottles
waterlust.com / @abamabam
The company sells a range of eco-friendly items like leggings, rash guards, and board shorts that are made using recycled post-consumer plastic bottles. There are currently 16 causes represented by distinct marine-life patterns, from whale shark research and invasive lionfish removal to sockeye salmon monitoring and abalone restoration.

One such organization is Get Inspired, a nonprofit that specializes in ocean restoration and environmental education. Get Inspired founder, marine biologist Nancy Caruso, says supporting on-the-ground efforts is one thing that sets Waterlust apart, like their apparel line that supports Get Inspired abalone restoration programs.
"All of us [conservation partners] are doing something," Caruso said. "We're not putting up exhibits and talking about it — although that is important — we're in the field."
Waterlust not only helps its conservation partners financially so they can continue their important work. It also helps them get the word out about what they're doing, whether that's through social media spotlights, photo and video projects, or the informative note card that comes with each piece of apparel.
"They're doing their part for sure, pushing the information out across all of their channels, and I think that's what makes them so interesting," Caruso said.
And then there are the clothes, which speak for themselves.
Advocate Apparel to Start Conversations About Conservation
waterlust.com / @oceanraysphotography
Waterlust's concept of "advocate apparel" encourages people to see getting dressed every day as an opportunity to not only express their individuality and style, but also to advance the conversation around marine science. By infusing science into clothing, people can visually represent species and ecosystems in need of advocacy — something that, more often than not, leads to a teaching moment.

"When people wear Waterlust gear, it's just a matter of time before somebody asks them about the bright, funky designs," said Waterlust's CEO, Patrick Rynne. "That moment is incredibly special, because it creates an intimate opportunity for the wearer to share what they've learned with another."
The idea for the company came to Rynne when he was a Ph.D. student in marine science.
"I was surrounded by incredible people that were discovering fascinating things but noticed that often their work wasn't reaching the general public in creative and engaging ways," he said. "That seemed like a missed opportunity with big implications."
Waterlust initially focused on conventional media, like film and photography, to promote ocean science, but the team quickly realized engagement on social media didn't translate to action or even knowledge sharing offscreen.
Rynne also saw the "in one ear, out the other" issue in the classroom — if students didn't repeatedly engage with the topics they learned, they'd quickly forget them.
"We decided that if we truly wanted to achieve our goal of bringing science into people's lives and have it stick, it would need to be through a process that is frequently repeated, fun, and functional," Rynne said. "That's when we thought about clothing."
Support Marine Research and Sustainability in Style
To date, Waterlust has sold tens of thousands of pieces of apparel in over 100 countries, and the interactions its products have sparked have had clear implications for furthering science communication.
For Caruso alone, it's led to opportunities to share her abalone restoration methods with communities far and wide.
"It moves my small little world of what I'm doing here in Orange County, California, across the entire globe," she said. "That's one of the beautiful things about our partnership."
Check out all of the different eco-conscious apparel options available from Waterlust to help promote ocean conservation.
Melissa Smith is an avid writer, scuba diver, backpacker, and all-around outdoor enthusiast. She graduated from the University of Florida with degrees in journalism and sustainable studies. Before joining EcoWatch, Melissa worked as the managing editor of Scuba Diving magazine and the communications manager of The Ocean Agency, a non-profit that's featured in the Emmy award-winning documentary Chasing Coral.
Have scientists figured out the mystery of the Bermuda Triangle? That's the claim that is going viral on the internet following the discovery of strange, hexagonal clouds at the western tip of the triangle.
Science Channel screenshot
According to a Science Channel documentary, the clouds were captured by satellites over the Bahamas peaking meteorologists' interest. The shape of the clouds appeared to have straight edges which, meteorologists say, is not normal.

"You don't typically see straight edges with clouds," Dr. Steve Miller, satellite meteorologist at Colorado State University, said. "Most of the time, clouds are random in their distribution."
The clouds, measuring between 20 and 50 miles across, have also been found in the North Sea in Europe and are believed to create "air bombs," formed by microbursts of air that blast out of the bottom of the cloud and hit the ocean creating massive waves and sea-level winds at up to 170 mph.

These "air bombs," Science Channel said, could provide an explanation for the mysterious disappearances in the Bermuda Triangle over the years.

While this argument is interesting, some experts, including the meteorologists who appeared in the short documentary, say it's a stretch.
"It is a common phenomenon occurring globally—most generally found at mid- to high-latitude locations over the oceans, and usually during the cold season," Steve Miller told USA Today.
Randy Cerveny, another meteorologist who talked about the "air bombs" in the Science Channel documentary, told USA Today, "They made it appear as if I was making a big breakthrough or something. Sadly, [that's] not the case."
NBC meteorologist Kevin Corriveau didn't even seem convinced that the clouds seen in the Bahamas would create "air bombs."
"When I look at a hexagonal cloud shape in the Bahamas, this is not the cloud signature of what a microburst looks like," he told NBC News. "You would normally have one large to extremely large thunderstorm that wouldn't have an opening in the middle."
Rather, he said, the odd shapes could be due to the small islands of the Bahamas heating the air differently than the long coastline of Florida, creating erratic weather patterns.
The Bermuda Triangle—a region of ocean bordered by Florida, Bermuda and Puerto Rico—has gained notoriety over the past century as the location many ships and aircrafts reportedly disappear without a trace.

Violent weather has been blamed for mysterious disappearances in the Bermuda Triangle before, along with other explanations ranging from compass problems, the Gulf Stream, methane hydrates that can reduce the density of the water and sink ships, and even paranormal activity.
While this theory adds to the discussion, there is still much more to learn about its occurrence and effect in the area of the Bermuda Triangle.
A federal court has ruled that National Marine Fisheries Service (NMFS) failed to protect thousands of whales, dolphins, porpoises, seals and sea lions from U.S. Navy warfare training exercises along the coasts of California, Oregon and Washington.
In an opinion released late Wednesday, Magistrate Judge Nandor Vadas, U.S. District Court for the District of Northern California, found that NMFS's approval of the Navy's training activities in its Northwest Training Range Complex failed to use the best available science to assess the extent and duration of impacts to whales and other marine mammals. The decision requires the federal agency to reassess its permits to ensure that the Navy's training activities comply with protective measures in the Endangered Species Act.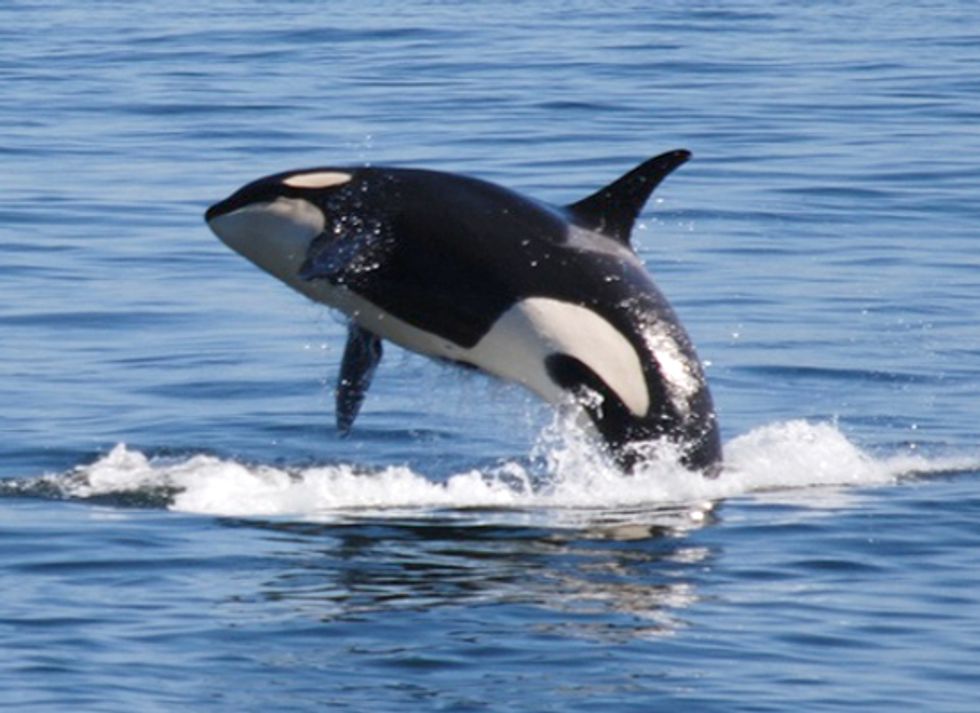 "This is a victory for dozens of protected species of marine mammals, including critically endangered Southern Resident orcas, blue whales, humpback whales, dolphins and porpoises," said Steve Mashuda, an Earthjustice attorney representing a coalition of conservation and Northern California Indian Tribes. "NMFS must now employ the best science and require the Navy to take reasonable and effective actions to avoid and minimize harm from its training activities."
The Navy uses a vast area of the West Coast, stretching from Northern California to the Canadian border, for training. Activities include anti-submarine warfare exercises involving tracking aircraft and sonar; surface-to-air gunnery and missile exercises; air-to-surface bombing exercises; and extensive testing for several new weapons systems.
In 2010 and 2012, NMFS authorized the Navy to harm or "take" marine mammals and other sealife through 2015. The permits allow the Navy to conduct increased training exercises that can harm marine mammals and disrupt their migration, nursing, breeding or feeding, primarily as a result of harassment through exposure to the use of sonar.
New science from 2010 and 2011 shows that whales and other marine mammals are far more sensitive to sonar and other noise than previously thought. In permitting the Navy's activities, NMFS ignored this new information. The Court found that the agency violated its legal duty to use this "best available data" when evaluating impacts to endangered whales and other marine life.
The Court also rejected the agency's decision to limit its review to only a five-year period when the Navy has been clear that its training activities will continue indefinitely. The Court held that NMFS's limited review "ignores the realities of the Navy's acknowledged long-term, ongoing activities in the [Northwest Training Range]," because "a series of short-term analyses can mask the long-term impact of an agency action. … [T]he segmented analysis is inadequate to address long-term effects of the Navy's acknowledged continuing activities in the area."
"This is an important win for the environment and for the tribes' traditional, cultural and subsistence ways in their ancestral coastal territories," said Hawk Rosales, executive director of the InterTribal Sinkyone Wilderness Council. "Marine mammals now stand a better chance of being protected from the Navy's war testing and training off our coastline."
According to the ruling, NMFS must now reassess the permits using the latest science, which could trigger a requirement that the Navy do more to protect whales and dolphins in its ongoing training exercises.
"The Navy's Northwest Training Range is the size of the state of California, yet not one square inch was off-limits to the most harmful aspects of naval testing and training activities," said Zak Smith, staff attorney for Natural Resources Defense Council. "NMFS relied on faulty science when approving the Navy's permits and thousands of marine mammals suffered the consequences."
"Today's ruling gives whales and other marine mammals a fighting chance against the Navy," said Miyoko Sakashita, oceans director at the Center for Biological Diversity. "This ruling means that the Navy must take greater precautions to protect marine life."
The Navy's mid-frequency sonar has been implicated in mass strandings of marine mammals in, among other places, the Bahamas, Greece, the Canary Islands and Spain. In 2004, during war games near Hawai'i, the Navy's sonar was implicated in a mass stranding of up to 200 melon-headed whales in Hanalei Bay. In 2003, the USS Shoup, operating in Washington's Haro Strait, exposed a group of endangered Southern Resident killer whales to mid-frequency sonar, causing the animals to stop feeding and attempt to flee the sound. Even when sonar use does not result in these or other kinds of physical injury, it can disrupt feeding, migration and breeding or drive whales from areas vital to their survival.
"In 2003, NMFS learned firsthand the harmful impacts of Navy sonar in Washington waters when active sonar blasts distressed members of J pod, one of our resident pods of endangered orcas," said Kyle Loring, staff attorney for Friends of the San Juans. "The use of deafening noises just does not belong in sensitive areas or marine sanctuaries where whales and dolphins use their acute hearing to feed, navigate and raise their young."
Marcie Keever, oceans and vessels program director at Friends of the Earth, added, "Recent research confirms that the 82 remaining endangered Southern Resident orcas use coastal waters within the Navy's training range to find salmon during the critical fall and winter months. NMFS must do more to assure that the Navy is not pushing these critically endangered orcas and other endangered marine mammals even closer to extinction."
Earthjustice represents the InterTribal Sinkyone Wilderness Council, Center for Biological Diversity, Friends of the Earth and Friends of the San Juans and has partnered with the Natural Resources Defense Council in the lawsuit.
Visit EcoWatch's BIODIVERSITY page for more related news on this topic.