Baby son in high chair feeding father. Getty Images
Testing published by Consumer Reports (CR) Thursday found "concerning levels" of toxic metals in popular U.S. baby and toddler food.
The consumer advocacy group tested 50 nationally-distributed, packaged foods designed for toddlers and babies for mercury, cadmium, arsenic and lead.
They found that every product they tested had measurable amounts of cadmium, inorganic arsenic or lead, that 68 percent had "worrisome" levels of at least one heavy metal and that 15 of the foods contained enough to constitute a health risk for a child eating one serving or less a day. Foods containing rice or sweet potatoes were especially impacted and there was no difference between organic and non-organic options.
Heavy metal consumption can have an outsized impact on children's health cognitive development because they are smaller, their organs are still developing and they absorb more of the metals they consume than adults do. But CR Chief Scientific Officer James Dickerson advised parents not to panic.
"The heavy metal content in baby and toddler foods is a concerning issue but not an imminent threat," he said. "The risk comes from exposure over time, and the risk can be mitigated. Making changes to your child's diet now can reduce the chance of negative outcomes in the future."
Since rice products were the most likely to have worrying amounts of inorganic arsenic, and rice absorbs 10 times the arsenic from contaminated soil compared to other grains, CR advised that parents limit their children's intake of rice cereals, and swap them out for cereals made of other grains, like oats.
When parents do serve rice, CR recommended white basmati rice from California, India and Pakistan and sushi rice from the U.S. cooked in six to ten parts water per one part rice.
CR also recommended that parents avoid packaged snacks and opt for low-metal foods like apples, applesauce, peaches, strawberries, avocados, bananas, grapes, yogurt, barley with vegetables, beans, cheese and hard-boiled eggs.
While the test was designed to sample the whole market and not single out particular products, CR did publish serving limits for some known products.
For example, it recommended limiting servings of Gerber Chicken & Rice and Gerber Turkey & Rice to less than one per day and servings of Beech-Nut Classics Sweet Potato to less than 0.5 servings a day.
However, not everything should have to fall on parents. The findings also highlight the fact that the Food and Drug Administration (FDA) does not yet regulate and test baby foods more thoroughly than adult foods.
The FDA has proposed limiting inorganic arsenic in baby rice cereal to 100 parts per billion and in apple juice to 10 parts per billion, guidelines they told CR they would have finalized by 2018.
But CR would eventually like to see them move to set and enforce a target of zero heavy metals in infant foods.
"In about a third of the products we tested, the amounts of heavy metals were below our level of concern, and for some of the products, amounts of some metals were not measurable," CR Director of Food Safety Research and Testing James E. Rogers said. "Every category of food we tested was represented in that lower-risk group. That indicates that there are ways for manufacturers to significantly reduce or eliminate these metals from their products."
Arsenic and Other Toxins Found in 80% of Baby Formulas https://t.co/rSUg6or4uW @Healthy_Child @naturallysavvy

— EcoWatch (@EcoWatch)1509414905.0
From Your Site Articles
Related Articles Around the Web
EcoWatch Daily Newsletter
iStock
The group looked at 86 different types of baby formulas and checked for more than 130 different toxins ranging from heavy metals to cancer-linked chemicals, the Clean Label Project's website says.
"It is important for consumers to understand that some contaminants, such as heavy metals like lead or arsenic, are in the environment and cannot simply be removed from food," an FDA spokesperson, told USA Today.
Though arsenic was the most common harmful chemical found in baby formulas, cadmium—which is used in batteries and as a plastic stabilizer—was also detected with alarming frequency. The study found that soy-based infant formulas had about seven times more cadmium, used in batteries, than other types of baby formula.
Both arsenic and cadmium are carcinogens that may cause cancer, according to the American Cancer Society.
Last year, the US Food and Drug Administration proposed a regulation which would limit the amount of arsenic allowed in infant rice cereal, but the limit is not yet being enforced.
The Clean Label Project also found lead in 36 percent of 500 baby food products it tested—a finding that backs up the Environmental Defense Fund's research which detected lead in about 20 percent of baby food samples.
The World Health Organization urges women to breastfeed infants if possible, noting that breastmilk has antibodies that are not found in formula, and is an affordable, nutritious food source that can foster healthy development. The WHO also warns that in communities that lack access to safe water, formula that has to be mixed with water can pose an additional risk.
The majority of baby food products and baby formula is sold in North America and Europe—87 percent and 66 percent, respectively, according to Nielsen's Global Baby Care Report—but formula is becoming more popular in developing countries.
The WHO and UNICEF recommend that mothers try breastfeeding within an hour of their baby's birth, and continue to breastfeed if it is an option until the infant is six months old. At that point, both organizations recommend introducing "nutritionally-adequate and safe complementary (solid) foods."
But the WHO says "few children receive nutritionally adequate and safe complementary foods." And according to UNICEF, "poor nutrition in the first 1,000 days of a child's life can also lead to stunted growth, which is irreversible and associated with impaired cognitive ability and reduced school and work performance."
Malnutrition and undernutrition are major issues in many developing countries, like Chad and India. Around the world, nearly 155 million children under the age of five are stunted, and 52 million children are malnourished, UNICEF reported.
Global Citizen campaigns to eliminate hunger worldwide. You can take action here.
Reposted with permission from our media associate Global Citizen.

waterlust.com / @tulasendlesssummer_sierra .
Each product featured here has been independently selected by the writer. If you make a purchase using the links included, we may earn commission.
The bright patterns and recognizable designs of Waterlust's activewear aren't just for show. In fact, they're meant to promote the conversation around sustainability and give back to the ocean science and conservation community.
Each design is paired with a research lab, nonprofit, or education organization that has high intellectual merit and the potential to move the needle in its respective field. For each product sold, Waterlust donates 10% of profits to these conservation partners.
Eye-Catching Designs Made from Recycled Plastic Bottles
waterlust.com / @abamabam
The company sells a range of eco-friendly items like leggings, rash guards, and board shorts that are made using recycled post-consumer plastic bottles. There are currently 16 causes represented by distinct marine-life patterns, from whale shark research and invasive lionfish removal to sockeye salmon monitoring and abalone restoration.

One such organization is Get Inspired, a nonprofit that specializes in ocean restoration and environmental education. Get Inspired founder, marine biologist Nancy Caruso, says supporting on-the-ground efforts is one thing that sets Waterlust apart, like their apparel line that supports Get Inspired abalone restoration programs.
"All of us [conservation partners] are doing something," Caruso said. "We're not putting up exhibits and talking about it — although that is important — we're in the field."
Waterlust not only helps its conservation partners financially so they can continue their important work. It also helps them get the word out about what they're doing, whether that's through social media spotlights, photo and video projects, or the informative note card that comes with each piece of apparel.
"They're doing their part for sure, pushing the information out across all of their channels, and I think that's what makes them so interesting," Caruso said.
And then there are the clothes, which speak for themselves.
Advocate Apparel to Start Conversations About Conservation
waterlust.com / @oceanraysphotography
Waterlust's concept of "advocate apparel" encourages people to see getting dressed every day as an opportunity to not only express their individuality and style, but also to advance the conversation around marine science. By infusing science into clothing, people can visually represent species and ecosystems in need of advocacy — something that, more often than not, leads to a teaching moment.

"When people wear Waterlust gear, it's just a matter of time before somebody asks them about the bright, funky designs," said Waterlust's CEO, Patrick Rynne. "That moment is incredibly special, because it creates an intimate opportunity for the wearer to share what they've learned with another."
The idea for the company came to Rynne when he was a Ph.D. student in marine science.
"I was surrounded by incredible people that were discovering fascinating things but noticed that often their work wasn't reaching the general public in creative and engaging ways," he said. "That seemed like a missed opportunity with big implications."
Waterlust initially focused on conventional media, like film and photography, to promote ocean science, but the team quickly realized engagement on social media didn't translate to action or even knowledge sharing offscreen.
Rynne also saw the "in one ear, out the other" issue in the classroom — if students didn't repeatedly engage with the topics they learned, they'd quickly forget them.
"We decided that if we truly wanted to achieve our goal of bringing science into people's lives and have it stick, it would need to be through a process that is frequently repeated, fun, and functional," Rynne said. "That's when we thought about clothing."
Support Marine Research and Sustainability in Style
To date, Waterlust has sold tens of thousands of pieces of apparel in over 100 countries, and the interactions its products have sparked have had clear implications for furthering science communication.
For Caruso alone, it's led to opportunities to share her abalone restoration methods with communities far and wide.
"It moves my small little world of what I'm doing here in Orange County, California, across the entire globe," she said. "That's one of the beautiful things about our partnership."
Check out all of the different eco-conscious apparel options available from Waterlust to help promote ocean conservation.
Melissa Smith is an avid writer, scuba diver, backpacker, and all-around outdoor enthusiast. She graduated from the University of Florida with degrees in journalism and sustainable studies. Before joining EcoWatch, Melissa worked as the managing editor of Scuba Diving magazine and the communications manager of The Ocean Agency, a non-profit that's featured in the Emmy award-winning documentary Chasing Coral.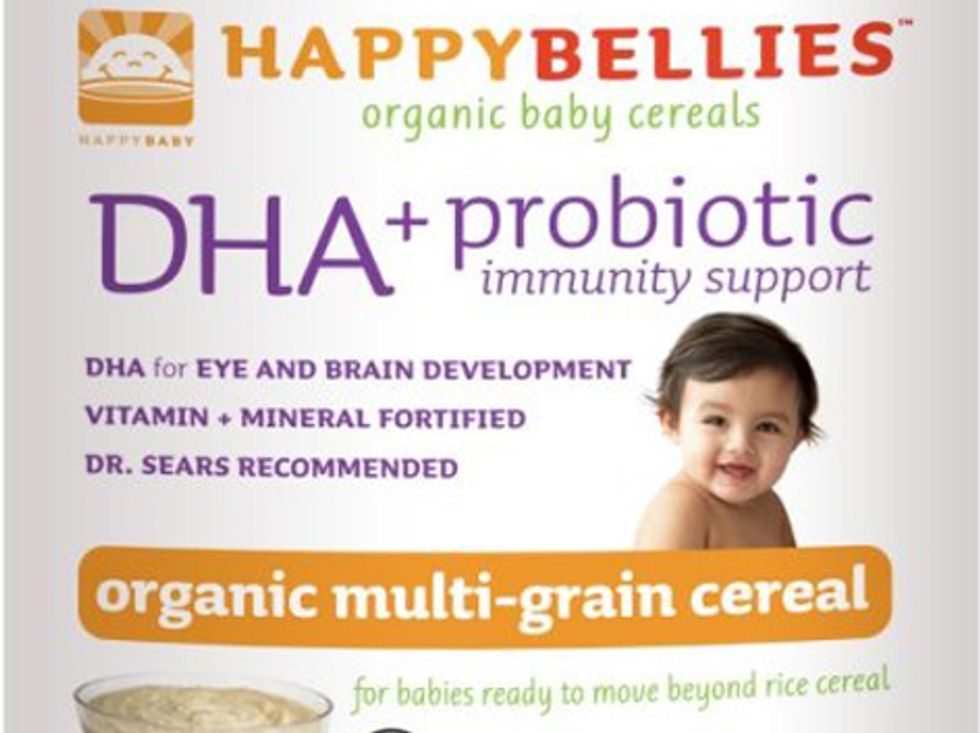 As 2011 comes to an end, we are revving up our important campaign to Safeguard Organic Standards—getting genetically engineered ingredients out of certified organic baby food. Tell organic baby food brands to stop using GMOs (genetically modified organisms) by clicking here.
Since 2006, Martek Biosciences, owned by multinational biotech giant DSM, has been selling its DHA (docosahexaenoic acid) and ARA (arachidonic acid), synthesized versions of the essential fatty acids that are naturally found in breast milk, to companies manufacturing organic infant formula, baby food and other food products.
Now the National Organic Program says the 2006 approval was illegal, and they're conducting a formal review of the Martek products for the first time.
The Cornucopia Institute has been warning since 2008 that the DHA and ARA might be made using genetic engineering, an excluded method under national organic regulations.
The Organic Consumers Association has confirmed the Cornucopia Institute's concerns with our own research and we've learned:
The DHA and ARA used in organic infant formulas and baby cereals is manipulated using microencapsulation to transform it from an oil to a powder. Microencapsulation is specifically listed as an excluded method in the organic regulations, one of a "variety of methods used to genetically modify organisms or influence their growth and development by means that are not possible under natural conditions or processes and are not considered compatible with organic production."
In addition, DHA and ARA are produced from mutant strains of algae and fungi with unnaturally high DHA and ARA levels. Mutagenesis is not specifically mentioned in the organic regulations' definition of excluded methods, but it certainly fits the category definition listed above.
Mutagenesis involves exposing cells to radiation or mutagenic chemicals to create a variety of mutant cells from which desired characteristics can be selected. DSM, Martek's new owner and the long-time producer of its ARA, boasts the invention of modern extensions of this process, including "site-directed mutagenesis technology." DSM screens the vast numbers of microbial strains produced by random mutagenesis and selects for improved properties using a robotic High-Throughput Screening facility which automates analytical tasks, including complex enzymatic analyses and high-tech flow-injection nuclear magnetic resonance. Then, they use recombinant-DNA technology to combine multiple mutations in a single organism.
Products of microencapsulation and mutagenesis don't belong in organic. To help get these GMOs out of organic baby food, click here.
For more information, click here.