By Marlene Cimons
It was love at first sight for Richard and Robin Kinley. But it took a sunset to seal the deal.
The Kinleys, both 59 and living in Atlanta, visited southwest Florida in January to look at Babcock Ranch, a planned community that could become the most sustainable town in America.
'World's Most Sustainable City' to Run on 100% Solar https://t.co/op2nY6QS44 @Green_Europe @globalactplan

— EcoWatch (@EcoWatch)1462708209.0
When finished, Babcock Ranch, located about 20 minutes from Fort Myers, will be powered almost entirely by the sun, turning to natural gas on cloudy days. Homes will be energy-efficient, many of them constructed with insulated panels designed to handle any type of Florida weather.

The town will be walkable and bikeable, with 50 miles of nature trails. Residents will be able to plant crops in community gardens. Houses will be set near sidewalks so neighbors can more easily interact with one another. To encourage homeowners to drive electric vehicles, the town will install numerous charging stations. Its public vehicle fleet will be electric and driverless.
Richard and Robin Kinley. Babcock Ranch
The Kinleys found all of this irresistible. Returning to their hotel room after their tour, Kinley suggested to his wife: "Let's go back tonight and look at the sunset. We sat on the grass near this little lake, on the lot we were interested in and watched the sun go down. Everything just fell into place. We loved it."

The Kinleys were the first to buy a home at Babcock, where construction is now just getting underway. They expect to move into their one-story ranch style house in time for the fall and winter holidays.
"If I sat down and wanted to design a community from scratch, this would be it," said Kinley. "I love having a front porch where I can talk to my neighbors and a downtown area within a five-minute walk."
This is exactly what Babcock Ranch's developer, Syd Kitson, CEO of Kitson & Partners, had in mind when he conceived of the idea of creating a town that aims "to go back to the way we used to live when we were younger, where you know your neighbors and has the things you remember when you were growing up," he said. "We are dead set on proving that development and preservation can work hand-in-hand."
Babcock Ranch
He traces his connection to nature to his childhood. "When I was very young, my parents didn't allow us to stay inside," Kitson said. "We went camping, deep into the woods for weeks at a time and I developed a deep love of the land. I appreciate what it means. I think people intuitively understand that you feel better when you are in the woods or on top of a mountain. I really believe you will live longer and have a better life."
On July 31, 2006, Kitson's company completed its purchase of 91,000 acres along Florida's southwest coast and that same day sold 73,000 acres back to the state and to Lee County in what has been described as the largest single land preservation agreement in Florida's history. The agreement kept the vast majority of the land untouched, allowing ranching operations to continue and leaving Kitson with nearly 18,000 acres—an area about the size of Manhattan—for development.
The Babcock Ranch plan calls for 19,500 homes, schools, shops, green spaces, lakes and nature trails. Eventually, they plan to add condos and apartments. Someday, as many as 50,000 people will live there.

Kitson says that, to achieve his goal of having, as he describes it, the first solar town in America, he found an ally in Florida Power & Light. The utility company built a new solar power plant in Charlotte County, whose 343,000 solar panels will supply power to Babcock Ranch.
In the evenings or on sunless days, the town will be powered by natural gas "until we get that solar storage puzzle solved," Kitson said. Finding ways to store solar power "is very important and we want to be a living laboratory to implement that into Babcock," he said.
Mitch Pavao-Zuckerman, assistant professor of environmental science and technology at the University of Maryland's college of agriculture and natural resources—who is not involved with Babcock Ranch—calls the creation of a nearly all-solar town "a great opportunity to learn more about the feasibility of these kinds of developments."
"It could allow for testing how efficient these kinds of decentralized systems are in real settings and also how they respond to variability in weather—and solar production—and potential risks to the network," he added. "They've put a good deal of consideration into the physical and aesthetic design of the community and elements of environmental sustainability."
For starters, the homes will strive to be energy efficient. Brian Bishop, president of New Panel Homes, which manufactures—and will supply—the structural insulated panels for one of the home builders at Babcock Ranch, said the houses from his building kits all will meet standards established by the Florida Green Building Coalition, which administers green certifications throughout the state.
This 75 MW solar array will supply power to Babcock Ranch. Babcock Ranch
Bishop predicts that the energy cost for each house will run no more than about $90 a month. Because these homes must be air tight to be energy efficient, his team also ensures the air quality. "Our customers want a green, healthy, nontoxic home with a tiny electric bill, that is disaster safe," Bishop said. "This isn't just some quirky thing for yuppies. Everybody benefits."

Not everyone, however, is happy with the Babcock Ranch project. The South Florida Wildlands Association, a nonprofit that works to protect wildlife in the state, argues that the town will prevent the endangered Florida panther from expanding its current breeding grounds. Only about 100 of these panthers remain in the wild.
"This is one of the worst locations they could have chosen to build the city of the future," said Matthew Schwartz, executive director of the association. "It will preclude the panthers from using that area."
U.S. National Park Service
But Eric Draper, executive director of Audubon Florida, points out that panthers have never used the Babcock area for breeding. "There were no established panthers on the land," he said. "The land is a good distance from where the panthers currently live and breed and [there's] no reason to think they will someday cross the [Caloosahatchee] river—[the northern boundary of their current active habitat]—and migrate there."

Still, Kitson & Partners, working with the state, set aside 17,000 acres in the preserved area for panther habitat, if they should ever try to migrate there. The animals, however, still would have to find a way to cross the river, as the only routes there are bridges with vehicle traffic.
For his part, Kitson hopes his future town "will be a model for the rest of the country, maybe even the world," he said. "The greatest thing we can do is create a model that works economically and where people want to live."
The Kinleys are believers. Kinley hopes his company will approve a transfer. If not, he may retire. "That's the worst case scenario and that's not a bad worst case scenario," he said. He laughed. "After we signed the papers and they told us we were the first ones, I joked and said you should name the lake behind our house after us."
To be sure, he was just kidding. But they liked the idea, so that's what they did.

Reposted with permission from our media associate Nexus Media.
EcoWatch Daily Newsletter
Babcock Ranch, an eco-friendly community under development in southwest Florida near Fort Myers, might just be the town of the future.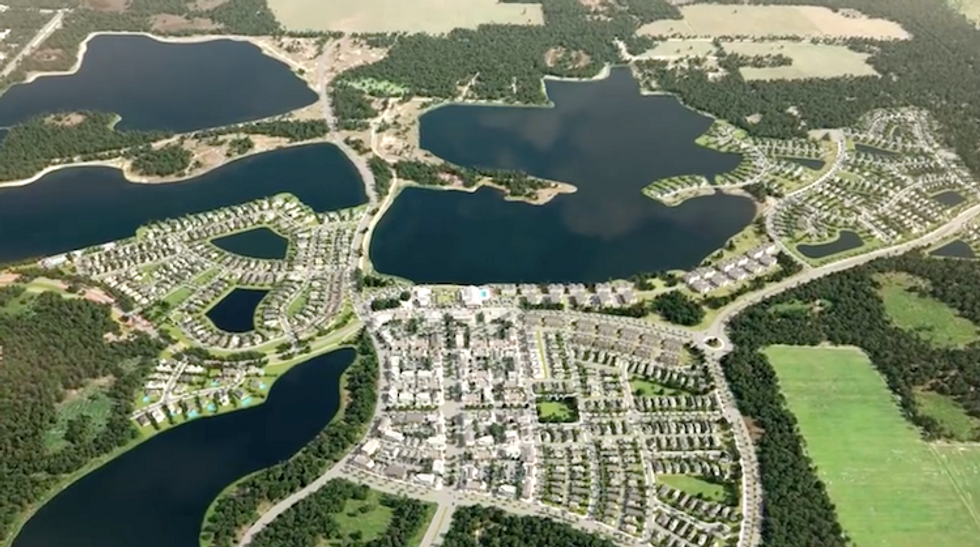 A rendering of Babcock Ranch, aka "the world's most sustainable city," will operate mainly on solar power.
"Less than a year from today, the first residents will be settling into a whole new way of life—one that is conscientious, engaging and connected," said Syd Kitson, the CEO of the development company Kitson & Partners, who has been working on this ambitious plan since 2006.
The project was approved as part of a public-private partnership strategy with the State of Florida and local governments. According to The Real Deal, Kitson & Partners initially bought the $500,000 million 91,000-acre ranch in Lee County from the Babcock family in 2006 and then sold 73,000 acres to the state as a natural preserve.
The remaining 18,000 acres—roughly the size of Manhattan—have been designated for the Babcock Ranch development.
Kitson & Partners have stated that their goal is to turn Babcock Ranch into the "world's most sustainable city" and to become the "first solar-powered city in the United States."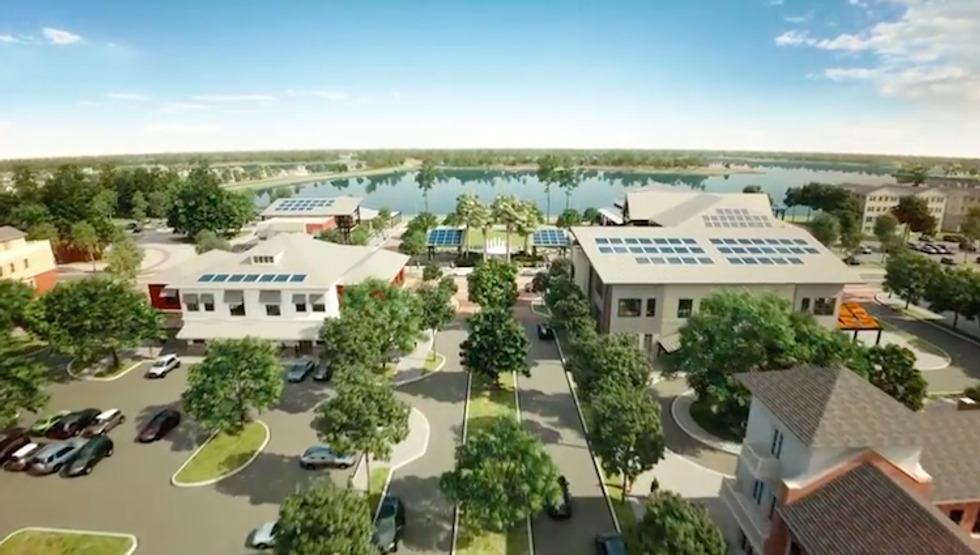 New residents will be settling into Babcock Ranch in 2017, the developers say.
The eco-town will receive its power from a 74.5-megawatt solar power plant operated by local electric utility Florida Power & Light.
"We'll always be producing more solar energy than energy we are actually using, and we're very proud of that. And when it's not solar power, it's going to be natural gas, which might be the cleanest mix you can find in the country," Kitson told ThinkProgress.
The aim is for Babcock Ranch to consume less power than the solar facility will produce so it won't need to switch to natural gas. The homes and buildings in the community are also designed to accommodate rooftop solar systems if the owner wants to increase capacity.
Besides running on sunshine, the town also wants to get rid of driving by implementing an advanced, driverless transportation system that's run by an Uber-like app, Fast Company reported.
Babcock Ranch residents will be able to get from their homes to downtown or their offices with their two feet, a bike, public transit or a ride-share to go out and about in Babcock Ranch or to nearby towns—"anything but drive their own car," as Kitson says in the video below.
Jennifer Languell, of Trifecta Construction who is working with Kitson & Partners, explained that she's designing the town to accommodate electric and autonomous vehicles.
"There are 15 new electric vehicles coming out this year. We are making sure when we are putting in the roadways that we have the infrastructure to put in those car chargers," she told New-Press.
"Maybe in 20 years autonomous vehicles might be the reality," she continued. "We are trying to be forward thinking and be adaptable in what we are doing and be durable in what we are doing. We build it to last. We don't want to rebuild it. This is a new town so we have to be thinking what is next."
Her firm is also planning on a Discovery Center, restaurants, wellness center, market cafe, schools and even a doggie daycare.
Despite being a high-tech community, residents will also have plenty of access to nature. Half of Babcock Ranch's total footprint is devoted to parks, lakes and an active trail system of more than 50 miles of preserved and restored ecosystems, the developers hoping residents will want to explore.
The community also neighbors the 73,000-acre Babcock Ranch Preserve and the 75,000-acre Cecil M. Webb Wildlife Management Area.
Babcock Ranch is a family-friendly town that promotes family activities and engagement. https://t.co/V35WR3lde8

— Babcock Ranch (@Babcock Ranch)1462120509.0
Kitson told ThinkProgress that there will be a variety of housing options for those interested in moving to the community, from condos to expansive homes, with prices ranging from $200,000s to $900,000.
"This is open to everybody," Kitson added. "We want people to come and hike on our trails. We want people to come and participate in our events. We want to create a true town feeling."
Kitson & Partners said that Phase 1 of development will be completed in 2017 and will have a total of 1,100 residences. The initial downtown district buildings will feature a state of the art wellness center, a market café, lakeside restaurant, educational facilities and an outdoor outfitter.
"When the town is completed, it will comprise 19,500 residences, an engaging downtown and a total of 6 million square feet of commercial and community space," the company said. "Ultimately, approximately 50,000 residents will call Babcock Ranch home."
waterlust.com / @tulasendlesssummer_sierra .
Each product featured here has been independently selected by the writer. If you make a purchase using the links included, we may earn commission.
The bright patterns and recognizable designs of Waterlust's activewear aren't just for show. In fact, they're meant to promote the conversation around sustainability and give back to the ocean science and conservation community.
Each design is paired with a research lab, nonprofit, or education organization that has high intellectual merit and the potential to move the needle in its respective field. For each product sold, Waterlust donates 10% of profits to these conservation partners.
Eye-Catching Designs Made from Recycled Plastic Bottles
waterlust.com / @abamabam
The company sells a range of eco-friendly items like leggings, rash guards, and board shorts that are made using recycled post-consumer plastic bottles. There are currently 16 causes represented by distinct marine-life patterns, from whale shark research and invasive lionfish removal to sockeye salmon monitoring and abalone restoration.

One such organization is Get Inspired, a nonprofit that specializes in ocean restoration and environmental education. Get Inspired founder, marine biologist Nancy Caruso, says supporting on-the-ground efforts is one thing that sets Waterlust apart, like their apparel line that supports Get Inspired abalone restoration programs.
"All of us [conservation partners] are doing something," Caruso said. "We're not putting up exhibits and talking about it — although that is important — we're in the field."
Waterlust not only helps its conservation partners financially so they can continue their important work. It also helps them get the word out about what they're doing, whether that's through social media spotlights, photo and video projects, or the informative note card that comes with each piece of apparel.
"They're doing their part for sure, pushing the information out across all of their channels, and I think that's what makes them so interesting," Caruso said.
And then there are the clothes, which speak for themselves.
Advocate Apparel to Start Conversations About Conservation
waterlust.com / @oceanraysphotography
Waterlust's concept of "advocate apparel" encourages people to see getting dressed every day as an opportunity to not only express their individuality and style, but also to advance the conversation around marine science. By infusing science into clothing, people can visually represent species and ecosystems in need of advocacy — something that, more often than not, leads to a teaching moment.

"When people wear Waterlust gear, it's just a matter of time before somebody asks them about the bright, funky designs," said Waterlust's CEO, Patrick Rynne. "That moment is incredibly special, because it creates an intimate opportunity for the wearer to share what they've learned with another."
The idea for the company came to Rynne when he was a Ph.D. student in marine science.
"I was surrounded by incredible people that were discovering fascinating things but noticed that often their work wasn't reaching the general public in creative and engaging ways," he said. "That seemed like a missed opportunity with big implications."
Waterlust initially focused on conventional media, like film and photography, to promote ocean science, but the team quickly realized engagement on social media didn't translate to action or even knowledge sharing offscreen.
Rynne also saw the "in one ear, out the other" issue in the classroom — if students didn't repeatedly engage with the topics they learned, they'd quickly forget them.
"We decided that if we truly wanted to achieve our goal of bringing science into people's lives and have it stick, it would need to be through a process that is frequently repeated, fun, and functional," Rynne said. "That's when we thought about clothing."
Support Marine Research and Sustainability in Style
To date, Waterlust has sold tens of thousands of pieces of apparel in over 100 countries, and the interactions its products have sparked have had clear implications for furthering science communication.
For Caruso alone, it's led to opportunities to share her abalone restoration methods with communities far and wide.
"It moves my small little world of what I'm doing here in Orange County, California, across the entire globe," she said. "That's one of the beautiful things about our partnership."
Check out all of the different eco-conscious apparel options available from Waterlust to help promote ocean conservation.
Melissa Smith is an avid writer, scuba diver, backpacker, and all-around outdoor enthusiast. She graduated from the University of Florida with degrees in journalism and sustainable studies. Before joining EcoWatch, Melissa worked as the managing editor of Scuba Diving magazine and the communications manager of The Ocean Agency, a non-profit that's featured in the Emmy award-winning documentary Chasing Coral.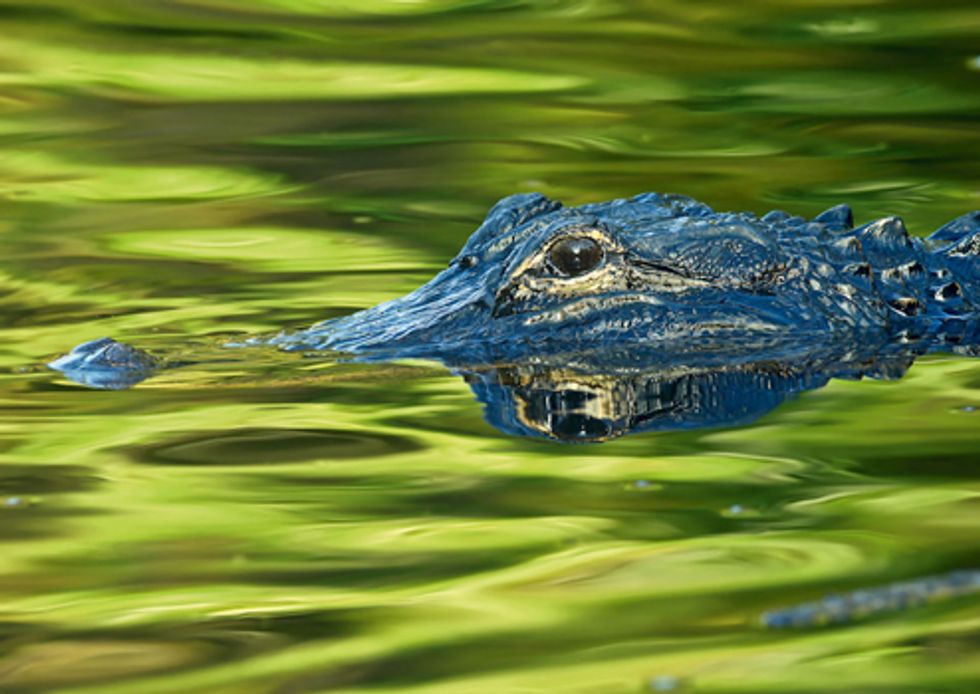 A team of explorers paddled into the serene waters of the Everglades Jan. 17 beginning the Florida Wildlife Corridor Expedition, a 1,000-mile journey that will take them from the River of Grass to the Okefenokee National Forest in South Georgia. For the next 100 days, photographer Carlton Ward Jr., biologist Joe Guthrie, conservationist Mallory Lykes Dimmitt and filmmaker Elam Stoltzfus will travel by foot, kayaks and bikes to raise awareness of a functional ecological corridor that spans the entire state of Florida. The Florida Wildlife Corridor aims to connect the natural lands and waters from Florida to southeast Georgia.
 
"Despite extensive fragmentation of the landscape in recent decades, a statewide network of connected natural areas is still possible," said Ward. "The first step is raising awareness about the opportunity we have to connect natural and rural landscapes in order to protect all of the resources that sustain us, and wildlife."
Before launching, the expedition team conducted a video interview with former Florida Gov. Bob Graham that was broadcast during the kickoff luncheon for the Everglades Water Supply Summit hosted in Tallahassee by the Everglades Foundation.        
 
Throughout the expedition, the explorers will utilize technology to send daily updates on their trip—posting photographs, videos, radio reports, social media posts and blog entries (see online links below) to keep followers informed and engaged. Stoltzfus, an award-winning cinematographer, is documenting the journey to produce a film about the expedition and the Florida Wildlife Corridor for public television. It will result in a comprehensive and informative insider's view into the remarkable ecosystems that make Florida one of the most diverse and beautiful natural areas in the country.
 
"Documenting this expedition is a tremendous opportunity to place a spotlight on Florida's delicate and diverse landscape," Stoltzfus said. "It is an opportunity to showcase the many natural resources that make up Florida beyond the state's beautiful and well-known sandy beaches."
 
The trek will include various means of travel from hiking to horseback riding. Along their journey, the team will host various activities for reporters, landowners, celebrities, conservationists, politicians and other guests. Their far-reaching expedition will take them through some of Florida's most treasured natural lands.
 
The team will make stops in more than 50 locations, including—Everglades National Park, Big Cypress, Okaloacoochee Slough, Caloosahatchee River, Babcock Ranch, Seminole Tribal Lands, Lake Okeechobee, Kissimmee River, Lake Green Swamp, Disney Wilderness Preserve, Ocala National Forest, St. Johns River and many others.
 
To follow the expedition, view the calendar of activities, and download photos and additional media materials about the Florida Wildlife Corridor project, click here.
You can also connect with the expedition team via these social media pages—Facebook, Twitter, YouTube, and Google+.
For more information, click here.