This website uses cookies to ensure you get the best experience while browsing it. By clicking 'Got It' you're accepting these terms.
Illustration of Vineyard Wind's proposal to construct a wind energy project off the coast of Massachusetts. Vineyward Wind
By Hannah Hunt
Extreme weather events offer an opportunity to take stock of our power system—how well will it withstand days of prolonged stress? Earlier this year, the eastern half of the U.S. faced one of these trials, as the "Bomb Cyclone" blasted the region with frigid air for a number of days.
The result: no major power plant outages, and a power system that held strong in the face of challenging weather conditions. And wind power made an important contribution to a resilient energy mix, helping to keep the lights on for American families and businesses.
iStock
By John Rogers
While the year 2017 is one I don't mind seeing in the rear view mirror (and I've got colleagues that would agree), in the field of clean energy we made a whole lot o' progress. A new year, if I've done my math right, means 12 more months to move the ball forward on clean energy. Here are a few things I'll be keeping my eyes on as we traverse the length of 2018.
EcoWatch Daily Newsletter
By Steve Clemmer
In March 2017, I testified before the House Energy and Commerce Committee on how federal tax credits for renewable energy have been a key driver for the recent growth in the U.S. wind and solar industries, creating new jobs, income and tax revenues for local communities. They have also helped drive down the cost of wind and solar power by more than two-thirds since 2009, making renewable energy more affordable for consumers.
By John Hensley
Fresh off the first-ever American Wind Week, the Department of Energy (DOE) National Renewable Energy Laboratory (NREL) released a new report finding wind energy cost reductions of 50 percent are possible by 2030. That's on top of the 66 percent cost reduction since 2009.
Envisioning the wind plant of the near-future—a "collection of intelligent and innovative machines operating in a highly coordinated way"—NREL expects advancements in wind turbine design, materials and controls to unlock major performance improvements and cost reductions.
American Wind Energy Association
America's wind power workforce installed 908 utility-scale turbines in the first quarter of 2017, totaling 2,000 megawatts (MW) of capacity. This is the wind industry's strongest start in eight years, according to a new report released Tuesday by the American Wind Energy Association (AWEA).
On the morning of Feb. 12, wind power provided 52.1 percent of the electricity for the 14-state grid known as the Southwest Power Pool (SPP). This is a significant milestone for wind, which has never before provided a majority of power for any U.S. grid, according to SPP.
SPP is responsible for 60,000 miles of power lines running from North Dakota and Montana to Texas, New Mexico and Louisiana. Wind generates about 15 percent of the electricity in the SPP region and is third behind coal and natural gas.
The February 52.1 percent wind-penetration beat the April 2016 record of 49.2 percent. Wind-penetration is a measure of the grid's electrical total load served by wind.
"Ten years ago, we thought hitting even a 25 percent wind-penetration level would be extremely challenging and any more than that would pose serious threats to reliability," Vice President of Operations Bruce Rew said in an SPP statement. Rew explained SPP can now reliably manage more than 50 percent wind-penetration and that they have not yet reached their "ceiling."
American Wind Energy Association's Greg Alvarez celebrated the news in a blog post. "Records like these resonate, because they demonstrate wind energy can play a key role in an affordable, reliable, diversified energy mix," he said. "That creates a stronger system, and helps keep more money in the pockets of families and businesses."
In the early 2000s, SPP wind power provided less than 400 megawatts (MW) and now provides 16,000 MW. A single MW is usually able to power around 1,000 homes, Climate Central explained.
SPP has achieved this wind power milestone because of its enormous power generation footprint, which covers nearly 550,000 square miles. If the upper Great Plains is not windy one day, SPP "can deploy resources waiting in the Midwest and Southwest to make up any sudden deficits," Rew said.
Since 2007, SPP has spent more than $10 billion on high-voltage transmission infrastructure with a focus on connecting "rural, isolated wind farms to population centers hundreds of miles away," the organization said.
In 2015, 39 states harnessed electricity from utility-scale wind projects, according to the U.S. Energy Information Administration. Texas, Oklahoma, Iowa, Kansas and California produced the most wind energy and about 50 percent of the total for U.S. wind production.
In 2016, wind power was the largest U.S. source of renewable electric capacity and is now the country's fourth-largest energy source.
Congress has been unable to extend vital tax credits for the wind industry, causing incredible uncertainty for investors in the fast-growing wind sector and threatening thousands of jobs across America, like those at Alliant Energy in Iowa highlighted in the video released by the Center for American Progress Dec. 20. With the production tax credit set to expire next December, manufacturers are already seeing a cut back in orders and developers are thinning their portfolios.
Wind companies need clarity on future investments and a looming tax credit expiration hurts business. Instead of protecting every kind of job, including green jobs, for American workers in this stagnant economy, some members of Congress are calling green jobs "illusory" and "political propaganda." So who are the American workers with jobs in the wind industry impacted by political inaction? And what do they have to lose?
Center for American Progress video producer Andrew Satter traveled to Iowa and spoke to people working in Iowa's wind industry—a sector that enjoys strong bipartisan support, maintains more than 3,000 jobs, and generates $50 million in revenue for the state each year. That economic activity helps support middle-class workers like Nathan Crawford, a wind technician with Alliant Energy who says he loves his job. "It's pretty cool that I get to do this every day," says Crawford. "The wind industry has been able to bring me and my wife back close to home."
But with national political leaders dragging their feet, they threaten these good-paying, middle-class jobs in America's heartland. That is the true price of inconsistency in clean energy policy.
Encourage American lawmakers to support the renewable energy industry by sending them a letter via the American Wind Energy Association website.
--------
The Center for American Progress is a nonpartisan research and educational institute dedicated to promoting a strong, just and free America that ensures opportunity for all. We believe that Americans are bound together by a common commitment to these values and we aspire to ensure that our national policies reflect these values. We work to find progressive and pragmatic solutions to significant domestic and international problems and develop policy proposals that foster a government that is "of the people, by the people and for the people."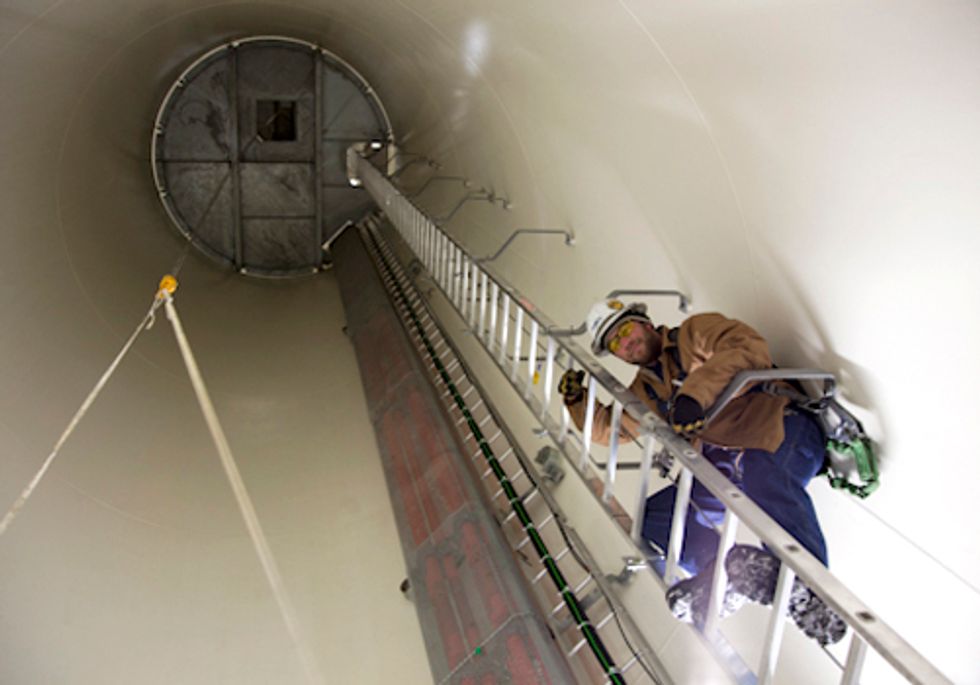 by Carl Levesque
Wind power is creating one of America's fastest-growing manufacturing sectors, providing 75,000 jobs in the U.S. currently and the promise of 500,000 jobs less than 20 years from now. But these jobs are in jeopardy without stable tax policy for the wind energy industry. Now a new website—complete with a compelling and informative new video—has launched to help enable Americans to do something about it.
The brand-new website, SaveUSAWindJobs.com, empowers Americans by giving them the facts about the urgent need to extend wind power's key federal tax incentive, the Production Tax Credit (PTC), and gives them the tools to get involved in the growing movement to pass a four-year extension. By passing an extension, Congress will save American jobs currently in danger of being shipped overseas and help the wind industry support 500,000 American jobs by 2030 as projected by the U.S. Department of Energy in the George W. Bush administration.
In the past, when the PTC was allowed to expire, wind installations dropped between 73 and 93 percent, with corresponding job losses. The SaveUSAWindJobs.com website provides vital information on the issue, including a visual depiction of this harmful yet preventable boom-bust cycle. The site also features a succinct 90-second video explaining how wind power means jobs, and how the PTC is a key driver of job creation. All 50 states have seen a positive economic impact from wind farms and factories, the video points out.
"Eliminating a tax credit to rake in more tax revenue," the video notes, "is a tax hike." Other compelling features available on the website that shine light on this crucial issue for America include a PTC fact sheet as well as a primer showing America's ability to meet 20 percent of its electricity needs with wind power—that is, with sound policies like the PTC in place.
Most importantly, SaveUSAWindJobs.com provides the tools with which Americans can take action. On the site, visitors can easily identify and contact their Members of Congress, and get the information they need to communicate to them the importance of a PTC extension.
"The SaveUSAWindJobs website is a powerful tool for the overwhelming majority of Americans who say they want more wind power," said Denise Bode, CEO of the American Wind Energy Association. "The need for a PTC extension is urgent. I ask everyone who supports more clean, homegrown wind power and more American manufacturing jobs to engage their Members of Congress by tapping into this valuable resource."
SaveUSAWindJobs.com includes information on the "Save USA Wind Jobs Coalition" a broad, nonpartisan coalition of 369 members, including manufacturing, farm and business interests. The large and diverse group recently issued a letter endorsing the four-year extension of the PTC sponsored by Representatives Dave Reichert (R, WA-08) and Earl Blumenauer (D, OR-03) (H.R. 3307, the "American Renewable Energy Production Tax Credit Extension Act"). Signatories to the letter include the National Association of Manufacturers, the American Farm Bureau Federation, the Edison Electric Institute, the Western Governors' Association, the United Steelworkers and many members of the environmental community. The letter is available here.
Support for this important piece of legislation was also recently received from the bipartisan Governors' Wind Energy Coalition, 23 Republican and Democrat governors from states all across the country. A copy of the Governor's Wind Energy Coalition letter can be found here.
John Feehery, a former spokesman for several Republican congressional leaders, including former Speaker of the House Dennis Hastert and currently President of Communications and Director of Government Affairs for Quinn Gillespie and Associates, also recently endorsed extending the PTC.
The House bill to extend the PTC, H.R. 3307, already has 29 bipartisan co-sponsors, and this list is growing every day. On the Senate side, legislators are discussing which provisions will be included in the tax bill that they intend to pass this month.
We are asking you to speak up at this crucial time—make a call to your Senator right now to urge him or her to include an extension of the PTC in any tax bill that moves forward this year.
AWEA has set up a hotline to connect you to your Senator's office. Call 1-877-234-9199 and rely this message:
• I urge the Senator to support, and advocate for, the inclusion of a renewable energy production tax credit extension in any tax bill that moves forward this month.
• For the purposes of the American wind industry manufacturing sector, the PTC effectively expires at the end of this year.  
• Layoffs have already begun, and the wind industry will continue to lose jobs in our state if the PTC is not extended this year.
The PTC is a tax incentive that helps keep electricity rates low and encourages development of proven renewable energy projects.  The status of the PTC is uncertain beyond 2012.  This uncertainty is keeping developers from planning projects beyond next year. That pause is keeping manufacturers from receiving orders now.  If Congress waits too long, these jobs will never come back.  
The only way that the PTC can be extended this year is for it to be included in the tax legislation Congress is working on right now.
For more information, click here.
--------
Editors note:  The production tax credit is available for other renewable energy projects, including solar, fuel cells, geothermal systems, and combined heat and power.  For a complete list and additional information on incentives for renewable energy, click here.