Illustration of Vineyard Wind's proposal to construct a wind energy project off the coast of Massachusetts. Vineyward Wind
By Hannah Hunt
Extreme weather events offer an opportunity to take stock of our power system—how well will it withstand days of prolonged stress? Earlier this year, the eastern half of the U.S. faced one of these trials, as the "Bomb Cyclone" blasted the region with frigid air for a number of days.
The result: no major power plant outages, and a power system that held strong in the face of challenging weather conditions. And wind power made an important contribution to a resilient energy mix, helping to keep the lights on for American families and businesses.
As was the case during the 2014 Polar Vortex event and the Texas 2011 cold snap, wind output was well above average when the power system needed it most. Across the Mid-Atlantic and the Northeast throughout the Bomb Cyclone event, wind production surpassed both average winter and average annual output.
Let's first look at PJM, the grid operator serving 13 states and Washington, DC. From Jan. 3 through Jan. 7, wind output in PJM was 55 percent higher than average wind output in 2017. During the highest demand periods on January 3-5, wind output was consistently three to five times greater than the level PJM plans for and compensates wind for in its capacity market. Wind's capacity factor exceeded 50 percent multiple times during the three-day period.
In New England, wind output was also well above average throughout most of the event, and more than twice its normal level during some of the most challenging periods on Jan. 5 and 6, as shown below. Wind output surpassed the region's coal generation on those days.

Grid Operator Studies Show Values of Renewables for Resilience
In January, the New England grid operator released a report examining resilience to extreme winter weather under a range of different electric generation mixes for the mid-2020s. While initial reporting focused on scenarios that did not perform as well, a number of scenarios with higher shares of renewable generation proved to be more reliable and resilient than the current power system. In fact, three of the four of the most reliable portfolios were high renewable scenarios.

PJM's 2017 resilience analysis also found that scenarios with very high levels of renewables were among the most resilient. PJM's study discussed a range of other events that can cause outages at conventional power plants as well, like flooding, drought, high temperatures, and coal barge and rail congestion. Renewable resources like wind and solar PV are generally resilient to such disruptions because they are not dependent on deliveries of fuel or cooling water.
Previous studies have found that more than 96 percent of customer electric outage hours happen because of severe weather, rather than disruptions of electricity generation. High winds, falling trees and other factors knock out power lines, causing lost power. Such was the case in Puerto Rico, where the island is still recovering. The main issue wasn't damage to its power plants, but rather the complete decimation of its transmission system. That demonstrates that building a resilient electric grid requires a diverse generation mix, as well as transmission and infrastructure upgrades.
Further analysis of the "Bomb Cyclone" can be found here.
'Bomb Cyclone' Brings Freezing Weather as Grid Debate Intensifies https://t.co/C89WOLRGzo

— Robert F. Kennedy Jr (@Robert F. Kennedy Jr)1515101190.0
From Your Site Articles
Related Articles Around the Web
EcoWatch Daily Newsletter
iStock
By John Rogers
While the year 2017 is one I don't mind seeing in the rear view mirror (and I've got colleagues that would agree), in the field of clean energy we made a whole lot o' progress. A new year, if I've done my math right, means 12 more months to move the ball forward on clean energy. Here are a few things I'll be keeping my eyes on as we traverse the length of 2018.
Solar—Sour or Soar?
For solar power, February should be when we see the official tally for 2017 progress—how much, where, what price, what sizes. We already know, though, that last year was down from the record-breaking 2016.
One factor is that very record-breaking-ness: Developers and customers pushed to get lots of solar installed before an important investment tax credit was scheduled to expire. The tax credit got extended, but momentum carried many solar projects to completion in 2016. Not a bad thing, certainly, but it left 2017 as a bit of a cooling-off period.
Another really important factor: Right now, U.S. solar companies don't know what kind of environment they're going to be operating in, which is something I'll be watching this very month. We've got a president who seems gung-ho about tariffs (in this case, on solar cell/module imports) even when they don't make sense, and a decision due from him on Jan. 26 about whether to slap tariffs on.
In the meantime, we're seeing, in the words of Solar Energy Industries Association CEO Abigail Ross Hopper, "what happens when policy uncertainty becomes a disruptive factor…" What we get: Shaky investors, as they try to read the tea leaves from an unstable teacup, and higher prices (temporary though they may be), as solar companies scramble to bring in what they can before any tariff hammer falls.
What that adds up to is that lower 2017, and a 2018 with potentially even fewer new solar installations, even if wisdom prevails on the tariff issue.
Still, the solar totals are and could still be impressive. The third quarter of 2017 saw more solar come online than in all of 2011, and the 2017 totals will show that it was the second-best year ever. And 2018 could bring considerably higher amounts of new solar than any year other than 2016 and 2017—and still enough new solar to power more than a million and a half typical U.S. homes.
And then there's the broader, and longer-term picture: Solar costs have kept impressively dropping as scale has ramped up, and solar has gotten harder and harder to ignore (even for smaller projects). Global totals for new solar are projected to have ended up much higher in 2017 than in 2016, and to be in that same high range in 2018.
Solar's (mostly) steady climb.GTM-SEIA
Wind—Sigh or Fly?

Wind power is another exciting technology to watch in 2018, including because the viewing can take you from coast to coast, and from the Great Plains to the waters off our shores. And, like solar, this technology has both headwinds and tailwinds.
Lots of tailwinds, and the numbers are bearing that out: The amount of wind capacity under construction as of the third quarter of 2017 was about as strong as ever (and all over the map, in a good way). And the fourth quarters are always the strongest for actually turning projects on. So I'll be looking for those results in the next few weeks.
Wind power on the move.AWEA
Wind in the Water—Time to Buy

And then there's offshore wind. Since the launch in late 2016 of the first offshore wind project in the country (and the hemisphere), off Rhode Island, this has been a technology on the move. And 2018 looks to bring more progress:
For a Happy 2018
There's plenty more to watch beyond wind and solar, of course. Other renewable energy technologies stand ready to contribute. Energy storage is growing (and getting cheaper) more quickly than just about anybody imagined. Energy efficiency keeps making things better, smarter, cheaper. And we could talk about electric vehicle progress for hours (or you could just look here).
States are figuring out, too, how to modernize electricity grids and policies—and upgrade transmission lines—to help us get off large old centralized power plants and take advantage of renewable energy in all its forms. All worth monitoring, and helping move along.
And we need to keep an eye on fossil fuels, too, to make sure bad decisions don't get made to try to prop up failing coal plants via federal policy (even if they fail), or at the state level. To make sure our U.S. Environmental Protection Agency works for us in cutting pollution from power plants, not for polluters.
And we need to make sure we don't hamstring our economies with an overcommitment to natural gas.
But for energy progress in 2018—for our economy, for jobs, for our environment, for our kids—clean energy is what I'll be watching.
John Rogers is a senior energy analyst with expertise in renewable energy and energy efficiency technologies and policies.
From Your Site Articles
Related Articles Around the Web
waterlust.com / @tulasendlesssummer_sierra .
Each product featured here has been independently selected by the writer. If you make a purchase using the links included, we may earn commission.
The bright patterns and recognizable designs of Waterlust's activewear aren't just for show. In fact, they're meant to promote the conversation around sustainability and give back to the ocean science and conservation community.
Each design is paired with a research lab, nonprofit, or education organization that has high intellectual merit and the potential to move the needle in its respective field. For each product sold, Waterlust donates 10% of profits to these conservation partners.
Eye-Catching Designs Made from Recycled Plastic Bottles
waterlust.com / @abamabam
The company sells a range of eco-friendly items like leggings, rash guards, and board shorts that are made using recycled post-consumer plastic bottles. There are currently 16 causes represented by distinct marine-life patterns, from whale shark research and invasive lionfish removal to sockeye salmon monitoring and abalone restoration.

One such organization is Get Inspired, a nonprofit that specializes in ocean restoration and environmental education. Get Inspired founder, marine biologist Nancy Caruso, says supporting on-the-ground efforts is one thing that sets Waterlust apart, like their apparel line that supports Get Inspired abalone restoration programs.
"All of us [conservation partners] are doing something," Caruso said. "We're not putting up exhibits and talking about it — although that is important — we're in the field."
Waterlust not only helps its conservation partners financially so they can continue their important work. It also helps them get the word out about what they're doing, whether that's through social media spotlights, photo and video projects, or the informative note card that comes with each piece of apparel.
"They're doing their part for sure, pushing the information out across all of their channels, and I think that's what makes them so interesting," Caruso said.
And then there are the clothes, which speak for themselves.
Advocate Apparel to Start Conversations About Conservation
waterlust.com / @oceanraysphotography
Waterlust's concept of "advocate apparel" encourages people to see getting dressed every day as an opportunity to not only express their individuality and style, but also to advance the conversation around marine science. By infusing science into clothing, people can visually represent species and ecosystems in need of advocacy — something that, more often than not, leads to a teaching moment.

"When people wear Waterlust gear, it's just a matter of time before somebody asks them about the bright, funky designs," said Waterlust's CEO, Patrick Rynne. "That moment is incredibly special, because it creates an intimate opportunity for the wearer to share what they've learned with another."
The idea for the company came to Rynne when he was a Ph.D. student in marine science.
"I was surrounded by incredible people that were discovering fascinating things but noticed that often their work wasn't reaching the general public in creative and engaging ways," he said. "That seemed like a missed opportunity with big implications."
Waterlust initially focused on conventional media, like film and photography, to promote ocean science, but the team quickly realized engagement on social media didn't translate to action or even knowledge sharing offscreen.
Rynne also saw the "in one ear, out the other" issue in the classroom — if students didn't repeatedly engage with the topics they learned, they'd quickly forget them.
"We decided that if we truly wanted to achieve our goal of bringing science into people's lives and have it stick, it would need to be through a process that is frequently repeated, fun, and functional," Rynne said. "That's when we thought about clothing."
Support Marine Research and Sustainability in Style
To date, Waterlust has sold tens of thousands of pieces of apparel in over 100 countries, and the interactions its products have sparked have had clear implications for furthering science communication.
For Caruso alone, it's led to opportunities to share her abalone restoration methods with communities far and wide.
"It moves my small little world of what I'm doing here in Orange County, California, across the entire globe," she said. "That's one of the beautiful things about our partnership."
Check out all of the different eco-conscious apparel options available from Waterlust to help promote ocean conservation.
Melissa Smith is an avid writer, scuba diver, backpacker, and all-around outdoor enthusiast. She graduated from the University of Florida with degrees in journalism and sustainable studies. Before joining EcoWatch, Melissa worked as the managing editor of Scuba Diving magazine and the communications manager of The Ocean Agency, a non-profit that's featured in the Emmy award-winning documentary Chasing Coral.
By Steve Clemmer
In March 2017, I testified before the House Energy and Commerce Committee on how federal tax credits for renewable energy have been a key driver for the recent growth in the U.S. wind and solar industries, creating new jobs, income and tax revenues for local communities. They have also helped drive down the cost of wind and solar power by more than two-thirds since 2009, making renewable energy more affordable for consumers.
Originally enacted as part of the Energy Policy Act of 1992, Congress has extended the Production Tax Credit (PTC) seven times and has allowed it to expire on six occasions. This "on-again/off-again" status resulted in a boom-bust cycle of development in the wind industry. In the years following expiration, installations dropped between 76 and 93 percent, with corresponding job losses. Congress has also extended the Investment Tax Credit (ITC) for solar several times.
Finally, after many years of this policy uncertainty, Congress passed a five-year extension and phase-down of the PTC and the ITC for wind and solar in December 2015. The legislation also removed the longstanding U.S. oil export ban, as part of a compromise deal with the oil industry.
Unfortunately, the Senate and House tax bills would renege on this deal and change the rules midstream, resulting in major job losses across the U.S. renewable energy industry. They would also jeopardize tens of billions in investments in renewable energy projects and manufacturing facilities in rural communities across America—many of which are in districts and states held by Republicans and that voted for President Trump.
Senate Tax Bill Undermines Renewable Energy Financing
The renewable energy industry initially praised an earlier version of the Senate tax bill, which honored the 2015 deal and did not make any direct changes to the PTC and ITC. However, the Senate made two last-minute changes to the bill to fill revenue gaps and build support from key Republicans that were concerned about the deficit that would have a significant impact on renewable energy projects.
Alternative Minimum Tax (AMT): One of these last-minute changes was to restore the AMT to fill a $40 billion revenue gap. The proposal in both the Senate and House tax bills to reduce the corporate tax rate to 20 percent would likely move most U.S. corporations from the regular corporate income tax rate to the AMT (which is also set at 20 percent on a broader tax base), according to tax experts.
However, not all tax credits count toward the AMT and depreciation must be calculated at a slower rate. While the ITC for solar projects can count toward the AMT, the PTC for wind projects (and geothermal, biomass, landfill gas and incremental hydro projects) can only count for the first 4 years out of the 10-year window that projects are eligible to receive the tax credits. Not only would this jeopardize investment in new projects, it would have a retroactive impact on existing projects placed in service after 2007 that are still receiving tax credits under the PTC.
Base-Erosion Anti-Abuse Tax (BEAT): The Senate also made a last-minute change to the BEAT provision that could greatly reduce tax equity financing for renewable energy projects. BEAT would impose a tax on large corporations that make cross-border payments by requiring them to add those payments to their taxable income. This amount is then multiplied by 10 percent to determine what they owe to the government (except for banks and security dealers, which the Senate raised to 11 percent). These corporations must also calculate their regular tax liability minus any tax credits they receive, including the PTC and the ITC. If their adjusted tax liability is less than the fraction of their taxable income with the cross-border payments, the company would have to pay the difference to the IRS as a tax.
The more tax credits a company has, the more a company is likely to pay, making banks and other large tax equity investors reluctant to finance renewable energy projects. And like the AMT, the BEAT provision would not only impact financing for new projects but could have a retroactive effect on most existing projects that received tax equity financing.
Bloomberg New Energy Finance (BNEF) claims that the Senate bill could threaten $12 billion in annual tax equity financing in 2017, up from $7.3 billion in 2013 (see Figure). They estimate that tax equity financing accounted for 21 percent of the $58.5 billion in total U.S. renewable energy investment in 2016.
The Senate tax bill would have a big impact on companies like JPMorgan, Bank of America, GE, US Bank and Citigroup that led tax equity financing in 2016 for both wind and solar projects, as shown in this BNEF chart.

The BEAT provision would also hurt other energy sources that currently receive tax credits such as refined coal facilities placed in service by December 2011. The coal industry is also speaking out against the AMT, which Bob Murray claims will cost his company $50-60 million in increased taxes and eliminate 65,000 jobs.

House Bill Puts 60,000 Wind Industry Jobs and $50 Billion in New Investment at Risk
While the House bill does not include the AMT or BEAT provisions, it makes several direct changes to the PTC and ITC that would undermine investments in new wind and solar projects and have a retroactive impact on existing projects. These changes include:
Eliminating the inflation adjustment for the PTC, reducing its value by 38 percent from 2.4 c/kWh under current law to 1.5 c/kWh.
Changing the commence construction provision, dropping safe harbor provision, and requiring projects to have "continuous construction" to be eligible, which would greatly accelerate the PTC phase-down schedule. When combined with the change to the inflation adjustment, the American Wind Energy Association estimates these two provisions could reduce the value of the PTC by more than half.
Allowing the permanent 10 percent solar ITC to sunset in 2027.
Extending the tax credits to "orphan" technologies like geothermal, biopower, landfill gas, and incremental hydro that were largely left out of the 2015 deal to extend the tax credits for wind and solar for 5 years. This is the only positive change in the House bill.
The House bill would cut new wind development by more than half by 2020, according to both Bloomberg and Goldman Sachs. The American Wind Energy Association estimates that the House bill would put 30,000 MW of new wind projects that are under development in the U.S. worth $50 billion of new private investment at risk, along with 60,000 jobs, as shown in this map.
American Wind Energy Association, Protecting American wind workers during tax reform
Making Renewable Energy a Priority in Conference Committee

The provisions in the House bill that renege on Congress' 2015 compromise deal with the oil industry and drastically cut the value of the PTC are completely unacceptable and should be dropped. The AMT and BEAT provisions in the Senate bill should either be dropped (they are not included in the House bill) or renewable energy tax credits should be excluded—similar to how R&D tax credits are currently excluded from the BEAT provision.
House and Senate conferees were named last week. They will meet over the next two weeks to resolve key differences, with the goal of delivering a final bill to President Trump by the end of the year.
It is an ominous sign that Sen. Grassley (R-IA), a senior member of the Senate Finance Committee, was left off the conference committee. As the father of the PTC, who represents a state that ranks second in installed wind capacity, he has been outspoken about honoring the 2015 deal and working to fix the problems in the Senate and House tax bills. "The wind energy production tax credit is already being phased out under a compromise brokered in 2015. It shouldn't be re-opened," Grassley said.
Pro-renewables Senators like Grassley and Susan Collins (R-ME) will have a tough vote to make on the Senate floor if these damaging provisions are not addressed in conference. Maine, for example, has more than 900 MW of existing wind capacity and nearly 300 MW of new solar and wind under development that is potentially at risk.
But there are conferees who represent states with large renewable energy industries, and they are in unique position to make the changes necessary to keep that clean energy momentum going.
Conferees like Sen. Thune and Rep. Noem from South Dakota, where a wind turbine blade manufacturer from Aberdeen just announced they will be closing and laying off more than 400 people, citing the federal tax bills as one of reasons for this decision. "It's apparent that the new tax bill will cause some economic disruption and this is one of them," according to Aberdeen Mayor Mike Levsen. "It's what happens when government policies turn against industries. It discourages investment." South Dakota also has 960 MW of wind projects currently under development, representing $1.6 billion in new investment, that is at risk.
Other conferees from leading renewable energy states such as Texas, California, Illinois, Washington and Oregon would also experience significant job losses.
The U.S. renewable energy industry has a proven track record of creating new jobs and making new investments in states and rural areas across America. Federal tax reform should encourage rather than discourage U.S. investment in this rapidly growing global industry.
Make sure your members of congress know clean energy is important to you. Tell them to fix the AMT and BEAT provisions, and to leave the renewable energy tax credits alone.
Steve Clemmer is the director of energy research and an expert on the economic and environmental benefits of implementing renewable energy technologies and policies.
By John Hensley
Fresh off the first-ever American Wind Week, the Department of Energy (DOE) National Renewable Energy Laboratory (NREL) released a new report finding wind energy cost reductions of 50 percent are possible by 2030. That's on top of the 66 percent cost reduction since 2009.
Envisioning the wind plant of the near-future—a "collection of intelligent and innovative machines operating in a highly coordinated way"—NREL expects advancements in wind turbine design, materials and controls to unlock major performance improvements and cost reductions.
Advanced turbines will produce significantly more electricity, allowing wind to provide the lowest-cost form of electricity in many states and regions, without any policy incentives. NREL's findings demonstrate how the federal wind Production Tax Credit (PTC) is successfully driving economies of scale and efficiency improvements, and address concerns that wind power deployment will drop as the PTC phases down.
Wind Cost Projections
Prior to NREL's report, the most recent evidence foreshadowing further wind power cost reduction came from a 2016 study funded by the DOE. Surveying experts around the world, that study found anticipated cost reductions ranged from 24 to 30 percent by 2030. Under more aggressive circumstances, experts predicted cost reductions as high as 40 percent as research and development programs and technology learning lead to additional efficiencies, as shown below.
Lawrence Berkley National Laboratory
Building on these projections, NREL predicts a "SMART" wind plant of the future will be able to achieve even further cost reductions—up to 50 percent by 2030. The wind turbine of the future will be much larger, sit atop a taller tower, use next generation blades, and incorporate intelligent controls and remote monitors. Towers reaching 135 meters will access more consistent wind resources, while next-generation blades stretching more than 70 meters will help the wind turbine capture more of that resource as efficiently as possible. This will enable capacity factors more than 50 percent, all while the installed cost per kilowatt falls and plant life expectancy grows.
On an unsubsidized basis, these improvements and cost reductions will drive the levelized cost of wind energy from roughly $55/megawatt hour (MWh) in 2015 to $31/MWh in 2030.

Capital Stack Shifts to Enable Further Cost Reductions
Improvements in wind project financing structures will enable further cost reductions. Shifting away from equity to debt and using innovative financing mechanisms like yieldcos will reduce financing costs and the bottom-line cost of wind energy.
Recognizing this eventual shift to higher debt-to-equity rations, NREL estimates that the cheaper capital stack will unlock a further $8/MWh reduction in wind energy costs (falling from $31/MWh to $23/MWh on an unsubsidized basis) by 2030, as indicated below.
Comparison to Other Findings

A number of presentations and market analyses this year confirm that the cost reductions NREL projects are achievable—and, in a few cases, too conservative.
Let's begin with the Goldman Sachs Group Inc. In a recent report, the investment bank concludes that "the U.S. power sector already appears in the early stages of a technological mix revolution given a combination of political, technological and now social tailwinds driving improved economics and demand for renewables." Goldman predicts new wind and solar capacity of more than 200 gigawatts (GW) by 2030, primarily driven by economics.
Confirming the economic tailwinds for wind energy, Pattern Energy CEO Mike Garland forecasts wind energy prices will settle between $30-$40/MWh as the PTC phases out and into the long term. The company is already seeing significant improvements in energy production and cost for wind projects the company is bidding for delivery post-2020.
Most tellingly, NextEra Energy Resources anticipates even more aggressive wind cost reductions. The largest owner of wind power capacity in the U.S. expects wind power to be the lowest cost energy resource in the post-2020 period on an unsubsidized basis, ranging from $20-$30/MWh.
This aggressive cost trajectory is consistent with the industry's history of beating even the most aggressive cost projections. In 2008, DOE predicted (page 148, converted to 2016 dollars) that the U.S. wind industry could reduce wind costs to $1,850/kW by 2030. By 2016, the industry had already beaten that projection and driven costs down to $1,587/kW. That 2008 DOE study also estimated that the best wind sites could reach capacity factors of 36 percent by 2015 and 38 percent by 2030. Wind projects installed in 2014 and 2015 have an average capacity factor of 42.6 percent, beating DOE's 2030 target by a wide margin 15 years early.

Conclusion
Progress towards the wind power plant of the future is predicted to unlock substantial additional cost reductions. In 2030, NREL expects unsubsidized LCOEs to range from $19/MWh to $32/MWh, with the central expectation at $23/MWh. At these cost levels, wind energy will be competitive with all other energy sources across much of the U.S., providing a win-win for consumers and public health.
American Wind Energy Association
"Wind power has become a vital part of the U.S. economy, drawing billions of dollars in capital investment to rural communities each year and supporting over 100,000 U.S. jobs across all 50 states," said John Hensley, deputy director of industry data and analysis for AWEA. "I'm pleased this new map tool helps Americans visualize how world-class U.S. wind resources are being put to work in all parts of the county."
A time-lapse feature built into the map shows the progress of wind power development across the country. Starting from 1981 in the passes of California where the first modern wind energy projects were completed, users can see the story of American wind power unfold across heartland states like Texas, Iowa, Oklahoma and Kansas, and eventually to the first U.S. offshore wind project completed off Rhode Island in 2016.
The map also features markers for the more than 500 wind-related manufacturing facilities in the U.S. today. These factories support 25,000 U.S. manufacturing jobs across 41 states.
AWEA's new map utilizes only a small percentage of the full wind project and manufacturing data available to AWEA members through Market Database Pro, a comprehensive, interactive database of all online, under construction and advanced development wind projects, and all active wind-related manufacturing facilities. More than 50 data points are provided at both the project and turbine level, with advanced interactive mapping services including filtered search capabilities, summary maps and political boundaries.
This week is the inaugural #AmericanWindWeek, dedicated to U.S. leadership in wind power. Wind is the largest source of American renewable energy capacity, supporting more than 100,000 U.S. jobs across all 50 states, with nearly 85,000 MW of installed capacity at the end of the second quarter of 2017.
America's wind power workforce installed 908 utility-scale turbines in the first quarter of 2017, totaling 2,000 megawatts (MW) of capacity. This is the wind industry's strongest start in eight years, according to a new report released Tuesday by the American Wind Energy Association (AWEA).
"We switched on more megawatts in the first quarter than in the first three quarters of last year combined," said Tom Kiernan, CEO of AWEA, in releasing the U.S. Wind Industry First Quarter 2017 Market Report. "Each new modern wind turbine supports 44 years of full-time employment over its lifespan, so the turbines we installed in just these three months represent nearly 40,000 job years for American workers."
The early burst of activity reflects how 500 factories in America's wind power supply chain and more than 100,000 wind workers are putting stable, multi-year federal policy to work. The industry is now in year three of a five-year phase-down of the Production Tax Credit, and Navigant Consulting recently forecast a strong 2017 for wind power, similar to 2015 and 2016.
New wind turbine installations in the first quarter spanned the U.S. from Rhode Island and North Carolina to Oregon and Hawaii. Great Plains states Texas (724 MW) and Kansas (481 MW) led the pack.
Texas continues as the overall national leader for wind power capacity, with 21,000 MW installed, enough to power more than five million average homes. North Carolina became the 41st state to harness wind power, bringing online the first wind farm to be built in the Southeast in 12 years.
Horace Pritchard, one of nearly 60 landowners associated with the North Carolina project, explained what it means to him and his neighbors: "Farms have been growing corn, soybeans and wheat for a long time here, and the wind farm revenue means a lot of families are protected from pricing swings, floods or droughts going forward. We're just adding another locally-grown crop to our fields, with very little ground taken out of production, and the improved roads really help with access. So it's a great fit here."
Expanding wind farms continue to benefit rural America, since more than 99 percent of wind farms are built in rural communities. According to AWEA's recently released 2016 Annual Market Report, wind now pays more than $245 million per year in land-lease payments to local landowners, many of them farmers and ranchers.
Along with rural benefits, American wind manufacturing facilities remain busy in the first quarter as projects continue to be built. With 4,466 MW in new construction and advanced development announcements recorded in the first quarter, the near-term pipeline has reached 20,977 MW of wind capacity. That's about as much as the entire Texas wind fleet's existing capacity.
Demand remained strong in the first quarter. There were 1,781 MW signed in long-term contracts for wind energy, the most in a first quarter since 2013. Utilities and Fortune 500 brands frequently use these long-term contracts, called Power Purchase Agreements (PPAs), to purchase wind energy. Home Depot and Intuit, maker of TurboTax, both signed up for wind power this quarter, joining a host of Fortune 500 companies like GM, Walmart, and Microsoft that are buying wind energy for its low, stable cost.
In addition to leading brands, low-cost wind power reliably supplies a growing number of cities, universities, and other organizations—including the Department of Defense. This quarter, a Texas wind farm came online to supply a PPA with the U.S. Army. Powering a military facility demonstrates that wind power is ready to reliably serve our most vital electricity needs, boosting American energy security in more ways than one.
Wind power became the largest source of renewable generating capacity and supplied record amounts of wind energy to many parts of the country. Strong wind project construction, a growing manufacturing sector and the increasing need for wind turbine technicians and operators allowed the industry to add jobs at a rate nine times faster than the overall job market, as wind employment grew to a record 102,500.
Technology advances resulted in more productive turbines, with recent generations achieving average capacity factors more than 40 percent, all while costs continued to fall. And the industry saw the installation of the country's first offshore wind project off the coast of Rhode Island.
Here are the top 11 wind industry trends in 2016:
1. Record Wind Jobs
For the first time in history, there are more than 100,000 Americans employed in the U.S. wind energy industry. Strong wind construction activity throughout the year, combined with a strengthening wind manufacturing sector and growing need for personnel to operate and maintain more than 52,000 wind turbines, allowed the industry to add nearly 15,000 full-time equivalent jobs in 2016.
That brings total U.S. wind industry jobs to 102,500. Impressively, the U.S. wind industry added jobs more than nine times faster than the overall economy. Strong wind project installation, construction, and development activity, combined with strong wind-related manufacturing activity, and over 52,000 wind turbines to operate and maintain, led wind jobs to grow 16.5 percent. That's compared to 1.8 percent for the overall U.S. job market.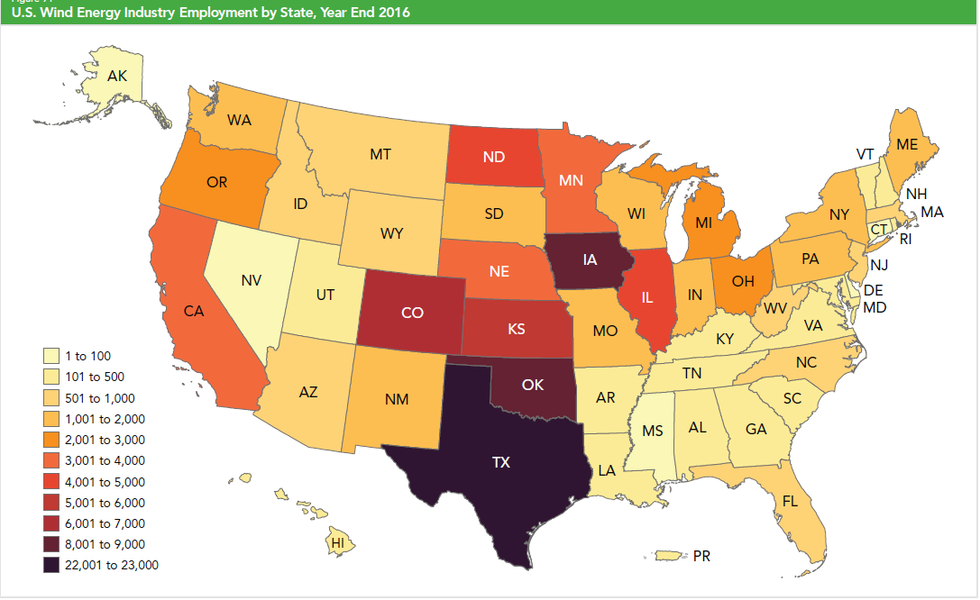 2. Wind #1 Source of Renewable Generating Capacity

Wind energy passed hydroelectric power to become the number one source of renewable generating capacity in 2016. With federal policy stability secured, the U.S. wind industry installed 8,203 megawatts (MW) in 2016 and the industry now has 82,143 MW installed overall, enough wind power for the equivalent of 24 million American homes.

3. Generation Records Set
Wind energy delivered more than 30 percent of the electricity produced in Iowa and South Dakota in 2016. Kansas, Oklahoma and North Dakota generated more than 20 percent of their electricity from wind, while 20 states now produce more than five percent of their electricity from wind energy. ERCOT, the main grid operator for most of Texas, and SPP, which operates across parts of 14 states, competed for new wind power penetration records throughout 2016, both topping 50 percent wind energy on several occasions.
4. U.S. Manufacturing Sector Growth
Wind energy continues to fuel the domestic manufacturing sector, with more than 500 factories across 41 states producing components for the U.S. wind industry in 2016. Domestic wind-related manufacturing jobs grew 17 percent to more than 25,000 as three new factories began supplying the wind industry and five plants expanded production.
5. Technology Boosts Productivity
Technological advances allow wind turbines to reach stronger, steadier winds, and more sophisticated control systems are increasing the amount of electricity modern wind turbines generate. Wind turbines built in 2014 and 2015 achieved capacity factors more than 40 percent during 2016. At the same time, the cost of wind energy dropped more than 66 percent between 2009 and 2016.
6. Corporations and Utilities Want Wind
Fortune 500 companies, electric utilities and others signed 47 power purchase agreements totaling more than 4,000 MW during 2016. In doing so, they cited the declining costs and stable price of wind power as factors. Utilities submitted Integrated Resource Plans detailing at least 14,000 MW in wind power additions in the past two years.
7. Record Wind Enters Queue
67 gigawatts of newly proposed wind projects were added to interconnection queues in 2016, the largest since the addition of 67.3 GW in 2009. This brings total wind capacity in the queues to 136.8 GW, the highest level in five years.
8. Improving the Transmission Grid
Transmission expansion to serve wind continues, particularly in MISO and SPP. A number of proposed interregional Direct Current transmission lines have now also cleared final permitting hurdles. In total, transmission projects that could support the delivery of nearly 52,000 MW of wind energy over the next five years are currently under development, though not all are likely to be built.
9. Wind Benefits Every State
More than 74 percent of U.S. congressional districts have operational wind energy projects or active wind-related manufacturing facilities, including 77 percent of Republican districts and 69 percent of Democratic districts. The industry invested more than $14.1 billion in new wind projects and supported 102,500 jobs across all 50 states.
10. Wind Reduces Emissions and Saves Water
Operational wind projects avoided 393 million pounds of sulfur dioxide and 243 million pounds of nitrogen oxide. These pollutants create smog and trigger asthma attacks, so reducing them saved $7.4 billion in public health costs last year. Meanwhile, operating wind projects avoided the consumption of 87 billion gallons of water, equivalent to 266 gallons per person in the U.S.
11. Offshore Wind Debut
The
first offshore wind project
in the U.S. began operating in late 2016. The five turbine, 30 MW Block Island wind farm is located three miles off the coast of Rhode Island, near Block Island.
On the morning of Feb. 12, wind power provided 52.1 percent of the electricity for the 14-state grid known as the Southwest Power Pool (SPP). This is a significant milestone for wind, which has never before provided a majority of power for any U.S. grid, according to SPP.
#Wind Power Becomes America's Largest Renewable Resource https://t.co/yGpS78RPqU @AWEA @mzjacobson @ClimateNexus @ClimateReality @NRDC @350

— EcoWatch (@EcoWatch)1486740143.0
SPP is responsible for 60,000 miles of power lines running from North Dakota and Montana to Texas, New Mexico and Louisiana. Wind generates about 15 percent of the electricity in the SPP region and is third behind coal and natural gas.
The February 52.1 percent wind-penetration beat the April 2016 record of 49.2 percent. Wind-penetration is a measure of the grid's electrical total load served by wind.
"Ten years ago, we thought hitting even a 25 percent wind-penetration level would be extremely challenging and any more than that would pose serious threats to reliability," Vice President of Operations Bruce Rew said in an SPP statement. Rew explained SPP can now reliably manage more than 50 percent wind-penetration and that they have not yet reached their "ceiling."
American Wind Energy Association's Greg Alvarez celebrated the news in a blog post. "Records like these resonate, because they demonstrate wind energy can play a key role in an affordable, reliable, diversified energy mix," he said. "That creates a stronger system, and helps keep more money in the pockets of families and businesses."
In the early 2000s, SPP wind power provided less than 400 megawatts (MW) and now provides 16,000 MW. A single MW is usually able to power around 1,000 homes, Climate Central explained.
Obama: Renewable Energy Revolution Is 'Irreversible', Will Outlast Trump https://t.co/nJe3pbyGVf @NRDC @ClimateReality @billmckibben @350

— EcoWatch (@EcoWatch)1484061794.0
SPP has achieved this wind power milestone because of its enormous power generation footprint, which covers nearly 550,000 square miles. If the upper Great Plains is not windy one day, SPP "can deploy resources waiting in the Midwest and Southwest to make up any sudden deficits," Rew said.
Since 2007, SPP has spent more than $10 billion on high-voltage transmission infrastructure with a focus on connecting "rural, isolated wind farms to population centers hundreds of miles away," the organization said.
In 2015, 39 states harnessed electricity from utility-scale wind projects, according to the U.S. Energy Information Administration. Texas, Oklahoma, Iowa, Kansas and California produced the most wind energy and about 50 percent of the total for U.S. wind production.
In 2016, wind power was the largest U.S. source of renewable electric capacity and is now the country's fourth-largest energy source.
Congress has been unable to extend vital tax credits for the wind industry, causing incredible uncertainty for investors in the fast-growing wind sector and threatening thousands of jobs across America, like those at Alliant Energy in Iowa highlighted in the video released by the Center for American Progress Dec. 20. With the production tax credit set to expire next December, manufacturers are already seeing a cut back in orders and developers are thinning their portfolios.
Wind companies need clarity on future investments and a looming tax credit expiration hurts business. Instead of protecting every kind of job, including green jobs, for American workers in this stagnant economy, some members of Congress are calling green jobs "illusory" and "political propaganda." So who are the American workers with jobs in the wind industry impacted by political inaction? And what do they have to lose?
Center for American Progress video producer Andrew Satter traveled to Iowa and spoke to people working in Iowa's wind industry—a sector that enjoys strong bipartisan support, maintains more than 3,000 jobs, and generates $50 million in revenue for the state each year. That economic activity helps support middle-class workers like Nathan Crawford, a wind technician with Alliant Energy who says he loves his job. "It's pretty cool that I get to do this every day," says Crawford. "The wind industry has been able to bring me and my wife back close to home."
But with national political leaders dragging their feet, they threaten these good-paying, middle-class jobs in America's heartland. That is the true price of inconsistency in clean energy policy.
Encourage American lawmakers to support the renewable energy industry by sending them a letter via the American Wind Energy Association website.
--------
The Center for American Progress is a nonpartisan research and educational institute dedicated to promoting a strong, just and free America that ensures opportunity for all. We believe that Americans are bound together by a common commitment to these values and we aspire to ensure that our national policies reflect these values. We work to find progressive and pragmatic solutions to significant domestic and international problems and develop policy proposals that foster a government that is "of the people, by the people and for the people."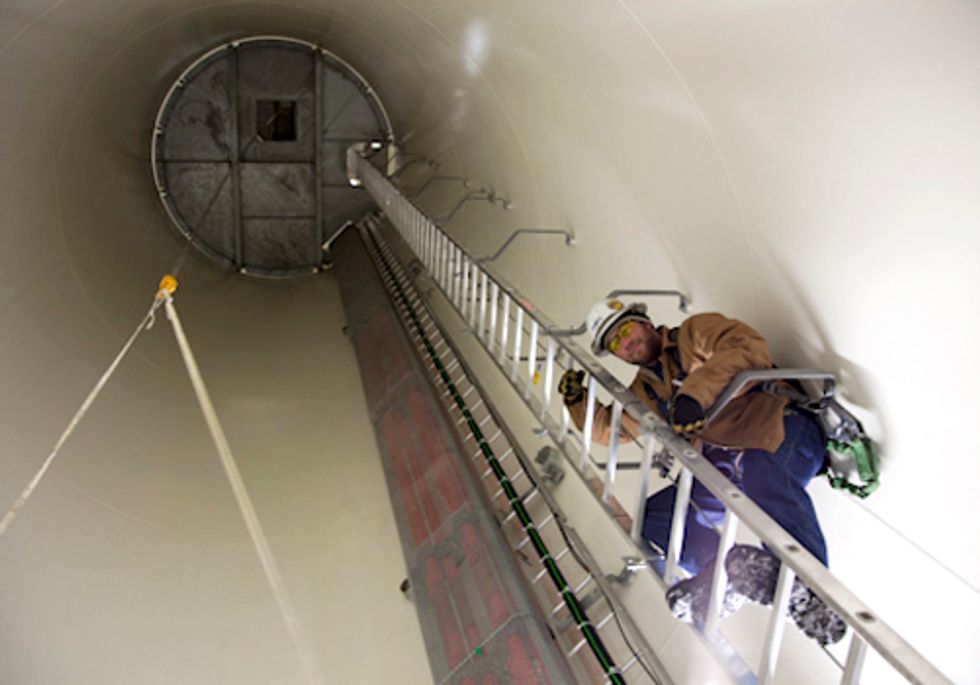 by Carl Levesque
Wind power is creating one of America's fastest-growing manufacturing sectors, providing 75,000 jobs in the U.S. currently and the promise of 500,000 jobs less than 20 years from now. But these jobs are in jeopardy without stable tax policy for the wind energy industry. Now a new website—complete with a compelling and informative new video—has launched to help enable Americans to do something about it.
The brand-new website, SaveUSAWindJobs.com, empowers Americans by giving them the facts about the urgent need to extend wind power's key federal tax incentive, the Production Tax Credit (PTC), and gives them the tools to get involved in the growing movement to pass a four-year extension. By passing an extension, Congress will save American jobs currently in danger of being shipped overseas and help the wind industry support 500,000 American jobs by 2030 as projected by the U.S. Department of Energy in the George W. Bush administration.
In the past, when the PTC was allowed to expire, wind installations dropped between 73 and 93 percent, with corresponding job losses. The SaveUSAWindJobs.com website provides vital information on the issue, including a visual depiction of this harmful yet preventable boom-bust cycle. The site also features a succinct 90-second video explaining how wind power means jobs, and how the PTC is a key driver of job creation. All 50 states have seen a positive economic impact from wind farms and factories, the video points out.
"Eliminating a tax credit to rake in more tax revenue," the video notes, "is a tax hike." Other compelling features available on the website that shine light on this crucial issue for America include a PTC fact sheet as well as a primer showing America's ability to meet 20 percent of its electricity needs with wind power—that is, with sound policies like the PTC in place.
Most importantly, SaveUSAWindJobs.com provides the tools with which Americans can take action. On the site, visitors can easily identify and contact their Members of Congress, and get the information they need to communicate to them the importance of a PTC extension.
"The SaveUSAWindJobs website is a powerful tool for the overwhelming majority of Americans who say they want more wind power," said Denise Bode, CEO of the American Wind Energy Association. "The need for a PTC extension is urgent. I ask everyone who supports more clean, homegrown wind power and more American manufacturing jobs to engage their Members of Congress by tapping into this valuable resource."
SaveUSAWindJobs.com includes information on the "Save USA Wind Jobs Coalition" a broad, nonpartisan coalition of 369 members, including manufacturing, farm and business interests. The large and diverse group recently issued a letter endorsing the four-year extension of the PTC sponsored by Representatives Dave Reichert (R, WA-08) and Earl Blumenauer (D, OR-03) (H.R. 3307, the "American Renewable Energy Production Tax Credit Extension Act"). Signatories to the letter include the National Association of Manufacturers, the American Farm Bureau Federation, the Edison Electric Institute, the Western Governors' Association, the United Steelworkers and many members of the environmental community. The letter is available here.
Support for this important piece of legislation was also recently received from the bipartisan Governors' Wind Energy Coalition, 23 Republican and Democrat governors from states all across the country. A copy of the Governor's Wind Energy Coalition letter can be found here.
John Feehery, a former spokesman for several Republican congressional leaders, including former Speaker of the House Dennis Hastert and currently President of Communications and Director of Government Affairs for Quinn Gillespie and Associates, also recently endorsed extending the PTC.
The House bill to extend the PTC, H.R. 3307, already has 29 bipartisan co-sponsors, and this list is growing every day. On the Senate side, legislators are discussing which provisions will be included in the tax bill that they intend to pass this month.
We are asking you to speak up at this crucial time—make a call to your Senator right now to urge him or her to include an extension of the PTC in any tax bill that moves forward this year.
AWEA has set up a hotline to connect you to your Senator's office. Call 1-877-234-9199 and rely this message:
• I urge the Senator to support, and advocate for, the inclusion of a renewable energy production tax credit extension in any tax bill that moves forward this month.
• For the purposes of the American wind industry manufacturing sector, the PTC effectively expires at the end of this year.  
• Layoffs have already begun, and the wind industry will continue to lose jobs in our state if the PTC is not extended this year.
The PTC is a tax incentive that helps keep electricity rates low and encourages development of proven renewable energy projects.  The status of the PTC is uncertain beyond 2012.  This uncertainty is keeping developers from planning projects beyond next year. That pause is keeping manufacturers from receiving orders now.  If Congress waits too long, these jobs will never come back.  
The only way that the PTC can be extended this year is for it to be included in the tax legislation Congress is working on right now.
For more information, click here.
--------
Editors note:  The production tax credit is available for other renewable energy projects, including solar, fuel cells, geothermal systems, and combined heat and power.  For a complete list and additional information on incentives for renewable energy, click here.