Incposterco / Getty Images
When Dr. Paul Winchester, a pediatrician, moved to Indiana from Colorado in 2002, he noticed something disturbing—a high number of birth defects.
"I was used to the number of birth defects I should see in a community hospital, and I saw many more in Indiana," said Winchester, who is medical director of the Neonatal and Intensive Care Unit at St. Francis Hospital in Indianapolis.
Winchester decided to investigate the reason for the higher numbers of birth defects. His research zeroed in on the herbicide atrazine, one of the most widely used herbicides in the U.S. and the most commonly detected pesticide in U.S. drinking water.
Winchester and several other researchers including Michael Skinner, professor of biology at Washington State University's Center for Reproductive Biology, conducted a study to see if there was a link between atrazine in drinking water and birth defects.

Studies have found that atrazine is an endocrine disruptor, a substance that can alter the human hormonal system. Atrazine was banned by the European Union because of its persistent groundwater contamination.
In their study, Winchester and his team found that concentrations of atrazine in drinking water were highest in May and June when farmers sprayed their fields with the herbicide. They also found that birth defects peaked during the same months indicating a close correlation.
"We plotted water concentrations and birth defects, and they fit like a hat," Winchester said.
Their study, which was funded by the Gerber Foundation, was published in 2017 on PLOS One.
Epigenetic Changes Programmed Into Future Generations
But the most disturbing finding was that atrazine had epigenetic effects. Epigenetics is the theory that environmental factors, such as diet, lifestyle choices and pesticides can impact the health of people who are exposed to them and also their descendants. Human DNA, according to epigenetics, is not unchangeable; it can be altered by such environmental factors. Epigenetic changes can be imprinted on the DNA of a fetus during pregnancy according to Winchester.
"If it is fixed then, it becomes inheritable and it becomes a trait that you can pass on to the next generation and the next and next."
Epigenetics is a fairly new concept that is slowly gaining acceptance.
"This is a really important concept that is difficult to teach the public, and when I say the public I include my clinical colleagues," Winchester said.
For the atrazine study, Winchester's team used Skinner's advanced technology to detect epigenetic changes—and resulting negative health impacts—over several generations of rats whose mothers were exposed to atrazine.

Common sense would seem to dictate that fewer negative health outcomes would be seen with subsequent generations. But the study found the opposite: There were more abnormalities and diseases in later generations of rats. The first generation of rats whose mother was exposed to atrazine weighed less than a group of control rats. The second generation weighed less but also had incidences of testicular disease and breast cancer. The third generation suffered the most problems, according to Winchester.
"We waited until the third generation, where no direct exposure (to atrazine) occurred, to ask if these epigenetic effects could be inherited, because there is no mechanism, no exposure, no toxicity that could explain a change in disease rates in the third generation. We found that 50 percent of offspring had multiple diseases, emotional and physical problems, hyperactivity, abnormal sperm, and premature puberty."
In an earlier study, Skinner found that the fungicide vinclozolin also caused inheritable diseases in rats. In all, he tested nearly 20 chemicals and found that all produce epigenetic effects, said Winchester.
"The most alarming (finding) to me is that almost every chemical tested including atrazine reduced fertility in the third generation of offspring."
Winchester called the discovery of the link between chemicals like pesticides and epigenetic changes leading to disease "the most important next discovery in all of medicine."
"What we are learning is that virtually every adult disease we have is going to be linked to epigenetic origins as well," he said.
More research needs to be done on the link between epigenetic effects and disease but Winchester says limited funding is available for such research.
"This is a huge thing that is going to change how we understand the origin of disease. But a big part of that is that it will change our interpretation of what chemicals are safe. In medicine I can't give a drug to somebody unless it has gone through a huge amount of testing. But all these chemicals haven't gone through anything like that. We've been experimented on for the last 70 years, and there's not one study on multigenerational effects."
Glyphosate Levels in Mothers Linked to Shorter Pregnancies
Winchester also co-authored a study published recently in Environmental Health that found detectable levels of glyphosate in the urine of 93 percent of a group of pregnant women in Central Indiana. The levels of glyphosate detected correlated with shorter pregnancies.
Again, the study raises concerns of possible epigenetic effects leading to disease in later generations.
"We are the first researchers in the U.S. to report that virtually every pregnant mother has glyphosate in her body at the time that she is creating fetal (epigenetic) imprints in her baby," Winchester said.
Winchester and his team focused on atrazine and glyphosate because they are the most heavily used pesticides in the U.S.
"That's the only reason they were chosen. We looked to see how commonly they are found in pregnant women, and we were mortified."
Winchester has been surprised by the lack of reaction to the glyphosate study.
"A chemical (glyphosate) that didn't come onto the scene until the 1970s has now managed to find its way into every single pregnant woman in the U.S, except seven percent of them. We thought that should be news. But in the current paradigm, which is definitely pro-business, the only thing companies have to prove is that it doesn't kill you if you drink it or take a big dose of it."
He sees a potentially catastrophic outcome resulting from the epigenetic damage caused by pesticides.
"Every one of the chemicals tested so far produces infertility, and the industrial world has reached the lowest level of fertility on record. We are below replacement levels in most industrialized countries including the U.S.This is looking at your own species extinction."
Winchester lays the blame at the feet of the U.S. Environmental Protection Agency, which doesn't consider epigenetic or generational effects of chemicals, and the pesticide and chemical manufacturers like Monsanto.
"They can sell all the Roundup they want, but if it's in me they are going to have to pay for that. Every molecule that I find is on them … What I want to know is: has my fetus had altered DNA imprinting because of this chemical? I have a right to know that. If we are going to have to wait 75 years to find out if my grandchildren are going to be affected by it, I think somebody has to pay. They better put a fund together. I want somebody's head to roll. I don't think that the EPA and Monsanto get to walk away."
Winchester connects an ancient expression to a modern health crisis.
"Even in the Bible, there is the saying, 'the sins of the father are visited upon his offspring.' Well, it turns out that they are."
EcoWatch Daily Newsletter
Earlier this year, in an exposé in The New Yorker, Rachel Aviv detailed the story of Syngenta, an agribusiness firm that was sued by the community water systems of six states in a class-action lawsuit over the firm's herbicide atrazine.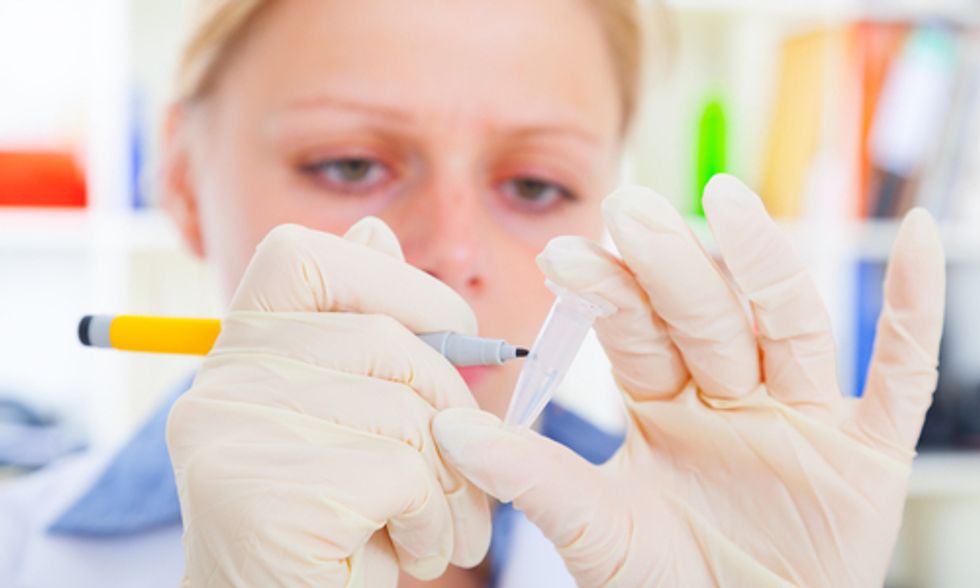 Photo courtesy of Shutterstock
Atrazine is the second most commonly used herbicide in the U.S. and is used on more than 50 percent of all corn crops. It is one of Syngenta's most profitable chemicals with sales of more than $3 million a year. Banned in the EU, atrazine remains on the market in the U.S. despite scores of scientific publications demonstrating its role in abnormal sexual development. Almost insoluble in water, atrazine contaminates drinking water supplies at 30 times the concentration demonstrated to cause severe sexual abnormalities in animal models. It is estimated that 30 million Americans are exposed to dangerous levels of atrazine.
Recently unsealed court documents from the lawsuit have disclosed how Syngenta launched a multimillion-dollar campaign to disrepute and suppress scientific research, and influence the U.S. Environmental Protection Agency (EPA) to prevent a ban on atrazine.
Tyrone Hayes, a professor of integrative biology at UC Berkeley has demonstrated in his research that atrazine leads to health problems, reproductive issues and birth defects. Hayes is a vocal proponent of legislative action to ban the dissemination of atrazine in water supplies. The court documents showed that Syngenta specifically attacked Hayes' work with its smear campaign.
In addition to smear campaigns, Syngenta hired a private detective agency to look into the personal backgrounds of scientists on an advisory panel at the EPA, the judge presiding over the lawsuit and Hayes. The documents also reveal a host of third-party organizations and independent "experts" who were on Syngenta's payroll and supplied with Syngenta's data in order to make public statements or write op-ed pieces in support of atrazine. Often, these experts were supplied directly with material that company employees edited or wrote.
Syngenta's Coverup
It all started in 1997 when Hayes was employed by Syngenta to study atrazine, which was under review by EPA. Hayes' experimental research on the developmental growth of frogs began to reveal that even at levels of atrazine as low as 0.1 parts per billion (ppb), the chemical was capable of causing males to develop as hermaphrodites. Some males developed female organs and were even capable of mating with normal males and producing eggs. As reported in top peer-reviewed journals such as PNAS and Nature, at exposure to 0.1 ppb atrazine the frogs showed extremely reduced levels of testosterone and feminized voice boxes.
As Hayes amassed data, Syngenta downplayed his results, citing problems with statistics or asking him to repeat studies, often nitpicking or questioning his credibility or scientific skills.
In 2000, Hayes resigned from the panel. He continued to speak at conferences, publicizing his ongoing research in the lab. Meanwhile, Syngenta employees began to show up at conferences to publicly besmirch his data. Sporadically, the campaign turned into threats of violence. In a Democracy Now interview with Amy Goodman, Hayes said:
Tim Pastoor, for example, before I would give a talk, would literally threaten, whisper in my ear that he could have me lynched, or he said he would send some of his "good ol' boys to show me what it's like to be gay," or at one point he threatened my wife and my daughter with sexual violence.
Shockingly, even though Syngenta settled the lawsuit for $105 million in late 2012 after eight years of litigation, it still maintains that amount of atrazine present in the water is much lower than would be required to cause damage. In an article in Forbes published a week after the New Yorker story, Jon Entine criticized Hayes and claimed that "after numerous follow up studies by the EPA and a score of scientists … evidence of endocrine related problems Hayes claimed to have identified … are nowhere to be found."
This is a patently false assertion. A mere scientific literature search shows dozens of peer-reviewed articles showing atrazine-induced defects in animal models. A number of papers on salmon and fish find similar results to those in frogs: fish exposed to atrazine showed major reproductive abnormalities in both males and females, low sperm counts and low testosterone levels in males. Similar defects have been observed in reptiles. Research in rats has demonstrated decreased fertility, effects on sperm count, increased prostrate disease in males and poor mammary development. A collaborative effort of an international team of scientists confirmed these studies by demonstrating feminization of male gonads across vertebrate species.
All signs point toward the same being true for humans. Said Hayes:
A number of epidemiological studies in humans have associated atrazine with impaired reproduction and a decline in sperm count and fertility. Another study looking at increased prostrate disease in workers who are exposed to atrazine in the production plant in St. Gabriel, Louisiana. A number of studies now show birth defects in humans exposed to atrazine: gastroschisis where the intestines are on the outside of the baby when it's born, choanal atresia, an effect where the oral cavity and the nasal cavity close up. Most recently, there's been work showing atrazine associating with three different types of genital abnormalities in males.
Corruption Within the EPA
Interestingly, the scientific advisory panel to the EPA recognizes this wealth of scientific data. In a memo from the 2012 review the advisory panel repeatedly calls attention to the biased methodology employed by the EPA. In fact, the advisory panel disagreed with almost every conclusion the EPA made.
Hayes explained: "The panel was only making recommendations, they don't make decisions and so the EPA doesn't need to listen to them. This really undermines the role of the scientific advisory panel."
Syngenta was closely involved with the EPA's decision. The EPA mainly considered just one study that found inconclusive effects of atrazine. This was the sole premise for the EPA's decision. It was based on the research of a group led by Kloas Werner. Said Hayes:
Kloas Werner was originally on the EPA scientific advisory panel that I presented my data to. He at that time was hired by Syngenta and subsequent to being on the panel he conducted a study in collaboration with the EPA and Syngenta and reported back to the panel that he was on. The panel's conclusion was that more work needed to be done, and then he presented back to that panel. Essentially, his previous decision helped him get the money for his study. Furthermore, they selected a strain of frogs that don't respond even to estrogen, which was acknowledged by the advisory panel which reviewed their work.
But Syngenta wasn't satisfied with bad science and corruption within the EPA. As Syngenta was hiring Werner, a scientific advisory panel member who could sway the EPA review process, it also held scores of closed-door meetings with panel members. As the documents reveal, Syngenta also hired a communications consultancy, the White House Writers' Group, to set up meetings with members of Congress and Washington bigwigs to discuss upcoming EPA reviews.
The information about Syngenta's misdeeds has had little to no effect. The fiction that Hayes is a scientific hack continues to pervade the work of pro-Syngenta writers like Entine. These columnists, who write from corporation-apologist perspectives, bolster the fiction by glossing over critiques of the EPA and pretending like its conclusions represent uncontroversial scientific consensus.
Time and time again, these "third-party allies" of Syngenta hyperbolically talk about the "scientific method," and suggest that science is science, regardless of the angle of the investigator (none have much to say about Werner's estrogen-insensitive frogs). For them, it seems, there is no conceivable way Syngenta employed techniques that would furnish them with results to protect its multimillion-dollar profits.
In other words, for them, "conflict of interest" means nothing. Scientific publishing is uncompromising about this: journals require the disclosure of conflicts of interest in publications. Obviously, political and financial incentives are sufficient criteria to change scientific results because they deeply influence the way experimenters do science.
Unsurprisingly, the Kloas paper failed to declare any conflict of interest.
"How can you declare no conflict of interest when clearly the manufacturer benefits from the conclusions drawn by that paper as well as benefits from the decisions made by the EPA advisory panel?" Hayes said. "Especially when the member was both on the panel and was paid by Syngenta."
Corporation v. Science
Syngenta frequently alleges that Hayes never made his data on atrazine publicly available, a damning indictment that makes it seem like his data could have been fabricated. Hayes said this is not the case.  
"The work that I did for Syngenta, Syngenta owns all that raw data," he said. "This includes the generated raw data, the transcribed typed data, and really everything. The EPA actually visited my lab. Members of the EPA actually were in my laboratory, they observed all of our processes and data collection. Mary Frankenberry, a statistician, actually analyzed the data herself."
Syngenta and its supporters also rely heavily on the vitriol that Hayes hardly seems like a disinterested, objective scientist. Rich criticism from a company that hires people to obtain the scientific results it wants.
Hayes has spoken widely, set up a website AtrazineLovers.com and rapped about Syngenta's powerful lobbying to keep atrazine on the market. There is, however, a fundamental distinction between a company lobbying to get its favored scientific result, and a scientist who vocally defends his scientific results. Hayes' response isn't surprising or unusual. Scientists often claim ownership over their results and will doggedly defend them at conferences.
The actions of big corporations like Syngenta, especially when dealing with highly profitable products, reveal a broader truth about the nature of corporate power. There is a dangerous trend in which corporate fiat is used to call scientific research into question and sway governmental policy. This trend puts millions of lives at risk as hazardous products avoid regulation and remain on the market.
One wonders why the burden isn't on Syngenta for proving without a doubt that atrazine has no effects before plying the entire population with a highly dangerous chemical. Even if it wasn't a near-certainty that atrazine causes birth defects, why wouldn't we require regulatory bodies such as the EPA to err on the side of caution?
Today, atrazine remains legal and in the water supplies of millions of Americans, despite evidence from scores of labs outside Tyrone Hayes' showing it to be hazardous.
"In the 15 plus years that I've had experience with the EPA,  I don't really have a lot of faith that we're going to get an objective review that's really going to focus on environmental health and public health with regards to atrazine, or any other chemical for that matter," Hayes said.
Who can blame him?
——–
YOU ALSO MIGHT LIKE
7 PR Tricks Pesticide Companies Use to Spin Bee Crisis
Atrazine Found in Water of Dozens of Midwest Communities
Report Finds Dozens of Schools Near Toxic Pesticide Fields
——–
waterlust.com / @tulasendlesssummer_sierra .
Each product featured here has been independently selected by the writer. If you make a purchase using the links included, we may earn commission.
The bright patterns and recognizable designs of Waterlust's activewear aren't just for show. In fact, they're meant to promote the conversation around sustainability and give back to the ocean science and conservation community.
Each design is paired with a research lab, nonprofit, or education organization that has high intellectual merit and the potential to move the needle in its respective field. For each product sold, Waterlust donates 10% of profits to these conservation partners.
Eye-Catching Designs Made from Recycled Plastic Bottles
waterlust.com / @abamabam
The company sells a range of eco-friendly items like leggings, rash guards, and board shorts that are made using recycled post-consumer plastic bottles. There are currently 16 causes represented by distinct marine-life patterns, from whale shark research and invasive lionfish removal to sockeye salmon monitoring and abalone restoration.

One such organization is Get Inspired, a nonprofit that specializes in ocean restoration and environmental education. Get Inspired founder, marine biologist Nancy Caruso, says supporting on-the-ground efforts is one thing that sets Waterlust apart, like their apparel line that supports Get Inspired abalone restoration programs.
"All of us [conservation partners] are doing something," Caruso said. "We're not putting up exhibits and talking about it — although that is important — we're in the field."
Waterlust not only helps its conservation partners financially so they can continue their important work. It also helps them get the word out about what they're doing, whether that's through social media spotlights, photo and video projects, or the informative note card that comes with each piece of apparel.
"They're doing their part for sure, pushing the information out across all of their channels, and I think that's what makes them so interesting," Caruso said.
And then there are the clothes, which speak for themselves.
Advocate Apparel to Start Conversations About Conservation
waterlust.com / @oceanraysphotography
Waterlust's concept of "advocate apparel" encourages people to see getting dressed every day as an opportunity to not only express their individuality and style, but also to advance the conversation around marine science. By infusing science into clothing, people can visually represent species and ecosystems in need of advocacy — something that, more often than not, leads to a teaching moment.

"When people wear Waterlust gear, it's just a matter of time before somebody asks them about the bright, funky designs," said Waterlust's CEO, Patrick Rynne. "That moment is incredibly special, because it creates an intimate opportunity for the wearer to share what they've learned with another."
The idea for the company came to Rynne when he was a Ph.D. student in marine science.
"I was surrounded by incredible people that were discovering fascinating things but noticed that often their work wasn't reaching the general public in creative and engaging ways," he said. "That seemed like a missed opportunity with big implications."
Waterlust initially focused on conventional media, like film and photography, to promote ocean science, but the team quickly realized engagement on social media didn't translate to action or even knowledge sharing offscreen.
Rynne also saw the "in one ear, out the other" issue in the classroom — if students didn't repeatedly engage with the topics they learned, they'd quickly forget them.
"We decided that if we truly wanted to achieve our goal of bringing science into people's lives and have it stick, it would need to be through a process that is frequently repeated, fun, and functional," Rynne said. "That's when we thought about clothing."
Support Marine Research and Sustainability in Style
To date, Waterlust has sold tens of thousands of pieces of apparel in over 100 countries, and the interactions its products have sparked have had clear implications for furthering science communication.
For Caruso alone, it's led to opportunities to share her abalone restoration methods with communities far and wide.
"It moves my small little world of what I'm doing here in Orange County, California, across the entire globe," she said. "That's one of the beautiful things about our partnership."
Check out all of the different eco-conscious apparel options available from Waterlust to help promote ocean conservation.
Melissa Smith is an avid writer, scuba diver, backpacker, and all-around outdoor enthusiast. She graduated from the University of Florida with degrees in journalism and sustainable studies. Before joining EcoWatch, Melissa worked as the managing editor of Scuba Diving magazine and the communications manager of The Ocean Agency, a non-profit that's featured in the Emmy award-winning documentary Chasing Coral.
By Rex Weyler
We know what is killing the bees. Worldwide Bee Colony Collapse is not as big a mystery as the chemical companies claim. The systemic nature of the problem makes it complex, but not impenetrable. Scientists know that bees are dying from a variety of factors—pesticides, drought, habitat destruction, nutrition deficit, air pollution, global warming and so forth. The causes of collapse merge and synergize, but we know that humanity is the perpetrator, and that the two most prominent causes appear to be pesticides and habitat loss.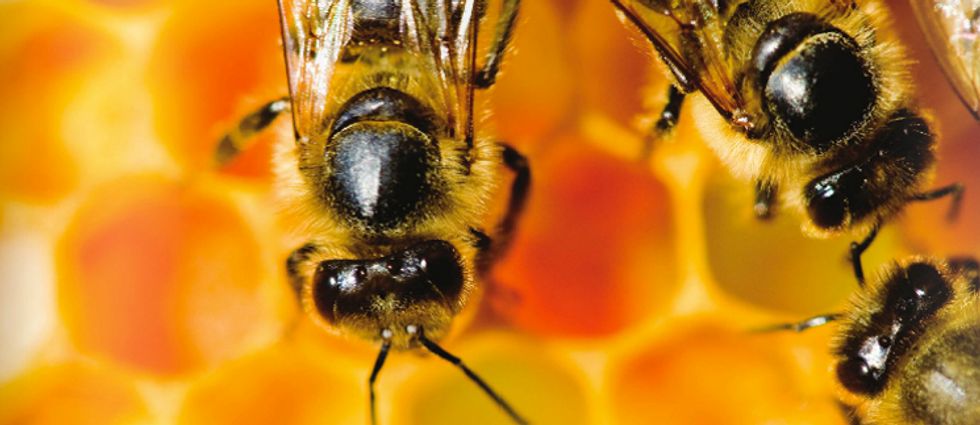 Biologists have found over 150 different chemical residues in bee pollen, a deadly "pesticide cocktail" according to University of California apiculturist Eric Mussen. The chemical companies Bayer, Syngenta, BASF, Dow, DuPont and Monsanto shrug their shoulders at the systemic complexity, as if the mystery were too complicated. They advocate no change in pesticide policy. After all, selling poisons to the world's farmers is profitable.
Furthermore, wild bee habitat shrinks every year as industrial agribusiness converts grasslands and forest into monoculture farms, which are then contaminated with pesticides. To reverse the world bees decline, we need to fix our dysfunctional and destructive agricultural system.
Bee Collapse
Apis mellifera—the honey bee, native to Europe, Africa and Western Asia—is disappearing around the world. Signs of decline also appear now in the eastern honey bee, Apis cerana.
This is no marginal species loss. Honey bees—wild and domestic—perform about 80 percent of all pollination worldwide. A single bee colony can pollinate 300 million flowers each day. Grains are primarily pollinated by the wind, but the best and healthiest food—fruits, nuts and vegetables—are pollinated by bees. Seventy out of the top 100 human food crops, which supply about 90 percent of the world's nutrition, are pollinated by bees.
Tonio Borg, European Commissioner for Health and Consumer Policy, calculates that bees "contribute more than €22 billion ($30 billion U.S. dollars) annually to European agriculture." Worldwide, bees pollinate human food valued at more than €265 billion ($350 billion). The bee collapse is a challenge to human enterprise on the scale of global warming, ocean acidification and nuclear war. Humans could not likely survive a total bee collapse.
Worker bees (females) live several months. Colonies produce new worker bees continuously during the spring and summer, and then reproduction slows during the winter. Typically, a bee hive or colony will decline by five to 10 percent over the winter and replace those lost bees in the spring. In a bad year, a bee colony might lose 15-20 percent of its bees.
In the U.S., where bee collapse first appeared, winter losses commonly reached 30-50 percent and in some cases more. In 2006, David Hackenberg, a bee keeper for 42 years, reported a 90 percent die-off among his 3,000 hives. U.S. National Agriculture Statistics show a honey bee decline from about 6 million hives in 1947 to 2.4 million hives in 2008, a 60 percent reduction.
The number of working bee colonies per hectare provides a critical metric of crop health. In the U.S., among crops that require bee pollination, the number of bee colonies per hectare has declined by 90 percent since 1962. The bees cannot keep pace with the winter die-off rates and habitat loss.
Europe Responds, U.S. Dithers
In Europe, Asia and South America, the annual die-off lags behind the U.S. decline, but the trend is clear, and the response is more appropriate. In Europe, Rabobank reported that the annual European die-offs have reached 30-35 percent and that the colonies-per-hectare count is down 25 percent. In the 1980s, in Sichuan, China, pear orchard pesticides obliterated local bees, and farmers must now pollinate crops by hand with feather dusters.
A European Food Safety Authority scientific report determined that three widely used pesticides—nicotine-based clothianidin, imidacloprid and thiametoxam—pose "high acute risks" for bees. These neonicotinoid pesticides—used in soils, on foliage and embedded in seeds—persist at the core of the toxic pesticide cocktail found in bee hives.
A Greenpeace scientific report identifies seven priority bee-killer pesticides—including the three nicotine culprits—plus clorpyriphos, cypermethrin, deltamethrin and fipronil. The three neonicotinoids act on insect nervous systems. They accumulate in individual bees and within entire colonies, including the honey that bees feed to infant larvae. Bees that do not die outright, experience sub-lethal systemic effects, development defects, weakness and loss of orientation. The die-off leaves fewer bees and weaker bees, who must work harder to produce honey in depleted wild habitats. These conditions create the nightmare formula for bee colony collapse.
Bayer makes and markets imidacloprid and clothianidin; Syngenta produces thiamethoxam. In 2009, the world market for these three toxins reached over $2 billion. Syngenta, Bayer, Dow, Monsanto and DuPont control nearly 100 percent of the world market for genetically engineered (GE) pesticides, plants and seeds.
In 2012, a German court criminally charged Syngenta with perjury for concealing its own report showing that its genetically modified corn had killed livestock. In the U.S., the company paid out $105 million to settle a class-action lawsuit for contaminating the drinking water for more than 50 million citizens with its "gender-bending" herbicide Atrazine. Now, these corporate polluters are waging multi-million-euro campaigns to deny responsibility for bee colony collapse.
In May, the European Commission responded, adopting a two-year ban on the three neonicotinoid pesticides. Scientists will use the two years to assess the recovery rate of the bees and a longer-term ban on these and other pesticides.
Meanwhile, the U.S. dithers and supports the corporations that produce and market the deadly pesticides. In May, as European nations took action, the U.S. Environmental Protection Agency (EPA) approved the neonicotinoid pesticides, in spite of a U.S. Department of Agriculture report warning about the dangers of the bee colony collapse.
Also in May, President Obama, signed the now infamous "Monsanto Protection Act"—written by Monsanto lobbyists—that gives biotech companies immunity in federal U.S. courts from damages to people and the environment caused by their commercial compounds.
Solutions Exist
Common sense actions could restore and protect the world's bees. Experienced bee keepers, apiculturists, farmers, the European Commission and the Greenpeace report, Bees in Decline have outlined these solutions:
Ban the seven most dangerous pesticides
Protect pollinator health by preserving wild habitat
Restore ecological agriculture
Ecological farming is the over-arching new policy trend that will stabilize human food production, preserve wild habitats and protect the bees. The nation of Bhutan has led the world in adopting a 100 percent organic farming policy. Mexico has banned GE corn to protect its native corn varieties. In January, eight European countries banned GE crops, and Hungary has burned over a 1,000 acres of corn contaminated with GE varieties. In India, scientist Vandana Shiva and a network of small farmers have built an organic farming resistance to industrial agriculture over two decades.
Ecological or organic farming, of course, is nothing new. It is the way most farming has been done throughout human history. Ecological farming resists insect damage by avoiding large monocultures and preserving ecosystem diversity. Ecological farming restores soil nutrients with natural composting systems, avoids soil loss from wind and water erosion, and avoids pesticides and chemical fertilizers.
By restoring bee populations and healthier bees, ecological agriculture improves pollination, which in turn improves crop yields. Ecological farming takes advantage of the natural ecosystem services, water filtration, pollination, oxygen production and disease and pest control.
Organic farmers have advocated better research and funding by industry, government, farmers and the public to develop organic farming techniques, improve food production and maintain ecological health. The revolution in farming would promote equitable diets around the world and support crops primarily for human consumption, avoiding crops for animal food and biofuels.
Ecosystems
The plight of the bees serves as a warning that we still may not quite understand ecology. Ecological farming is part of a larger paradigm shift in human awareness. The corporate denialists appear just like the Pope's shrouded inquisitors in 1615, who refused to look through Galileo's telescope to see the moons of Jupiter. Today's denialists refuse to recognize that Earth's systems operate within real limits. However, the state religion in this case is money, and the state religion won't allow it. The denialists cling to the presumed right to consume, hoard, and obliterate Earth's great bounty for private profits. But hoards of money won't reverse extinction, restore lost soils or heal the world's bee colonies.
A great reckoning awaits humanity if we fail to awaken from our delusions. Earth's delicately balanced systems can reach tipping points and collapse. Bees, for example, work within a limited range of marginal returns on the energy they exert to collect nutrition for their colonies. When winter bee deaths grow from 10 percent to 50 percent, the remaining bees are weakened by toxins, and the wild habitats shrink that thin, ecological margin of energy return can be squeezed to zero. Surviving bees expend more energy than they return in honey. More bees die, fewer reach maturity and entire colonies collapse. This crisis is a lesson in fundamental ecology.
Rachel Carson warned of these systemic constraints 50 years ago. Ecologists and environmentalists have warned of limits ever since. Bee colony collapse now joins global warming, forest destruction and species extinctions among our most urgent ecological emergencies. Saving the world's bees appears as one more necessary link in restoring Earth to ecological balance.
Visit EcoWatch's BIODIVERSITY page for more related news on this topic.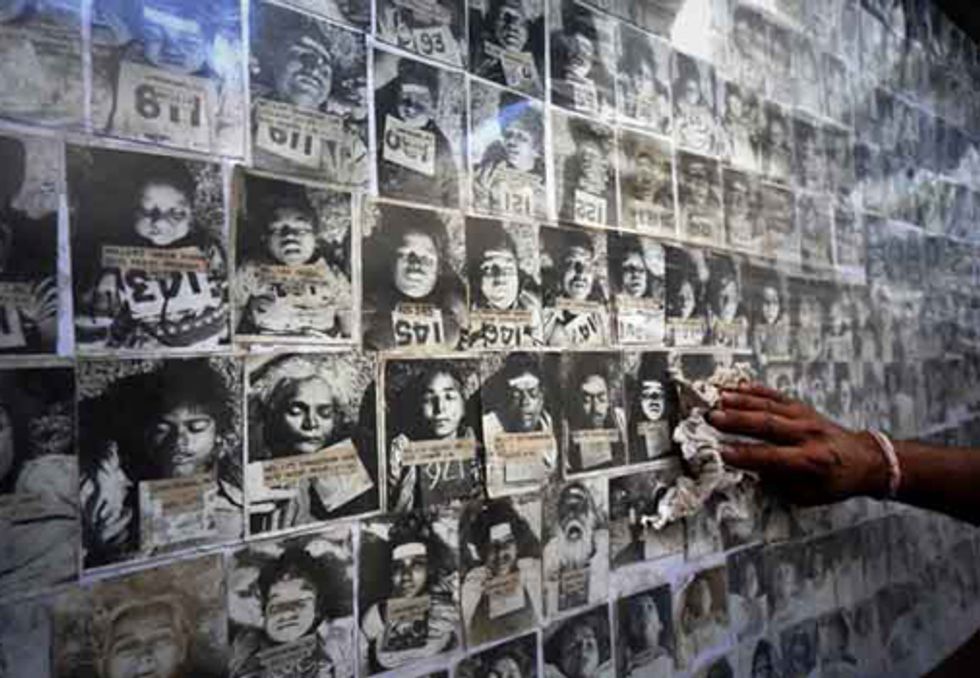 After an intensive public trial covering a range of human rights violations, jurors issued a scathing verdict to the six largest pesticide and biotechnology corporations, urging governments, especially the U.S., Switzerland and Germany, to take action to prevent further harms.
"The trial shed light on widespread and systematic human rights violations by the world's six largest pesticide corporations," said Kathryn Gilje, co-director of Pesticide Action Network North America, and who reported live from the trial. "The existing justice system has failed to provide adequate protections for our health, our food and farmers' livelihoods. Pesticide corporations will continue to go to great lengths to avoid responsibility for their human rights violations until we create a strong system of accountability."
The verdict was handed down to the six largest pesticide corporations—Monsanto, Syngenta, Bayer, BASF, Dow and Dupont—collectively known as the "Big 6," for their human rights violations, including internationally recognized rights to life, livelihood and health. The agrichemical industry is valued at more than $42 billion and operates with impunity while more than 355,000 people die from pesticide poisoning each year, and hundreds of thousands more are made ill. In addition, pesticide corporations have put livelihoods and jobs in jeopardy, including, farmers, beekeepers and lobstermen.
Over the past few days, witnesses from across globe, including the U.S., shared their stories of the harms of pesticides and biotechnology. Among them was Viola Wighiyi, an indigenous Yupik mother from St. Lawrence Island in Alaska. "The corporations are contaminating us without our consent and affecting our lands, our subsistence foods, the health and well-being of our people, our children and future generations," she said.
More than fifteen witnesses testified at the trial sharing the impacts of pesticides on their lives, livelihood and health. Witnesses included:
David Runyon, Indiana farmer. Runyon and his wife Dawn almost lost the 900-acre family farm when pesticide and genetic engineering giant Monsanto found contamination of seeds on their property. The company threatened to sue Runyon unless he paid them for genetically modified seeds, seeds that had been carried by the wind from a neighboring farm. Runyon testified that a Monsanto attorney said, "Taking money from a farmer is like taking candy from a baby."
Dr. Tyrone Hayes, University of California - Berkeley professor. Hayes, a former researcher for Syngenta, has been continually threatened by the company ever since he brought to light the damages of their high profile herbicide atrazine. His research has demonstrated that even at small amounts, the chemical significantly can feminize male frogs. At the trial he noted that farmworkers can have 24,000 times those levels of Syngenta's atrazine in their system.
The verdict lays out the six pesticide corporations as responsible for gross, widespread and systematic violations of the right to health and life, economic, social and cultural rights, as well as of civil and political rights, and women and childrens' rights, and the systematic violation of indigenous peoples' human rights.The jury also found that the corporations have caused avoidable catastrophic risks, increasing the prospects of extinction of biodiversity, including species whose continued existence is necessary for reproduction of human life.
The verdict also names three particular nations as culpable alongside the corporations. Their preliminary findings state, "The United States, Switzerland and Germany [home states for the pesticide corporations] have failed to comply with their internationally accepted responsibility to promote and protect human rights…The three states, where six corporations are registered and headquartered, have failed to adequately regulate, monitor and discipline these entities by national laws and policy."
The trial began on the anniversary of the Bhopal disaster, in which more than 20,000 people have died after an explosion at a Dow Chemical facility. And it concluded before International Human Rights Day. The trial was hosted by the Pesticide Action Network International, a network of more than 600 participating nongovernmental organizations, institutions and individuals in more than 90 countries working to replace the use of hazardous pesticides with ecologically sound and socially just alternatives.
The Permanent People's Tribunal (PPT) was founded in Italy in 1979 as a people's court to raise awareness of massive human rights violations in the absence of another international justice system. The PPT draws its authority from the people while remaining rooted in the rigors of a conventional court format. Citing relevant international human rights laws, precedents and documents such as the United Nations Declaration of Human Rights in its findings, the PPT examines and passes judgment on complaints of human rights violations brought by victims and their representative groups.
A summary of the trial, including summaries of cases against the Big 6, can be found by clicking here. Photos from the trial are available here.
For more information, click here.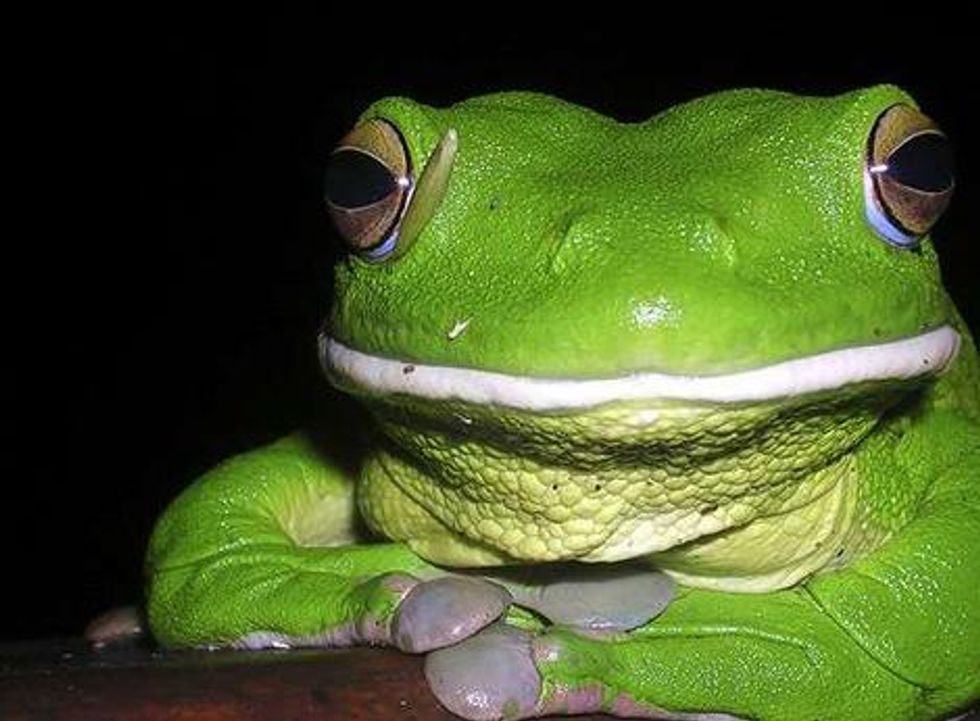 Like the chemical DDT (dichlorodiphenyltrichloroethane) that was made famous by Rachel Carson's Silent Spring, the herbicide atrazine is quietly pushing wildlife into extinction.
This harmful pesticide causes cancer in mammals, developmental problems in fish and turns male frogs into females.
It was banned by the European Union in 2004, but 80 million pounds of the pesticide are used annually in the U.S., making it the most commonly detected pesticide in our nation's rainwater and groundwater. Its continued use is pushing entire populations of endangered fish and amphibians closer to extinction and today we have a chance to stop it.
The deadline for public comments is Nov. 14, and the U.S. Environmental Protection Agency (EPA) needs to hear from you. Tell the EPA to ban the production and use of atrazine.
Send a message to the EPA by clicking here.