69 percent of Chicago's office space square footage is now green-certified.
Marco Verch / CC BY 2.0
By Hilary Firestone and Olivia Walker
City Energy Project cities once again dominated CBRE's list of greenest U.S. commercial real estate markets. CBRE, the world's largest commercial real estate services and investment firm, released their fourth annual Green Building Adoption Index study in partnership with Maastricht University, examining nationwide commercial building energy use trends and impacts of energy efficiency programs and policies on U.S. building markets.
It then produced a ranked list of the top 30 American commercial real estate markets based on the percentage of the city's office-space square footage that is "certified green," meaning it holds either an EPA ENERGY STAR label or USGBC LEED certification. The study's accompanying map tool returned this year as well, highlighting the names, certification details, and locations of the highest-performing properties in the largest U.S. commercial real estate markets.
CBRE, Inc.
City Energy Project (CEP), a nation-wide effort co-led by NRDC and the Institute for Market Transformation, is devoted to improving the energy efficiency of existing buildings in American cities. CEP supports a suite of policies and programs that lay the groundwork for the kind transformative change measured by CBRE's annual study. The most heavily identified strategy of CEP cities is the passage and implementation of a citywide benchmarking and transparency ordinance.
Benchmarking and transparency, the process of measuring building energy data over time and comparing it to similar buildings, gives owners and operators of large buildings information about their building's energy usage and therefore provides the opportunity to improve on that usage. The impact of that work is being clearly demonstrated by studies like this. Nine out of the top 10 cities on CBRE's list have passed benchmarking ordinances all requiring the use of the EPA's ENERGY STAR Portfolio Manager, and cities with benchmarking ordinances have 21 percent more ENERGY STAR and LEED certified square footage than those without.
More than half of the CEP cities are on the list, with Chicago claiming first place as the greenest American office market. Chicago's win is thanks to its rapidly improving building stock; 69 percent of the city's office space square footage is now green-certified, an increase of 3 percent in green-certified space since last year's study was published. This distinction comes in the midst of big sustainability action for the Windy City; just last year Mayor Rahm Emanuel pledged to transition city-operated buildings to a 100 percent renewable energy supply by 2025 and they are doubling down on their benchmarking policy with the Chicago Energy Rating System, requiring buildings to publicly display a localized energy rating. Chicago's rapid improvements thus far foretell success in adopting forward thinking policies for existing buildings.
CBRE 2018 Green Building Adoption IndexCBRE, Inc.
11 other CEP cities were included in the report, with Atlanta, Los Angeles, Saint Paul, Houston and Denver all falling in the top 10. While these cities ranked in the top 10 of last year's report as well, all have maintained or improved on their performance since then, with ambitious voluntary challenge programs and benchmarking policies as their tools for success. Notably, Los Angeles' percentage of green square footage increased by over seven percent, causing its ranking to bump up two spots, while Atlanta also gained four percent in green square-footage from the previous year's report. Both Los Angeles and Atlanta have benchmarking and energy audit requirements, so it will be interesting to see the impact of those policies on the uptake of green certifications in the coming years.

As we propel toward the launch of the American Cities Climate Challenge, a new project co-led by NRDC and Delivery Associates and funded by Bloomberg Philanthropies designed to help American cities reach their climate goals, reports like this will be excellent indicators of policy-driven market transformation.
#Denver Becomes Latest City to Require Green Roofs https://t.co/9XqeWtSQlX @billmckibben @SierraClub @greenpeaceusa… https://t.co/sSLH1HRcmP

— EcoWatch (@EcoWatch)1510341409.0
From Your Site Articles
Related Articles Around the Web
EcoWatch Daily Newsletter
Pixabay
By Jeremy Deaton
At the start of 2017, just 22 cities had committed to sourcing all of their power from clean energy by 2050. As of this week, that number is 72. Since President Trump moved into the Oval Office and started ripping up federal climate policy, dozens of cities in conservative states have set ambitious goals for clean power, including Salt Lake City, St. Louis and Atlanta. Now for the hard part. These cities must chart a course to reaching their goal.
Atlanta recently laid out three options for hitting 100 percent clean energy. The document reveals two important facts. First, if Atlanta invests in new clean energy projects—as opposed to buying credits for clean energy generated out of state—it will see more jobs, smaller energy bills and less pollution. Second, if Atlanta wants to rely solely on locally sourced renewable power, it will need the help of the state legislature and the public service commission, both of which are controlled by Republicans, many of whom are wary of wind and solar. The proposals speak both to the promise of renewable power and to the limitations of local government. It will be hard to achieve 100 percent clean energy, but as former vice president Al Gore recently said, if Atlanta can do it, anybody can.
Officials listed the three proposals in increasing order of difficulty. The first calls for buying clean power credits from out-of-state wind farms to make up for power purchased from coal, gas and nuclear power plants. This option could be executed more quickly and cheaply than the other two, but it offers the smallest upside. In this scenario, Atlanta would support the development of clean energy, and thereby stem climate change, but it would not manage to shrink power bills, cut local pollution or create jobs for residents.
The energy mix in the first scenario. REC stands for "Renewable Energy Credits," while SREC stands for "Solar Renewable Energy Credits." City of Atlanta Mayor's Office of Resilience
The second option calls for investing in solar energy and energy efficiency. Like the first scenario, it also requires buying clean power credits, some from out-of-state wind farms and some from in-state solar farms—assuming Georgia Power, the local utility, invests in solar power. This scenario boasts the highest cost-to-benefit ratio, meaning the greatest savings on electricity and healthcare per dollar spent on clean power.

The energy mix in the second scenario. REC stands for "Renewable Energy Credits," while SREC stands for "Solar Renewable Energy Credits." City of Atlanta Mayor's Office of Resilience
The third option calls for going all in on clean energy, making big investments in rooftop solar arrays and community solar farms, in addition to making buildings more efficient. Even in this scenario, however, the city would rely in part on fossil fuels for power, and it would have to buy solar energy credits to reach its goal.

Overall, this proposal would yield the biggest returns. Officials say this option would create almost 8,000 jobs and produce nearly $12 billion in returns by slashing power bills and cutting pollution, thereby reducing healthcare costs. In this scenario, the city would also save 10 billion gallons of water that would otherwise be used in the operation of coal, gas and nuclear power plants—the largest water savings of any option.
The energy mix in the third scenario. REC stands for "Renewable Energy Credits," while SREC stands for "Solar Renewable Energy Credits." City of Atlanta Mayor's Office of Resilience
If the officials want to pursue the second or third options, they will need the help of the Georgia Public Service Commission and the state legislature. The Public Service Commission, for example, would need to direct Georgia Power to build enough solar power in Georgia to satisfy Atlanta's aims, allowing the city to purchase clean energy credits that support local solar projects instead of distant wind projects.

"We recognize that we can't put all of the renewable energy in the city limits. So that means it's going to have to come from somewhere else," said Ted Terry, director of the Georgia chapter of the Sierra Club. "We don't want to be exporting our dollars to other states. No offense to Oklahoma, but we've got the energy resources right here in our state to power our state." Terry wants to see Atlanta source power from in-state solar arrays, "built by Georgia workers that will add value to the tax base of Georgia."
A solar array on the roof of the Carbon Neutral Energy Solutions Laboratory at the Georgia Institute of Technology in Atlanta. Georgia Institute of Technology
The legislature could help by allowing solar owners to sell more of their power back to the grid or by creating a renewable portfolio standard, asserting the state must source a certain portion of its power from wind and solar. Terry said that a renewable portfolio standard is unlikely to pass the Republican-dominated legislature, but a tax credit for solar installations or energy efficiency upgrades just might. "The legislature is very politicized and ideological," Terry said.

Given the political hurdles, authors of the three proposals warned that trying to achieve 100 percent clean energy by 2035 would likely result in the city "simply purchasing large amounts of renewable energy credits rather than achieving the goal through energy efficiency and in-state renewable generation." They urged the city council to aim for the more modest date of 2050, which would provide "a realistic timeline in which to achieve an equitable, affordable, and cost-effective 100 percent clean energy future."
Atlanta Mayor Keisha Lance Bottoms. Afdahe
As officials noted, the more power the city can generate locally, the greater the benefits for its poorest residents, who devote up to a 10 percent of their monthly income to electricity costs. "Energy equity was a huge deal—relieving the energy burden for people who are lower income," Terry said. Officials called for shrinking power bills and funding efficiency upgrades in the homes of low-income families. The right policies could radically cut the cost of power, which would be significant for families struggling to pay rent.

"This is not just a plan drafted in a vacuum at City Hall—our aim is to unlock the potential of Atlantans to take action to make our home more resilient to the shocks and stresses of a warming planet," wrote Atlanta Mayor Keisha Lance Bottoms in an introductory letter. Bottoms described Atlanta's plan for clean energy as "a social contract to protect the health and welfare of its citizenry."
Reposted with permission from our media associate Nexus Media.
waterlust.com / @tulasendlesssummer_sierra .
Each product featured here has been independently selected by the writer. If you make a purchase using the links included, we may earn commission.
The bright patterns and recognizable designs of Waterlust's activewear aren't just for show. In fact, they're meant to promote the conversation around sustainability and give back to the ocean science and conservation community.
Each design is paired with a research lab, nonprofit, or education organization that has high intellectual merit and the potential to move the needle in its respective field. For each product sold, Waterlust donates 10% of profits to these conservation partners.
Eye-Catching Designs Made from Recycled Plastic Bottles
waterlust.com / @abamabam
The company sells a range of eco-friendly items like leggings, rash guards, and board shorts that are made using recycled post-consumer plastic bottles. There are currently 16 causes represented by distinct marine-life patterns, from whale shark research and invasive lionfish removal to sockeye salmon monitoring and abalone restoration.

One such organization is Get Inspired, a nonprofit that specializes in ocean restoration and environmental education. Get Inspired founder, marine biologist Nancy Caruso, says supporting on-the-ground efforts is one thing that sets Waterlust apart, like their apparel line that supports Get Inspired abalone restoration programs.
"All of us [conservation partners] are doing something," Caruso said. "We're not putting up exhibits and talking about it — although that is important — we're in the field."
Waterlust not only helps its conservation partners financially so they can continue their important work. It also helps them get the word out about what they're doing, whether that's through social media spotlights, photo and video projects, or the informative note card that comes with each piece of apparel.
"They're doing their part for sure, pushing the information out across all of their channels, and I think that's what makes them so interesting," Caruso said.
And then there are the clothes, which speak for themselves.
Advocate Apparel to Start Conversations About Conservation
waterlust.com / @oceanraysphotography
Waterlust's concept of "advocate apparel" encourages people to see getting dressed every day as an opportunity to not only express their individuality and style, but also to advance the conversation around marine science. By infusing science into clothing, people can visually represent species and ecosystems in need of advocacy — something that, more often than not, leads to a teaching moment.

"When people wear Waterlust gear, it's just a matter of time before somebody asks them about the bright, funky designs," said Waterlust's CEO, Patrick Rynne. "That moment is incredibly special, because it creates an intimate opportunity for the wearer to share what they've learned with another."
The idea for the company came to Rynne when he was a Ph.D. student in marine science.
"I was surrounded by incredible people that were discovering fascinating things but noticed that often their work wasn't reaching the general public in creative and engaging ways," he said. "That seemed like a missed opportunity with big implications."
Waterlust initially focused on conventional media, like film and photography, to promote ocean science, but the team quickly realized engagement on social media didn't translate to action or even knowledge sharing offscreen.
Rynne also saw the "in one ear, out the other" issue in the classroom — if students didn't repeatedly engage with the topics they learned, they'd quickly forget them.
"We decided that if we truly wanted to achieve our goal of bringing science into people's lives and have it stick, it would need to be through a process that is frequently repeated, fun, and functional," Rynne said. "That's when we thought about clothing."
Support Marine Research and Sustainability in Style
To date, Waterlust has sold tens of thousands of pieces of apparel in over 100 countries, and the interactions its products have sparked have had clear implications for furthering science communication.
For Caruso alone, it's led to opportunities to share her abalone restoration methods with communities far and wide.
"It moves my small little world of what I'm doing here in Orange County, California, across the entire globe," she said. "That's one of the beautiful things about our partnership."
Check out all of the different eco-conscious apparel options available from Waterlust to help promote ocean conservation.
Melissa Smith is an avid writer, scuba diver, backpacker, and all-around outdoor enthusiast. She graduated from the University of Florida with degrees in journalism and sustainable studies. Before joining EcoWatch, Melissa worked as the managing editor of Scuba Diving magazine and the communications manager of The Ocean Agency, a non-profit that's featured in the Emmy award-winning documentary Chasing Coral.
Atlanta City Council unanimously approved a measure Monday establishing a community-wide goal of transitioning 100 percent to renewable energy by 2035.

The legislation was introduced by city councilman Kwanza Hall, who is also a candidate for Atlanta mayor.
"We know that moving to clean energy will create good jobs, clean up our air and water and lower our residents' utility bills," Hall said after the vote. "We never thought we'd be away from landline phones or desktop computers, but today we carry our smartphones around and they're more powerful than anything we used to have. We have to set an ambitious goal or we're never going to get there."
The Atlanta Office of Sustainability has been directed to develop a plan by January 2018 to meet the 100 percent renewable energy goal across all city operations by 2025 and community-wide by 2035.
Georgia's capital and most populous city is following in the footsteps of 26 other municipalities across the U.S. that have announced similar renewable energy goals, including large cities such as San Diego, Salt Lake City and Chicago. Notably, a number of U.S. cities—Aspen, Colorado; Burlington, Vermont; Greensburg, Kansas; Kodiak Island, Alaska; and Rockport, Missouri—have already hit their clean energy targets.
Atlanta is the largest city in the U.S. South to set this ambitious commitment, which "will create good local jobs for Atlanta residents, reduce air pollution and associated public health risks, reduce the strain on water resources and save consumers money," the measure states.
Ted Terry, director of the Sierra Club's Georgia Chapter, applauded the city council's vote.

"Just days after hundreds of thousands marched for climate action across the globe, city leaders here in Atlanta are answering the call," Terry said in a statement.
"Cities like Atlanta must lead the way in confronting the threat of climate change and accelerating the transition to 100 percent clean energy. Today's commitment will inspire bold, ambitious leadership from cities throughout the United States and pave the way for a healthier and stronger Atlanta."
Atlanta, as well as the state of Georgia, has taken commendable strides in the renewable energy sector, the Sierra Club pointed out. Citing data from the Department of Energy, solar makes up the largest share of Georgia energy generation jobs. 5,261 people in Georgia have clean energy jobs compared to 2,535 in the fossil fuels industries. And, according to Shining Cities 2017 report by Environment America, Atlanta ranks 40th out of the 50 most populous U.S. cities in solar photovoltaic installations.
As EcoWatch mentioned previously, The Solutions Project, which aims to make clean energy accessible and affordable for all, is advocating for towns, cities, states and even the whole country to convert its energy infrastructure to renewables.
The Solutions Project team published a study and roadmap that illustrates how each U.S. state can replace fossil fuels by tapping into the renewable resources they have available, such as wind, solar, geothermal, hydroelectric, as well as small amounts of tidal and wave power.
The authors found that converting the nation's energy infrastructure into renewables is ideal because it helps fight climate change, saves lives by eliminating air pollution, creates jobs in the rapidly booming renewable energy sector and also stabilizes energy prices.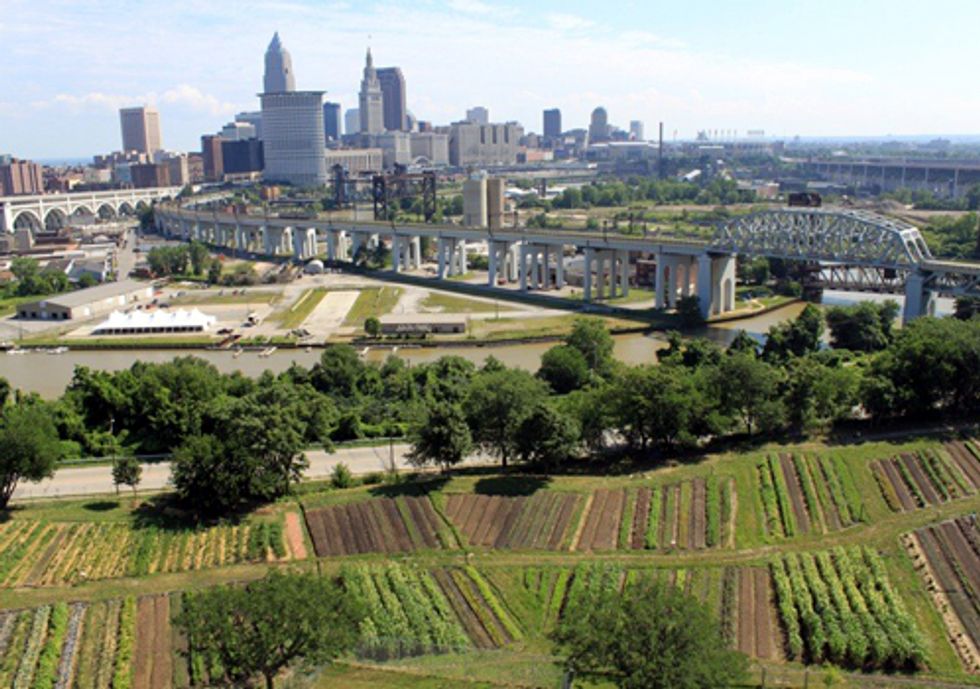 The Turner Environmental Law Clinic at the Emory University School of Law, in partnership with Georgia Organics, has released one of the most comprehensive looks at urban agriculture policy in the U.S. The study provides a look at urban agriculture policies implemented by many of Sustain Lane's top ranking sustainable cities.
Urban agriculture has become a national phenomenon as vacant lots and downsizing cities struggle to make efficient use of abandoned land, generate jobs, boost property values, promote community engagement and expand access to fresh, locally grown food. Urban agriculture can take many forms—from a community garden where multiple neighbors grow on land they share to full-scale farms that provide robust production of crops as well as educational opportunities and jobs for residents.
This report represents one of the most comprehensive, objective presentations of current urban agriculture policies being implemented across the country. Some cities have reacted in a nimble manner, creating conditions that have allowed urban food production to thrive. Other cities are struggling to identify the best mechanisms to spur urban agriculture. What is evident is that there is no one-size fits all policy to address urban agriculture. Each community needs its own nuanced approach to balance the land it has available with the needs of its residents.
Mindy Goldstein, acting director of the Turner Environmental Law Clinic, was overwhelmed at her student's interest in this topic. "We prepared this report to highlight some of the best practices being employed across the country. Our goal is to build upon these practices and prepare recommendations that will work best for the city of Atlanta and other urban areas in the state. The clinic's students dove right into this work. They were eager to lend their legal expertise to this exciting social re-innovation."
Alice Rolls, executive director of Georgia Organics and member of the Atlanta Local Food Initiative, is excited about using the report to inform the organization's work on urban agriculture issues. "It will greatly inform Georgia Organics' advocacy efforts. Land use policy can be a powerful tool to expand agricultural activity and increase access to locally grown food. With so much momentum and innovation happening to address food deserts and improve public health, food policy is a critical piece of the puzzle in solving our food security and access issues."
Both Ms. Rolls and Ms. Goldstein stated that the analysis will be shared with the city of Atlanta, among others, to inform the policy discussions currently happening. In 2010, the city of Atlanta announced an aggressive goal that 75 percent of residents would have access to fresh, locally grown food within 10 minutes of their homes by 2020.
For a full copy of the report, click here.
For more information, click here.
—————
The Turner Environmental Law Clinic provides free legal assistance to individuals, community groups, and non-profit organizations seeking to protect and restore the natural environment for the benefit of the public. Through its work, the Clinic offers students an intense, hands-on introduction to sophisticated environmental law and regulatory practice.
An outgrowth of a grower's association established in the 1970s, Georgia Organics is a member-supported not-for-profit organization devoted to promoting sustainable foods and local farms in Georgia. A sustainable local food system is critical to the future of Georgia's health, environment, and economy. Recognizing this vital need, Georgia Organics builds and strengthens a sustainable local food system that cultivates healthier Georgians, a cleaner environment, and stronger local economies. Georgia Organics builds supply through comprehensive grower education and outreach programs, and catalyzes demand on the consumer and business end by fostering market opportunities for local food. This combination creates powerful relationships that lead the state's communities toward local, sustainably grown food.