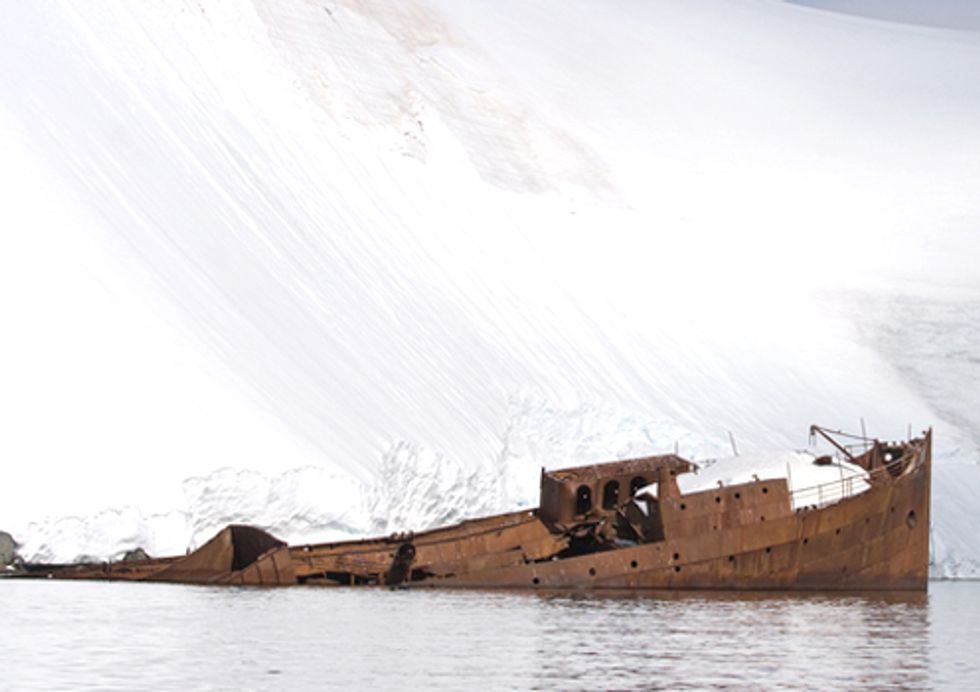 The polar waters of the Arctic and Antarctic are in jeopardy as a result of substantial delays to the development of environmental protection rules which will reduce the impact of shipping on these delicate regions. Last week the International Maritime Organization1 shelved the development of environmental protection rules until 2013.
This major setback for polar environmental protection came about as a result of procedural objections by flag states2 despite the efforts of most Arctic states and Antarctic treaty states to make progress on environmental protection. "As a result of this decision, the completion of a mandatory Polar shipping code covering both safety and environment protection will fall further behind schedule, and indeed, there is a very real chance that environmental protection could be scuttled altogether," said James Barnes, executive director of Antarctic and Southern Ocean Coalition (ASOC).
Both poles are extremely sensitive to environmental disruption and have an important role regulating the global climate. As the global climate changes, the poles are experiencing the most rapid warming of anywhere on earth and sea ice is retreating in most polar regions, making those waters more accessible to shipping than ever before in human history. The numbers of ships using the Northwest Passage and Northern Sea Route, to the north of Canada, the U.S., Norway and Russia, is increasing each year. The Arctic in particular is expected to experience a significant increase in resource exploitation and shipping volumes, which are likely to exacerbate climate-induced problems.
Environmental regulations for shipping are necessary to ensure that the volume of pollutants such as oils, chemicals and sewage being discharged by increased shipping into these pristine waters can be minimized. In addition, rules are needed to ensure that disturbance of wildlife and coastal communities is kept to a minimum and major oil and chemical spills are avoided.
"Last week's decision is badly flawed," said Mr. Barnes." Action is required sooner rather than later to ensure adequate environmental protection is in place as more and more ships use these remote, hazardous and vulnerable waters. Operational pollution from shipping and accidents could irreversibly damage these globally important sensitive ecosystems and polar wildlife is already under massive pressure from the changing climate."
"IMO member governments have an obligation to develop proactive environmental protections for our poles, and we hope that it won't take an Exxon Valdez or Costa Concordia-type disaster in polar waters before real regulatory action is achieved in these vulnerable regions," said John Kaltenstein, marine program manager at Friends of the Earth U.S.
"It is imperative that the IMO brings countries together to finish developing a mandatory Polar Code, which must include strong environmental protections," said Shawna Larson, Chickaloon Village Tribal Member and Alaska program director for Pacific Environment. "Indigenous Peoples who have lived in these Arctic coastal communities since time immemorial are highly dependent on a clean Arctic Environment for their traditional ways of life and their food sources. Without strong environmental protections in the Polar Code, Indigenous Peoples traditional ways will be at risk."
For more information, click here.
—————
1. The IMO is the UN body responsible for developing and adopting global shipping regulations addressing safety and environmental protection
2. Flag States are the countries which flag ships and are then expected to enforce the globally adopted shipping regulations relevant to the ships flying their flags.
EcoWatch Daily Newsletter
waterlust.com / @tulasendlesssummer_sierra .
Each product featured here has been independently selected by the writer. If you make a purchase using the links included, we may earn commission.
The bright patterns and recognizable designs of Waterlust's activewear aren't just for show. In fact, they're meant to promote the conversation around sustainability and give back to the ocean science and conservation community.
Each design is paired with a research lab, nonprofit, or education organization that has high intellectual merit and the potential to move the needle in its respective field. For each product sold, Waterlust donates 10% of profits to these conservation partners.
Eye-Catching Designs Made from Recycled Plastic Bottles
waterlust.com / @abamabam
The company sells a range of eco-friendly items like leggings, rash guards, and board shorts that are made using recycled post-consumer plastic bottles. There are currently 16 causes represented by distinct marine-life patterns, from whale shark research and invasive lionfish removal to sockeye salmon monitoring and abalone restoration.

One such organization is Get Inspired, a nonprofit that specializes in ocean restoration and environmental education. Get Inspired founder, marine biologist Nancy Caruso, says supporting on-the-ground efforts is one thing that sets Waterlust apart, like their apparel line that supports Get Inspired abalone restoration programs.
"All of us [conservation partners] are doing something," Caruso said. "We're not putting up exhibits and talking about it — although that is important — we're in the field."
Waterlust not only helps its conservation partners financially so they can continue their important work. It also helps them get the word out about what they're doing, whether that's through social media spotlights, photo and video projects, or the informative note card that comes with each piece of apparel.
"They're doing their part for sure, pushing the information out across all of their channels, and I think that's what makes them so interesting," Caruso said.
And then there are the clothes, which speak for themselves.
Advocate Apparel to Start Conversations About Conservation
waterlust.com / @oceanraysphotography
Waterlust's concept of "advocate apparel" encourages people to see getting dressed every day as an opportunity to not only express their individuality and style, but also to advance the conversation around marine science. By infusing science into clothing, people can visually represent species and ecosystems in need of advocacy — something that, more often than not, leads to a teaching moment.

"When people wear Waterlust gear, it's just a matter of time before somebody asks them about the bright, funky designs," said Waterlust's CEO, Patrick Rynne. "That moment is incredibly special, because it creates an intimate opportunity for the wearer to share what they've learned with another."
The idea for the company came to Rynne when he was a Ph.D. student in marine science.
"I was surrounded by incredible people that were discovering fascinating things but noticed that often their work wasn't reaching the general public in creative and engaging ways," he said. "That seemed like a missed opportunity with big implications."
Waterlust initially focused on conventional media, like film and photography, to promote ocean science, but the team quickly realized engagement on social media didn't translate to action or even knowledge sharing offscreen.
Rynne also saw the "in one ear, out the other" issue in the classroom — if students didn't repeatedly engage with the topics they learned, they'd quickly forget them.
"We decided that if we truly wanted to achieve our goal of bringing science into people's lives and have it stick, it would need to be through a process that is frequently repeated, fun, and functional," Rynne said. "That's when we thought about clothing."
Support Marine Research and Sustainability in Style
To date, Waterlust has sold tens of thousands of pieces of apparel in over 100 countries, and the interactions its products have sparked have had clear implications for furthering science communication.
For Caruso alone, it's led to opportunities to share her abalone restoration methods with communities far and wide.
"It moves my small little world of what I'm doing here in Orange County, California, across the entire globe," she said. "That's one of the beautiful things about our partnership."
Check out all of the different eco-conscious apparel options available from Waterlust to help promote ocean conservation.
Melissa Smith is an avid writer, scuba diver, backpacker, and all-around outdoor enthusiast. She graduated from the University of Florida with degrees in journalism and sustainable studies. Before joining EcoWatch, Melissa worked as the managing editor of Scuba Diving magazine and the communications manager of The Ocean Agency, a non-profit that's featured in the Emmy award-winning documentary Chasing Coral.