This website uses cookies to ensure you get the best experience while browsing it. By clicking 'Got It' you're accepting these terms.


The best of EcoWatch, right in your inbox. Sign up for our email newsletter!
By Marc Yaggi and Sandy Bihn
Before President Trump took office, a barrier designed to protect American jobs from a growing foreign threat had been researched by the U.S. Army Corp of Engineers. A month after President Trump took office, while promising that his strongman tactics would protect American jobs above all else, he quietly delayed the project.
This barrier along the Des Plaines River, also known as Brandon Lock, in Illinois was part of a plan by the federal government to defend the Great Lakes—the world's largest inland fishery—from an Asian Carp invasion. With its ability to crowd-out and outcompete American fish populations, this non-native fish species threatens thousands of American fishing and tourism businesses, the job markets of entire communities and more than $40 billion a year in revenue. The Asian Carp threat is powerful enough to unite republican and democratic leaders against it, but Trump has gone soft, choosing this invasive species over American livelihoods.
A buyer from Aspro International, one of the largest operators of marine parks in Europe, has purchased and today transferred six live bottlenose dolphins captured from the wild three weeks ago in Taiji's infamous killing Cove, reports Sea Shepherd Conservation Society's Cove Guardians presently on the ground in Taiji, Japan.
The buyer, believed to be from Aspro's Marineland Mallorca, has been at Taiji Fisherman's Union—the fisherman conduct the dolphin and pilot whale drives—on and off since Saturday, working with local trainers to ready the dolphins for transport. A transfer truck was on the scene at Fisherman's Union today preparing six airline transfer containers, likely to ship the dolphins to marine parks in Europe. The dolphins were purchased from the Taiji Whale Museum, which takes wild-caught dolphins from the Cove and sells them for several hundred thousand dollars apiece to stark and lonely lives in captivity.
Taiji is "ground zero" for the lucrative, international trade in live dolphins. These highly intelligent, social beings are stolen from their families in the wild and forced into a solitary, confined existence where they must perform for their meals. As part of an agreement between the Fisherman's Union and the World Association of Zoos and Aquariums, the six dolphins purchased by Aspro International were not part of a hunt in which dolphins were slaughtered. However, in one of the drives—in which the dolphins not chosen for sale were driven back out to sea—one dolphin succumbed to the stress of the drive or was injured in the process of release and was later found floating dead in the outskirts of the Cove. The Cove Guardians believe its body may have been taken to the butcher house and sold for meat.
"Aspro International is a marine park conglomerate whose foundation's motto is 'the future survival of mankind depends on living creatures coexisting in harmony,'" said Melissa Sehgal, Cove Guardian leader stationed in Taiji. "It's unconscionable that the foundation's philosophy about the importance of coexisting with nature does not extend to the dolphins of Taiji. By purchasing dolphins captured in the Cove, they are indirectly contributing to the horrific bloodshed that goes on here," she added.
The brutal dolphin massacre that goes on in Taiji is the world-renowned slaughter made famous by the Academy Award-winning documentary, The Cove (2009). Cove Guardians are Sea Shepherd sentries who witness and document the horrific dolphin killings that occur annually in the tiny fishing village. They are volunteers from around the world who work tirelessly on the ground in Taiji to spotlight the atrocities being committed against these much-beloved, captivating and social creatures with a goal of bringing an end to the massacre.
Visit EcoWatch's BIODIVERSITY page for more related news on this topic.
EcoWatch Daily Newsletter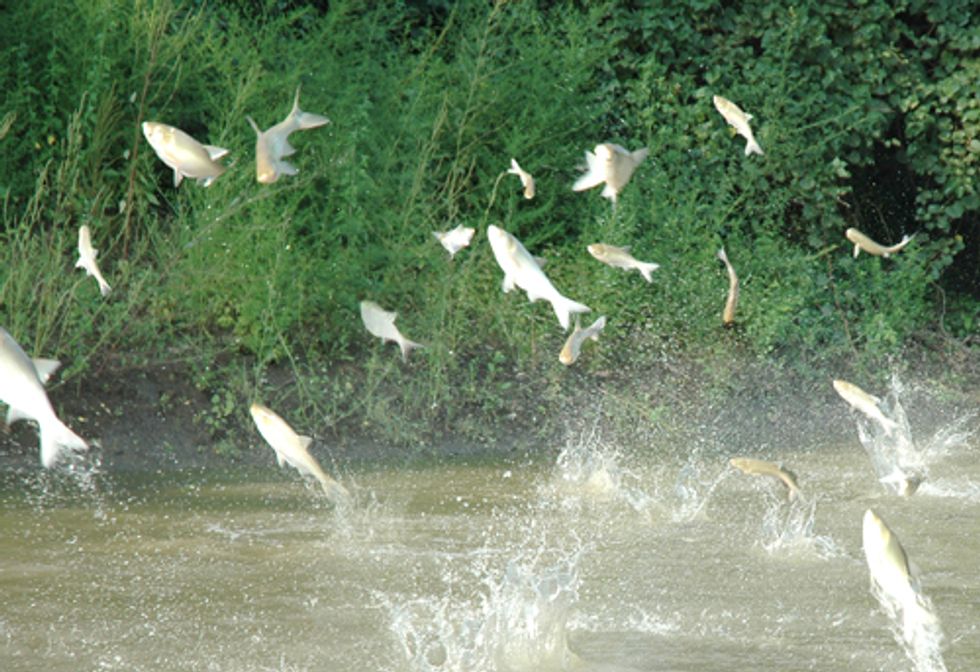 By Jeff Alexander
The federal government is winning the battle to keep Asian carp from reaching the Great Lakes, according to an Obama administration official.
Cameron Davis, the Obama administration's point person on Great Lakes issues, told a group of conservation leaders this week that the government has stopped the advance of Asian carp, which—depending on whom you believe—are either 50 miles from Lake Michigan or already in the lake.
"We're winning the war on Asian carp," Davis said on Feb. 29 during a White House Great Lakes Summit, which was held in conjunction with Great Lakes Days in Washington, D.C.
Government crews are "beating back" the advance of Asian carp in the Chicago Waterway System, the network of manmade canals that form an artificial link between the Mississippi River and Lake Michigan, Davis said.
His claim was met with a stunned silence from the group of scientists and conservation leaders (including several from National Wildlife Federation) who were invited to participate in the Great Lakes Summit.
The reason—Researchers have repeatedly found traces of Asian carp DNA in Chicago-area waters with direct connections to Lake Michigan. Those findings suggest Asian carp have breached an electric fish barrier in the Chicago Waterway System and reached the southern fringe of Lake Michigan.
Faster action needed on separating Great Lakes, Mississippi River basins
The Obama administration has spent more than $100 million over the past two years to fight Asian carp and plans to spent another $50 million this year. That level of support is commendable.
Asian carp—which eat like hogs, breed like mosquitoes and leap out of the water when disturbed by the sound of boat motors—could decimate the $7 billion Great Lakes fishery and pose potentially lethal hazards to boaters in the region.
If the president wants to pull out all the stops in the fight against Asian carp, he must speed up efforts to separate Lake Michigan from the Mississippi River basin.
The U.S. Army Corps of Engineers is currently moving at a snail's pace as it studies how best to prevent Asian carp in the Mississippi River system from invading the Great Lakes. The Corps plans to study the issue for at least three more years before recommending solutions.
Experts have said that separating Lake Michigan from the Mississippi River is the only sure way to prevent Asian carp and other harmful invasive species from moving between the two basins.
The Great Lakes Commission produced a report in January that offered three options for breaking the artificial connection between Lake Michigan and the Mississippi River basin.
The looming threat
Currently, there are no reproducing populations of Asian carp in the Great Lakes. But individual Asian carp have been found in Lake Erie, Lake Huron and Chicago-area waters connected to Lake Michigan.
Given the mounting evidence of Asian carp lurking in southern Lake Michigan, it's premature for government officials to claim they are winning the war against this menacing species of fish. Worse, it's tempting fate.
For more information, click here.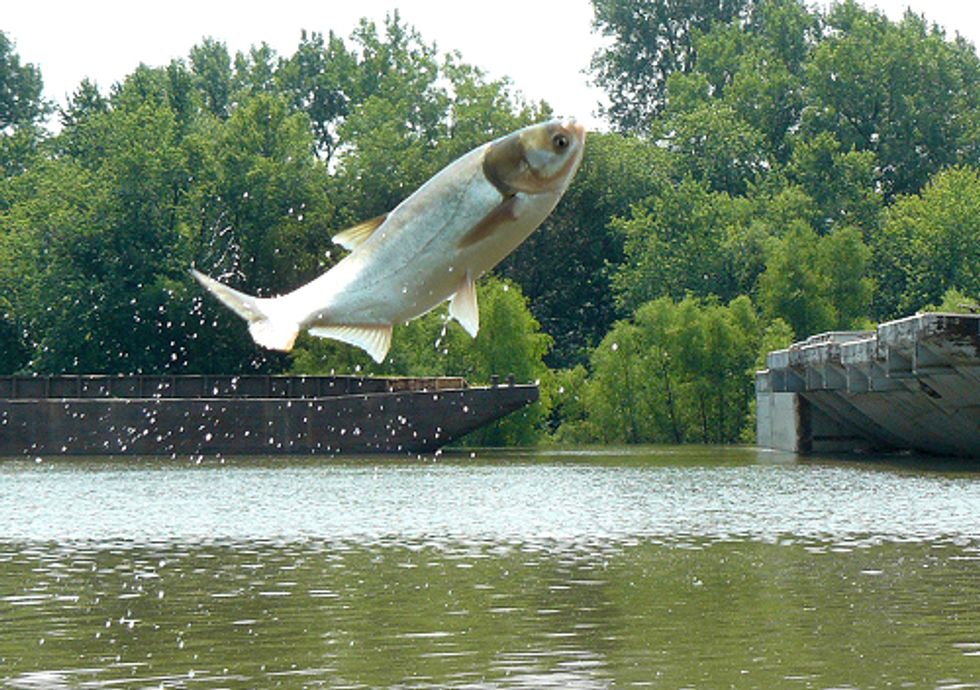 A much-anticipated study says separating the Great Lakes and Mississippi River basins to prevent the spread of Asian carp and other invasive species is not only possible, but a natural step toward much-needed action to improve Chicago's water infrastructure.
Great Lakes environmental groups reacting to the study, released Jan. 31 by the Great Lakes Commission and Great Lakes-St. Lawrence Cities Initiative, commended the authors' factual analysis concluding that separation is possible and that it must include essential upgrades to sewage, flood control and waterborne transportation while preventing the transfer of invasive species.
"The study is unprecedented in its scope and ambition, re-envisioning the Chicago Area Waterways System (CAWS) as a system that not only prevents invasive species from devastating the Great Lakes and Mississippi River and all their tributaries, but also makes sorely-needed improvements to core functions like moving people and goods, managing stormwater and maintaining water quality," the partner groups said in a statement.
The study refocuses the Great Lakes region on a long-term permanent solution and away from stopgap measures that, on their own, will ultimately fail to stop the Asian carp's march to Lake Michigan.
The authors note that restoring the natural divide between the Great Lakes and Mississippi River basins at Chicago can coordinate with efforts already under way by the city of Chicago, the state of Illinois and the Metropolitan Water Reclamation District to improve water quality and reduce flooding.
The marauding bighead and silver carp are the poster fish for the ecological and economic havoc in the offing when invading species travel between the Great Lakes and Mississippi. Research estimates that the annual cost to the Great Lakes region from invasive species introduced by shipping is upwards of $200 million per year.
"Tens of thousands of constituents have spoken to their members of Congress through a postcard campaign asking for immediate action to stop the Asian carp," said Cheryl Mendoza, associate director for Freshwater Future. "This study provides decision makers with the path to the permanent solution Great Lakes citizens have been asking for."
Since 2009, multiple hits of Asian carp DNA have been found lakeward of an electric barrier in the CAWS meant to keep the fish out of Lake Michigan and the Great Lakes. More recently, carp DNA has been reported in waters open to Lake Michigan.
Joel Brammeier, president and CEO of the Alliance for the Great Lakes, says the study is the most specific evaluation to date of what it would take to achieve hydrologic separation at the CAWS. "Chicago and Illinois have been under a spotlight as the carp close in on Lake Michigan," says Brammeier. "This report shines that light in a new direction—toward the transformation of the Chicago waterway into a resource of which everyone in the city, the state and the country can be proud."
Since 2008, environmentalists have called for separating the artificially conjoined Great Lakes and Mississippi River basins—the only permanent solution on the table and one that has come to be embraced by states, cities and members of Congress alike.
"Separation is a modern 21st century solution for a 21st century problem," says Jennifer Nalbone, director of Navigation and Invasive Species for Great Lakes United. "This study points the way to a solution that not only benefits the Great Lakes states, but also Canadian and Mississippi River stakeholders. Most of North America will ecologically and economically benefit from separating the two basins."
The GLC-GLSLCI study clearly demonstrates that separation is possible, providing detailed background on three separation options that allow elected officials and community leaders to move the discussion to the next level. As any separation is intrinsically tied to the multiple uses of the waterway system, it is imperative the Chicago region be an engaged partner.
"The study has the potential to be a game-changer in the effort to restore and protect the Great Lakes," says Jeff Skelding, director of the Healing Our Waters-Great Lakes Coalition. "It proves we have affordable solutions to the Asian carp crisis that benefit both our environment and economy. This report should put an end to excuse-making and foot-dragging and light a fire under the U.S. Army Corps of Engineers to do its job so the nation can move forward on a solution to protect the Great Lakes and the jobs that depend on them."
To that end, the partner groups stress that the study is a beginning, not an end, and should not be interpreted as a strict set of policy recommendations. Until separation is complete, they say strong interim protections must be implemented to protect against an Asian carp invasion, and note the study includes such measures within its long-term vision for separation. The groups also urge Congress to pass the Stop Asian Carp Act.
A plodding U.S. Army Corps of Engineers' study of the problem—the Great Lakes and Mississippi River Interbasin Study—could be expedited by incorporating findings from the GLC-GLSLCI study and starting separation planning now, the groups say.
"The study is a revelation. It puts solutions on the table that are both feasible and affordable," says Marc Smith, senior policy manager with the National Wildlife Federation. "The onus is clearly now on the U.S. Army Corps of Engineers to expedite its own study so the nation can stop talking about 'if' a solution is possible, and instead focus on 'when' people can be put to work to solve this problem once and for all."
Thom Cmar, attorney for the Natural Resources Defense Council, concurs. "We have a unique opportunity here because we know the invasion is under way and we know how to stop it.
"Not only can a barrier stop the spread of Asian carp and the rest of the harmful invasives moving on the waterway, it can also help revitalize the festering mess on the Chicago River—but only if we have the political will to act quickly, before it's too late," says Cmar, author of a 2010 study examining potential impacts of anti-invasive species barriers on Chicago's waterways.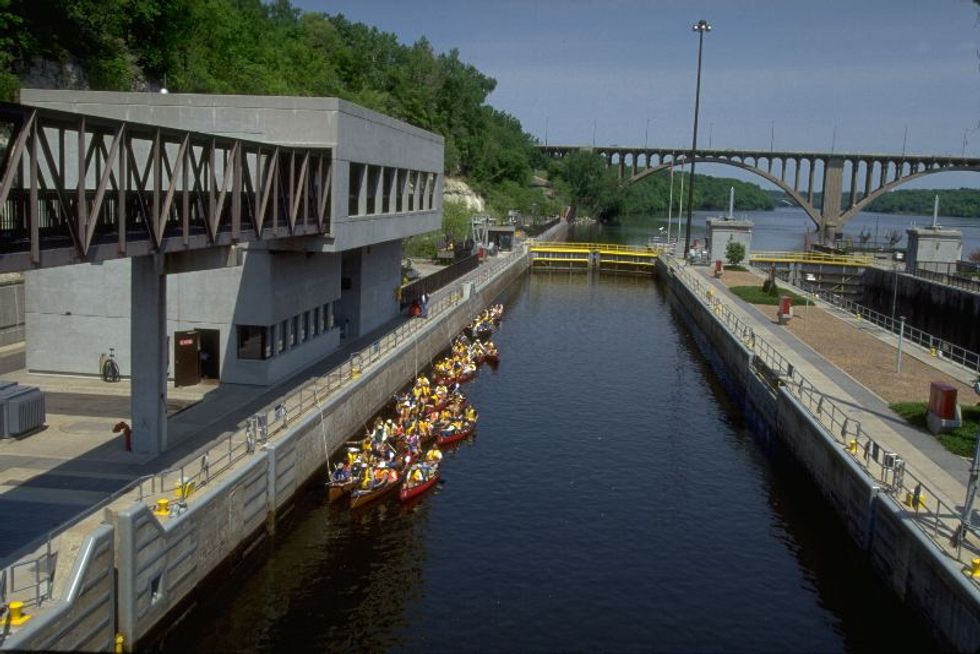 A broad coalition of sportsmen, environmentalists and property owners called on the U.S. Army Corps of Engineers, the Minnesota Department of Natural Resources (MN DNR) and other state and federal agencies Dec. 14 to begin the process of securing a permanent solution to stop the northward advance of Asian carp into Minnesota waters.
On Dec. 5, 2011, the locks on the upper Mississippi River closed for the winter months. This yearly routine winter closure provides an opportunity to create both a short and long-term way to keep Asian carp out of Minnesota waters. As an immediate, first solution, the coalition is asking that Lock #1 remain closed after ice-out 2012 until a modified lock operation plan can be put in place as an interim measure. Such a measure might include limited lock hours combined with effective preventative technology to reduce the northward advance of these invaders.
"Last week the locks were closed," said Irene Jones, river corridor program director of Friends of the Mississippi River. "No carp are moving into the upper Mississippi River. The locks should remain closed until a plan is in place that continues to block the carp's advance."
Known to batter boaters and even knock them into the water at the sound of a passing motor, Asian carp are voracious filter feeders that can grow to more than 4 feet long, weigh up to 100 pounds and quickly dominate a body of water by gobbling up the same food that sustains native fish populations.
Earlier this summer, positive eDNA tests of Asian carp were detected in the Mississippi, Minnesota and St. Croix rivers near the Twin Cities. A silver carp was also caught in pool 9 this summer. Further elevating the urgency of this crisis, on Dec. 8, MN DNR officials announced that positive eDNA samples indicated that silver carp are above and below the Coon Rapids Dam.
"Needless to say we were very disappointed to hear about the eDNA findings that indicate silver carp above the Coon Rapids Dam," said Gary Botzek, executive director of the Minnesota Conservation Federation. "These new findings just put a capitol 'E' in Emergency in terms of closing the lock at St. Anthony and testing and treating the waters above Minneapolis for a long time," he added.
In a letter dated Nov. 16, the coalition asked Gov. Mark Dayton to make it a goal of his administration to prevent the introduction and spread of Asian carp in Minnesota waters and beyond to the Dakotas and Canada. Gov. Dayton asked a task force of governmental agencies and a coalition of nongovernmental organizations to put forth recommendations aimed at meeting this goal.
"These fish are threatening Minnesota's lake districts up to the Red River and Canada," said Jeff Forrester, executive director of Minnesota Seasonal Recreation Property Owners. "The potential cost in loss of recreation and property values is almost incalculable."
"Asian carp represent a clear and present danger to Minnesota's waters and our way of life," said Marc Smith, senior policy manager with National Wildlife Federation. "We strongly encourage state and federal officials to immediately develop and implement action plans designed to stop carp from further spreading north."
"This is our chance to show the nation that we can be successful in stopping these invaders," said Dave Zentner, with the Izaak Walton League.
The coalition plans to present a more detailed action plan to Gov. Dayton Dec. 20. This plan calls for a permanent solution to this crisis and establishes short-term priorities to be enacted before ice-out 2012, mid-term priorities to be completed over the next six to 18 months, and long term priorities for over 18 months.
"The waters of Minnesota could be forever changed but we have the opportunity to put a stop to it now," said Darrell Gerber, program coordinator at Clean Water Action Minnesota. "It will take resolve but we can't let failure be an option."
For more information, click here.
—————
Coalition Members include—Anglers for Habitat, Audubon Minnesota—National Audubon Society, Clean Water Action, F-M Walleyes Unlimited, Fish and Wildlife Alliance, Friends of the Mississippi River, Izaak Walton League of Minnesota, Minnesota Center for Environmental Advocacy, Minnesota Coalition of Lake Associations, Minnesota Conservation Federation, Minnesota Seasonal Recreation Property Owners, Mississippi River Fund, National Parks and Conservation Association, National Wildlife Federation, New Ulm Area Sport Fishermen, St. Croix River Association, and Minnesota Trout Unlimited.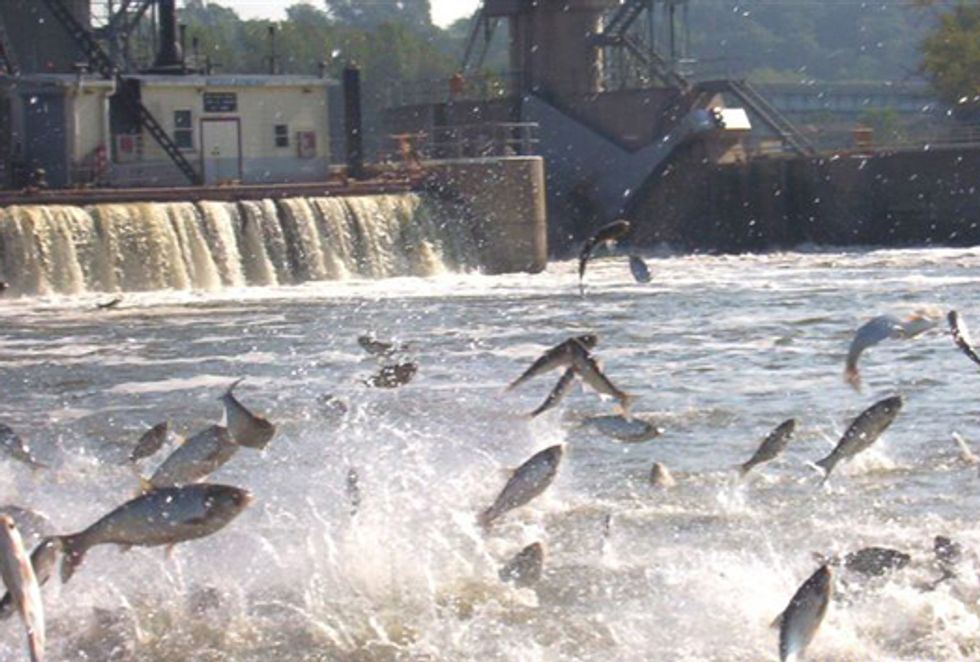 Sen. Debbie Stabenow (D-MI) is making a final effort to pass the Stop Asian Carp Act this year—important legislation that would move forward efforts to separate the Great Lakes and Mississippi River basins. Separating the two watersheds is the only permanent solution that would stop the Asian carp from swimming into the Great Lakes. Sen. Stabenow is introducing the act as an amendment to H.R. 2354, the Energy and Water Development and Related Agencies Appropriations Act for fiscal year 2012. H.R. 10. is being debated this week. Call or email your member of Congress and ask him/her to support the Stabenow Stop Asian Carp Amendment.
Ask your member to vote no on H.R. 10, the Regulations From the Executive in Need of Scrutiny Act (REINS). This bill could interfere with efforts to stop the Asian carp and would have negative consequences to our environmental protections across the board. This undemocratic bill would:
Stop any major regulation issued by a federal agency and costing more than $100 million—for example, fuel efficiency standards for cars—from taking effect unless it receives approval from both houses of Congress and the president within 70 days. If one house fails to act in that time the legislation dies and the process must start all over again.
Undermine our entire legislative process—Rather than needing the approval of both houses and the president, one house can effectively undo legislation that has been passed and signed into law by killing off regulations that carry out the law.
Change how we create our laws—Under long-standing practice, Congress enacts laws—the Clean Air Act, for instance—and then empowers the executive branch to negotiate with stakeholders and write detailed regulations. REINS would radically re-position Congress to make final decisions that involve detailed technical matters.
This is a big week for efforts to stop the Asian carp and environmental protections across the board. Call the capital switch board and get connected to your members of Congress and ask them to support the Stabenow Stop Asian Carp amendment and vote no on REINS. The number is (202) 224-3121.
Your efforts speaking out on Asian carp are making a difference.
For more information, click here.