Crawfisherman Jody Meche drives through Louisiana's Atchafalaya Basin on his way to check his traps. Emily Kasik
By Emilie Karrick Surrusco
Jody Meche and his family have harvested crawfish from Louisiana's Atchafalaya Basin for generations. When he set his first trap in the 1980s, he hauled in an abundant catch. These days, his traps come back full of dead crawfish.
Meche holds the oil and gas industry responsible for the steady destruction of a way of life that depends on the bounty of our nation's largest river swamp. The industry dodged regulations and built hundreds of pipelines throughout the basin. The construction left behind mounds of dirt—known as spoil banks—that have systematically destroyed the water quality and created so much sediment that crawfish and other living organisms suffocate.
The Atchafalaya Basin is located in southern Louisiana. The proposed Bayou Bridge pipeline would connect the Dakota Access pipeline to the Gulf of Mexico.
Energy Transfer Partners, a company with a dismal record of protecting the environment, aims to build a new 162-mile pipeline across the basin to connect its controversial Dakota Access pipeline to the Gulf of Mexico. Earthjustice attorneys are representing the Standing Rock Sioux Tribe in their legal challenges against that pipeline.
Meche and others are speaking out against the proposed Bayou Bridge pipeline, which would cross 700 bodies of water and impact 600 acres of wetlands. The Army Corps of Engineers issued a permit on Dec. 14 for the project. Earthjustice plans to challenge that decision. Meche shared his thoughts as the fight to protect the Atchafalaya Basin from the Bayou Bridge pipeline headed toward a new stage.
What is special about the Atchafalaya Basin?
"The Atchafalaya Basin is unique to the whole world. There's nowhere else like it. It's home to hundreds of species of migratory birds—there's bald eagles, so many bald eagles—and alligators, fish and so much more. It provides subsistence for the Cajun people.
"We've made our living from the basin for over a century, it gives us food for our families. For me, it's my way of life. It's where I grew up. It's what I know, it's what I've learned."
Crawfish, like this one held up by Jody Meche, are having trouble surviving due to pipeline infrastructure.Emily Kasik
How has oil and gas development affected the basin?
"They created these pipeline right-of-ways, and instead of flattening out the dirt they excavated, they left it. They interrupted the water flow. And every year, the ecosystem has been on the decline. The crawfish are to the point where they won't live in our crawfish traps unless we let the traps stick out above the top of the water so they can come up for air. The water quality is so poor they can't get enough oxygen out of the water.
"When I first started fishing, you hardly had any problems with crawfish dying. You could set your traps on the bottom, five or six feet in the water, and the crawfish would all be alive.
"Now you go back, and all the crawfish are dead underwater."
How could additional oil and gas development in the basin affect the region's ability to fight flooding and other types of damage during hurricane season?
"It's unbelievable how much these pipelines have caused the bottom to fill up with sand. The bottom used to be below sea level in a lot of areas, and now it's 20 to 30 feet above sea level. In the springtime when you see all these rivers and all these houses flooding all up and down the Mississippi Valley, the Ohio River Valley, the basin is supposed to be able to receive a lot of that water and flow it through to the Gulf of Mexico. They know it can't—so they flirt with disaster every year."
Oil and gas infrastructure in the basin, where hundreds of pipelines have been built.Emily Kasik
Why don't you trust Energy Transfer Partners to do the right thing?
"It would be a hell of a feat to gain my trust. These companies don't hold up to their end of the bargain. They don't abide by the permits. They don't abide by the regulations. And nobody has held them accountable."
"I'm not opposed to oil and gas. We have a need—we have a tremendous dependence. But with the amount of money these companies make, there's no excuse for them to destroy our Earth the way they have. They have to go back and fix the problems they've caused for the environment."
"I've worked in the oil and gas industry. I know they can do a better job than the way it's been done."

Why did you reach out to Earthjustice for help on this issue?
"It seemed like our only hope. We've tried everything. We've met with governors, we've met with legislators, we've met with colonels with the Army Corps of Engineers, with state agencies, federal agencies—we've met with everybody. We can't hold these people accountable. The state of Louisiana is so controlled by the oil and gas industry, you can't get anything done. It seemed like we had to go outside the state, to someone who cares about our natural world."
What keeps you going in this fight?
"My love for the world I live in. I believe it's my God that's guiding me. He's working through human beings—I'm one of the human beings that he's working through so I can't give up the fight.
"Our natural resources out there, our natural environment and our ecosystems, I've got to give a voice to them and try to scream foul for what has taken place over so many decades. They can't speak for themselves. They can't defend themselves. The trees and the fish and the water and the animals and the birds, somebody has to speak for them."
Around the world, a powerful shift away from fossil fuels toward clean energy is underway—but change won't come fast enough without a concerted fight.
Alongside communities in states across the country, Earthjustice attorneys are fighting pipelines like Bayou Bridge, export terminals and other major fossil fuel infrastructure projects that would seek to lock us into a fossil fuel-fired future.
The challenges we face are not insurmountable. The path to a clean energy transformation is rapidly emerging—and we can all play a role in clearing that path in time to limit temperature rise and guarantee our future. Stay updated on this fight.
Many residents attending a community meeting in Napoleonville, Louisiana, on the Bayou Bridge pipeline on Feb. 8, 2017, voiced their opposition to the project.Emily Kasik
From Your Site Articles
Related Articles Around the Web
EcoWatch Daily Newsletter
The Army Corps of Engineers disappointed environmental groups and tribal leaders Wednesday by not amending a complex permitting system that expedites oil and gas pipeline approval.
20+ Proposed #Pipelines Threatening #Indigenous Communities via @EcoWatch https://t.co/wfZht9rDZu #NoDAPL @sierraclub @UR_Ninja @350

— EcoWatch (@EcoWatch)1481568886.0
The permit structure, which allowed for the approval of the Dakota Access Pipeline, gives streamlined permission to pipeline projects intersecting with federally protected waters, rather than subjecting them to individual review for larger spill risk, climate impacts or tribal conflicts.
"I think the nationwide permit system serves a totally legitimate purpose for projects that have truly minor or beneficial actions, but it's become a loophole for big projects with serious impacts, not just to water but to treaty rights and other tribal concerns," Earthjustice attorney Jan Hasselman, who represents the Standing Rock Sioux, told Politico.
The NoDAPL struggle continues in Cannon Ball, as the remaining protesters dig in for the winter, clean up abandoned camps and warily look toward the upcoming Trump administration.
"This program rubber-stamps major projects like oil pipelines that leak and spill, degrading clean water and cultural sites," said Jared Margolis, an attorney at the Center for Biological Diversity. "Under the program, those projects proceed without regard for the people, places or wildlife in their paths."
For a deeper dive:
Army Corps: Politico Pro, Greenwire, Platts
NoDAPL: Vice, NPR, Reuters, Bismarck Tribune
For more climate change and clean energy news, you can follow Climate Nexus on Twitter and Facebook, and sign up for daily Hot News.
waterlust.com / @tulasendlesssummer_sierra .
Each product featured here has been independently selected by the writer. If you make a purchase using the links included, we may earn commission.
The bright patterns and recognizable designs of Waterlust's activewear aren't just for show. In fact, they're meant to promote the conversation around sustainability and give back to the ocean science and conservation community.
Each design is paired with a research lab, nonprofit, or education organization that has high intellectual merit and the potential to move the needle in its respective field. For each product sold, Waterlust donates 10% of profits to these conservation partners.
Eye-Catching Designs Made from Recycled Plastic Bottles
waterlust.com / @abamabam
The company sells a range of eco-friendly items like leggings, rash guards, and board shorts that are made using recycled post-consumer plastic bottles. There are currently 16 causes represented by distinct marine-life patterns, from whale shark research and invasive lionfish removal to sockeye salmon monitoring and abalone restoration.

One such organization is Get Inspired, a nonprofit that specializes in ocean restoration and environmental education. Get Inspired founder, marine biologist Nancy Caruso, says supporting on-the-ground efforts is one thing that sets Waterlust apart, like their apparel line that supports Get Inspired abalone restoration programs.
"All of us [conservation partners] are doing something," Caruso said. "We're not putting up exhibits and talking about it — although that is important — we're in the field."
Waterlust not only helps its conservation partners financially so they can continue their important work. It also helps them get the word out about what they're doing, whether that's through social media spotlights, photo and video projects, or the informative note card that comes with each piece of apparel.
"They're doing their part for sure, pushing the information out across all of their channels, and I think that's what makes them so interesting," Caruso said.
And then there are the clothes, which speak for themselves.
Advocate Apparel to Start Conversations About Conservation
waterlust.com / @oceanraysphotography
Waterlust's concept of "advocate apparel" encourages people to see getting dressed every day as an opportunity to not only express their individuality and style, but also to advance the conversation around marine science. By infusing science into clothing, people can visually represent species and ecosystems in need of advocacy — something that, more often than not, leads to a teaching moment.

"When people wear Waterlust gear, it's just a matter of time before somebody asks them about the bright, funky designs," said Waterlust's CEO, Patrick Rynne. "That moment is incredibly special, because it creates an intimate opportunity for the wearer to share what they've learned with another."
The idea for the company came to Rynne when he was a Ph.D. student in marine science.
"I was surrounded by incredible people that were discovering fascinating things but noticed that often their work wasn't reaching the general public in creative and engaging ways," he said. "That seemed like a missed opportunity with big implications."
Waterlust initially focused on conventional media, like film and photography, to promote ocean science, but the team quickly realized engagement on social media didn't translate to action or even knowledge sharing offscreen.
Rynne also saw the "in one ear, out the other" issue in the classroom — if students didn't repeatedly engage with the topics they learned, they'd quickly forget them.
"We decided that if we truly wanted to achieve our goal of bringing science into people's lives and have it stick, it would need to be through a process that is frequently repeated, fun, and functional," Rynne said. "That's when we thought about clothing."
Support Marine Research and Sustainability in Style
To date, Waterlust has sold tens of thousands of pieces of apparel in over 100 countries, and the interactions its products have sparked have had clear implications for furthering science communication.
For Caruso alone, it's led to opportunities to share her abalone restoration methods with communities far and wide.
"It moves my small little world of what I'm doing here in Orange County, California, across the entire globe," she said. "That's one of the beautiful things about our partnership."
Check out all of the different eco-conscious apparel options available from Waterlust to help promote ocean conservation.
Melissa Smith is an avid writer, scuba diver, backpacker, and all-around outdoor enthusiast. She graduated from the University of Florida with degrees in journalism and sustainable studies. Before joining EcoWatch, Melissa worked as the managing editor of Scuba Diving magazine and the communications manager of The Ocean Agency, a non-profit that's featured in the Emmy award-winning documentary Chasing Coral.
The Army Corps announced $16.86 million for Delaware River deepening project using a "slush" fund created to circumvent the ban on earmarks passed last year.  Environmental and community advocates cried foul—pointing out that the Army Corps chose this path to fund the deepening because it cannot honestly demonstrate the project meets minimum guidelines generally used to make taxpayer funding decisions.
"This is the ugliest example of political manipulation we have ever seen regarding this project—facts, law and good policy have been thrown out the window to serve the political whims of Sens. Casey and Toomey," said Maya van Rossum, the Delaware Riverkeeper. "This project is an economic loser, is unnecessary for the ports, and inflicts major environmental and community harm. The project is still hundreds of millions of dollars shy of what is needed to complete it. In short, the project is an embarrassment and waste of money, and we will continue to work to stop it now," van Rossum said.
"If this were a project worth $16.9 million, the private sector would find the $16.9 million to make it happen. In an era when the country is in major deficit, we should not be spending any taxpayer funds on projects that are known to be a loser, not a project that will choke the Delaware Estuary," said Brady Russell, Eastern Pa. director, Clean Water Action.
"This is blood money. They are taking money from the tax payers to try to destroy our river and estuary. The Delaware deepening will cause irreparable harm to the Delaware River, the aquifer, and the people of South Jersey. Instead of using this money to protect our drinking water and the environment it is being used to destroy it," said Jeff Tittel, director of the New Jersey Sierra Club. "This is an outrageous abuse of governmental process."
"The Delaware River deepening is a major threat to the Delaware River, including the fish, shellfish and wildlife that today are needed to provide healthy food and hundreds of millions of dollars a year supporting income and jobs. The Army Corps' own documents, when investigated by experts, demonstrate that the Delaware River deepening is not needed to support the ports of the region, will not result in increased goods coming to the region, does not meet basic criteria used to guide taxpayer funding decisions, and will likely lose money for every dollar invested in the project. It is stunning that in today's economic climate an unsubstantiated claim for port jobs is allowed to justify a $300 million dollar expenditure in a project that will harm family supporting river jobs in existence today," said Delaware Riverkeeper van Rossum. "It is disturbing that false and undocumented claims of jobs are allowed to rob families who depend upon a healthy river and bay for their livelihood, like fishermen and oystermen, simply because they don't have the same political sway as the industry groups, the army corps and the ports pushing this wasteful and environmentally harmful project forward."
For more information, click here.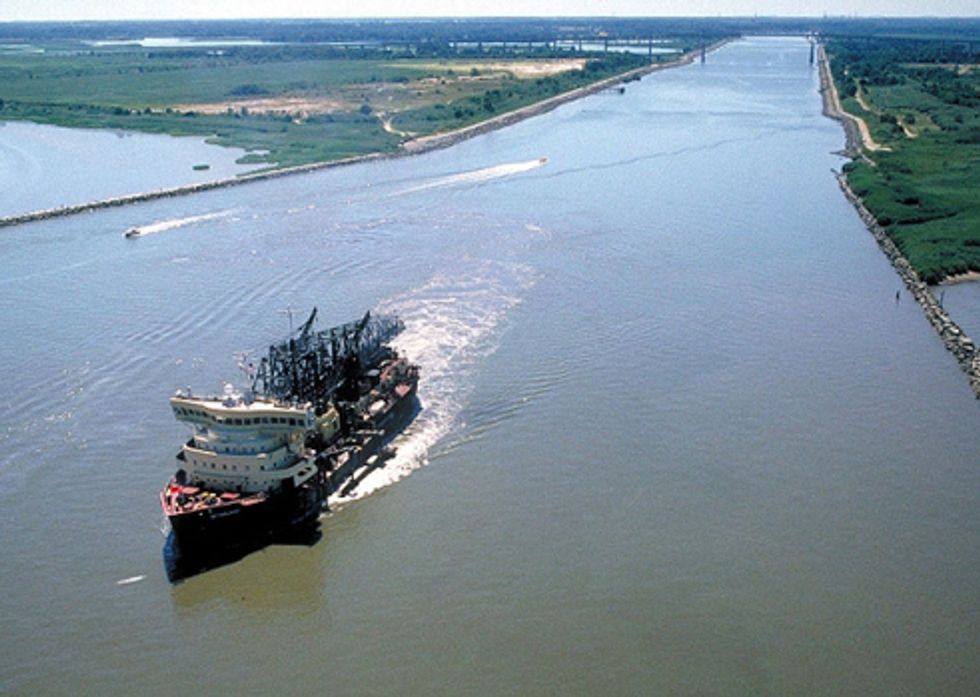 Responding to renewed economic claims for deepening the Delaware River, a coalition of taxpayer, community and environmental organizations issued a new independent analysis they say proves once again that the deepening project is an economic loser. The groups issued the analysis and an accompanying report titled Army Corps Cooks the Books Again, in response to a May 2011 analysis issued by the Army Corps of Engineers. (A copy of the reports can be obtained at www.delawareriverkeeper.org.)
"The Army Corps once again tried to mislead Congress and the public about the deepening project—a renewed analysis by Dr. Bob Stearns clearly demonstrates how the Army Corps manipulated their calculations so as to present a false picture for the project," said Maya van Rossum, the Delaware Riverkeeper. "The inappropriate calculation was not hard to find. The corps' own report provides the analysis and numbers. Without deepening, shippers will use the feeder port approach which is far cheaper than trucking, and when all matters are considered, is also cheaper than deepening. The corps' assessment pretends that without deepening, shippers would use the far more expensive trucking option to get goods to the Philadelphia area markets. But the corps' own practices and procedures make clear that the shipping alternative is the best alternative and the one that would be selected, thereby supporting and encouraging port jobs without the need for a nearly $300 million, environmentally devastating deepening project."
According to the new Cooked the Books report, correction of the shipping vs. trucking error alone reduces the benefit-cost ratio for the project to, at best 1.1 (or to below 1 to 1, depending on a shipping diversion assumption)—far below the 1.64 claimed by the Army Corps' May 2011 report. Supplemental information in the report provided by the coalition of organizations identifies a number of additional errors they say, when included in the calculation, revive the Government Accountability Office (GAO) finding that deepening would provide less than a dollar of benefit for every $1 of cost paid for by the taxpayers.
"The corps' economic analysis deserves to be on a Chinese menu under twice-cooked pork. The errors were too obvious and too basic to be a mistake," says Steve Ellis, vice president of Taxpayers for Common Sense. "But more importantly, the new report is being used to justify renewed funding for a project that doesn't meet the federal government's basic criteria for ensuring tax dollars are invested only in those projects that will generate clear economic value for the country."
"This new economic analysis makes it clear that the Delaware River Deepening project is an economic looser, which poses substantial environmental risks. The Army Corps needs to take a hard look at its project review practices if projects like this, that don't meet the corps' own basic economic standards, are getting the green light," asserts George Sorvalis, coordinator with the Water Protection Network.
In a report issued in April 2010, the GAO issued its third challenge to the reliability and accuracy of the Army Corps economic claims for deepening (the first GAO report being issued in 2002, the second challenge in the form of Congressional testimony given in 2006). The Army Corps 2011 report was issued in apparent response to the less than glowing GAO 2010 report. The May 2011 Army Corps analysis was its 8th economic analysis of the deepening. "But no one ever learned of this report or got an opportunity to review it until we secured the report through a Freedom of Information Act request," says van Rossum. "As soon as we received a copy we pursued an independent review of its claims. We think our findings clearly demonstrate why the Army Corps felt the need to keep this newest analysis an apparent secret—because it's clear that once again they cooked the books, a practice far too common with the Army Corps and one that demeans the entire federal government."
"With the nation staring into a $15 trillion chasm of debt and Congress looking for deficit reduction, there is no place in the budget for this boondoggle," says Ellis. "For years, the Delaware River Deepening survived on a steady diet of parochial earmarks. The current earmark moratorium provides Congress the perfect opportunity to stop wasting tax dollars on this economic loser."
 
For more information, click here.
—————
 
The Delaware Riverkeeper Network (DRN) champions the rights of our communities to a Delaware River and tributary streams that are free-flowing, clean and healthy. Founded in 1988, the Delaware Riverkeeper Network is a grassroots advocacy organization that works throughout the four states of the Delaware River watershed. Through independent advocacy, and the use of accurate facts, science and law, DRN works to ensure the rich and healthy future that can only exist with a clean, healthy and free flowing river system. The Delaware Riverkeeper Network is unique in that it is founded upon the expectation of personal and community responsibility for river protection, as personified by the Delaware Riverkeeper.
 
Taxpayers for Common Sense (TCS) is a non-partisan budget watchdog that has fought for fiscal responsibility in Washington for more than 15 years—working with Democrats and Republicans, and groups on the right and the left. TCS is best known for its campaign against spending "earmarks" and as the original whistle-blower on the "Bridge to Nowhere"—a proposed $380 million Alaskan bridge that became an infamous example of federal waste.
 
Water Protection Network (formerly Corps Reform Network), a coalition of hundreds of organizations from around the country, works to ensure water projects and policies are economically and environmentally sound.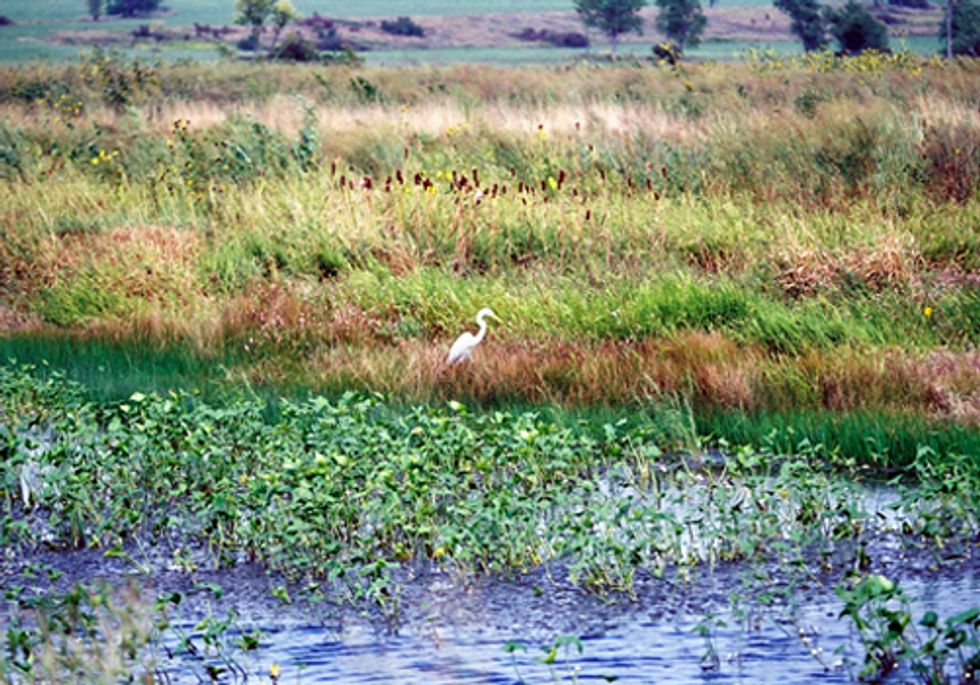 This week, the fight to conserve streams and wetlands and to protect drinking water for tens of millions of Americans shifts decidedly to the U.S. Senate. During debate on the budget bill for the Army Corps of Engineers, Senators could vote on an amendment that would block the Corps from taking any action to restore even limited Clean Water Act protections for streams and wetlands.
The Izaak Walton League has been fighting all year to restore these lost protections. We took an important step forward this summer when the Corps and U.S. Enviornmental Protection Agency proposed some common sense, science-based guidelines that move us closer to our goal.
That progress is at risk right now in the U.S. Senate. Senators John Barrasso of Wyoming and Dean Heller of Nevada plan to offer an amendment this week that would block the Corps from taking any action to restore even limited protections to streams and wetlands nationwide. And this isn't a temporary ban—it's a permanent prohibition.
Senators need to hear from constituents who hunt, fish, boat and enjoy the outdoors in opposition to this amendment.
Call your U.S. Senators today and urge them to vote against the Barrasso-Heller amendment to the Energy and Water Appropriations bill. Click here to find your Senator's phone numbers.
Here are talking points:
I am calling from [insert your town or city] to urge Senator [insert last name] to vote against the Barrasso-Heller amendment to the Energy and Water Appropriations bill.
The amendment directly and permanently blocks efforts by the Army Corps of Engineers to protect water quality and critical habitat for fish and wildlife. It would also undermine the hunting and angling economy in our state and across the country. Hunters and anglers spend more than $86 billion annually. This spending supports local jobs and manufacturing nationally, and depends on clean water, healthy wetlands, and abundant fish and wildlife.
Please vote against the Barrasso-Heller amendment when the Senate considers the Energy and Water Appropriations bill. Thank you.
For more information, click here.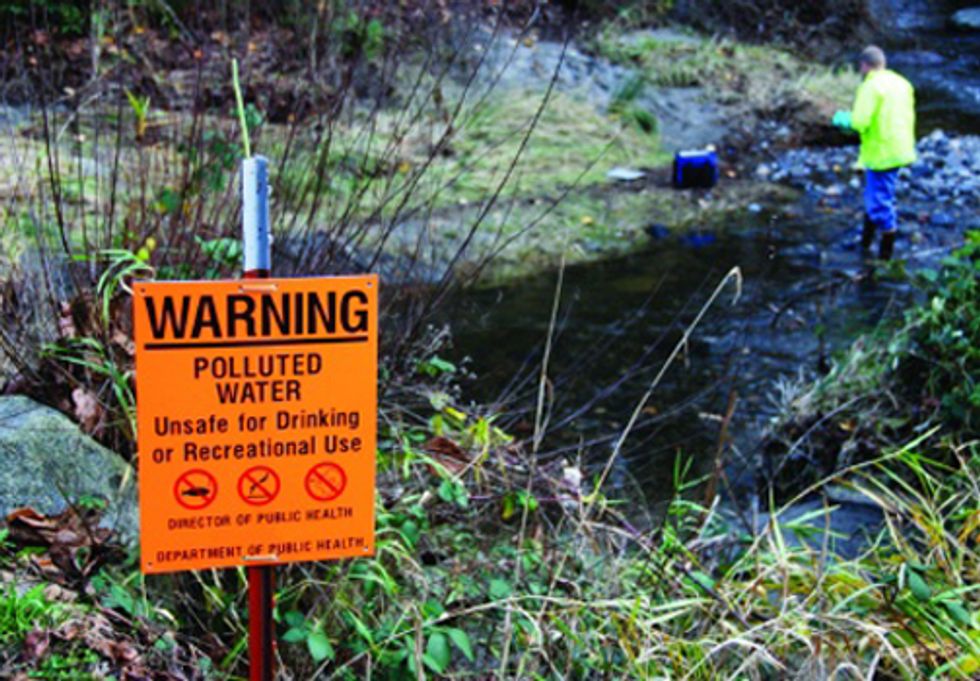 As we prepare to celebrate the 40th anniversary of the Clean Water Act, we are faced with yet another attempt to slash the regulations that keep our drinking water safe.
This week, our senators will vote on an amendment that would effectively prevent the Army Corps of Engineers from clarifying which waters it can protect under the Clean Water Act.
Act now—tell your senators to oppose this amendment that would threaten the critical protections for our clean water.
Supreme Court decisions on the Clean Water Act have created confusion about the types of waterways that can be protected. Because of that confusion, more than 10,000 wetlands, streams, rivers and lakes (including more than 5,000 sources of public drinking water supplies) were declared unprotected by the Army Corps of Engineers since 2001.
Stopping the Army Corps of Engineers from addressing and clarifying the scope of the Clean Water Act will only put more of our critical drinking water resources at risk. Click here to send a message to the Senate today insisting that they reject this dirty amendment.
It's up to us all to stand up for clean water and stop the assault on our environmental laws.
For more information, click here.