"While roads around our plant are impassable, our ride-out crew has two boats that could be used to carry the crew out of the site," said a spokesperson for Arkema on Aug. 29, 2017 after Hurricane Harvey. EPA
A Houston chemical plant company did not properly prepare for hurricane season, resulting in a toxic accident during Hurricane Harvey last year, federal regulators have found.
The U.S. Chemical Safety and Hazard Investigation Board on Thursday released an extensive investigation into the flooding-induced chemical fires at the Arkema plant in Crosby, Texas, finding that while the company's insurers flagged the high potential for flooding a year before Harvey, plant employees were unaware of the risk.
The investigation also found that plant officials based flooding preparation plans on memories of long-term employees rather than more sophisticated estimates, faulted "limited industry guidance" on flooding, and concluded that other plants in the area may be similarly ill-prepared. "Considering that extreme weather events are likely to increase in number and severity, the chemical industry must be prepared for worst case scenarios at their facilities," CSB Chairperson Vanessa Allen Sutherland said in a statement.
As reported by the Houston Chronicle:
"Arkema had multiple freezer buildings, six backup generators, and, as a last resort, refrigerated trucks. But the company didn't consider flooding a "credible risk," the report states, confirming previous reporting by the Chronicle.
Officials thought this despite a 2016 report from its insurer, Factory Mutual Insurance Co. (FM Global), stating that the facility was at risk for flooding and parts of it sat in both the 100-year and 500-year flood plains, the report states. FM Global was not Arkema's insurer during Hurricane Harvey.
The board found that Arkema was relying on longtime employee memory of flooding levels. The company's Crosby facility has a 40-year history of flooding, but employees could not remember a time when the plant received more than two-feet of water.
'A lot of people there had been there for 20, 30, 40 years and seen predictive rainfalls of similar amounts and they thought, with what was predicted, they'd be fine,' said Mark Wingard, the board's lead investigator.
That method, he added, is insufficient."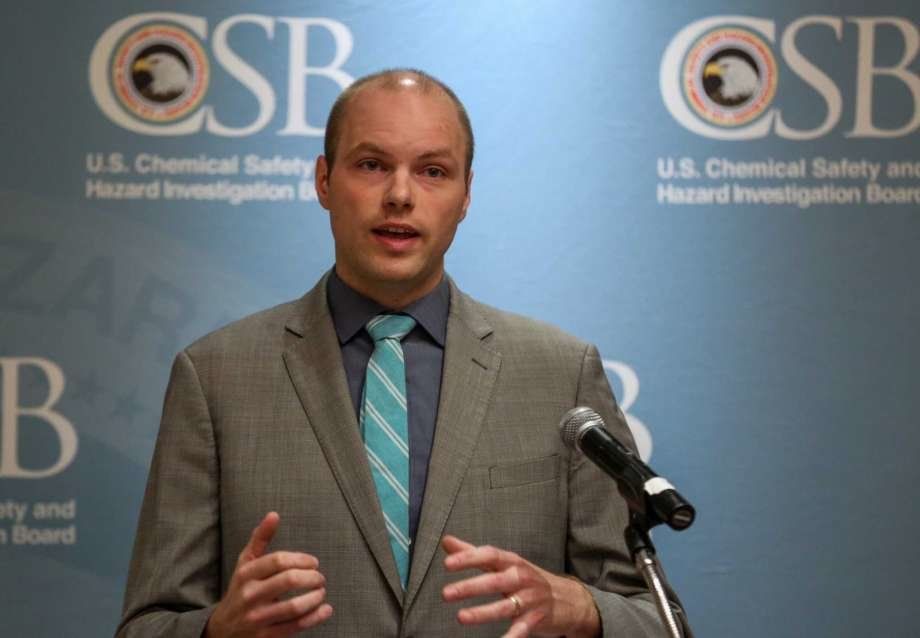 U.S. Chemical Safety Board video about the 2017 fire at the Arkema chemical plant in Crosby, Texas, following Hurricane Harvey www.chron.com
For a deeper dive:

Houston Chronicle, Texas Tribune, ABC13, Houston Business Journal, The Hill
For more climate change and clean energy news, you can follow Climate Nexus on Twitter and Facebook, and sign up for daily Hot News.
From Your Site Articles
Related Articles Around the Web
EcoWatch Daily Newsletter
www.youtube.com
A group of Texas first responders filed suit against chemical company Arkema Thursday, alleging the company did not adequately warn them of the risks of chemical exposure while they attended to a plant fire outside of Houston last week.
In the suit, the seven plaintiffs say they were "overwhelmed" by vomiting after coming in contact with fumes at the plant, describing a scene "nothing less than chaos."
The suit also accuses the company of failing to properly secure chemical facilities after Hurricane Harvey. The U.S. Environmental Protection Agency (EPA) separately ordered Arkema to provide details of the explosion last week, which was caused by flood-related power outages that cut off refrigeration for the plant's chemical stores.
Arkema Plant Explosion Sparks Criticism of Trump EPA Relaxing Chemical Safety Rules https://t.co/kNmJIROjgx @greenpeaceusa @foe_us

— EcoWatch (@EcoWatch)1504305307.0
According to the lawsuit, "immediately upon being exposed to the fumes ... the police officers and first responders began to fall ill in the middle of the road ... Medical personnel, in their attempts to provide assistance to the officers, became overwhelmed and they too began to vomit and gasp for air."
As reported by the New York Times:
"The explosions have raised concerns over the preparedness of the country's chemical plants for bigger disasters, both natural and man-made.
Arkema identified hurricanes, flooding and power failures as risks to the site nearly a decade ago. But its own risk management plans show the company did little to address those hazards."
For a deeper dive:
New York Times, Washington Post, BBC, The Atlantic, CNBC
For more climate change and clean energy news, you can follow Climate Nexus on Twitter and Facebook, and sign up for daily Hot News.

waterlust.com / @tulasendlesssummer_sierra .
Each product featured here has been independently selected by the writer. If you make a purchase using the links included, we may earn commission.
The bright patterns and recognizable designs of Waterlust's activewear aren't just for show. In fact, they're meant to promote the conversation around sustainability and give back to the ocean science and conservation community.
Each design is paired with a research lab, nonprofit, or education organization that has high intellectual merit and the potential to move the needle in its respective field. For each product sold, Waterlust donates 10% of profits to these conservation partners.
Eye-Catching Designs Made from Recycled Plastic Bottles
waterlust.com / @abamabam
The company sells a range of eco-friendly items like leggings, rash guards, and board shorts that are made using recycled post-consumer plastic bottles. There are currently 16 causes represented by distinct marine-life patterns, from whale shark research and invasive lionfish removal to sockeye salmon monitoring and abalone restoration.

One such organization is Get Inspired, a nonprofit that specializes in ocean restoration and environmental education. Get Inspired founder, marine biologist Nancy Caruso, says supporting on-the-ground efforts is one thing that sets Waterlust apart, like their apparel line that supports Get Inspired abalone restoration programs.
"All of us [conservation partners] are doing something," Caruso said. "We're not putting up exhibits and talking about it — although that is important — we're in the field."
Waterlust not only helps its conservation partners financially so they can continue their important work. It also helps them get the word out about what they're doing, whether that's through social media spotlights, photo and video projects, or the informative note card that comes with each piece of apparel.
"They're doing their part for sure, pushing the information out across all of their channels, and I think that's what makes them so interesting," Caruso said.
And then there are the clothes, which speak for themselves.
Advocate Apparel to Start Conversations About Conservation
waterlust.com / @oceanraysphotography
Waterlust's concept of "advocate apparel" encourages people to see getting dressed every day as an opportunity to not only express their individuality and style, but also to advance the conversation around marine science. By infusing science into clothing, people can visually represent species and ecosystems in need of advocacy — something that, more often than not, leads to a teaching moment.

"When people wear Waterlust gear, it's just a matter of time before somebody asks them about the bright, funky designs," said Waterlust's CEO, Patrick Rynne. "That moment is incredibly special, because it creates an intimate opportunity for the wearer to share what they've learned with another."
The idea for the company came to Rynne when he was a Ph.D. student in marine science.
"I was surrounded by incredible people that were discovering fascinating things but noticed that often their work wasn't reaching the general public in creative and engaging ways," he said. "That seemed like a missed opportunity with big implications."
Waterlust initially focused on conventional media, like film and photography, to promote ocean science, but the team quickly realized engagement on social media didn't translate to action or even knowledge sharing offscreen.
Rynne also saw the "in one ear, out the other" issue in the classroom — if students didn't repeatedly engage with the topics they learned, they'd quickly forget them.
"We decided that if we truly wanted to achieve our goal of bringing science into people's lives and have it stick, it would need to be through a process that is frequently repeated, fun, and functional," Rynne said. "That's when we thought about clothing."
Support Marine Research and Sustainability in Style
To date, Waterlust has sold tens of thousands of pieces of apparel in over 100 countries, and the interactions its products have sparked have had clear implications for furthering science communication.
For Caruso alone, it's led to opportunities to share her abalone restoration methods with communities far and wide.
"It moves my small little world of what I'm doing here in Orange County, California, across the entire globe," she said. "That's one of the beautiful things about our partnership."
Check out all of the different eco-conscious apparel options available from Waterlust to help promote ocean conservation.
Melissa Smith is an avid writer, scuba diver, backpacker, and all-around outdoor enthusiast. She graduated from the University of Florida with degrees in journalism and sustainable studies. Before joining EcoWatch, Melissa worked as the managing editor of Scuba Diving magazine and the communications manager of The Ocean Agency, a non-profit that's featured in the Emmy award-winning documentary Chasing Coral.
EPA admininistrator Scott Pruitt. Gage Skidmore/Flickr
Thursday's explosions at the Harvey-damaged Arkema chemical plant in Crosby, Texas have prompted criticism of the Trump administration's delay of an Obama-era chemical safety regulation that was designed to "improve chemical process safety, assist local emergency authorities in planning for and responding to accidents, and improve public awareness of chemical hazards at regulated source."
The 2013 Risk Management Program rule was developed after a Texas fertilizer plant in the city of West exploded in 2013 and killed 15 people. However, U.S. Environmental Protection Agency (EPA) administrator Scott Pruitt the program on hold for two years in order to reconsider industry objections.
Notably, the International Business Times reports that Arkema and its industry colleagues lobbied Pruitt and the EPA to delay the regulation, claiming it was too expensive and burdensome to implement.
After the explosions, Harris County sheriff's office said 15 deputies complained of respiratory irritation and were treated at a local hospital. The office said that all 15 were released from the hospital and healthy.
The blasts also occurred just a day after a federal court refused to force the EPA to implement the Obama rule.
But if the EPA had implemented the regulation, none of the officers would have been at risk, Mathy Stanislaus, who led the agency's Office of Solid Waste and Emergency Response during the Obama administration, told E&E News.
The rule, which Stanislaus helped draft, would not have prevented the explosions but would ensure "that the local responders were fully aware of the particular chemical and the particular method to respond to an incident," he said.
Stanislaus said that it also would have strengthened efforts to head off accidents and help keep the public informed of potential risks at such facilities.
The substances that caught fire at the Arkema plant were organic peroxides for the production of plastic resins, polystyrene, paints and other products. The company, however, has not provided a full list of chemicals stored at the plant.
"There was a gap in specific knowledge. People need to know what chemicals (are being stored) and what kind of precautions are in place," Stanislaus told the Associated Press.
EPA spokeswoman Amy Graham told the AP that "the agency's recent action to delay the effectiveness of the 2017 amendments had no effect on the major safety requirements that applied to the Arkema Crosby plant at the time of the fire."
The EPA has since sent emergency response personnel to the site and is reviewing data received from an aircraft that surveyed the scene, Pruitt said Thursday.
"There are no concentrations of concern for toxic materials reported at this time," the EPA administrator said.
But Nathan Donley, senior scientist with the Center for Biological Diversity's environmental health program, cried foul.
"Trump's EPA chief say's there's nothing to worry about at Arkema. Quite frankly, I don't believe him," Donely said. "These are incredibly reactive chemicals that the EPA, under previous administrations, has recognized as dangerous. But once again Trump's EPA is siding with industrial polluters rather than looking out for the health of the American people."
Bakeyah Nelson, executive director of Air Alliance Houston, also criticized the Trump administration's continued regulatory rollbacks.
"It's extremely frustrating, it's disheartening, it's unfair to the communities that face these risks," Nelson told POLITICO. "Not just in a natural disaster-type situation, but on a daily basis."
The unprecedented rain and flooding from Harvey has sparked concerns about the risks of the Gulf Coast's massive petrochemical infrastructure. According to data from the Sierra Club, the area is home to 230 chemical plants, 33 oil refineries and hundreds of miles of pipelines.