This website uses cookies to ensure you get the best experience while browsing it. By clicking 'Got It' you're accepting these terms.
On May 27 Tulsa County Sheriff patrol flooding by boat in the Town and Country Neighborhood of Tulsa, Oklahoma. Tulsa County Sheriff / Twitter
This has been a historically wet spring for the South and Central U.S.
The Asian longhorned tick has been found in nine states. CDC
The Centers for Disease Control and Prevention (CDC) has warned of a "multistate infestation" with the Asian longhorned tick—the first new tick species to enter the U.S. in 50 years.
New Jersey was the first state to report the Haemaphysalis longicornis on a sheep in August 2017. Since then, it has been found in Arkansas, Connecticut, Maryland, North Carolina, New York, Pennsylvania, Virginia and West Virginia, according to Friday's Morbidity and Mortality Weekly Report.
EcoWatch Daily Newsletter
Cucumber plant injured by dicamba drift. University of Arkansas
www.youtube.com
The Arkansas Plant Board has approved new regulations that prohibit the use of dicamba from April 16 through Oct. 31, 2018 after receiving nearly 1,000 complaints of pesticide misuse in the state.
Arkansas, which temporarily banned the highly volatile weedkiller in July, could now face legal action from Monsanto, the developers of dicamba-resistant soybeans or cotton and the corresponding pesticide, aka the Xtend crop system.
Some homeowners living near shale gas wells appear to be at higher risk of drinking water contamination from stray gases, according to a new Duke University-led study, Increased Stray Gas Abundance in a Subset of Drinking Water Wells Near Marcellus Shale Gas Extraction.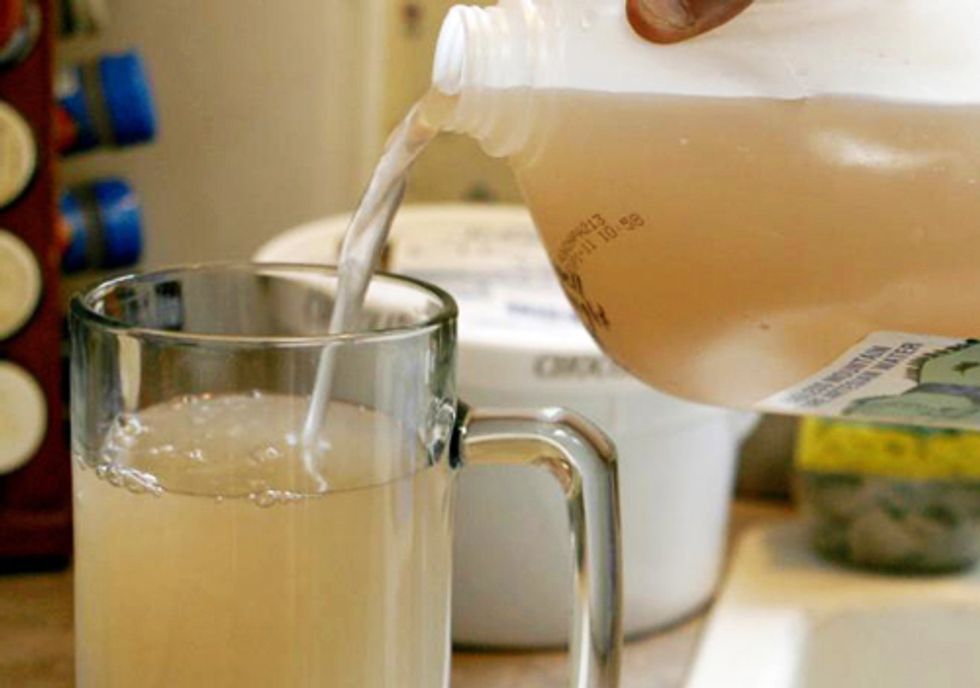 The scientists analyzed 141 drinking water samples from private water wells across northeastern Pennsylvania's gas-rich Marcellus Shale basin.
They found that, on average, methane concentrations were six times higher and ethane concentrations were 23 times higher at homes within a kilometer of a shale gas well. Propane was detected in 10 samples, all of them from homes within a kilometer of drilling.
"The methane, ethane and propane data, and new evidence from hydrocarbon and helium content, all suggest that drilling has affected some homeowners' water," said Robert B. Jackson, a professor of environmental sciences at Duke's Nicholas School of the Environment. "In a minority of cases the gas even looks Marcellus-like, probably caused by poor well construction."
The ethane and propane data are "particularly interesting," he noted, "since there is no biological source of ethane and propane in the region and Marcellus gas is high in both, and higher in concentration than Upper Devonian gases" found in formations overlying the Marcellus shale.
The scientists examined which factors might explain their results, including topography, distance to gas wells and distance to geologic features. "Distance to gas wells was, by far, the most significant factor influencing gases in the drinking water we sampled," said Jackson.
The team published its peer-reviewed findings this week in the online Early Edition of the Proceedings of the National Academy of Sciences.
Shale gas extraction—a process that includes horizontal drilling and hydraulic fracturing—has fueled concerns in recent years about contamination of nearby drinking water supplies.
Two previous Duke-led studies found direct evidence of methane contamination in water wells near shale-gas drilling in northeastern Pennsylvania, as well as possible hydraulic connectivity between deep brines and shallow aquifers. A third study, conducted with U.S. Geological Survey scientists, found no evidence of drinking water contamination from shale gas production in Arkansas. None of the studies found evidence of current contamination by hydraulic fracturing fluids.
The new study is the first to offer direct evidence of ethane and propane contamination.
"Our studies demonstrate that the integrity of gas wells, as well as variations in local and regional geology, play major roles in determining the possible risk of groundwater impacts from shale gas development. As such, they must be taken into consideration before drilling begins," said Avner Vengosh, professor of geochemistry and water quality at Duke's Nicholas School.
"The new data reinforces our earlier observations that stray gases contaminate drinking water wells in some areas of the Marcellus shale. The question is what is happening in other shale gas basins," Vengosh said.
"The helium data in this study are the first in a new tool kit we've developed for identifying contamination using noble gas geochemistry," said Thomas H. Darrah, a research scientist in geology, also at Duke's Nicholas School. "These new tools allow us to identify and trace contaminants with a high degree of certainty through multiple lines of evidence."
Co-authors of the new study are Nathaniel Warner, Adrian Down, Kaiguang Zhao and Jonathan Karr, all of Duke; Robert Poreda of the University of Rochester; and Stephen Osborn of California State Polytechnic University. Duke's Nicholas School of the Environment and the Duke Center on Global Change funded the research.
Visit EcoWatch's FRACKING page for more related news on this topic.
——–
Sign the petition today, telling President Obama to enact an immediate fracking moratorium:

Early this morning, eight individuals blocked construction of a pump station for TransCanada's controversial Keystone XL tar sands pipeline on Seminole land-by-treaty in Oklahoma by locking on to equipment in the largest action yet by the Great Plains Tar Sands Resistance. Nine people have been arrested. They managed to shut down the site until a volunteer firefighter reportedly injured one of the lockdowners, who is now in an ambulance. Others participating in the action unlocked out of concerns for their safety.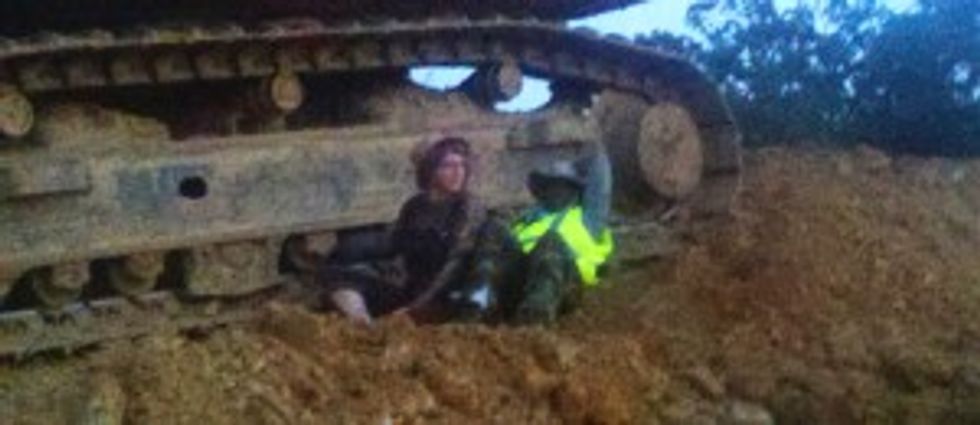 The group took action today, physically halting the construction process, as a part of an effort to prevent the Great Plains from being poisoned by inherently dangerous tar sands infrastructure, as well as to demonstrate the necessity for direct confrontation with industries that profit off of continued ecological devastation and the poisoning of countless communities from Alberta, Canada to the Gulf of Mexico. This action comes during the first day of a nationwide week of coordinated anti-extraction action under the banner of Fearless Summer.
"As a part of a direct action coalition working and living in an area that has been historically sacrificed for the benefit of petroleum infrastructure and industry, we believe that building a movement that can resist all infrastructure expansion at the point of construction is a necessity. In this country, over half of all pipeline spills happen in Texas, Louisiana and Oklahoma. Looking at the mainstream keystone opposition, this fact is invisible—just like the communities affected by toxic refining and toxic extraction," said Eric Whelan, spokesperson for Great Plains Tar Sands Resistance. "We're through with appealing to a broken political system that has consistently sacrificed human and nonhuman communities for the benefit of industry and capital."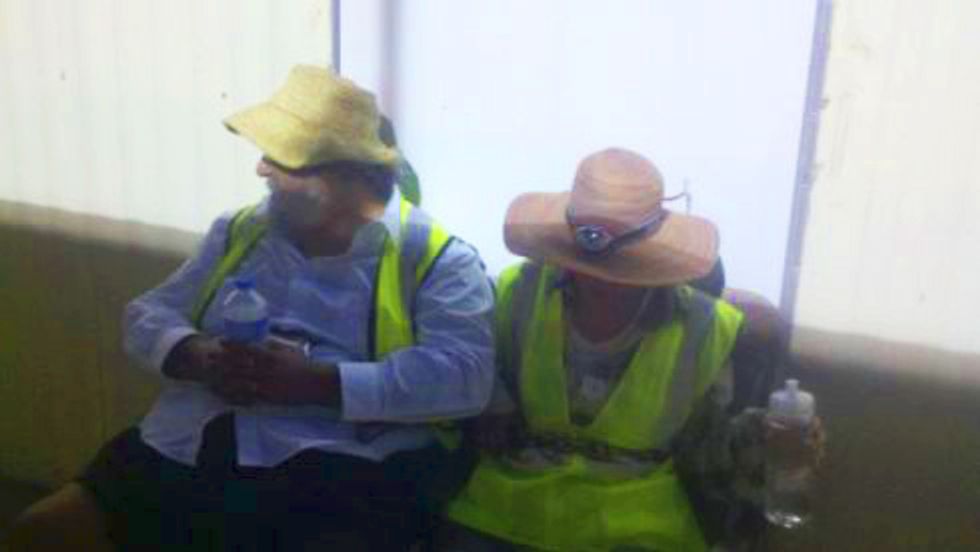 "The pipelines that poisoned the Kalamazoo River and Mayflower, Arkansas, were not the Keystone XL. Tar sands infrastructure is toxic regardless of the corporation or pipeline. For that reason we are opposed not only to the Keystone XL, but all tar sands infrastructure that threatens the land and her progeny," said Fitzgerald Scott, who was arrested in April for locking his arm inside a concrete-filled hole on the Keystone XL easement, and is locked to an excavator today. "While KXL [Keystone XL] opponents wait with baited breath for Obama's final decision regarding this particular pipeline, other corporations, including Enbridge, will be laying several tar sands pipelines across the continent. The Enbridge pipelines will carry the same volumes of the same noxious substance; therefore, Enbridge should get ready for the same resistance."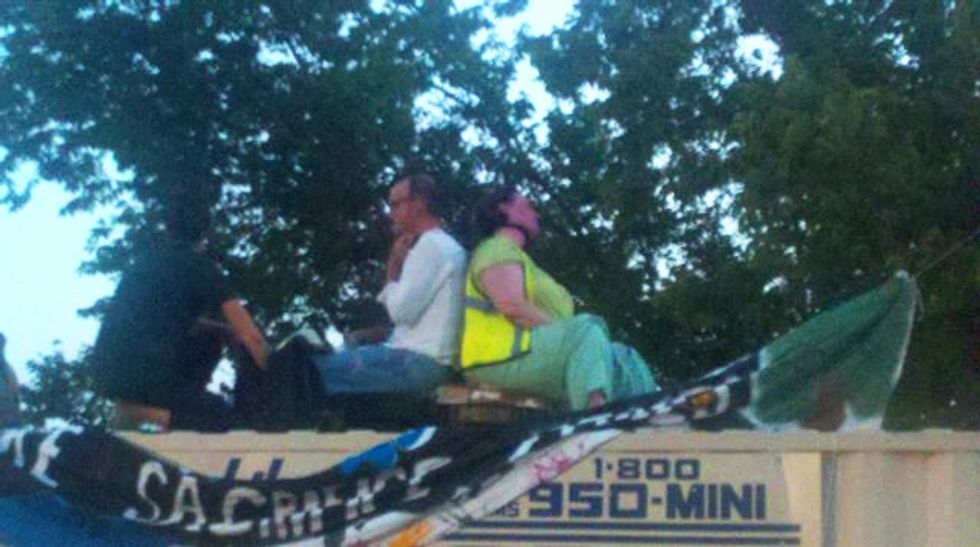 The Tar Sands megaproject is the largest industrial project in the history of humankind, destroying an area of pristine boreal forest which, if fully realized, will leave behind a toxic wasteland the size of Florida. The Tar Sands megaproject continues to endanger the health and way of life of the First Nations communities that live nearby by poisoning the waterways on which life in the area depends. This pipeline promises to deliver toxic diluted bitumen to the noxious Valero Refinery at the front door of the fence-line community of Manchester in Houston.
There is staunch resistance to the expansion of tar sands mining and infrastructure growing  across the heartland of North America, in areas long considered sacrifice zones. Currently activists are occupying an Enbridge pump station in Ontario, Canada to prevent the reversal of the Line 9 pipeline. The rise of Idle No More in defense of indigenous sovereignty across Turtle Island is in large part to protect lands and waters from toxic industries, and peoples of the Great Sioux Nation and tribal governments across South Dakota are avowing their opposition to the northern segment of the Keystone XL tar sands pipeline.
Visit EcoWatch's PIPELINES and KEYSTONE XL pages for more related news on this topic.
——-
Yesterday at the National Press Club in Washington, DC, clean energy philanthropist Tom Steyer, President of CE Action, unveiled We Love Our Land, a first-of-its-kind digital campaign to engage President Barack Obama's online supporters, including Organizing for America members, in helping the Administration protect the public interest by rejecting the Keystone XL Pipeline.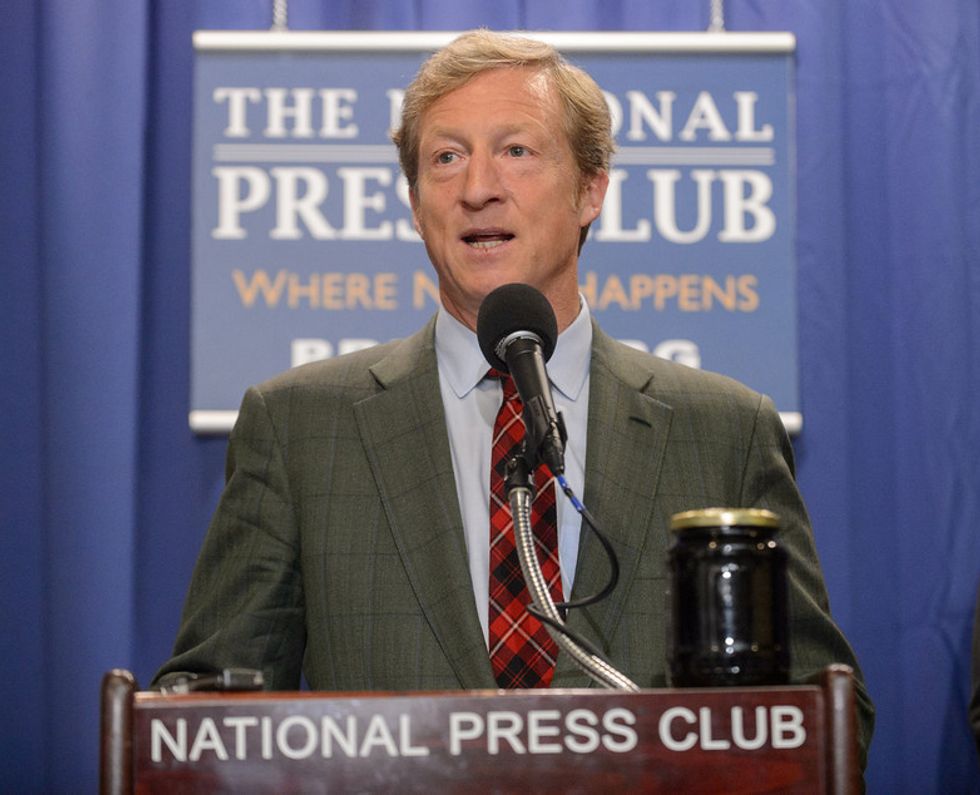 "President Obama is very smart. He understands our energy and climate crisis," said Steyer. "The arguments for Keystone were a house of cards, and that house collapsed weeks ago when local Canadian government officials withdrew their support for a Keystone alternative coming across their lands. We want voters to know the pipeline doesn't stand up against serious scrutiny. We're betting that they can help the President make the right decision and reject Keystone."
The digital campaign, which will run through next Labor Day, will use online petitions, videos and coordinated days of online action led by progressive bloggers who will be joining this effort, to rally the President's core supporters across Facebook and Twitter.
To demonstrate the dangers of the Keystone pipeline to American communities along its proposed route, Steyer commissioned the first-ever chemical analysis of tar sands oil collected from the March 2013 spill in Mayflower, AR. An independent laboratory analysis conducted by Environmental Working Group found seven highly toxic substances: benzene, toluene, ethylbenzene, 1,2,4-trimethylbenzene, xylene, chromium and lead. Rev. Ron Stief of the United Church of Christ poured out a sample of the oil to give attendees an idea of what it might be like to have the thick, sticky noxious-smelling substance spilled in their community.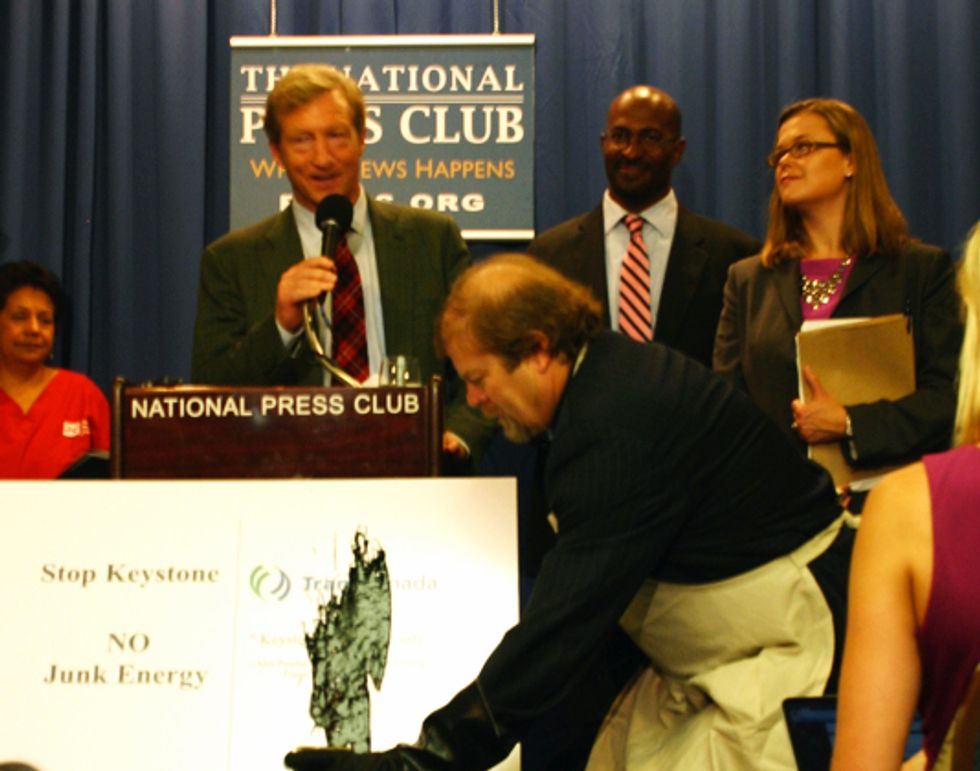 Sierra Club
.
Steyer also premiered a video featuring testimonials from the Mayflower community to highlight the health and environmental damage that spilled tar sands oil has caused to their community.
"We need to let Americans know how much damage pipelines like Keystone can have on our communities, on people's health and our kids' future," said 28-year Mayflower resident Genevieve Long, who originally planned to participate in the event, but had to change plans due to ongoing medical appointments following the March oil spill. "The oil ran right through the middle of Mayflower, past the school and the senior center. It was thick, you could see the chunks of tar sands and it smelled awful. Who's going to want to buy a contaminated property in our town now?"
Steyer was joined by a diverse group of environmental, faith and minority leaders in demonstrating the dangers of the Keystone pipeline and rallying the President's supporters to reject the project: Gene Karpinski, League of Conservation Voters; Susan Casey-Lefkowitz, NRDC Action Fund; Leslie Fields, Sierra Club; Van Jones, Rebuild the Dream; Patrick Carolan, Franciscan Action Network; Rev. Ron Stief, United Church of Christ; Rose Berger, Sojourners Magazine/Sojourners Creation Care Campaign; Former Sen. Timothy E. Wirth; Suzan Shown Harjo, Morning Star Institute; Andrew Nazdin, Power Shift; Rev. Lennox Yearwood, Hip Hop Caucus; Ellen McNulty, National Wildlife Federation; Marianne Comfort, Sisters of Mercy of the Americas; and Conn Nugent, The H. John Heinz III Center.
Visit EcoWatch's KEYSTONE XL and TAR SANDS pages for more related news on this topic.
——-
Early this morning, concerned community members and activists from the Texas Action Coalition for the Environment and Tar Sands Blockade attended the Pipeline and Hazardous Materials Safety Administration's (PHMSA) Pipeline Safety Public Awareness Workshop, at the Hyatt Regency in Richardson, TX. The protesters staged a tar sands spill and carried banners and signs to say that tar sands aren't being regulated and must be stopped. Activists are expected to continue demonstration outside until dusk, when they will hold lighted billboards reading "PHMSA: No Tar Sands Pipelines" and "Water > Oil."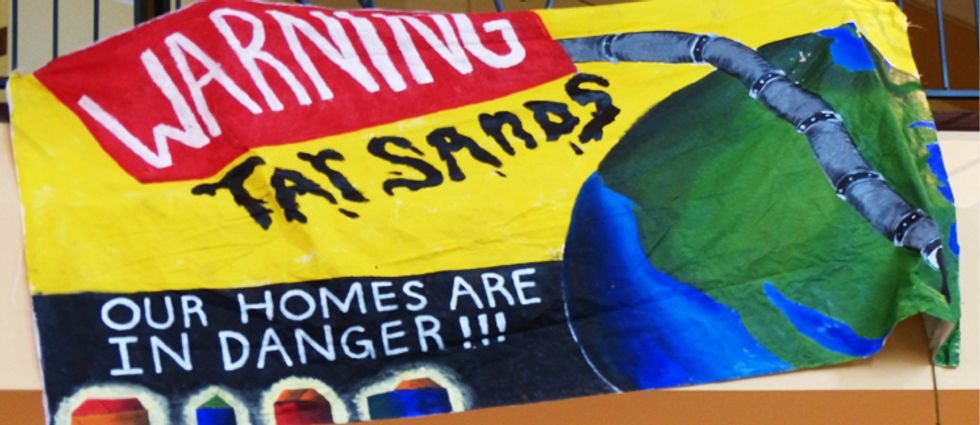 Many from across the Keystone XL pipeline route attended the workshop and aired their grievances directly to regulators, asking pertinent questions during panel "question and answer" sessions in order to draw out a complete record of the PHMSA assessment of its awareness efforts.
The sad truth is that PHMSA fails to properly regulate diluted tar sands bitumen—the deadly substance which has leaked in the hundreds of thousands of gallons from shoddily maintained pipelines regulated by PHMSA, poisoning communities like Mayflower, AR, and Kalamazoo, MI. In fact, Sen. Edward Markey recently revealed that while PHMSA issued a Corrective Action Order against ExxonMobil for the Pegasus tar sands pipeline, they allowed Exxon to use a disaster response plan that had not yet been approved without facing any consequences. Exxon did not detect and respond to the spill in Mayflower within the required time limit of the formally approved safety plan. This is just one of many examples of industry and government collusion and oversight to keep the high risk and toxicity of tar sands out of the eyes and mind of the public.
Of particular concern is the fact that tar sands (diluted bitumen or "dilbit") is a different chemical composition than crude oil, and yet it is only classified as such when it benefits the industry bottom line. On the basis that tar sands dilbit is "synthetic crude" and not crude oil, the transport of tar sands through pipelines in the U.S. is exempt from payments into the Oil Spill Liability Trust Fund. Otherwise, regulators claim that tar sands bitumen is a type of crude oil. Tar sands are far more difficult and costly to clean up and spills are more toxic to water, wildlife and affected persons as a result of the differences in composition. "Tar sands dilbit needs to be recognized and classified as different from crude oil, for the sake of public awareness and pipeline safety," says Aly Tharp, one of the organizers of today's protest.
UPDATE:
Update 3:30 pm: Blockaders have disrupted a panel titled "Affected Stakeholder Awareness Panel" to bring attention to the safety concerns of landowners and impacted residents who are not included in PHMSA's definition of stakeholders. Emergency planners on the panel are totally unaware of the differences between tar sands and conventional crude oil.
Tar sands are toxic and have the consistency of crunchy peanutbutter. This is diluted with chemicals and heated up  so the tar sands mixture can flow through a pipeline. Tar sands sinks. Emergency planners across the country still do not know how to clean up a spill.
Watch the livestream here.
Update 2 p.m.: Photo of banner drop inside hotel lobby greeting conference guests
Update 1:55 p.m.: Blockaders have moved outside chanting "no tar sands, no way, not ever not today!"
Update 1:45 p.m.: What is PHMSA? PHSMA is the regulatory agency required to inspect the pipeline during installation and is responsible for matoking sure the land is properly restored according to code developed by the American Society of Mechanical Engineers. PHSMA's code makes inspections of the pipeline during installation mandatory, not optional, since that is the only way to assure code compliance. Furthermore the Keystone XL project was mandated to supply a project-specific quality manual that details how the regulations and codes will be met.
You can read more about PHMSA and the Keystone XL in this excellent article on EcoWatch by Stefanie Spear.
Update 1:30 p.m.: Blockaders have been stopped from entering the hotel lobby by unmarked security. Blockader who was detained has been released.
Update 1:15 p.m.: One blockader has been detained. Several have been stopped outside of the hotel.
Be sure to sign this EcoWatch petition: Tell PHMSA to Immediately Investigate Anomalies in the Southern Leg of TransCanada's Keystone XL pipeline.
Click here for the latest updates on this action.
Visit EcoWatch's KEYSTONE XL page for more related news on this topic.
——-

Today the U.S. and the state of Arkansas filed a joint enforcement action against ExxonMobil Pipeline Company and Mobil Pipe Line Company (ExxonMobil) in federal district court in Little Rock, AR. The complaint addresses ExxonMobil's unlawful discharge of heavy crude oil from a 20-inch-diameter interstate pipeline —the Pegasus Pipeline—that ruptured in Mayflower, AR, on March 29.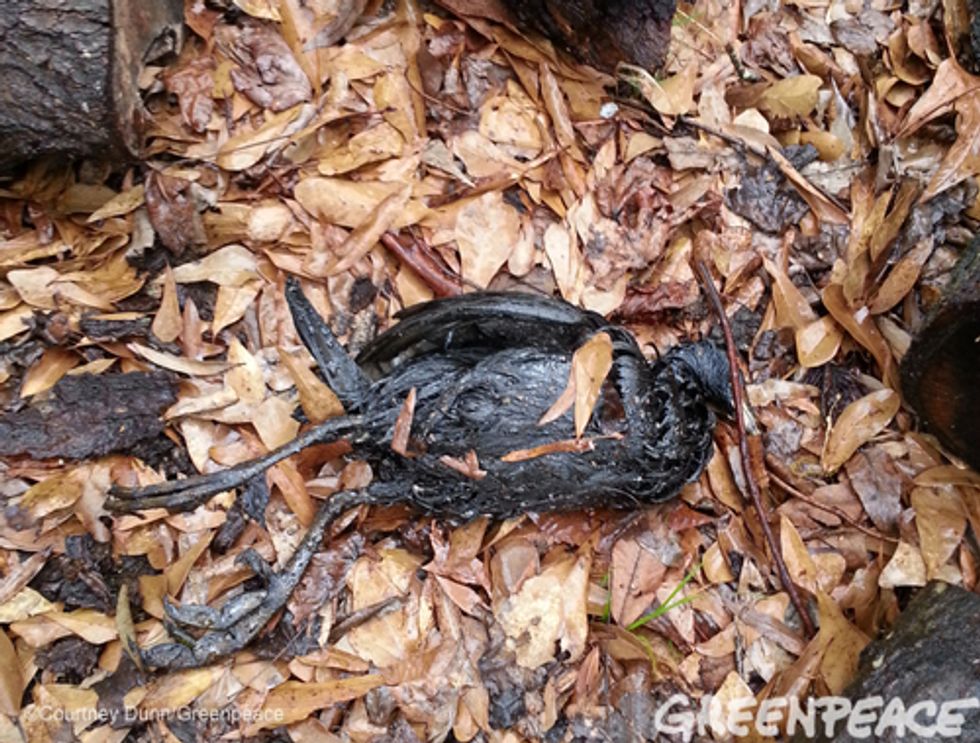 As alleged in the complaint, a segment of the Pegasus Pipeline ruptured in a residential neighborhood in the town of Mayflower. The pipe was buried approximately two feet below the ground at that location. The oil spilled directly into the neighborhood and then into nearby waterways, including a creek, wetlands and Lake Conway. Residents were forced to evacuate their homes due to the hazardous conditions in the neighborhood resulting from the spill. The oil has contaminated land and waterways and impacted human health and welfare, wildlife and habitat. Cleanup efforts are still ongoing, and many residents still have not been able to return home.
The Pegasus Pipeline runs approximately 850 miles from Patoka, IL, to Nederland, TX. The pipeline is used to transport Canadian heavy crude oil. The pipeline originally was constructed in the 1940s.
The complaint alleges six causes of action against the defendants. The U.S., on behalf of the U.S. Environmental Protection Agency, seeks civil penalties and injunctive relief under the federal Clean Water Act for the oil spill. The state of Arkansas, on behalf of the Arkansas Department of Environmental Quality by the authority of the Arkansas Attorney General, seeks civil penalties for violations of the Arkansas Hazardous Waste Management Act and the Arkansas Water and Air Pollution Control Act. The state also seeks a declaratory judgment on ExxonMobil's liability for payment of removal costs and damages related to the spill pursuant to the federal Oil Pollution Act.
Visit EcoWatch's TAR SANDS and PIPELINES pages for more related news on this topic.
——-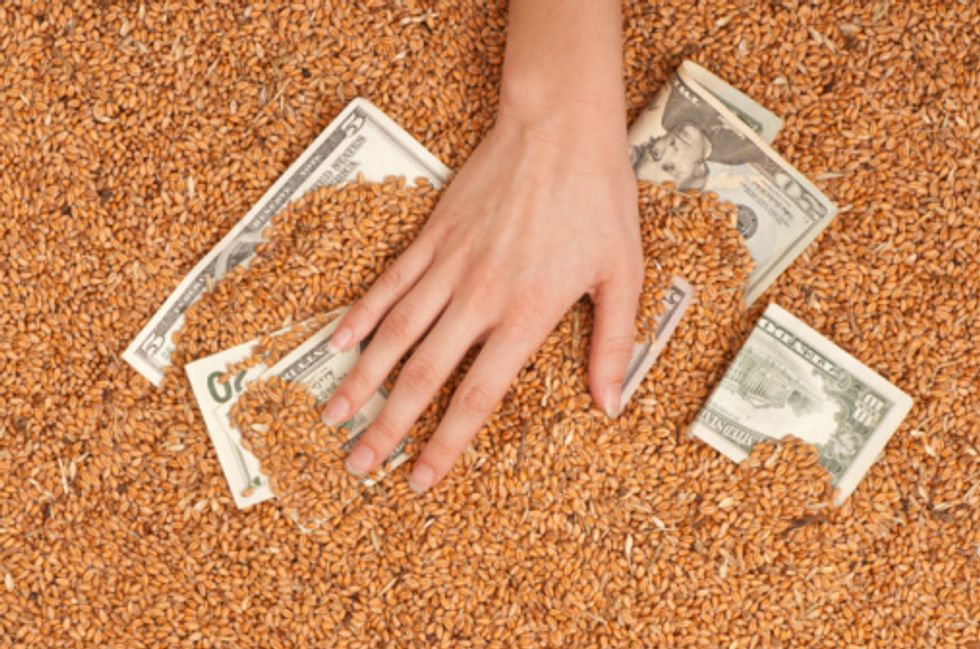 The Environmental Working Group (EWG) released a Direct Payment Database Nov. 10, giving taxpayers a look inside the complex agriculture partnerships and corporations that got the lion's share of $4.7 billion in federal direct payments to farmers in 2009. EWG found that the 10 agribusinesses receiving the biggest payouts raked in a total of $5.4 million. The biggest payments went to large agribusinesses in the southern states of Arkansas, Louisiana, Georgia, Tennessee and Mississippi.
The database also provides the names of the individuals who ultimately cashed the subsidy checks, whose identities have been hidden by these corporate structures and not publicly disclosed by the U.S. Department of Agriculture (USDA) since the 2008 farm bill.
Direct payments, promoted as a safety net for working farm and ranch families, are in reality annual cash giveaways to the most profitable businesses in farm country. The average crop subsidy payment to the top ten recipients in 2009 was $542,172 apiece—about 10 times more than the average American earns annually. A total of 160 individuals ultimately collected payments through these 10 farm enterprises.
"This new data underscores why direct payments should be eliminated. The savings could help reduce the deficit and bolster conservation and nutrition programs," said Craig Cox, EWG's vice president for Agriculture and Natural Resources. "It is remarkable that some in the subsidy lobby are still trying to cling onto this wasteful and unnecessary program."
The recipient of the single biggest direct payment was Ratio Farms in Helena, Ark. EWG's database identifies the 26 individuals who cashed in on the operation's $874,666 in subsidy payments. Each one received about $33,600 in 2009—barely $6,000 below USDA's $40,000 limit on how much each person is eligible to receive annually.
In its 2010 EWG farm subsidy database update released earlier this year, EWG was unable to identify individual recipients because the USDA now only provides this information on a program by program basis, making it easier for many of the individual beneficiaries to shield their receipt of tax dollars behind paper farms and corporate entity shell games. EWG obtained the additional data under the federal Freedom of Information Act and is still waiting for the 2010 records.
Since the early 90s, EWG has worked to transform USDA's current system of direct payments into a program that would actually target assistance to working farm and ranch families that need help to stay on the land, but until now the Big Ag subsidy lobby has blocked all attempts at meaningful reform. Now it is time to simply end direct payments, which are finally in the budget crosshairs as Congress works to reduce the federal deficit. Reformers, however, are still facing a full-court press from entrenched corporate agriculture interests, which want to replace the handouts with an expensive new entitlement to guarantee the business income of the very same highly profitable farm businesses that have long profited from direct payments.
EWG thinks that is the wrong way to go. Instead, it recommends:
• Eliminating direct payments, counter-cyclical payments, loan deficiency payments, ACRE (Average Crop Revenue Election) and SURE (Supplemental Revenue Assistance Payments).
• Providing every farmer with a free crop insurance policy that covers yield losses of more than 30 percent and eliminating federal premium and other subsidies for revenue-based or other crop insurance products.
• Having the federal government take bids from insurance companies to service these policies, eliminating insurers' recent windfall profits and encouraging the private sector to develop and offer innovative options for farmers to increase insurance coverage—but not at taxpayers' expense.
• Requiring producers to meet a basic standard of conservation practices in order to be eligible for publicly financed crop insurance.
• Ensuring full transparency by requiring USDA to disclose who is getting the free policies, the cost to taxpayers and how much farmers receive in insurance payouts.
For more information, click here.