This website uses cookies to ensure you get the best experience while browsing it. By clicking 'Got It' you're accepting these terms.


The best of EcoWatch, right in your inbox. Sign up for our email newsletter!
The güiña gets its name from the Mapuche word "wiña," meaning "thief." eMinte / Flickr
By Niki Rust
The smallest wild cat species in the Americas faces big problems as its habitat dwindles and it's targeted as a farm pest. But a new study shows it may be able to persist in a human-dominated world—if farmers and policymakers give it a hand.
The güiña (Leopardus guigna), also known as kodkod, weighs 2 to 2.5 kilograms (4.4 to 5.5 pounds), eats birds and rodents, and is only found in the temperate rainforests of Chile and western Argentina. It's listed as "vulnerable" by the International Union for the Conservation of Nature (IUCN), with habitat loss and illegal killing considered the major causes of its decline.
EcoWatch Daily Newsletter
By Brianna Acuesta

In an incident that's shockingly similar to what happened one year ago in Argentina, beachgoers pulled a stranded baby dolphin from the water to capture photos of him and take selfies. Unfortunately, the incident resulted in the baby's death, showing that Argentinians did not learning anything from the last time they pulled a baby dolphin from the ocean.
A video that was released this week shows the baby dolphin surrounded by a crowd of people taking photos and videos. The local newspaper, La Nacion, reported that fellow beachgoers said that people had pulled the dolphin from the shallows of the water.

A witness told C5N News, "They let him die. They could have returned him to the ocean, he was breathing, but everyone started taking photos and touching him, saying he was already dead."
A person's first instincts when seeing an animal in need, especially one so young, should be to help them rather than hurt them. Instead of checking to see if the baby had a chance to live, they immediately yanked him from his home and he died while extremely stressed from the situation.
It's unclear if the baby was sick before humans spotted him, which would explain why he found himself stranded, but what's indisputable is that the humans involved inadvertently participated in his death by not helping him.
Last year, beachgoers pulled two baby dolphins out of the water for selfies, resulting in the death of one and people everywhere were outraged. This outrage, apparently, had little to no effect on the people that repeated this sad act all over again.
Humans have the unique ability to feel empathy, but it is their selfish nature that causes them to often forget to help others. In this situation, the humans did not even think to save the allegedly dying dolphin because they were so absorbed in getting the perfect picture for social media. Meanwhile, dogs around the world have made news for spotting dolphins in need and springing into action to help.
Watch the video below to see the baby dolphin.
Reposted with permission from our media associate True Activist.
By Nicole Figueiredo de Oliveira
Earlier this month in Argentina, the people gave another big step in the fight against fracking in the country: legislators, church and civil society representatives, environmental experts, climate scientists, trade unions and human rights activists, along with indigenous and community leaders from various countries met in Buenos Aires to discuss the threats posed by the use of fossil fuels in Argentina and Latin America.
Uruguay Sen. Carol Aviaga; Ignacio Zavaleta, Assembly of Territories Free of Fracking; Juliano Bueno de Araújo of 350.org; Argentina Congresswoman Alcira Argumedo; Nicole Oliveira of 350.org; and Juan Pablo Olsson of 350.org.COESUS / 350.org Latin America
In a full room at the National Congress, the speakers were unanimous: There are no benefits that the fossil fuels industry can bring now or in the future. In the South of Argentina fracking has been polluting the water and the air, damaging the economy, harming people's health and destroying the environment. It's wrecking a whole region and the only way to stop it starts by taking local action together.

Victories against fracking are already coming from many places. In Brazil, for example, more than 200 cities have already prohibited fracking in their territories and the state of Paraná has just placed a ban on this technique for the next 10 years.
The conference in Argentina was the second event organized by the No Fracking Coalition Latin America, emphasizing the need and the will for alliance and collective actions throughout the continent. Participants expressed a shared regional concern for the preservation of the Guarani aquifer, exchanged experiences and vowed to unite forces across Latin America to prevent the expansion of hydraulic fracturing and foster a just transition to 100 percent renewable energy for all.
Fracking tower in the midst of an apple orchard near the city of Allen, in the province of Neuquén.COESUS / 350.org Latin America
There is still a lot more to do to make Argentina and Latin America fracking free, but the event showed that communities are organized, strong and keeping the pressure on this deadly industry.

Fighting fracking is just one side of a major battle against the fossil fuel industry. During the last UN Climate Summit in Marrakech, more than 375 nongovernmental organizations delivered a letter to global leaders with an urgent yet simple new demand for climate action: no new fossil fuel development.
With climate impacts hitting hard communities all over the world, and the recent announcement that 2016 is probably going to be the warmest year ever recorded and the potential carbon emissions from reserves in currently operating oil and gas fields alone, even with no coal, are enough to take the world beyond 1.5 C.
Stopping mining, digging and investing in fossil fuels are fundamental steps to keep the planet from warming. Countries need to meet the promises they made to the whole world with the Paris climate agreement—and that includes Argentina and Latin American countries.
Following the conference, the coalition headed to Neuquén and Vaca Muerta, in the North of Patagonia, where the fracking industry is leaving it's mark of great destruction. Fracking wells can be found right in the middle of natural reserves and fruit plantations.
Fracking well by the Mari Menuco dam, in Argentina's Neuquén province.COESUS / 350.org Latin America
In the words of the president of the fruit growers association in Allen, the apple and pear orchards of that region have become "expendable," as the produce are no longer apt for export due to the contamination from the fracking wells that have been installed by their fields.

If we want to keep the planet from warming 1.5 C there is no more room for fossil fuels in the energy mix. And we need to freeze any sort of fossil fuel investments if we want to prevent the devastating impacts of climate change.
By Nicole D'Alessandro
Worldwide, a trillion single-use plastic bags are used each year, nearly 2 million each minute. Usage varies widely among countries, from more than 400 a year for many East Europeans, to just four a year for people in Denmark and Finland. Plastic bags, made of depletable natural gas or petroleum resources, are often used only for a matter of minutes. Yet they last in the environment for hundreds of years, shredding into ever-smaller pieces but never fully breaking down.

By Patrick J. Lynch
A five-day ride on horseback ìs redefining citizen-based environmental advocacy in Patagonia.
Amidst growing concerns about the destruction of Patagonia at the hands of the mining and energy sectors, 45 women from different regions of Chile and Argentina came together in January for a five-day cabalgata to call attention to the damming of Patagonia's rivers.
Led by María Isabel Navarrete, a native of the town of Futaleufu and the outspoken president of Mujeres sin Fronteras (Women Without Borders), the women made the 137-mile trek on horseback along the length of the Manso and Puelo Rivers. In the words of Mujeres sin Fronteras, the purpose of the trek was "to defend our tradition, our earth, and the future of our children, a future that is threatened by the power of companies that care only about profits and their own enrichment."
Together the Manso and Puelo Rivers drain a massive watershed that straddles the Chilean region of Los Lagos and the Argentinean provinces of Rio Negro and Chubut. On the Chilean side the Puelo-Manso watershed is facing two hydroelectric projects, one of which is expected to gain environmental approval before President Piñera leaves office in March.
Those of us working on river conservation in Chile are keeping a close eye on the Puelo, and how we can work together to protect binational watersheds in the region. If approved, the two projects will drastically reshape the course of the rivers and have severe impacts on local tourism and agriculture, the two most important sources of income in the region.
Over half the province depends on tourism alone, while the rest engage in farming and fishing. Besides the ecological impacts of the dams themselves, the companies are planning to build transmission lines to connect the energy to the grid several hundred kilometers away, cutting a path along the most scenic parts of the watershed while bringing no additional benefit to the local population.
Communities in Argentina also oppose the dams, which they fear will ship energy across the border to supply Argentina's mining boom. In addition to existing mining projects, fracking operations have recently been proposed in the neighboring Neuquén province, where major players including Chevron are promising the government tax revenues and profit-sharing in exchange for a license to frack. These projects need large sources of energy to be viable, and in that context putting dams on Patagonia's rivers seems an obvious choice. In response, local leaders on both sides of the border are now joining together to make sure that doesn't happen.
From the Mountains to the Sea
Participants in the cabalgata gathered at the indigenous Mapuche village of Primer Corral on an early Sunday morning and spent the next four days descending along the length of the river, stopping at night to rest and leaving at sunrise to continue the march. The fifth day of the cabalgata saw a large gathering of women, men and children as others joined to celebrate the march in Puerto Varas. Posts and photos from the event spread through social media and press at the local, national and international levels.
The route of the cabalgata—from oft-ignored villages to the port cities of Puerto Varas and neighboring Puerto Montt—was designed to send a message to Chile's regional and national governments. Communities on both sides of Patagonia are confronting the reality that decisions about the region's future are made remotely, in the halls of government in Santiago and Buenos Aires. Even decisions left to regional officials are often made far from where the economic and environmental impacts will be felt; Puerto Montt, the administrative capital of Chile's Los Lagos Region, is a 15-hour trip from Futaleufú in good weather. This distance makes it hard for citizens to stay informed about proposed projects designed at the regional level, even essential ones like road improvements.
The vast size of Patagonia also makes it a challenge to unite these communities. The region straddles two countries and covers over 400,000 square miles, or about the size of Texas and California put together. Rugged terrain, an unpredictable climate, and poor roads make long distances even longer. The national border between Chile and Argentina throws up an additional barrier, particularly in binational watersheds like the Puelo-Manso and the Futaleufu. In these basins the formidable Andes Mountains open up, and were it not for the border restrictions a visit to a town in the neighboring country would be as easy as going for a hike along the riverbank. Protectionist trade restrictions between the two countries further restrict the flow of people. To further complicate matters, permit decisions that impact binational watersheds are different in each country, and do not include stakeholders despite a 1991 treaty and protocol to ensure the sustainable use of shared hydrological resources.
The fight, of course, is a tough one. Powerful companies, among them Endesa, Mediterraneo, Xtrata and Energia Austral, are trying to sell Chile on a plan that would destroy its most prized rivers and wipe out the rural and eco-based tourism sectors upon which many people depend. Several binational watersheds are now at risk, including the Puelo-Manso, the Futaleufú and the Baker (where the fight to stop HidroAysén is ongoing). Mediterraneo's project on the Manso is slated for a government decision before March on whether to grant a Resolution of Environmental Qualification (RCA), which will allow the project to move forward. The project is backed by a group of investors with close ties to President Piñera, including two sitting Piñera administration officials. Groups like Mujeres sin Fronteras have accused the government of fast-tracking the project without adequate citizen participation, and local activists have already pledged to file lawsuits seeking annulment of the RCA if it is granted. But for those lawsuits to be successful the world must be paying attention.
Sisters of Patagonia
The call to action issued by Mujeres sin Fronteras is maternal, nurturing, defiant. "… [O]ur women, the mothers of yesterday and the daughters of tomorrow, like in past times and all throughout human history, provide the foundation for our families and communities. They have the key to stop this tragedy that is leading us towards certain extinction. It is us women who feel in our own wombs the responsibility to reestablish the balance lost. Thus, as we are the ones giving life, we will undoubtedly be the ones to defend it."
A key tenet of the cabalgata was promoting cross-border collaboration among women who have grown up or raised families in the mountainous region. Participants came from the Neuquén, Rio Negro, and Chubut provinces of Argentina and the Los Rios and Los Lagos regions of Chile. The cabalgata united the "sisters of different cities in Chile [and] Argentina" to "defend our tradition, our earth, and the future of our children." María Isabel is fierce in her resolve; her voice reveals a strong determination to connect these local leaders in the fight.
Women Without Borders, a Patagonia Without Dams
The leaders of the cabalgata plan to turn this into an annual event to oppose the building of dams in the region. They are also hoping to support similar cabalgatas in other watersheds at risk. This includes the Futaleufú, where Futaleufú Riverkeeper works, and where Endesa is continuing plans to install three dams and destroy one of the most beautiful rivers in the world. María Isabel's family includes some of the original settlers to the Futaleufú watershed, and other Futaleufú natives are talking about leading a similar effort to raise the alarms.
The Mujeres sin Fronteras campaign is changing the fight in Patagonia. They are proving it is possible to connect people along a shared waterway, even when a river starts in one country and greets the sea in another. They are lifting up the cultural heritage that further ties these communities together, adopting the symbols of Patagonia in a call to arms. The gaucho on horseback; neighbors sharing yerba mate around a stove after a hard day; the flag of the Mapuche people that symbolizes renewal, power, and a fertile earth. And they are inspiring organizations like ours that want to see Patagonia protected and are developing the tools these communities will need to win in the long-term.
Going forward, groups like Mujeres sin Fronteras are determined to stay vigilant in giving rural communities a voice. We must keep encouraging the type of cultural bridge-building that elevates local community issues. And at the same time, the world must stay alert so that Chile and Argentina do not allow multinational companies to destroy these resources over the strong objections of their people.
That is why we must join forces; across watersheds, cultures and political borders. One thing is certain: María Isabel and the Women Without Borders have brought the fight out into the open, in an act that will be remembered in this part of the world for years to come.
Patrick J. Lynch is International Director for Fundación Futaleufú Riverkeeper, the first Waterkeeper program in Patagonia and a member of the Patagonia Sin Represas campaign. More information at www.futaleufuriverkeeper.org.
Visit EcoWatch's BIODIVERSITY andENERGY pages for more related news on this topic.

By Nicolò Wojewoda
I often ask myself: how much longer can the rogue forces of the fossil fuel industry continue wrecking our planet with impunity? Yesterday, I was reminded of our movement's recurring answer to that question: not for long, if we can help it.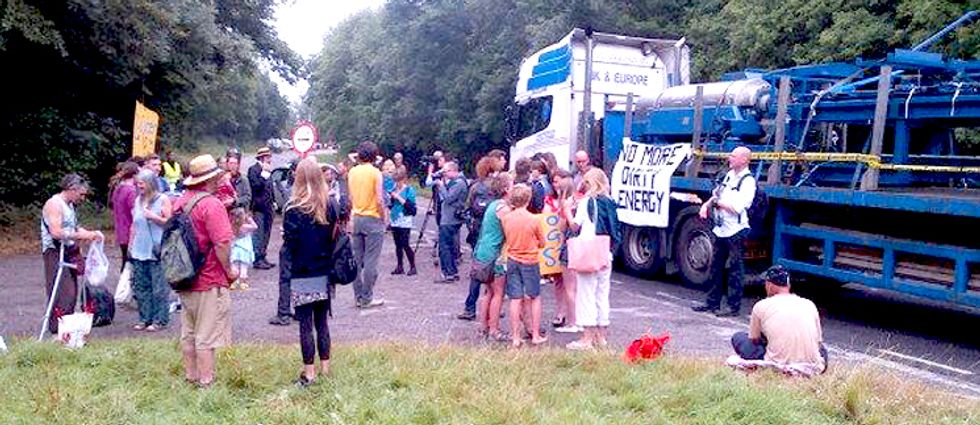 In the early hours of the morning, anti-fracking activists and community members in Balcombe, Sussex, UK, successfully halted the first day of explorations for a new shale gas development by famed (infamous, rather) fracking company Cuadrilla. Over 250 people united in a powerful, peaceful, joyful blockade—that eventually convinced the trucks containing the initial fracking equipment to abandon the site.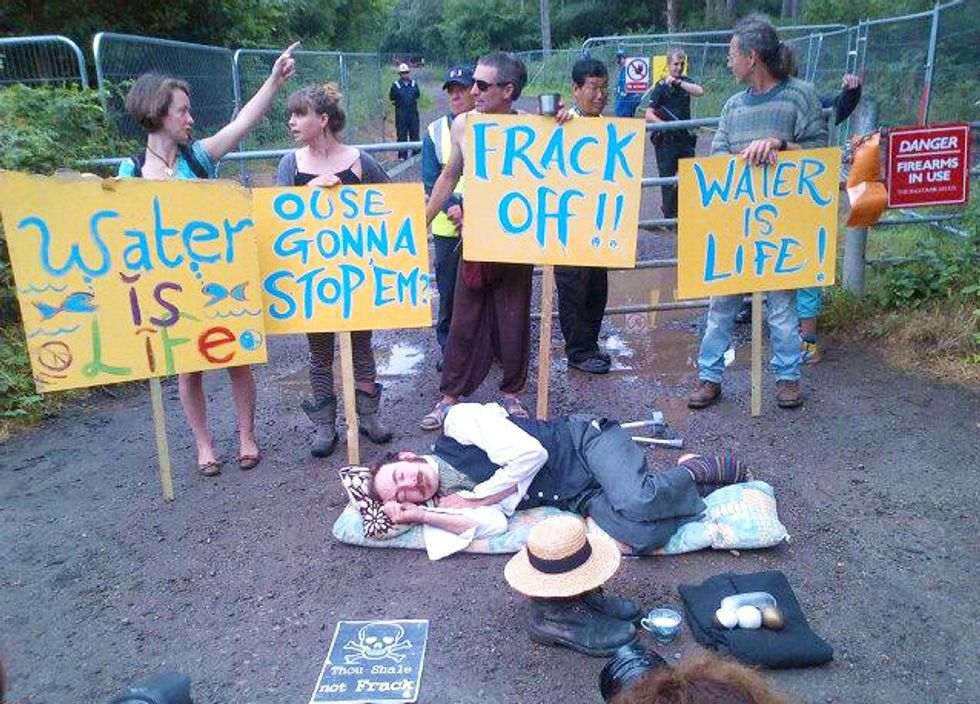 This is community power at its best. Campaigners in Balcombe, just like those in frontline communities around the world (in the U.S., Indonesia, Argentina and elsewhere) had been calling attention to the dangers of fracking for over a year. This week, when Cuadrilla's license for exploration and development was approved, activists quickly mobilized to organize a Great Gas Gala, inviting people in Sussex and neighboring areas to converge on Balcombe and oppose Cuadrilla's efforts.
Yesterday's protests are set in the context of a recent announcement by the UK government proposing a 50 percent tax cut for companies involved in shale gas extraction, the most generous tax regime for fracking in the whole world. The proposal is very much in line with the dreaded "dash for gas" that Chancellor George Osborne announced at last year's unveiling of the budget.
It is in opposition to these efforts that groups like Frack Off, No Dash for Gas and many of our partners and allies around the country, are mobilizing public awareness and opposition, in a genuine effort to shift the power in our energy systems and put our communities and their people back in charge. The Global Power Shift UK team will be working in the upcoming months on helping build that large, inclusive movement—one that represents community interests, leverages our diversity and builds on our shared vision of a people-powered future that solves the climate crisis once and for all.
The fight in Balcombe is not over yet. Yesterday's exploratory fracking attempt was the closest to London to date, where a lot of the finance for these operations comes from and where the tangled webs of power and influence are carefully threaded between consenting politicians and short-term profit oriented fossil fuel corporate executives. Impunity for them and their climate-wrecking efforts? No longer. Real resistance is brewing in their backyard.
Visit EcoWatch's FRACKING page for more related news on this topic.
——–
By Luís Ferreirim
What had been brewing for weeks following various hints and tips was finally confirmed last week when Monsanto announced it would cease the marketing of new genetically engineered seeds (GE) in the European Union.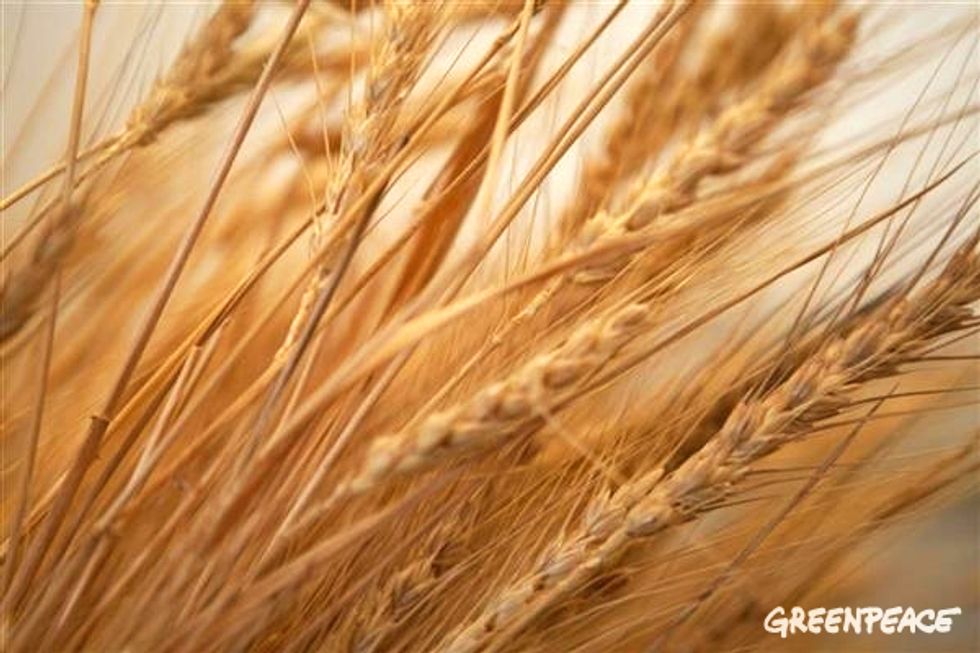 The world's largest seed company had already sent signals in May that it would no longer lobby the EU to approve cultivation of its GE seeds, but we were waiting for an official confirmation before we could really believe it.
Monsanto and other biotech industries have tried for years to make us believe that GE crops are the answer to many of the world's problems, such as hunger and climate change. However, these GE seeds have been nothing more than empty promises giving us mainly crops that have further increased reliance on pesticides without any clear gains in the amount of food produced.
There is also growing resistance around the world against the use of GE products. A recent poll in the EU shows that 95 percent of EU citizens agree that "the right thing to do" is to use products that are respectful of the environment.
Furthermore, using GE crops also poses environmental problems because these types of crops can't be controlled and would inevitably end up in the environment with consequences that are hard to foresee.
It is increasingly clear that the U.S. farmers who choose to grow GE seeds are having huge problems. Experiences after a decade of growing herbicide-tolerant crops such as Monsanto's RoundupReady soy and corn are bad news for the environment, biodiversity and the farmers who grow them; they mean more toxic herbicides, more expensive seeds and lower yields.
In 2012, Greenpeace produced the documentary, Growing Doubt, in co-operation with farmers and non-governmental organizations in the U.S. and Argentina, to warn EU politicians and farmers about Monsanto's GE crops.
However, the GE battle in Europe is far from over. The EU-wide authorization for the cultivation of MON810, a genetically engineered maize variety and the last genetically engineered crop currently grown in Europe, expired in 2008, after a 10-year period. The long-awaited reassessment of MON810 is now five years overdue. The European Commission should announce its decision shortly and will determine whether Europe will be entirely GE-free in the near future or not.
Greenpeace will continue promoting ecological farming as a food production model that respects the environment and delivers enough healthy food for ourselves and future generations, without relying on genetic engineering or harmful chemical inputs.
As we have said before, sooner or later, the GE goliath will fall.
Monsanto's decision last week is a clear sign that the giant is shaken. It's good news for science and research in Europe. For 30 years, global agriculture research and development on GE seeds has wasted time, effort, research resources and political attention for no gain.
Hopefully this move now means that the EU can come up with some real solutions for European agriculture in the 21st century. The world needs solutions based on agro-ecological science, including modern seeds varieties without GE, that can produce enough food for all, while benefiting farmers and protecting the environment.
We will not back down, nor will we stop. We urge politicians, food producers, farmers, to reflect deeply and turn to ecological farming as the only way to keep our planet and people healthy.
Visit EcoWatch's GE FOOD page for more related news on this topic.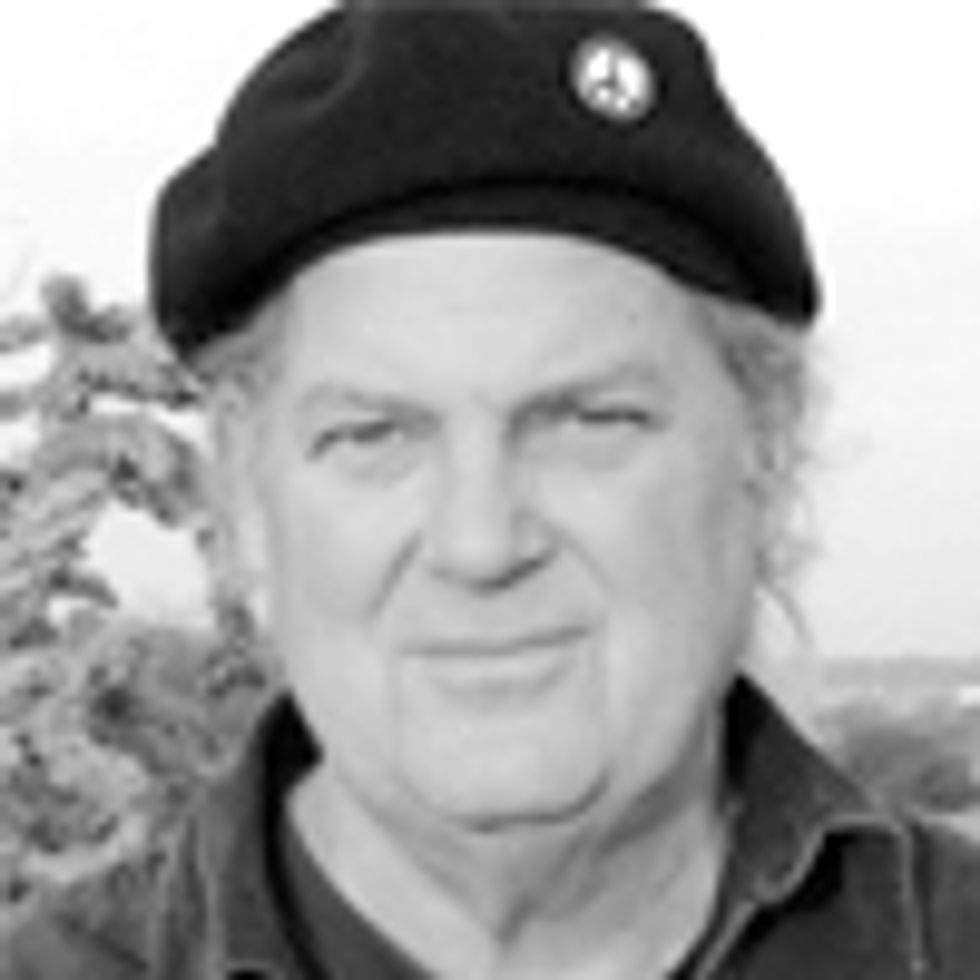 "The harder they come the harder they fall, one and all." - Jimmy Cliff, reggae classic.
After enjoying a year of maximum profits, record stock prices, the defeat of a major GMO [genetically modified organisms] labeling campaign in California, pro-industry court decisions and a formidable display of political power in Washington, D.C.—including slipping the controversial Monsanto Protection Act into the Federal Appropriations bill in March—the "Biotech Bully" from St. Louis now finds itself on the defensive.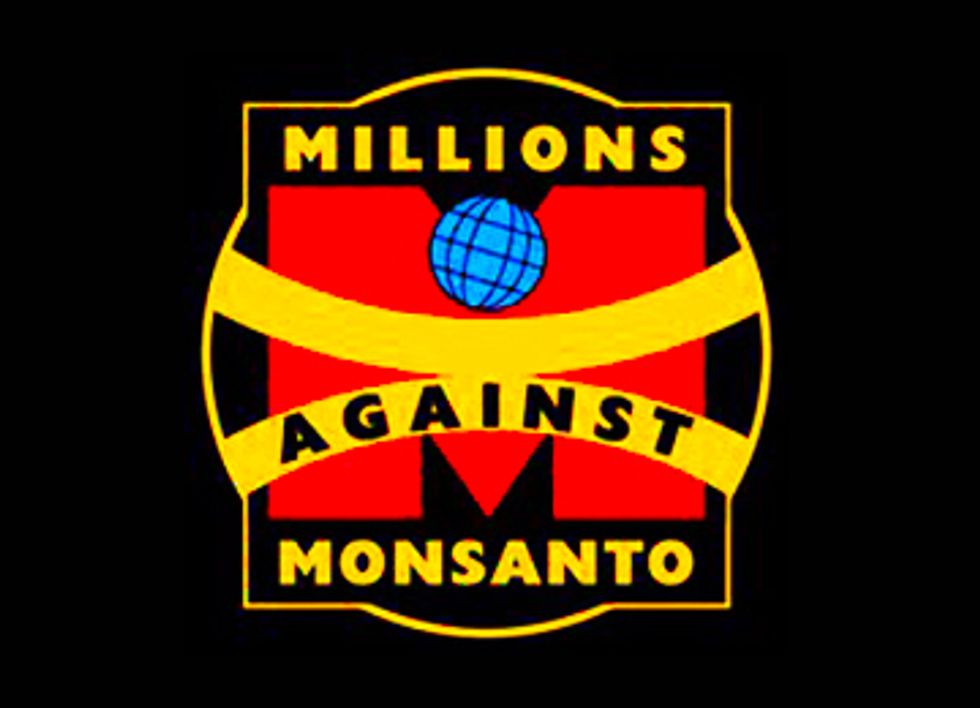 It is no exaggeration to say that Monsanto has now become the most hated corporation in the world.
Plagued by a growing army of Roundup-resistant superweeds and Bt-resistant superpests spreading across the country, a full 49 percent of American farmers are now frantically trying to kill these superweeds and pests with ever-larger quantities of toxic pesticides, herbicides and fungicides including glyphosate (Roundup), glufosinate, 2,4-D (Agent Orange), dicamba and neonicotinoids (insecticides linked to massive deaths of honey bees).
Reacting to this dangerous escalation of chemical farming, toxic residues on foods and environmental pollution, over a million consumers and organic farmers have pressed the Obama administration to reject a new generation of GE "Agent Orange" and dicamba-resistant crops, forcing the U.S. Department of Agriculture (USDA) to postpone commercialization of these crops, at least temporarily.
According to the Trade Press, thousands of U.S. farmers, as well as farmers worldwide, are moving away from biotech crops and searching for non-GMO alternatives. At the same time, U.S. and global market demand for non-GMO organic foods and crops is steadily increasing.
Compounding Monsanto's superweed and superpest problems, scientific evidence continues to mount that GMO feed and foods, laced with Bt [Bacillus thuringiensis] toxins and contaminated with ever-increasing residues of Monsanto's deadly weedkiller, Roundup, are severely damaging animal and human health.
As the June 24, 2013, issue of Green Medical News puts it:
"... within the scientific community and educated public alike, there is a growing awareness that Roundup herbicide, and its primary ingredient glyphosate, is actually a broad spectrum biocide, in the etymological sense of the word: "bio" (life) and "cide" (kill)—that is, it broadly, without discrimination kills living things, not just plants. Moreover, it does not rapidly biodegrade as widely claimed, and exceedingly small amounts of this chemical—in concentration ranges found in recently sampled rain, air, groundwater and human urine samples—have DNA-damaging and cancer cell proliferation stimulating effects."
On May 25, two million people from 436 cities, in 52 countries, on six continents took to the streets in a global "March Against Monsanto." From New York to New Delhi, protestors reaffirmed their determination not only to force the labeling of genetically engineered (GE) foods, as has already been accomplished in the European Union, India and at least 36 other nations, but also to drive all GMOs off the market. That includes GMOs in human food, animal feed, cotton, nutritional supplements, body care products and GMO cotton and biofuels.
The same week as the global March Against Monsanto, The New York Times reported that U.S. food companies, "large and small" are starting to make arrangements to reformulate the ingredients in their processed foods and reorganize their supply lines so to avoid having to admit that their brand name products contain GMOs. Monsanto and its "Junk Food" allies recognize that if the Washington State ballot initiative on mandatory GMO labeling passes on November 5, which now appears likely, their ability to keep food consumers in the dark will be over.
Large processed food and beverage companies, such as Kellogg's, General Mills, Nestle, Coca-Cola, Pepsi, Kraft, Unilever, Dean Foods, Wal-Mart and others understand that once labeling is required in one strategic state, such as Washington, they will be forced to label in all 50 states.
The anti-GMO movement in the U.S. has identified Monsanto's "Achilles Heel"—GMO food labeling at the state level—and has begun to achieve some preliminary victories, both in the marketplace and in the legislative arena. For example, Whole Foods Market and dozens of natural food stores and co-ops, along with restaurants like Chipotle, are, or are planning to, voluntarily label GMOs. And Connecticut and Maine have passed GMO labeling laws.
Our common task now must be to win the all-important Washington State ballot initiative. This will require a tremendous fundraising effort and netroots-grassroots "get out the vote" effort. If you have not already made a donation to this effort, please do so now. If you would like to volunteer, sign up here.
Monsanto's Minions React
The food industry knows it will be difficult to stop voters in Washington State from bypassing the politicians and the federal government and directly voting into law a mandatory GMO food labeling initiative on November 5. So, the Grocery Manufacturers Association (GMA) is circling the wagons. Claiming that pro-labeling consumers have created "an unprecedented period of turmoil" for the food industry, the GMA convened a meeting, on July 10, in Washington DC, of large food manufactures and supermarkets. Their agenda? Figure out how to co-opt and neutralize the growing anti-GMO movement.
One of the strategies apparently being put forth by members of the GMA is to ask the U.S. Food & Drug Administration (FDA) to step in and formulate watered-down federal rules on GMO food labeling. The GMA would like weak labeling laws, similar to those in Japan and other nations, that would contain loopholes, high tolerances and weak enforcement, coupled with a lengthy implementation period, so as to preempt strict state labeling requirements and deflate the growing GMO-Right to Know movement.
On the international level, Monsanto and Big Food, joined by other large corporations concerned about the growing grassroots power of consumer, environmental and Fair Trade networks, are lobbying for fast track passage of new secretly negotiated Free Trade Agreements, the Trans-Atlantic Trade and Investment Partnership (TTIP), popularly known as "TAFTA," and the Trans-Pacific Partnership (TPP). Both TAFTA and TPP are basically supercharged versions of the highly unpopular NAFTA and WTO trade agreements.
These "forced trade" agreements would, among other things, lower standards on food safety and environmental protection, including taking away the rights of nations and states to require strict GMO food labeling and safety-testing. Provisions in these trade agreements would allow corporations to sue a nation if pro-consumer or environmental laws interfered with their trade and "expected profits." Judgments and penalties would be determined by secret trade tribunals, with corporate lawyers serving as judges. Under the TAFTA/TPP regime, the U.S. and other countries would be required to hand over national sovereignty to foreign investors and multinational corporations.
So even as we mobilize for strategic GMO right-to-know victories in Washington, Vermont and other states, we must simultaneously mobilize the public to fight against federal preemption on GMO labeling, and stop the next generation of these secret "forced trade" agreements.
GMO Food Labeling: Just the First Step
Passing I-522, Washington State's GMO labeling initiative, is a necessary first step toward honest labeling of GMO ingredients in the U.S. But Monsanto has survived mandatory food labeling in the EU and scores of other nations. The biotech giant will likely survive strict labeling requirements by U.S. states, too. What Monsanto can't survive is mass awareness and rejection of all GMOs, especially GMO cotton and GMO animal feed on factory farms. A successful global boycott of factory-farmed meat and animal products and GMO-tainted cotton, combined with GMO food labeling, will literally drive genetic engineering out of the marketplace.
Eighty percent of all processed foods in the U.S. contain GMOs. Yet if we examine the entire global production and consumption cycle of GMOs, we learn that only 20 percent of GMOs grown worldwide go into human food. The other 80 percent end up in animal feed, cotton production, biofuels, body care products and nutritional supplements.
Even in Europe, where GE foods are rarely sold in grocery stores or restaurants, several billion dollars worth of GE animal feed from North America, Brazil and Argentina are imported every year. Although EU consumers have forced voluntary labeling of GMO-fed non-organic meat and animal products in Germany, France and Austria, and in large chains throughout Europe, there is no mandatory GMO animal feed labeling law in the EU. India is the only major country up until now that requires labels on GMO animal feed. No country yet requires labels on GMO cotton clothing, nutritional supplements, body care products or biofuels.
Almost half of Monsanto's profits now derive from its sales outside the U.S., especially GMO crops for animal feed.  So if we're serious about turning back the biotech threat, and building up an alternative food and farming system that is organic, local, climate-friendly and humane, we need to strengthen our international solidarity and cooperation as well as our domestic efforts. Once we take into account the full scope of agricultural biotechnology and its myriad products, we can position ourselves for the next stage of the battle: a comprehensive and global anti-GMO offensive, strategically targeting the entire GMO food, fiber, fuel, supplements and body care industry where they are most vulnerable. This Great GMO Boycott and GMO Right to Know mobilization will require a broader coalition, both domestically and internationally, and an unprecedented mass education effort around the role of GMOs and factory farms in exacerbating our health, environmental, animal welfare and climate crisis.
All Out for Washington State Nov. 5
But first things first. The consumer, farmer and fishing community insurgency that frightens Monsanto and its allies the most is the upcoming ballot initiative (I-522) in Washington State on Nov. 5. As Monsanto and its allies, such as the GMA, understand, this is the most crucial battle against GMOs today. If voters pass mandatory labeling in Washington, reinforced by contingent state labeling laws already passed or in progress in Connecticut, Maine and Vermont, it will mean the end of the road for genetically engineered food in U.S. grocery stores.
As the biotech lobby has readily admitted, GMO food labeling is a "skull and crossbones" that will drive genetically engineered foods off the market in the U.S. and North America. As evidenced by marketplace trends in Europe, the largest agricultural market in the world, once GMOs are labeled, consumers will not buy them, food companies and grocery stores will not sell them and farmers will not grow them. This is why Monsanto and Big Food corporations—hiding behind the façade of their trade association, the GMA—will likely pour up to $20 million into defeating I-522. Pro-labeling forces currently have a commanding lead in the polls in Washington. But we need to raise at least $4 million more (to augment the $4 million we've raised already) to buy enough TV and radio time to counter the forthcoming flood of lies that Monsanto and its minions will launch in Washington State. We already know what those lies will look like: Labeling will raise food prices, hurt family farmers and confuse consumers.
The "Road to Victory" means building up our war chest in Washington State for the Nov. 5 ballot initiative. Please spread the word. This is the most important food and farming battle in the world today. If you haven't already made a donation to the Yes on I-522 campaign, please do so now.
Visit EcoWatch's GE FOODS pages for more related news on this topic.
——–

By Will Fantle
From the U.S. Department of Agriculture (USDA) to foreign policy, Congress, state governments, elections and the courts, the feverish politics of genetically modified foods (GMOs) have infected decision making and dramatically tilted policies towards the desires of Monsanto and the biotech industry.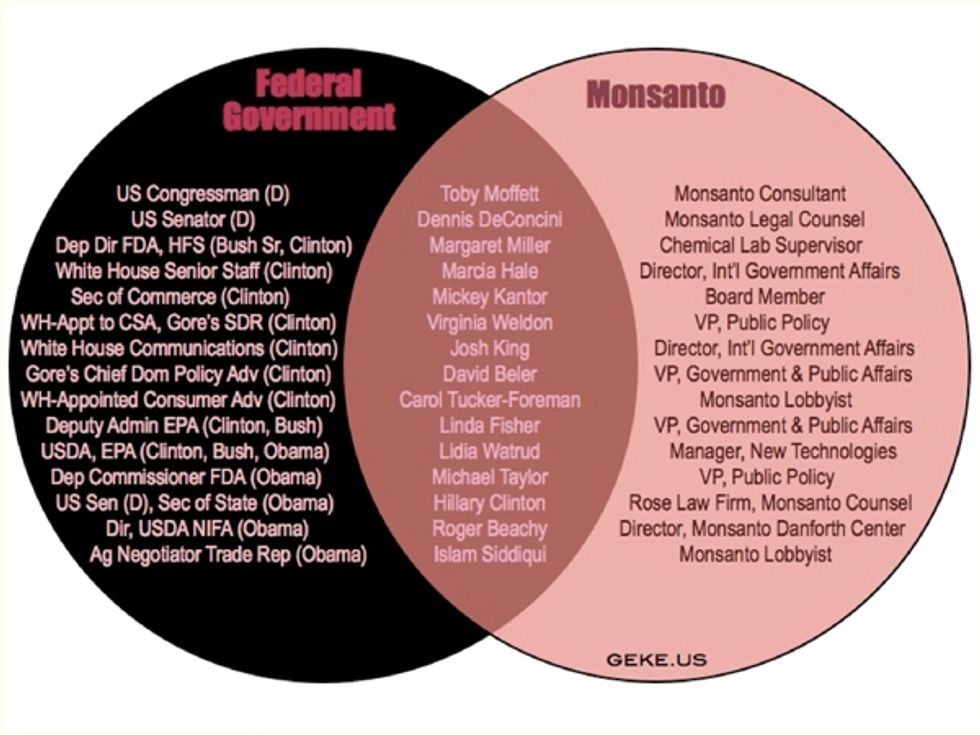 Candidate Barack Obama in 2008 promised change. However, when he came to Washington he appointed former Iowa Governor Tom Vilsack as USDA Secretary. The one-time award winning "Biotech Governor of the Year" has presided over a rapid roll out of new GMO crops and foods. Change he implemented included a series of agency adjustments designed to speed up the approval process for GMOs. Under Vilsack's watch, the agency has never denied the approval of one GMO crop.
Yes, the USDA also brought more attention to the National Organic Program—professional, knowledgeable management, more staffing, more resources. But it's small potatoes compared to the attention afforded biotech. And Vilsack's team has pushed hard for the organic community to swallow a policy of co-existence, the strange view that pollen and DNA recognize fence rows, that rain, winds, birds, insects and other natural forces will refrain from carrying GMO contaminants to non-GMO plants and crops.
Millions of Americans are suspicious of GMO foods for assorted health and environmental reasons. Polling conducted last year by the Mellman Group indicated that nearly 90 percent of Americans would like GMO foods labeled so they can make a choice about what kinds of foods they purchase in the marketplace. Sixty other countries require such labeling.
But Vilsack says no, telling the Farm Bureau at their annual meeting in January, "I know of no health reason connected to GMOs that would require labeling under our current labeling philosophy."
Monsanto and the biotech industry allies spent mightily to narrowly defeat last November's state referendum calling for the labeling of GMO foods sold in California. While labeling advocates decried the misleading and deceptive advertising conducted against the referendum, they were unable to weather the deluge of dollars. Still, the seeds of discontent are spreading. Washington state's voters will have a labeling referendum on the ballot later in 2013. Vermont has passed GMO labeling legislation; Connecticut's Senate overwhelmingly did so as well, as has Maine. Nearly 20 other state legislatures have similar proposals in the works.
"To try to oppose this state by state, that is unsustainable," says Cathy Enright, the executive vice president for food and agriculture for the Biotechnology Industry Organization (BIO), of which Monsanto, DuPont, and Dow Chemical are members.
Seeking to douse the prairie fire, Monsanto—which spends about $6 million annually on lobbying—and its allies are working the fields in Washington, D.C. Their target? The nation's reauthorization of the Farm Bill. Currently winding its way through Congress (as of this writing), an amendment attached to the House Agriculture committee's version, and authored by Rep. Steve King (R-IA), would strip the rights of states to enact labeling laws. The Farm Bill is an essential piece of national legislation that is reauthorized every five years. Once an item gets in the bill, it becomes very difficult to remove. The House and Senate will reconcile differences in their bills, but it is far from certain that either will consider the amputation of state's GMO labeling rights a deal breaker. [Since this was written, the Farm Bill failed to pass the U.S. House.]
Monsanto and their allies also prevailed in a vote in the Senate on an amendment by Sen. Bernie Sanders (I-VT), who wanted to make it clear that states "have the authority" to require the labeling of foods produced through genetic engineering. Sanders' amendment failed 71-27.
While some of the no-votes in the Senate may have come from officials who believe that a national-level regulation is more appropriate, the effort to have the Food and Drug Administration (FDA) do just that is mired axle deep in the muck. The FDA has already said that genetic modification does not materially change the food. But when the deadline passed last year for the agency to respond to a petition requiring GMO food labeling—a petition that contained the signatures of well over a million citizens—their response was that they needed more time to study the matter. Fourteen more months have since passed.
And just so no stone goes unturned, Monsanto is actively pushing state-level legislation in Oregon and elsewhere to override any labeling laws passed by county and municipal governments.
The suppression of dissent in the fertile ground of Washington, D.C., yielded another reward for Monsanto when they snuck a policy rider into an essential appropriations bill earlier this year. Dubbed the Monsanto Protection Act, it swatted down the ability of Monsanto's pesky critics to use judicial review as a brake on questionable regulatory decisions. It allows full speed ahead on the unrestricted sale and planting of genetically modified seeds even when a court finds that they were not properly examined for their impact on farmers, the environment, and human health.
Sen. Roy Blunt (R-MO), from Monsanto's home state of Missouri, authored the controversial rider and then blocked efforts by Sen. Jon Tester (D-MT) and Sen. Jeff Merkley (D-OR) to remove it from the critical governmental operations funding bill.
Tester later told a reporter, "Not only does this ignore the constitutional idea of separation of powers, but it also lets genetically modified crops take hold across this country, even when a judge finds it violates the law." He added that giant multinational agribusiness corporations are treating farmers as "serfs."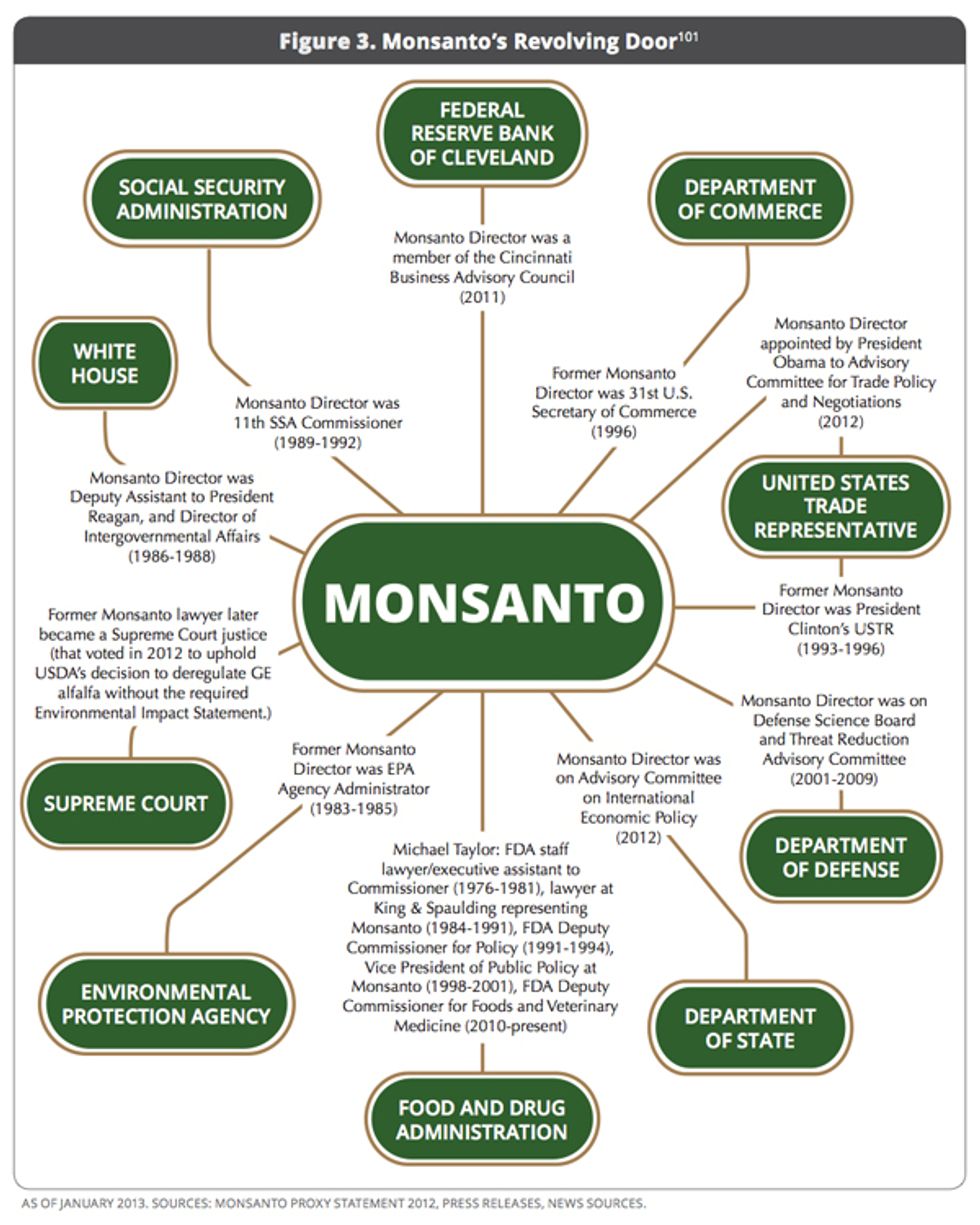 Perhaps it should come as no surprise that Monsanto's power at the federal level is so pervasive. As a recent Food & Water Watch report detailed, board members from the $12 billion company "have worked for the EPA, advised the U.S. Department of Agriculture [USDA] and served on President Obama's Advisory Committee for Trade Policy and Negotiations." Company staff and former employees enjoy a revolving door relationship with jobs and advisory positions in the federal government, at public universities and with trade groups. Even one sitting Supreme Court justice, Clarence Thomas, once worked for Monsanto.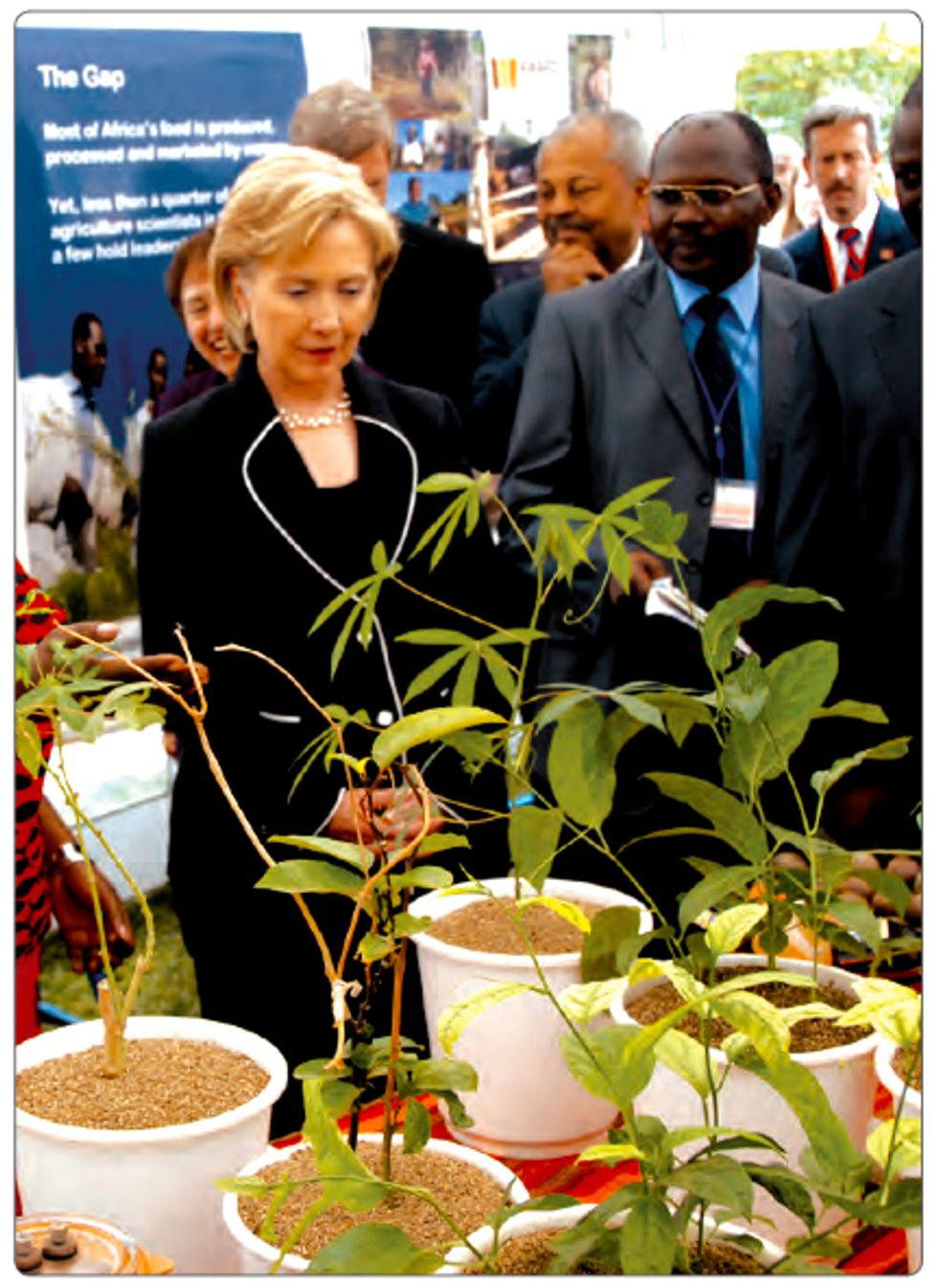 Former Secretary of State Hillary Clinton listens to a presentation on the "genetic improvement" of local crops hosted by the Kenya Agriculture Research Institute. Photo credit: USAID.
Their reach extends far beyond America's shores. Again, according to Food & Water Watch, the State Department works with trade officials to promote GMO crop exports and to force unwilling nations to accept GMO crops and foods. The State Department has engaged in pro-GMO lobbying campaigns in foreign countries, promoted foreign cultivation of GMOs and targeted foreign opinion-makers and reporters with junkets and public events.
Yet signs of cracks in the GMO empire are visible. On May 25, two million people joined March Against Monsanto rallies that were held in more than 400 cities in 52 countries. The growing consumer awareness of GMO foods and crops in the U.S. has sprouted vigorous labeling campaigns across the country with widespread public support for labeling. Even though 90 percent of all corn and soy grown in the U.S. is GMO, with a variety of other crops in the ground or under development, much of the rest of the world has yet to fall under the influence. In fact, just five countries account for 90 percent of total GMO crop production—the U.S., India, Canada, Argentina and Brazil.
The USDA also recently reversed itself and decided to conduct a full environmental impact statement assessing the health and environmental impacts of the next generation of GMO crops. These include, as proposed by Dow and Monsanto, 2,4-D-resistant corn and soybeans and Dicamba-tolerant soy and cotton crops. Still, notes the Center for Food Safety's Andrew Kimbrell, "it remains to be seen whether the agency will undertake the required hard-look analysis of the environmental and economic impacts of these crops."
Reflecting on the importance of a true choice in the marketplace for consumers, the Cornucopia Institute's Codirector Mark Kastel says that "organic food and agriculture offers the only available and verifiable alternative with regulatory oversight from seed to table prohibiting genetically modified organisms in farming and food production."
"Given the astounding influence of Monsanto and their GMO allies on all aspects of our government, it makes Cornucopia's work protecting the integrity of the organic label even more imperative," adds Kastel.
Visit EcoWatch's GE FOODS page for more related news on this topic.
——–

By Janet Larsen and J. Matthew Roney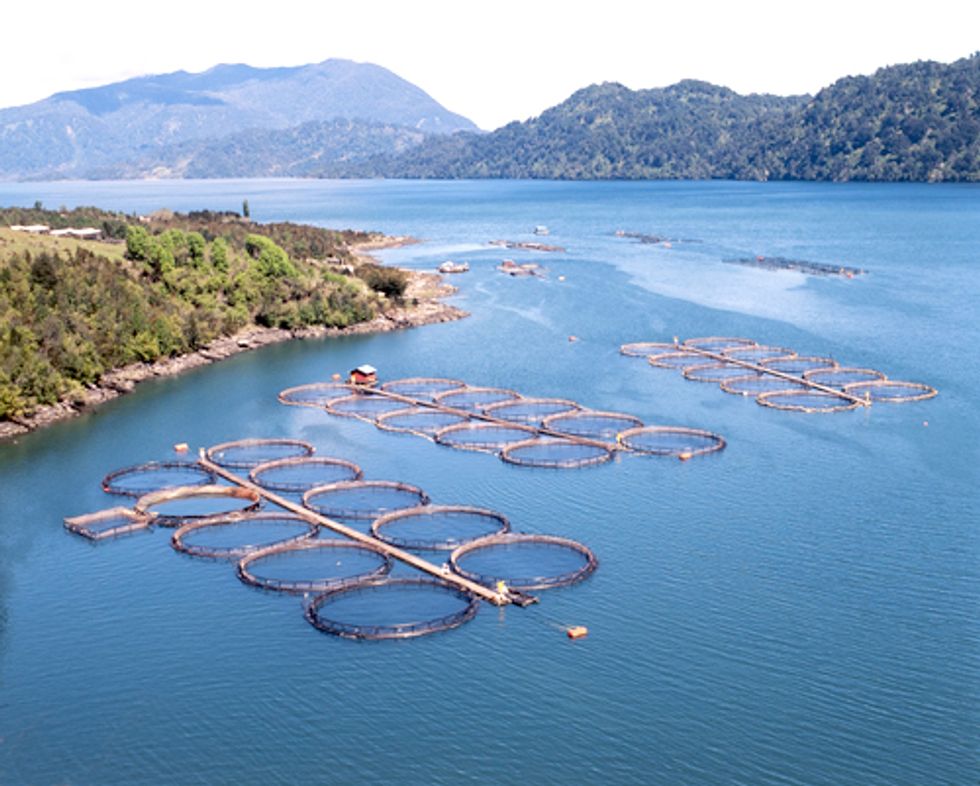 Photo courtesy of Shutterstock
The world quietly reached a milestone in the evolution of the human diet in 2011. For the first time in modern history, world farmed fish production topped beef production. The gap widened in 2012, with output from fish farming—also called aquaculture—reaching a record 66 million tons, compared with production of beef at 63 million tons. And 2013 may well be the first year that people eat more fish raised on farms than caught in the wild. More than just a crossing of lines, these trends illustrate the latest stage in a historic shift in food production—a shift that at its core is a story of natural limits.
As the global demand for animal protein grew more than fivefold over the second half of the twentieth century, humans began to press against the productivity constraints of the world's rangelands and oceans. Annual beef production climbed from 19 million tons in 1950 to more than 50 million tons in the late 1980s. Over the same period, the wild fish catch ballooned from 17 million tons to almost 90 million tons. But since the late 1980s, the growth in beef production has slowed, and the reported wild fish catch has remained essentially flat.
The bottom line is that getting much more food from natural systems may not be possible. Much of the world's grassland is stocked at or beyond capacity, and most of the world's fisheries are fished to their limits or already crashing. Overstocked rangelands become obvious as the loss of protective vegetation leads to soil degradation, which at its worst can cause punishing dust and sand storms. Overexploited fisheries are less readily visible, but fishing patterns over time reveal that more effort is required to achieve the same size catch as in years past. Boats are using more fuel and traveling to more remote and deeper waters to bring in their haul. Anglers are pulling up smaller fish, and populations of some of the most popular food fish have collapsed.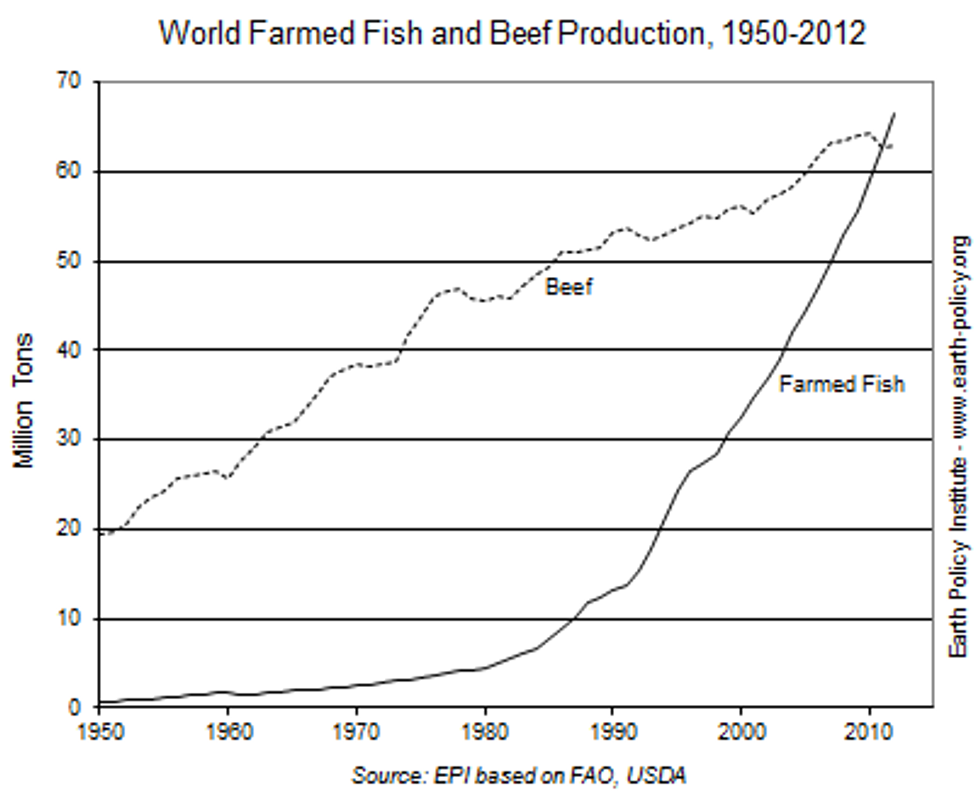 Historically, people's taste in eating animal protein was largely shaped by where they lived. In places with extensive grasslands, like in the U.S., Brazil, Argentina and Australia, people gravitated toward grazing livestock. Along coasts and on islands, as in Japan, wild fish tended to be the protein staple. Today, with little room for expanding the output from rangelands and the seas, producing more beef and fish for a growing and increasingly affluent world population has meant relying on feedlots for fattening cattle and on ponds, nets and pens for growing fish.
While open waters and grasslands can be self-sustaining if managed carefully, raising fish and livestock in concentrated operations requires inputs. Grain and soybeans have been inserted into the protein production food chain. Cattle consume seven pounds of grain or more to produce an additional pound of beef. This is twice as high as the grain rations for pigs, and over three times those of poultry.
Fish are far more efficient, typically taking less than two pounds of feed to add another pound of weight. Pork and poultry are the most widely eaten forms of animal protein worldwide, but farmed fish output is increasing the fastest. Average annual growth rates over the last five years have mirrored the relative efficiency of feed use, with the global production of farmed fish growing by nearly six percent a year, poultry by four percent, and pork by 1.7 percent—fast outpacing beef, which barely increased at all.
As grain and soybean prices have risen well above historical levels in recent years, the cost of producing grain-eating livestock has also gone up. Higher prices have nudged consumers away from the least-efficient feeders. This means more farmed fish and less beef. In the U.S., where the amount of meat in people's diets has been falling since 2004, average consumption of beef per person has dropped by more than 13 percent and that of chicken by five percent. U.S. fish consumption has also dropped, but just by two percent.
Beyond economic considerations, health and environmental concerns are also leading many people in industrial countries to reduce their beef intake. Meanwhile, fish are touted as healthy alternatives (save for the largest types, which have accumulated mercury from environmental pollution). Diets heavy in red meat have been associated with a higher risk for heart disease and colon cancer, among other ailments. Beef production has garnered a negative reputation for having a large carbon footprint and for destroying habitat, notably in the Brazilian Amazon. And excess nitrogen fertilizer applied to the fields of feed corn grown to satisfy the world's livestock runs off into streams and rivers, sometimes flowing to coastal waters where it creates large algal blooms and low-oxygen "dead zones" where fish cannot survive.
While it is only recently that the limitations of natural systems have emerged on a global scale, the practice of aquaculture dates back millennia. China, which accounts for 62 percent of the world's farmed fish, has long cultivated different types of carp that eat different things—phytoplankton, zooplankton, grass or detritus—together in a mini ecosystem. Today carp and their relatives are still the mainstay of Chinese aquaculture, making up nearly half the country's output. Filter-feeding mollusks, like clams and oysters, account for close to a third. Carp, catfish and other species are also grown in Chinese rice paddies, where their waste can fertilize the grain crop. This is also practiced in Indonesia, Thailand and Egypt.
Unfortunately, not all aquaculture works this way. Some of the farmed fish that are quickly gaining popularity, like salmon and shrimp, are carnivorous species that eat fishmeal or fish oil produced from forage fish from the wild. Yet most forage fish stocks (think anchovies, herrings and sardines), which typically make up about a third of the world oceanic fish catch, are dangerously overharvested. Fish farmers are working to reduce the amount of fish meal and oil in their rations, but in the rush to meet ever-expanding world demand, the share of farmed fish being fed has increased because they can reach market size quickly. Norway, the world's top farmed salmon producer, now imports more fish oil than any other country. China, the world's leading shrimp producer, takes in some 30 percent of the fishmeal traded each year.
As cattle ranches have displaced biologically rich rainforests, fish farms have displaced mangrove forests that provide important fish nursery habitats and protect coasts during storms. Worldwide, aquaculture is thought to be responsible for more than half of all mangrove loss, mostly for shrimp farming. In the Philippines, some two thirds of the country's mangroves—more than 100,000 hectares—have been removed for shrimp farming over the last 40 years.
Another problem with intensive confined animal feeding operations of all kinds, whether for farmed fish or for cattle, is not what gets extracted from the environment but what gets put in it. On a small-scale farm with livestock, animal waste can be used to fertilize crops. But putting large numbers of animals together transforms waste from an asset into a liability. Along with the vast quantities of waste, the antibiotic and parasite-killing chemicals used to deal with the unwanted disease and infestations that can spread easily in crowded conditions also can end up in surrounding ecosystems. The overuse of antibiotics in livestock operations can lead to antibiotic-resistant bacteria, threatening both human and animal health. In the U.S., for instance, 80 percent of antibiotics use is in agriculture—and often not for treating sick animals but for promoting rapid weight gain.
Thus the solutions to our collision with the limitations of the natural systems that have long provided food have created their own host of problems. On a per person basis, beef consumption—now averaging less than 20 pounds (8.9 kilograms) each year globally—is unlikely to rebound to the 24 pounds eaten in the 1970s. But annual world fish consumption per person of 42 pounds—up from 25 pounds in the 1970s—is set to keep rising. With the additional fish coming from farms rather than the seas, the urgency of making aquaculture sustainable is clear.
On the fish feed front, fishmeal producers are incorporating more seafood scraps into their products; today roughly a third of fishmeal is made up of food fish trimmings and other by-products. And some fish farmers are substituting livestock and poultry processing wastes and plant-based feeds for fishmeal and oil, which does not sound particularly appetizing, but does reduce pressure on wild stocks. From a sustainability standpoint, however, it would be preferable to shift the balance back in favor of farmed fish raised without feeds based on food grains, oilseeds and protein from other animals.
Our global population of seven billion people, growing by nearly 80 million per year, cannot escape the limits of nature. To live within Earth's natural boundaries requires rethinking meat and fish production practices to respect ecology. Most important, it means reducing demand by slowing population growth and, for those of us already living high on the food chain, eating less meat, milk, eggs and fish.
Visit EcoWatch's FOOD and FACTORY FARMING pages for more related news on this topic.