Noam Chomsky speaks in Buenos Aires, Argentina, on March 12, 2015.
By C.J. Polychroniou
On Nov. 8, Donald Trump managed to pull the biggest upset in U.S. politics by tapping successfully into the anger of white voters and appealing to the lowest inclinations of people in a manner that would have probably impressed Nazi propagandist Joseph Goebbels himself.
But what exactly does Trump's victory mean and what can one expect from this megalomaniac when he takes over the reins of power on Jan. 20, 2017? What is Trump's political ideology, if any and is "Trumpism" a movement? Will U.S. foreign policy be any different under a Trump administration? Some years ago, public intellectual Noam Chomsky warned that the political climate in the U.S. was ripe for the rise of an authoritarian figure. Now, he shares his thoughts on the aftermath of this election, the moribund state of the U.S. political system and why Trump is a real threat to the world and the planet in general.
'Trump's Election Is a Disaster' by @StefanieSpear of @EcoWatch: https://t.co/jjnWs7tWQX #GameOverForClimate

— Michael E. Mann (@Michael E. Mann)1478701114.0
Q. Noam, the unthinkable has happened: In contrast to all forecasts, Donald Trump scored a decisive victory over Hillary Clinton, and the man that Michael Moore described as a "wretched, ignorant, dangerous part-time clown and full-time sociopath" will be the next president of the U.S. In your view, what were the deciding factors that led American voters to produce the biggest upset in the history of U.S. politics?
A. Noam Chomsky
Before turning to this question, I think it is important to spend a few moments pondering just what happened on Nov. 8, a date that might turn out to be one of the most important in human history, depending on how we react.
No exaggeration.
The most important news of Nov. 8 was barely noted, a fact of some significance in itself.
On Nov. 8, the World Meteorological Organization (WMO) delivered a report at the international conference on climate change in Morocco (COP22) which was called in order to carry forward the Paris agreement of COP21. The WMO reported that the past five years were the hottest on record. It reported rising sea levels, soon to increase as a result of the unexpectedly rapid melting of polar ice, most ominously the huge Antarctic glaciers. Already, Arctic sea ice over the past five years is 28 percent below the average of the previous 29 years, not only raising sea levels, but also reducing the cooling effect of polar ice reflection of solar rays, thereby accelerating the grim effects of global warming. The WMO reported further that temperatures are approaching dangerously close to the goal established by COP21, along with other dire reports and forecasts.
Last 5 Years Hottest on Record, Human Footprint 'Increasingly Visible' https://t.co/7SwgNfg5v3 @TheCCoalition @project1percent

— EcoWatch (@EcoWatch)1479040226.0
Another event took place on Nov. 8, which also may turn out to be of unusual historical significance for reasons that, once again, were barely noted.

On Nov. 8, the most powerful country in world history, which will set its stamp on what comes next, had an election. The outcome placed total control of the government—executive, Congress, the Supreme Court—in the hands of the Republican Party, which has become the most dangerous organization in world history.
Apart from the last phrase, all of this is uncontroversial. The last phrase may seem outlandish, even outrageous. But is it? The facts suggest otherwise. The party is dedicated to racing as rapidly as possible to destruction of organized human life. There is no historical precedent for such a stand.
Is this an exaggeration? Consider what we have just been witnessing.
During the Republican primaries, every candidate denied that what is happening is happening—with the exception of the sensible moderates, like Jeb Bush, who said it's all uncertain, but we don't have to do anything because we're producing more natural gas, thanks to fracking. Or John Kasich, who agreed that global warming is taking place, but added that "we are going to burn [coal] in Ohio and we are not going to apologize for it."
The winning candidate, now the president-elect, calls for rapid increase in use of fossil fuels, including coal; dismantling of regulations; rejection of help to developing countries that are seeking to move to sustainable energy; and in general, racing to the cliff as fast as possible.
Trump has already taken steps to dismantle the U.S. Environmental Protection Agency (EPA) by placing in charge of the EPA transition a notorious (and proud) climate change denier, Myron Ebell. Trump's top adviser on energy, billionaire oil executive Harold Hamm, announced his expectations, which were predictable: dismantling regulations, tax cuts for the industry (and the wealthy and corporate sector generally), more fossil fuel production, lifting Obama's temporary block on the Dakota Access Pipeline.
Here's How Trump Plans to Dismantle Environmental Laws https://t.co/PeShhOq04m @BusinessGreen @GreenCollarGuy

— EcoWatch (@EcoWatch)1478818514.0
The market reacted quickly. Shares in energy corporations boomed, including the world's largest coal miner, Peabody Energy, which had filed for bankruptcy, but after Trump's victory, registered a 50 percent gain.
Trump Wins, Renewable Energy Investments Lose and Dirty Energy Stocks Surge https://t.co/Znp7VxlB7X @BusinessGreen @Ethical_Corp

— EcoWatch (@EcoWatch)1478816123.0
The effects of Republican denialism had already been felt. There had been hopes that the COP21 Paris agreement would lead to a verifiable treaty, but any such thoughts were abandoned because the Republican Congress would not accept any binding commitments, so what emerged was a voluntary agreement, evidently much weaker.

By David Thoreson
Alaska and most of our country has been unusually hot this year—the hottest year on record for Fairbanks, Anchorage, and Juneau, Alaska, actually. The entire state has been about 10 degrees hotter than usual. Even for the fast-melting Arctic we have reached "uncharted territory."
During the past 25 years and 70,000 miles, I have sailed on small sailboats to some of the remote edges of planet Earth. As a documentary photographer, I first ventured out over the horizon to record beautiful images of adventure travel that could not be captured through any other means than by sail. This was very rewarding to me but at the same time I also started to better understand the Earth's weather and climate systems.
By 2007, just 13 years after being trapped in the ice of the Arctic's Northwest Passage, our crew of six sailed the entire length from east to west and never touched a piece of ice. We became the first American sailors to accomplish this infamous 7,000-mile route from the east but understood that we were assisted by a quickly altered Arctic environment containing less ice.

Here are nine images reflective of my travels:
Twenty-two years ago, our 57-foot sailboat, Cloud Nine, set sail for the Northwest Passage from east to west—for centuries, explorers have set out to meet this same challenge and many have died trying to attempt to navigate its risky passage. In 1994, we set sail bound and determined to beat the risks and treacherous conditions of the passage—but that year, there was heavy pack ice choking off all routes. We were forced to abandon our voyage and make our retreat out of the Arctic.
Photo credit: David Thoreson
When people think of the Arctic—they think of ice and the wildlife that depend on the ice. Iconic animals—like polar bears, walrus, seals—are all ice-dependent. In 1994, Cloud Nine discovered a very normal northern ice pack that still supported healthy ecosystems for these animals and others.
In 2007 we attempted the same trip. This time, we discovered little to no ice in the Northwest Passage. Can you believe that the nearly 7,000-mile voyage took only 73 days and Cloud Nine never touched one piece of ice? We became the first Americans to complete the east-west transit of the Northwest Passage—with a bit of help from the changing Arctic climate.
In the 13 short years between those two sailing expeditions to the far north, there had been a 40 percent loss of summer sea ice in the Arctic Ocean. That is a 40 percent loss of our North Polar ice cap. Human activity is having a profound and sudden impact on our planetary climate systems and the Arctic is experiencing the most rapid and visible change.
The photo above is becoming more and more of a personal memory, captured by my camera and less reflective of what I have come to understand about the facts on the ground in the Arctic region today.
Photo credit: David Thoreson
Polar bears and other wildlife, as well as the people of the Arctic, are feeling the impacts of climate change and melting ice. Less ice means less rest and less safety, for polar bears. Alaska Dispatch News reported on a new study that shows that polar bears are spending less time on the ice and more time on land. In fact, polar bears in the southern Beaufort Sea population are now three times as likely to come ashore in summer and fall as they were in the mid-1980s.
The bears that come ashore are also staying there much longer than bears did in the past. The study attributes this to big reductions in summer and fall sea ice and found that it has happened over the past decade and a half. This is bad for people, too—hungry bears spend more time roaming the land—putting them in closer contact with people in small coastal communities.
Photo credit: David Thoreson

As the world heats up, this is becoming the new normal for the Arctic. Less ice means new explorations—travel, shipping, development. In fact, there are plans for a luxury cruise ship that will sail a similar route to my original one—it will wind its way through the Northwest Passage from west to east and
through the Arctic Ocean. The signs of human impact on our climate are everywhere in the Arctic.
Photo credit: David Thoreson

If we want to protect what is left of our melting world, we need to start now by saying no to new offshore drilling and stopping the drill bit for existing leases. We are cautiously awaiting the answer on the development plan for the Arctic—where there are two new leases planned—one in the Chukchi and one in the Beaufort.
The Arctic is fragile, beautiful, harsh, demanding and is a special place to protect—we must all advocate for our public lands and waters. We need to make better choices and protect those places, wildlife and people that are most vulnerable to climate change. The Arctic Ocean is one of those places. President Obama has been to Alaska himself and seen the beauty of the land, people and its waters. Protecting our climate and protecting the Arctic are intrinsically linked and we can no longer stand by and pretend that we don't see the impacts of humans on climate change and the Arctic.
Photo credit: David Thoreson

People ask me if I ever get tired of photographing ice. They think it all looks alike. I ventured out to the remote edges of the earth to illustrate and bring awareness to the beauty and contrast that make up the Arctic landscape.
Photo credit: David Thoreson

When sailing the Northwest Passage from east to west, one first sails the icy coast of West Greenland. Here our crew learned how icebergs are born from massive coastal glaciers which drain the ice of the Greenland ice cap.
Photo credit: David Thoreson

The interface of the land and ocean is changing in the Arctic. What was once more solid and dense sea ice is succumbing to warming waters and land masses. This perpetuates a "positive feedback loop" where darker ocean and land keep melting more ice.
Photo credit: David Thoreson

When we completed the historic Northwest Passage in 2007 I wrote in my journal, "I have witnessed the end of an era. The Golden Age of exploration has come to a close and a new era, involving the study and change of the earth's climate systems, is just beginning. I have bridged the two eras."
Photo credit: David Thoreson

Inuit hunter and fisherman Wayne Thrasher tends to his catch of whitefish from the remote Canadian Arctic village of Tuktoyaktuk. Wayne speaks to loss of traditional ways of life and culture as permafrost ice caves melt, diet changes and children no longer wish to learn generational trades.
Photo credit: David Thoreson


David Thoreson is a documentary photographer and the first American to sail the Northwest Passage in both directions. He has authored a book called Over the Horizon.
EcoWatch Daily Newsletter
June was the warmest on record since 1895 in the U.S., with a monthly average temperature of 71.8 F in Lower 48 states, 3.3 F above normal.
NOAA
According to the National Oceanic and Atmospheric Administration (NOAA), there have also been eight weather and climate disasters with losses exceeding $1 billion each in the first half of the year—a combination of severe storms and massive flooding.

NOAA
In the Arctic, sea ice extent plunged 100,000 sq. miles below the previous record low set in June 2010, the National Snow and Ice Data Center (NSIDC) showed. The sea ice extent was 525,000 sq. miles below the 1981-2010 long-term average. From mid-June onwards, ice cover reduced 70 percent faster than typical rate of ice loss, at an average rate of 29,000 sq. miles a day.

NSIDC
For a deeper dive: Guardian, AP, Washington Post, The Hill, Bloomberg, Climate Central, Guardian, Washington Post
For more climate change and clean energy news, you can follow Climate Nexus on Twitter and Facebook, and sign up for daily Hot News.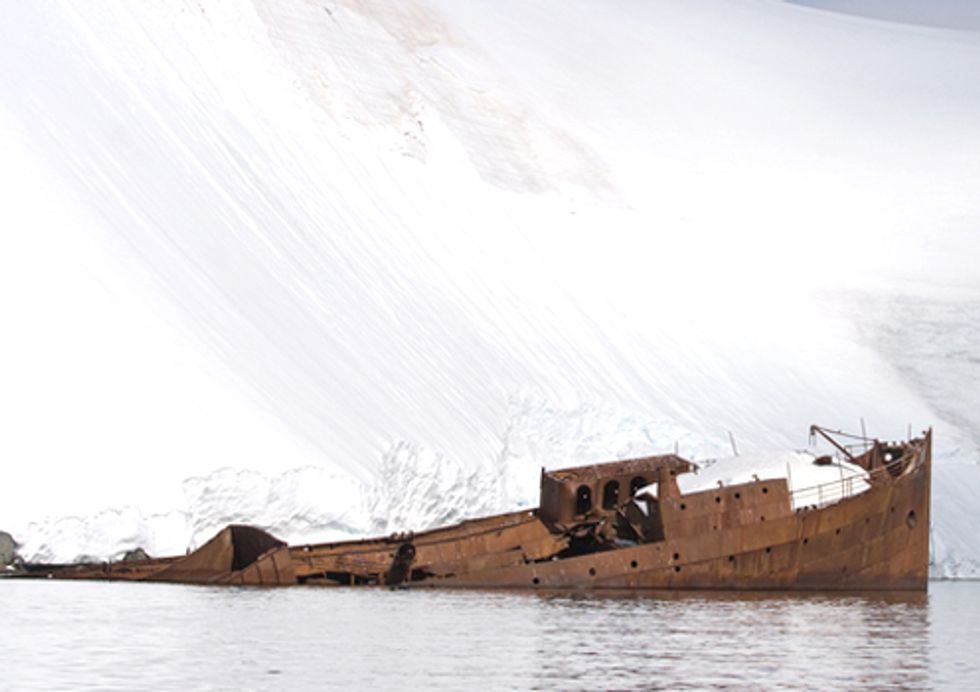 The polar waters of the Arctic and Antarctic are in jeopardy as a result of substantial delays to the development of environmental protection rules which will reduce the impact of shipping on these delicate regions. Last week the International Maritime Organization1 shelved the development of environmental protection rules until 2013.
This major setback for polar environmental protection came about as a result of procedural objections by flag states2 despite the efforts of most Arctic states and Antarctic treaty states to make progress on environmental protection. "As a result of this decision, the completion of a mandatory Polar shipping code covering both safety and environment protection will fall further behind schedule, and indeed, there is a very real chance that environmental protection could be scuttled altogether," said James Barnes, executive director of Antarctic and Southern Ocean Coalition (ASOC).
Both poles are extremely sensitive to environmental disruption and have an important role regulating the global climate. As the global climate changes, the poles are experiencing the most rapid warming of anywhere on earth and sea ice is retreating in most polar regions, making those waters more accessible to shipping than ever before in human history. The numbers of ships using the Northwest Passage and Northern Sea Route, to the north of Canada, the U.S., Norway and Russia, is increasing each year. The Arctic in particular is expected to experience a significant increase in resource exploitation and shipping volumes, which are likely to exacerbate climate-induced problems.
Environmental regulations for shipping are necessary to ensure that the volume of pollutants such as oils, chemicals and sewage being discharged by increased shipping into these pristine waters can be minimized. In addition, rules are needed to ensure that disturbance of wildlife and coastal communities is kept to a minimum and major oil and chemical spills are avoided.
"Last week's decision is badly flawed," said Mr. Barnes." Action is required sooner rather than later to ensure adequate environmental protection is in place as more and more ships use these remote, hazardous and vulnerable waters. Operational pollution from shipping and accidents could irreversibly damage these globally important sensitive ecosystems and polar wildlife is already under massive pressure from the changing climate."
"IMO member governments have an obligation to develop proactive environmental protections for our poles, and we hope that it won't take an Exxon Valdez or Costa Concordia-type disaster in polar waters before real regulatory action is achieved in these vulnerable regions," said John Kaltenstein, marine program manager at Friends of the Earth U.S.
"It is imperative that the IMO brings countries together to finish developing a mandatory Polar Code, which must include strong environmental protections," said Shawna Larson, Chickaloon Village Tribal Member and Alaska program director for Pacific Environment. "Indigenous Peoples who have lived in these Arctic coastal communities since time immemorial are highly dependent on a clean Arctic Environment for their traditional ways of life and their food sources. Without strong environmental protections in the Polar Code, Indigenous Peoples traditional ways will be at risk."
For more information, click here.
—————
1. The IMO is the UN body responsible for developing and adopting global shipping regulations addressing safety and environmental protection
2. Flag States are the countries which flag ships and are then expected to enforce the globally adopted shipping regulations relevant to the ships flying their flags.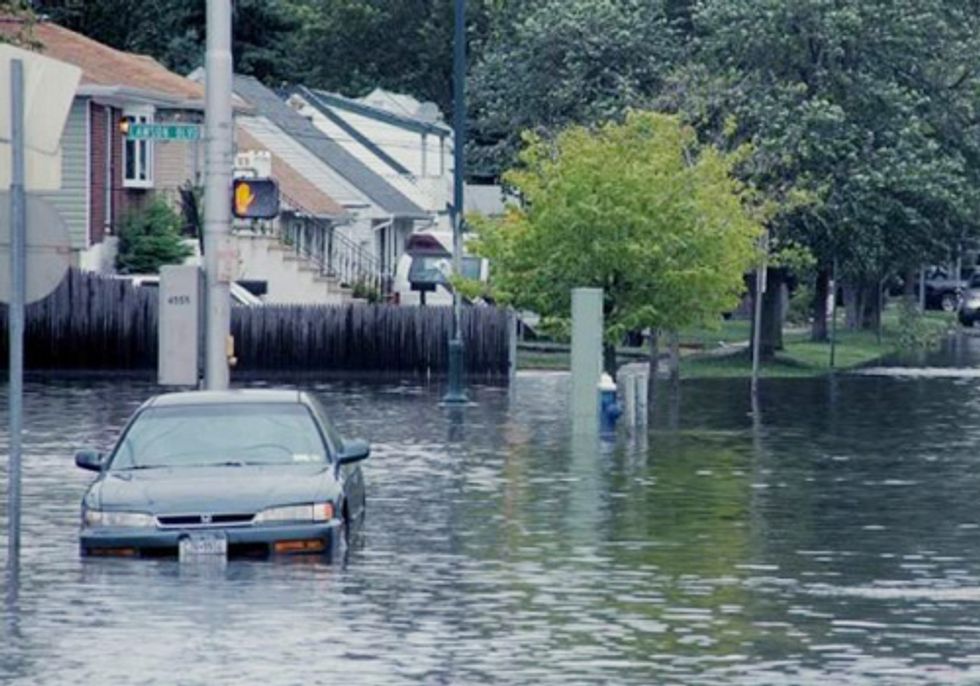 By Janet Larsen and Sara Rasmussen
The global average temperature in 2011 was 14.52 degrees Celsius (58.14 degrees Fahrenheit). According to National Aeronautics and Space Administration (NASA) scientists, this was the ninth warmest year in 132 years of recordkeeping, despite the cooling influence of the La Niña atmospheric and oceanic circulation pattern and relatively low solar irradiance. Since the 1970s, each subsequent decade has gotten hotter—and 9 of the 10 hottest years on record have occurred in the twenty-first century.
Each year's average temperature is determined by a number of factors, including solar activity and the status of the El Niño/La Niña phenomenon. But heat-trapping gases that have accumulated in the atmosphere, largely from the burning of fossil fuels, have become a dominant force, pushing the Earth's climate out of its normal range. The planet is now close to 0.8 degrees Celsius warmer than it was a century ago. Hidden within annual averages and expected variability are startling instances of new temperature and rainfall records in many parts of the world—weather extremes that would once be considered anomalies but that now risk becoming the new norm as the Earth heats up.
Worldwide, 2011 was the second wettest year on record over land. (The record was set in 2010, which also tied 2005 as the warmest overall.) Heavier deluges are expected on a warmer planet. Each temperature rise of 1 degree Celsius increases the amount of moisture the atmosphere can hold by about 7 percent. Higher temperatures also can fuel stronger storms.
Brazil started the year with the deadliest natural disaster in its history—in January, a month's worth of rain fell in a single day in Rio de Janeiro state, leading to floods and landslides that killed at least 900 people. That same month, flooding in eastern Australia covered an area nearly the size of France and Germany combined. Overall, it was the third wettest year in Australia since recordkeeping began in 1900.
The most expensive weather disaster of 2011 was the flooding in Thailand in the second half of the year, which ultimately submerged one third of the country's provinces. At $45 billion worth of damage—equal to 14 percent of Thailand's gross domestic product—it was also the costliest natural catastrophe the country ever experienced.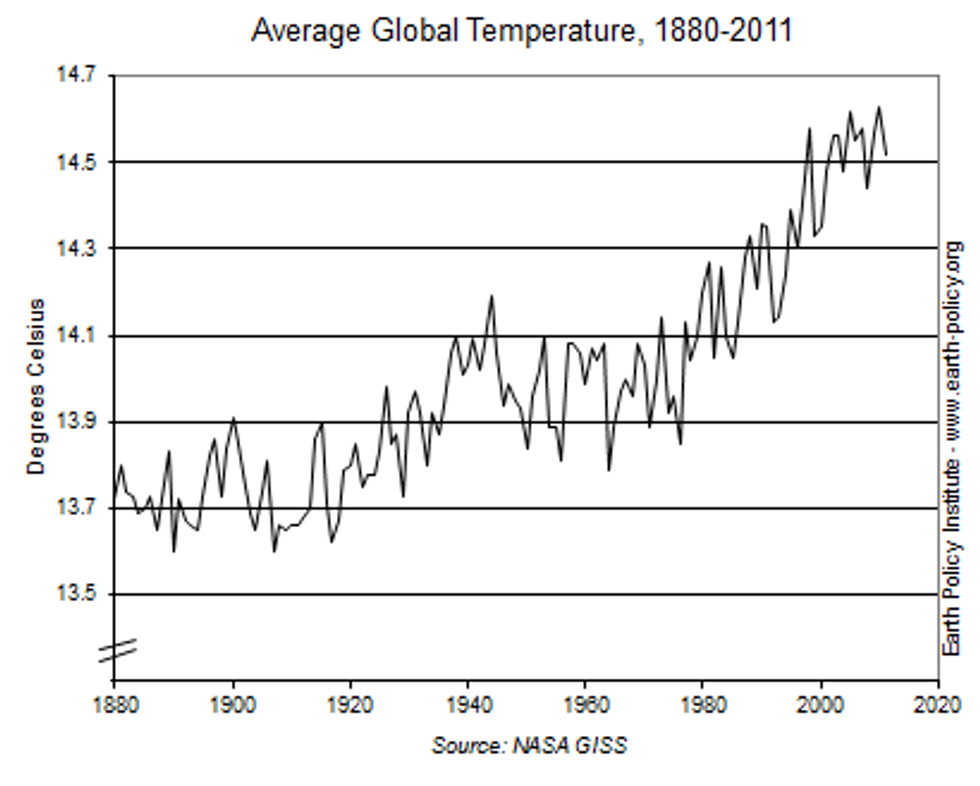 In October, more than 100 people died as two storms—one from the Pacific and the other from the Caribbean—pounded Central America with rain. In western El Salvador, nearly 1.5 meters of rain (almost 5 feet) fell over 10 days. And in December, Tropical Storm Washi hit the Philippines, creating flash floods that killed more than 1,200 people.
The 2011 Atlantic hurricane season had 19 named storms. Hurricane Irene brought extreme flooding to the northeastern U.S. in August, with total damages topping $7.3 billion. The year was the wettest on the books for seven states in the country, while it was among the driest for several others. Although the extremes appear to balance out, making for a near-average year, in fact a record 58 percent of the contiguous U.S. was either extremely wet or extremely dry in 2011.
Indeed, as is expected on a hotter planet, while some parts of the globe were overwhelmed by rain in 2011, others were distinguished by dryness. A severe drought in the Horn of Africa that began in 2010 devolved into a crisis situation in 2011, characterized by crop failure, exorbitant food prices, and widespread malnutrition. Exacerbated by chronic political instability and a belated humanitarian response, the death toll may have exceeded 50,000 people.
Back in North America, a drought that began in late 2010 and worsened over 2011 led hundreds of farmers from northern Mexico to march to that nation's capital in January 2012 to draw the government's attention to their suffering. Nearly 900,000 hectares of farmland (some 2.2 million acres) and 1.7 million head of livestock were lost due to the dryness—the worst in Mexico's 70+ years of data collecting.
Scorching heat, drought, and wildfires across the U.S. Southern Plains and Southwest caused farm, ranch, and forestry damages that exceeded $10 billion in 2011. Wichita Falls, Texas, experienced 100 days over 100 degrees Fahrenheit—far more than the previous record of 79 days set in 1980. Oklahoma and Texas had the hottest summers of any states in history, breaking by a wide margin the record set in 1934 during the Dust Bowl. James Hansen, director of NASA's Goddard Institute for Space Studies, writes that the likelihood of such extreme heat waves "was negligible prior to the recent rapid global warming." Texas also had its lowest rainfall on record. Invigorated by the heat and drought, wildfires burned across an estimated 1.5 million hectares (3.7 million acres) in the state.
For the continental U.S., summer 2011 was the second warmest in history. Nearly three times more weather stations hit record highs than lows in 2011, in line with a trend of increasing heat extremes. Whereas in the middle of the 20th century there were close to the same number of record highs and lows—as would be expected absent a strong warming trend—in the 1990s highs began outpacing lows. In the first decade of this century, there were twice as many record highs as record lows.
Worldwide, seven countries set all-time temperature highs in 2011—Armenia, China, Iran, Iraq, Kuwait, Republic of the Congo, and Zambia. Interestingly, Zambia also was the only country to experience an all-time low temperature when it dropped to -9 degrees Celsius (16 degrees Fahrenheit) in June. Kuwait experienced the year's highest temperature, with thermometers measuring a searing 53.3 degrees Celsius (127.9 degrees Fahrenheit), the highest temperature ever recorded on Earth during the month of August. Even more threatening to health than daytime highs are extra hot nighttime minimum temperatures, which do not allow any respite from the heat. The world's hottest 24-hour minimum ever—41.7 degrees Celsius (107 degrees Fahrenheit)—was recorded in Oman in June 2011.
Even the Arctic had a notably warm year, with the 2011 temperature a record 2.2 degrees Celsius (4 degrees Fahrenheit) above the mean for 1951–80. Barrow, Alaska, the northernmost U.S. city, spent a record-breaking 86 consecutive days at or above freezing, far more than the previous record of 68 days set in 2009.
In fact, over the last 50 years temperatures in the Arctic have risen more than twice as fast as the global average, melting ice and thawing permafrost. Arctic sea ice has been shrinking more rapidly, falling to its lowest volume and second lowest area on record during the 2011 summer melt season. With the summertime ice loss outpacing wintertime recovery, Arctic sea ice has thinned, making it increasingly vulnerable to further melting. Scientists expect a completely ice-free summertime Arctic by 2030 or even earlier.
As the reflective ice disappears, it exposes the dark ocean, which more readily absorbs solar energy, further warming the region. This sets forth a climate cascade, accelerating ice loss both in the ocean as well as on nearby Greenland, which contains enough ice to raise global sea level by 7 meters (23 feet) if it completely melted. The warming also thaws Arctic permafrost, releasing carbon dioxide and methane, further accelerating global warming.
Even without fully incorporating such climate feedback, models show that continued reliance on fossil fuels could raise the global temperature by up to 7 degrees Celsius (over 12 degrees Fahrenheit) by the end of this century. Such an elevated temperature would amplify temperature and precipitation extremes enough to make the weather events of recent years look tame in comparison. Only a rapid, dramatic reduction of greenhouse gas emissions can hold future temperatures in a range bearing any resemblance to what civilization has known.
For more information, click here.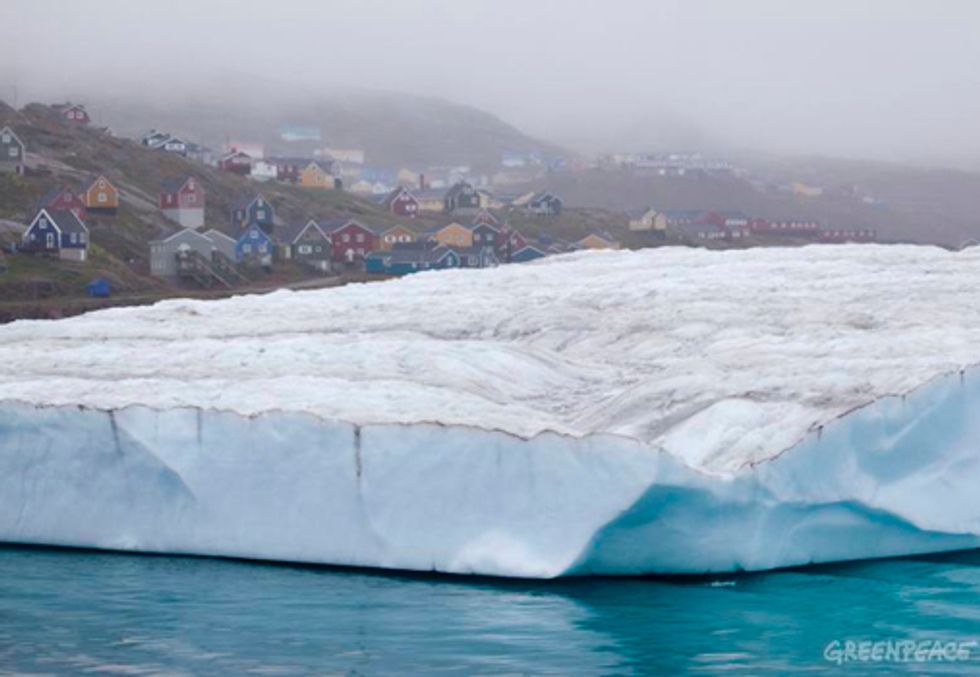 In what has become an alarmingly regular occurrence, the Arctic set another record for high temperatures in 2011. According to new data from the U.S. National Aeronautics and Space Administration (NASA), 2011 broke the previous record, set in 2010.
The region's temperature has been rising rapidly since the late 1970s.
Arctic amplification speeds up warming
Arctic air temperatures have risen at almost twice the rate of the global average rise over the past few decades. This arctic amplification of global warming is largely due to reduced surface reflectivity—and greater heat absorption—associated with the loss of snow and ice, especially sea ice.
As a result, most summer sea ice is projected to disappear by 2040, leaving only a small fringe of summer ice in Northeast Canada and Northern Greenland. Summer sea ice is important habitat for Arctic wildlife, and its decline opens previously inaccessible areas of the Arctic to shipping and industrial development.
"These changes have both local and global implications for people," says Clive Tesar, leader of the WWF Last Ice Area project. "Whether they are reindeer herder, hunters, or fishermen in the Arctic, or office workers in southern cities, people will ultimately feel these major changes to an integral part of the global weather system. We ignore these urgent signals at our peril. We need to both prepare for inevitable change, and work hard to reduce the severity of that change."
Warming trend globally
Global temperature data released by NASA indicates that global surface temperatures in 2011 were the 9th highest on record, and that the warming was especially concentrated in the Arctic. "We know the planet is absorbing more energy than it is emitting," said James E. Hansen, director of NASA's Goddard Institute for Space Studies.  "So we are continuing to see a trend toward higher temperatures. Even with the cooling effects of a strong La Niña influence and low solar activity for the past several years, 2011 was one of the 10 warmest years on record."
For more information, click here.